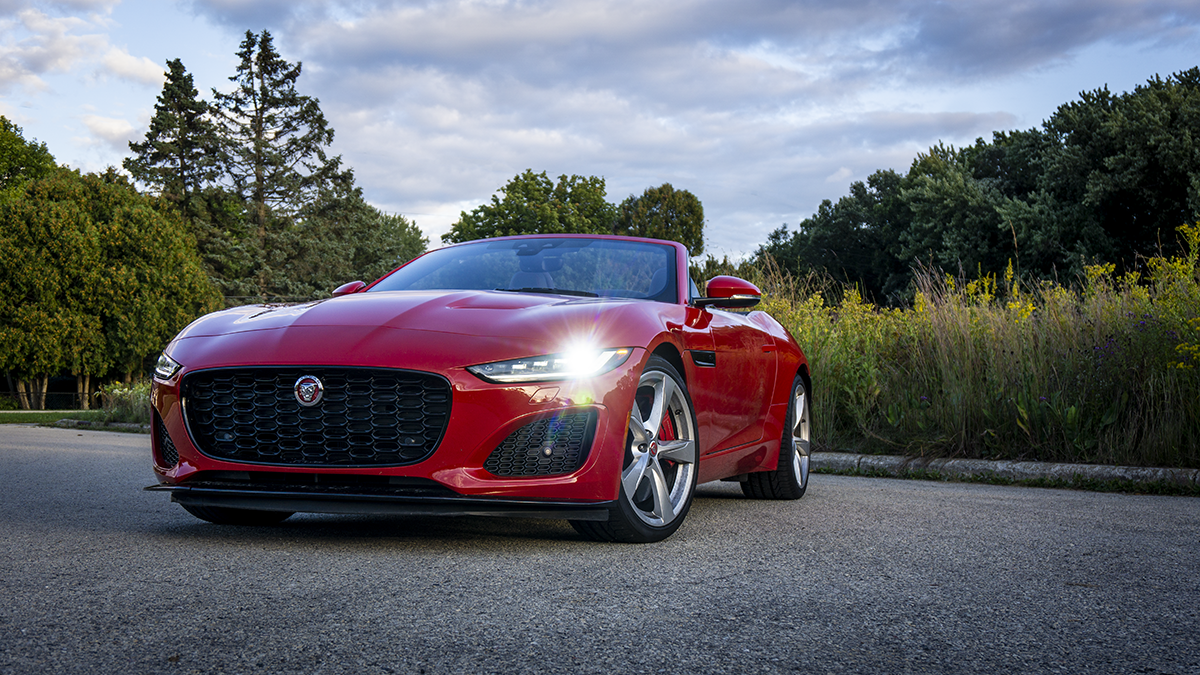 As I drove slowly down University Avenue with the tan top lowered on the brilliant red Jaguar F-Type P450, I felt a bit like a rolling cliche. A balding, middle-aged man piloting a look-at-me ragtop through the center of one of America's best college towns. I'm sure all the coeds walking between classes imagined I was just another sad old man going through a mid-life crisis. Such is the price one must pay to enjoy one of more entertaining cars on the road today.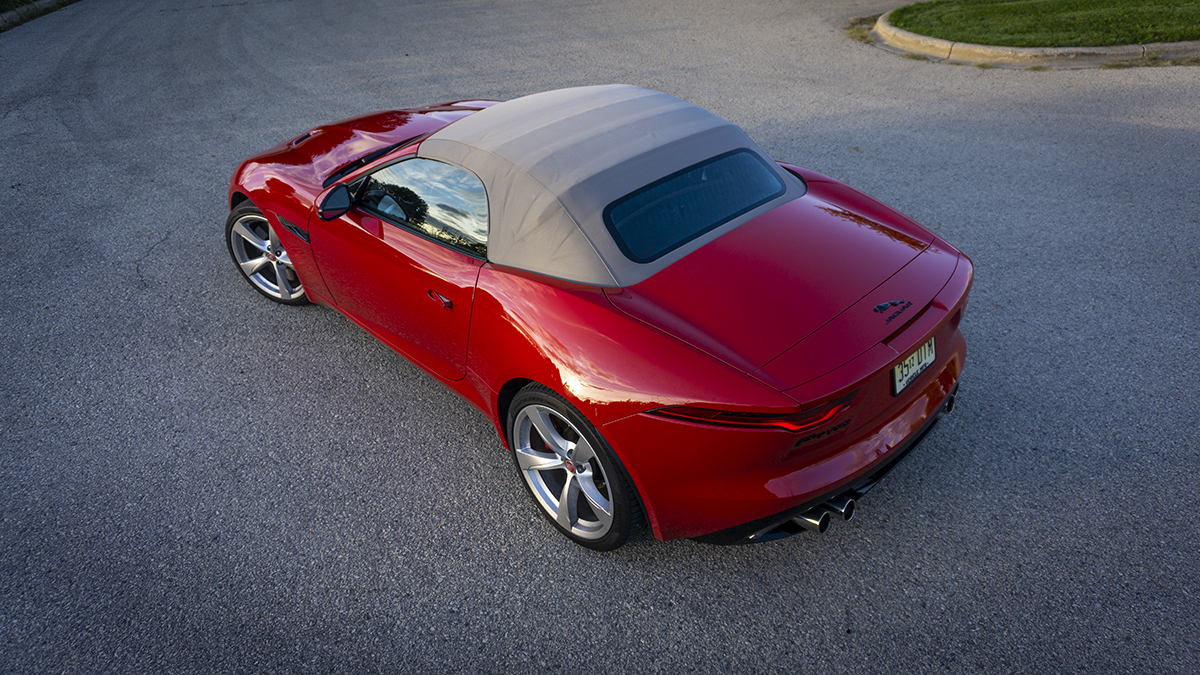 Jaguar F-Type has been one of my favorite sports cars since it debuted in 2013. With its brilliant design and 5-liter supercharged V8 driving the rear wheels – it made Jaguar something it hadn't been in decades, thrilling. And while I prefer the coupe for both its looks and superior road manners thanks to a stiffer chassis, the allure of a red convertible is undeniable, especially one that snarls and crackles the way the F-Type does when you toggle it into dynamic mode and tip your right foot into the throttle.
Jaguar made the unusual – and wise – decision to drop the turbocharged four and supercharged six cylinder engines from the lineup. While both engines were fine, that just wasn't good enough for a car this gorgeous.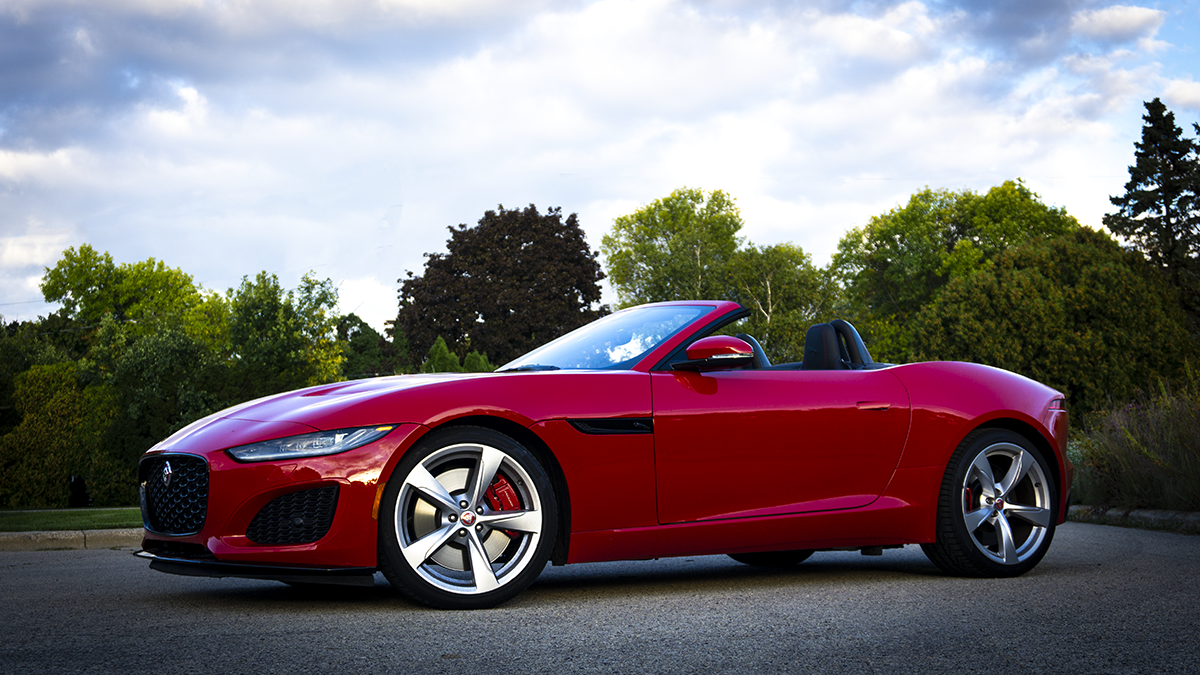 So for 2022, you only have two model options, the F-Type P450 and F-Type R, both use the same V8 engine, with the R making 575 horsepower and the P450 detuned to "just" 444 horses. Both are available as either a coupe or convertible. The P450 is available in rear- or all-wheel drive. The F-Type R is all-wheel drive only. You get one transmission option, the ubiquitous ZF 8-speed automatic which is used in so many high-end performance cars for good reason. It's fantastic.
Like all two-seat convertibles, the Jaguar F-Type P450 is a toy. No different from a Miata, Boxster, LC500, or AMG GT Cabrio. These are cars you keep in the garage until the temperatures rise and the sun shines. It's for cruising the back roads, carving up canyons, and heading for a weekend getaway in a town like Santa Barbara, Kennebunk, or Harbor Springs. And you'll only be able to stay a weekend, because there's just enough room in the boot for two small overnight bags and not much else.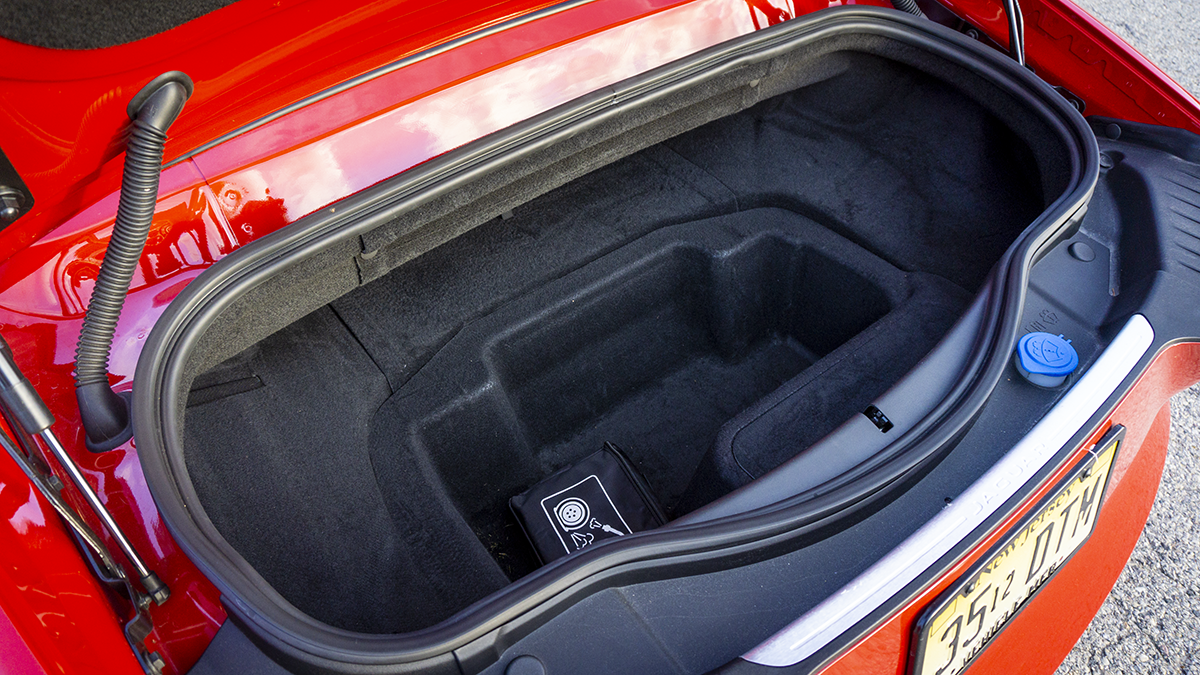 The interior is exactly what you'd expect from an $80,000 Jaguar, first class materials, impeccably tailored, with an understated feel. The seats are supportive and comfortable though the padding on the back is thinner than most cars to allow for a few extra inches of interior space. The leather wrapped steering wheel is thinner than most wheels in most performance cars. With the top down at highways speeds there is minimal buffeting though what little hair I have left needed a little work to make presentable when we stopped for lunch after a long drive through the Wisconsin countryside. With the top up, there are huge blind spots to the sides and rear, especially when the rear spoiler is deployed. My suggestion, don't drive it with the top up.
Where Jaguar continues to lag behind competitors like Mercedes, BMW, Porsche, and now Lexus, is in its infotainment system. The small screen and delicate graphics make reading information difficult. There is a bit of lag when you do tap on the tiles to open up the navigation or radio, making you wonder whether your input was detected at all. Fortunately, there are hard buttons and dials for a few of the operations like HVAC. Another issue that was especially noticeable with the top down is glare which makes the screen completely illegible.
This will be the last iteration of the F-Type with a gasoline engine as the company has promised all its new vehicles will be electric by 2029. So enjoy this while you can. No, the Jaguar F-Type P450 isn't a sports car. It's a tourer with the heart of a sports car that drives beautifully and looks even better. It's the kind of car you buy to reward yourself and enjoy on those gorgeous spring, summer, and autumn days that become more precious with every lap around the sun. And if you can spend a few hours of those days behind the wheel of an F-Type with it's V8 growling, you're all the better for it.
Two-door, two-passenger, rear-wheel drive, convertible
Base Price: $73,000
Price as tested: $84,350
Major options: Interior luxury package includes illuminated metal treadplates, extended leather upgrade, premium cabin lighting ($2,000), 12-way power heated and ventilated seats ($1,800), Ebony Windsor leather performance seats ($1,650), Black exterior package ($1,100), Meridien Summit surround system ($900), destination and delivery ($1,150)
Engine: 5-liter, dual overhead cam, Supercharged V8 with intercooler, aluminum block and head
Transmission: ZF 8-speed automatic with paddle shifters, and 3 drive modes – normal, dynamic, and rain
Length: 176 inches
Width:74.2 inches
Wheelbase: 103.2 inches
Curb weight: 3953 pounds
0-60 MPH: 4.2 seconds
Top speed: 177 MPH electronically limited
EPA MPG: 17 City, 24 Highway, 19 Combined