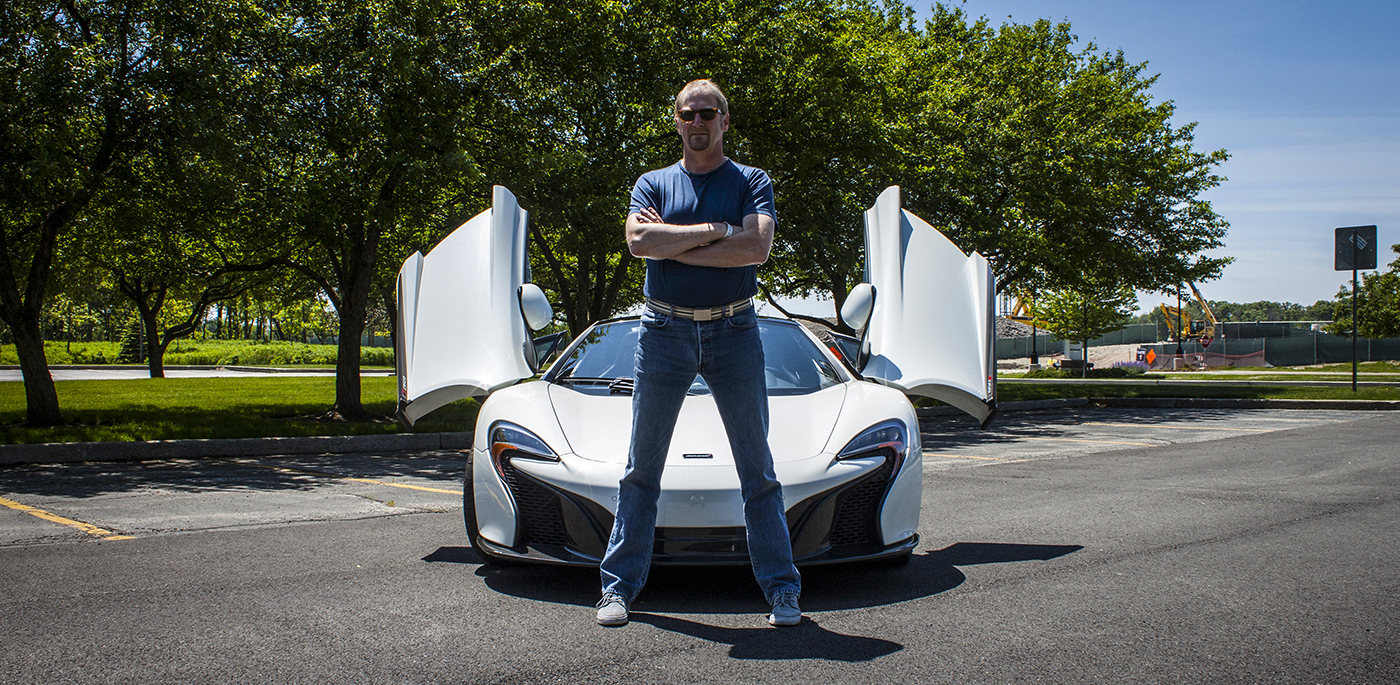 The streets of Chicago in late spring/early summer are, in a word, horrendous. There are potholes roughly the size of the Vredefort Crater. Expansion joints here look more like fault lines. And, the long stretches of broken pavement resemble the aftermath of a climactic battle in a Michael Bay action film. So when McLaren called and asked if I wanted to drive a 650S Spider around the Windy City's northern suburbs for a few hours, I was worried.
Worried that I wouldn't be able experience the car's incredible performance on public roads with compromised surfaces.
Worried that I if I did experience that performance, I would end up in a suburban Chicago police precinct.
Worried that I'd exit the car six inches shorter after having my back compressed from the beating it would surely take on roads that look more like they belong in Beirut rather than one of America's richest megalopolises.
But here's the thing – and the reason McLaren invited me to drive this in Chicago instead of a whiskey-smooth track like COTA – the 650S is actually a good daily driver. We all know the 650S is a spectacular performance car. The numbers are sick. 0-60 in 2.9 seconds. 0-100 in under 6 and a top speed of 208 MPH. On the track it is 100% race ready. But that's not where most owners will drive the thousand or so 650S coupes and spiders McLaren will build each year. They're designed for the street.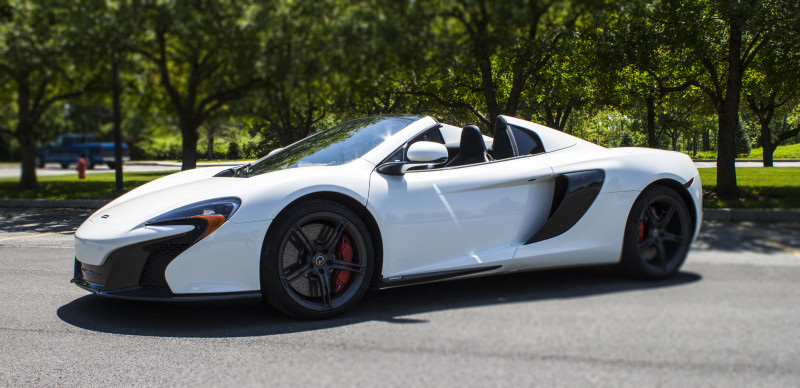 No, this isn't something you'd drive instead of a Range Rover when the snow flies or expect to get you to work as efficiently as a Prius. It will, however, get you wherever you need to go with a ride that's as comfortable as a C7 Corvette Stingray or Bentley Continental GT Speed.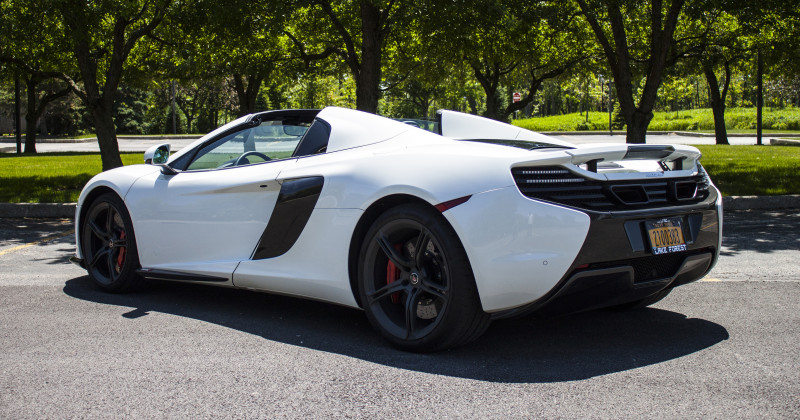 It starts with an ultra lightweight carbon fiber chassis and extruded aluminum subframe. Weighing just 165 pounds, the passenger compartment cell is more than just light, it's extremely rigid and durable, increasing torsional stiffness. This means the fully independent suspension can work its magic without having to compensate for a sloppy chassis. Each corner of the car is equipped with an adaptive damper that provides immediate response to changes in the road surface. Using this technology, McLaren was able to get rid of traditional sway bars that connect the wheels and create a harsher ride.
McLaren calls this setup its ProActive Chassis Control suspension system, and it allows you to adjust the ride and handling modes independently from the drivetrain. Both have switches on the center console for Normal/Sport/Track settings. So you can set the suspension in normal and the engine in sport or in any other combination depending on your preferences. In addition, the damper mounts minimize the amount of road noise, vibration and harshness that's transmitted to the cabin. Overall the effect is a ride that's both smooth and quiet – until you put your foot down.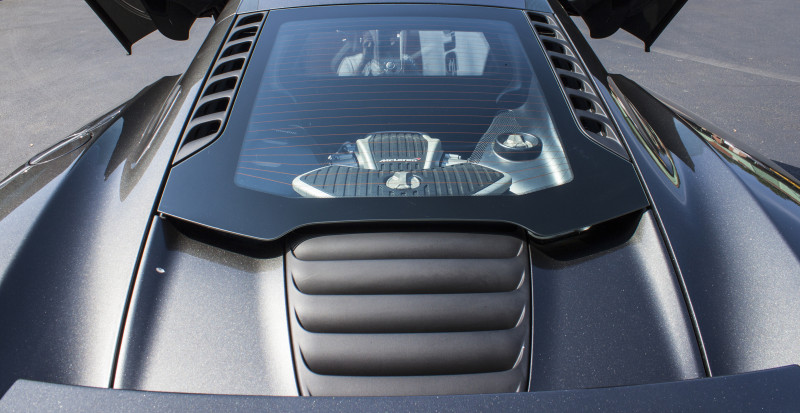 McLaren's 641 horsepower 3.8 Twin-Turbo engine is mounted right behind the passenger compartment and is one of the best I've ever experienced. The power comes on effortlessly whether you're screaming through the gears climbing into triple digits or just tooling around town observing the legal limit. In normal mode, you can run at low speeds without any hiccups or bucking. The throttle response is always smooth and progressive. And because the exhaust has active baffling, the sound while entertaining, won't conjure any spirits from the netherworld.
Switch over to track mode and things open up significantly. Your favorite on ramp becomes a launch pad. That long straight looks more like a short chute. And corners that seem mild become tighter and tighter as you add power through the apex. In addition, the exhaust is allowed to sing at full volume letting your neighbors and anyone else within a quarter mile radius know that you are in your happy place.
Outside, the McLaren 650S is stunning with flowing lines, elegant curves, shark nose and winged rear end. But compared to a Lamborghini or Ferrari, it's definitely more reserved. More British.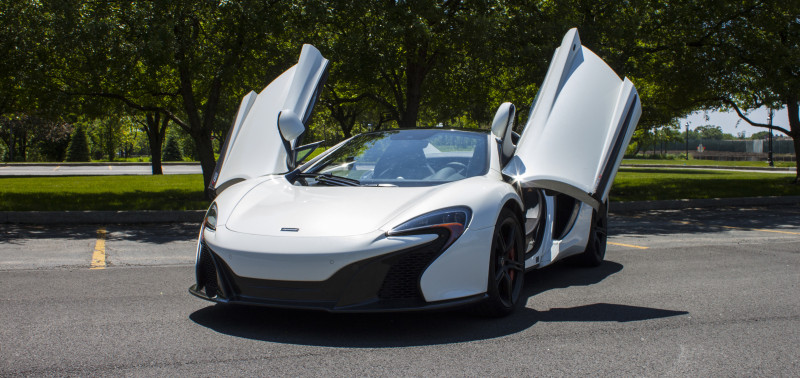 Getting in the 650S requires a little practice. The dramatic butterfly doors aren't the issue. They swing up and out of the way providing plenty of clearance. It's the wide side rails for the carbon fiber tub that present a challenge. Once inside, the alcantara and leather surfaces are finished with the same precision as the rest of the car. Overall the interior is an exercise in minimalism. Just a few switches and interfaces provide control over the car's operation. And that's okay because you buy the McLaren 650S to drive it. Yes, it is equipped with satellite radio, navigation and other modern technologies. The steering wheel, throttle, brake and paddle shifters, however, are really the heart of this car's entertainment system.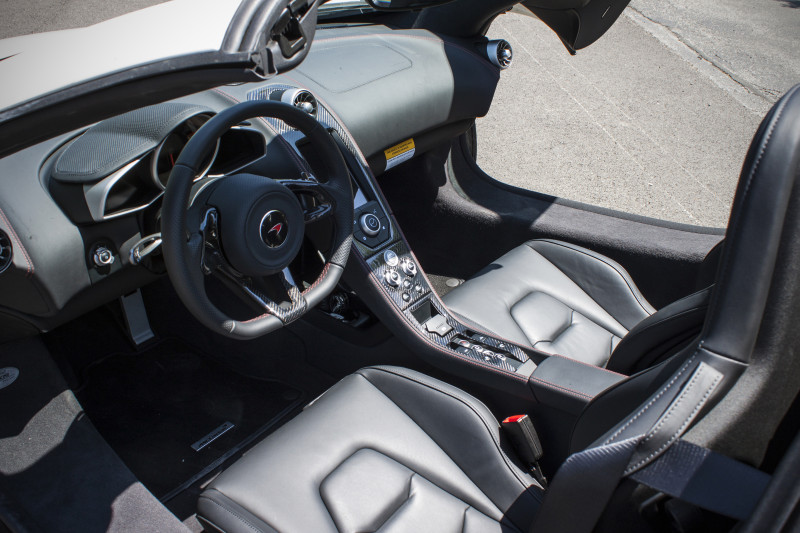 The ratios in the 7-speed dual clutch transmission are perfectly spaced and it can be driven in either automatic or manual mode with the steering wheel mounted paddle shifters. This engine revs so quickly, shift points come at you impossibly fast. There is absolutely no lag when you pull on the paddles as each subsequent gear engages instantaneously. One of the little aesthetic enhancements McLaren made to this process is something they call "cylinder cut" technology that shuts off the spark for a nanosecond when you shift so the engine delivers a lovely "pop" each time you change gears. In addition, they also found a way to store the engine's kinetic energy so when you upshift, the next gear gives an impulse of torque – a little kick in the backside – in track mode.
With its combination of low weight, high power and NASA quality engineering the McLaren 650S isn't so much a car as it is a time machine. It has the ability to change the perspective of every road you've ever driven on.
In fact, the best way to describe the sensation of wide open throttle acceleration to anyone who's not driven a 650S comes from when I was a kid in the movie theater watching the first Star Wars film. There's that moment when Han, Luke, Obi Wan and Chewy are attempting to escape from Tatooine by making the jump to lightspeed. As Han engages the engines, the Millennium Falcon suddenly rockets away turning stars from points to streaks and the spacecraft disappears into a distant horizon.
That's what it feels like to be behind the wheel of a McLaren 650S.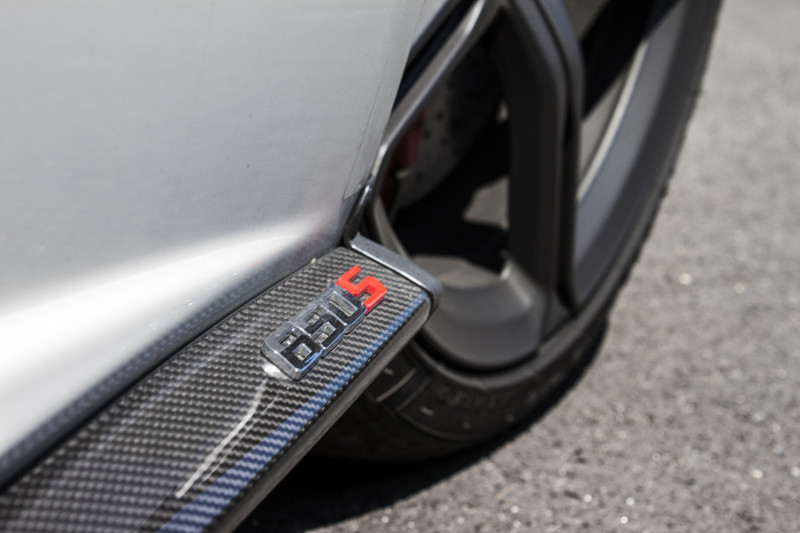 2015 McLaren 650S
Base MSRP: $280,225
Price as tested: $338,765
3.8 L Twin-Turbo V8
7-speed SSG transmission
Rear-wheel drive
Variable assist power rack and pinion steering
0-60 mph: 2.9 seconds
Top Speed: 207 mph
Optional Equipment
Carbon Fiber interior and exterior packages
Carbon Ceramic brakes with red calipers
IRIS Upgrade with Satellite Navigation and Meridian Surround Sound System
Parking Sensors (Front & Rear) w Rear Camera
Sport Exhaust
Forged Sports Wheels – Stealth Finish
While the manufacturer provided the vehicle for this story, the opinions and recommendations in this post are 100% ours.