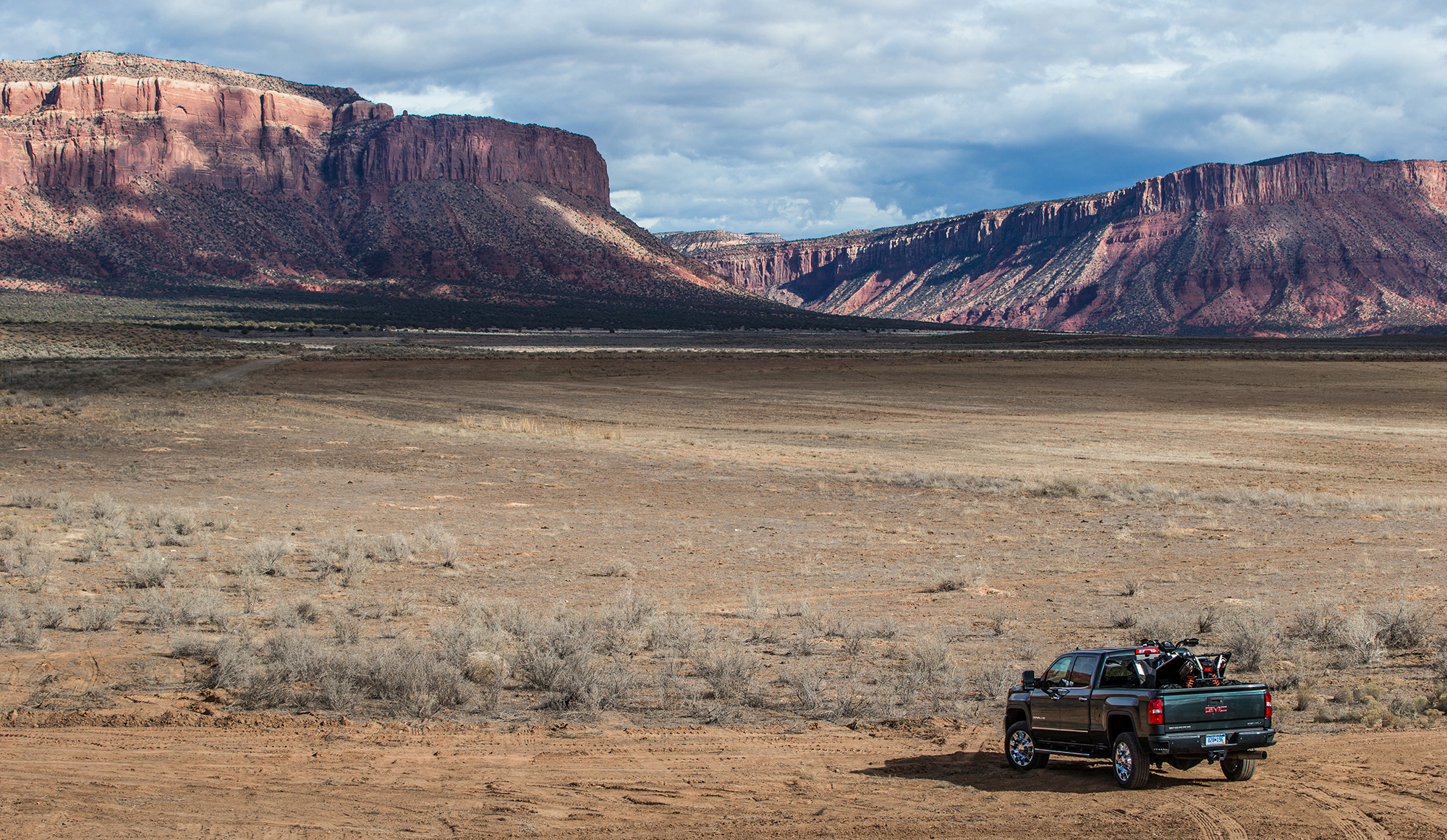 Some define luxury as the quality of the leather and other materials in a vehicle's interior. Others by the quiet comfort of the ride. And there are those who can't live without all the technology deployed to make driving easier. But when you're hauling a 10,000 pound trailer up an 8% grade at 6,000 feet with the temperature hovering around the century mark, there's only one luxury you need, and that's torque.
Fortunately the GMC Sierra Denali HD has each and everyone of those things, the last in spades.
How do I know? A few weeks ago I tested several versions of the 2017 Sierra HD with its new 6.6 liter turbocharged diesel engine on the serpentine roads and rugged trails of Colorado's Western Slope.
I can hear you saying, "Wait, last year's Sierra HD had a 6.6 liter diesel engine." And you'd be right, just not this 6.6 liter diesel engine. The displacement hasn't changed. Just about everything else, however, has. There's a new block, new heads, new turbocharging system, new fuel system, new electronic controls, new oil pan, and a new air intake system. All these changes add up to big improvements in three key areas: power, emissions, and refinement. The engine now makes 910 lb.-ft. of torque, a 19% increase over last year. It is 38% quieter at idle. The cooled exhaust gas recirculation system lowers combustion temperatures which reduces NOx formation. And, even though this number is less important than torque, horsepower has been increased to 445 ponies from 397.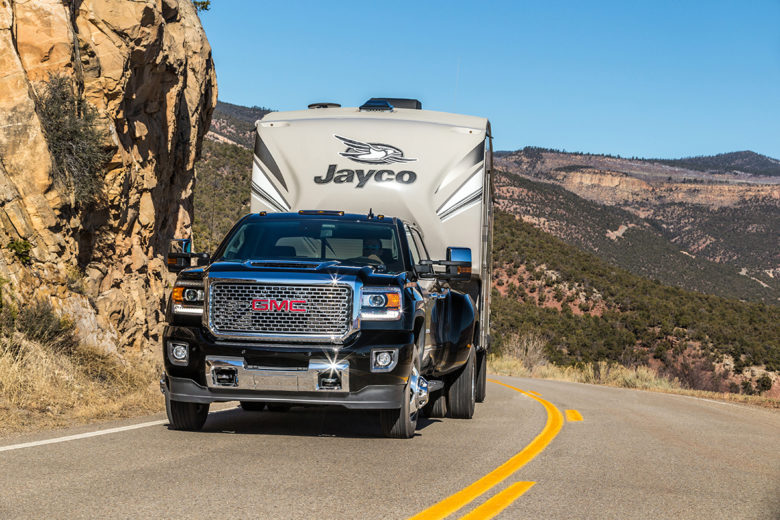 According to chief engineer Gary Arvan, "Nearly everything about the Duramax is new, designed to produce more torque at lower rpm and more confidence when trailering or hauling." He's not lying. I know because I took a turn behind the wheel of a GMC Sierra Denali 3500 HD pulling an 8,000 pound fifth wheeler up a twisting grade on Highway 90 just west of Paradox, Colorado.
Paradox is a speck of a town in the Colorado high desert with mountains rising in every direction. It gets its name not because there is anything particularly paradoxical about the area, just the wonky way the Dolores River flows through the valley on its way to meet the Colorado River. In fact, Paradox is exactly what you'd imagine it to be. It appears to be right off the screen of a classic Hollywood western. I half expected to see John Wayne come riding out of the far canyon with his Colt Walker and Winchester 1892 drawn ready to fire. Mostly because years ago he had. The ranch we used as a staging point for tests of both the 3500 HD and 2500 HD All Terrain X was used as a location for the film "True Grit." Not the Coen brothers remake, but the 1969 original starring the Duke as Rooster Cogburn.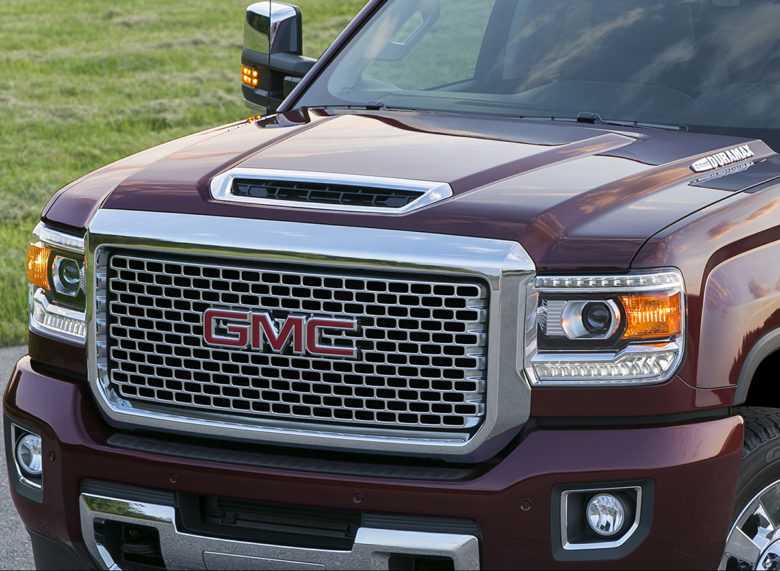 Back to trailering. The Sierra Denali HD has several new features in addition to a more powerful engine that make towing a 28-foot trailer through a winding mountain pass a pleasure instead of a chore. First of all, the engine makes more torque partly with the help of a redesigned air intake system that forces cool, dry air into the engine through a functional hood scoop. Another benefit of this system is that the torque doesn't fade as temperatures rise and the air gets thin when you're climbing mountains in the summer. Exhaust braking is also improved which allows you to descend steep grades without overcooking your brakes. The Sierra Denali HD has rear facing cameras on each side that allow you to see the trailer in the screen of truck's center console. For relative noobs like me, it makes it easier to keep your trailer centered in your lane, especially in the tighter bends.
Once you're done being impressed by the power and performance of this beast of a truck and look around the interior, you start to realize it's also a very refined luxury vehicle. The highway ride is luxury-sedan smooth and it's as quiet the best of them. If you weren't five feet above the pavement, you'd swear you were sitting in a Buick. GMC sells nearly 50% of its trucks in Denali trim, and for good reason. They're really nice.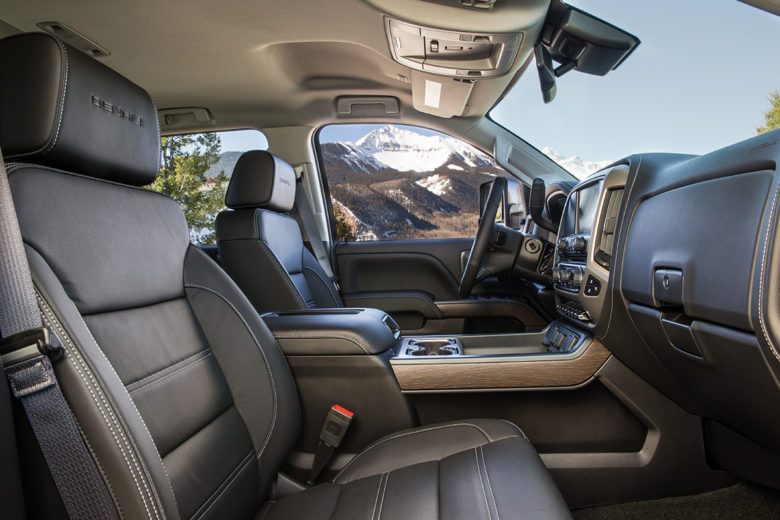 Inside you get full leather heated and ventilated seats, a heated, leather wrapped steering wheel, real wood accents, customizable driver display, wireless charging, a well executed entertainment and information system, as well as enough room for just about all the residents of Paradox. Okay, that last one may be a bit of an exaggeration, but leg, hip, shoulder and headroom front and rear are extravagant. I rode in the back seat for well over an hour. I would gladly have stayed there an hour longer had snacks been provided and I'd had my iPad with me. Did I mention that like all GM vehicles the Sierra Denali has 4G LTE WiFi connectivity? It does.
It also has a full suite of safety technologies available including six airbags, a rearview camera, stability control, trailer sway control, and hill start assist. The optional driver alert package includes lane departure warning, forward collision assist, and rear park assist, all good things on a vehicle this large whether you're towing trailers or hauling half your kid's hockey team to yet another road game.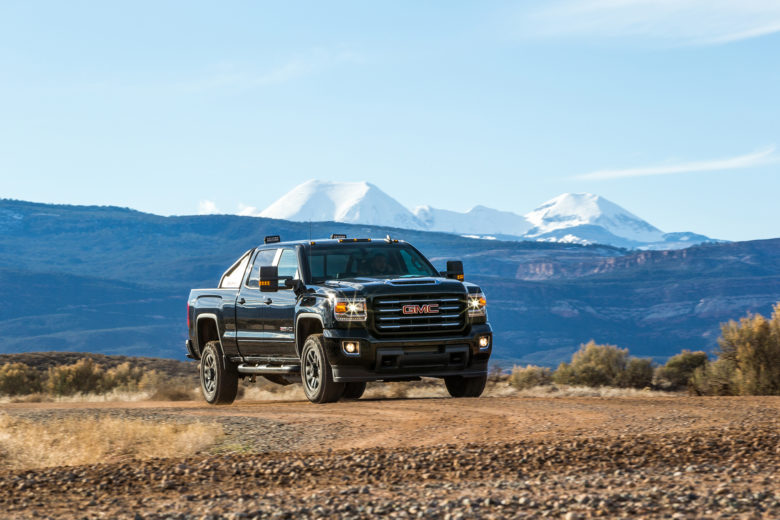 For those planning on spending significant time off road, GMC has created the All Terrain X, a truck that lives up to its looks when it comes to playing in the dirt. With really nice trim bits including 18-inch black aluminum wheels, black moldings, bumper, skid plate, B-pillars, sport bar and side steps, the Sierra Denali All Terrain X wears the black hat well. It has a body colored grill and is available in two colors – black and white.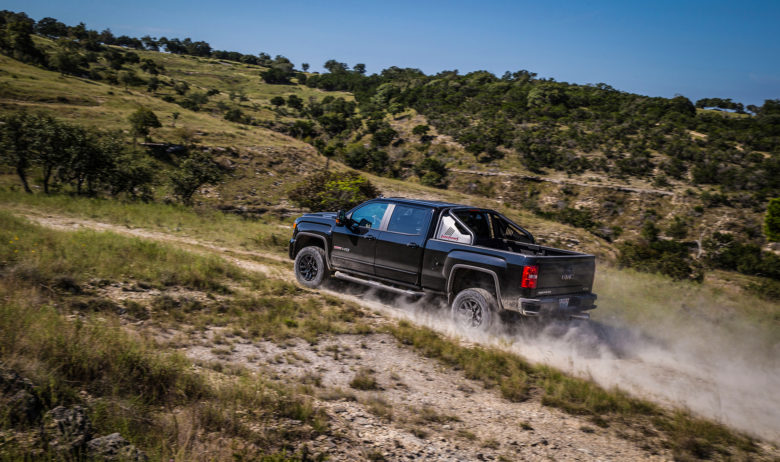 The All Terrain X is shod with Goodyear Duratrac off-road performance tires that have a tread pattern so aggressive you'd think this Sierra could scale canyon walls. The Z71 off-road suspension package provided plenty of ground clearance and enough travel to soak up the punishment I gave it on a fairly brutal off road course. Between the engine's grunt and the grip from the Goodyears, there wasn't a moment I felt anything other than confidence as I powered through the rutted trails between the scrub brush.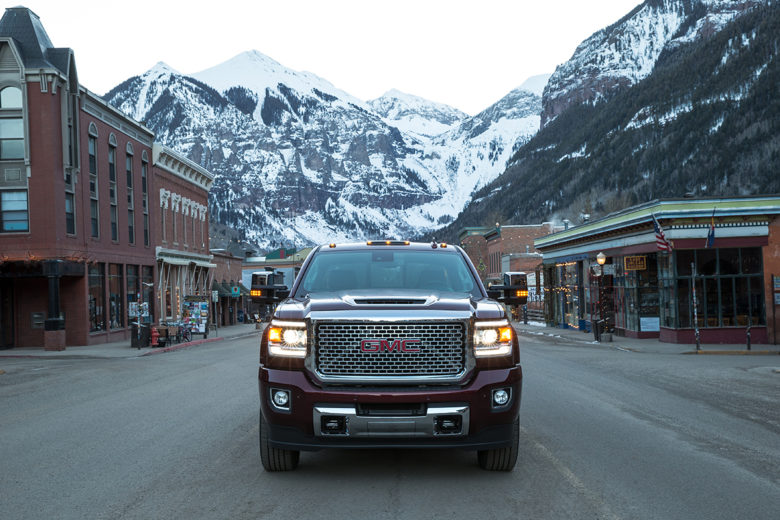 GMC has been on a tear lately, selling over 200,000 trucks each of the last three years. With this combination of luxury, capability, and comfort, along with America's seemingly insatiable appetite for Brobdingnagian vehicles, I have a feeling this is a trend that will continue well into the future.
2107 Sierra Denali HD AWD
4-door, 5-passenger, all-wheel drive, full-size, crew cab pickup truck with a 6'6" truck box
Base price: $58,495
Price as tested: $71,290 (includes destination charge)
Major options: Duramax Plus Package (diesel engine with Allison transmission, power heated trailer mirrors, chrome recovery hooks), power sunroof, metallic paint, off-road suspension
Engine: 6.6 Liter turbocharged V8 Diesel
Transmission: Allison 6-speed automatic
Horsepower: 445@2800 rpm
Torque (ft.-lbs.): 910@1600 rpm
Curb weight: 6,532
Towing capacity: 13,000 lbs (hitch) 14,800 lbs (fifth wheel)
Payload: 2,943 lbs
Fuel capacity: 36 gallons