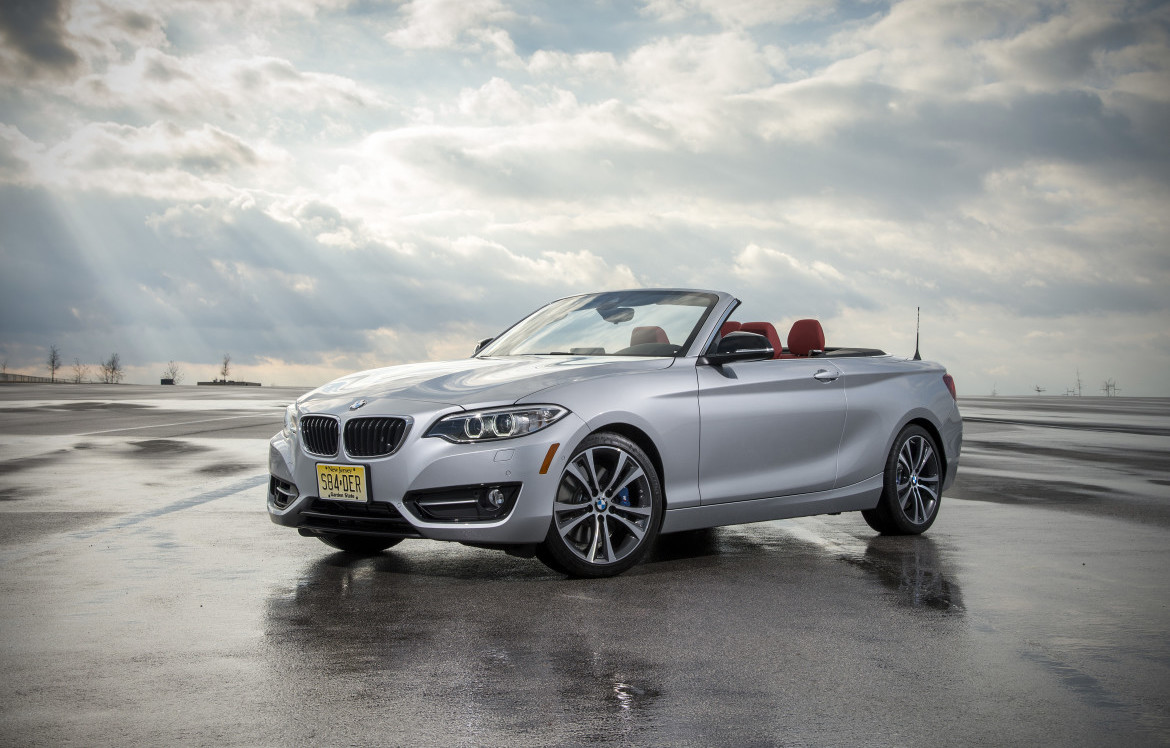 Here's the shame of the BMW 228i convertible.
Even though it's a damn fine driver's car – especially if you order it with either the M-Sport or track handling package – a lot of people will never even consider getting behind the wheel.
Why?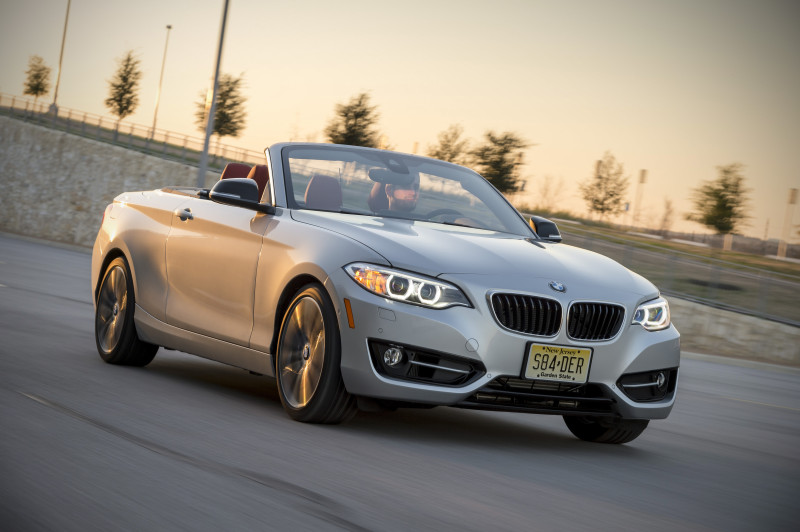 Given its size, price and badge, it has become a favorite "sweet sixteen" gift in places like Buckhead, Boca, the OC and Greenwich. This means a lot of people will miss out on its balanced handling, spirited performance and open-air joie de vivre for fear of being seen driving a "girls car."
And that's too bad.
No, the 228i in base trim isn't a rocketship with neck-snapping acceleration or formula-one agility. It is a tight-handling BMW with more than enough power to bring a smile to your face whether you're accelerating off the line using launch control or making a high speed pass on a sun-soaked, two-lane highway, as was the case during my 75-mile test drive in Central Texas last week.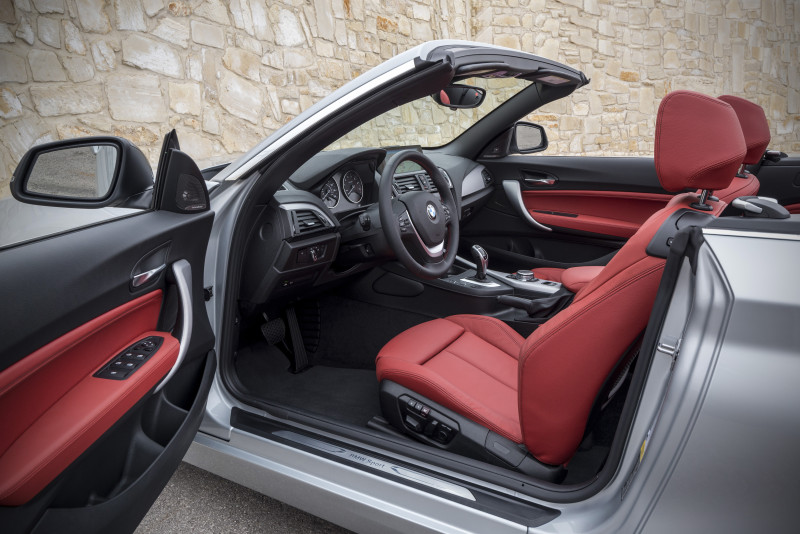 Add the M Sport package and things get even better. In addition to an aero package and upgraded trim on the exterior, and interior touches that include a restyled instrument cluster and a knee pad on the driver's side of the center console, you also get sport seats, a performance-tuned suspension and 18-inch double-spoked aluminum wheels with available Michelin Pilot Super Sport tires. Opt for the track package, things get even livelier, with BMWs excellent M Sport brakes, adaptive M suspension and variable sport steering.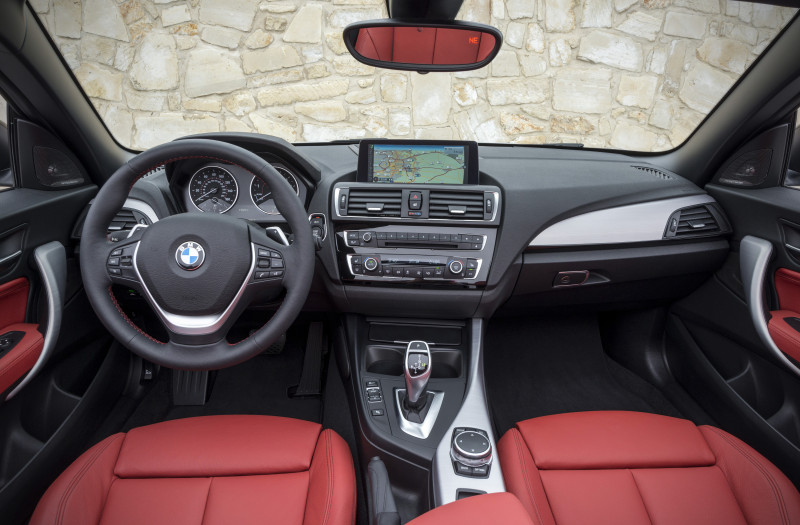 The drive loop wasn't designed to test the limits of the baby bimmer, but it did give me ample opportunity to put it through its paces on fast, sweeping corners, long, straight stretches, and rough patches of urban interstate just East of Austin. The overall impression is one of a car that has been tuned for comfort and built for speed. The steering even in sport plus mode was a bit on the light side and didn't transmit as much road feel as I've experienced recently in other BMWs including the M3 and X6. It took me one or two high speed corners before I could turn with the kind of confidence that comes naturally in its bigger siblings.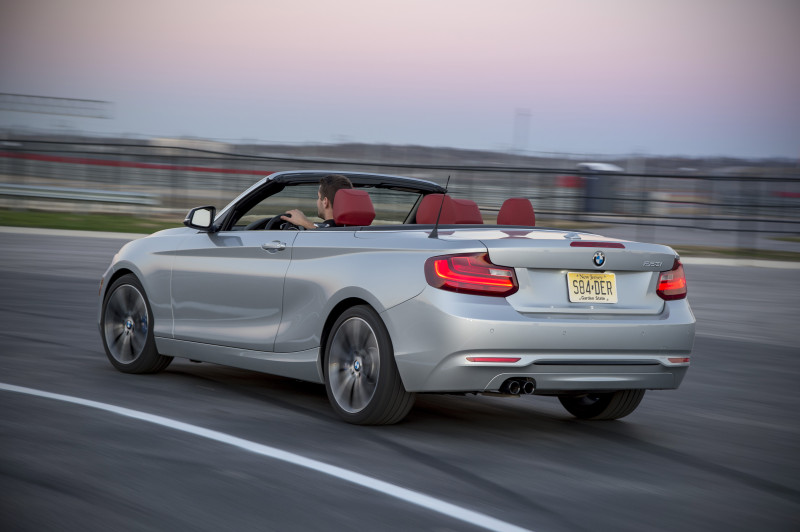 The engine, on the other hand, is pure BMW. The sound is slightly subdued, but the power comes on early and pulls strongly right up to the 7,000 rpm redline. The eight-speed automatic transmission shifts flawlessly exactly where you'd expect. If you want to take control, you can by throwing the shift lever to the right and engaging the steering wheel mounted paddle shifters. There's no traditional manual available in the 228, which is a shame. But one can be had in the high performance M235i version of the convertible.
One of the great surprises I found driving the BMW 228i convertible was how quiet it was even at triple digit speeds with the top down. With the wind screen raised just behind the front seats, there's very little buffeting in the cabin which means you can conduct a conversation with your passenger without shouting, and you'll arrive at your destination with perfect hair even if you didn't use half a tube of gel.
The 228i is a very handsome car. Every detail is designed to make it look lower, wider and more aggressive. From the forward-slanting kidney grilles to the round LED headlamps, the front is classic BMW. On the sides, the high shoulder line means you sit deeply in the interior. The sculpted side body panels with their strong character line create an elegant and sporty effect. In the rear, the wide tail lights, chrome tipped exhaust pipes and beefy tires make it look low, taut and ready to pounce.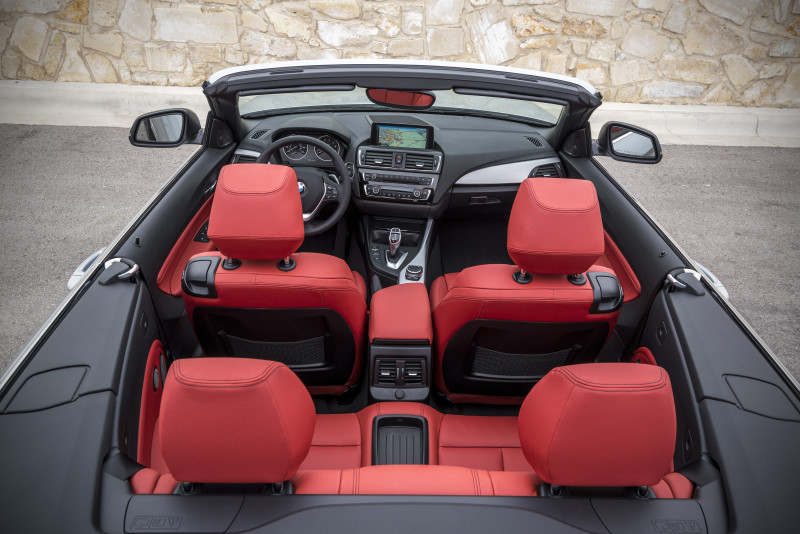 The 2-Series is also available with BMW's all-wheel xDrive system. More than just a foul weather option, xDrive also enhances acceleration and handling on dry pavement by vectoring power to the wheels that need and can use it most. Thus acceleration times are a few tenths quicker and handling just a bit sharper.
For those concerned that the standard 228i Convertible just won't get them to their destination fast enough, BMW will also produce the M235i version of the car. The M235 features a 320 horsepower inline, turbocharged 6-cylinder engine and as I mentioned is available with either a traditional 6-speed manual or an 8-speed sport automatic with paddle shifters.
The bottom line? If you're comfortable enough in your own skin to know the car you're driving will also be operated by entitled teenagers named Madison, Taylor, Alexis and Alyssa, I highly recommend a properly optioned BMW 228i convertible. And if you're not, I can only say, you're missing out on a lot of fun.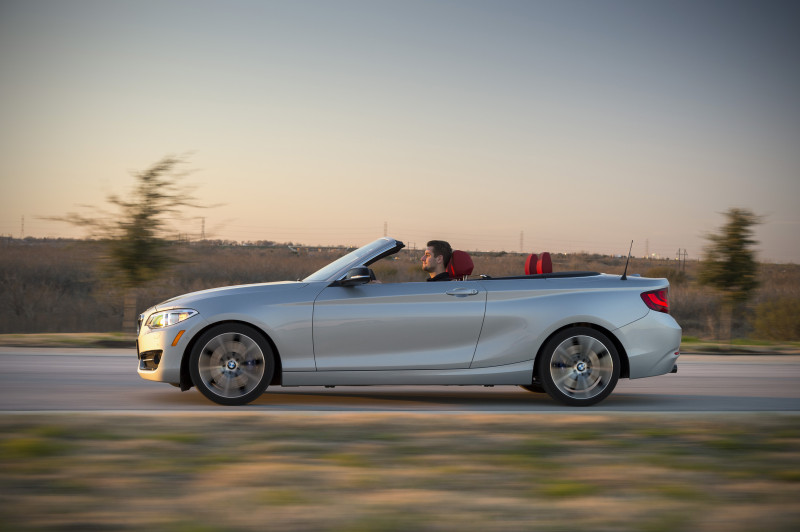 BMW 228i Convertible
two-door, four passenger convertible
Base price: $37,900
2.0 L twin-turbo, in-line four-cylinder with variable valve timing
8-speed sport automatic transmission with shift-paddles
Horsepower: 240 at 5,000 – 6,500 rpm
Torque: 255 lb-ft at 1,250 – 4,800 rpm
Length: 174.7 inches
Curb weight: 3,625 pounds
0–60 mph: 5.7 seconds
Top speed: 155 mph
EPA MPG: 23 city / 34 highway
www.bmwusa.com
While the manufacturer paid for travel expenses and provided the vehicles for this story, the opinions and recommendations in this post are 100% ours.