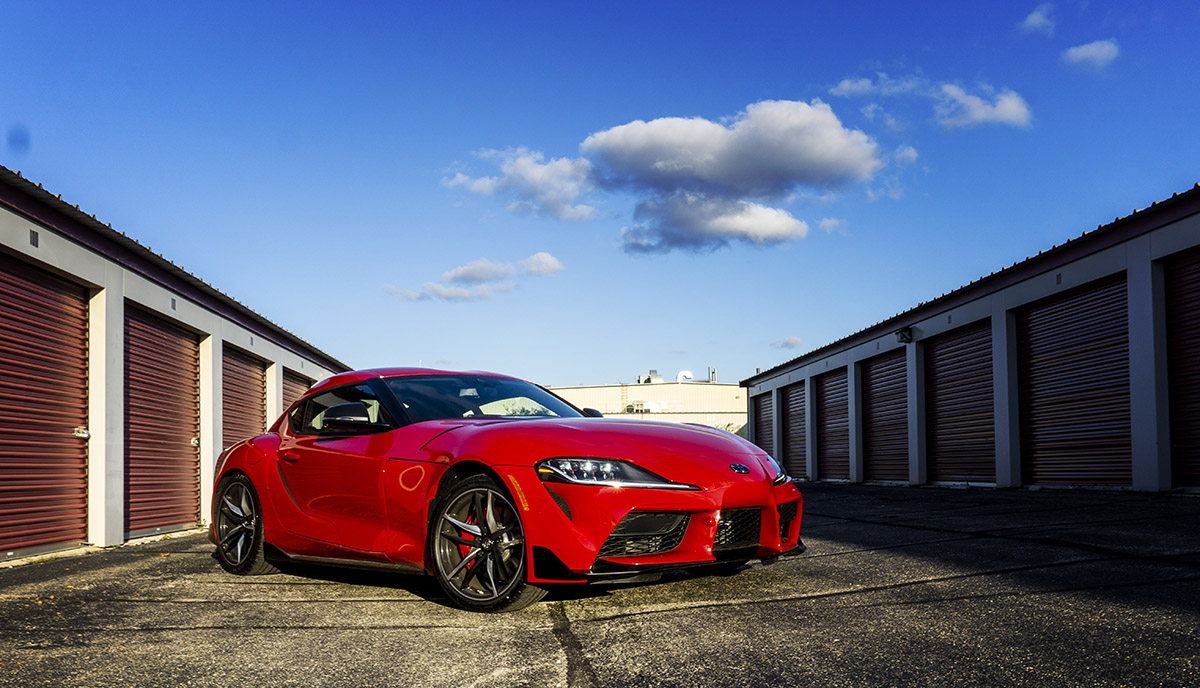 They tell you to never meet your heroes because they won't live up to your ideals. I was worried that would be the case with the fifth generation Toyota Supra. My memories of Supra date back many years to my Car and Driver days when I drove the magazine's second generation Supra long-term test car from Ann Arbor to New York and back. Now that the statute of limitations has passed I can admit to an epic late night triple-digit encounter with someone in a Porsche 911 (was that you David Letterman?) on the Merritt Parkway who was determined to shake me. He couldn't.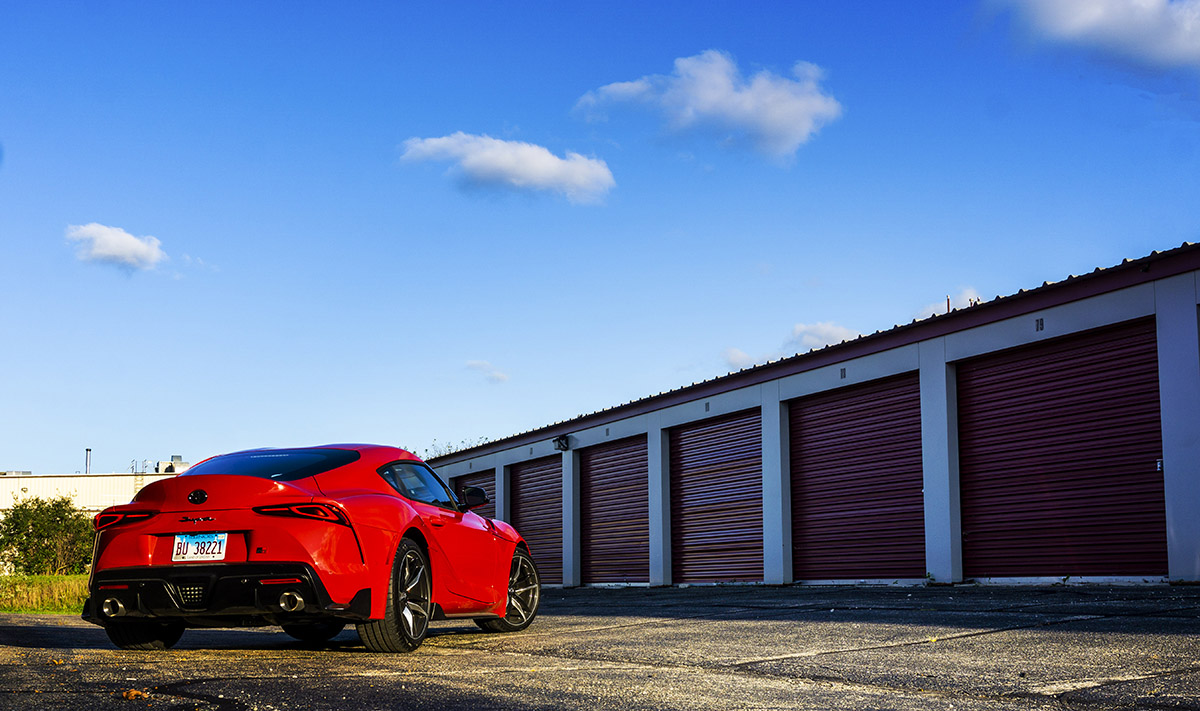 There are many reasons to be worried about the new Supra which is manufactured in Austria by Magna Steyr in joint venture with BMW. Two vehicles roll off that assembly line: the BMW Z4 Roadster and the Toyota Supra sports coupe. The shared platform makes both cars possible, but would it also make them too similar? After all they share the same engine, transmission, basic suspension set up, and electronics. And then there's the fact that the only transmission available is the very good but very automatic ZF 8-speed. No manual on a Supra? Paul Walker, aka Brian O'Conner, is rolling over in his grave.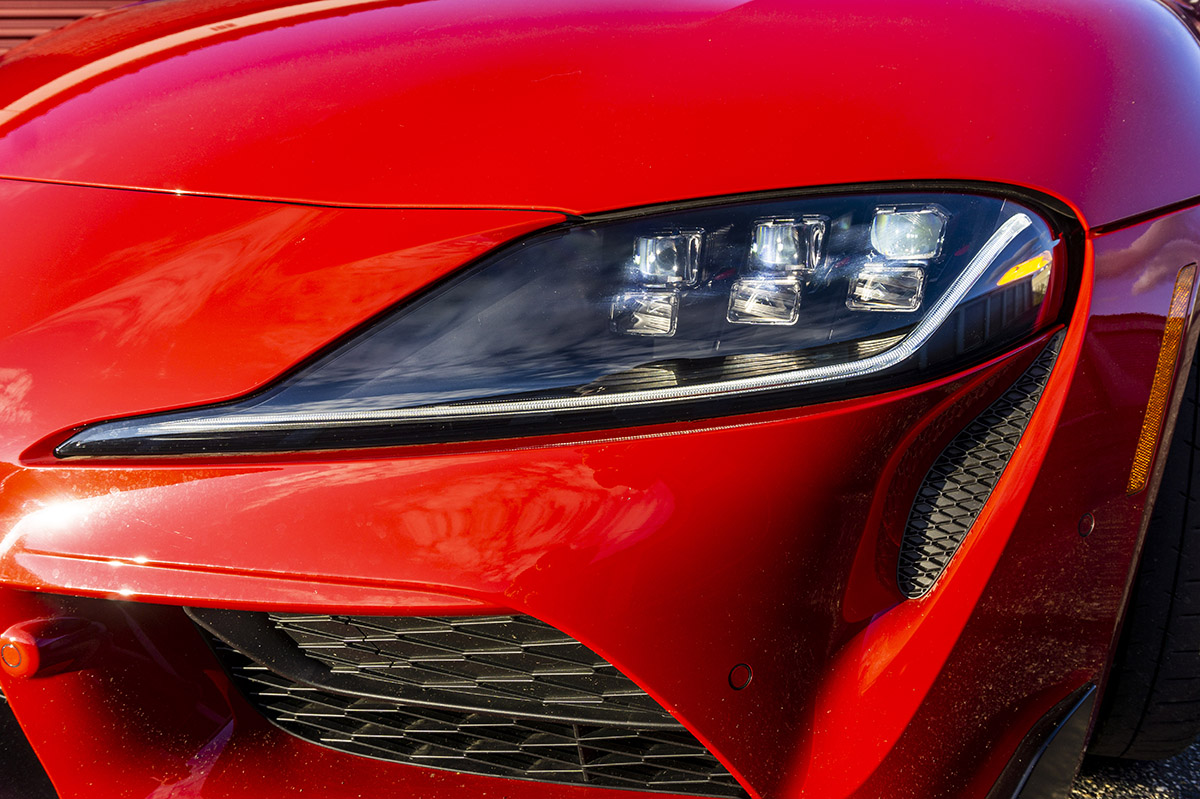 There are other issues for me including the polarizing design work. Overall I like the shape and proportions, but it falls apart thanks to the fake vents in the fascia, doors, hood, and rear. It's bad enough that these exist on the "sporty" Camry XSE, but Supra? No. Just no. I hope there are plans to open up those vents in a future, higher performance edition, but I won't be holding my breath.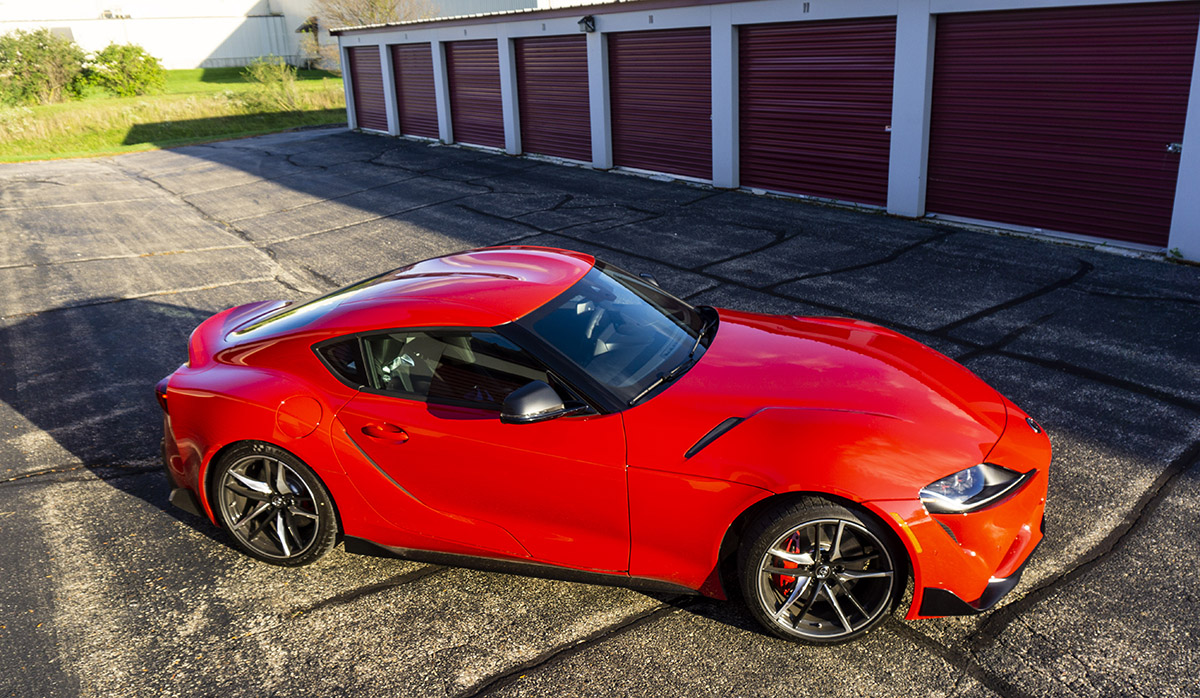 When I got behind the wheel, however, I realized that none of those things really matter because the 2020 GR Supra is so much fun to drive it can overcome almost any superficial sin. I get that purists are upset this isn't a complete Toyota project from start to finish, but if it weren't for the partnership with BMW, we wouldn't have this Supra at all and that would be a shame.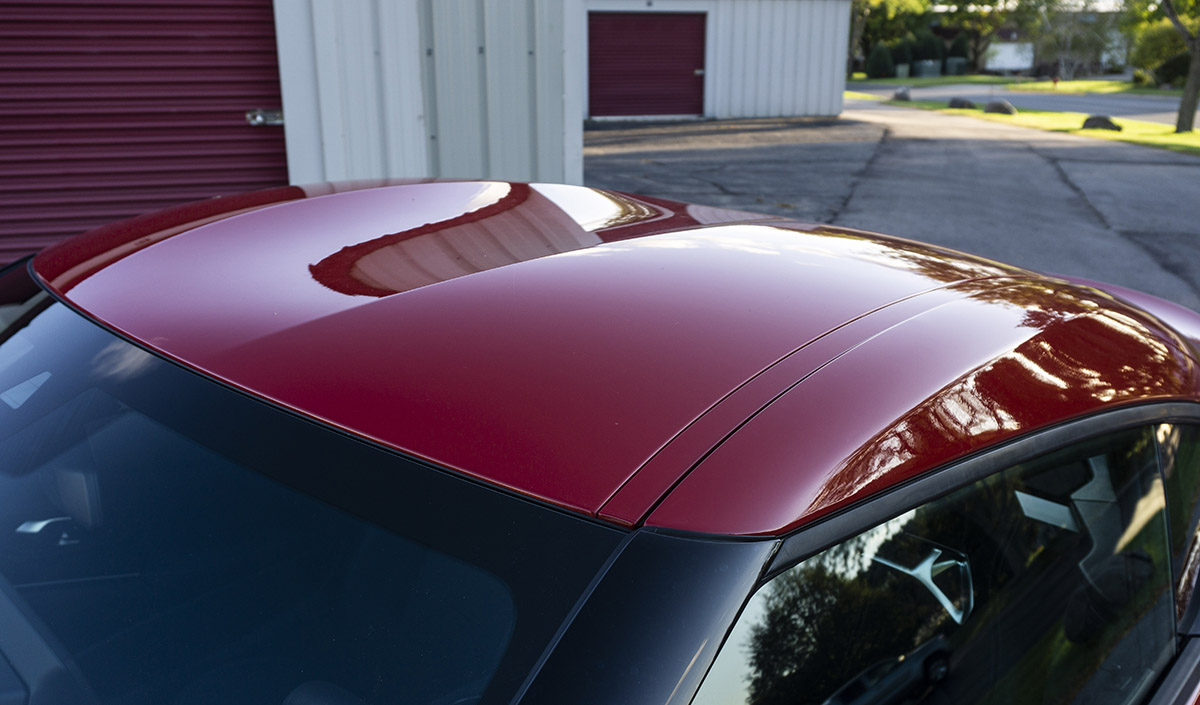 When the powers that be at Toyota – actually chairman Akio Toyoda – decided to recreate Supra for a new generation after a 21-year hiatus, there were some choices to make. The original car was a hopped up Celica with the front end elongated to accommodate the larger and legendary Toyota 3.0-liter overhead cam straight six which powered the 2+2's rear wheels. Nothing in Toyota's current portfolio could serve as a base for today's car so they had to start from scratch and believe it or not, that's really expensive, billions of dollars expensive. There are only two ways to recoup that investment, volume or price, and since a coupe no matter how good won't crack six-figure sales numbers, Toyota had to be creative to produce it affordably. The other option would be to sell it at a ridiculously high price or lose money on each one, and the last time I checked, Toyota Motor Corporation wasn't a non-profit.
So Supra isn't a pure Toyota. That doesn't stop it from being the best Supra ever made. It is quicker, faster, better handling, more comfortable, safer, more efficient, and more technically advanced for about the same price (when adjusted for inflation) than the car that disappeared 21 years ago.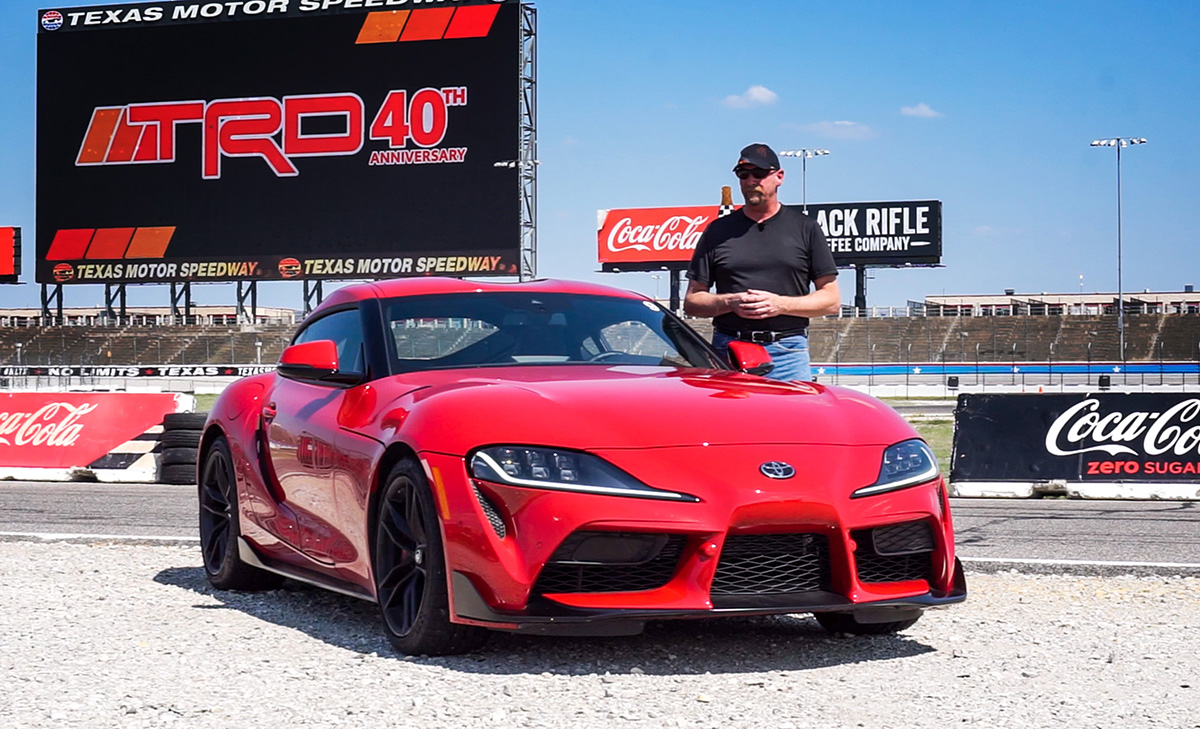 Let's start with the the basics that make this car work. Since Supra is now a two-seater, not a 2+2 like its predecessors, it has a shorter wheelbase with a fairly wide stance. According to Thomas Kretschmann, Senior Product Specialist for Toyota, the ideal wheelbase to width ratio makes it turn quicker and handle sharper than previous Supras and turn it does. During my time on a road course at Texas Motor Speedway, I found Supra feels nicely balanced through high speed corners, and only exhibits understeer when you really overcook it into the tighter bends. The folks at Gazoo Racing, Toyota's performance partner who engineered the Le Mans winning Toyota World Endurance Prototype car, worked their magic on the double joint MacPherson Strut front and multi-link rear suspension. With adaptive dampers, it firms up for track use, but in normal mode, won't beat you up on the street.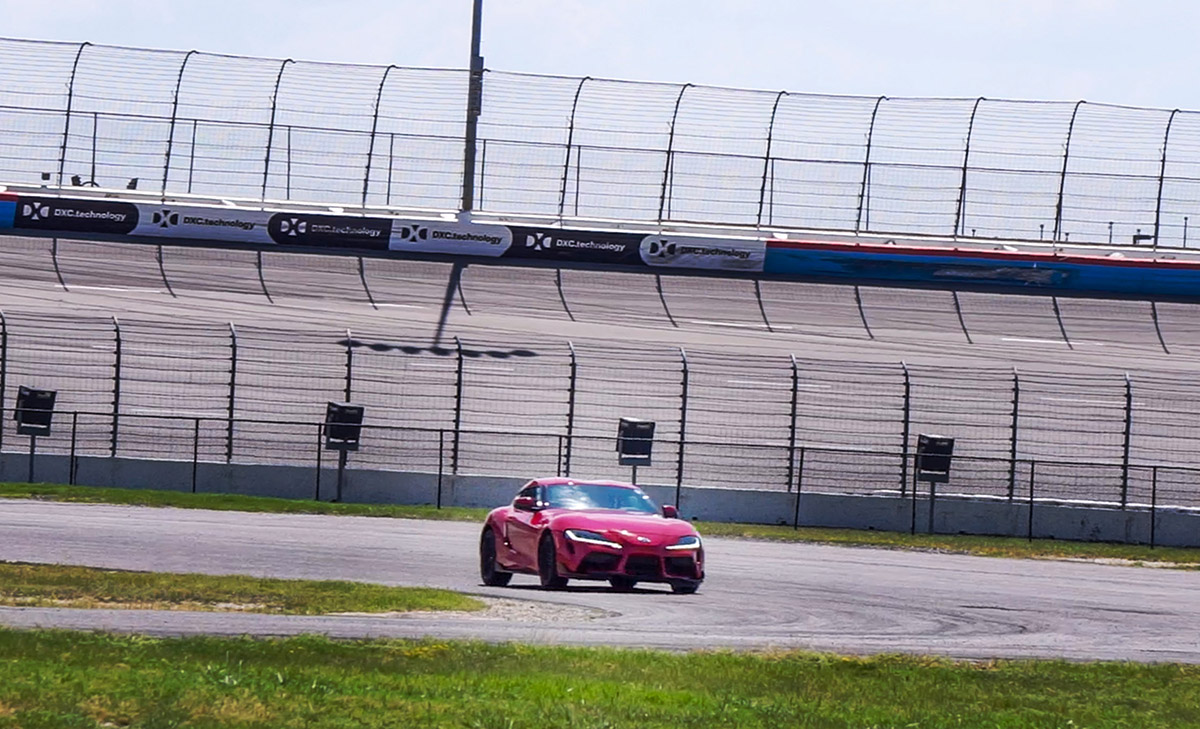 Steering is quick and light even in sport mode, but doesn't have a whole lot of feedback. Supra feels light and flickable with tons of power to push its 3,400 pounds around the track. Toyota claims 335 ponies and 365 pound-feet of torque, but it seems they're sandbagging. When Car and Driver put it on a dyno, horsepower was up a bit, but torque peaked at 427 pound-feet. The engine revs willingly and pulls early. Full torque is available at just 1,600 RPM and the power peaks up around 6,500 rpm which means it's really fun to put into manual mode and work the paddles, keeping the revs up. The ZF 8-speed shifts with the precision I've come to expect with this unit. There's a reason it's used in everything from Alfas and Astons to Lambos, Jaguars, even Ram and Rolls-Royce – it's slick, solid, smart, and strong.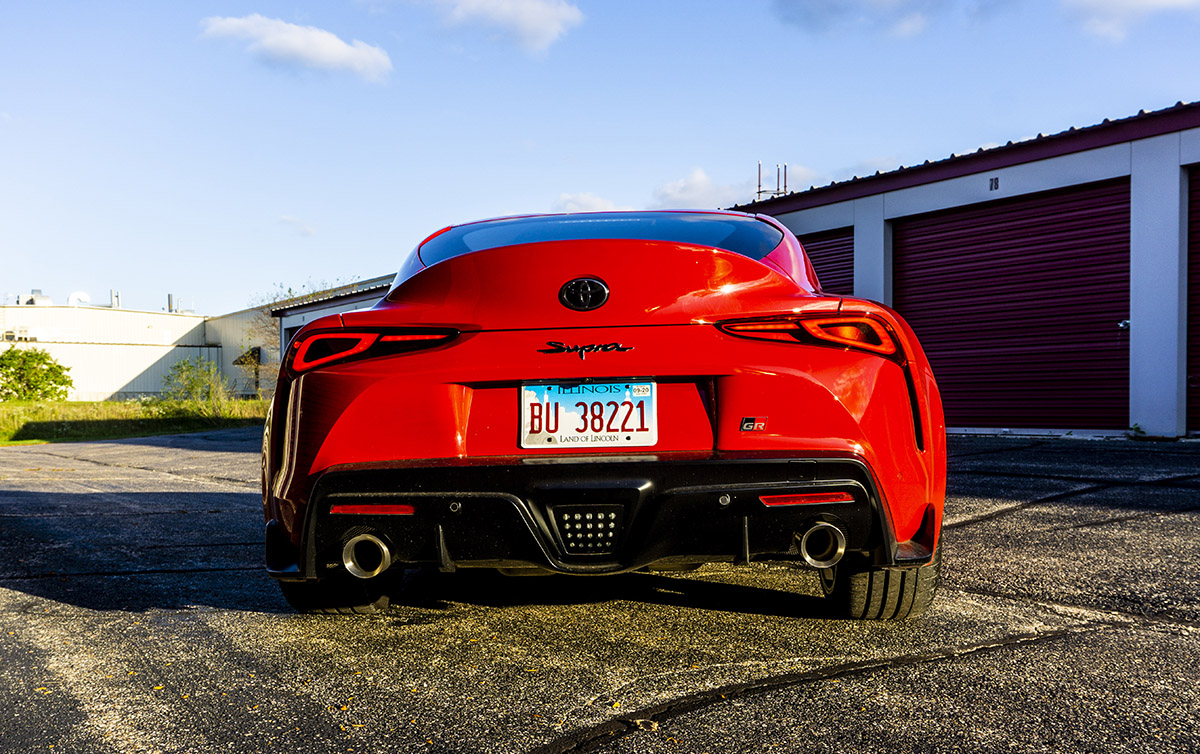 Even with this sizable rubber in back, the rear end is twitchy but never felt unpredictable, just lively. The active differential allows the torque to transfer to either side which makes the car rotate more quickly and the electronic nannies (which I was instructed not to turn off) were a bit intrusive, bogging the car down out of tighter corners as it fought for grip.
In addition to a day with Supra at the track, when I returned from Texas I got to spend four days with it over a weekend at home. Given the opportunity to drive it as a normal human would and not chasing the limits on every corner at the track, I had time to examine Supra's interior and contemplate its deeper meaning.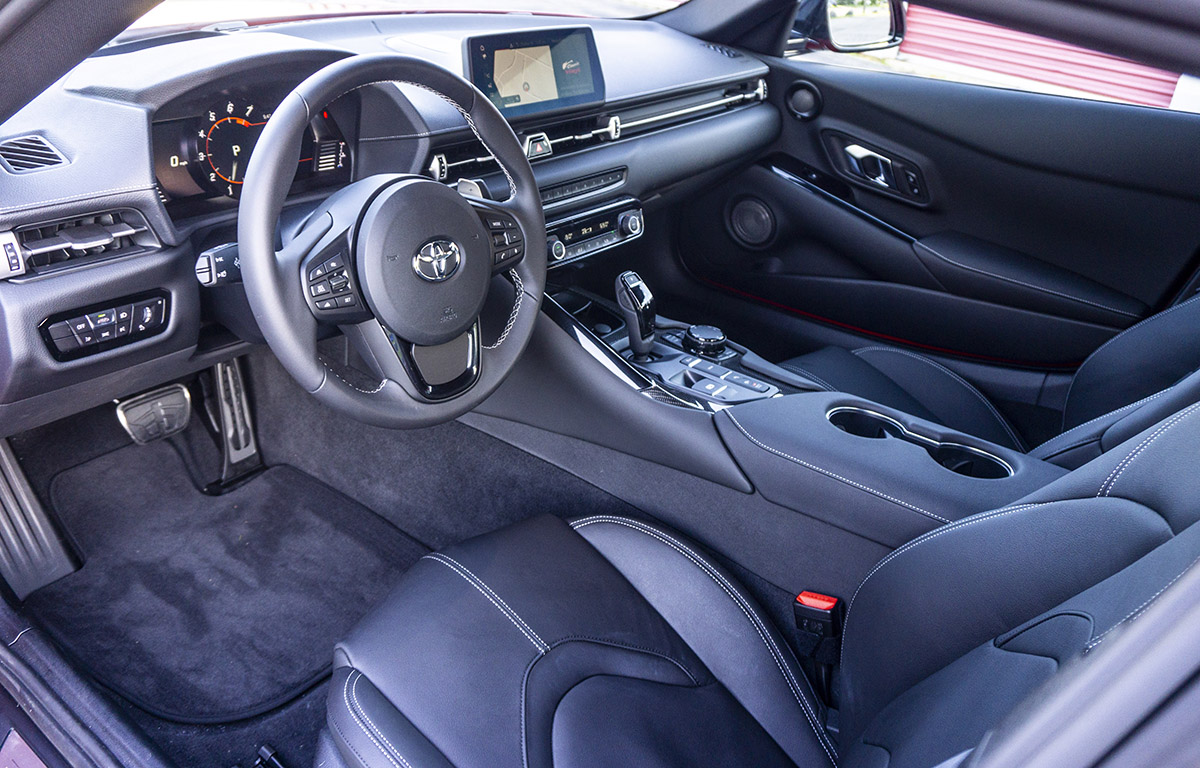 Let's start with the easy stuff. In normal mode Supra is well behaved, but feels like an antsy teen waiting to meet up with friends on a Saturday night. There's plenty of leg, shoulder, and head room – I was even able to wear a helmet at the track without coming close to hitting the roof – but visibility, especially at the side is compromised for taller drivers like me. The way the roof wraps over the side means it's nearly at eye level for me. I could see everything, but it's an odd sensation, slightly claustrophobic, and definitely different even from small coupes like the Alfa 4c, Jaguar F-Type, and Ford Mustang.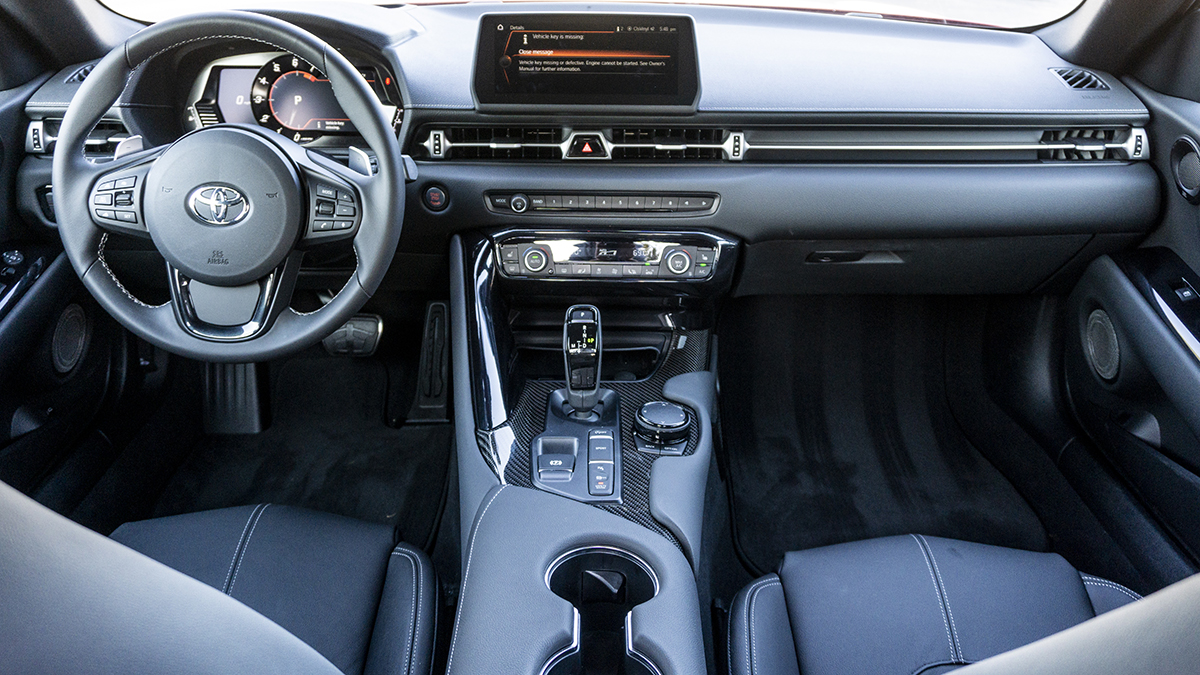 Seats are what you'd expect from a performance coupe, sporty, supportive, with minimal, but effective adjustments. After a three hour drive on the interstate from Madison to Joliet, Illinois for the Midwest Automotive Media Association Fall Rally, I was plenty comfortable. Except for the annoying piped in engine sounds, found Supra a very pleasant place to be. The modified iDrive interface is easy to use, the sound system is more than adequate, and there's plenty of room under the rear hatch for a couple of weekend bags.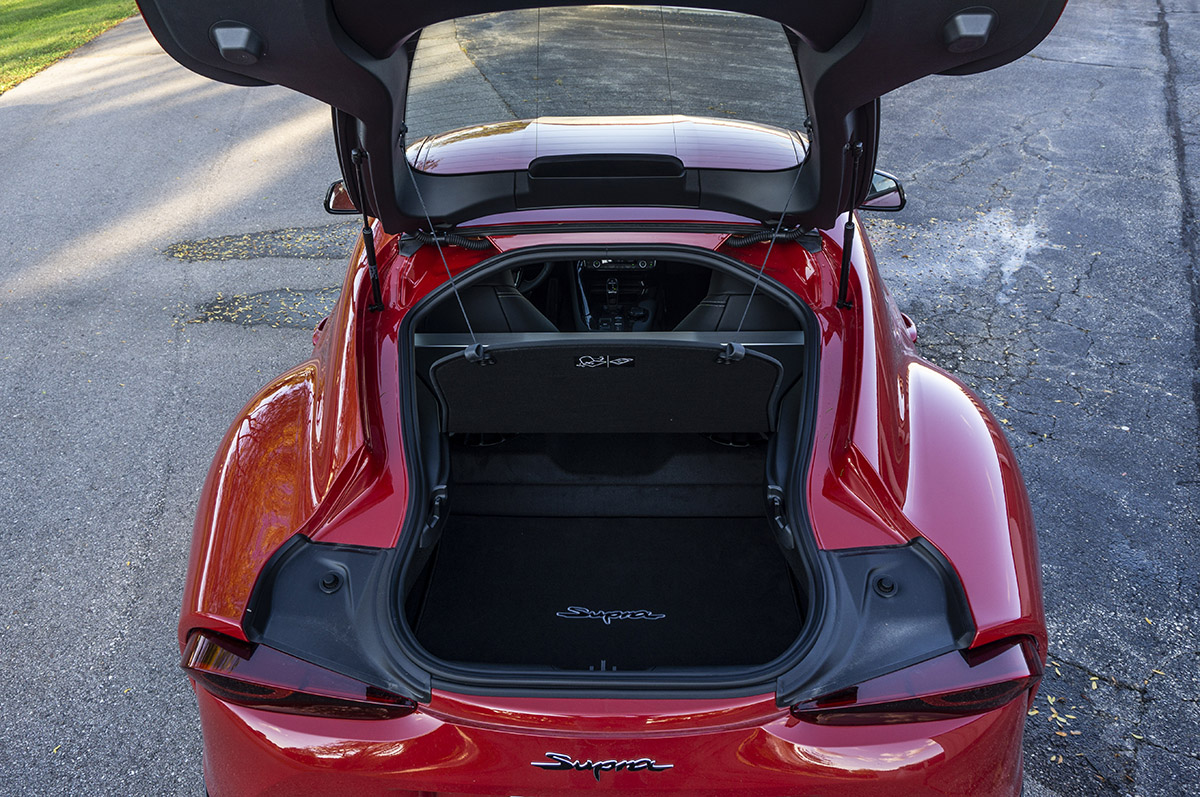 Starting at $49,990, Supra isn't a value, but the price seems plenty reasonable for a two-seat sports car that will go from 0-60 in under 4 seconds, get close to 30 miles per gallon, make you feel like Fernando Alonso at the track, and serve as a very reasonable daily driver. No car is perfect, but Supra has enough personality and performance to help it overcome its flaws. And in the end, that's all that really matters.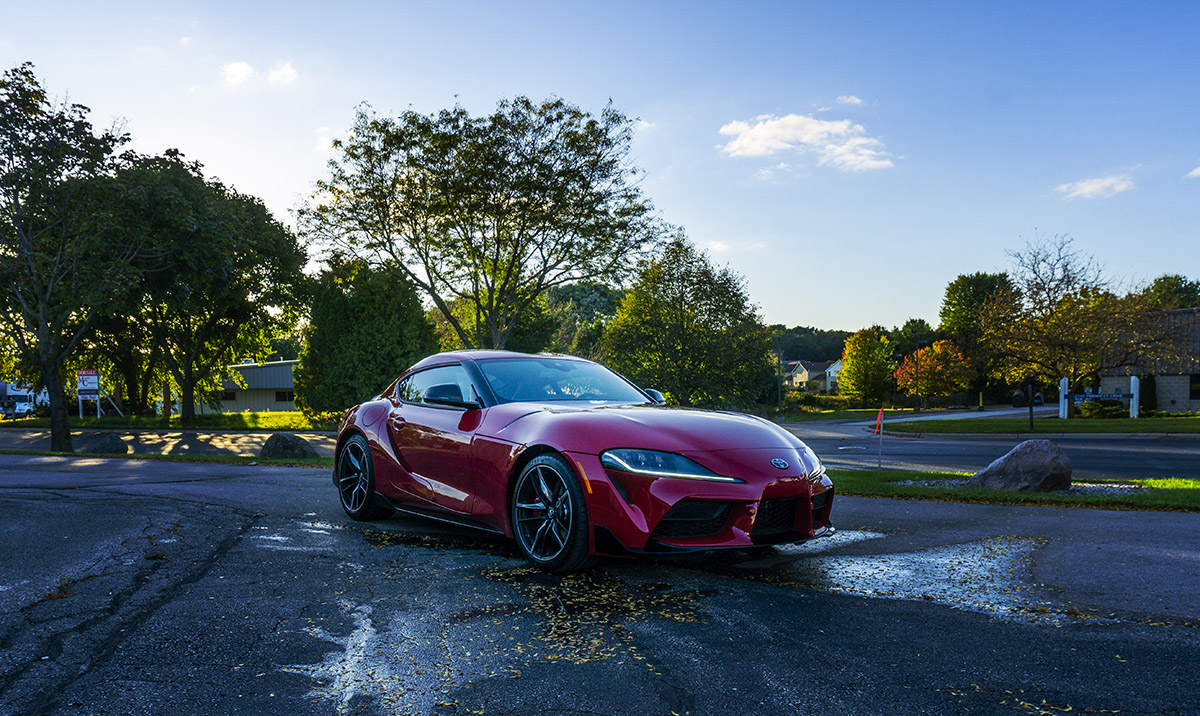 2020 Toyota Supra 3.0 Premium
Two-door, high performance, rear-wheel drive sports coupe
Base price: $49,990
Price as tested: $56,195
Options: Premium Package – heated, leather trimmed sports seats, 12-speaker JBL audio, 8.8-inch touch screen with navigation, wireless charging ($4,000); Driver Assist Package – radar cruise control, blind spot monitor, rear cross traffic alert, parking sensors ($1,195); cargo mat ($80); Delivery $930
Engine: 3.0 inline 6-cylinder with twin-scroll turbocharger
Transmission: 8-speed automatic with manual shift mode
Power: 335 horsepower @ 5,000-6,500 rpm
Torque: 365 pound-feet @ 1,600-4,500 rpm
Curb weight: 3,397 pounds
0-60 MPH: 3.8 seconds
Top speed: 155 MPH (electronically limited)
EPA MPG: 24 city/31 highway/26 combined