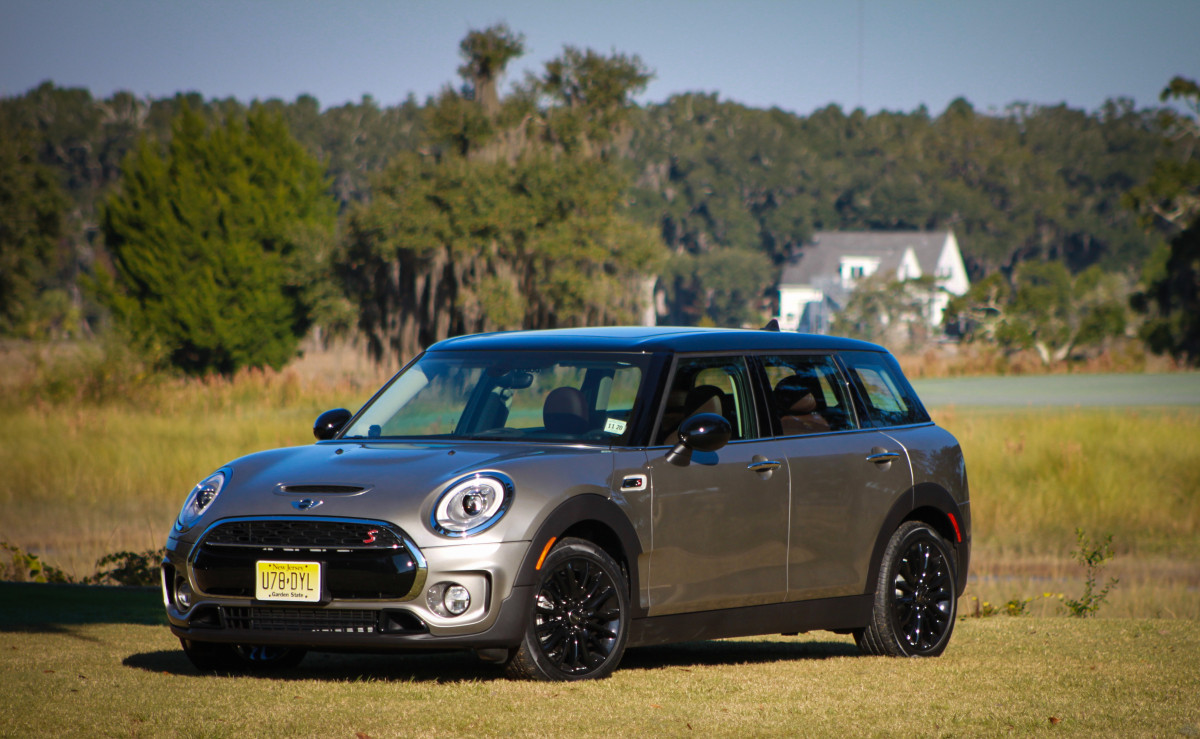 Jumbo Shrimp and Military Intelligence now have a new a rival for the epitome of the oxymoron, MINI Clubman. Not that it's a bad car. Far from it. It's actually kind of wonderful in that oddball, quirky, fun way only MINI Coopers are. It's just not very mini. In fact, the new Clubman is so big, it's the first MINI to be designated not as a subcompact, but a compact which is kind of a big deal.
So how did the distinctive, diminutive coupe from Oxford, England grow two new doors and add nearly 17 inches to its length? According to David Duncan, Vice President MINI of the Americas, the answer is pretty simple. Executives at MINI talked to former owners about why they chose another car. Not surprisingly most responded with the need for more room and practicality, things the new Clubman has in spades. So while the Clubman may bring a few people into the brand who wouldn't have considered a MINI 2-Door Hardtop because of its size, the Clubman is mainly targeted at current owners who would otherwise leave for a BMW 3-Series or other small premium sedan.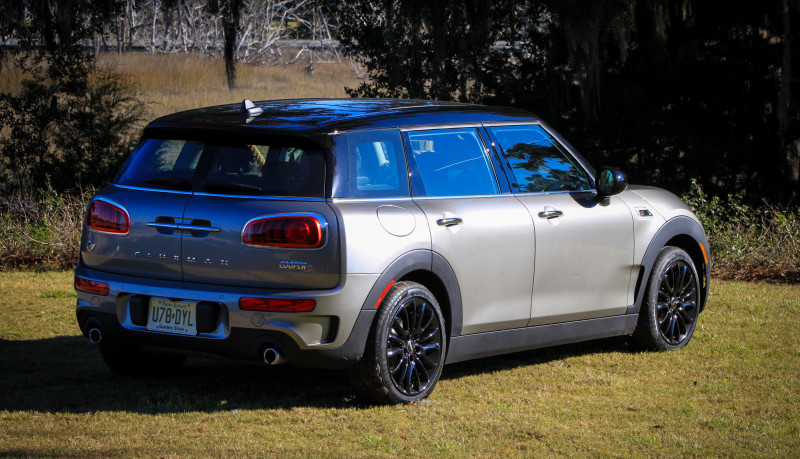 But lets be clear; compared to other MINIs this is a big car. Compared to other cars, it's not. The MINI Clubman has an overall length of 168.3. That's smaller than a Ford Focus (171.6), Chevy Cruze (183.7), and Toyota Corolla, (182.6).
The Clubman only feels bigger, more substantial, more premium. All of which is intentional.
A fully optioned MINI Clubman S weighs in at a not-so-mini 3,200 pounds nearly 600 more than a standard 2 Door Hardtop Cooper S and 300 more than a 4 Door Hardtop. The result is a small car that feels rock solid on the highway, but loses some of that "go kart handling" magic MINI touts when it talks about its cars.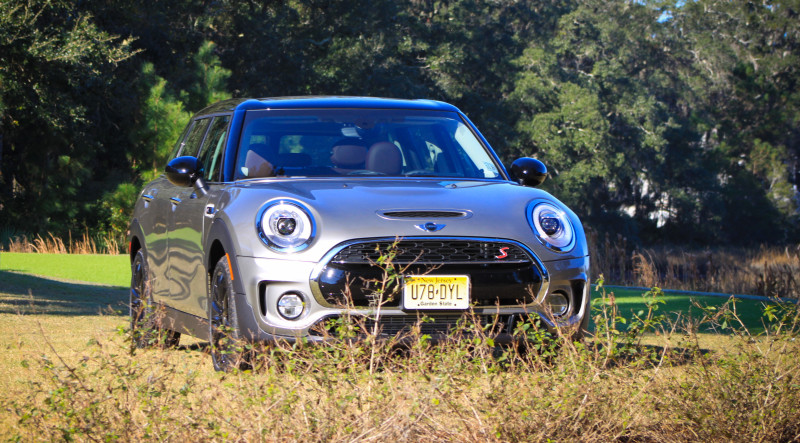 From the front the Clubman is pure MINI with its wide-eyed headlights, arched grille and low, wide stance. But move to the side and it becomes something else. The profile is definitely MINI with its sloping hood and squared off back, but with four doors in between, it's now (wait for it) a station wagon. Remember those family haulers that dominated American suburban parking lots before the invention of the minivan? That's what this is. With all the advantages of more cargo room, back seats you can actually use, and car-like handling.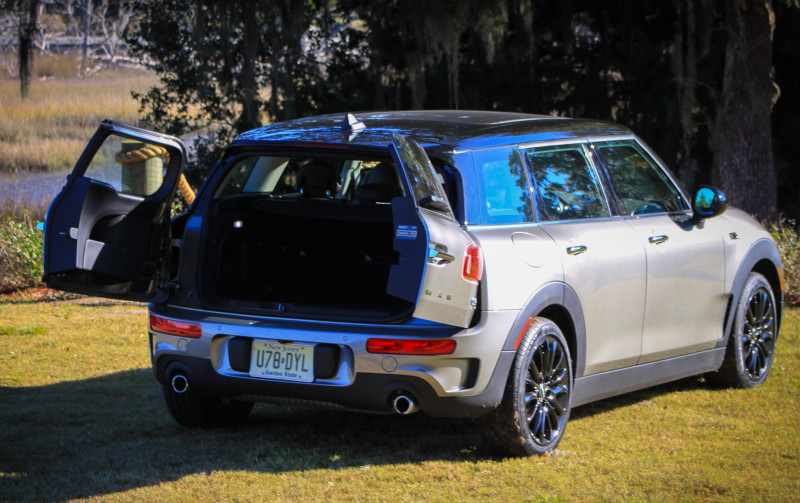 In back, MINI's split rear doors open wide to swallow 17.5 cubic feet of cargo with the rear seat up. When folded you can stuff nearly 50 cubic feet of gear behind the front seats. I wouldn't call the MINI Clubman handsome, but it is well balanced with nice performance cues like the hood scoop, slight fender bulges and appropriate use of brightwork.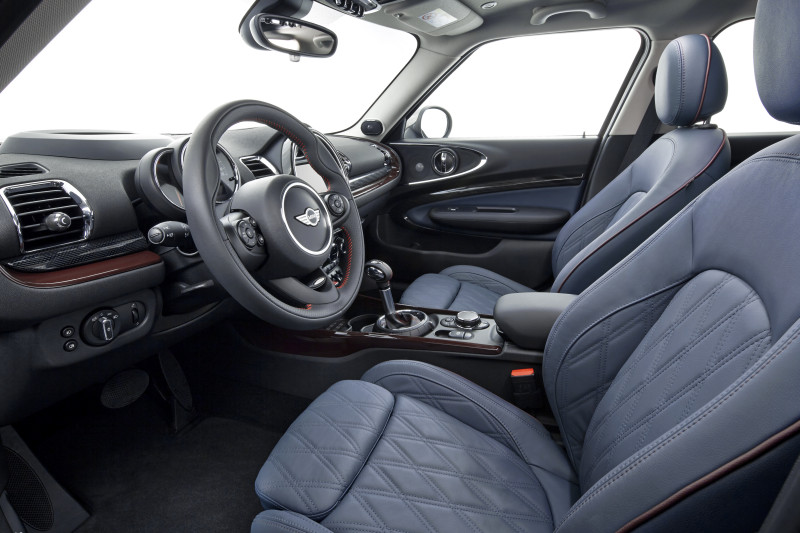 The biggest upgrade in this Clubman comes when you open the door. The new interior materials and craftsmanship have been significantly upgraded taking the personality of MINI from a that of a rowdy teenager to a well-tailored adult who still shows his fun side every once in a while. The leather seats are very well crafted with quilted diamond stitching and a full range of adjustments. In back you'll find a MINI first, plenty of legroom for real adults. I'm not talking you're 4'11" grandmother and two of her canasta buddies, but honest-to-god six-footers. And now since it offers three-across rear seating you can hold the front court of your average middle school basketball team without busting any knees.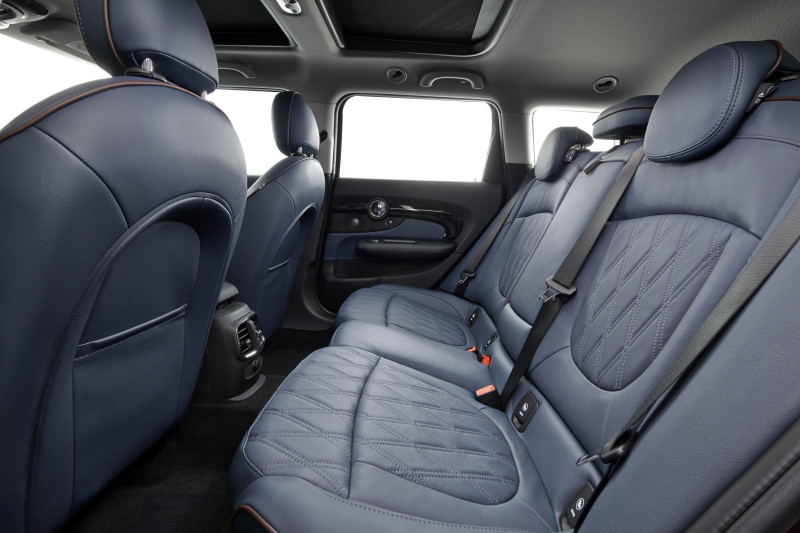 It's clear that MINI is serious about its position as the premium small car. While the styling cues in the Clubman are all MINI, round and elliptical shapes, a fun interior LED lighting package, and more, the materials and finish are all BMW. Nowhere is that more evident than the infotainment system, which is BMW's iDrive with MINI graphics laid overtop. It works as you'd expect, efficiently and precisely, using a well placed dial between the seats to point and click to icons on the screen. The navigation system is easy to program and the radio cranks out the jams. The solidness of this MINI is felt in every switch and lever and the doors slam shut with a satisfying thud.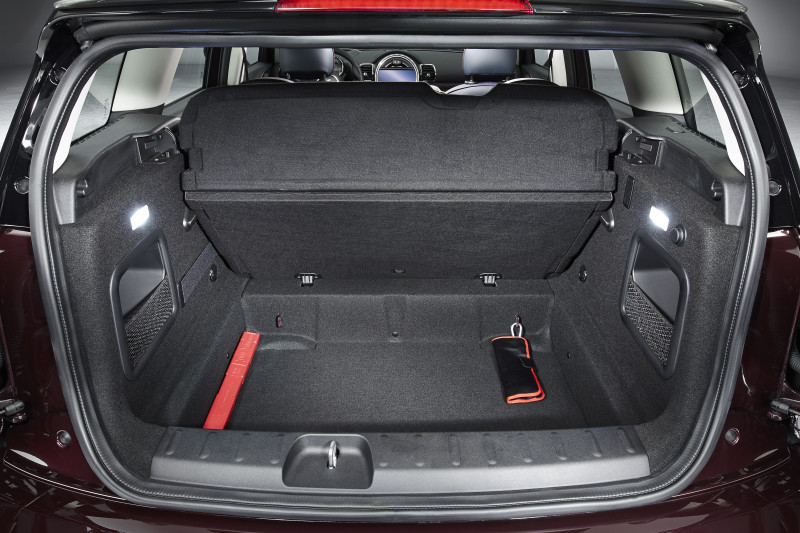 On top of that you'll find a long list of premium standard and optional features that elevate the MINI Clubman above any other compact four door, including: three driving modes: mid, sport and green, auto stop/start technology, an optional 8.8-inch color display screen, 60/40 split fold rear seats, carpeted cargo area, LED headlamps with adaptive light distribution,
The Clubman's BMWness becomes even more evident when you press the start switch in the middle of the center console. The 134 horsepower 1.5 liter 3-cylinder TwinPower turbo engine in the base Clubman is a detuned version of the gas engine that sits amidships in BMW's futuristic i8. And, the Clubman S sports a 189 horsepower, 2 liter 4-cylinder TwinPower Turbo engine that's almost identical to the engine under the hood of a 328i.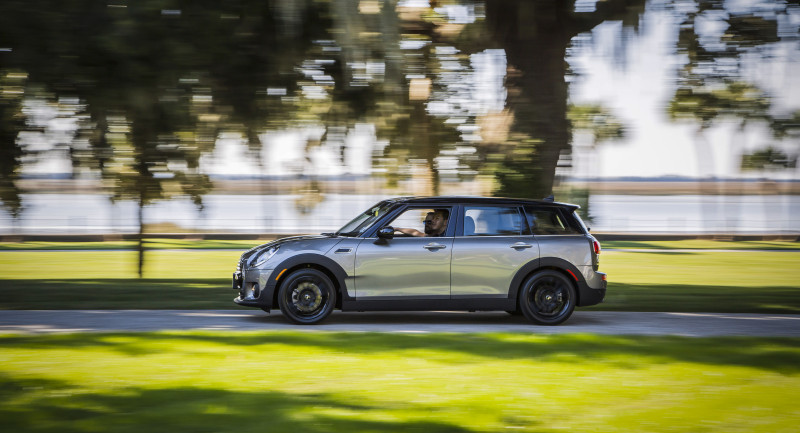 The MINI of course is front wheel drive with both an 8-speed Steptronic automatic and 6-speed manual available and while not quite as nimble as a 2-door Hardtop Cooper S, it has a great sporting feel. In S trim the Clubman gets from 0-60 in a very respectable 6.9 seconds. But where it really shines is on long drives and on high speed highway runs. This car is smoother, more refined, more stable and more poised than the 2 Door Cooper S. It drives much bigger than it actually is.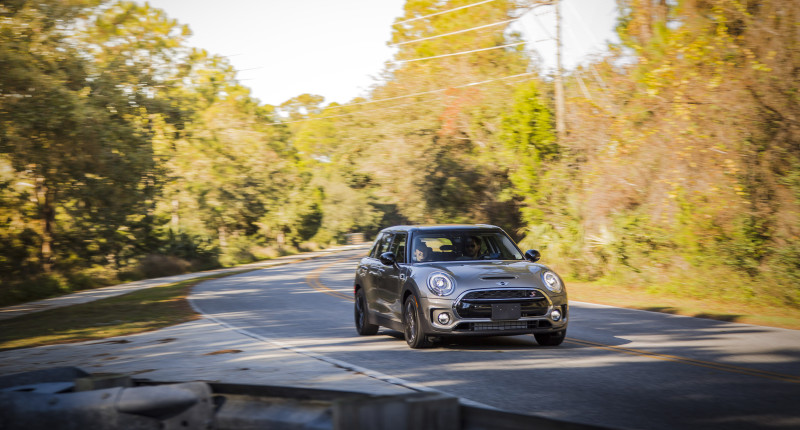 The upshot is this, Clubman is basically a front wheel drive BMW with MINI coachwork and it works really well. It's quick, nimble, comfortable and roomy. So if you're looking for a car that drives like a BMW, looks like a MINI and can hold four people, the 2016 Clubman has been designed just for you. Especially if you're looking to trade in your 2012 Cooper Hardtop for something a little bigger and a whole lot more grown up.
2017 MINI Cooper S Clubman
4-door, 5-passenger Compact Hatchback
2.0L, 4-cylinder TwinPower Turbo Engine
8-speed automatic transmission with paddle shifters
Base Price: $27,650 Price as tested: $41,850
Horsepower: 189 @ 5000 rpm
Torque: 207 lb.-ft. @ 1250 rpm
Curb weight: 3,300 pounds
Length: 168.3 inches
Width: 79.6 inches
Height: 56.7 inches
Cargo space: 17.5 cu. ft.
0-60: 6.9 seconds
EPA MPG: 22 city/31 highway
www.miniusa.com
While the manufacturer paid for travel expenses and provided the vehicles for this story, the opinions and recommendations in this post are 100% ours.
A version of this review first appeared at Pursuitist.com