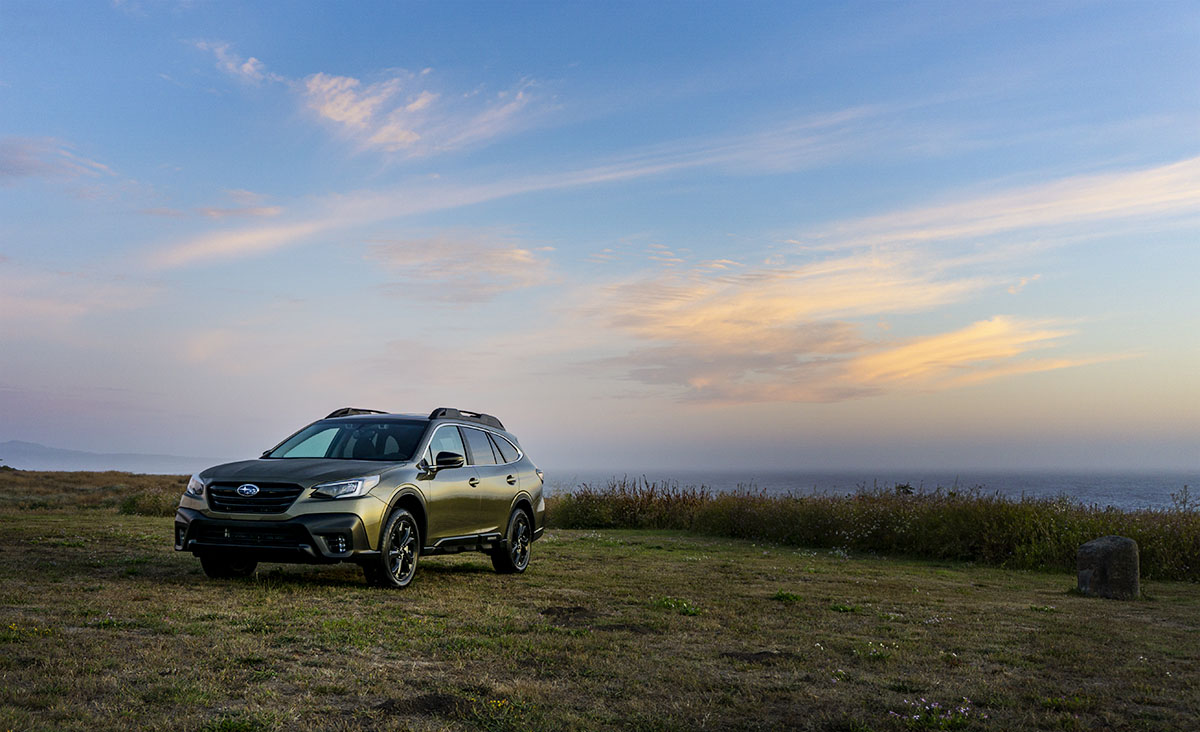 Just a few hours north of San Francisco lies California's "Lost Coast," so named because of the area's rugged shoreline and sparse population. It feels like it belongs to another time, not just another time zone. And it is not easy to get to. After three commercial plane flights, a 50 minute hop in a single-engined Pilatus PC-12, and a 45-minute ride in a new Subaru Ascent, I finally arrived at the Inn at Newport Ranch, a secluded luxury resort on the cliffs overlooking the Pacific Ocean. It was there I finally got my first close up look at the 2020 Subaru Outback.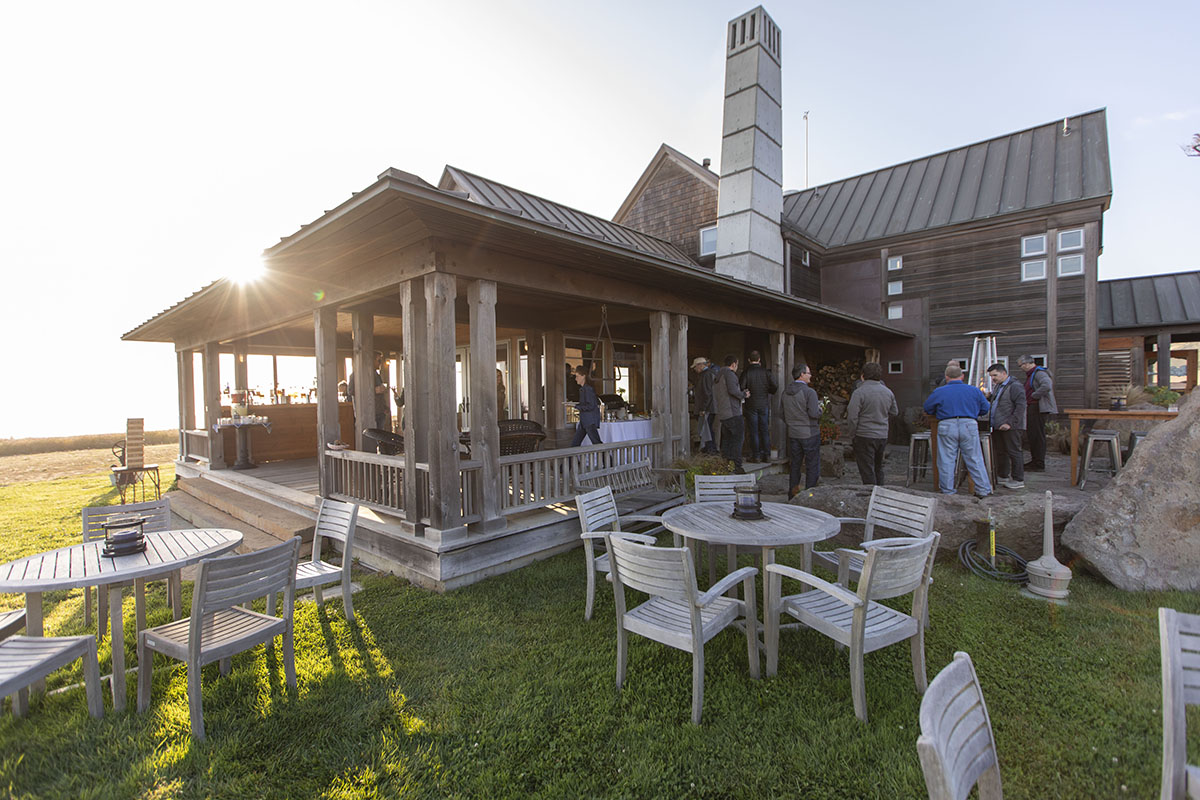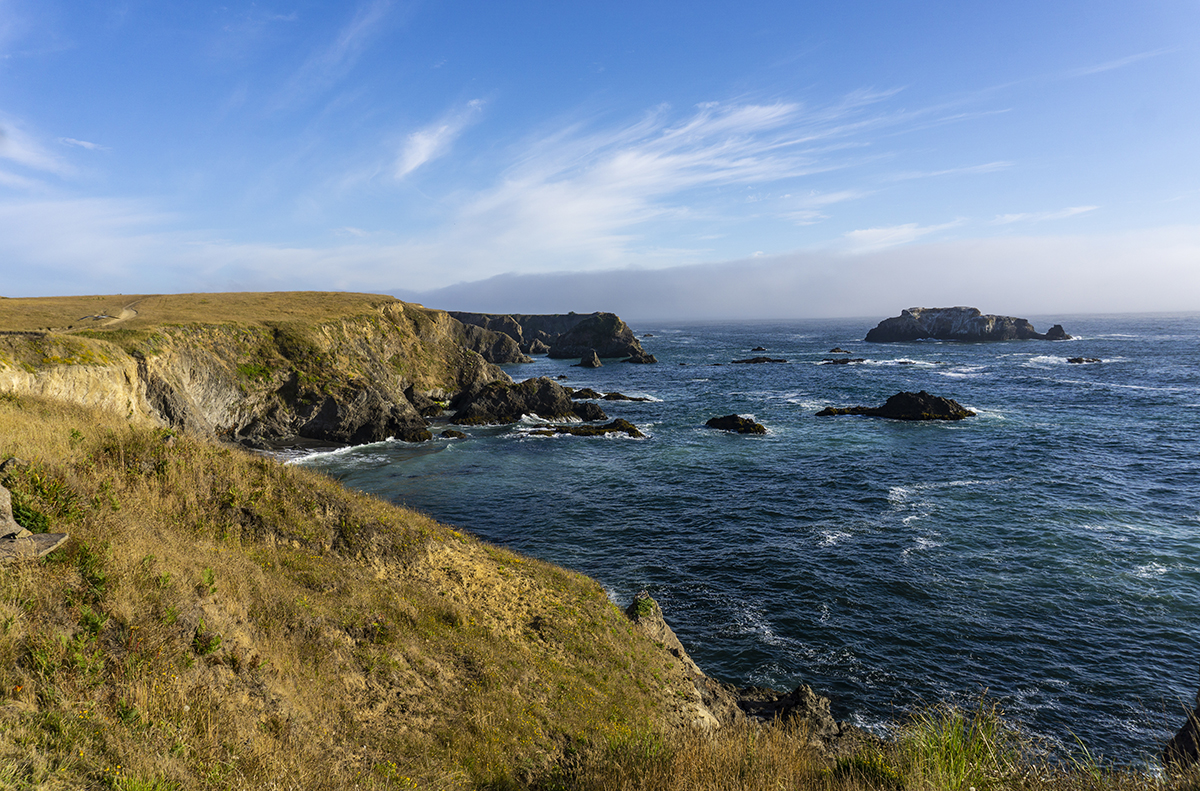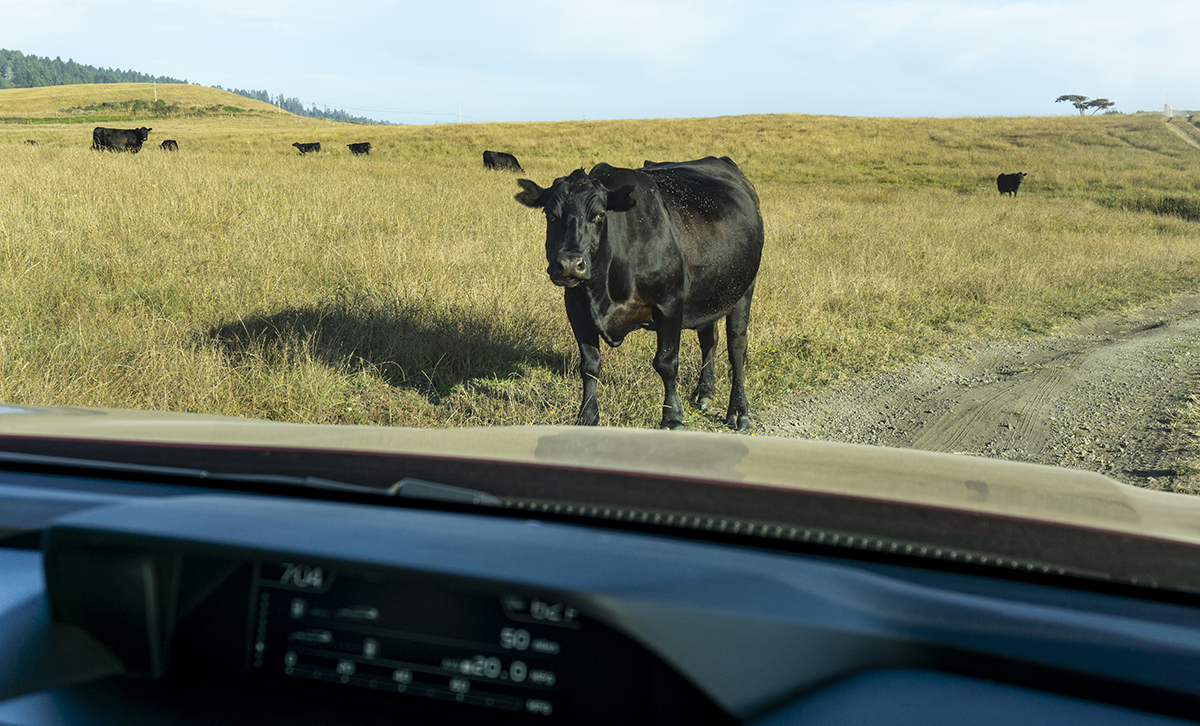 Located on a promontory that was once the site of a bustling lumber town, Newport Ranch is a 2,200-acre working ranch with large Angus that cattle roam freely around the property. The inn itself is all new with great views of the ocean, luxuriously appointed rooms, and an incredibly personable staff. The atmosphere is casual, but everything from the furnishings to the food is top notch. This out-of-the-way, rugged, slice of paradise seemed like the perfect place to put the 2020 Subaru Outback through its paces.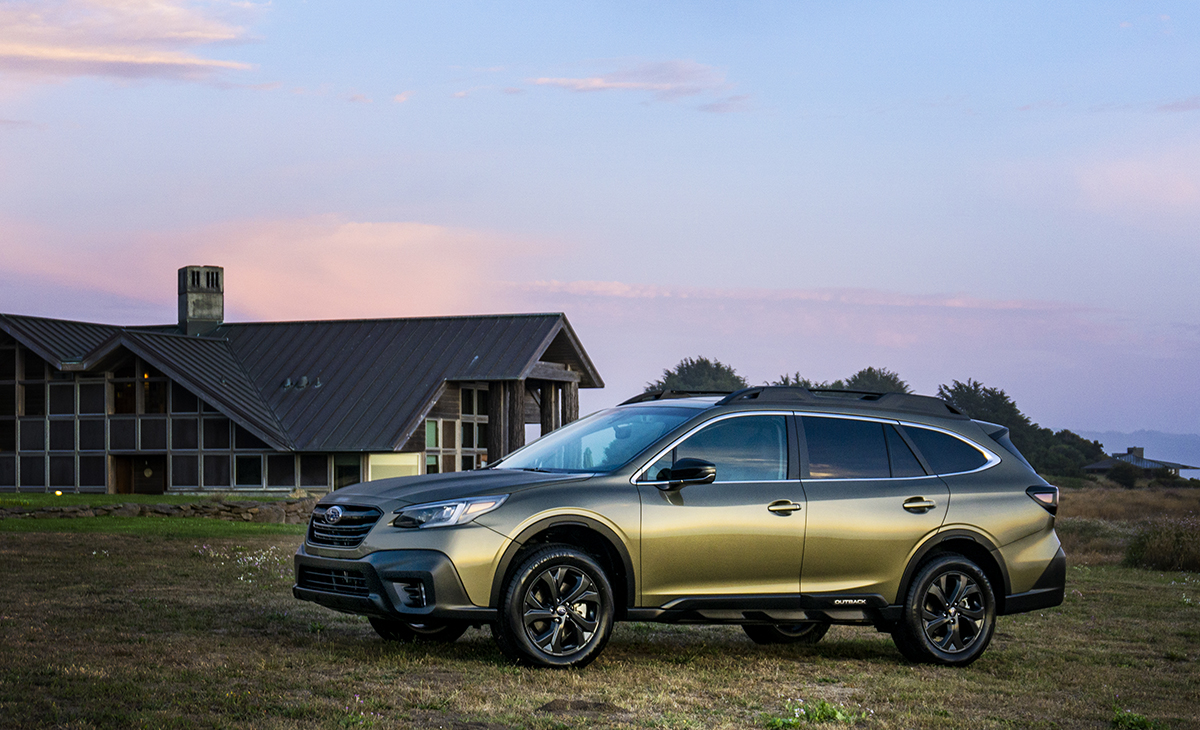 The Outback began life when Subaru added a fairly cheesy trim package to the company's modest selling Legacy wagon. It consisted of plastic body cladding, two-tone paint, special wheels and tires, mud flaps, and a roof rack to distinguish it from standard Legacy. But with the hiring of Paul "Crocodile Dundee" Hogan as pitchman, and throwing a few million dollars of advertising behind the name, Outback became synonymous with Subaru, adding to the brand's rugged but quirky go-anywhere image.
As Outback's legend grew, so did its sales and soon was Subaru's best-selling vehicle. But it wasn't until 2010 when the Outback grew a few inches in width and height that sales nearly doubled thanks to its more appropriate for America dimensions. Since 2010 sales have doubled again and Subaru is selling nearly 200,000 Outbacks a year here, a remarkable number considering how few wagons all the other brands sell in our SUV-crazed society. And that brings us to 2019 and the sixth generation Outback which made its debut at the New York Auto Show this April.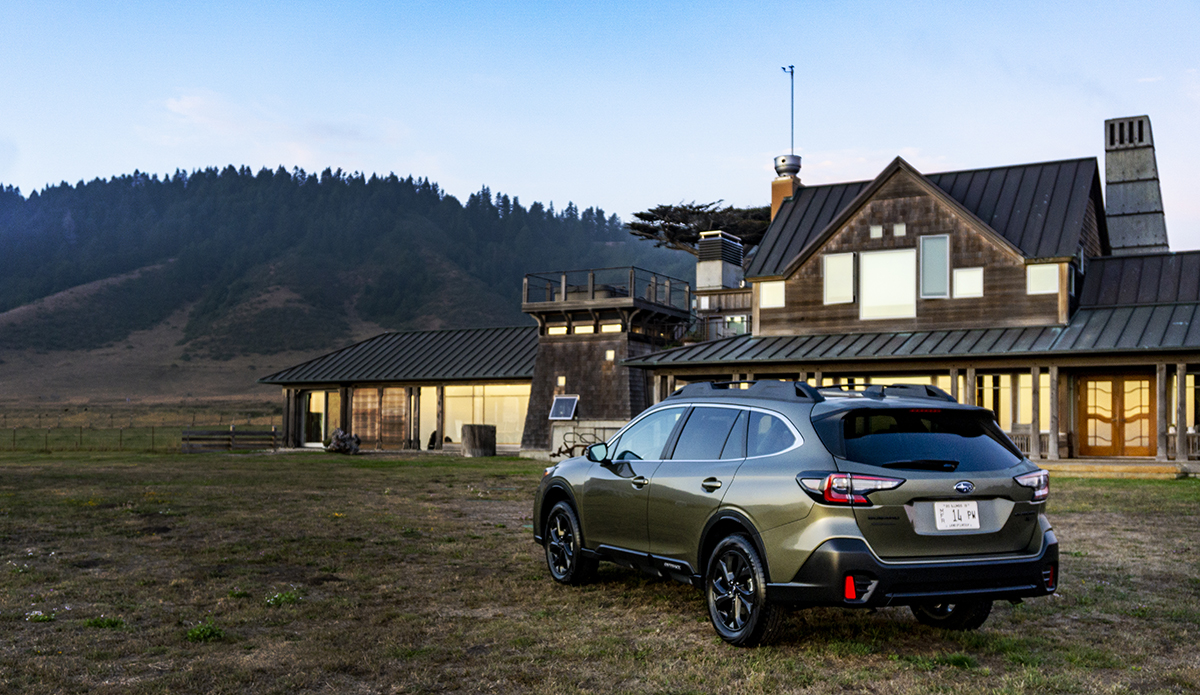 For 2020 the Outback is again a little bigger, a little more powerful, a little more efficient, and a lot more sophisticated. It starts with an all new platform that uses multiple grades of high strength steel as well as 108 feet of structural adhesive for a 100% increase in subframe rigidity. The lower A-arms for the suspension are now aluminum to reduce unsprung mass, and the front struts now use internal rebound springs to improve ride and handling.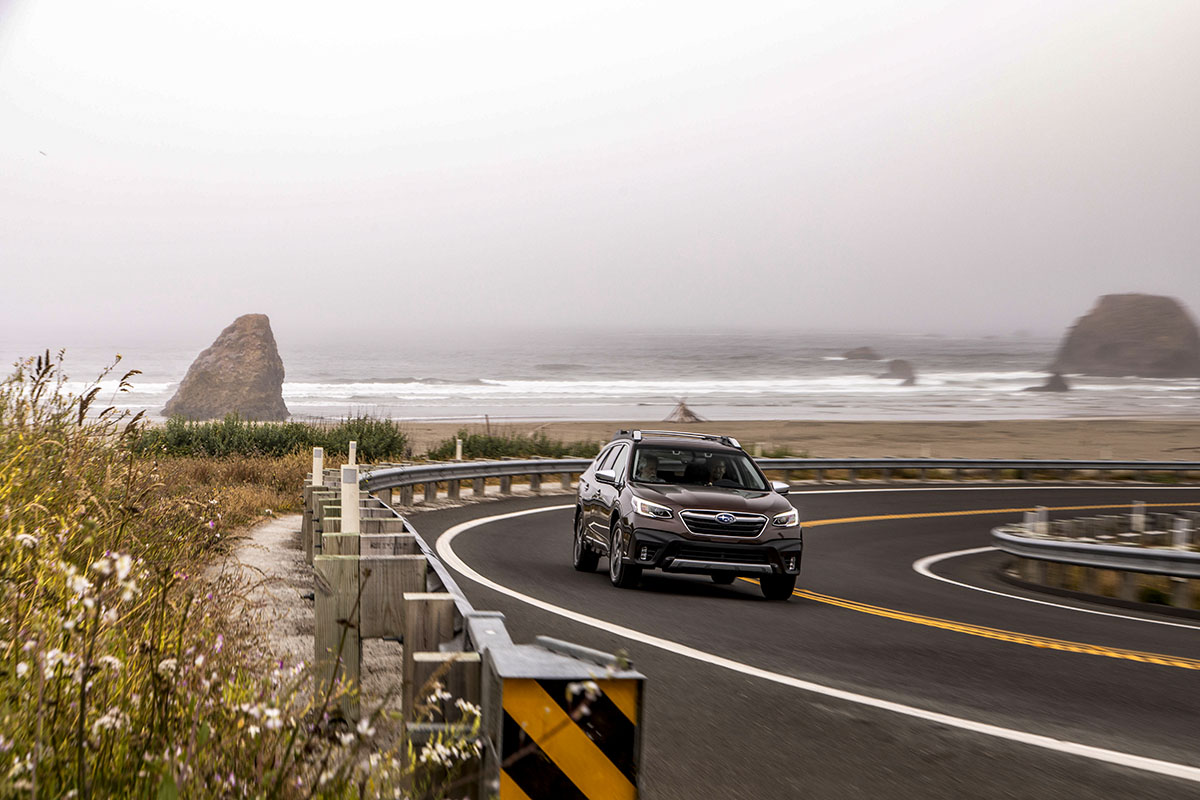 The Outback features two engine options. The base model is powered by a heavily reworked naturally aspirated, 2.5-liter, four-cylinder boxer unit that delivers 182 horsepower and 176 pound-feet of torque. Opt for an XT model and you get the first turbocharged engine to grace an Outback since 2009. The 2.4-liter, four-cylinder, boxer turbo pumps out 260 horses and 277-pound-feet of torque. Both use a CVT transmission with eight simulated gears when in manual mode connected to Subaru's symmetrical full-time, all-wheel drive system.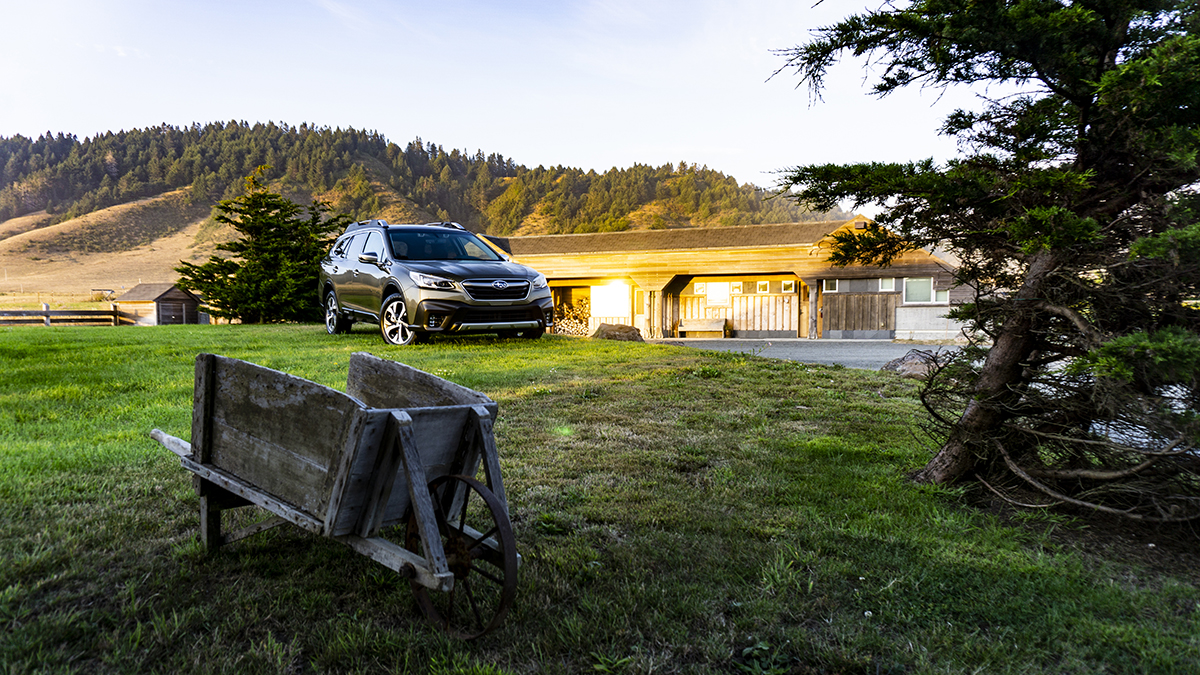 Exterior styling is evolutionary, but greatly improved. Even though the Outback is 1.4 inches longer, six-tenths of an inch wider and has gained 10 pounds in base trim, it actually looks more svelte while still maintaining 8.7 inches of ground clearance. The subtle character line that runs from the front fender to the tail lamp rises slightly while the roofline tapers gently to the rear giving the car a sense of motion. The front fascia has been cleaned up with all LED lighting, a revised grill, and better integrated lower air intakes. If you get fog lamps, a row of vertical LEDs replace the round lights in the previous generation. Standard roof racks with cross-rails that swing into position now have tie down areas front and rear. You can open the tailgate without touching it, just by holding your hand or elbow near the logo when the key is in your pocket or bag.
Inside, Outback is larger as well. Most significantly, rear seat legroom increases 1.4 inches and there's nearly 5 cubic feet more cargo volume than the outgoing model. Materials range from tastefully done but spartan cloth interior in base trim, to nicely fitted Nappa leather in Touring trim. The standard dual 7-inch screen infotainment system is available only on the base model. Move up a step to an Outback Premium and you get an 11.6 inch tablet style touch screen. It uses two processors, one for HVAC and a second for the radio and navigation, so scrolling between screens happens quickly. Subaru wisely chose to leave the volume and tuning knobs for the radio and hard buttons for HVAC functions as well. Overall the system is easy to use, and intuitive. Seating is upright and comfortable with great visibility. Subaru uses 1,500 MegaPascal ultra high-strength steel in the A and B pillars, so they are comparatively slim, while still meeting federally mandated roll-over standards.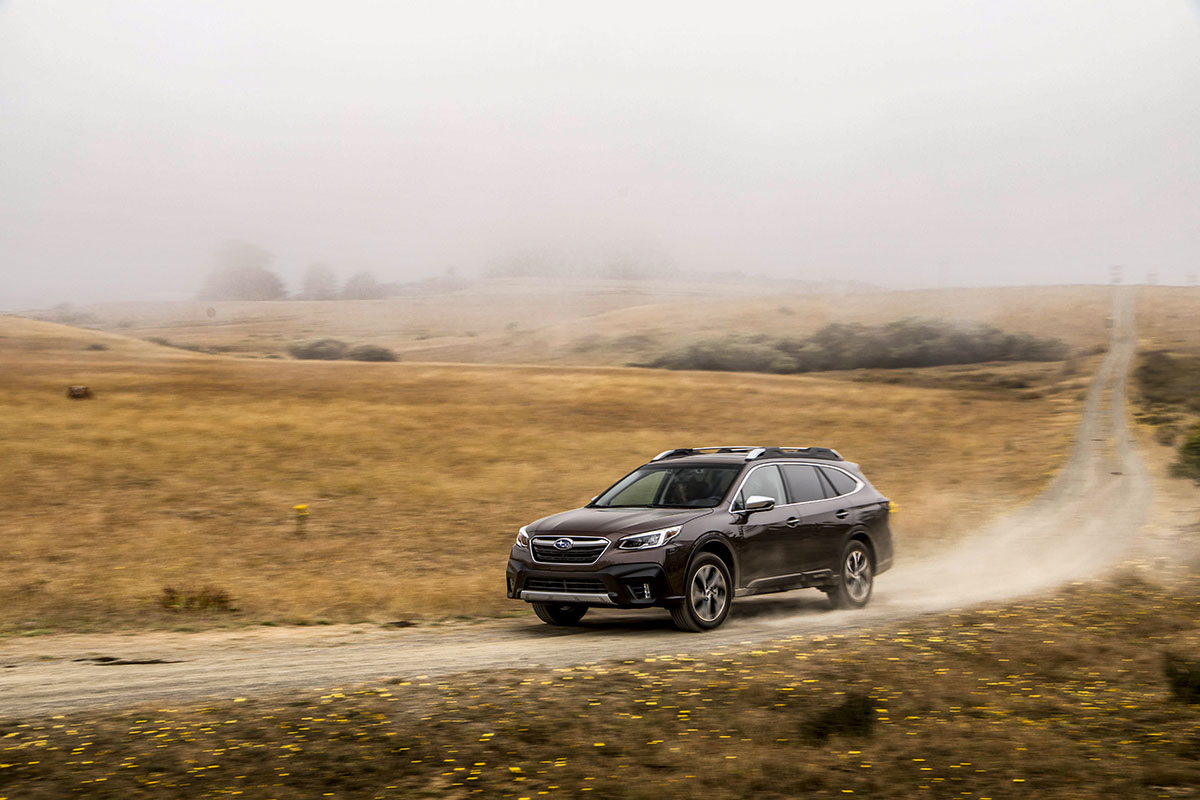 That visibility comes in handy when you head off road, which I did on some pretty gnarly trails across Highway 1 from the Newport Ranch. Driving a luxed up Touring model with the 2.5-liter engine, the route started out benign enough on two-track ranch trails that had a few whoops and bumps. I could immediately feel the improvement in both the architecture and suspension. The 182 horsepower motor had plenty of grunt and the all-wheel drive system really didn't come into play. It was about what I had expected until we came up to a sign that told us to take a left turn into the forest. That's when things got interesting. Engaging Subaru's X-Mode terrain system which works at speeds of up to 25 miles per hour, we climbed dirt grades that seemed designed for actual four wheelers. Even with all-season tires, the little Suby scrambled up the grades without any issues. Then there were small river crossings, side hill traverses, and one extremely steep downhill that had most of my weight supported by the shoulder belt as the Outback's crawl control system kept me firmly in control at a steady 4 miles per hour without having to touch the accelerator or brakes.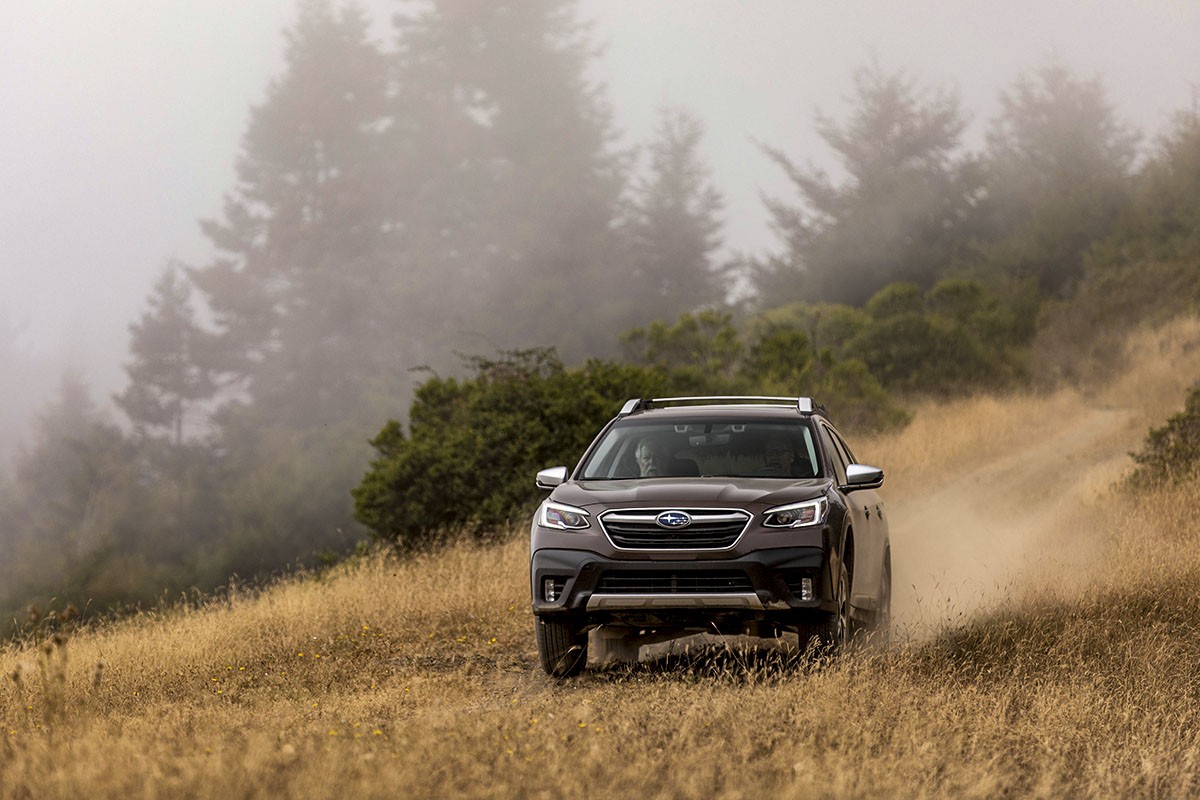 On road, the Outback isn't what I'd call sporting even with the more powerful turbocharged engine. It drives confidently and more quietly than I would have expected. Subaru engineers have done a lot of wind tunnel work to improve air flow. The windshield on all models uses acoustic glass and on higher trim levels the side windows get that upgrade. Steering is electronic power assisted and on the light side. It does have good on-center feel and turn in is predictable. If you want an all-wheel drive wagon that has a more fun to drive personality, you have to add about $10,000 to your budget for an Audi A4 Allroad.
Subaru has an even more aggressive off road Outback for 2020, the Onyx Edition. Only available with the 2.4-liter turbo engine, it features dual function X-Mode which gets you a terrain management system for snow, dirt, and mud. Outback Onyx also has blacked out trim, 18-inch black alloy wheels, a full-size spare, 180º front camera, and unique two-tone gray interior fabric with bright green contrast stitching that's water resistant.
All Outback models have Subaru's EyeSight driver assist system standard. That gets you adaptive cruise control, lane centering, forward collision warning. There's also an available distracted driver mitigation system that uses an infrared camera pointed at the driver and emits warning sounds if it catches you looking away from the road for any length of time whether due to fatigue or some other distraction.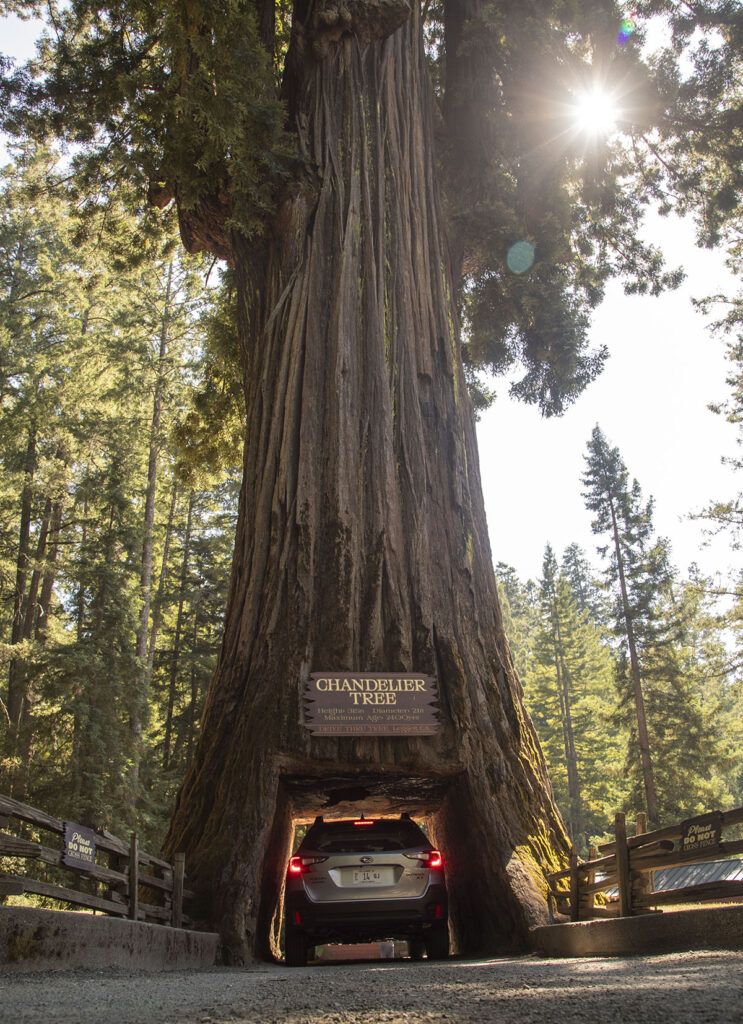 The only negatives I found on the 2020 Subaru Outback are the new StarTex seat fabric in the Onyx model that showed some unsightly puckering on the seams. Hopefully that will improve as they move toward production. I'm not a fan of the piano black plastic used around the shift lever and other areas in the car as it highlights greasy fingerprints that will inevitably be left behind after your fast-food runs. As far as engine options go, I was very happy with the base 2.5-liter unit. It offered plenty of power both on and off road and lots of low-end torque. The 2.4 turbo was definitely more powerful, but the turbo lag was fairly evident until the tach climbed over 2,000 RPM. If you can get by with 2,700 pounds of towing, I'd save the money and buy it with the base engine.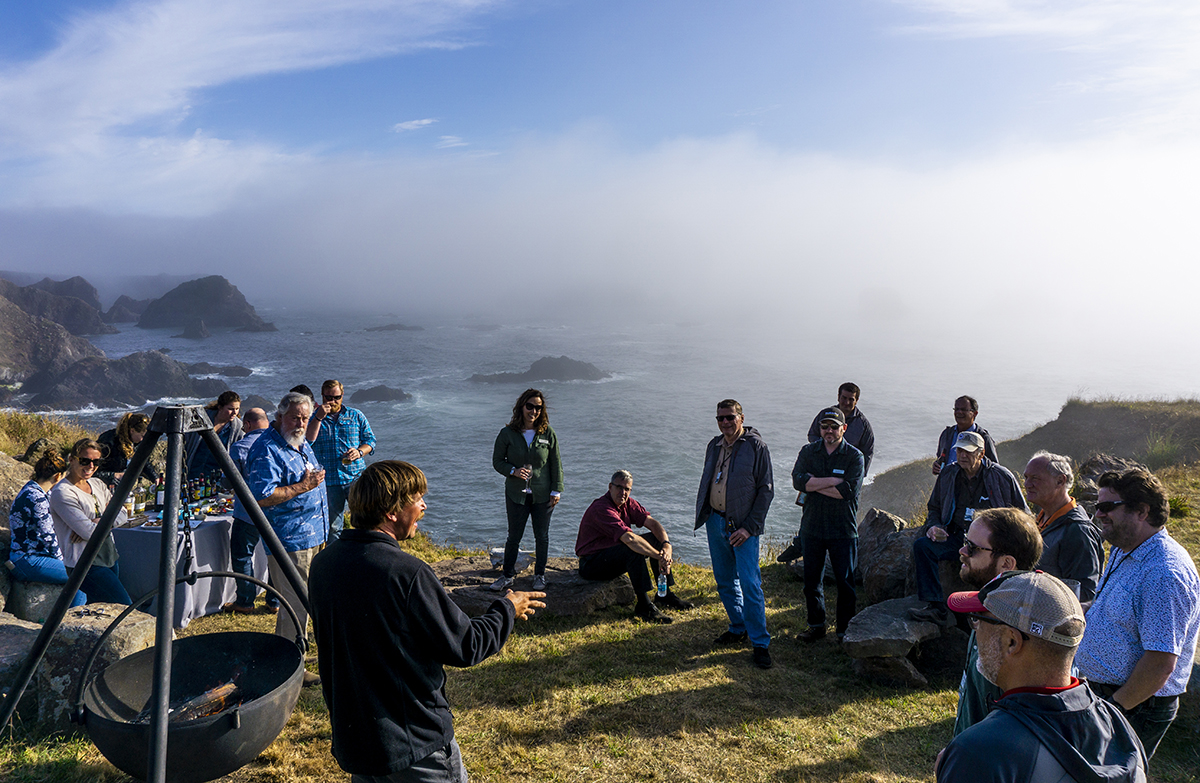 If you're looking for a way to get away from it all, but aren't interested in driving a bulky SUV or a compromised crossover, the sixth generation Subaru Outback makes a lot of sense. With pricing that starts around $28,000 and offers gobs of standard content, the value quotient here is high. Even in its base trim, Outback felt right at home at the decidedly upscale Inn at Newport Ranch. Something you can't say about most other affordable all-wheel drive vehicles.