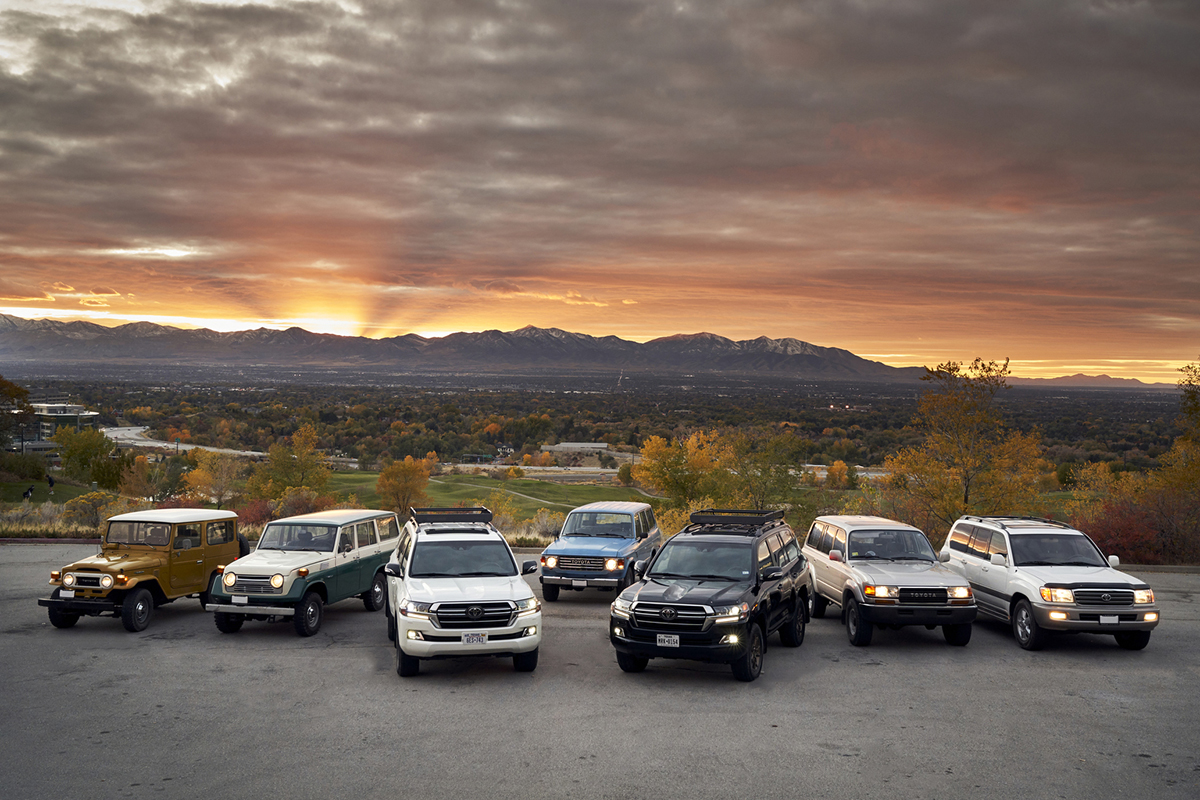 It has been said that grit is more important to success than talent or pedigree. Toyota Land Cruiser is proof of that. From humble beginnings as a small, off-road vehicle for Japan's national police agency, the original Toyota BJ series sported a 75 horsepower inline six-cylinder engine and was rugged enough to climb Mount Fuji. The Land Cruiser 20 series underwent a number of improvements during its first decade gaining a reputation for capability and dependability. That reputation took a big leap forward in 1960 with the introduction of the iconic FJ40 Land Cruiser, its larger 125-horsepower 3.9-L engine, and two-speed transfer case. For the first half of the decade Land Cruiser was Toyota's best selling vehicle in America until the Corona appeared on the scene. This is a formula that would be repeated in country after country as Land Cruiser would pave the way for Toyota's other cars and trucks.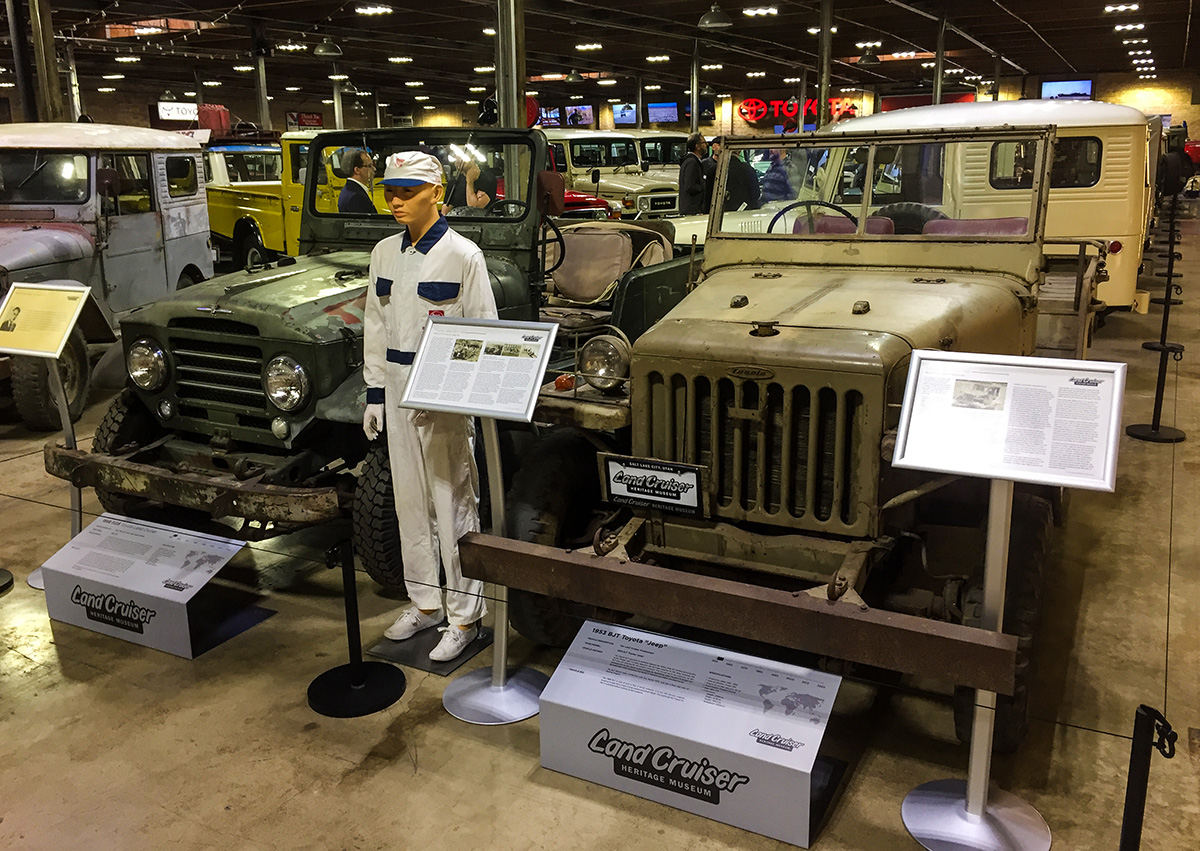 If you're interested in learning all about the history of Toyota Land Cruiser, the best place in the world to do so is Salt Lake City, Utah at the Land Cruiser Heritage Museum. So why does a Japanese vehicle that sells best in Australia have its lone dedicated museum in Salt Lake City? You might say it's an accident of birth. Greg Miller is the son of Larry H. Miller, who was a Toyota dealer of some repute in Salt Lake City. Greg grew up taking trips with his father into the wilds of Utah in the Family FJs and grew to love them. So much so that when he decided to take on the ultimate grand tour – a road trip across all seven continents – he did so in three specially equipped Land Cruisers. While in Japan taking delivery of the Land Cruisers that would be outfitted for the adventure, he went to two of the larger Toyota Museums in the country and was shocked to see no Land Cruisers in either of them. After doing more research he found there were no Land Cruiser museums anywhere and decided if there was going to be a Land Cruiser Museum, he would have to create one.
Greg began collecting Land Cruisers of every generation in all the significant body styles. He even managed to get his hands on a 1958 FJ25L which was very first Land Cruiser sold in the United States and has it displayed in its original, unrestored condition. Walk through the aisles and you'll see 20, 40, 60, 80, 100, and 200 series Cruisers, almost every one is in drivable condition. I spent the evening at the Land Cruiser Museum courtesy of Toyota before we were to drive several early generation models and the 2020 Land Cruiser Heritage Edition through some gnarly Utah terrain to celebrate the 60th (or so) birthday of the Land Cruiser in the United States.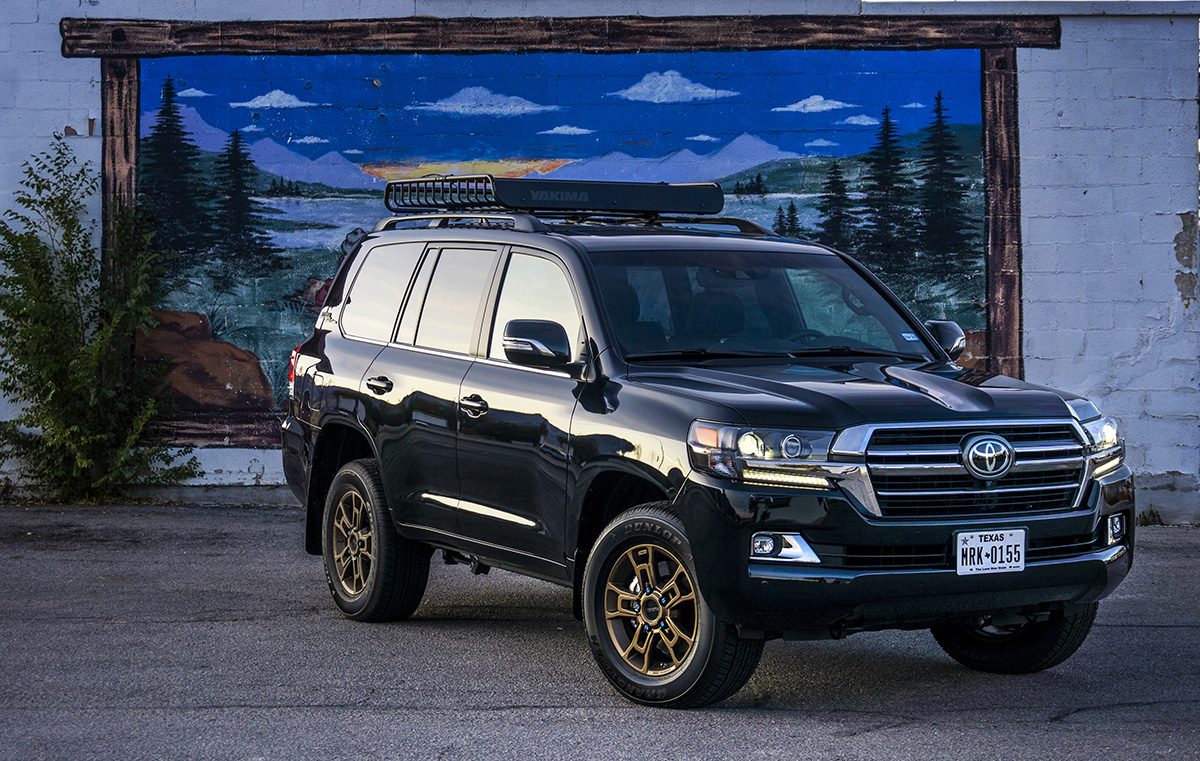 2020 Land Cruiser Heritage Edition
The Land Cruiser Heritage Edition has not changed much from the Land Cruiser I drove a couple of years ago. It's still uses body on frame construction. It still sports the nearly indestructible 5.7L V8. Its styling is still traditional and rugged. What you get in the Heritage Edition are a series of cosmetic changes that enhance its functionality. Inside, You'll find black leather interior with copper accent stitching in the first and second row. What you won't find is a third row. Toyota only offers the Heritage Edition in a five-passenger configuration increasing rear cargo capacity and utility.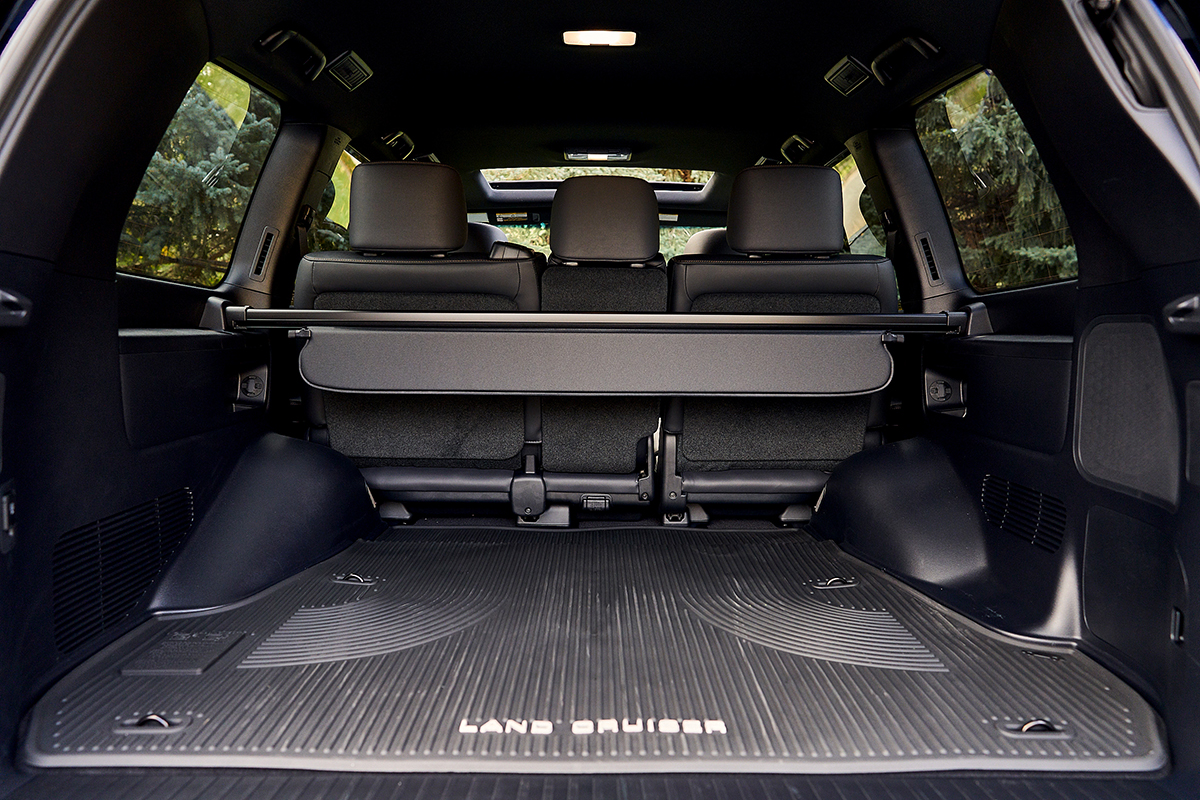 Outside, you have two color options, Midnight Black Metallic or Blizzard Pearl, with a black grille and dark chrome trim, and special badging that evokes the original design of the Land Cruiser logo. Three important features for people who are interested in taking there Land Cruiser off-road are the 18-inch Forged Aluminum BBS wheels, the Yakima Megawarrior roof rack, and something that isn't there. The running boards and chrome side molding have been deleted as these items typically are the first to get damaged when doing serious off-roading.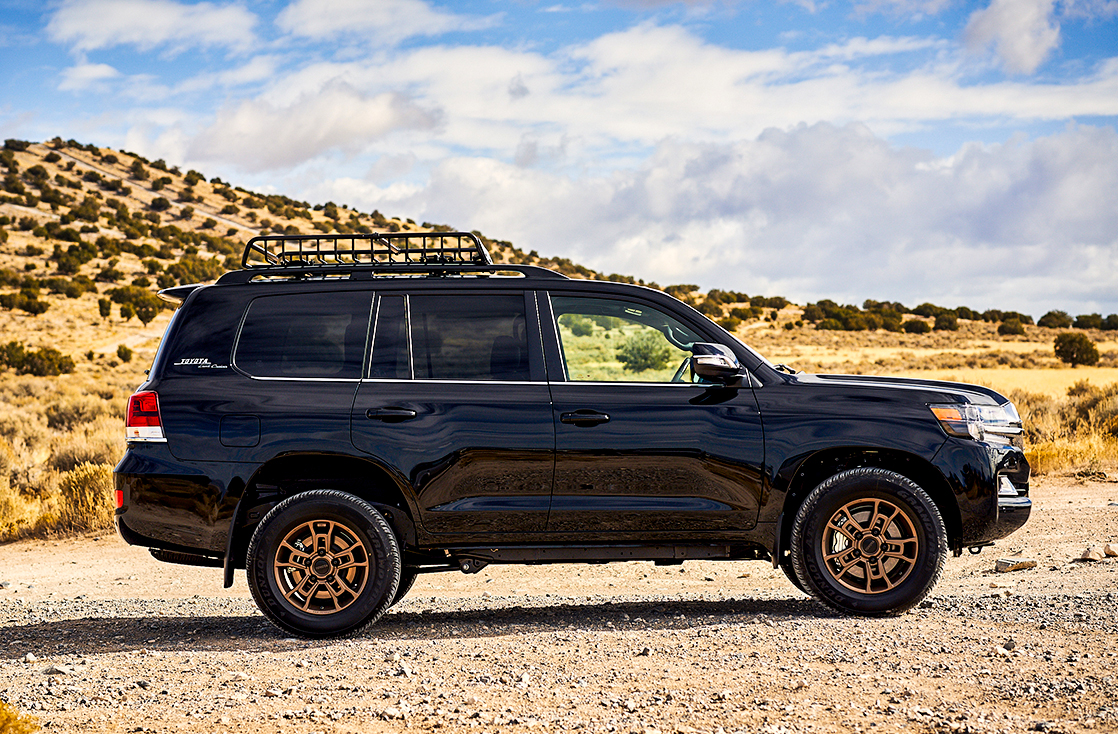 The Land Cruiser Heritage Edition has all the capability owners have come to expect from the legendary SUV. The proven V8 makes 381 horsepower and 401 pound-feet of torque, towing up to 8,100 pounds. The four-wheel drive system features a two-speed transfer case with a locking center differential and all the technology to make off-roading easier. You can dial in the terrain management system to optimize performance depending on surface and conditions. You have hill descent control, hill-start assist, and off-road turn assist which applies light pressure to the inside rear wheel allowing you to take tighter corners.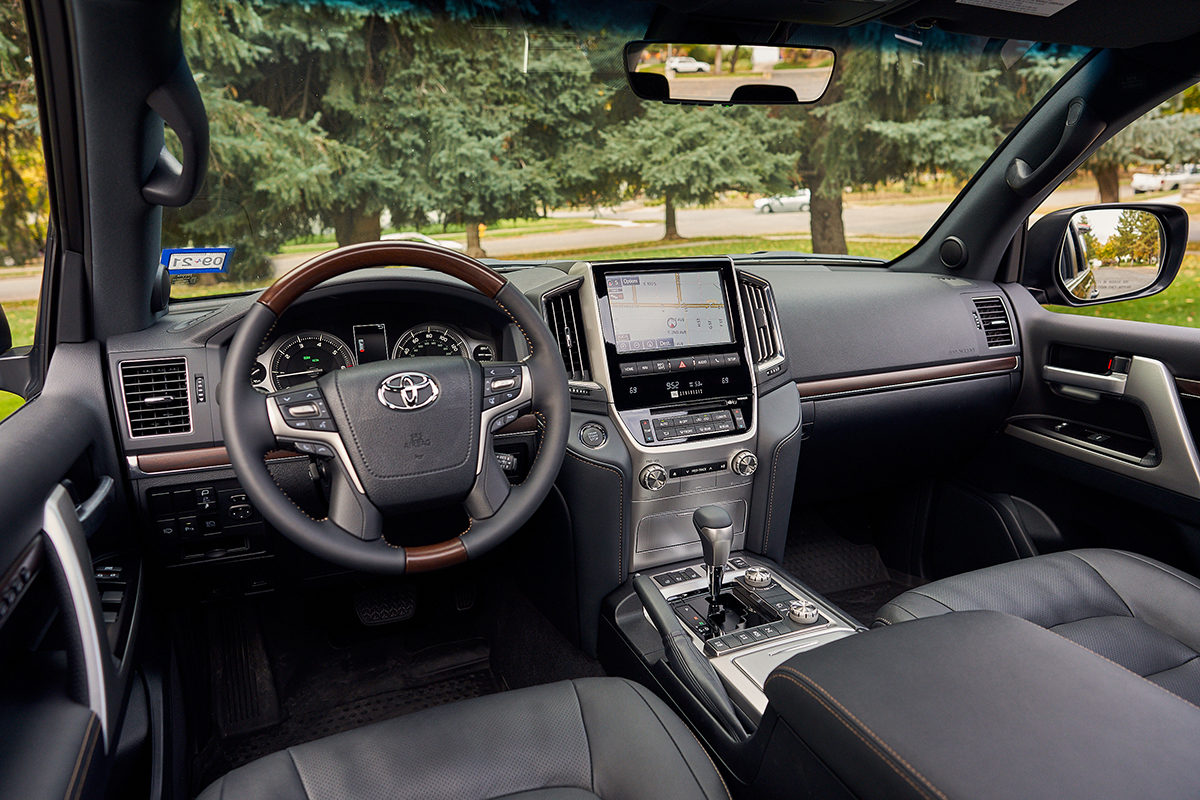 The modern Land Cruiser is a marvel of automotive engineering in that it will do all the everyday tasks in relative luxury while allowing you to get further away from civilization than almost any other vehicle available today. We drove it from the Little America Hotel in downtown Salt Lake City to an off road area about 45 miles southwest of the city where Toyota had set up a couple of courses for us to put the Heritage Edition and five of the previous generation Land Cruisers through their paces. On the highway, the Heritage Edition was quiet, comfortable, and easy to drive. It's not as big as a Suburban or Expedition, so it's much more manageable than the other body on frame SUVs on the road.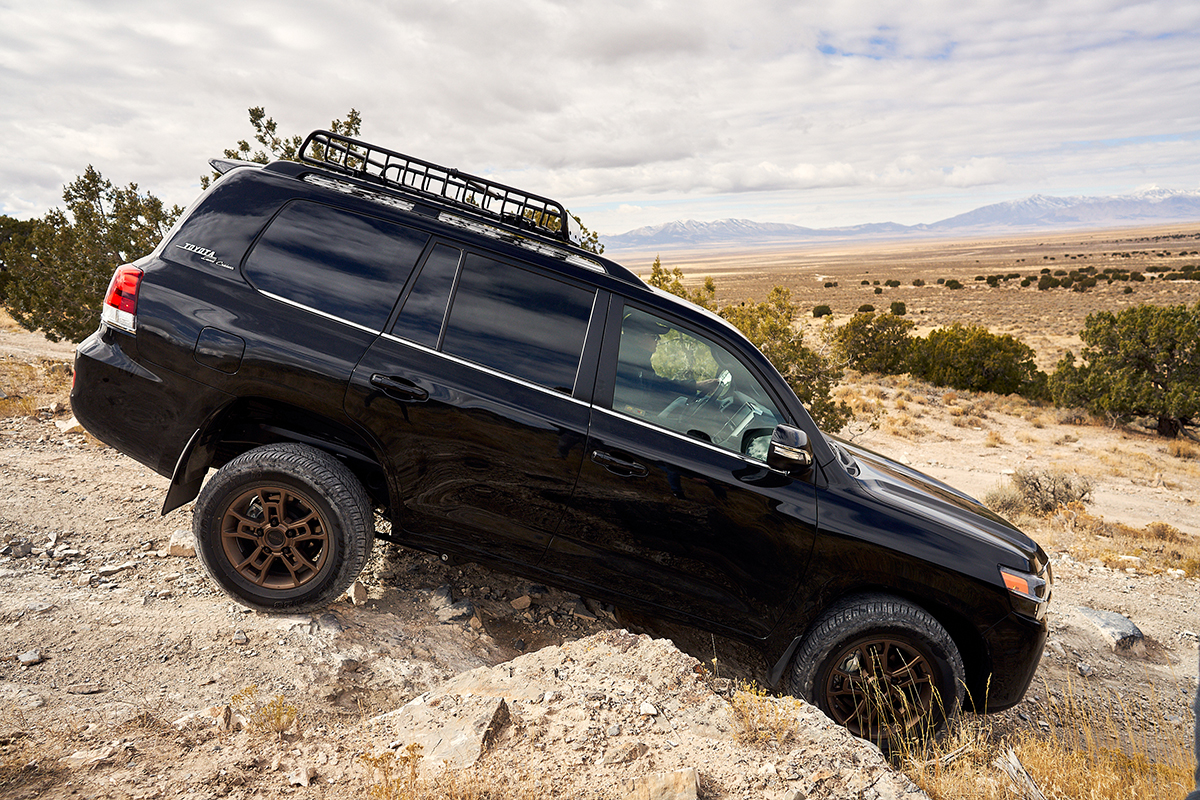 On the trails, the Land Cruiser is flat out impressive. Climbing up steep, rock strewn trails, crawling down dusty side hills, negotiating slalom courses through the trees was easy thanks to its inherent capability and the intuitive electronics. It felt nearly indestructible and with Toyota's reputation for reliability I can see why Land Cruiser is a favorite in the most remote areas of the world. It's been said that if you want to get away from it all, you should drive a Land Rover. If you plan on coming back, drive a Land Cruiser.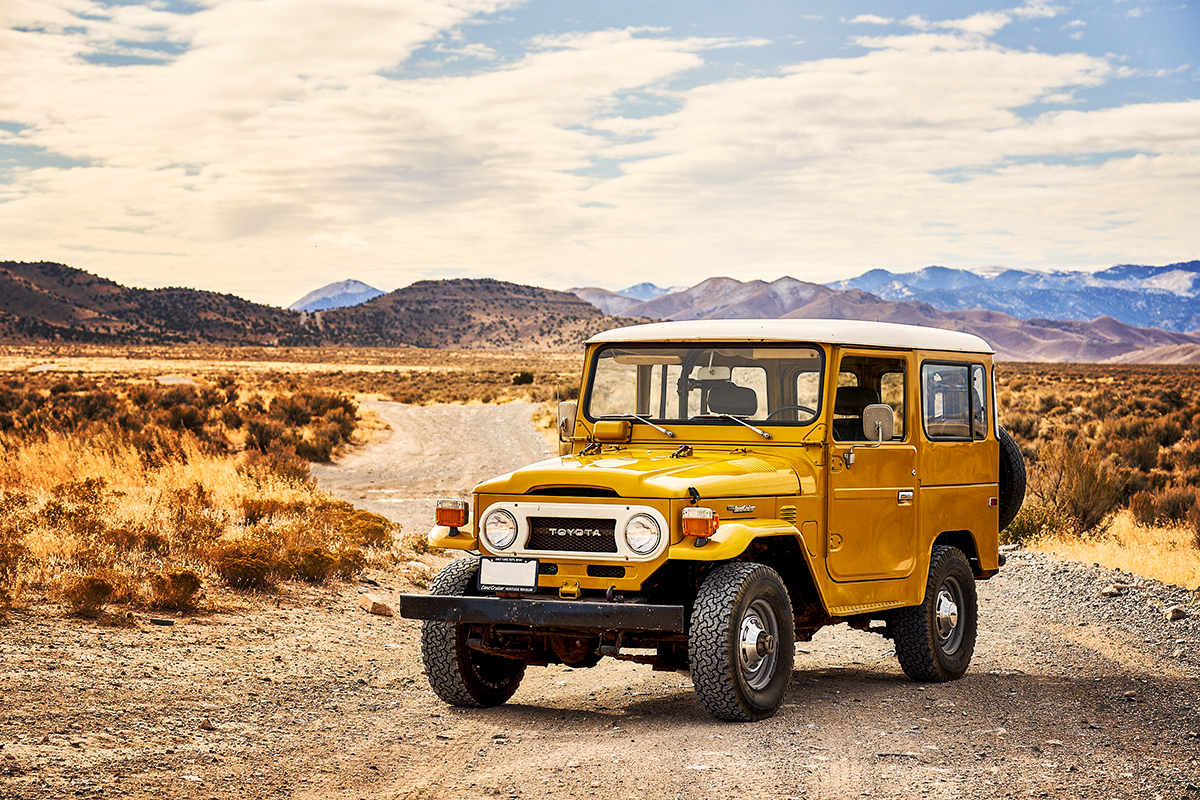 FJ40
This is the classic Land Cruiser. The one that everyone fell in love with. The one Toyota paid homage to a little more than a decade ago with the FJ Cruiser. The 1977 version I drove off road and then from the off-road park up Little Cottonwood Canyon to Alta for lunch was a well-sorted later production, hard-top model from the museum's collection.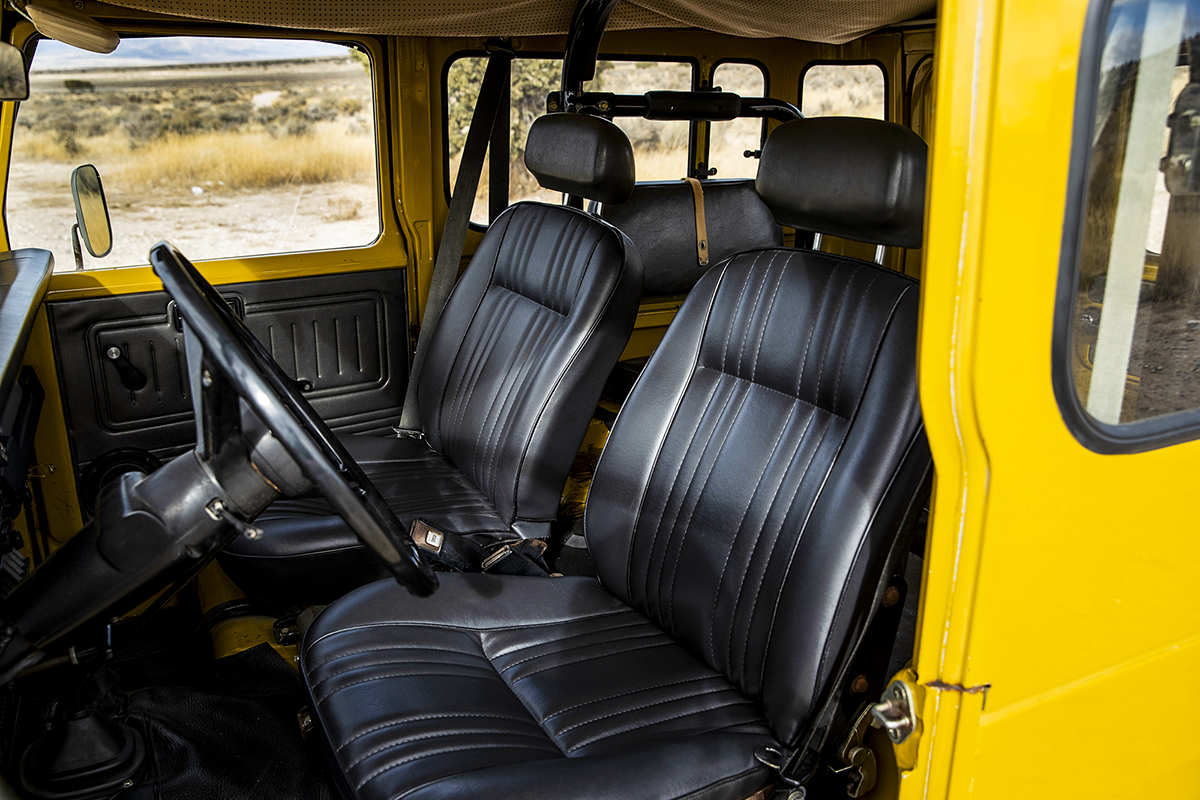 The 4.2L six cylinder engine produced 135 hp and 210 pound-feet of torque. The four-speed manual shifter featured throws longer than Brooks Robinson would make from third to first. And, the long clutch travel had a friction point so high, my left knee was nearly in my chest by the time it was fully engaged. It's clear this vehicle was designed when the average adult was much shorter than my 6'3" frame. With room enough for four thanks to its inward facing rear seats, it's crude, loud, underpowered, and reeled like a drunk at bar time at higher speeds on dry pavement. It was also an absolute joy and I'd own one in a heartbeat.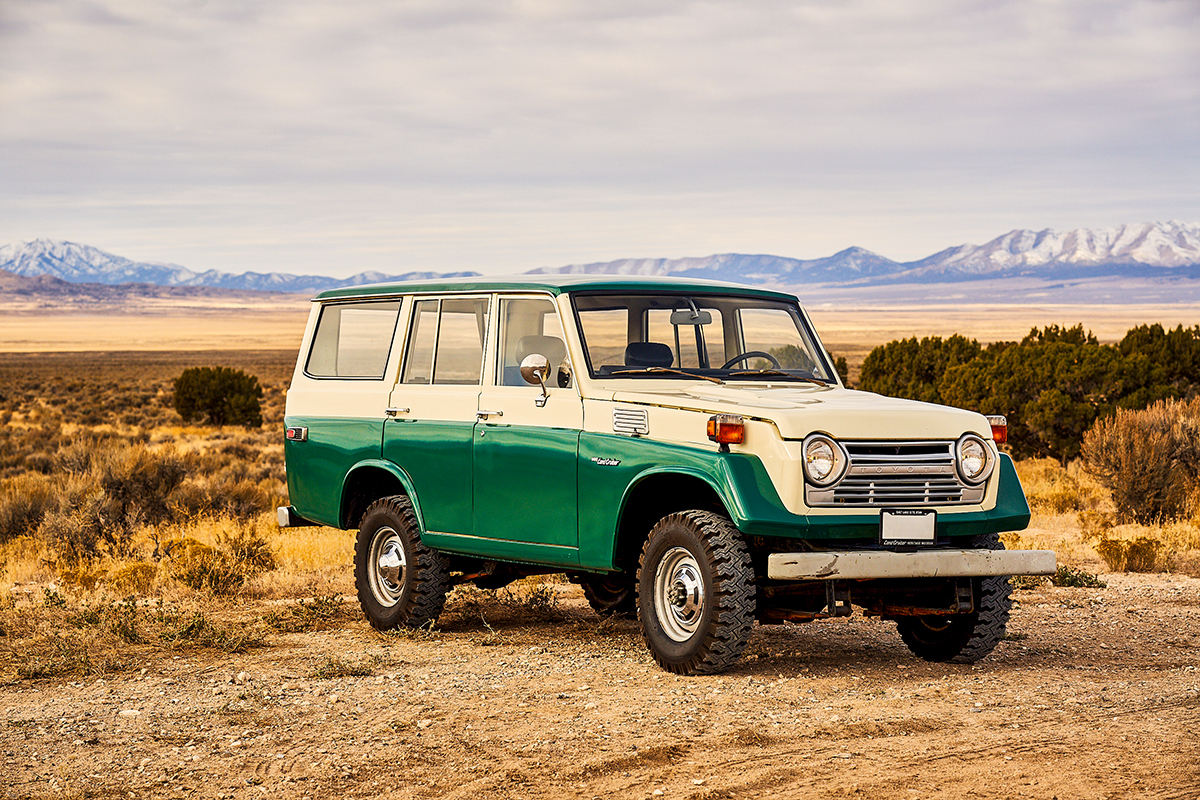 FJ55
Introduced in 1968 to allow larger families to enjoy the outdoors, the FJ55 was the first true wagon in the Land Cruiser family. It uses the same engine and transmission as the FJ40 with a driving position that doesn't provide much more room than its smaller sibling. In a first for Land Cruiser, the FJ55 offered fully-enclosed boxed frame members for structural rigidity of the longer vehicle. What the solid axle leaf spring suspension lacks in subtlety it makes up for in simplicity and durability.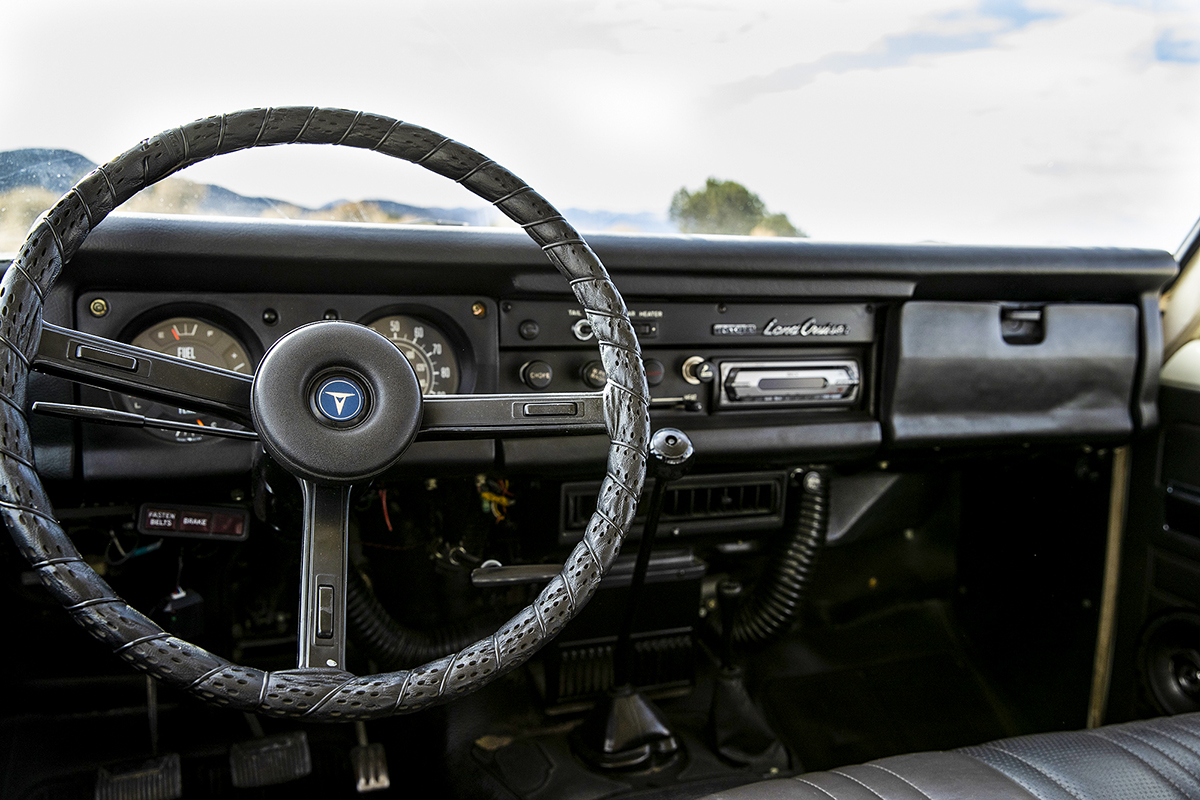 Not everyone warmed to the updated styling and shortly after its introduction the FJ55 became known affectionately as the Iron Pig. This is no ordinary family wagon. It's a purpose built off-roader for families that want to get away from it all and did.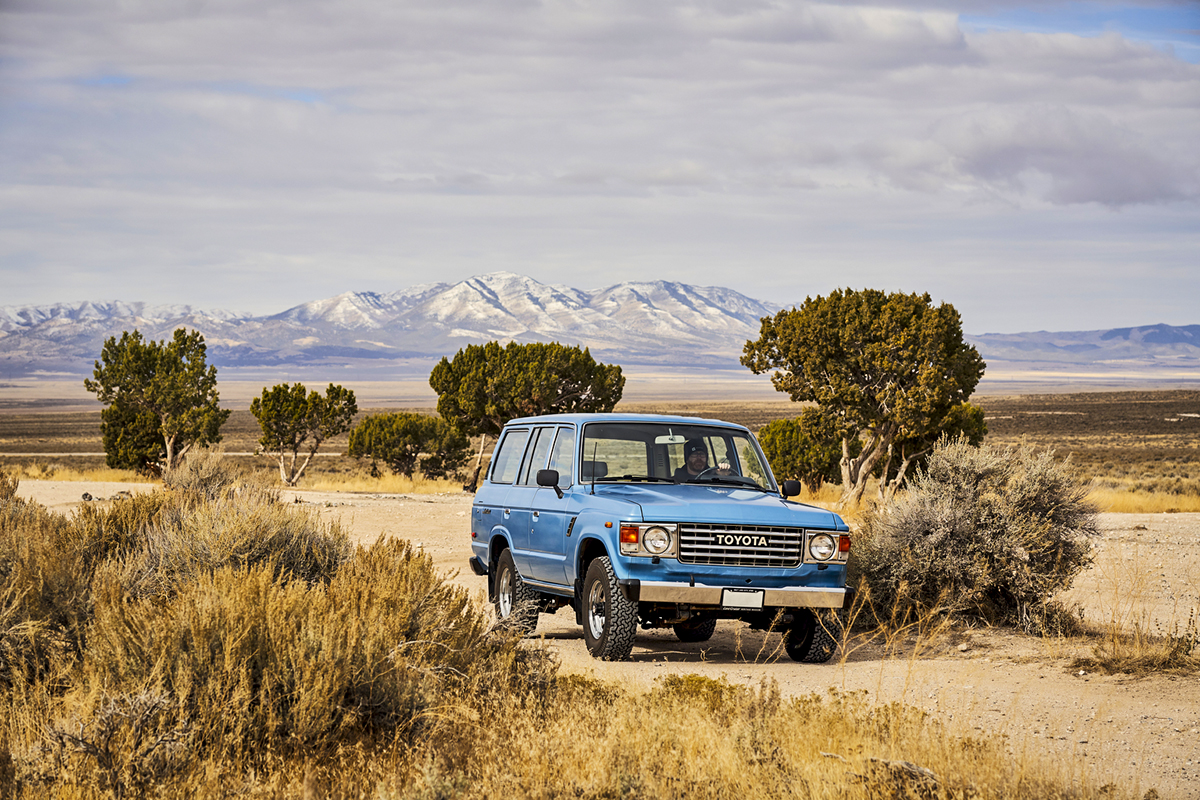 FJ60
Land Cruiser dipped its toe into modernity in 1980 with the FJ60, at least from a creature comfort standpoint. The engine, transmission, and suspension were still carryover from the FJ40 and FJ55 (if it ain't broke, why fix it?) but the interior appointments saw major upgrades. For the first time Land Cruiser offered power steering, windows and door locks; air conditioning and rear seat heating ducts. The FJ60 offered the comforts buyers were starting to seek in an SUV with the rugged simplicity of a Land Cruiser. With its longer wheelbase and tuning improvements, it is a pleasure to drive on and off road with more space for the passengers and driver.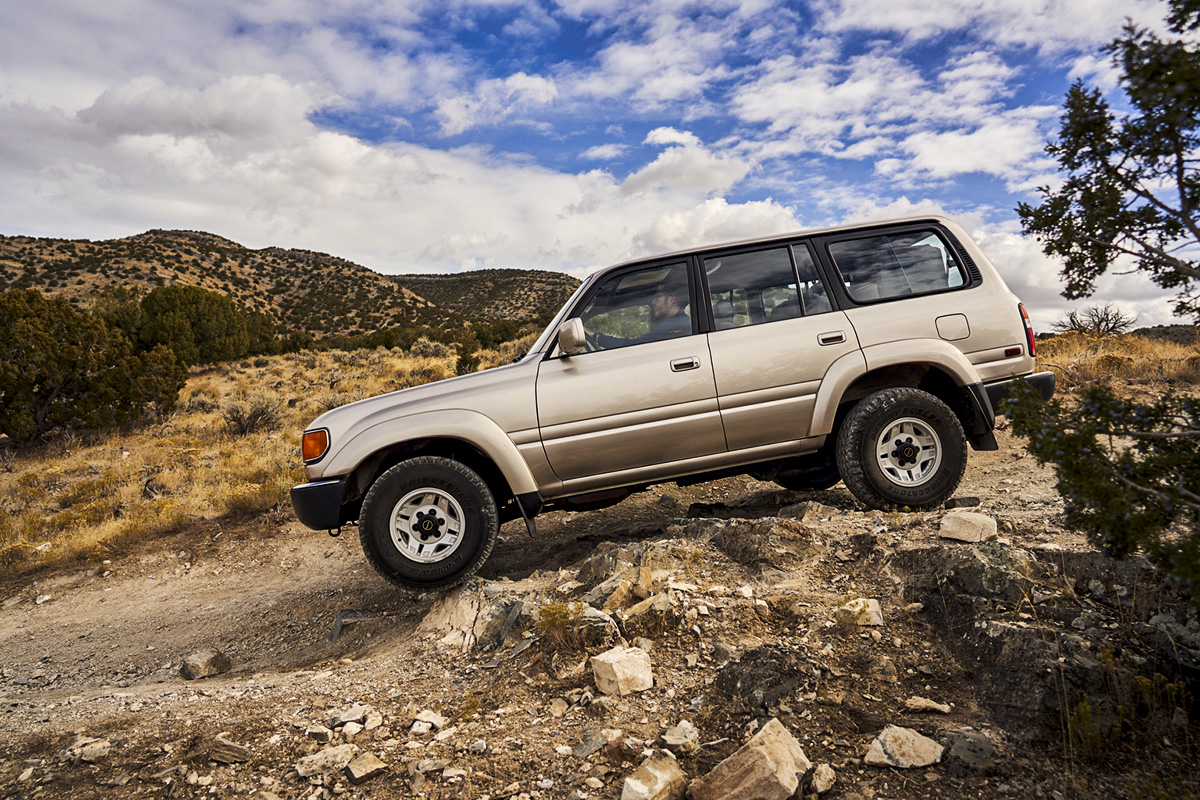 FJ80
If you're looking for a modern Land Cruiser, the story begins in 1990 with the FJ80. With a more powerful 4.0L Inline six and automatic transmission, the 80 is also four inches longer, two inches wider, and four inches taller than the FJ60. In the U.S. all Land Cruisers had full-time four-wheel drive with a center differential that is lockable in high and locks automatically in low. This is really where Land Cruiser started to move toward the upscale off-roader it is today. In 1993, the engine was upgraded to a 4.5L inline six that produced 212 horsepower. With its bigger engine, available leather trim, and full on suite of high end features, the Land Cruiser became Toyota's flagship vehicle in the 1990s.
UZJ100
This is where today's luxo-Cruiser really came into focus. The new 4.7L V8 was powerful (by 1998 standards) and a welcome addition, but for Overlanding aficionados, the independent front suspension was not. It limited suspension travel and was not as durable as the traditional solid axle, but provided much better on road manners. So controversial was the decision, Toyota continued to sell a "105" version of the 100 series Land Cruiser with the old suspension. The 100 Series drives very much like the current generation Land Cruiser and as if to prove its luxury credentials served as that platform for the Lexus LX 470.
Land Cruiser has come a long way from its humble beginnings and gone just about everywhere on the planet. While I appreciate the grandeur and luxury of the current SUV, part of me wishes Toyota still produced a simpler, less sophisticated, more affordable Land Cruiser that was a true successor to the FJ40. I don't think it's just me pining for simpler times, it's just that I'd like people who can't spend $85,000 for an SUV to be able to enjoy the beauty of this long-running nameplate.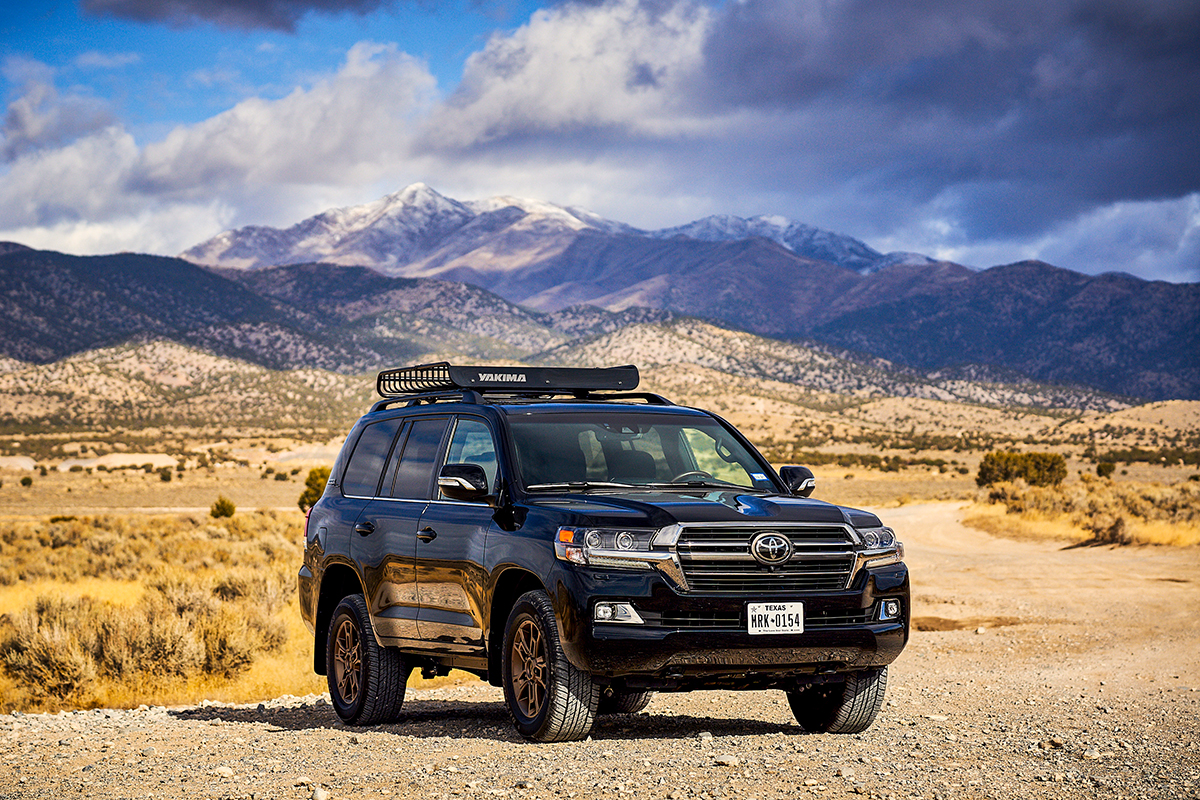 2020 Toyota Land Cruiser Heritage Edition
Four-door, five-passenger, full-size SUV
Base price: $88,970
Price as tested: $88,970
Engine: 5.7-liter, 32-valve, fuel-injected V8
Transmission: 8-speed automatic with full-time four wheel drive
Power: 381 HP @ 5,600 RPM
Torque: 401 lb.-ft. @ 3,600 RPM
Curb weight: 5,715 pounds
Ground clearance: 8.9 inches
Fording depth: 27.5 inches
EPA MPG: 13 city/17 highway/14 combined