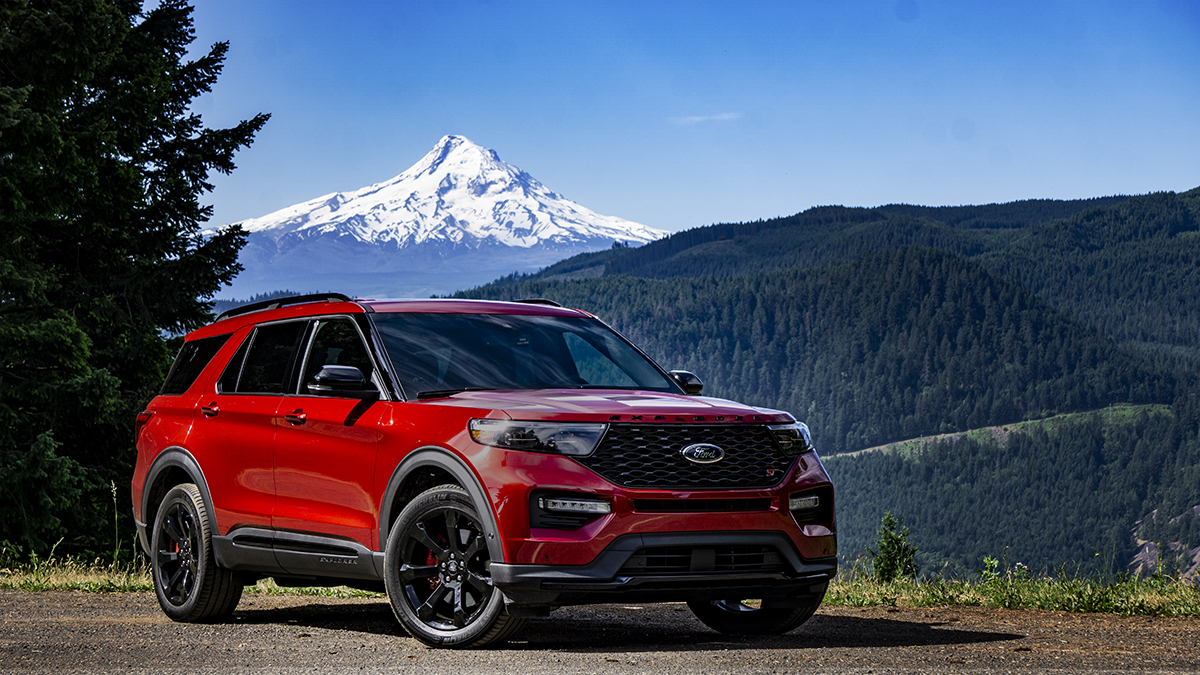 With all the SUVs on the market capable of climbing mountains, fording rivers, and bursting through snow drifts deep enough to stall a caribou, you'd think we are all direct descendants of either Daniel Boone, Meriwether Lewis, or Jeremiah Johnson and can't wait to get out from our comfortable suburban McMansions or urban high rise condos to get back to our paleo roots.
You'd be wrong.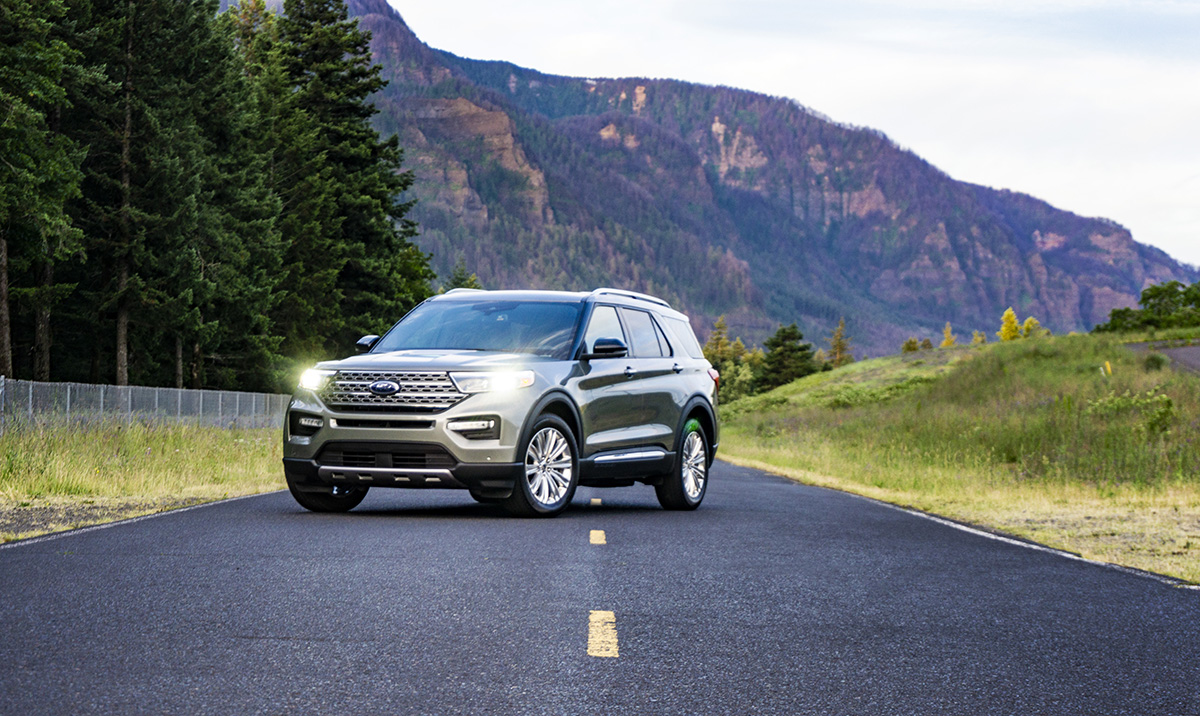 According to the Outdoor Industry Association, just 13.7% of Americans over the age of six went camping last year. That number includes Uncle Buddy's 40-foot fifth wheeler that's more vacation cottage than camper. As Americans, however, our whole self-concept is built around the pioneering spirit. So even though the farthest afield most of us ever venture is the outlet mall, the sixth generation of America's all-time, best-selling SUV is now even more capable than ever. Which is why I found myself behind the wheel of the 2020 Ford Explorer driving along the Columbia River that borders Oregon and Washington on my way to the outdoorsy Skamania Lodge.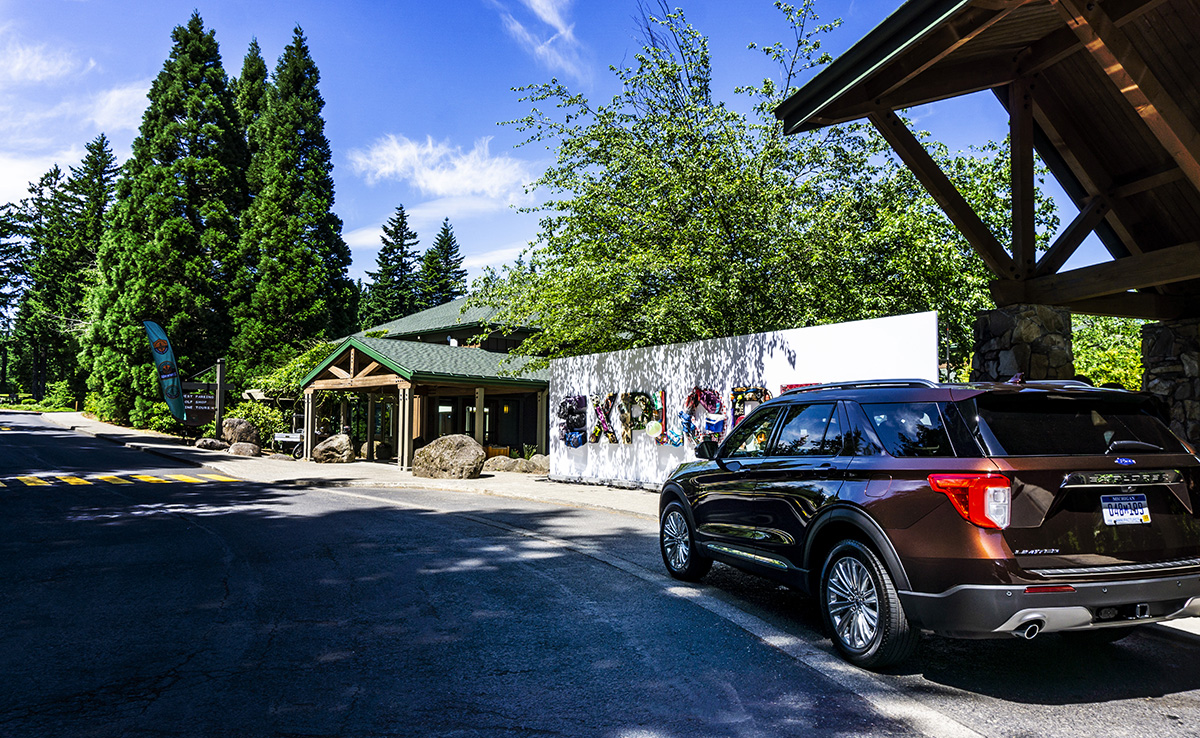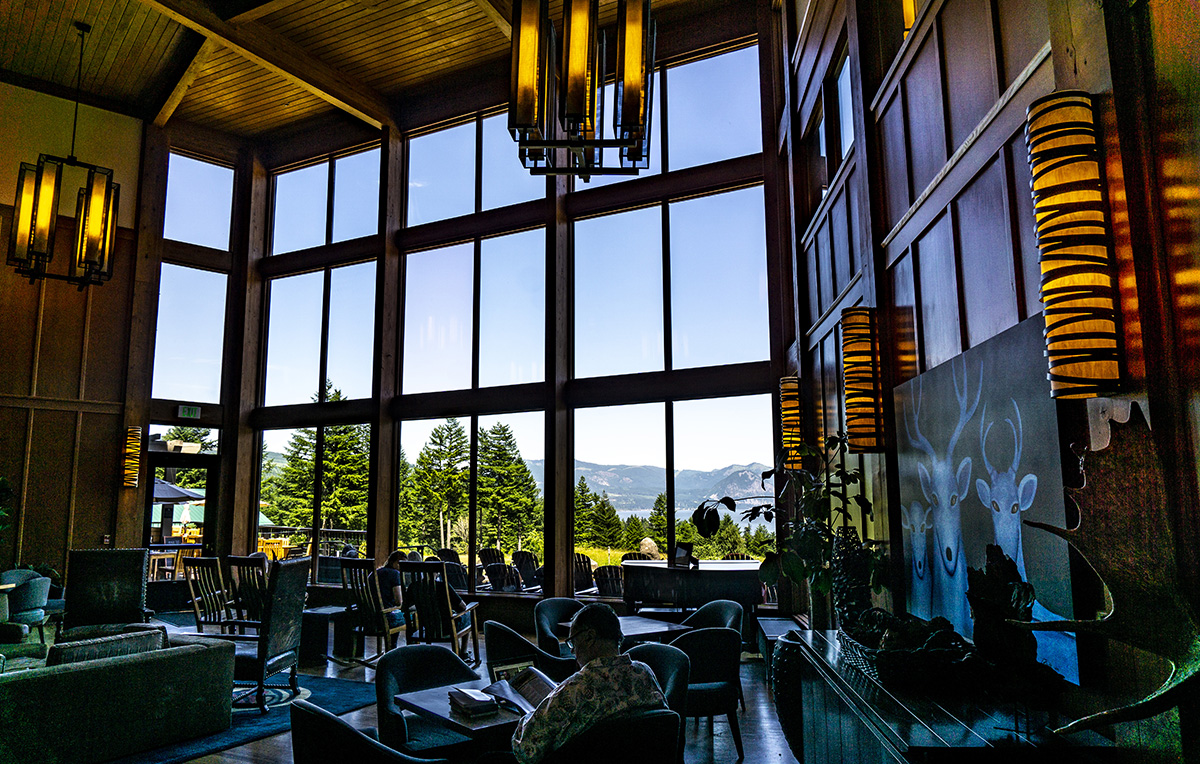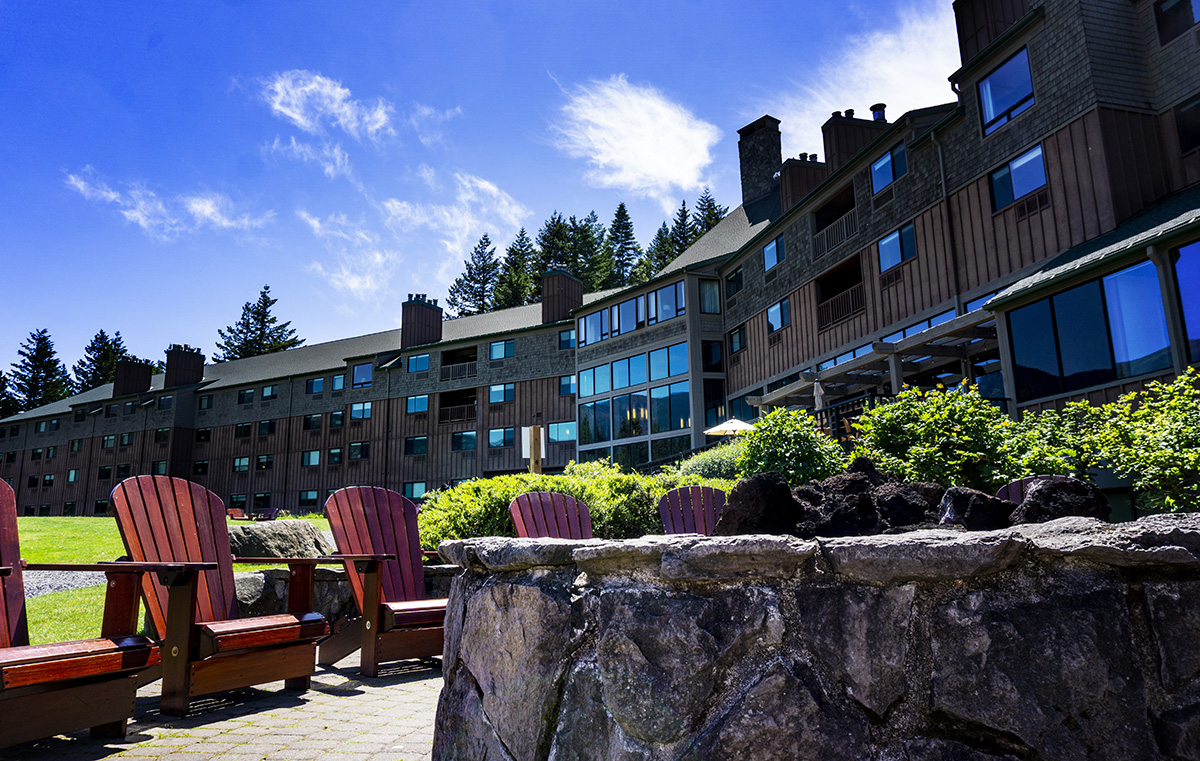 The Columbia River winds its way from the Canadian Rockies south through Washington state until it turns west forming the border between Washington and Oregon. Broad, deep, and powerful it's been a source of life, energy, and commerce for eons. Early indigenous people built communities up and down the river to take advantage of its bounty. European explorers had hoped the mouth of the Columbia would prove to be the western terminus of the mythical Northwest Passage (alas, it wasn't). Lewis and Clark traveled much of its length before reaching the Pacific Ocean, completing their cross-continental overland mission for president Lincoln. Steeped in history, blessed with incredible vistas, and fraught with danger, the Columbia River basin even today is an explorer's paradise and worth a visit no matter what you drive.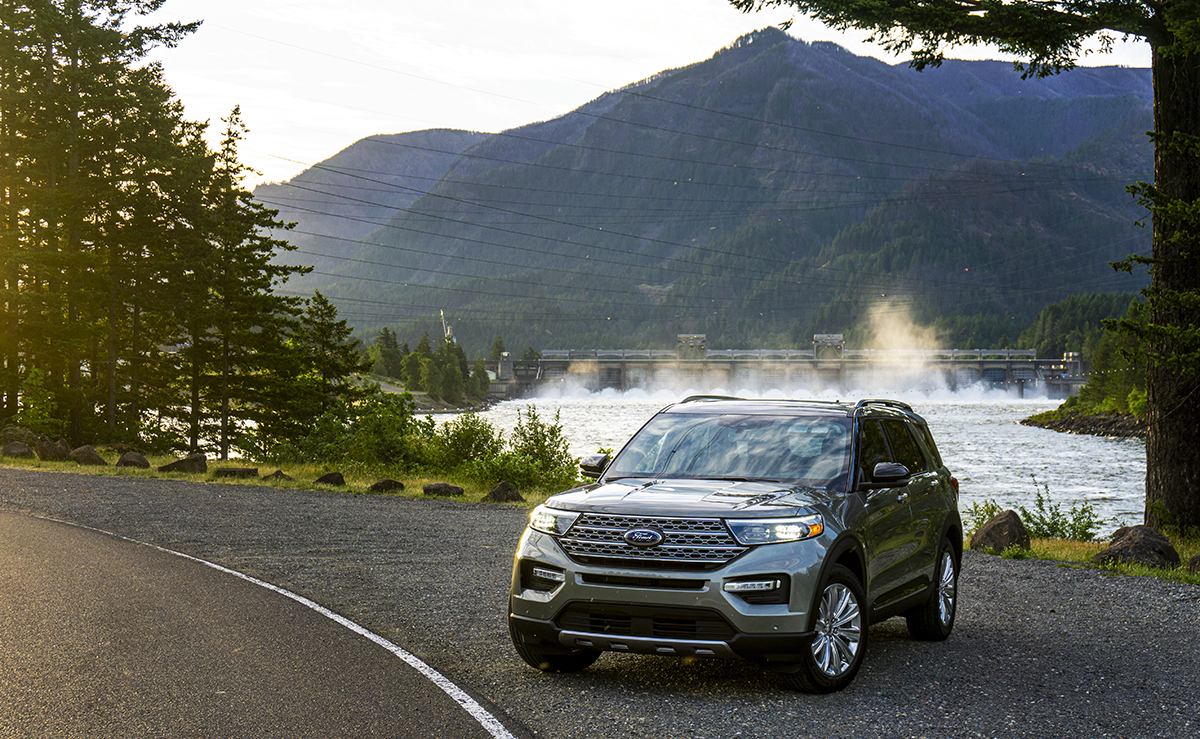 The 2020 Ford Explorer has all-new, rear-wheel drive architecture that serves as a foundation making it a more capable vehicle whether your fording a river or towing and hauling. More important is its new layout has created more space in the second and third rows so the Explorer can perform its primary function – hauling people – even better. Yes, the Explorer when properly equipped can tow 5,600 pounds which is plenty for a family boat or camper. Yes, the new ST version makes 400 horsepower and will give a previous generation Mustang GT a run for its money. Yes, the Platinum elevates the cabin accouterments to a level that leaves little room for Lincoln. The truth is, most people will use it the way most families used the LTD Country Squire back in the '60s.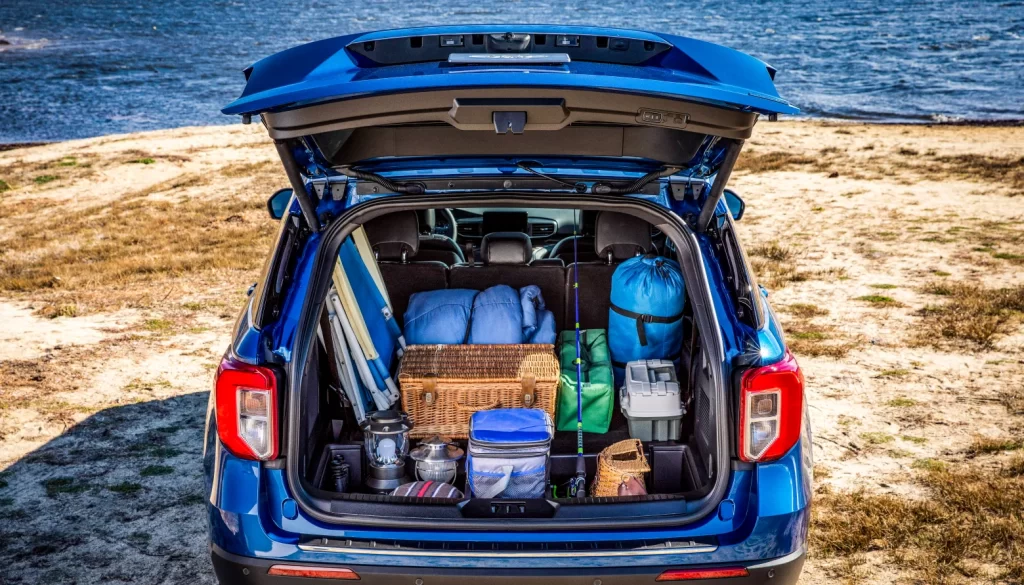 Explorer is Ford's most important family vehicle.
While the F-150 adds buckets of cash to Ford's bottom line and the Mustang gives the company pony car bragging rights, Explorer is their bread and butter. Three-row SUVs have replaced full-size sedans and wagons as America's family haulers and right now there's a whole slew of tough competitors. Explorer has to go up against the Toyota Highlander, Chevy Traverse, Honda Pilot, Subaru Ascent, Hyundai Palisade, Kia Telluride, Dodge Durango, and a few others. There's no room in this crowd for a vehicle that's just okay, which frankly the previous generation Explorer was.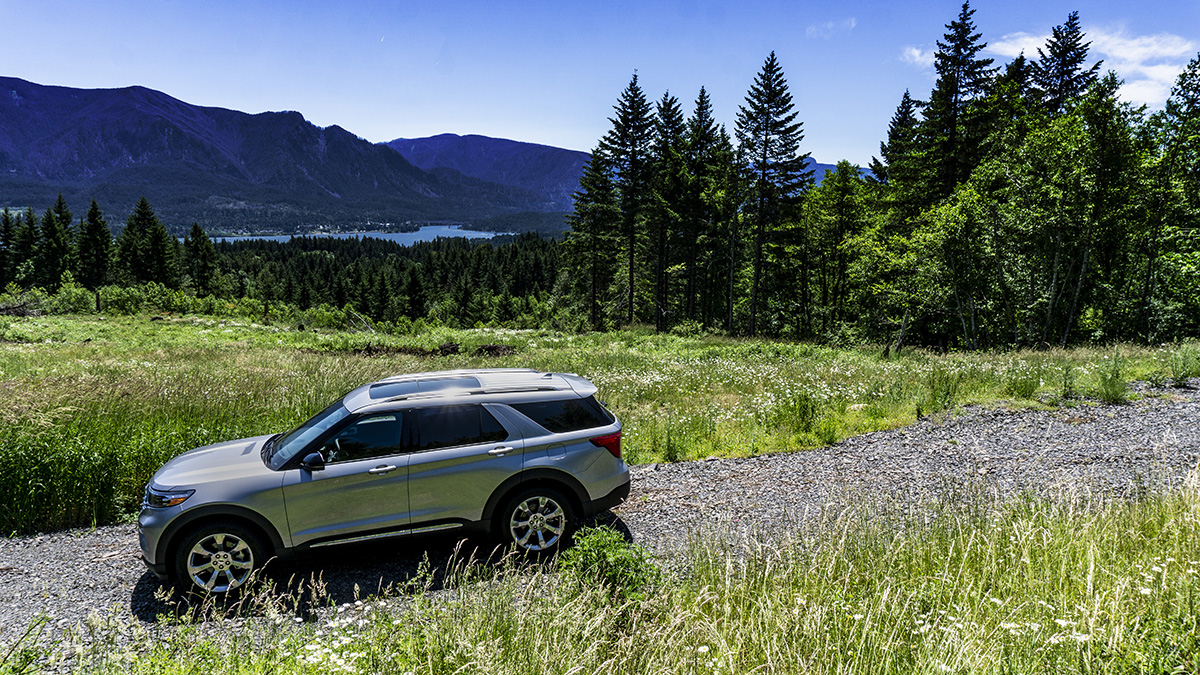 The 2020 Ford Explorer is available in five trim levels, XLT, Limited, Hybrid, ST, and Platinum with prices range from $36,675 for an XLT rear-wheel drive model to well over $60,000 for a fully decked out Platinum edition. That base price is $400 more than the outgoing Explorer, but includes features that used to be optional. Now standard are an 8-inch display, power liftgate, Ford Co-Pilot assist, LED headlamps, the 2.3-liter EcoBoost, and 10-speed automatic transmission. This means a base Explorer can now tow 3,000 pounds and carry seven people with its second row bench seat. All other trim levels have standard second row captains chairs, but you can opt for the bench in any model if you need an extra seat.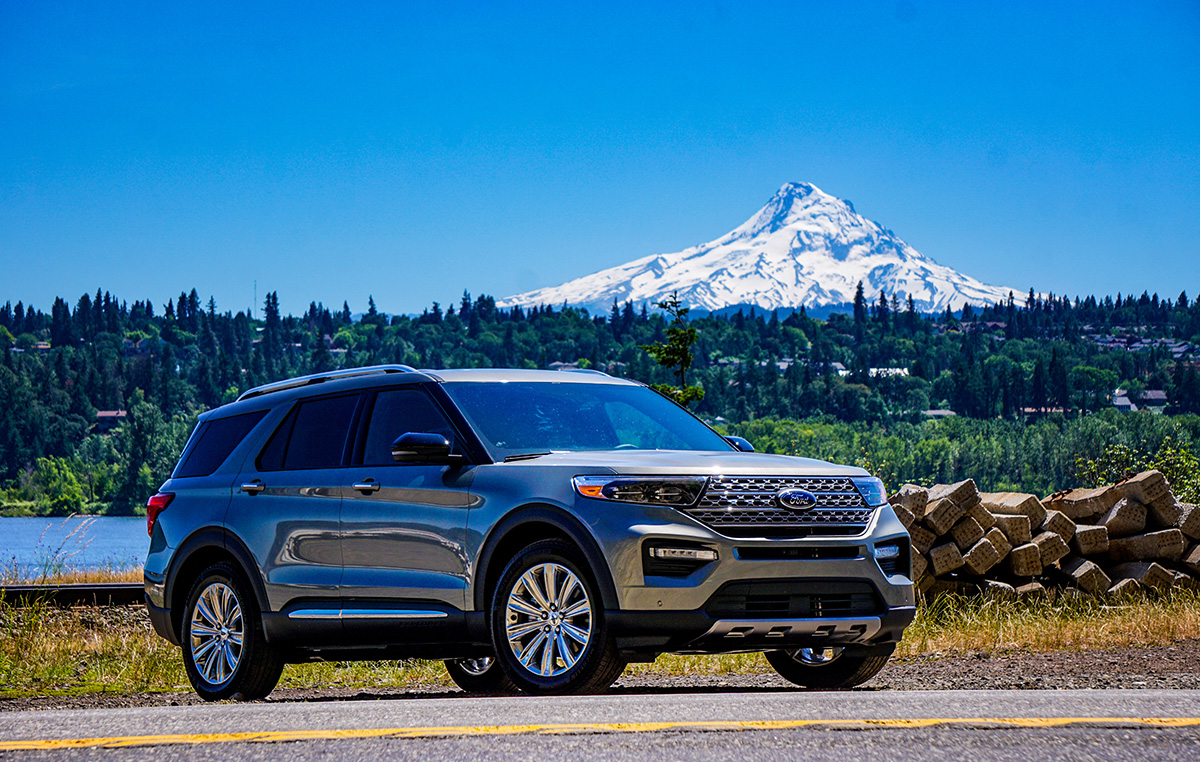 As with most of their trucks and SUVs, Ford expects to sell more XLT models than anything else. It offers a compelling combination of affordability, capability, utility, and comfort that should help keep it at the top of the heap in the category. The base 2.3-liter EcoBoost is a significant upgrade from the previous V6. Power is up just 10 horses, but torque, the number that really matters, jumps by 55 pound-feet. Towing capacity is up across the board. When equipped with the trailer tow package, an Explorer XLT can tow up 5,300 pounds with the Class III trailering package. The the EcoBoost engine is bolted to a 10-speed automatic transmission, which has been proven in several vehicles including the F-150, Mustang GT, and Ranger.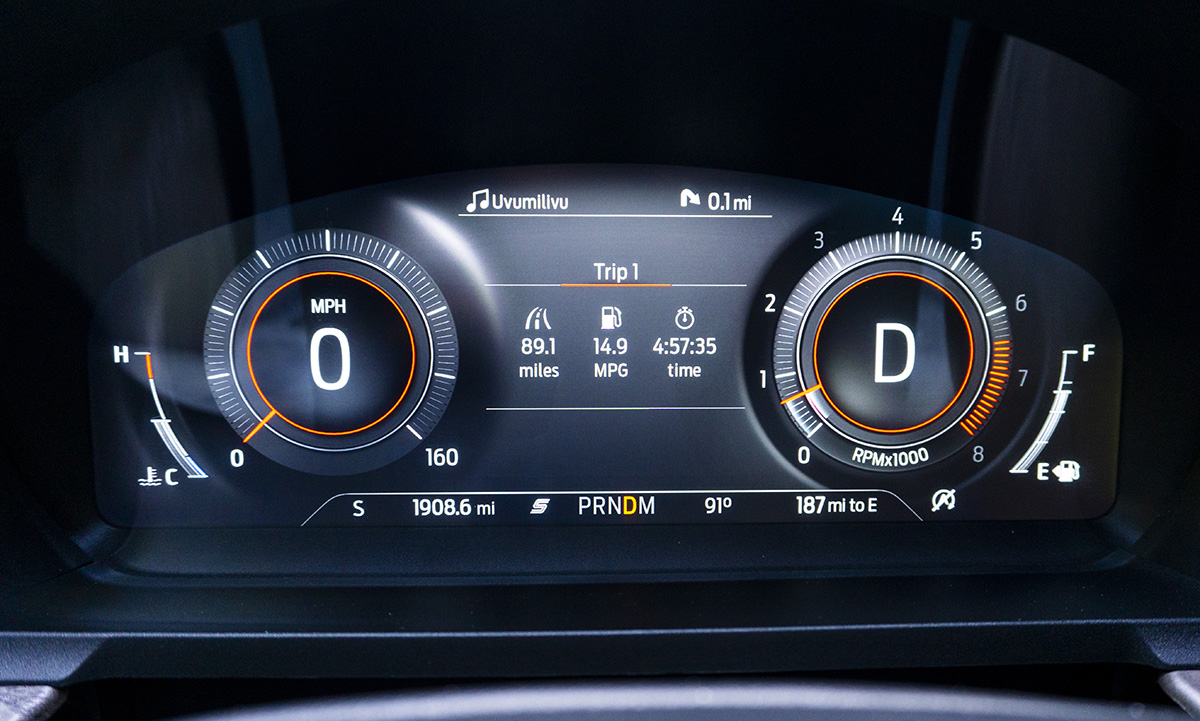 Why ten speeds, you ask? It's actually pretty simple. While the engine's torque curve is flat and wide, the power band is narrow, peaking at around 5,000 RPM. You can cruise efficiently at lower RPM, but need to rev the engine up if you want to dart off the line or speed up to pass another car on the highway. More gears means you can keep the engine at peak power for those times you really need it regardless of your speed. In practice it works really well. Ford has calibrated the shift points so it doesn't hunt for gears. When it does shift, they are smooth and comfortable. In all, this set up is a nice balance of power and efficiency that should satisfy most drivers, giving them the performance they need to complete their daily tasks while delivering 21 miles per gallon around town and 28 miles per gallon on the highway according to the EPA on a rear wheel drive XLT model. Those numbers drop just one MPG for all-wheel drive models.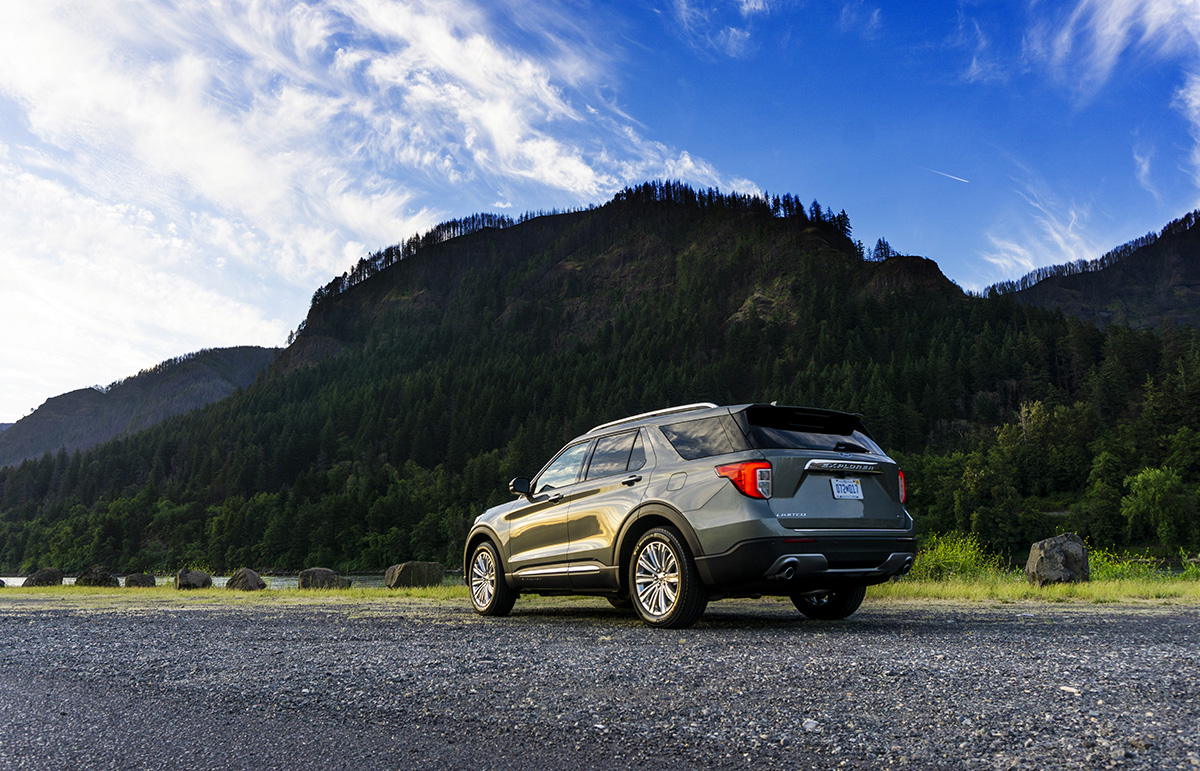 Three other engine options are available. For the first time ever, Explorer is offered with a hybrid powertrain that combines a 3.3-liter V6 with an electric motor to produce 318 horsepower and over 500 miles of range. The Platinum edition is powered by a 3.0-liter turbocharged EcoBoost V6 making 365 horsepower. In the ST model that same EcoBoost is tuned to deliver 400 horsepower delivering more excitement behind the wheel. All models use the 10-speed transmission. To get the most out of those powertrains, Ford offers a terrain management system with normal, sport, trail, slippery, tow/haul, and eco modes for rear wheel drive models. Four-wheel drive Explorers add a deep snow and sand mode enhancing its foul weather capabilities.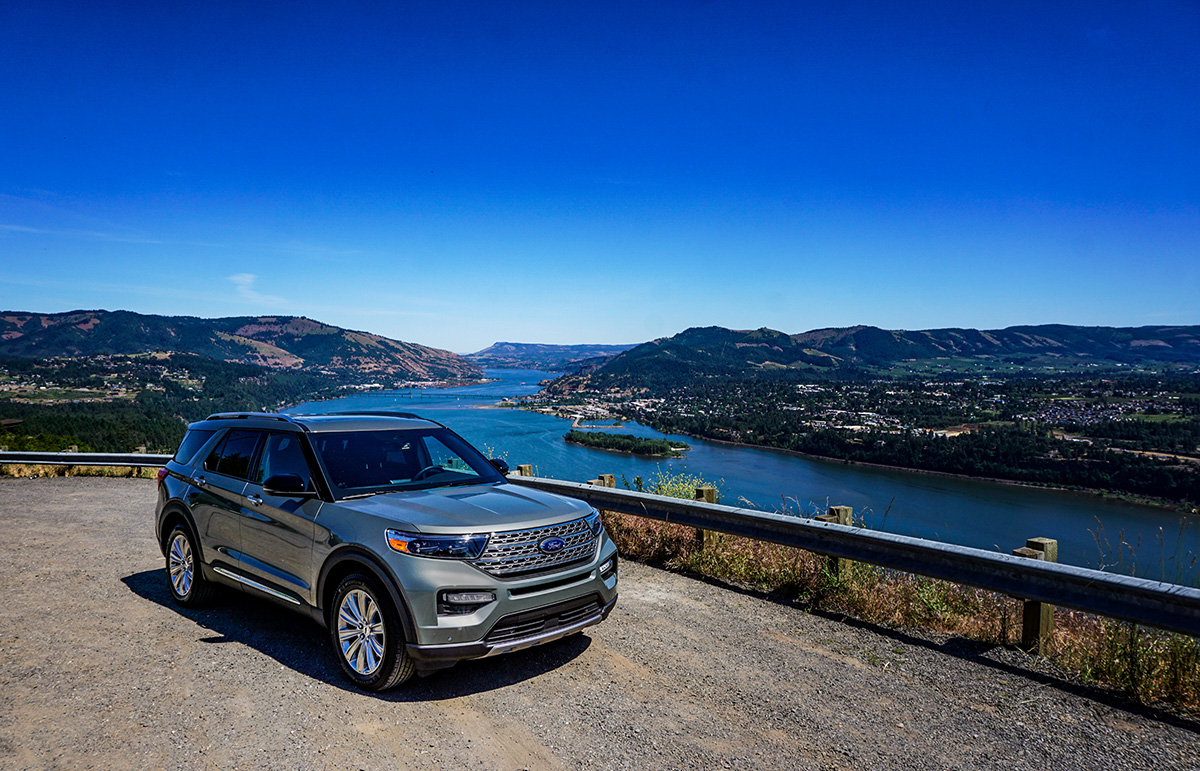 As comprehensive as the changes are underneath Explorer's skin, changes to the exterior are subtle. It's only a tenth of an inch longer than the outgoing model, but the wheelbase has been extended by over six inches. This pushes the wheels out to the corners, giving the Explorer a more rugged and planted stance. It also allows for shorter overhangs creating 20º approach and 22º departure angles for those who are headed off road. The front grill has been updated with the lights integrated nicely into the fascia. From the side the roof tapers slightly to the rear and the body panels are more sculpted giving it a more premium look.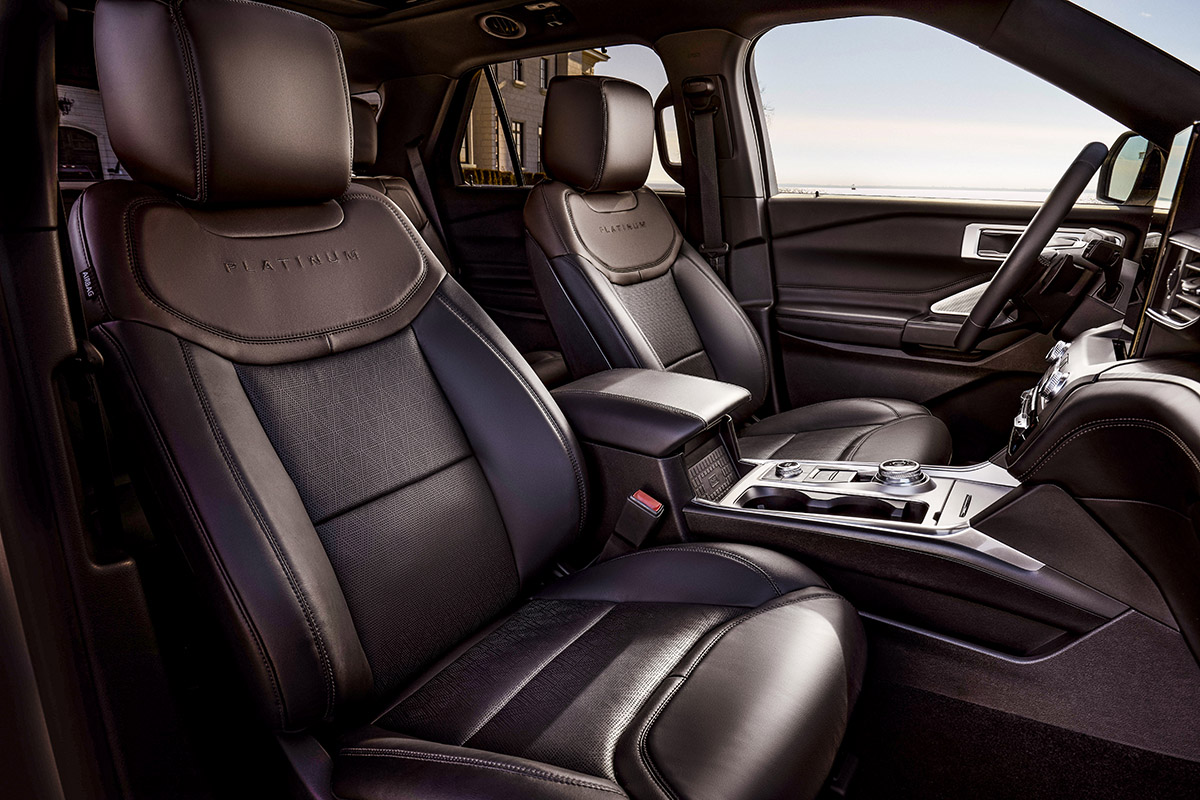 Explorer's interior is where most people will notice the biggest changes. The layout creates significantly more room in the second and third rows. Even in its popular XLT trim, the overall feel is premium but purposeful. All the switches, buttons, and dials are well placed and feel solid. Storage abounds in the new Explorer with bins, cubbies, and cupholders conveniently placed for each passenger. In standard trim, you get just two USB charging ports and only a maximum of four are available, well short of my standard of one charge point for every legal seat. Wireless charging available as well as up to three 12-volt outlets and one 110-volt outlet. 4G LTE wifi connects up to 10 devices and FordPass Connect lets you locate, lock, and unlock Explorer from your smartphone. The standard 8-inch touchscreen is well integrated into the center stack and powers Ford's updated Sync-3 system. A 10-inch tablet-size screen is optional and adds the convenience of split-screen functionality. It stands up vertically, however, rising awkwardly above the dashboard and feels like an afterthought.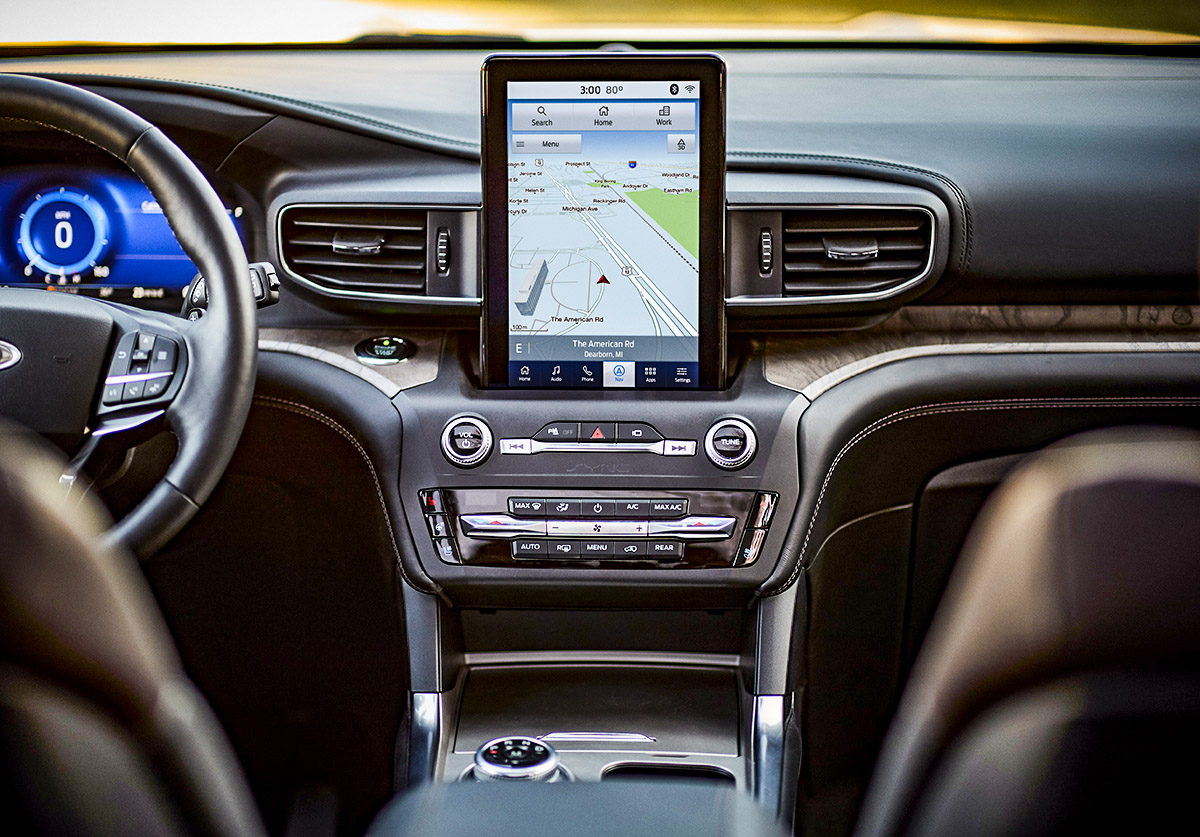 Explorer offers a comprehensive suite of standard and available driver assist features. Ford Co-Pilot 360 includes pre-collision assist with automatic emergency braking and pedestrian detection, forward collision warning and dynamic brake support, blind spot information with rear cross-traffic alert, lane keeping assist, rearview camera with built-in lens cleaner, and automatic headlamps with auto high-beams. Ford has improved its active park assist feature in the new Explorer now the entire operation happens with just the touch of button. All you have to do is activate the system and the Explorer will let you know when it finds a large enough space. Then come to a complete stop, press and hold the park assist button and take your feet off the peddles and hands off the wheel. The Explorer will accelerate, brake, turn and shift between reverse and drive on its own, perfectly executing both parallel and straight in parking maneuvers.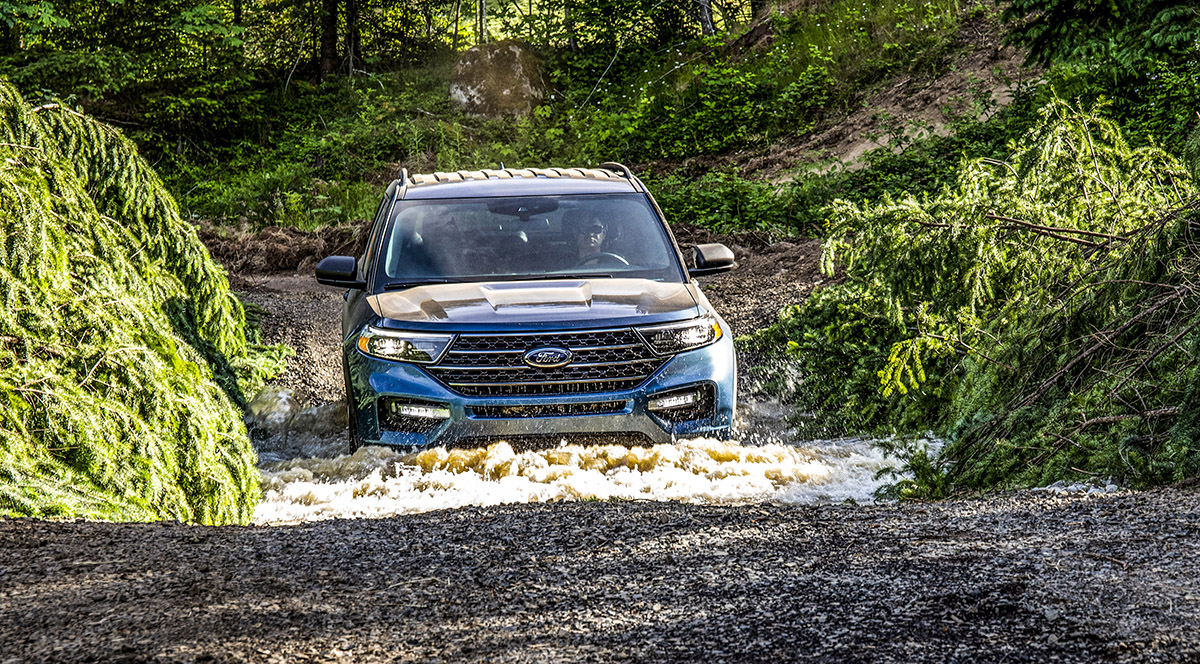 I was able to experience Explorer's enhanced off-road chops over a varied and technical course that offered everything from mud and sand to extreme side-hills and a river crossing. The minimum ground clearance of 7.9 inches provides plenty of height for trail driving. You can wade through water up to 20 inches deep. The terrain management system comes into play here and is easy to use thanks to it's rotary selector. Somewhat surprisingly, the Hybrid Explorer offers the same off-road capabilities as the XLT, so those hoping to save a little fuel can still get off the beaten path.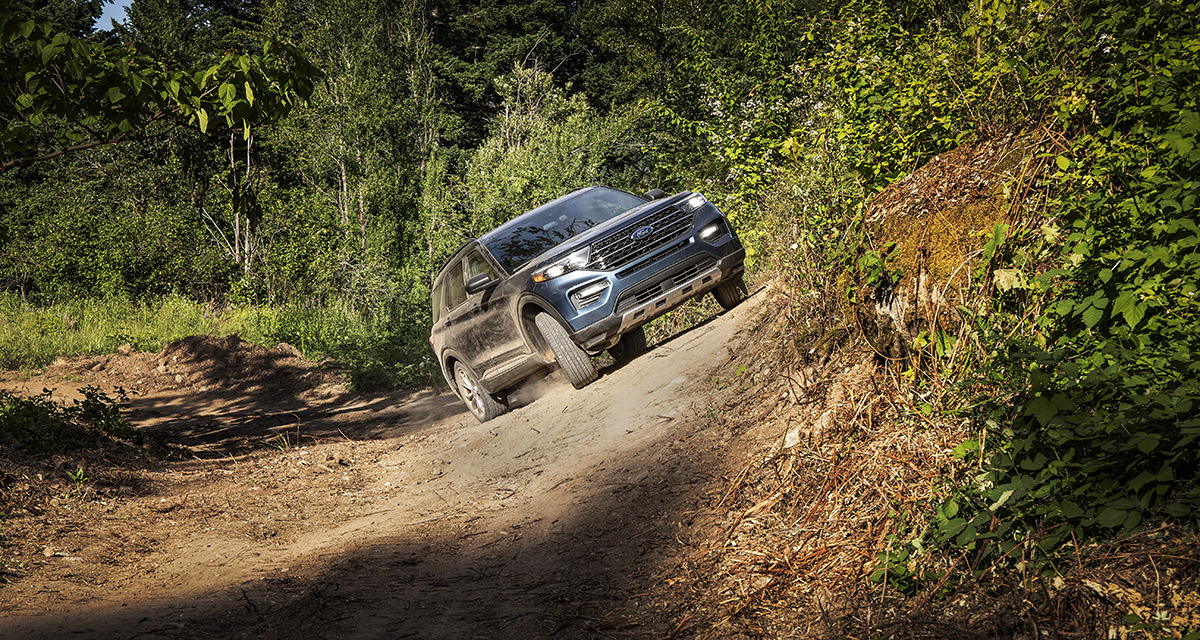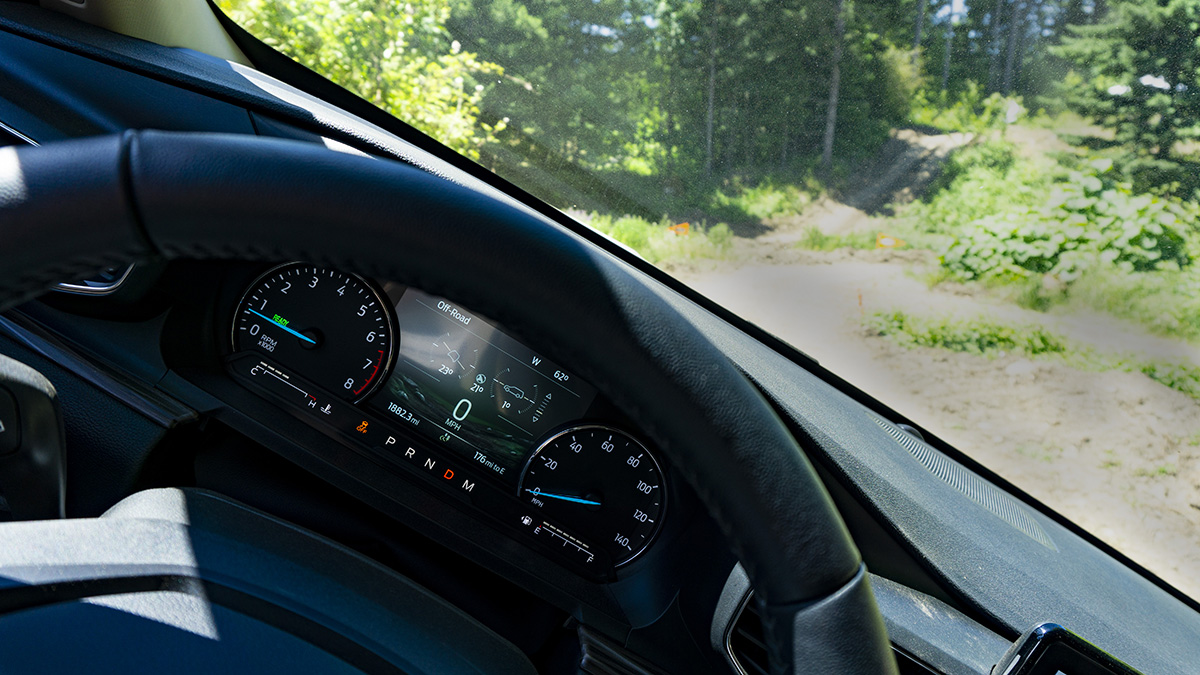 On road the XLT Explorer is comfortable and predictable. The Platinum version is more powerful, quieter, and more luxurious. It features perforated heated and cooled leather seats up front to coddle the driver and co-pilot. The second row has heated seats, but third row passengers have to do without. In the higher trim levels you also get active noise cancellation and a 14-speaker, 980-watt B&O Play audio system with satellite radio. The upgraded surfaces, contrast stitching, and twin-panel moonroof, create an airy, open, and luxurious environment. Riding on standard 20-inch or optional 21-inch wheels and tires, Explorer Platinum ventures into Range Rover territory in terms of comfort, performance, and capability. It's just a bit more down-to-earth.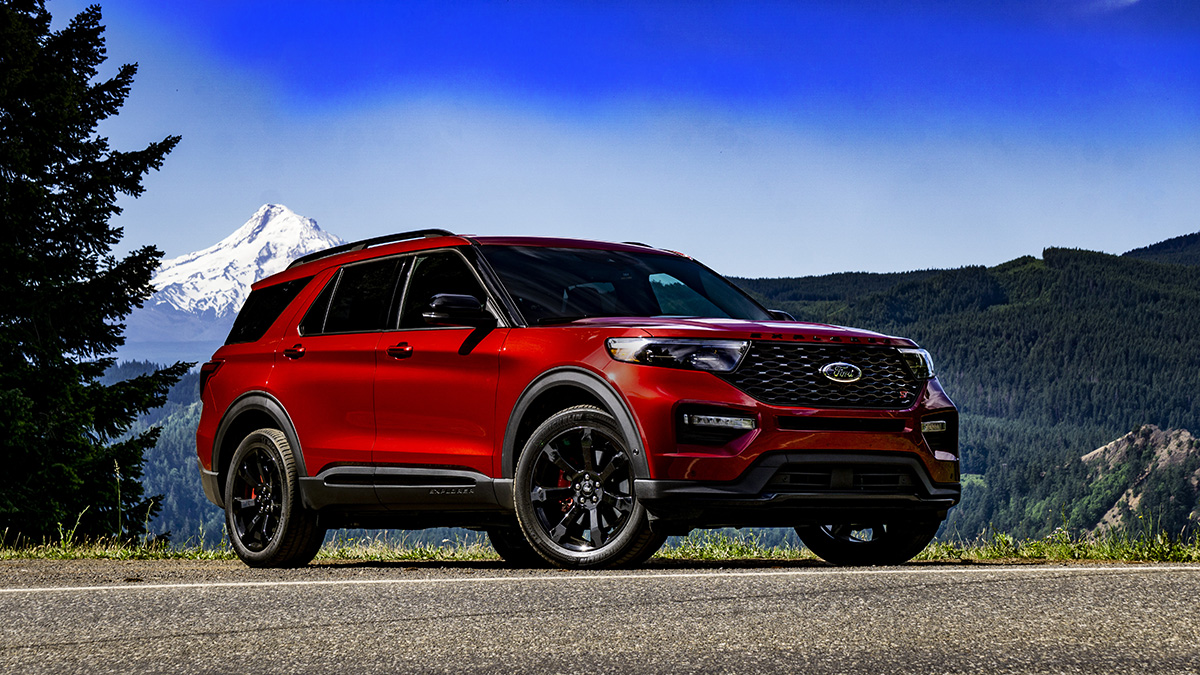 The real surprise comes when you take the wheel of the Explorer ST, mash the accelerator, and hit a winding road. 400 horsepower and 415 pound-feet of torque provide ample motivation for the 4,700 pound SUV. Dial in sport mode and the 10-speed automatic shifts quicker and holds gears longer, acceleration is more aggressive and the steering tightens up appropriately. The sport-tuned suspension prevents the kind of body roll you'd expect form such a tall vehicle, and the standard Pirelli tires dig in confidently whether you opt for the standard 20 or 21-inch wheels. All the blacked out trim gives Explorer ST an appropriately sporty look while the sport seats provide a nice balance of between comfort and support. Even with a price as tested closing in on $60,000 it feels like it's worth every penny. The only other vehicles that blend this kind of performance and utility cost significantly more.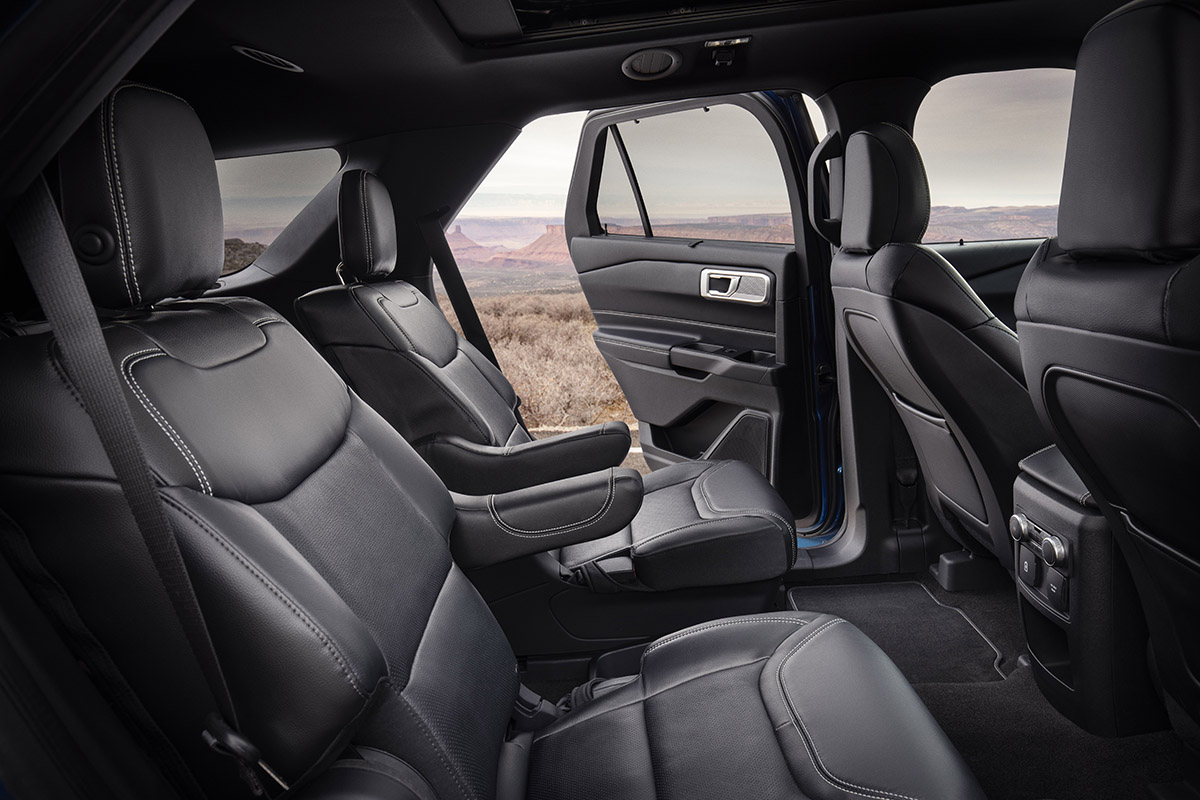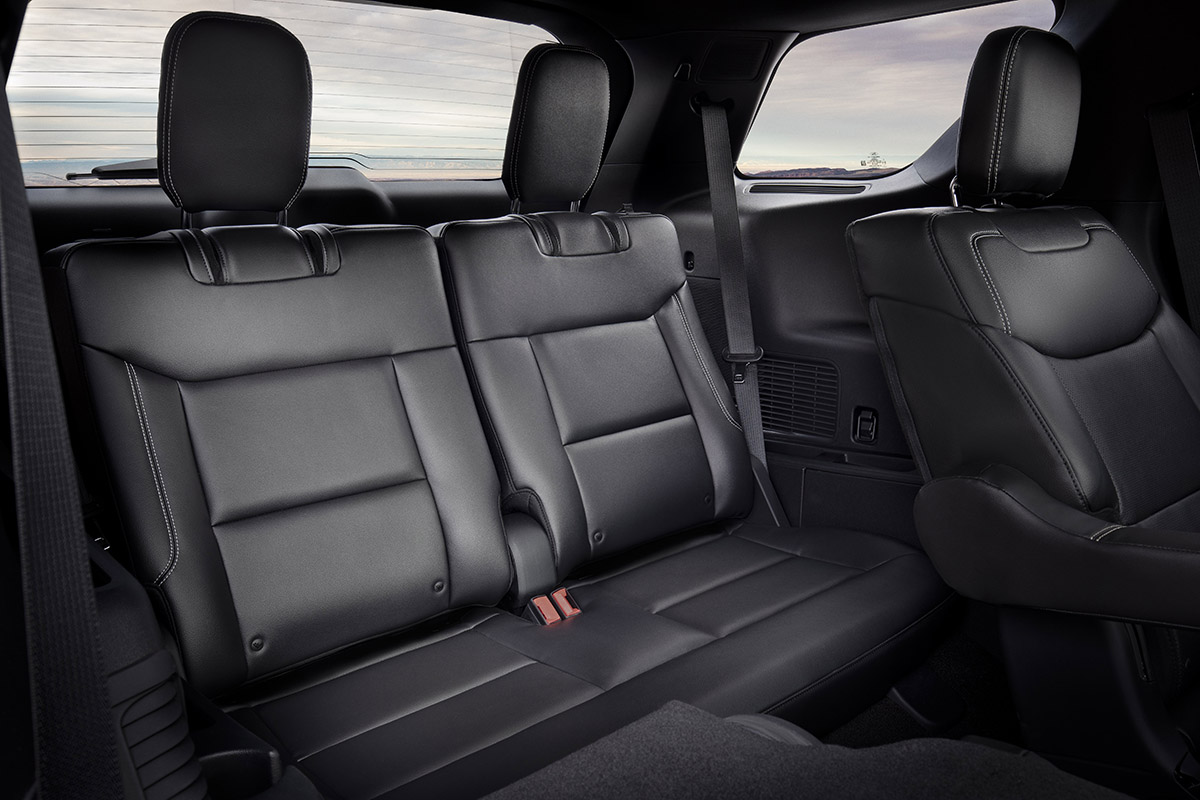 After driving the 2020 Ford Explorer in all its variations, it's clear it delivers on the promises Ford made at the introduction back in January. It's good looking, capable, comfortable, and offers a number of variations for all types of drivers and families. There are a few shortcomings – the way the 10.1-inch touchscreen is integrated (or should I say not integrated) into the dash for one and a price that can climb to breathtaking levels – but overall it's a big step forward from the SUV it replaces. I have now doubt that like the mighty Columbia, this sixth generation Ford Explorer will continue to roll on.