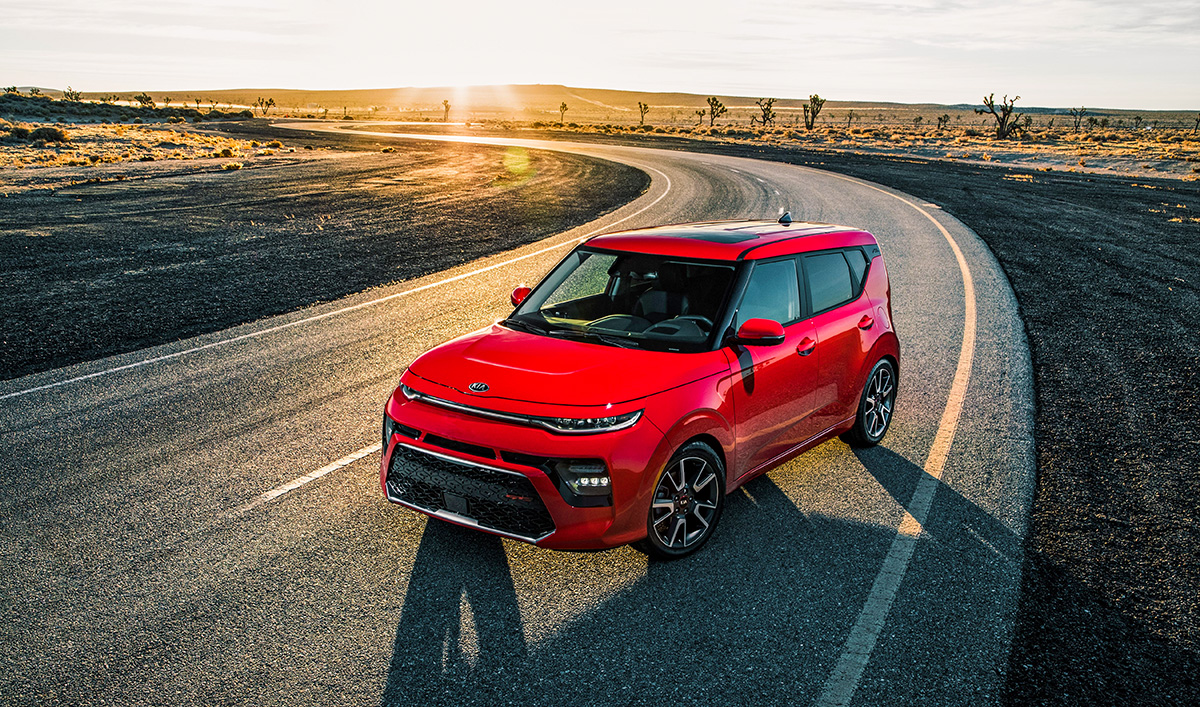 If you have any doubt who the third-generation Kia Soul is intended for, the names for the different interior mood lighting options confirm it. Select "Hey! Yo!" or "Party Time," crank up your favorite playlist on the 640-watt, Harman-Kardon premium audio, and Soul becomes a mobile, five-passenger night club.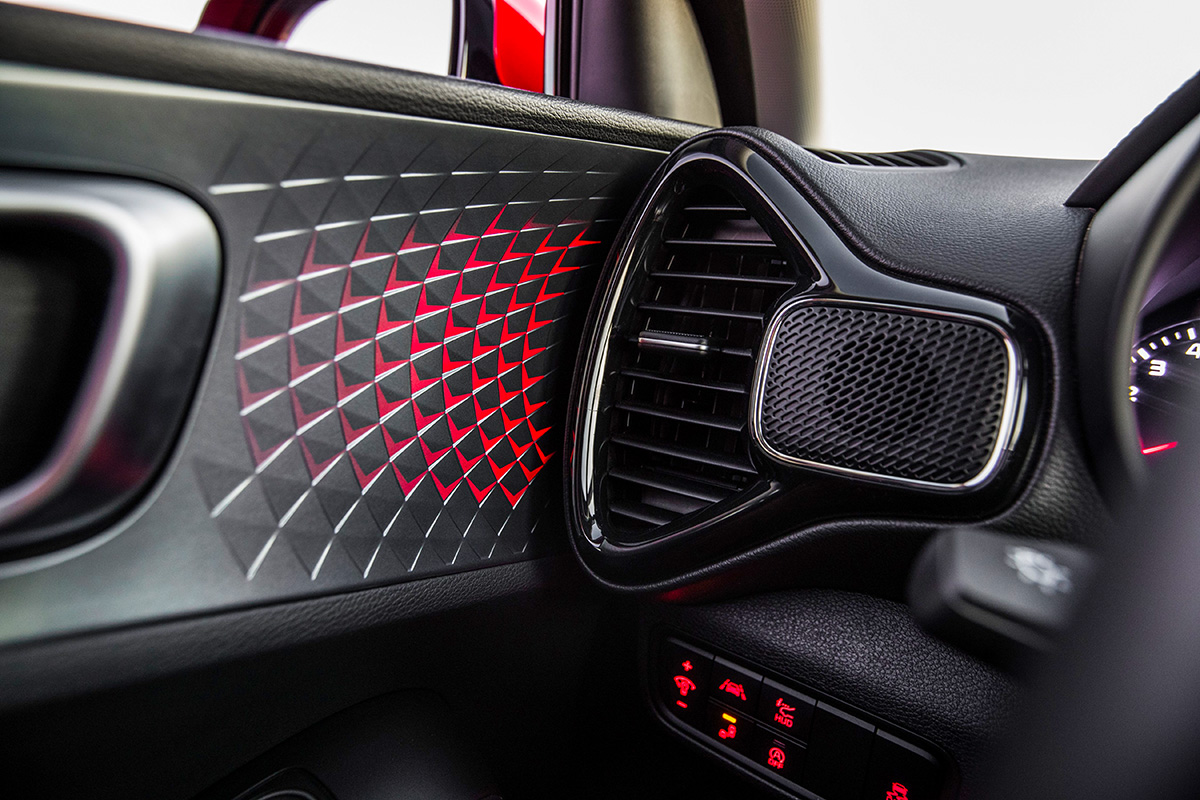 Even though it has been updated significantly for 2020, the quirky design that has defined Soul's personality since it first made its debut in 2009 is still its most endearing and differentiating feature. While Honda, Nissan, and Toyota all discontinued their boxy hatchbacks, Kia Soul is unapologetically utilitarian and youthful. Opt for the GT-Line with the optional 201 horsepower, 1.6-liter turbocharged engine, and its decidedly athletic as well.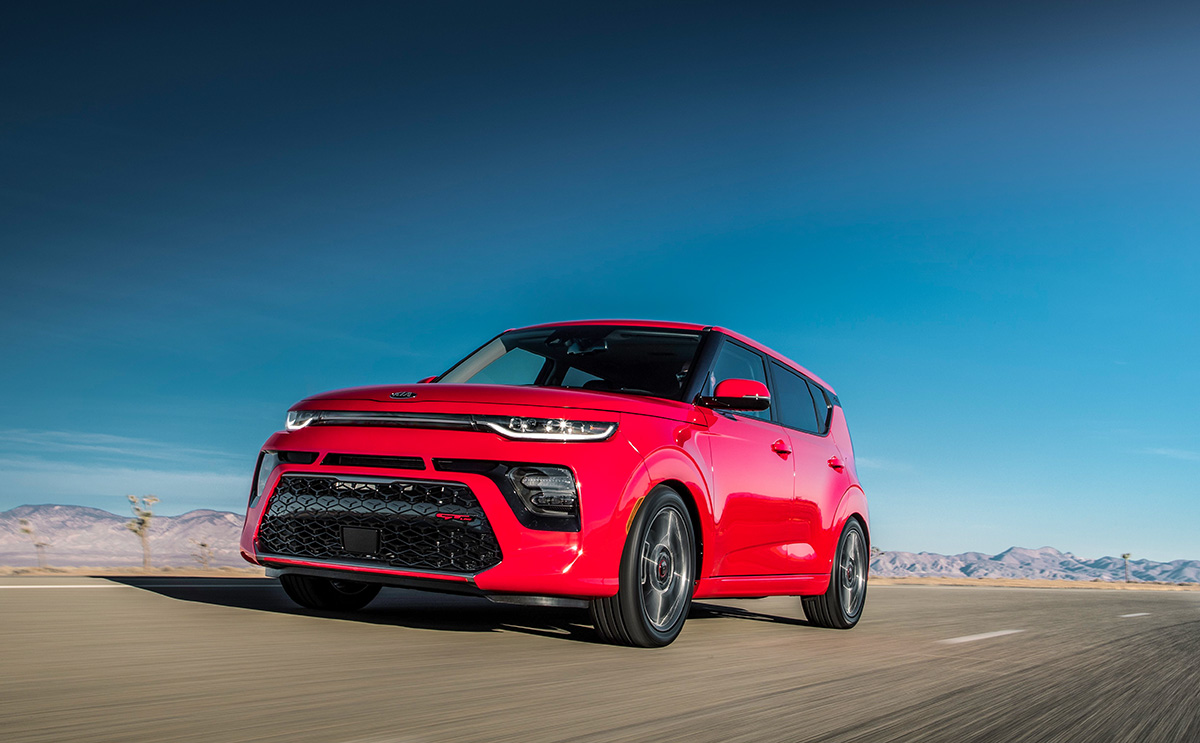 The 2020 Kia Soul GT-Line Turbo is built on an all-new platform that has a longer wheelbase, uses more high-strength steel, and incorporates structural adhesives to provide a more refined and rigid foundation for the car. This improves both ride and handling as well as safety, increasing its crash ratings from both IIHS and NHTSA.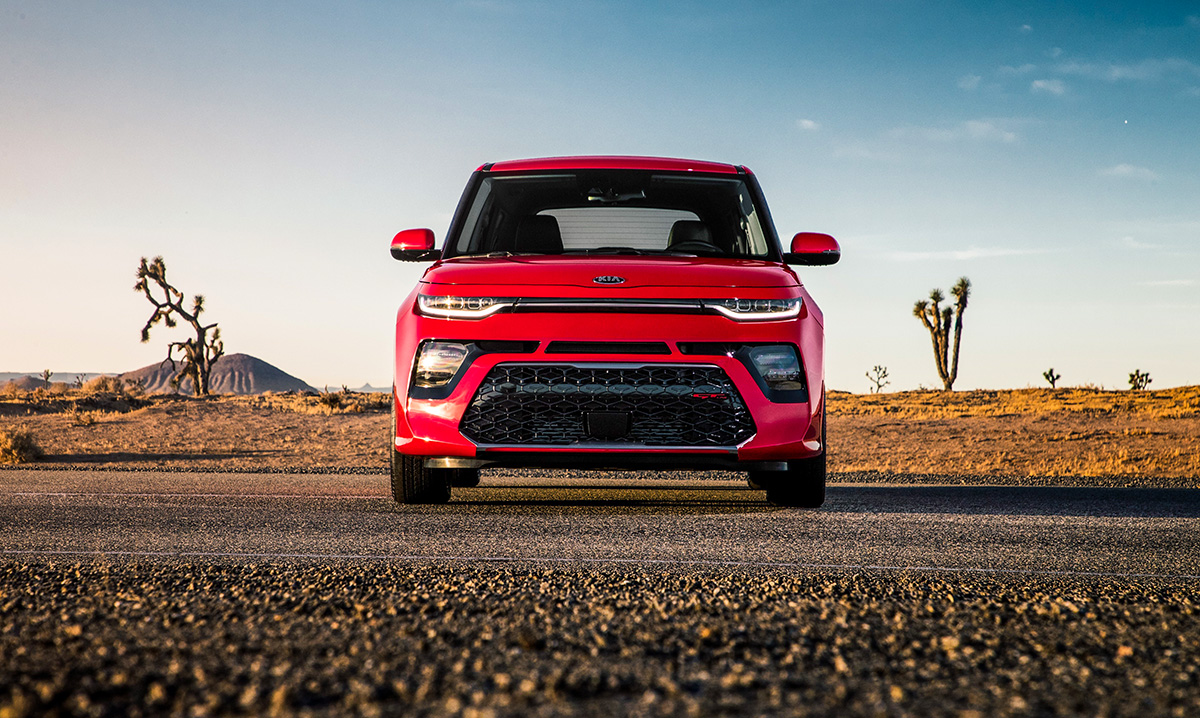 Look quickly at the new Soul and you might not see the differences, but pay attention to the details and you'll find significant changes. Kia's design team completely restyled the front end with narrower lighting and a larger grille. In the GT-Line Turbo version this includes a more aggressive looking front fascia with all LED headlamps and fog lights. Move to the side and you'll see a floating roof design that's slightly tapered to the rear continuing the sporty theme. In back the rear window is surrounded by new boomerang tail lights and chrome tipped dual exhaust pipes centered under the rear bumper add to its sporty feel.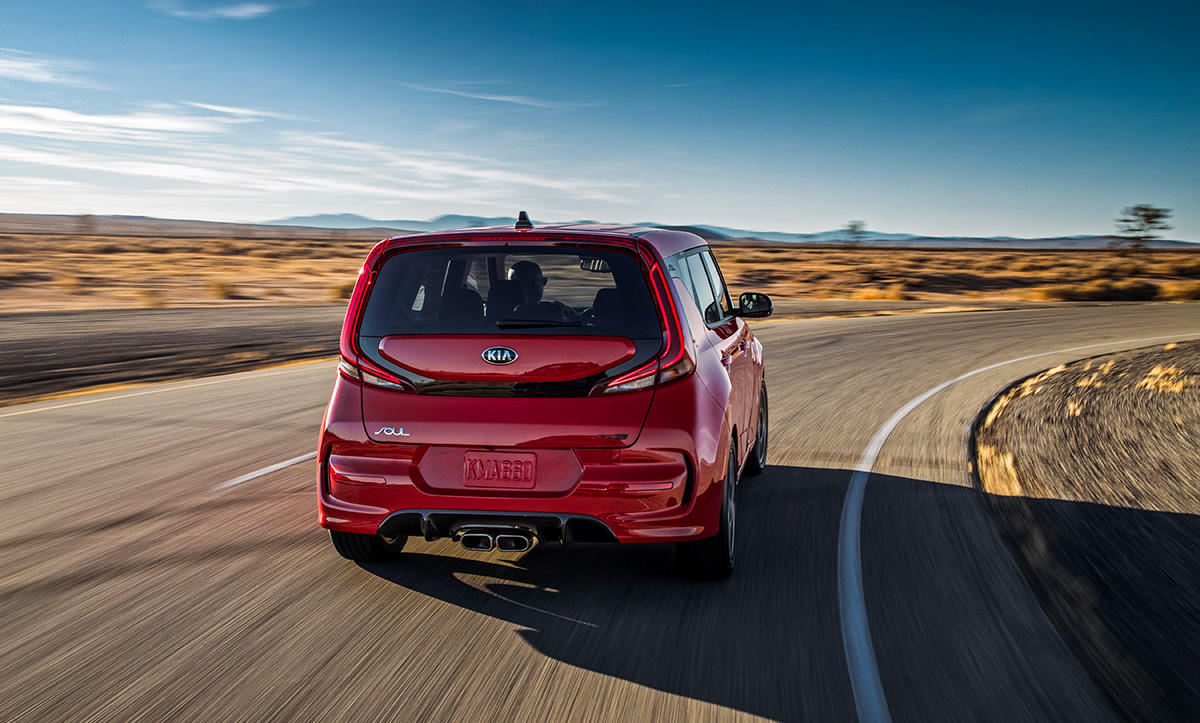 Inside the sporty theme continues in the GT-Line Turbo. Black surfaces with red accents and contrast stitching elevate the overall feel. As do the leather-wrapped, flat-bottomed steering wheel and shift knob. The sport seats provide plenty of support and the head-up display communicates the important stuff without making you take your eyes off the road. Rear seat legroom is slightly reduced from the previous generation, but it's still adequate for adults. In back there's plenty of room for gear and luggage if you fill all the seats. Fold the rear seats flat and even a drummer could transport all his gear to a club gig and it's easier to load thanks to a wider and lower opening for the tailgate.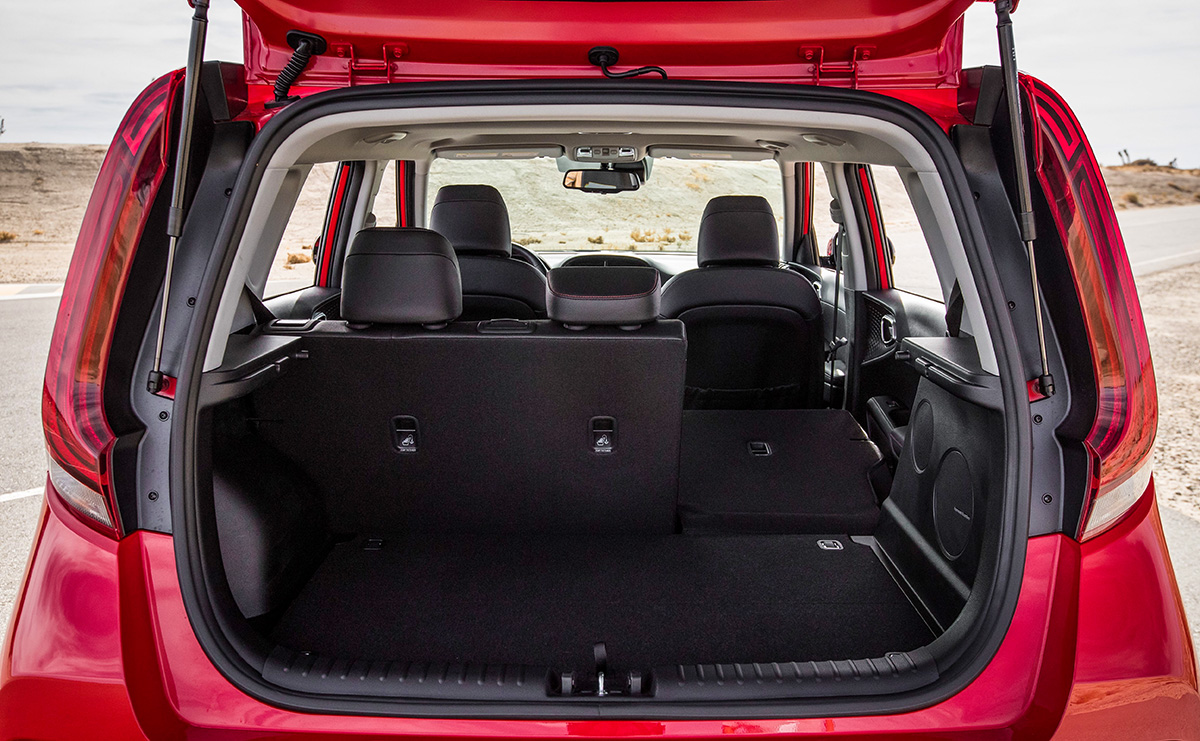 Another strong point of the Soul GT-Line Turbo is technology. In addition to the head-up display, you have a 10.25-inch touchscreen on the center stack with split-screen capability. Unlike other manufacturers who rely solely on the touchscreen interface, Kia uses a combination of touch, hard buttons, and dials making it one of the easiest infotainment systems to use. All Soul models get Android Auto and Apple Carplay, and in the highest trim levels you also get their UVO link with navigation.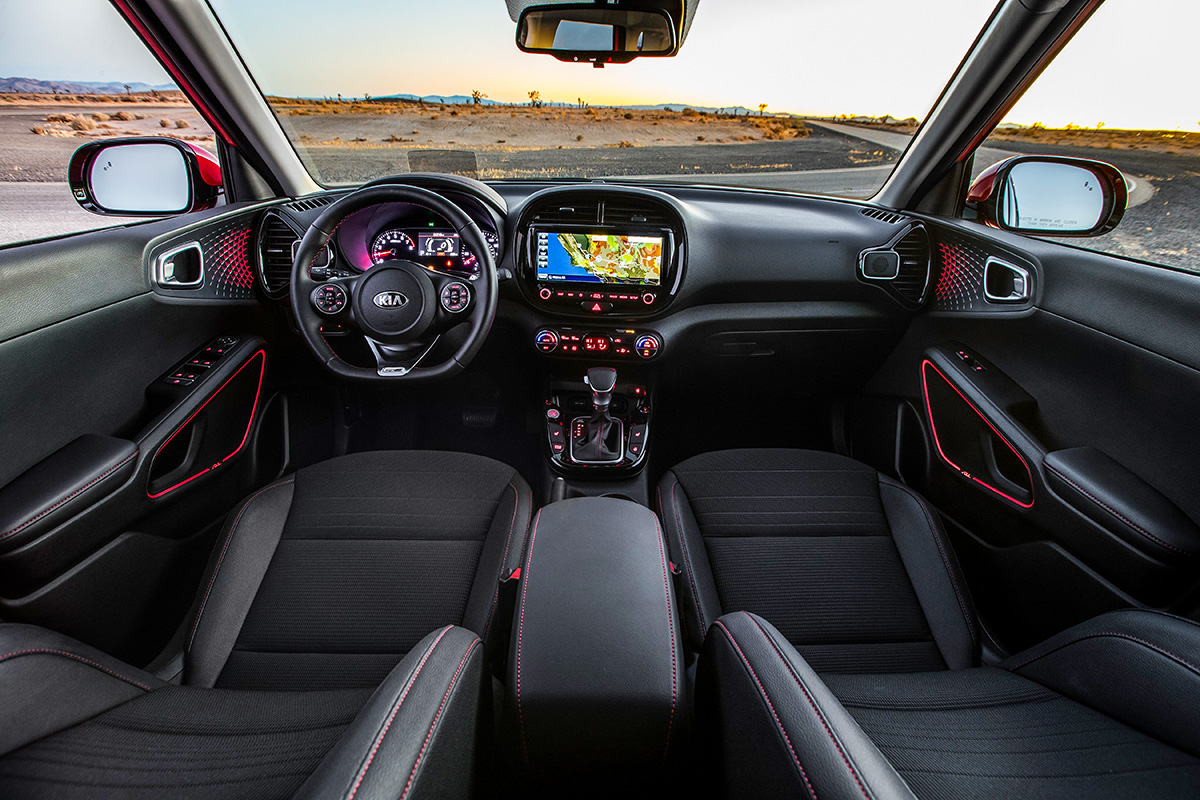 Standard safety equipment features lane keep assist, forward collision warning with automatic emergency braking, and driver attention warning. The GT-Line Turbo also adds pedestrian detection, blind spot warning, rear cross traffic alert, and adaptive cruise control. This package also includes a power driver's seat, heated front seats and steering wheel, power sunroof with sunshade, wireless charging, and the aforementioned mood lighting.
The Kia Soul GT-Line Turbo is quick and nimble, with a suspension that's tuned for sporting driving. It weighs in at just a little over 3,000 pounds and the motor driven power steering provides for quick inputs. Steering feel is a little detached but not completely isolated. The turbo engine revs freely and when you put the 7-speed DCT in manual mode it climbs to the top of the rev range quickly, so you have to pay attention to your shift points. The GT-Line Turbo is surprisingly quick, hitting 60 miles per hour from a standing start in just 6.5 seconds, which is just half a second behind the quintessential hot hatch, the VW GTI.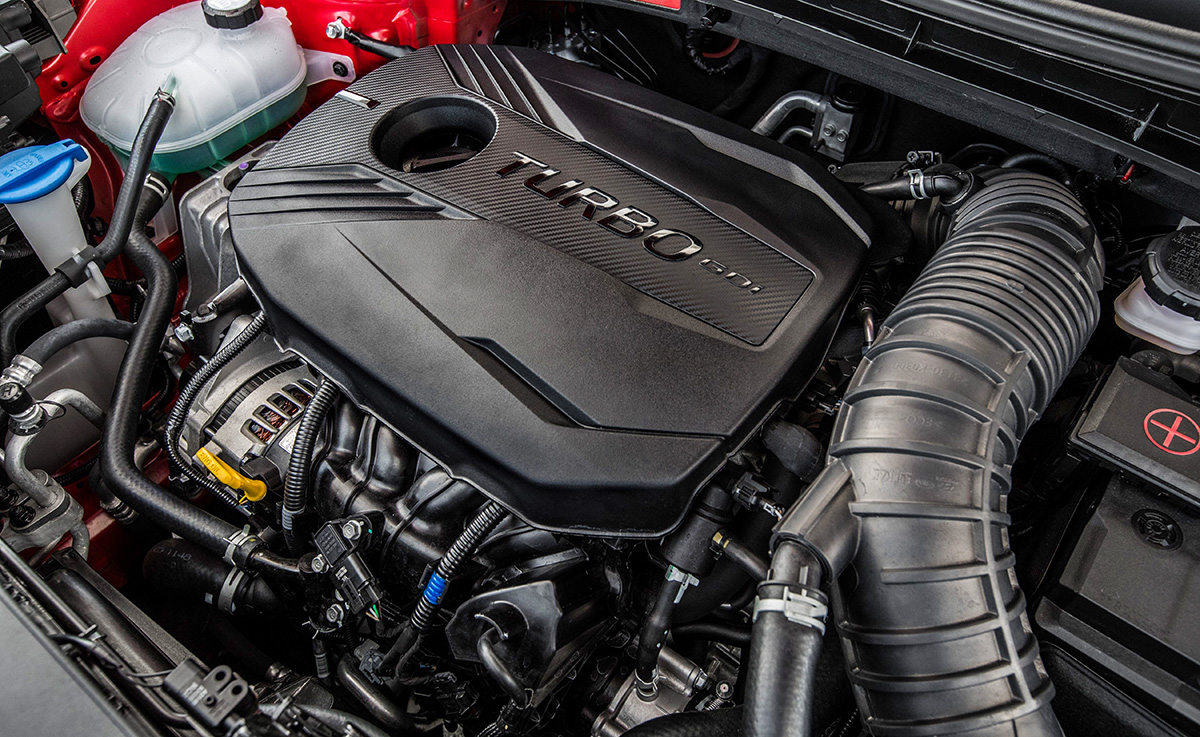 In addition to the GT-Line Turbo, you can also get the Soul in a number of other variants to accommodate different tastes. All other models feature a 147-horsepower, naturally-aspirated 2.0-liter engine with a continuously variable transmission (a 6-speed manual is available only in the base model), so don't expect anything close to sporty from those experiences. Most notably, Soul now offers the X-Line trim with an off-road, adventure-oriented look and the Soul EV will be hitting showrooms later this year.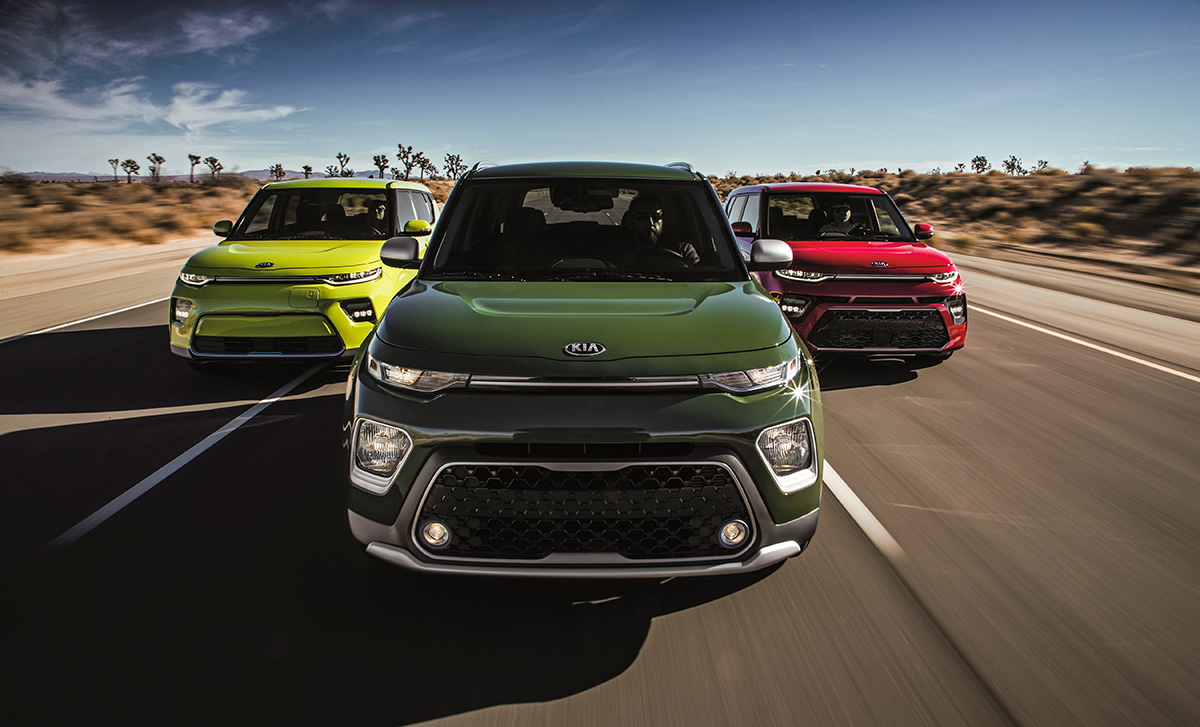 If I had to use one word to describe the Kia Soul GT-Line Turbo it would be fun. It's fun to drive, fun to look at, and fun to ride in. It's more practical than anything else its size and, at less than $30,000 fully-loaded, it delivers the value that's the core of Kia's promise. There's a reason the Soul has been one of Kia's best-selling vehicles since its introduction, and that's not going to change with this latest model. Let's get this party started.
2020 Kia Soul GT-Line Turbo
Four-door, five-passenger sport hatchback
Base price: $18,485 includes freight and handling
Price as tested: $28,710
Major options: GT-Line Package – appearance package, 18-inch alloy wheels, fog lamps, leather steering wheel and shift knob, ($2,800); 1.6 Turbo Package: 7-speed DCT, forward collision with pedestrian detection, blind spot warning, rear cross traffic alert, adaptive cruise control, power sunroof, UVO link with navigation, 10.25″ display, push button start, power driver's seat, heated front seats and steering wheel, head-up display, Harman-Kardon premium audio, speaker lights with ambient themes, wireless phone charger, all LED exterior lighting ($7,800)
Engine: Turbocharged 1.6-liter, four cylinder, overhead cam with direct injection
Transmission: 7-speed dual clutch
Power: 201 horsepower @ 6,000 RPM
Torque: 195 lb.-ft. @ 1,500 – 4,500 RPM
Curb weight: 3,036 pounds
0-60 MPH: 6.5 seconds
EPA MPG: 27 city, 32 highway, 29 combined