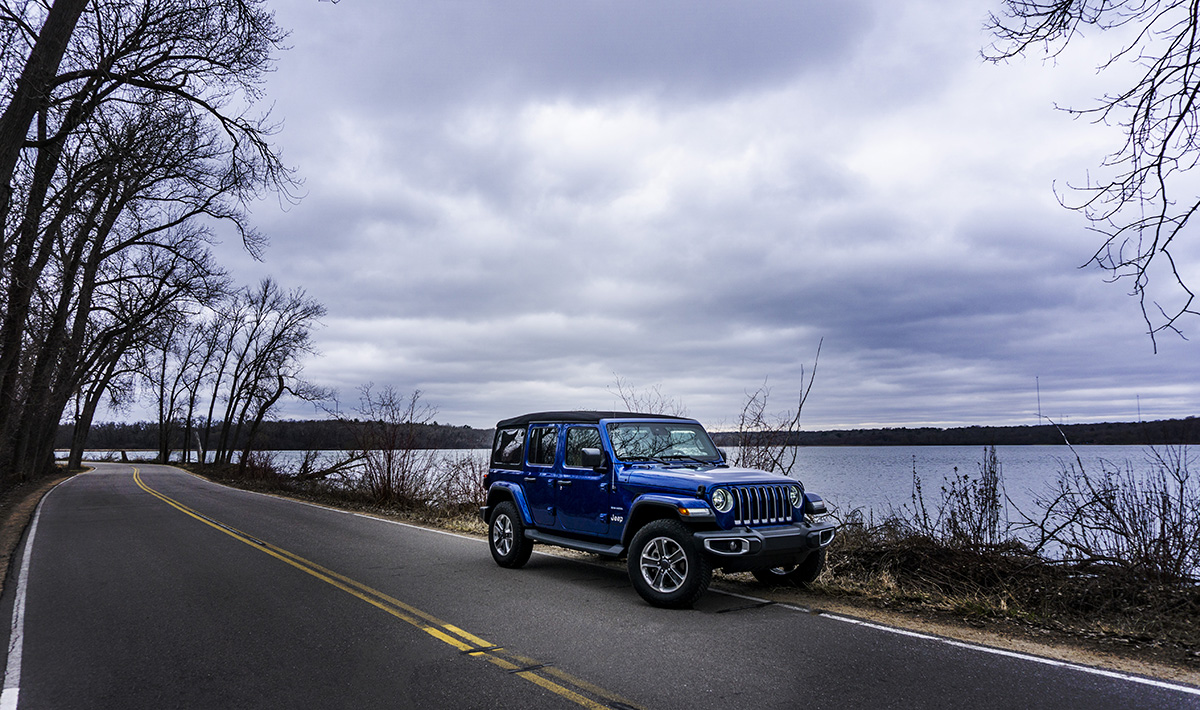 Jeep. Four unassuming letters that carry immense heritage and importance in American culture. An iconic presence since it was commissioned into existence during World War II, Jeep stands for much more now than just the rugged, bare-bones, military vehicle that was instrumental in Allied success. But say the word and most people still think of the classic flared-fendered, soft-topped, short-wheelbase, seven-slot grilled SUV. The Jeep now known as Wrangler.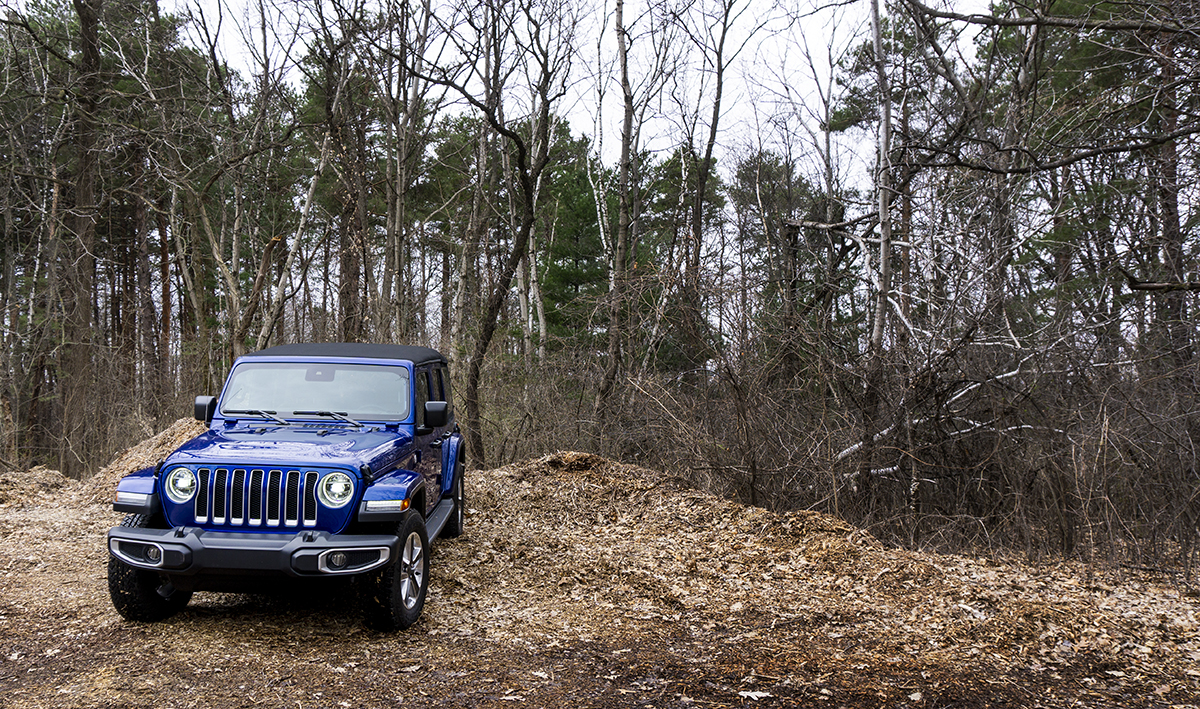 Beginning life in 1944 as the CJ (short for Civilian Jeep), it wasn't until late 1945 and the CJ-2A model that production of Jeeps began in earnest with nearly 215,000 models produced through 1949. Over the years, the CJ grew in size, weight, and sophistication, changing hands from Willys to Kaiser to AMC and then finally to Chrysler, where the CJ designation was replaced with the Wrangler name in 1986. Now in its fourth generation since its absorption into the Chrysler brand family, Wrangler was thoroughly updated in 2018 and I was able to spend a day on the trails with the off-road focused Rubicon last year. The loaded Sahara Unlimited model that found its way to Rides & Drives World Headquarters earlier this spring was my first opportunity to drive a Wrangler intended mostly for the street.
Like most SUVs, Wranglers spend a majority of their time on paved roads even though they are "Trail Rated." To wear this badge a Jeep must meet certain criteria in five specific areas: water fording, suspension articulation, maneuverability, ground clearance, and traction. That means Wrangler Sahara can handle the rigors of all but the most extreme trails, while still providing surprisingly good road manners.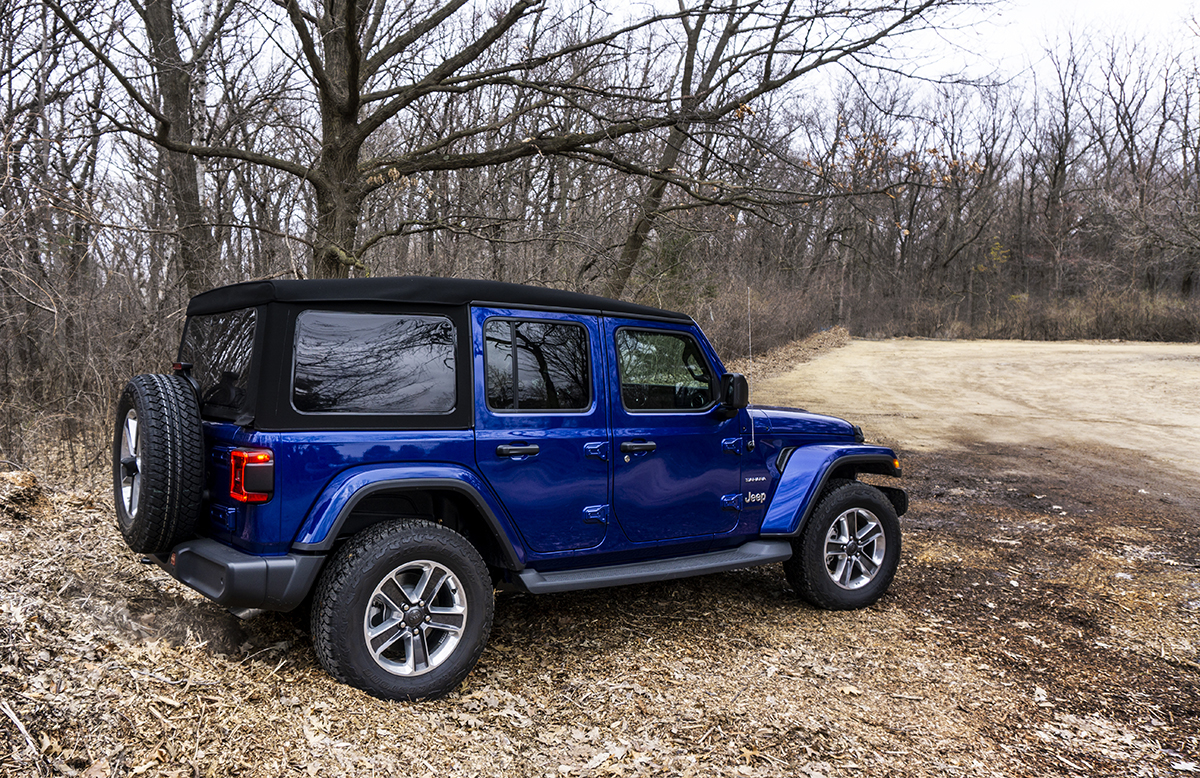 As far as SUVs go, Wrangler Sahara Unlimited (unlimited means four doors in Jeep parlance) is more capable than most other four-door SUVs, with 10.9 inches of ground clearance, 44º approach and 37º departure angles, and Dana front and rear axles. The optional Selec-Trac two-speed transfer case offers full-time four-wheel drive capability for the first time in a Wrangler. But it's how Sahara handles the street that makes it a great choice for families who want to escape from their suburban prison or at least appear as they do.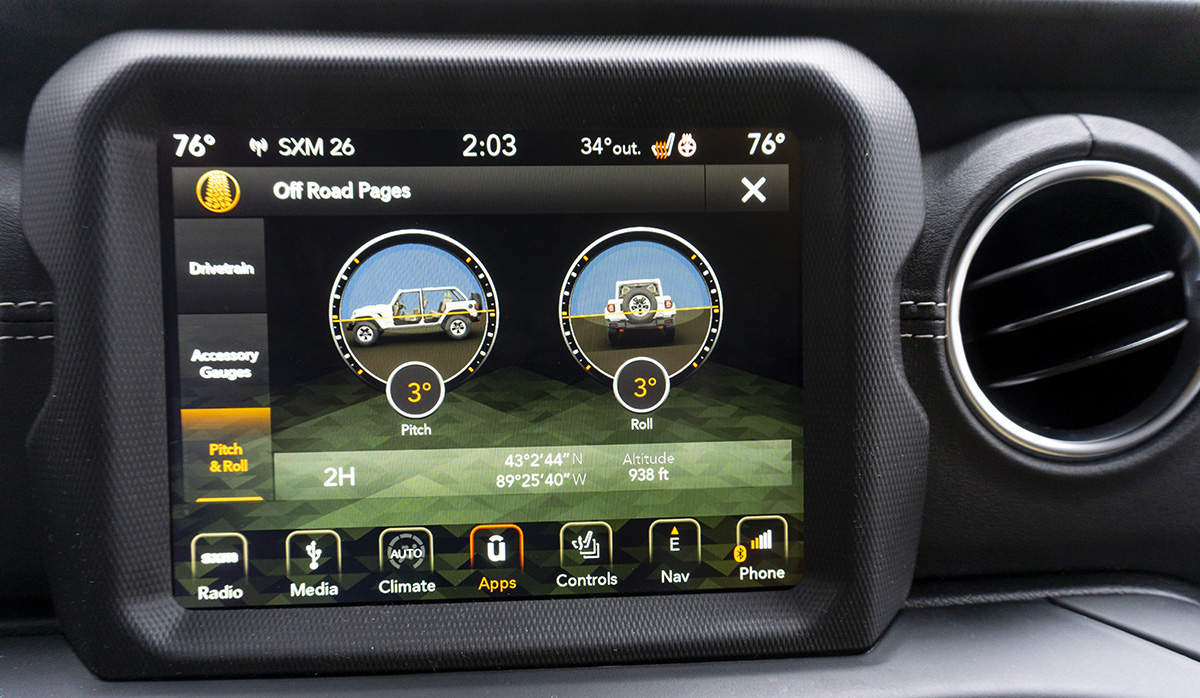 My Wrangler was equipped with the new 2.0-liter turbocharged eTorque engine that produces 270 horsepower and 295 pound-feet of torque. That's 15 more ponies and 35 more torques than the standard V6 engine. Paired with an eight-speed automatic transmission, the power is plentiful and effortless on city streets and highways thanks to the close ratio set up and overdrive. The big surprise is how car-like the ride is, especially considering Wrangler uses old-school body on frame construction.
Using high-strength aluminum in key areas – doors, hood, window frame, and fender flares – keeps things light. The multi-link suspension system does a good job of controlling body roll while absorbing imperfections in the road or trail. In the Sahara model, the standard 18-inch on/off road tires are very at home on pavement and allow you to cruise at highway speeds with very little tread noise. Even when equipped with the now easier to remove soft top, you can hold a conversation while traveling at 70 miles per hour without having to shout.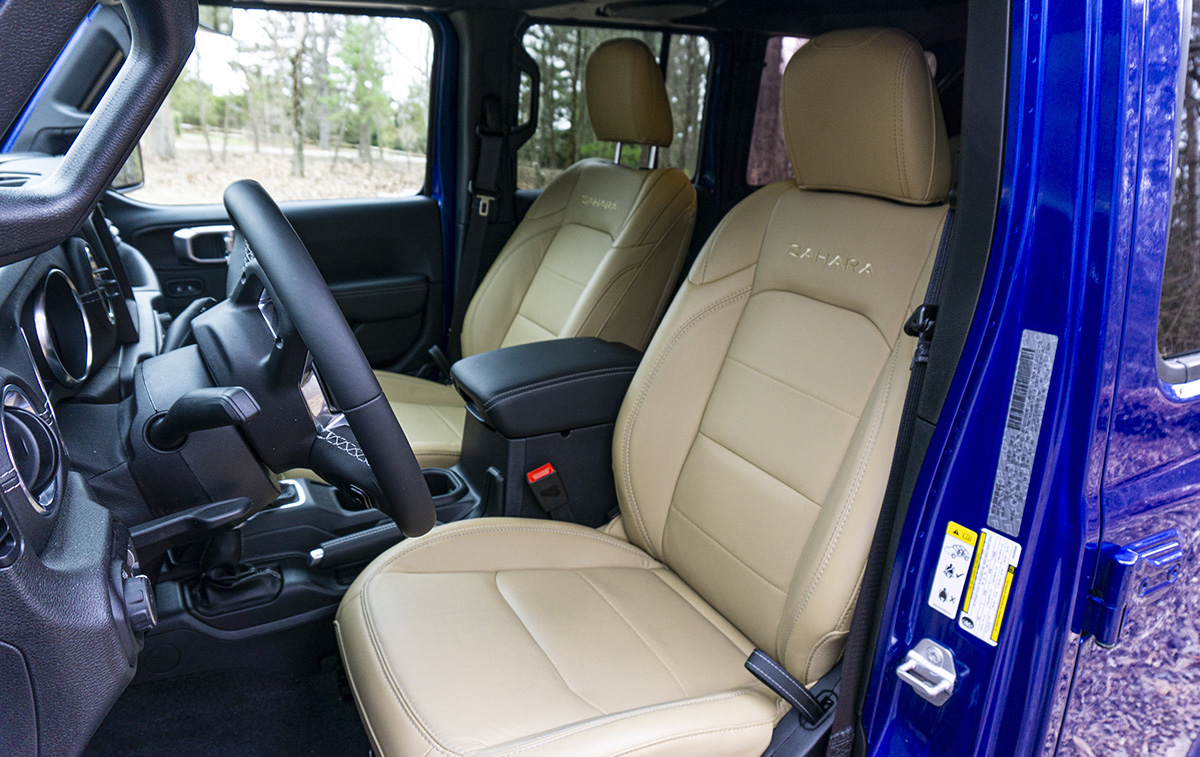 The 2018 upgrade also added a lot more style and technology to Wrangler. My Jeep was decked out in Ocean Blue Metallic with the optional tan leather interior – a solid combination. If you want to get really wild with color Jeep offers Hella Yella, Firecracker Red, Punk'n Metallic, Mojito!, and Bikini (an aqua blue) in addition to black, white, silver, and gray. Inside you have your choice of black or tan with either standard cloth or optional leather seats.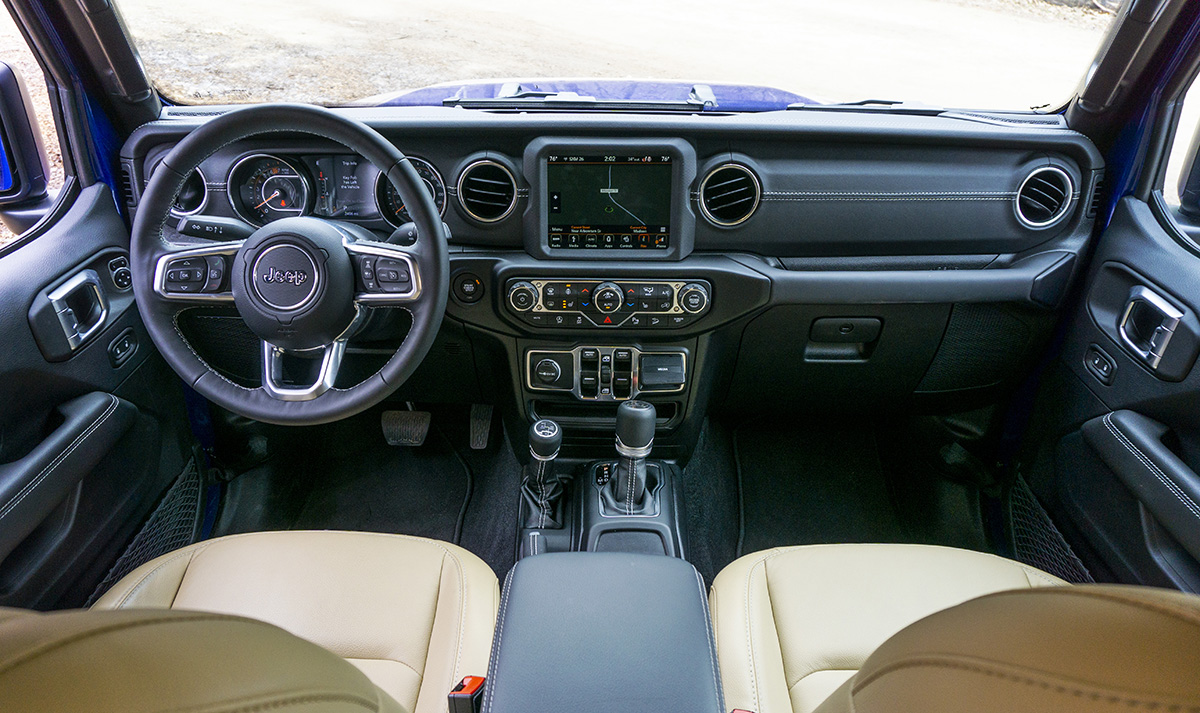 You can get a full suite of driver assist and safety technologies including lane keep assist, forward collision warning, adaptive cruise control, and rear cross-traffic alert. The optional 8.4-inch Uconnect system is among my favorite in the industry. With a nice combination of hard buttons, knobs, and touch screen controls, it's very intuitive and you don't have to go several screens deep to access the most used features like HVAC, radio, and navigation.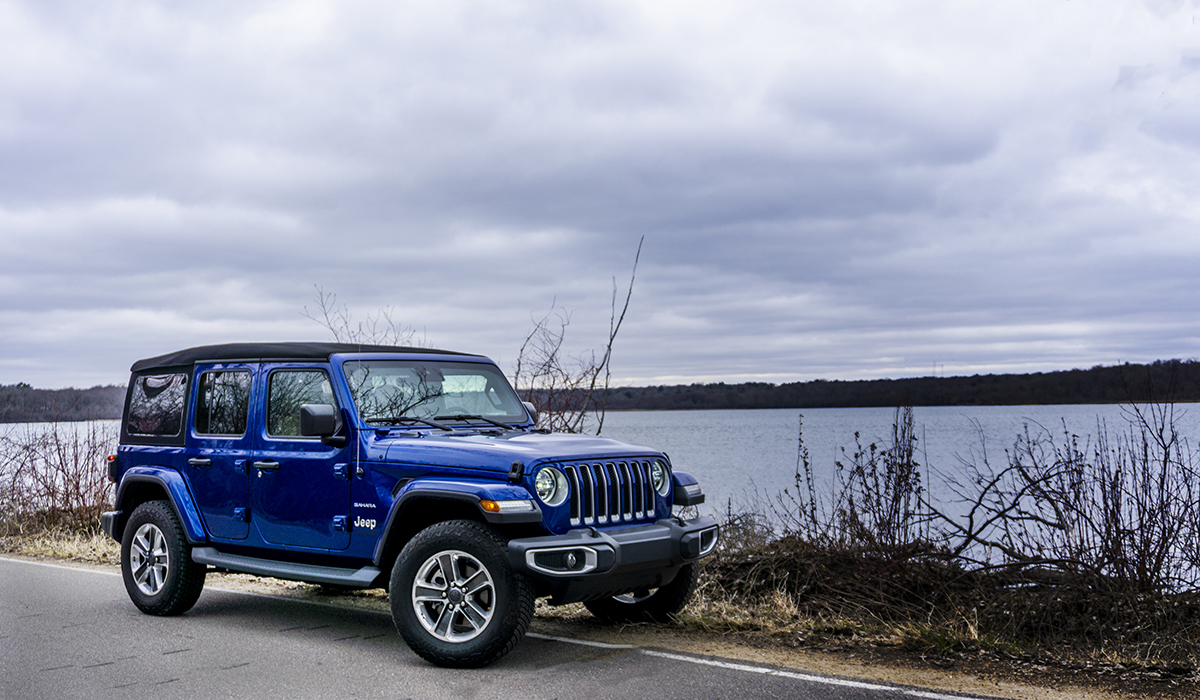 Wrangler Sahara Unlimited is interesting in that its four-door, 5-passenger design puts it in direct competition with its sister SUV, the Grand Cherokee. But even though both can cruise comfortable down the highway, take the kids to school, and get you to your cabin deep in the woods, the Wrangler is the one that really speaks to that most American of values, freedom. It's roots to the original Jeep make it feel like a very different proposition, even if you use it as you would any other car or SUV. I guess that's what living with a legend is all about. It makes you feel just a little more special, a little more capable, a little more authentic, and that's not a bad thing at all.
2019 Jeep Wrangler Sahara Unlimited
Four-door, five-passenger, four-wheel drive sport utility vehicle
Base price: $38,395
Price as tested: $52,210
Major options: 2.0L eTorque engine ($1,000), 8-speed automatic transmission ($2,000), leather interior ($1,495), LED lighting ($995), cold weather package ($695), trailer tow group ($795), premium audio with 8.4″ Uconnect ($1,595), active safety group ($995), adaptive cruise with forward collision warning ($795), selec-trac transfer case ($595), destination ($1,495)
Engine: 2.0-liter, 4-cylinder turbo with eTorque hybrid electric motor
Transmission: 8-speed automatic
Power: 270 HP @ 5,250 RPM
Torque: 295 lb.-ft. @ 3,000 RPM
Curb weight: 4,380 pounds
Towing capacity: 3,500 pounds
EPA MPG: 22 city 24 highway