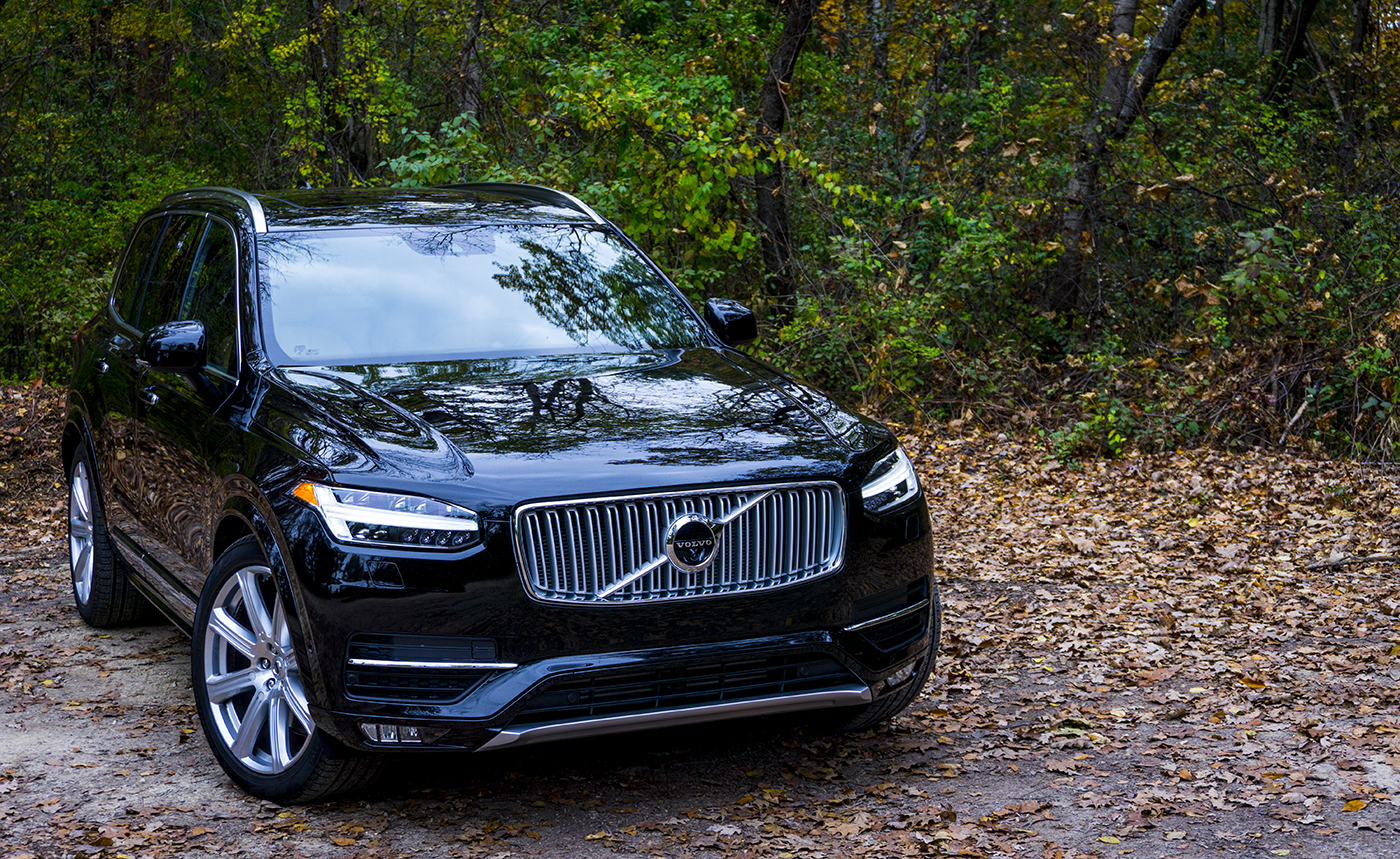 When you think of Volvo what comes to mind? If you're like most people it's generally safe sedans and wagons that define the term, "understated." I know, because the Volvo gene runs deep in my family. One of the first cars I remember riding in was my Connecticut grandmother's mid-'60s wagon. It seemed the perfect vehicle for an artist who lived in an 18th century farmhouse in the northwest corner of the state. It was solid, reliable and yes, a little quirkier than the Fords and Chevys her neighbors were driving.
In the 70s one of our family cars was a 240 DL sedan, purchased because I'm one of eight kids and we had four licensed teenage drivers living at home at the time. My parents figured chances were good that something bad would happen, so they bought the safest car possible. Luckily they did and my older sister survived her late-night encounter with a telephone pole on a cold, snowy backroad. I can't say as much for the car.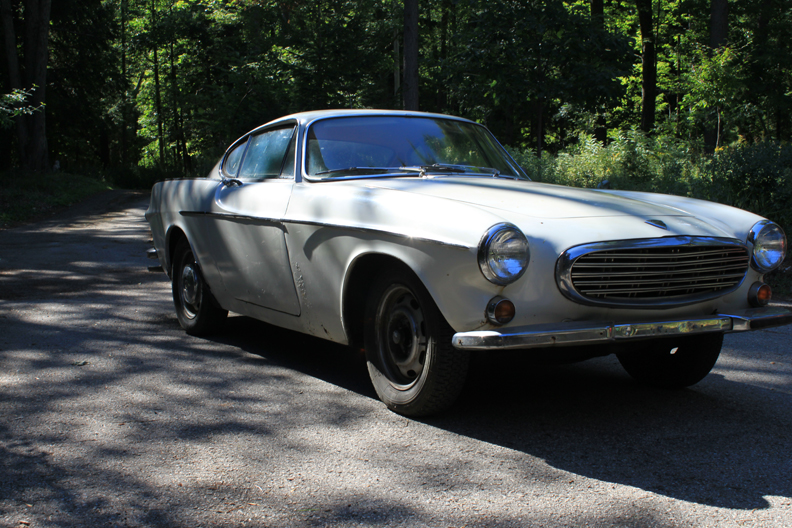 My Volvo was a 1967 1800S. Sexy looking, yes, but equipped with an 114 horsepower, B18 engine and a four-speed manual transmission with electric overdrive, it was hardly an inspiring performer. More like a sheep in wolf's clothing. I rescued it from the streets of Manhattan. After spending many years fixing and driving that white coupe, it became abundantly clear it wasn't the right car for a person who lives in Wisconsin in a house with neither a garage nor a carport.
How entrenched in the cultural zeitgeist is Volvo's reputation? Well, there's this scene from the Dudley Moore's 1990 movie, Crazy People.
So here I was behind the wheel of a 2017 Volvo XC90 T6 AWD Inscription (yes that name's a mouthful. So from now on, let's just call it the XC90) trying my best to connect the dots from those spartan, unsexy Swedish cars to this, a luxurious SUV with a sticker price of $72,805 and an interior that is nothing short of "wow." It turns out, it's a circuitous path that runs from Gothenburg to Dearborn to China.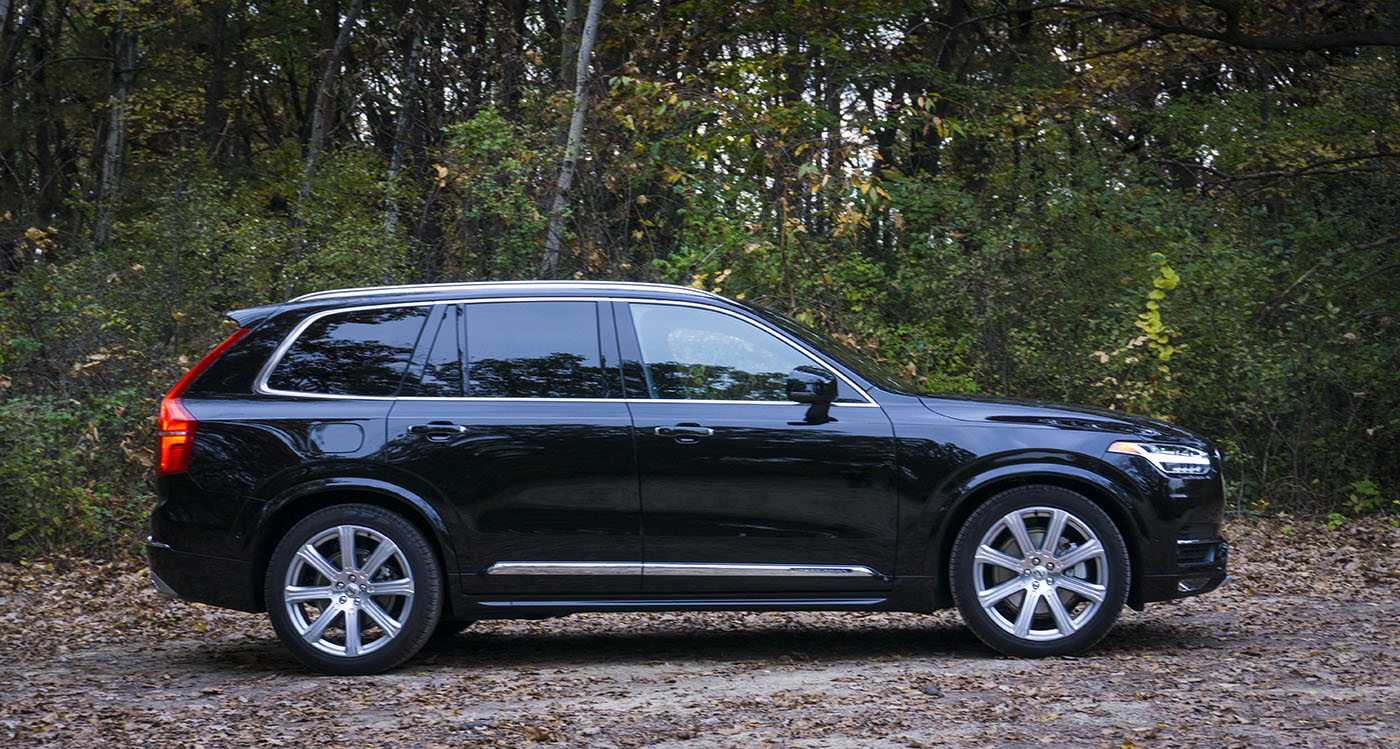 Volvo operated independently up until 1999, when the company was bought by Ford to be part of its Premier Automotive Group along with Jaguar, Land Rover and Aston Martin as a hedge against European competitors like BMW, Audi and Mercedes Benz. Ford's plan was to move the brand upscale while expanding the range to include more sedans and crossovers. They got started down this path, then came 2007 and the global economic collapse. Ford, deciding to focus on its core brands – Ford and Lincoln – went looking for buyers for its European stable and eventually sold Volvo to Geely, which outside of China is best known as the manufacturer of London Taxis.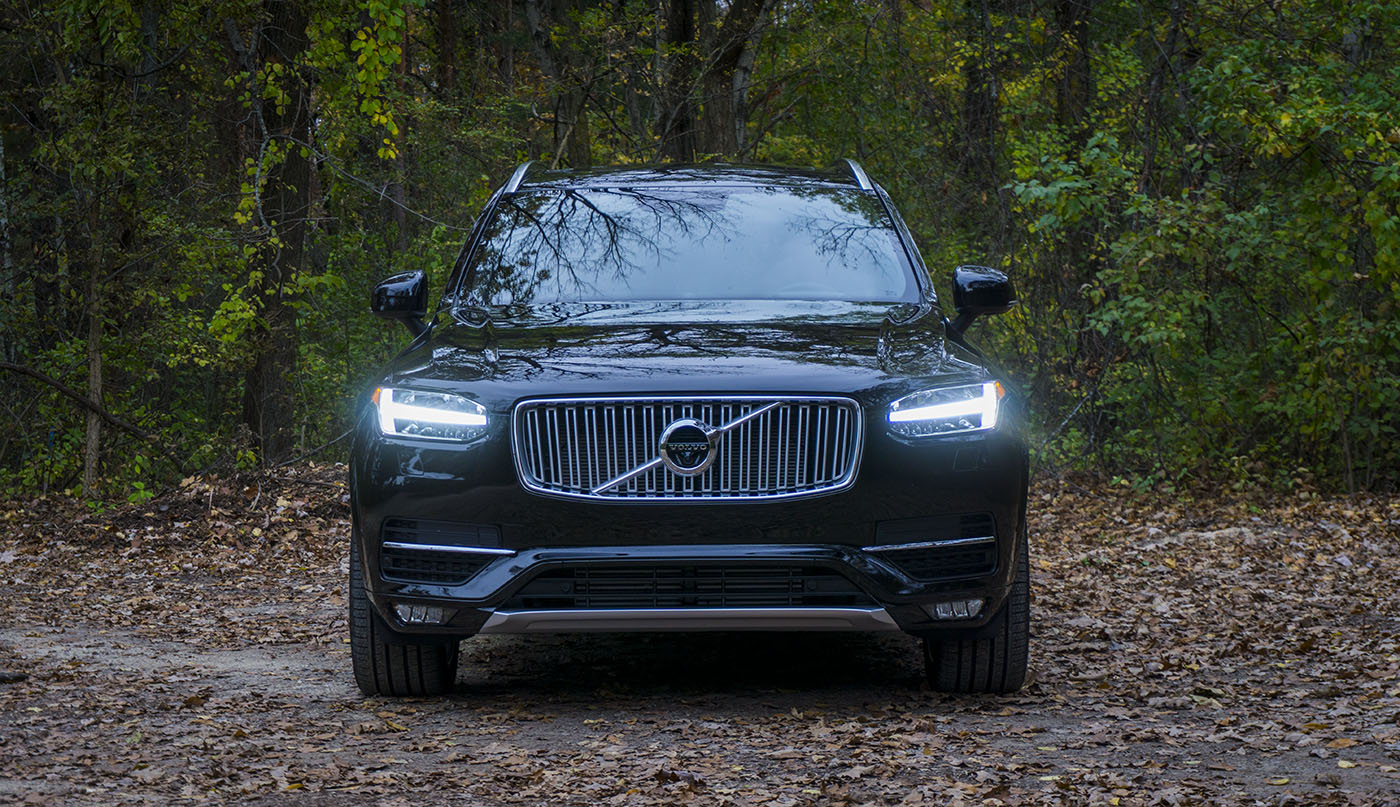 Now with a global brand platform from which to operate, Geely began investing heavily in Volvo. They started with an update to the 60 series and you could feel something different, but it wasn't until they unveiled the XC90 last year that we knew it would be special. Geely apparently is one of the rare parent companies that allows its children to be themselves. Unlike Ford that tried to take advantage of cross-brand platforms and technologies thereby muddying the waters. Geely has decided to let Volvo be Volvo focusing on three main pillars: safety, luxury, and, for lack of a better term, Swedishness (not Swedish Fish as spell check suggests).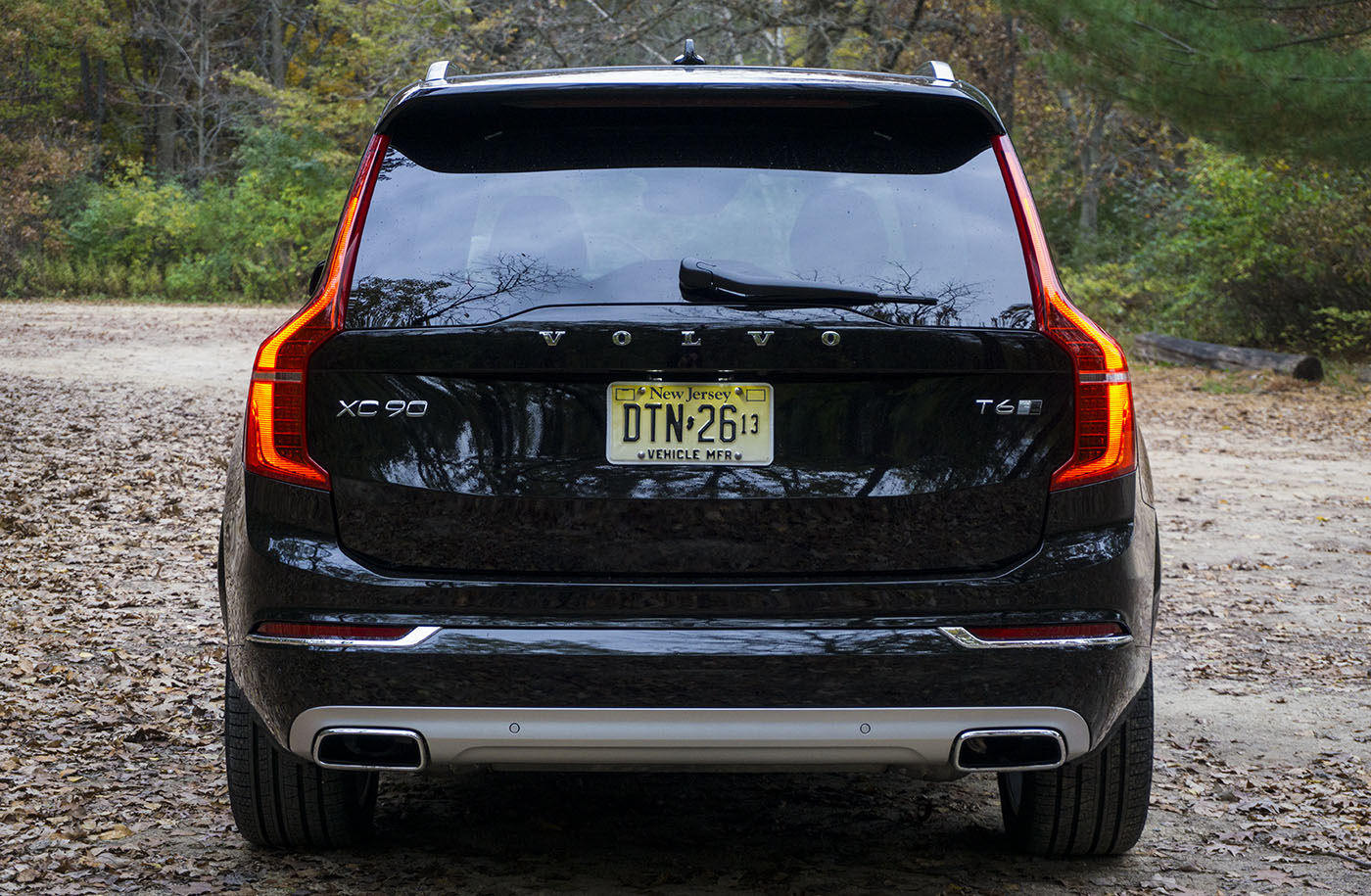 The result is a crossover that has pretty much swept every major automotive award in the past 12 months. North American Truck of the Year, Motor Trend SUV of the Year, CNET Roadshow Vehicle of the Year, Business Insider Car of the Year, cars.com Best of the Year, Yahoo! Autos Best Ride of the Year, Automobile All-Star SUV, and on and on and on. Not surprisingly this has translated to sales, lots of them. Through October, Volvo reports it has sold 26,612 XC90s in the U.S. and over 73,000 globally.
So the question isn't, "is the Volvo XC90 any good?" It's, "how good is the XC90?" In October, I finally had the opportunity to answer that question for myself.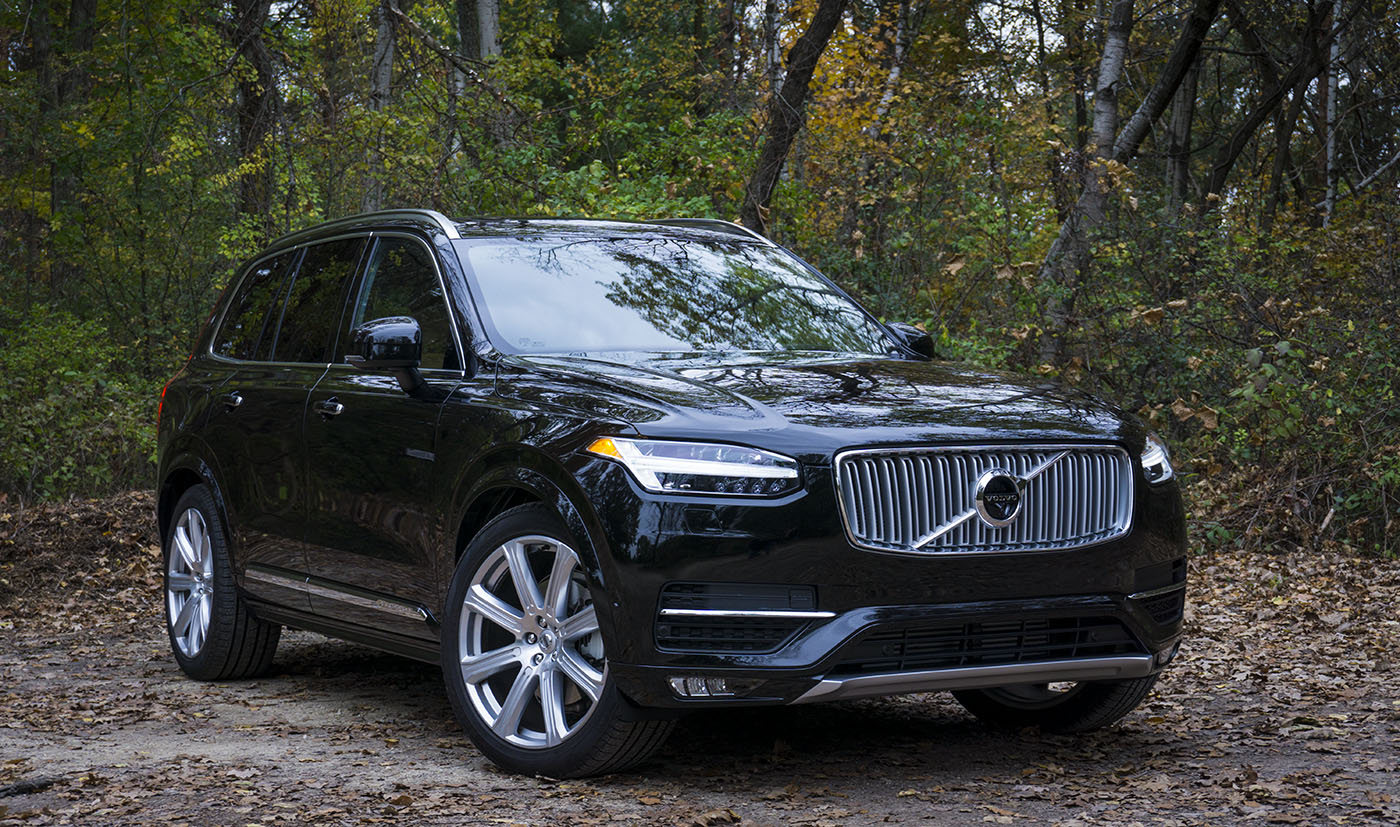 Let's start with an aesthetic overview. From the outside, it's what I'd call handsome. It's an SUV/Crossover and there are only a two of those I'd label as sexy: the Maserati Levante and Infiniti QX30. Like the rest of the category, the Volvo is broad shouldered and sturdy. There's nothing tricky going on here. No complex surfaces, just clean, simple, balanced lines. The XC90 is tall – taller than one might expect – telegraphing the utilitarian nature of this vehicle. While people buying this might also be looking at an Audi Q7, BMW X5 or Mercedes-Benz GLE, I really think the spiritual competitor to the XC90 is the Range Rover. The XC90 looks to have a sense of purpose that goes way beyond being comfortable, a hardiness that seems born of its Scandinavian heritage.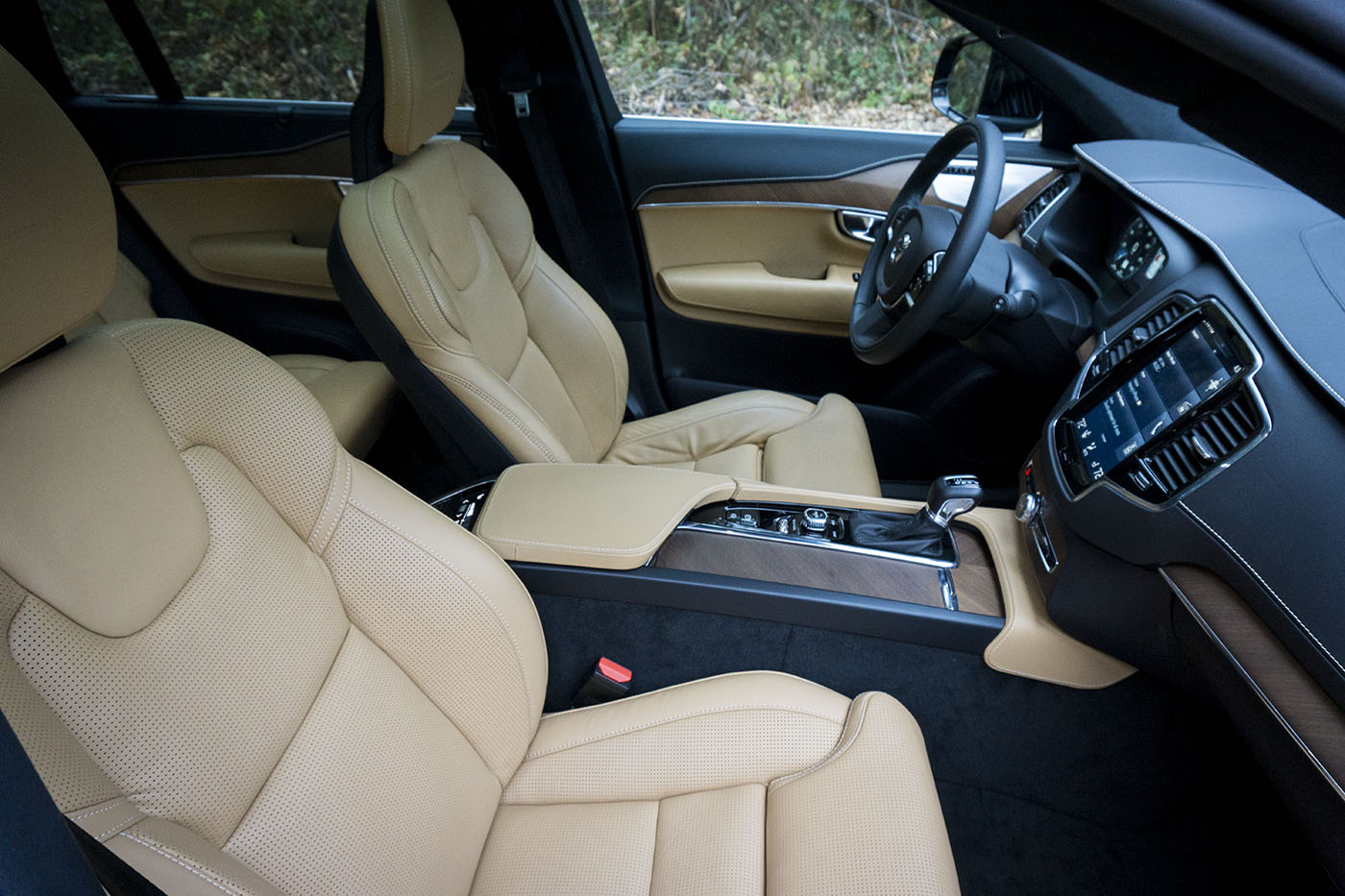 Open the doors and that simple and clean theme continues. Volvo has accomplished what most automakers only hope to achieve, creating a sense of luxury and comfort without complications. This is actually the anti-Lexus. It's open, airy, light, and elegant. It's elegant, not as the word is traditionally used in luxury marketing, but in a more scientific sense. The elegant solutions are the simple ones that make you smack your forehead and say, "why didn't I think of that?" That's what's going on here.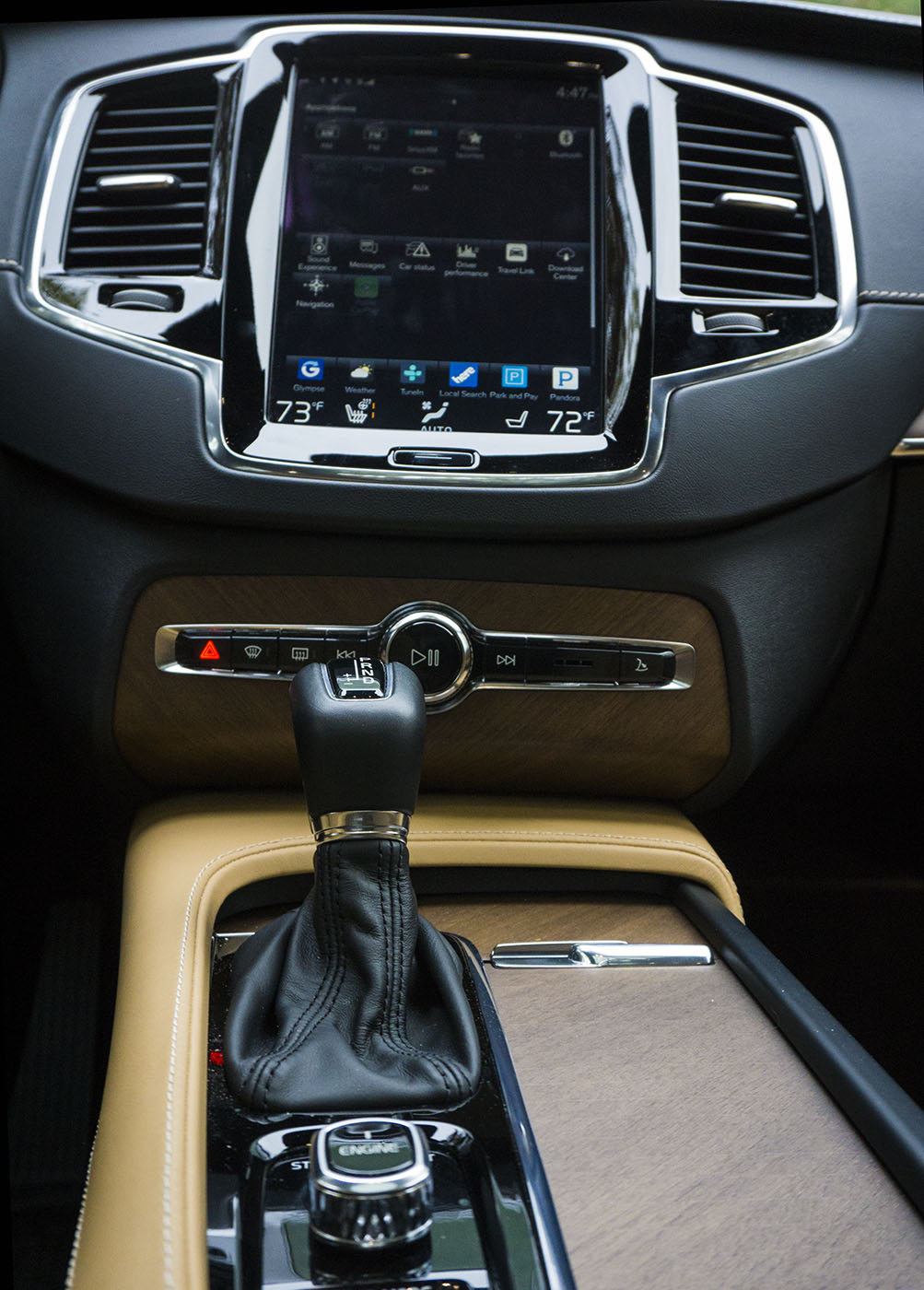 The tablet sized touchscreen in the center console is a great example of this. In general, I'm not a fan of touchscreen automotive interfaces, however, this is one that actually works. It's large enough to be easy to read and organized enough to be easy to use, taking the best from the iOS and Android platforms to create a menu system that makes sense. It also has enough processing power so there's little to no lag between your tap, swipe or pinch and the action on the screen.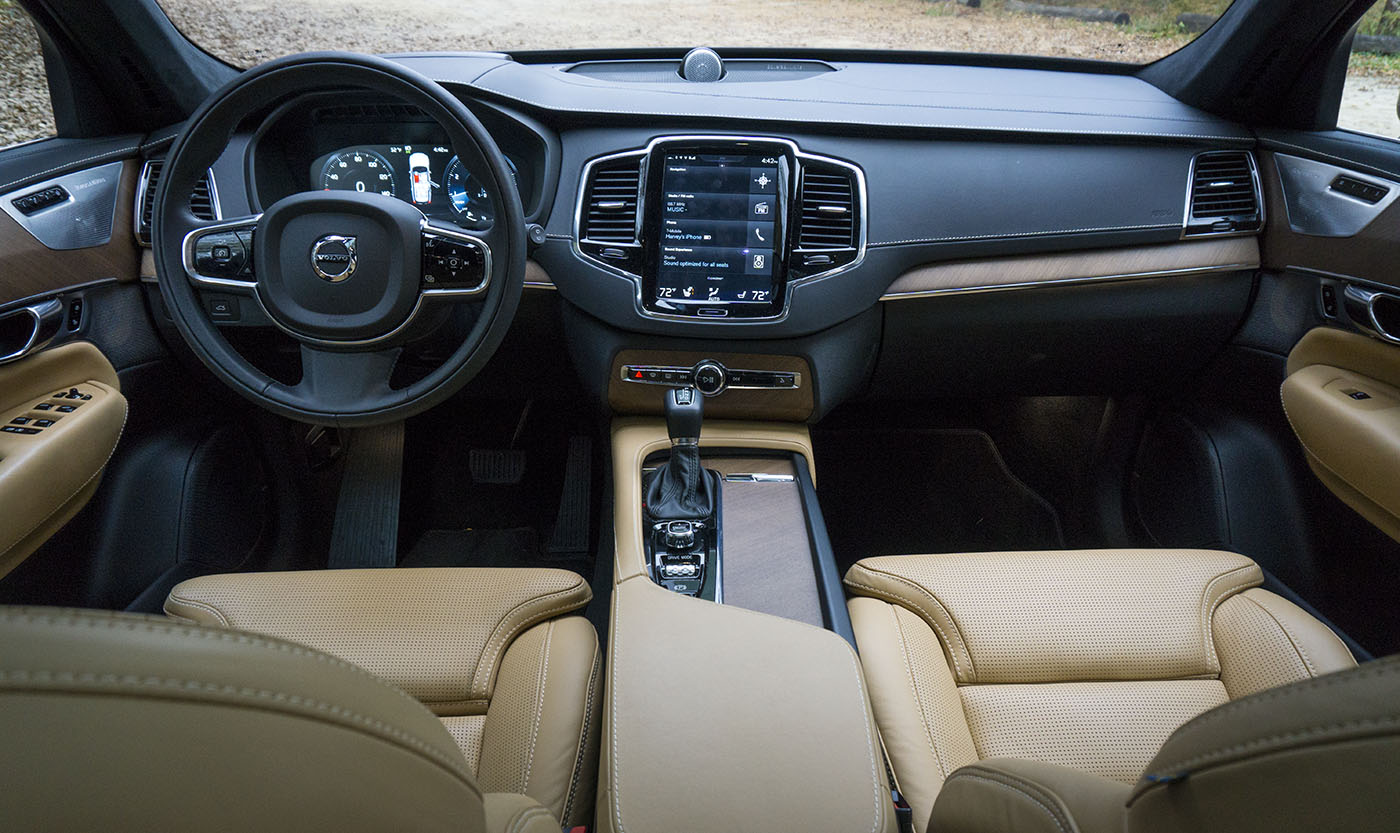 Overall, the cabin has a Scandinavian, mid-century modern feel to it. The unvarnished walnut wood inlays contrast nicely with the Nappa leather and brushed chrome trim. There are sparkling highlights like the drive mode selector The use of materials in the Inscription level trim is absolutely first rate. Nappa leather adorns the seats, door panels, and upper dash. Contrast stitching is used judiciously, adding a subtle touch by breaking the big expansive areas of the darker trim.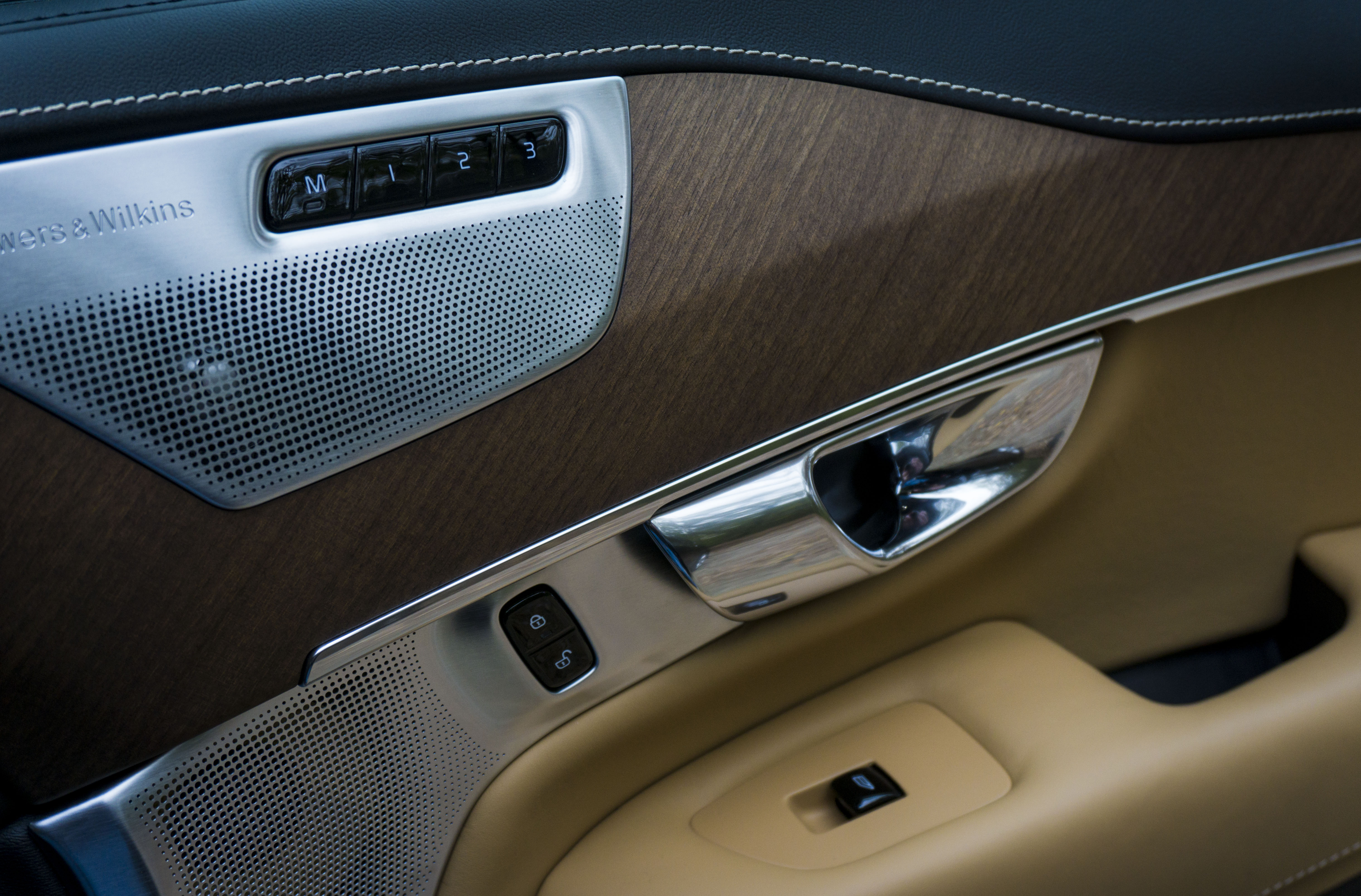 The heated and cooled seats have adjustments for the side bolsters and thigh support which helps drivers of all shapes and sizes feel comfortably ensconced in their perforated leather seating surfaces. And unlike many three row SUVs those relegated to enter through the rear doors aren't treated like afterthoughts. There's room aplenty in the second row. And the third row, while not generous, does provide more legroom than either the Lexus GX or Infiniti QX80.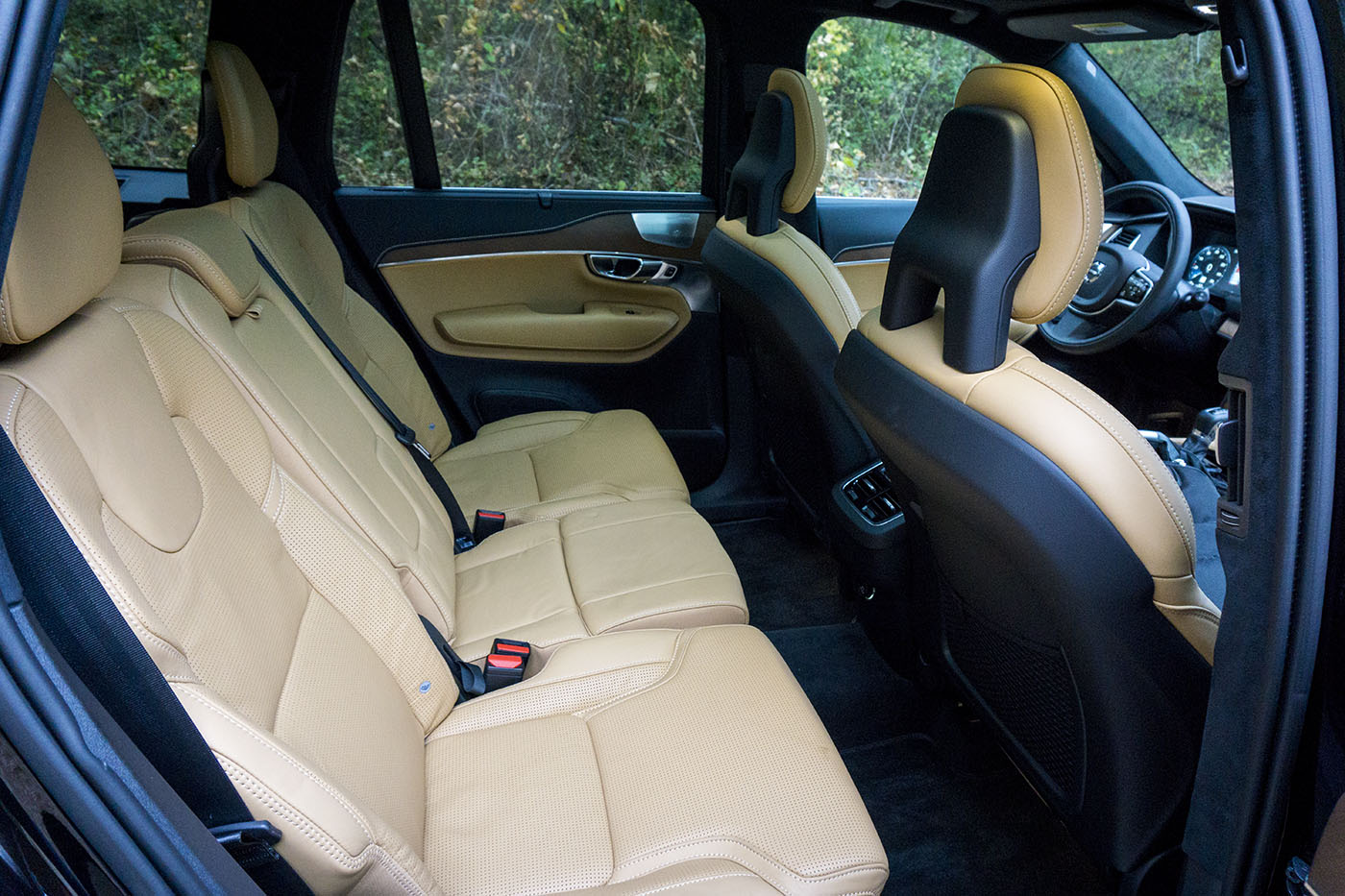 Behind the wheel, the XC90's performance is just as smooth and sophisticated as its interior. It starts with the probably the most surprising engine ever installed in a full-size SUV. Usually when you open the hood of an SUV weighing 4,804 pounds, you find either a six or eight cylinder engine. But Volvo has pushed all its chips to the center of the table betting on small displacement high boost four-cylinder power by making a 2-liter engine with turbo and supercharging the top of the line engine in all its cars and crossovers.
The benefit of their new engine strategy is higher efficiency from and engine that makes about the same torque and horsepower as a naturally aspirated V8 more than twice its size. For example, the XC90 makes 316 horsepower and delivers 295 pound-feet of torque while getting 25 mpg on the highway. A Lexus GX equipped with a 4.6 liter V8 makes 301 horsepower and 325 pound-feet of torque while getting just 20 mpg.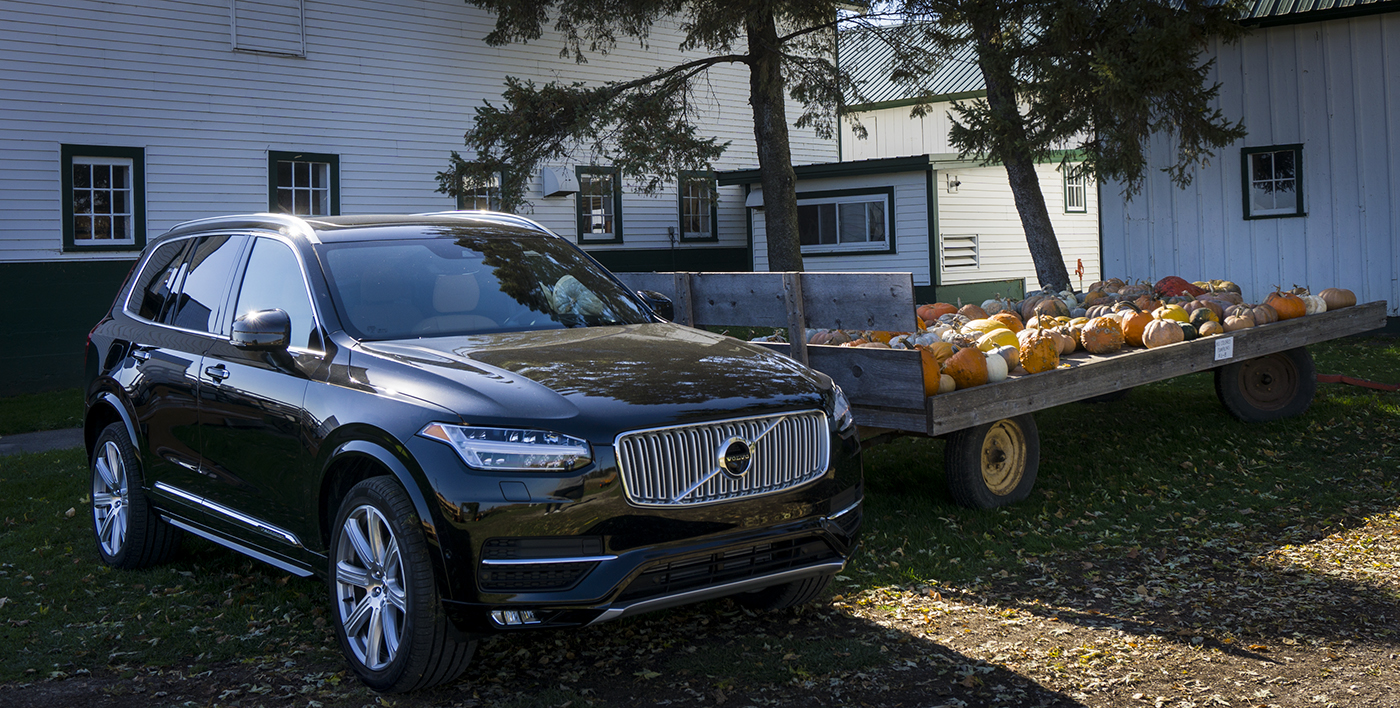 So you get an engine that, thanks to it's nicely paired 8-speed automatic transmission, has plenty of power to motivate the XC90 from a stop to 60 miles per hour in a tick under six and a half seconds. That's plenty quick enough to get you up to speed on any entrance ramp. When you get on that freeway, there are plenty of cool tech features to make the drive easier.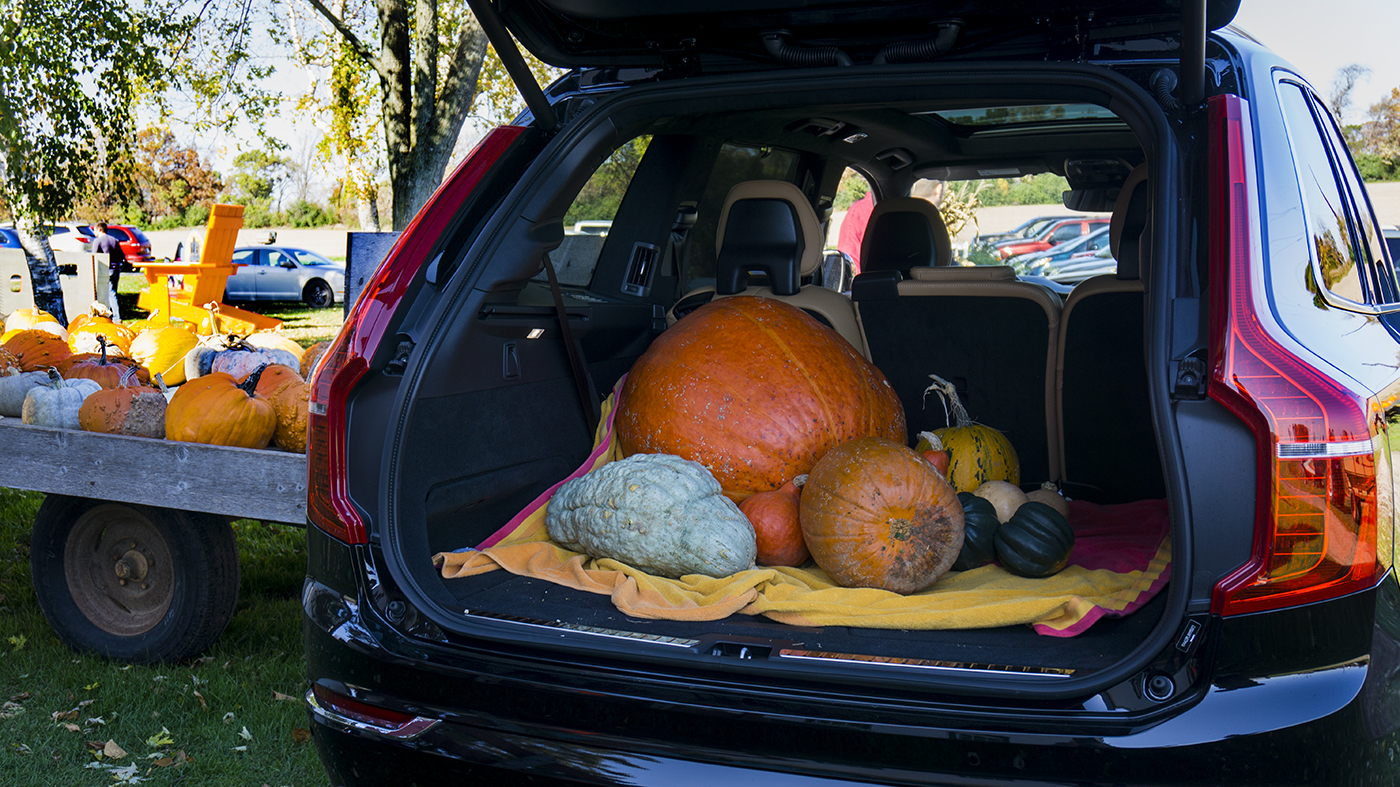 Volvo calls it Pilot-Assist Semi Autonomous drive and it includes adaptive cruise control, lane keep assist, and autonomous emergency braking. It all works very nicely. Set the speed you want to travel, adjust your following distance to one that's comfortable and take your feet off the pedals. The XC90 automatically slows with the cars in front of you applying the brakes if necessary right down to zero. If traffic starts up again in less than three seconds, the car starts moving again on its own. The lane-keep assist function uses cameras to read the lines on the road and pull you back to the center of the lane should you become distracted and start to drift. It's not quite as advanced as the cruise function and tends to wander a bit between the lines, so I wouldn't recommend ever using it without your hands on the wheel.
Exit the freeway, and the XC90 T6 AWD Inscription has a parking assist function that will automatically back you into a spot in a parking lot as well as parallel park the car for you. It also displays a digitally created bird's-eye view of the 360° area around the car on the center screen that makes parking it yourself a lot easier.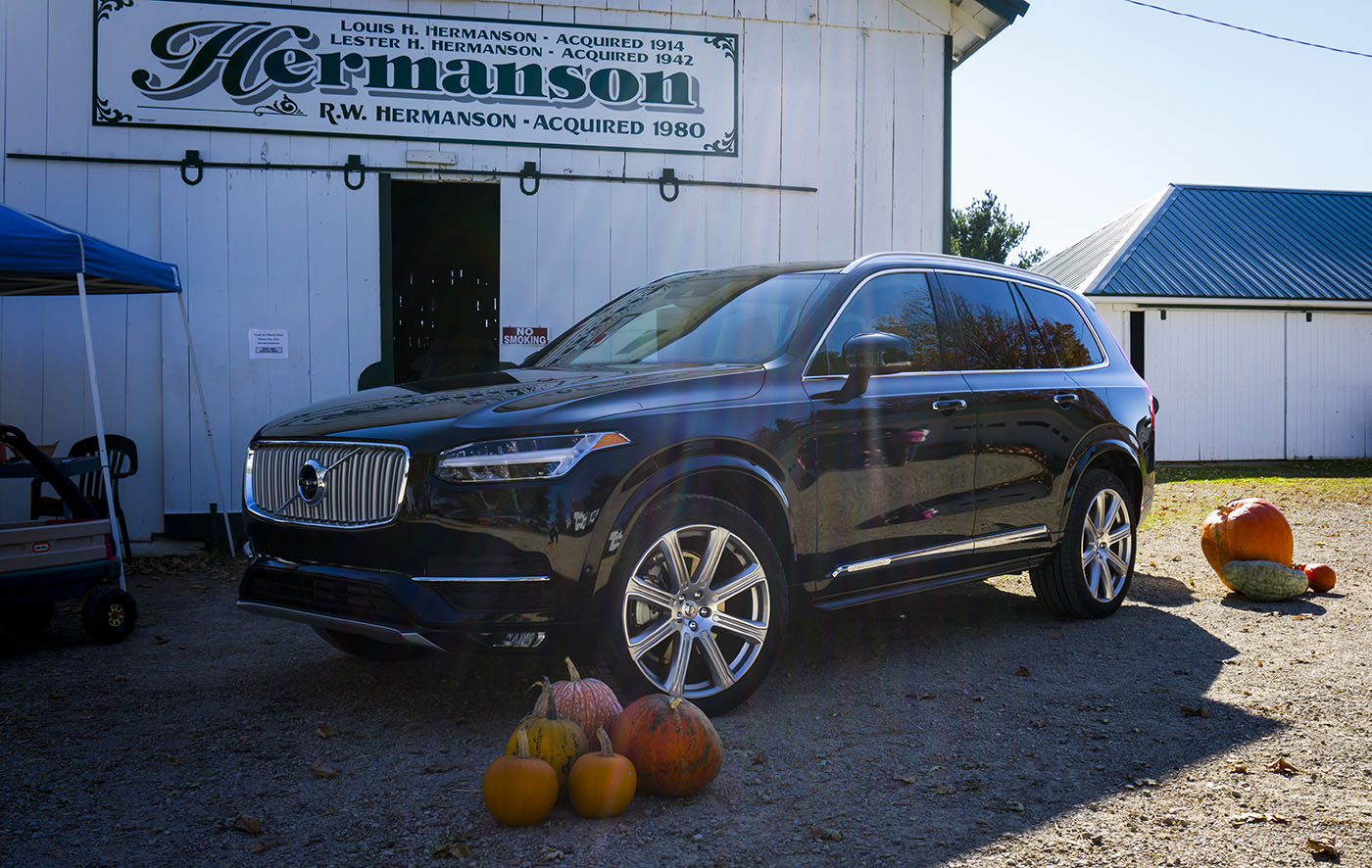 The XC90 isn't a sports SUV and it doesn't drive like one. It's a full-size luxury SUV that rides comfortably, quietly and confidently whether you're on back roads, city streets, or out on the interstate. This is becoming an increasingly crowded category, with a lot of good options from European, Japanese and American competitors. Right now in the world of three-row crossovers, I'd put this Volvo and Audi Q7 at the top of the heap, with very little space between them and offerings from Mercedes-Benz, Lexus and Infiniti. The Escalade and Navigator are good but feel more truck-like. What it boils down to is which car fits your life and your personality. For me, given my history, that would be the Volvo.
2017 Volvo XC90 T6 AWD Inscription
4-door, 3-row, 7-passenger crossover
Base MSRP: $51,600
Price as tested: $72,805
Major Options: Inscription Features ($5,600): Full LED Headlights with Thor's Hammer DRLs, Silver Matte Grille, Aluminum Roof Rails, Nappa Leather seats, headliner and dash, Walnut Inlays, rear seat side curtains. Vision Package ($1,950) Includes 360-degree camera, blind spot monitor, and cross traffic alert. Climate Package ($1,950) Heads up display, heated washer nozzles, heated rear seats, heated steering wheel. Convenience Package ($1,800) Pilot assist semi-autonomous drive, Pilot park assist front and rear. Luxury Package ($2,900) Front seat backrest massage, full leather an nubuck trim throughout. Audio ($2,650): Bowers and Wilkins premium sound system with CD. Wheels ($750): 21-inch 8-spoke silver diamond cut aluminum. Air Suspension ($1,600)
Engine: 2.0-Liter Inline 4-cyl. supercharged and turbocharged
Transmission: 8-speed automatic
0-60: 6.4 seconds
Top Speed: 132 mph (limited)
Length: 194.9 in
Width: 79.1 in
Height: 69.9 in
Wheelbase: 117.5 in
Curb weight: 4,804 pounds
EPA MPG: 20 City/25 Highway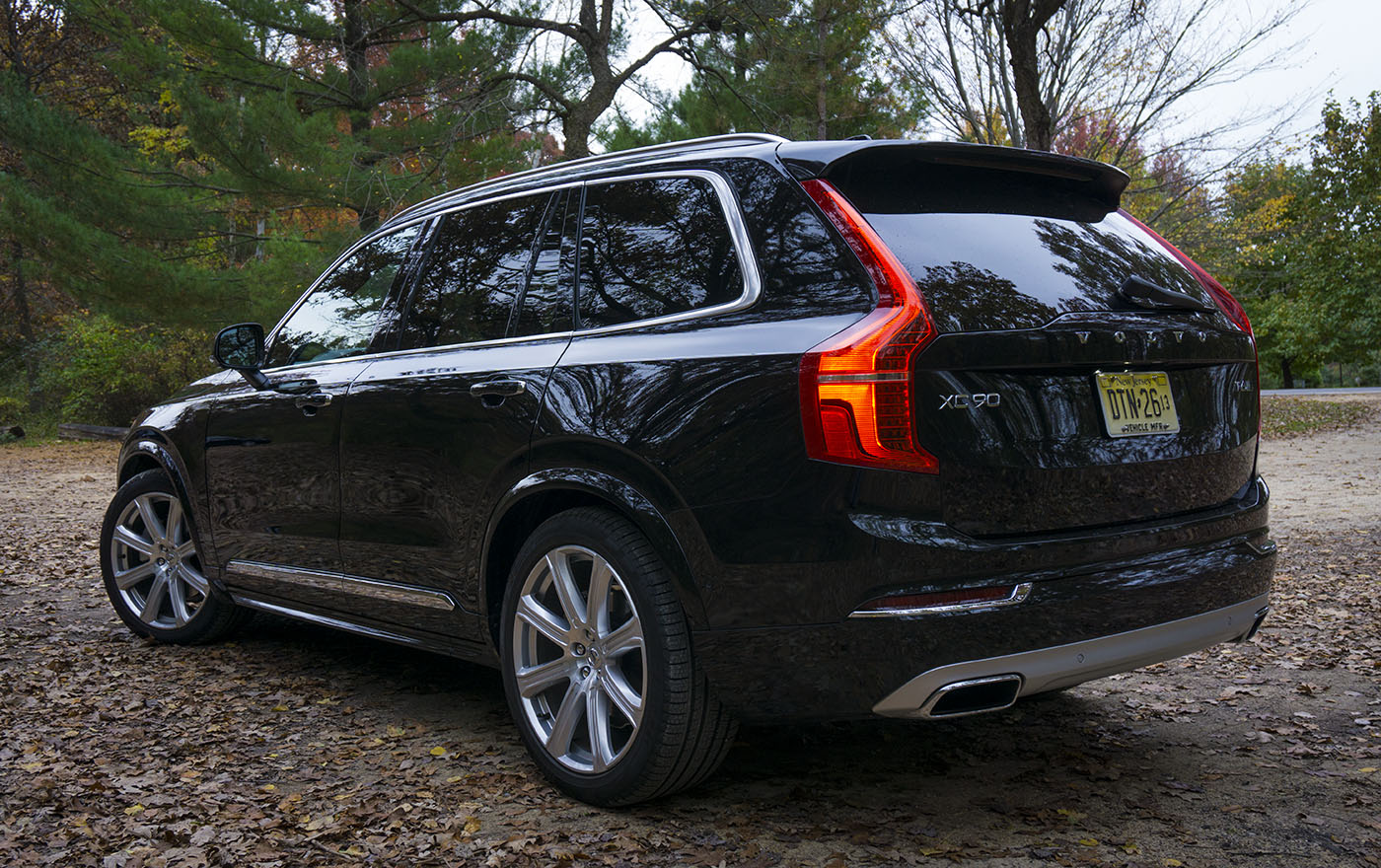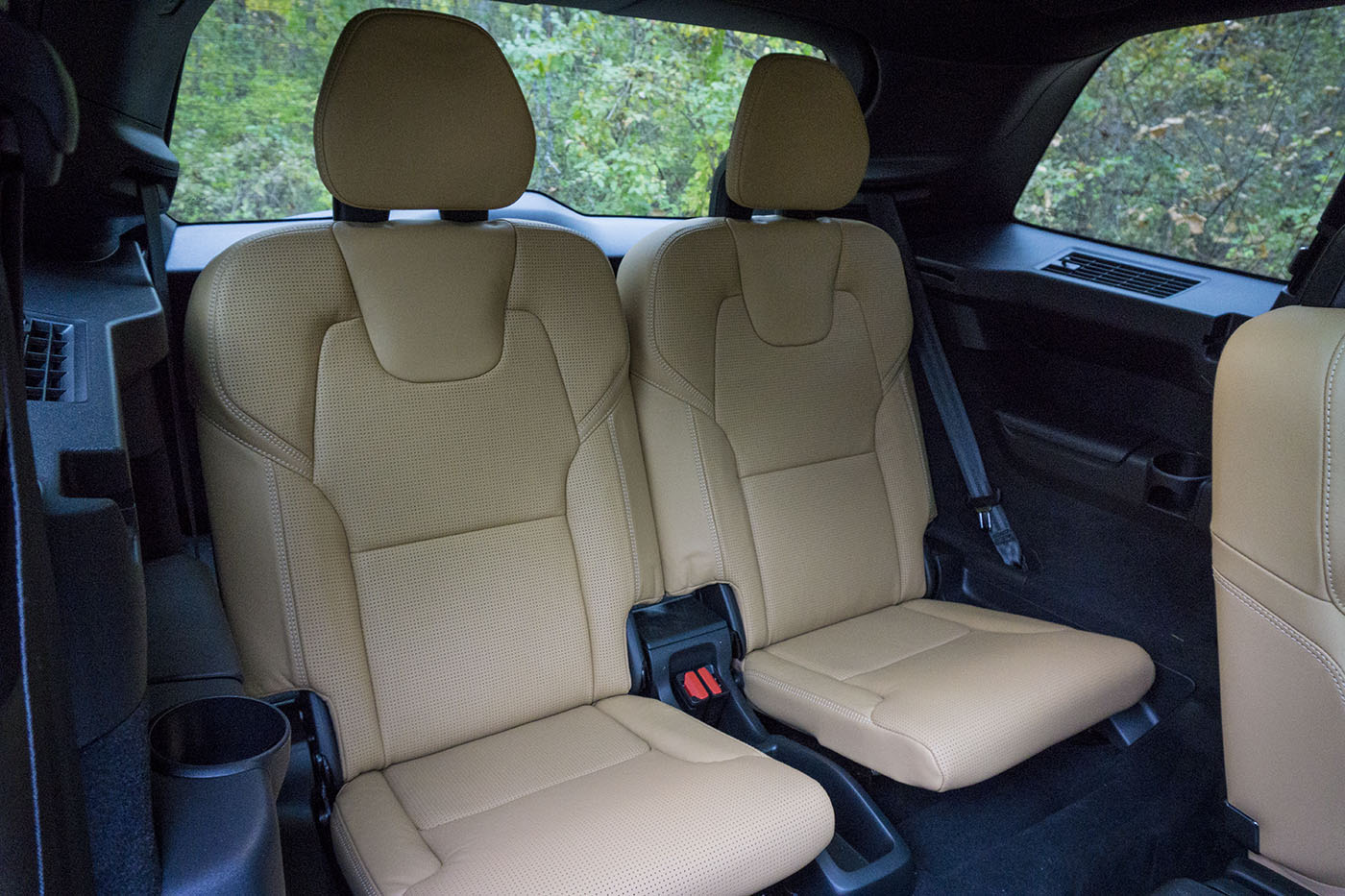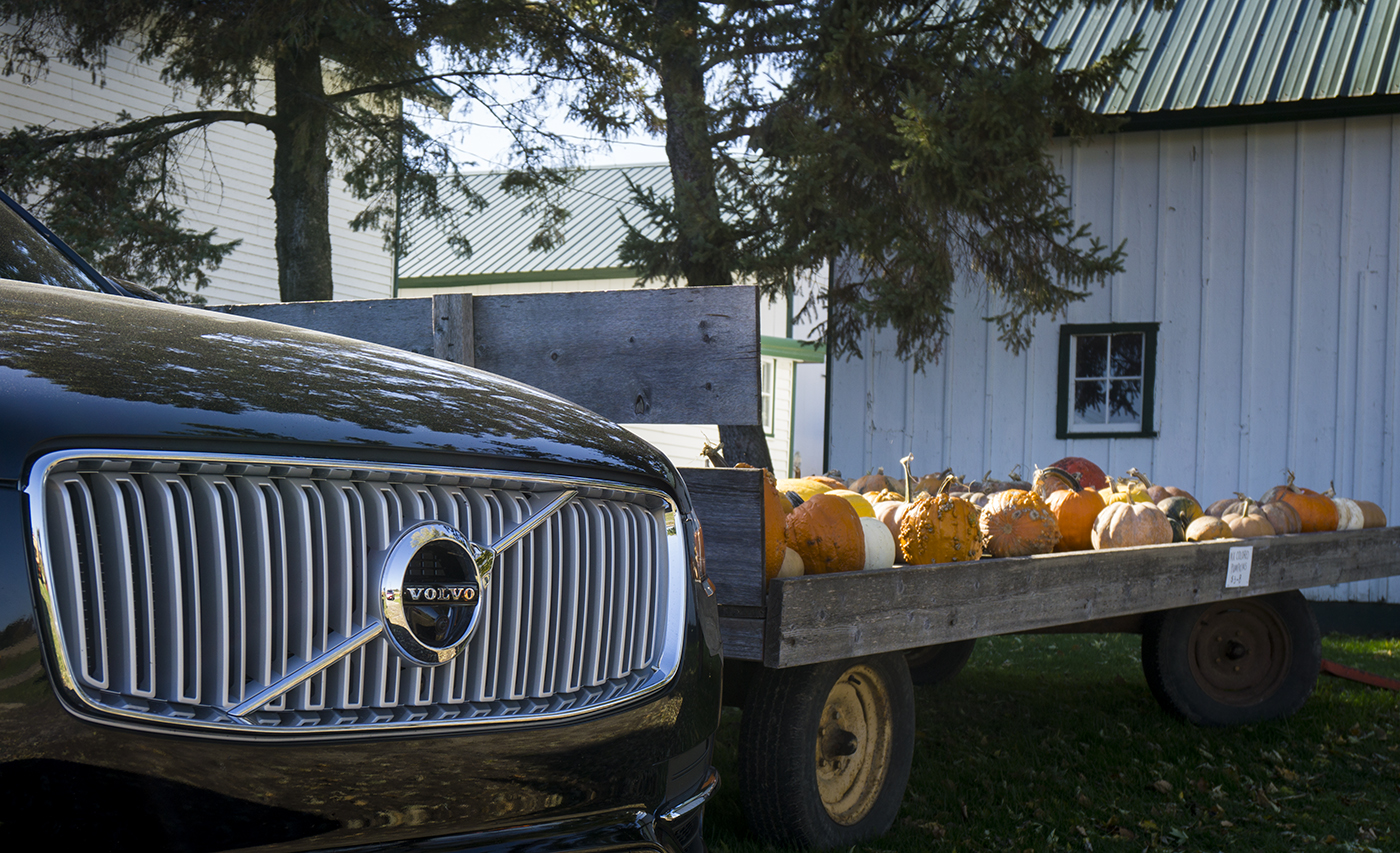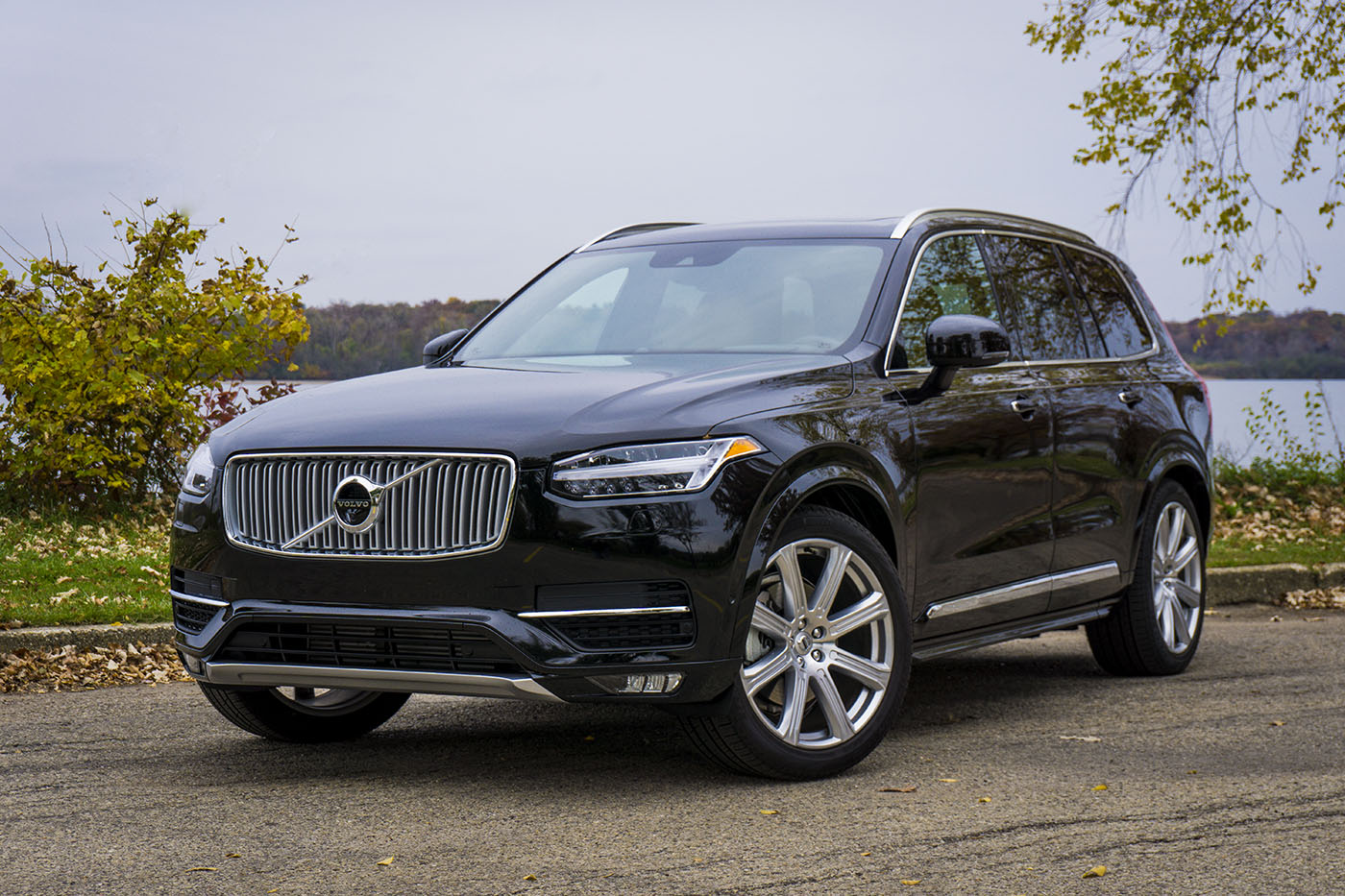 While Volvo USA provided the car and a full tank of gas for this review, the opinions expressed are our own.