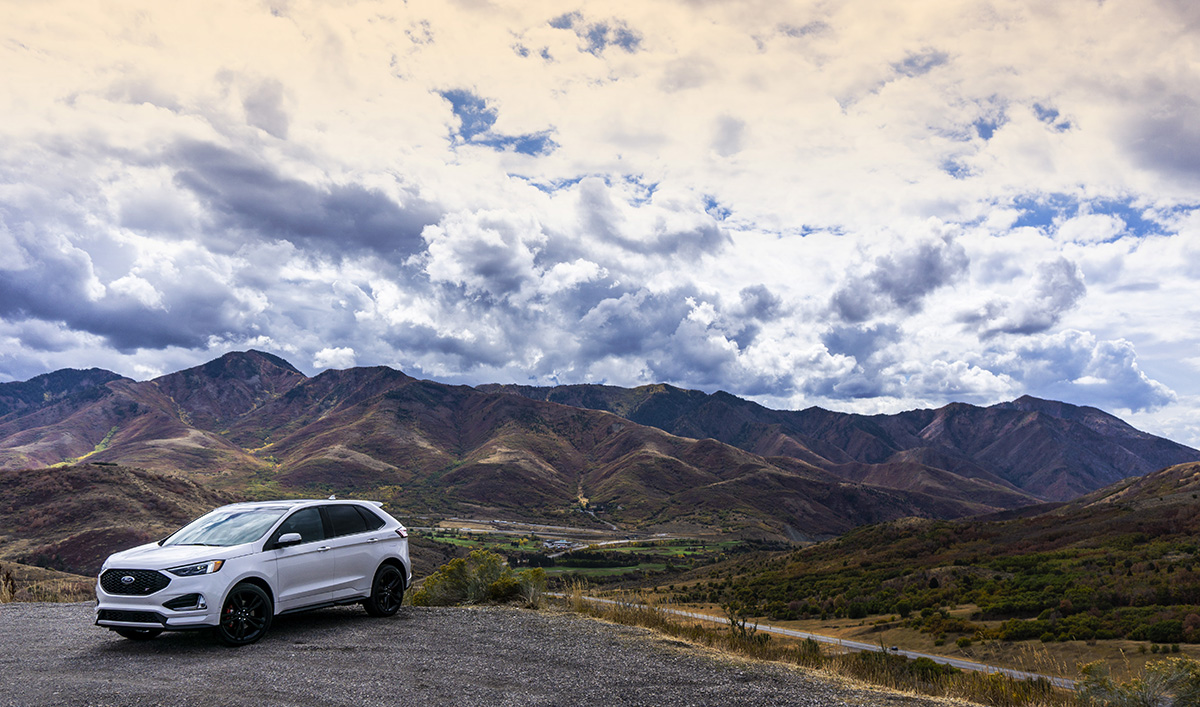 Sports Crossovers and SUVs are not a new thing. They just haven't been a mainstream thing. The Alfa Romeo Stelvio Quadrifoglio, Mercedes-AMG GLC43, BMW X5 M, Jaguar's F-Pace S, Audi SQ5, Porsche Macan S, Volvo XC60 T6 R-Design, and Maserati Levante all got there first. But with prices starting north of $50,000 and a few eclipsing the $100,000 mark, if you want utility and performance, you have to pay for it.
Most affordable, midsize, five-passenger crossovers couldn't be less sporting. Honda CR-V, Toyota RAV4, Nissan Rogue, Chevy Equinox, Hyundai Santa Fe are so mainstream they make Ed Sheeran seem edgy. The only one with any juice for the driver is the Mazda CX-5, but with only 187 horsepower it still leaves you wanting more.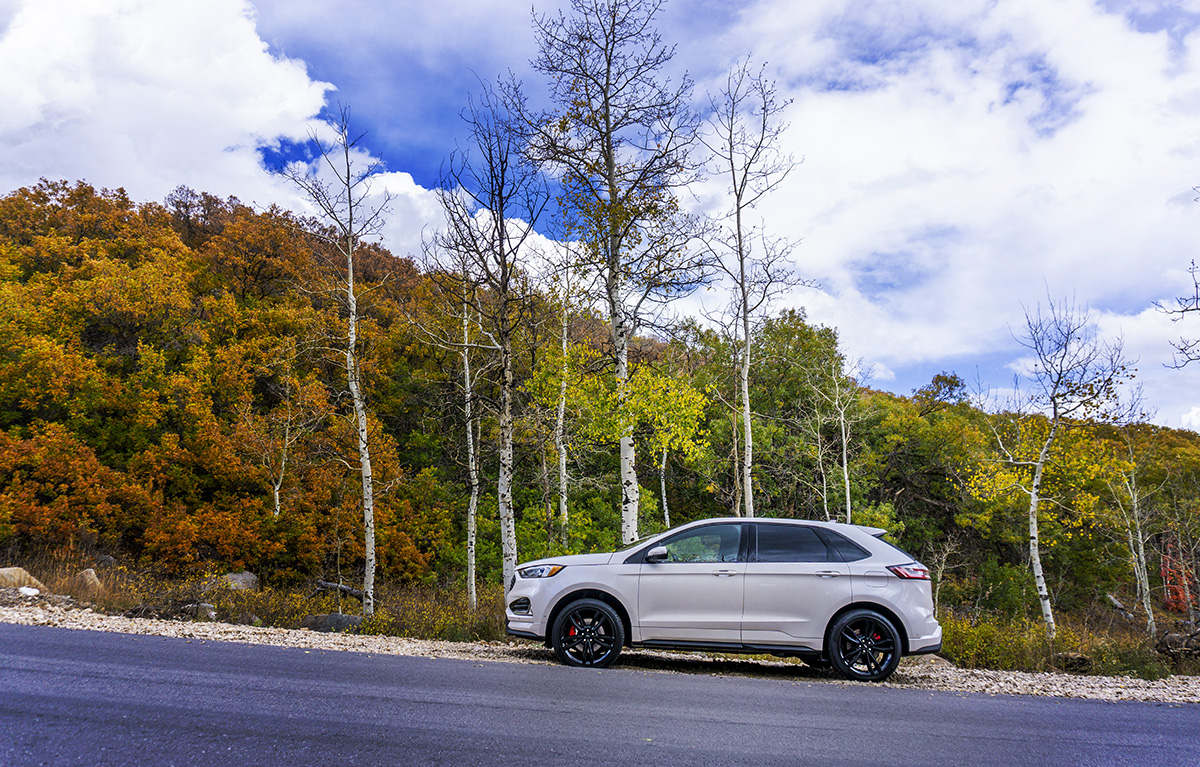 So when Ford announced the coming of the 335-horsepower Edge ST earlier this year, I was looking forward to seeing if there might finally be a vehicle for child-rearing car enthusiasts who don't have Bill Gates' bank account.
Fast forward to a few weeks ago in Salt Lake City, Utah where I stepped off an airplane and into an Edge ST decked out in White Platinum Metallic with an ebony leather interior. Equipped with voice-activated touchscreen navigation system, rear heated seats, active park assist, a front camera with 180º view and a suite of safety features the marketers in Dearborn have branded, "Ford Co-Pilot360 Assist+" I hit the start button and pointed it in the direction of Park City.
The ST moniker is more than just a couple of letters and a few bits of blacked-out trim. Vehicles that wear the badge must earn it so Ford Performance engineers had to improve the dynamics and capability of the Edge significantly. The wouldn't divulge exact acceleration and handling targets, but it the Edge ST is a big step up from the Sport model it replaces. Power and torque both saw a significant bump – 20 HP and 30 lb.-ft. – meaning the ST should hustle from 0-60 in about five seconds. Even with the increase in power, mileage has seen an improvement as well. The ST will deliver 19 MPG in town and 26 on the highway if you're not heavy with your right foot.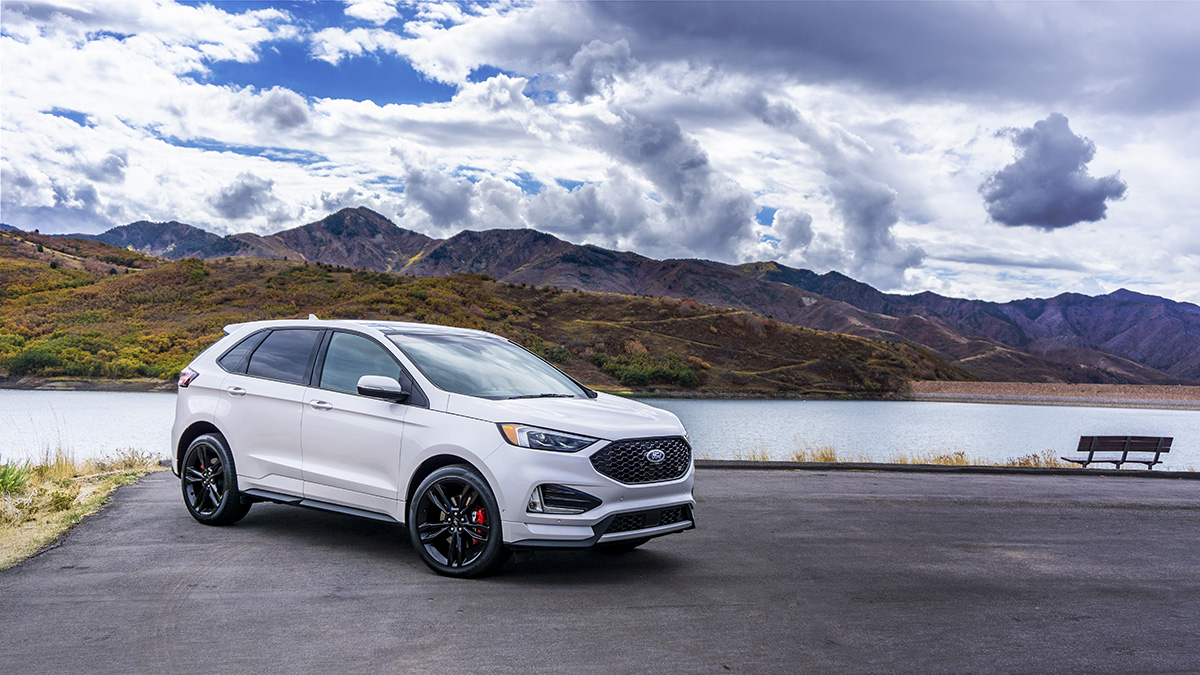 Handling is improved as was demonstrated by on the twisting mountain roads around Park City. There's very little body roll thanks to stiffer springs and beefier anti-roll bars for its fully-independent front and rear suspension. With sport mode engaged, it's not a tossable, tail-happy coupe like the Mustang, but when pushed into corners at significantly higher speeds that suggested by the road signs, the Edge ST digs in and turns predictably with just a whiff of understeer. Part of that was due to the sticky 21-inch performance summer tires. The steering weight is fine, with a solid on-center feel and consistent turn-in, but feedback is non-existent which is true for all cars with electric power assist units these days.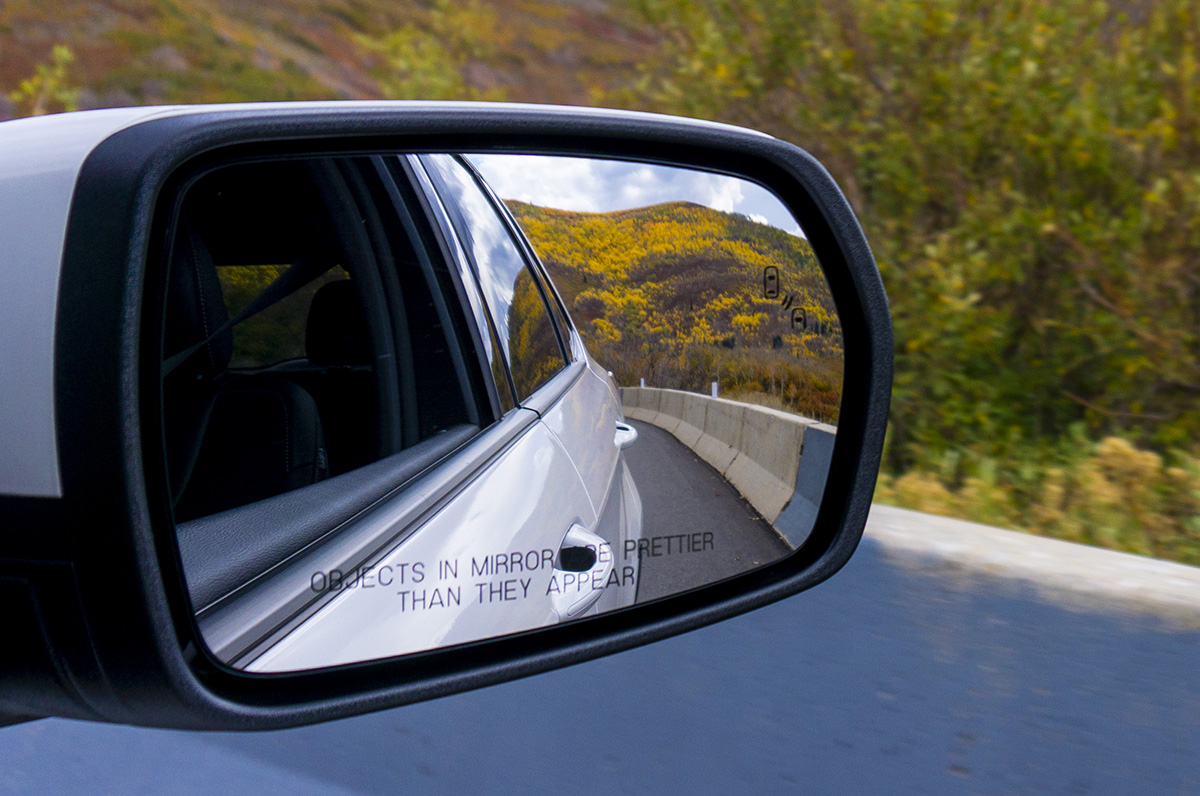 The ST is only available in all-wheel drive which offers something new for Ford, automatic rear-wheel disconnect to improve mileage when you're not hammering it in the mountains or sliding on a slippery side street. A number of sensors are used to determine the Edge's traction needs and when optimal, like cruising on a dry interstate, the powertrain will disengage the rear wheels, making it a little more efficient. If need be, the wheels can reengage in just 10 milliseconds providing traction you need to stay out of trouble. The 8-speed automatic transmission shifts smoothly and in sport mode it holds the gears longer, keeping the 3.5-liter EcoBoost V6 where it's happiest. The shifts, however, were a bit slow both when left to its own devices and when I pulled on the paddle shifters. In talking to engineers after the drive, they admitted they were having an internal discussion about how aggressive the shifts should be. I made the case for speeding up the transitions between gears which is something they can do with software. Hopefully they'll listen and tighten things up in sport mode.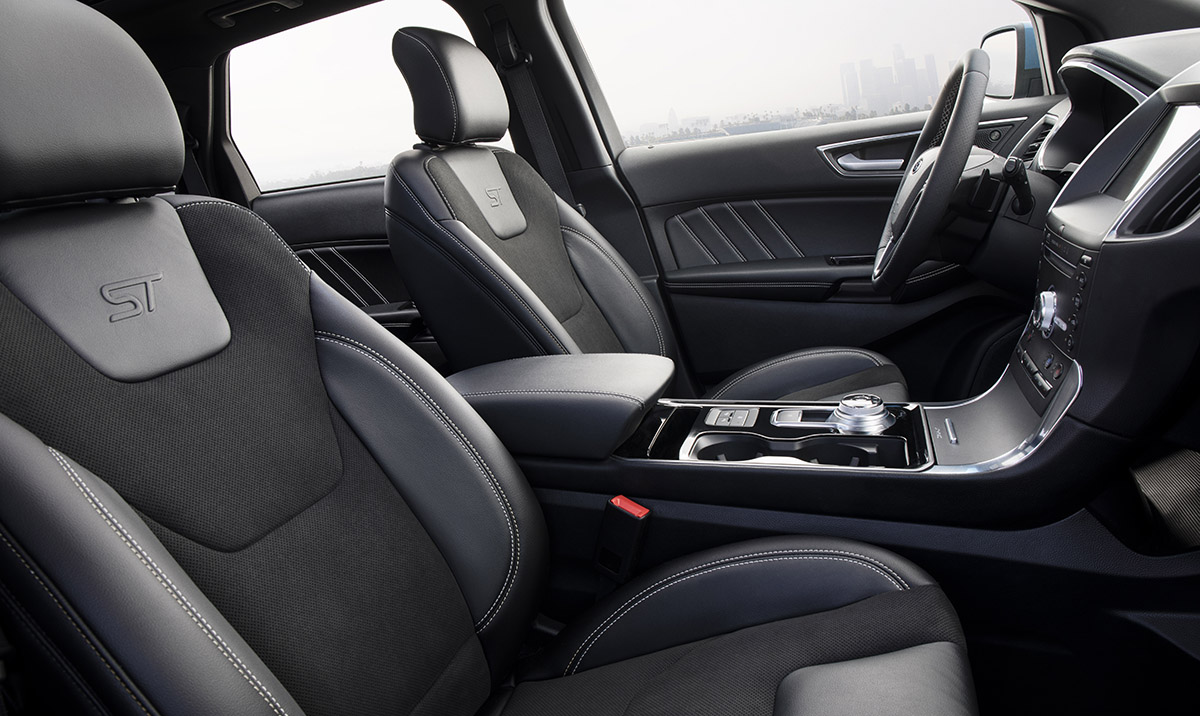 The interior of the Edge ST has upgraded performance seats (thankfully not the constricting Recaros that are available in the Mustang GT). These seats do a great job of balancing comfort and support with just enough bolstering to keep your back and thighs steady through the twisties. They're also heated and cooled which was much appreciated when temperatures dipped below freezing in the morning, but climbed into the 70s as we drove through the day. The center stack is clean and purposeful, with a new rotary gear selector replacing the shift lever. This frees up space and allows for easier access to things like the wireless charging pad and the controls for the radio and HVAC system. There are still a few elements that feel a bit cheap and plasticky for a vehicle that when fully optioned will exceed the $50,000 mark (most notably the frame surrounding the nav screen), but most of the touch points – the steering wheel, arm rests, seats, switches, and knobs – all look and feel right.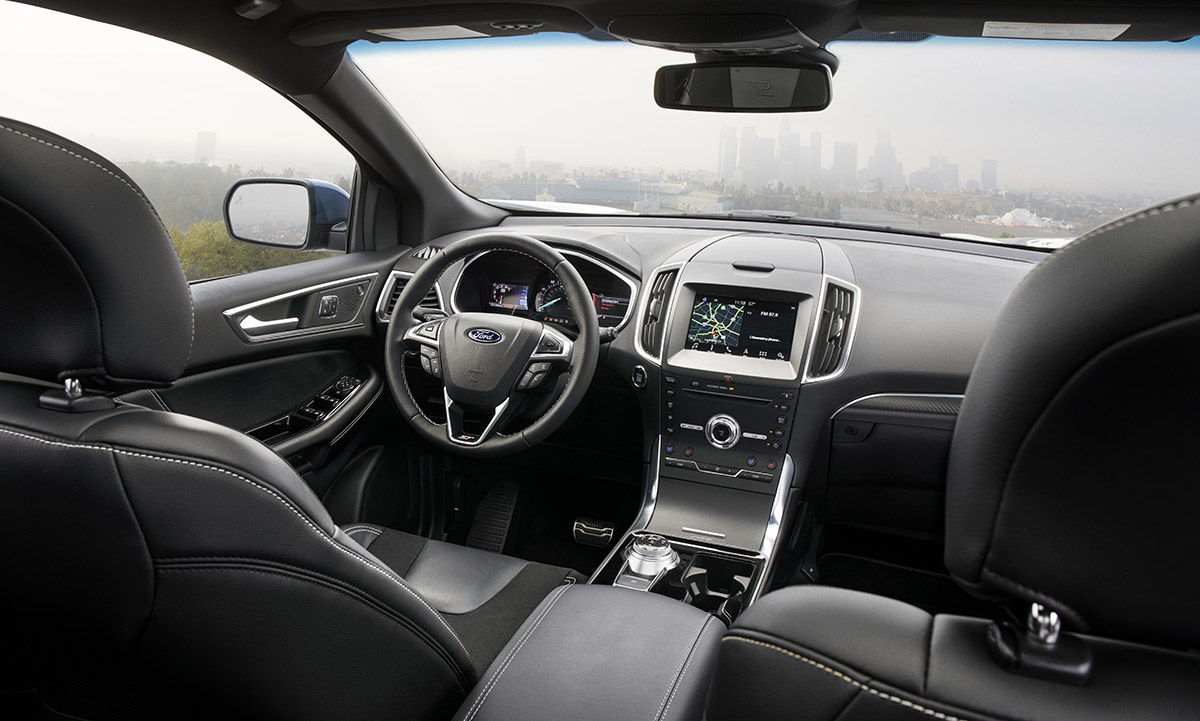 Another element making its debut in the Edge ST is Ford's cumbersomely named Ford Co-Pilot360 Assist+. As the name suggests its a number of driver assist features, plus a few other goodies thrown in for good measure. It starts with active lane keep assist, blind spot monitoring, pre-collision assist with automatic emergency braking, and automatic high beams. The ST I was driving also had adaptive cruise control with stop and go and lane centering that when engaged don't allow for hands-free driving, but do reduce stress and inputs on the highway or in traffic jams.
So confident were the folks at Ford that they set up a fun autocross for us with the ST. Our mission was to drive the car as quickly as possible through the cones, stop after one lap, load a bunch of boxes in the rear, then complete one more lap with the winner taking home bragging rights and a oversized stuffed bear. Due to wet conditions (yeah, I'm going with that) my time was a bit off the pace of the previous day's participants, but it was a good demonstration of the ST's quickness and braking prowess with the performance brake package featuring 13.6-inch front ventilated rotors, red calipers, and performance brake pads.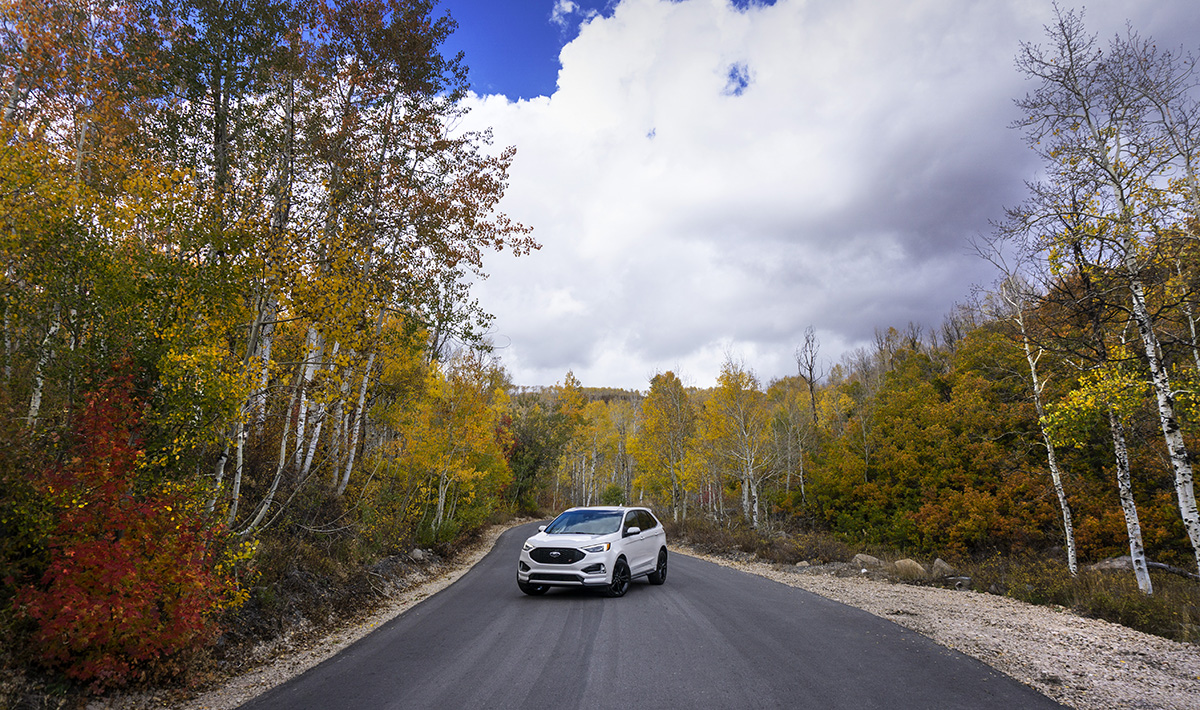 The 2019 Ford Edge ST is a solid effort delivering enough performance to soften the blow for someone who has to trade in their performance car for a more practical vehicle. There's tons of passenger space front and rear. You can load up all the cargo your crew will need, and you can even tow 3,500 pounds if you'd like. No, you won't mistake it for a 500 horsepower Levante – for both the performance and the exhaust note – but for less that $50,000 you get a vehicle you'll enjoy driving until your kids leave home.
Then you can go back to driving your Mustang.
2019 Ford Edge ST
Four-door, five-passenger sports-crossover
Base Price: $42,355
Price as tested: $51,470
Major options: Option package 401 – voice-activated navigation, rear heated seats, enhanced active park assist, Ford Co-Pilot360 Assist+, front 180º camera with split view and washer ($5,585), ST performance brake package ($2,695), cold weather package – floor liners, heated steering wheel, windshield wiper de-icer ($495), white platinum paint ($595), destination and delivery ($995)
Engine: 2.7-liter EcoBoost V6
Transmission: 8-speed automatic with paddle shifters and all-wheel drive
Power: 335 HP @ 5,500 RPM
Torque: 380 lb.-ft. @ 3,000 RPM
Curb weight: 4,477 pounds
0-60 MPH: 5.0 seconds (estimated
Top speed: TBA
EPA MPG: 19 city/26 highway