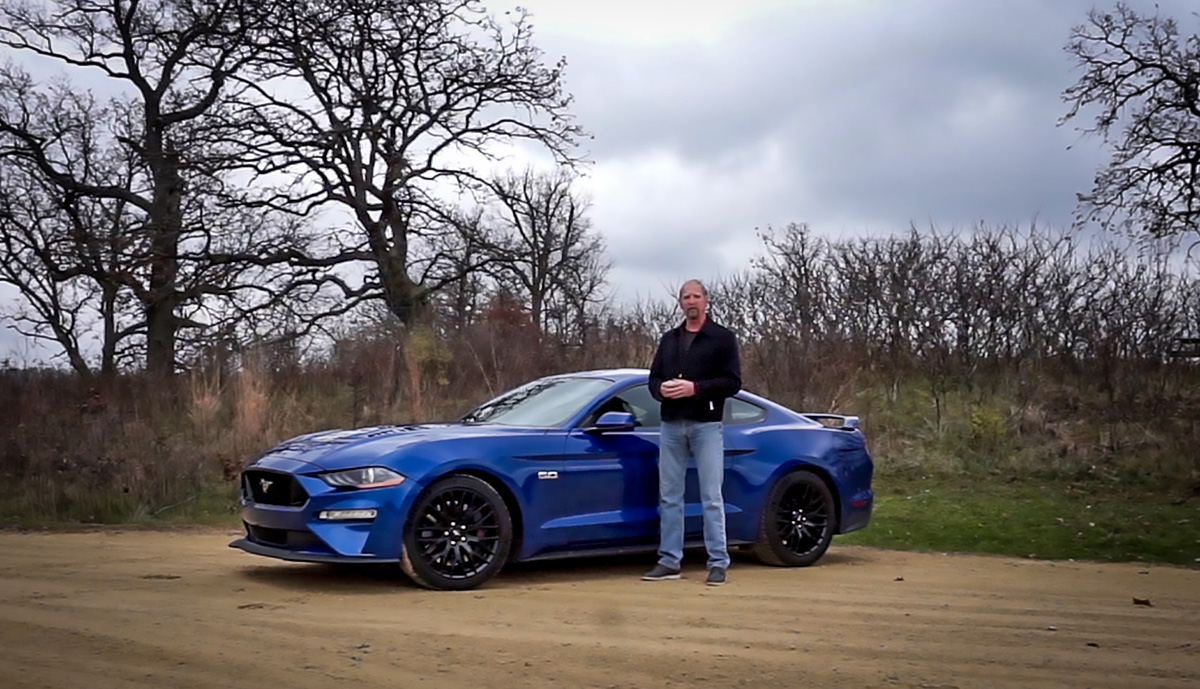 While no one can prove he actually said it, the following quotation has often been attributed to Henry Ford.
If I had asked people what they wanted, they would have said faster horses.
Whether he actually said it or not is irrelevant, because the horses coming out of Ford's Rouge assembly plant today are pretty damn fast and that's perfectly fine by me.
I've had several Mustang moments throughout my life including the current ownership of a thoroughly mediocre (but fun) 2005 Mustang convertible with a 4.0L V6 and a 5-speed manual. I remember riding home from Tiger Stadium on the Lodge Freeway in the back of my dad's '66 silver notchback after Denny McLain had won his 30th game in 1968. Three years later I watched the '69 Mustangs of Tony DeLorenzo and Jerry Thompson go wheel to wheel with Mark Donohue, George Follmer, Swede Savage, Bob Tullius, Tony Adamowicz, Parnelli Jones, and others at Lime Rock, Mid-Ohio, Road America, Donnybrooke, Watkins Glen, and Michigan International Speedway. Someone had convinced my dad that putting his money into a race team would be a good investment. Spoiler alert, it wasn't.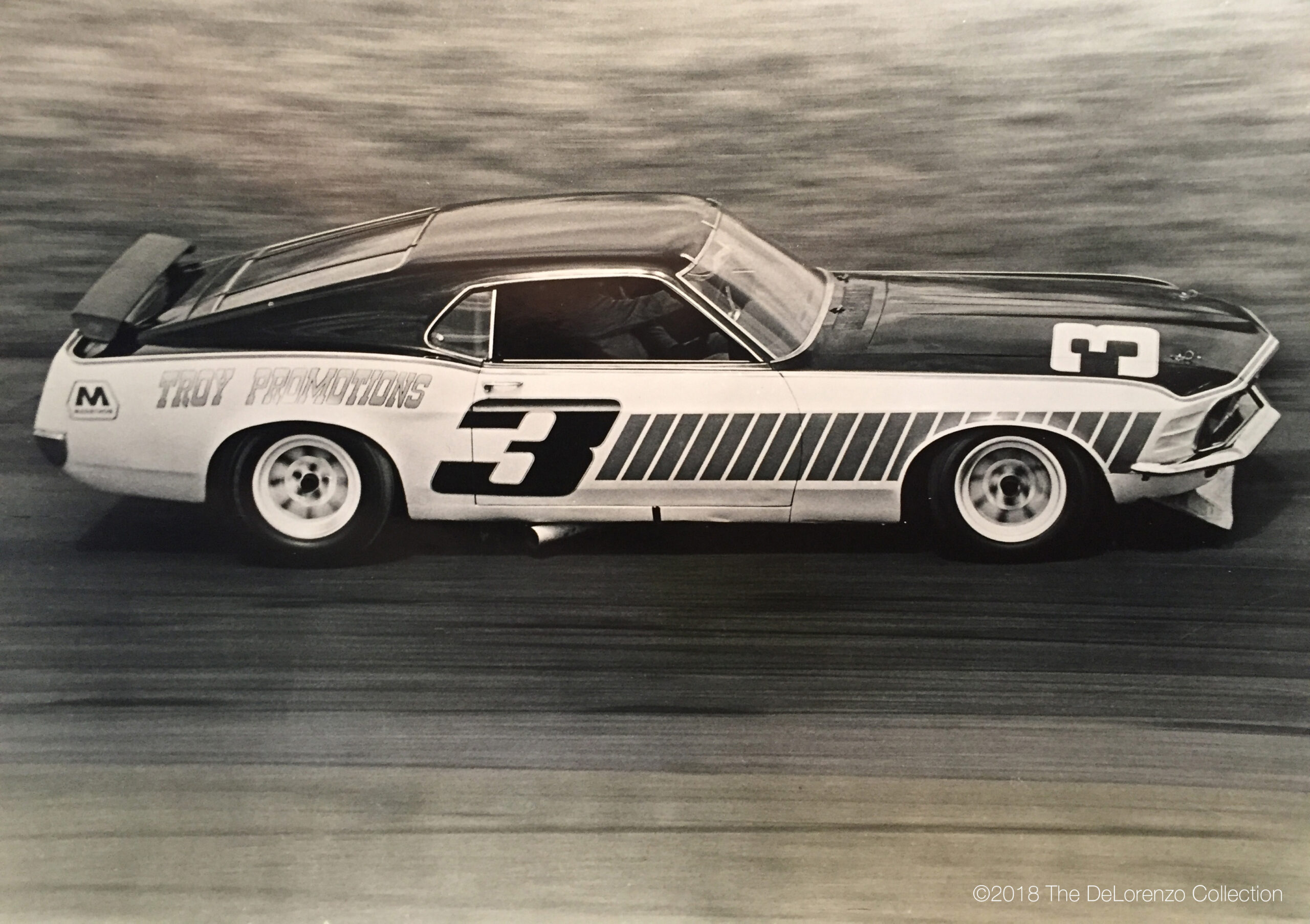 The 2018 Mustang GT is head and shoulders better than any of the previous generation GTs. It handles better. It's quicker. It sounds better. And, it's more comfortable. The upgraded version of the 5.0L Coyote engine features dual-port fuel injection, a 12:1 compression ratio, a new intake manifold, stainless steel exhaust manifolds, and wire-arc cylinder liners from the Voodoo engine in the Shelby GT350 that increase displacement for the first time over 5-liters to 5,035cc. The redline is now up to 7,500 RPM and with the new active exhaust system in sport mode, it sounds fantastic when you spin the tach all the way to the top.
I'm old school and prefer my Mustangs with a manual transmission. The unit in the Bullitt Mustang is standard in the Mustang GT and it's a good one. My test car for this week, however, was equipped with Ford's new 10-speed automatic with paddle shifters and it makes this car very quick. Throw it into drag mode and you can turn 0-60 sprints in at or under 4 seconds. Left to its own devices the 10-speed shifts smoothly and quickly. Cruising along at speed, the 460 horsepower engine lopes along at 1,500 RPM in tenth gear thanks to its 3.55:1 limited-slip rear differential. With this combination, the Mustang GT is supposed to deliver 19 miles per gallon and 25 on the highway. As proof of how much fun the new GT is to drive, my mileage varied considerably, coming in at 14.3 MPG for the week. I'm sure it's possible to get over 20 miles per gallon in it. I just don't have the self-control required.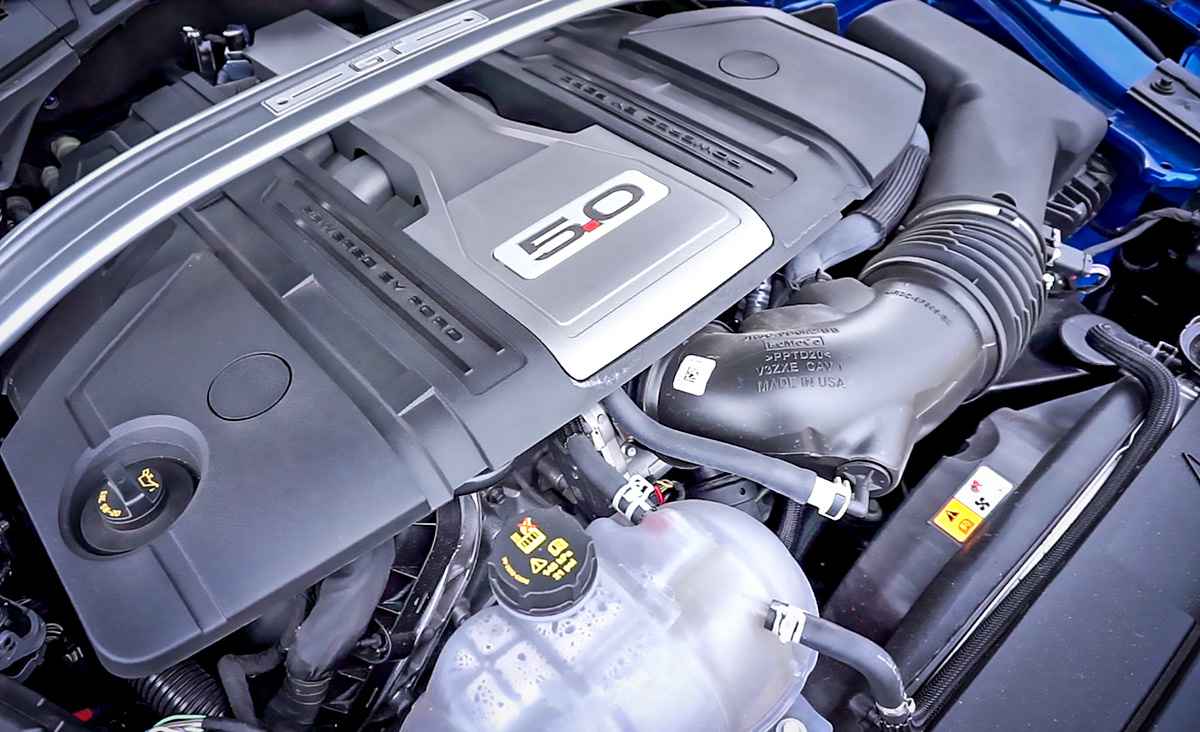 Equip your Mustang GT with the available performance package and you get six-piston brembo brakes, 19-inch aluminum wheels shod with sticky Michelin summer performance tires, heavier front springs, a front shock tower brace, larger radiator, larger rear sway bar, and a big rear wing which I'd delete. To my eye, the car looks better without it. It's worth the price of admission for the wheels and tires alone. But I recommend you don't stop there. The two must-have options on the GT are the MagneRide adjustable damping system that allows for different ride profiles depending on the drive mode you select, and active valve performance exhaust which is really trick.
More than just a dual mode exhaust that gets louder when you put it in sport mode (it does and it sounds awesome), the Mustang GT's active valve exhaust can even get quieter. In standard mode, there's a healthy growl to the sound coming out of the quad exhaust tips. It's damn near impossible to sneak up on anyone it this car. But what if you've been out late and would rather not wake the neighbors when you finally roll into your driveway well after midnight. Just press the Pony button on the steering wheel, toggle to the exhaust settings, and select quiet mode. This drops the volume down to a very sedate 72 decibels. You can also program the car to start in quiet mode at specified times which will keep you in good standing with your neighborhood association.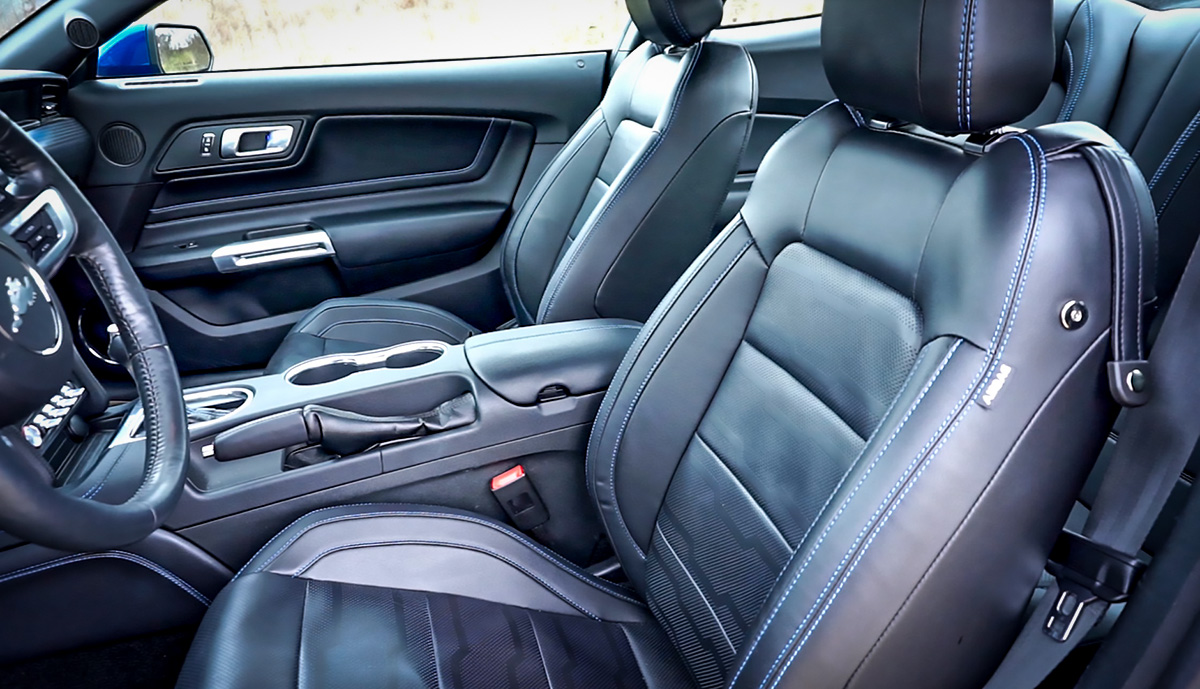 Inside, the Mustang GT has standard sport seats that offer a nice balance of performance bolstering and comfortable support. My car had the premium package which including heated and cooled leather seats, a heated steering wheel, an upgraded infotainment system, and digital instrument panel that reconfigures depending on the drive mode you select. Overall, the interior is nicely designed, well packaged, and properly finished. A few of the surfaces – especially the faux aluminum fascia – feel a little plasticky for my taste, but it's definitely nicer inside the Mustang than a Camaro.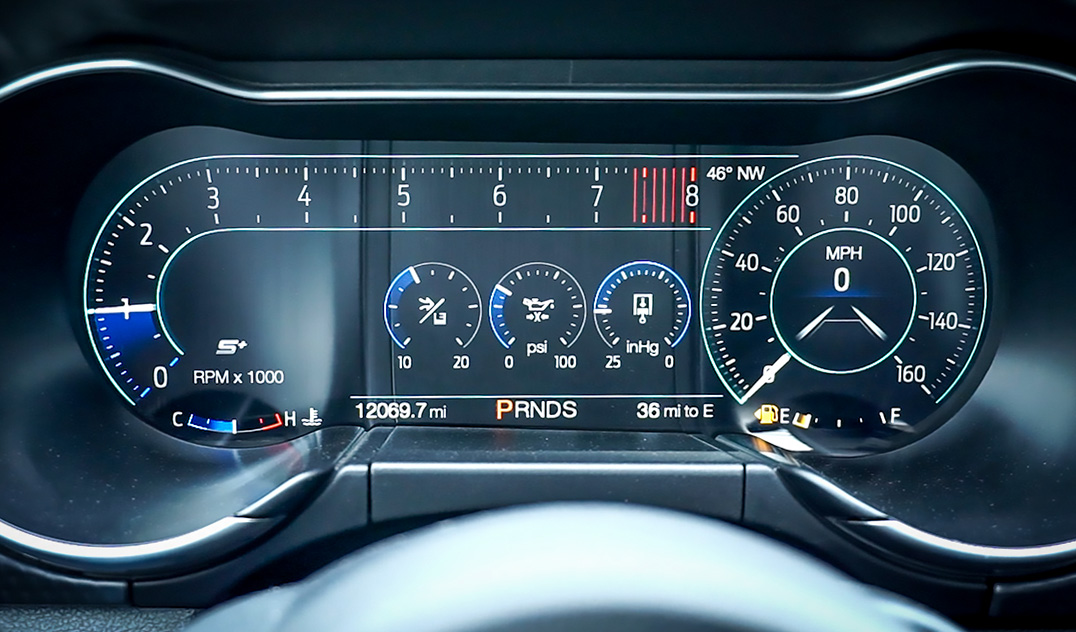 And, that's the question that usually gets asked, which is better, the Mustang or Camaro? Not having driven the latest SS (Hello, GM PR!!!) I can't comment on performance, but in addition to the interior, the areas where the Mustang wins for me are looks, driver visibility, and the 5.0-liter V8's sweet exhaust note. The Alpha platform on which the Camaro (and the Cadillac ATS V) is built is better than the Mustang's which delivered a ride and handling I preferred in the Camaro RS I drove a couple of years ago.
The 2018 Ford Mustang GT is the ultimate GT and a great driver's car, one that will bring a smile to your face and put a dent in your wallet with all the sets of tires and tanks of gas you'll be buying. In its base trim it's satisfying, but loading it up with all the goodies gets you a sports car that'll run with Porsches, BMWs, and Audis for significantly less than you'll pay for those more exotic European marques. So no matter what Henry Ford allegedly said, I'm all for faster horses, as long as they're as good as this one.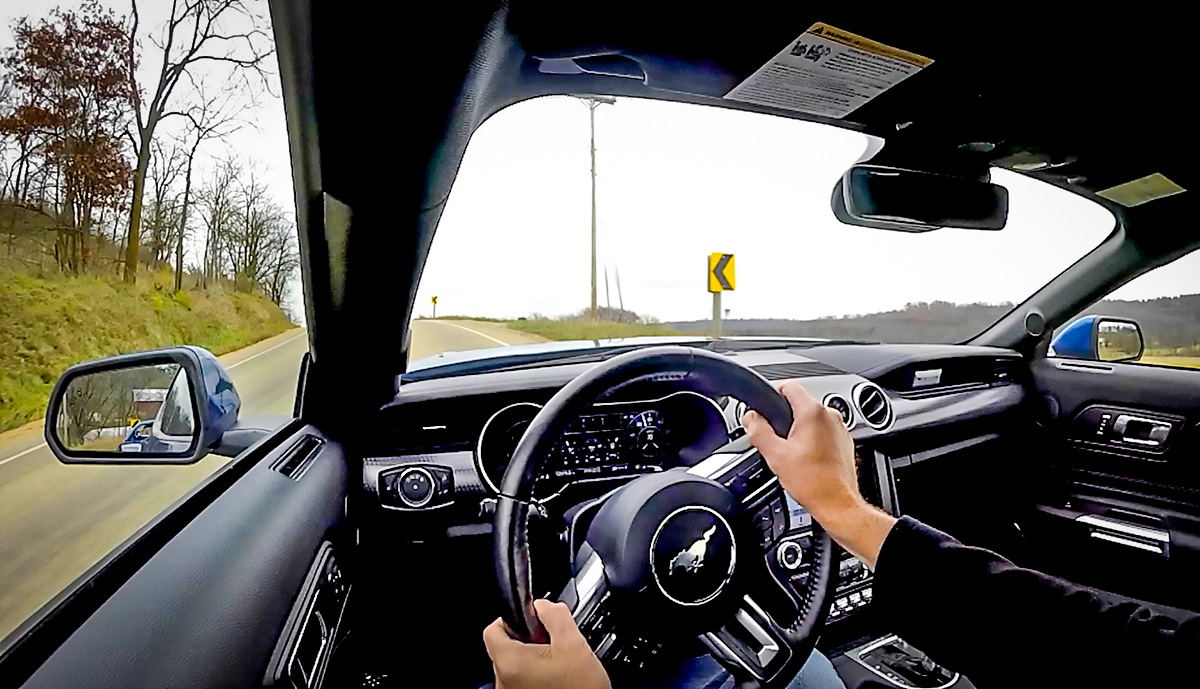 2018 Ford Mustang GT
Two-door, four-passenger, high performance sports coupe
Base price: $35,355
Price as tested: $52,765
Major options: Premium package – leather-trimmed heated and cooled front seats, SYNC®3, heated mirrors with integrated turn signal indicators, selectable drive modes with toggle switches, nine speaker stereo ($3,740); Premier package – 12″ LCD digital instrument cluster, heated steering wheel, hand stitched center console, wrapped knee bolsters with accent stitch and shifter boot, color-accented leather-trimmed seats, wrapped center console with accent stitch, remote start, lock and unlock vehicle, Wi-Fi® hotspot connects up to 10 devices, voice-activated touchscreen navigation system with SiriusXM traffic and travel link, BLIS® with cross-traffic alert, memory power driver seat, mirrors, and ambient lighting pre-set ($2,200); GT performance package ($3,995); 10-speed automatic transmission ($1,595); Active performance exhaust ($895); Shaker pro audio system ($895), MagneRide damping ($1,695), destination and delivery ($900)
Engine: 5.0-liter V8 with port and direct-fuel injection
Transmission: 10-speed automatic with paddle shifters
Power: 460 HP
Torque: 420 lb.-ft.
Curb weight: 3,765 pounds
0-60 MPH: 4.0 seconds
Top speed: 160 MPH
EPA MPG: 16 city, 25 highway, 19 combined