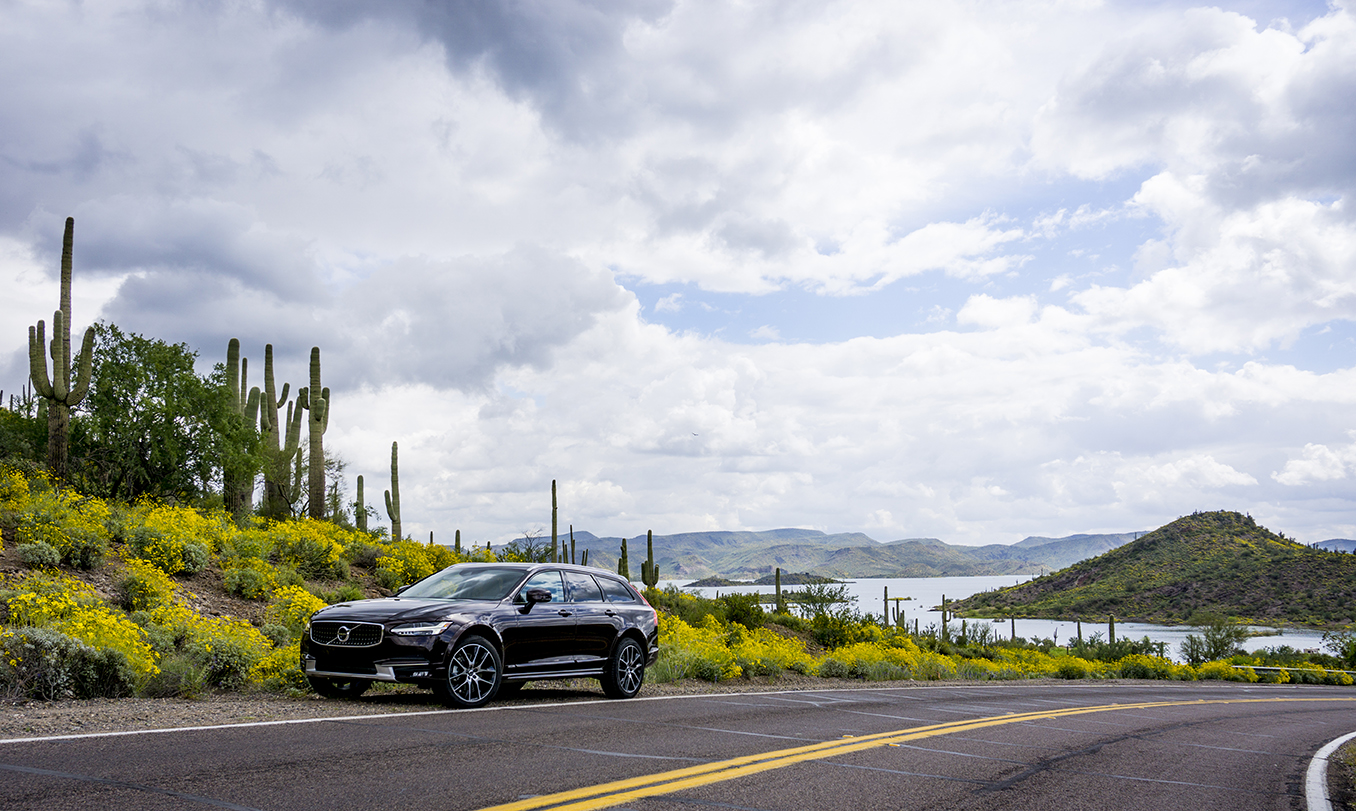 The Arizona desert was alive. The unusually heavy spring rains brought forth bright yellow flowers, lush green sedge grasses, and – much to my enjoyment – mud. You don't come to this part of the country expecting to be sliding around corners of what are normally dusty, rocky roads with tire treads caked with red clay, but sometimes the gods smile upon you.
This was one of those times. Not only was I enjoying a couple of days exploring the Phoenix area, but I was doing it in the new Volvo V90 Cross Country wagon.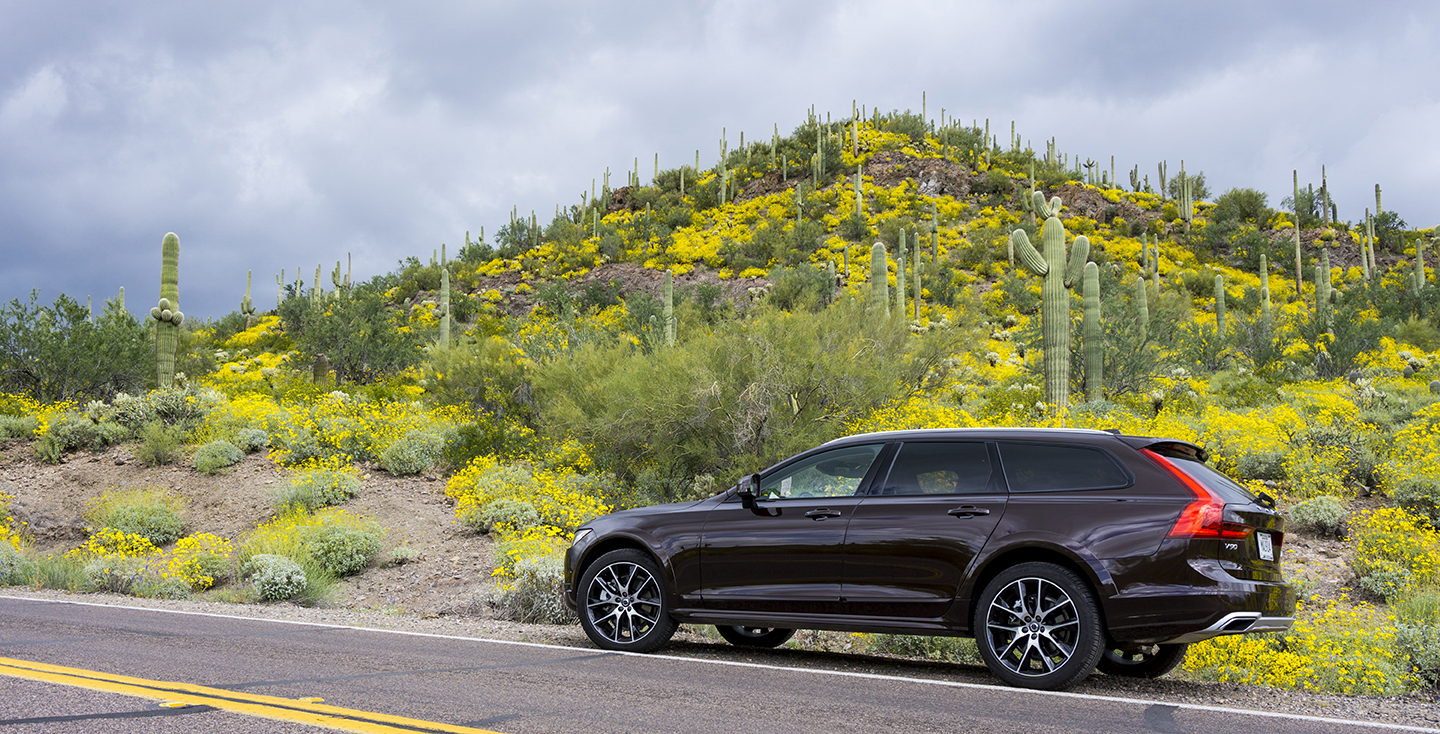 Wagons have a long history in the Volvo pantheon of vehicles. You could argue that one of the company's earliest cars, the 1927 PV4 4-door saloon, was a wagon. The Amazon of the '50s and '60s, the 145, and then 240 became such automotive icons that now, even in the age of the SUV, the thought of Volvo without a wagon is like Rock without Roll, Rhythm without Blues, or Dub without Step.
So it was I took the keys to a lovely maple brown metallic Cross Country version of the V90 and headed out into the wilds of Arizona. Powered by Volvo's T6 2.0 Liter turbo and supercharged inline four cylinder engine mated to an 8-speed automatic transmission driving all four wheels, Volvo calls this wagon the ultimate outdoor adventure vehicle. And they might just be right.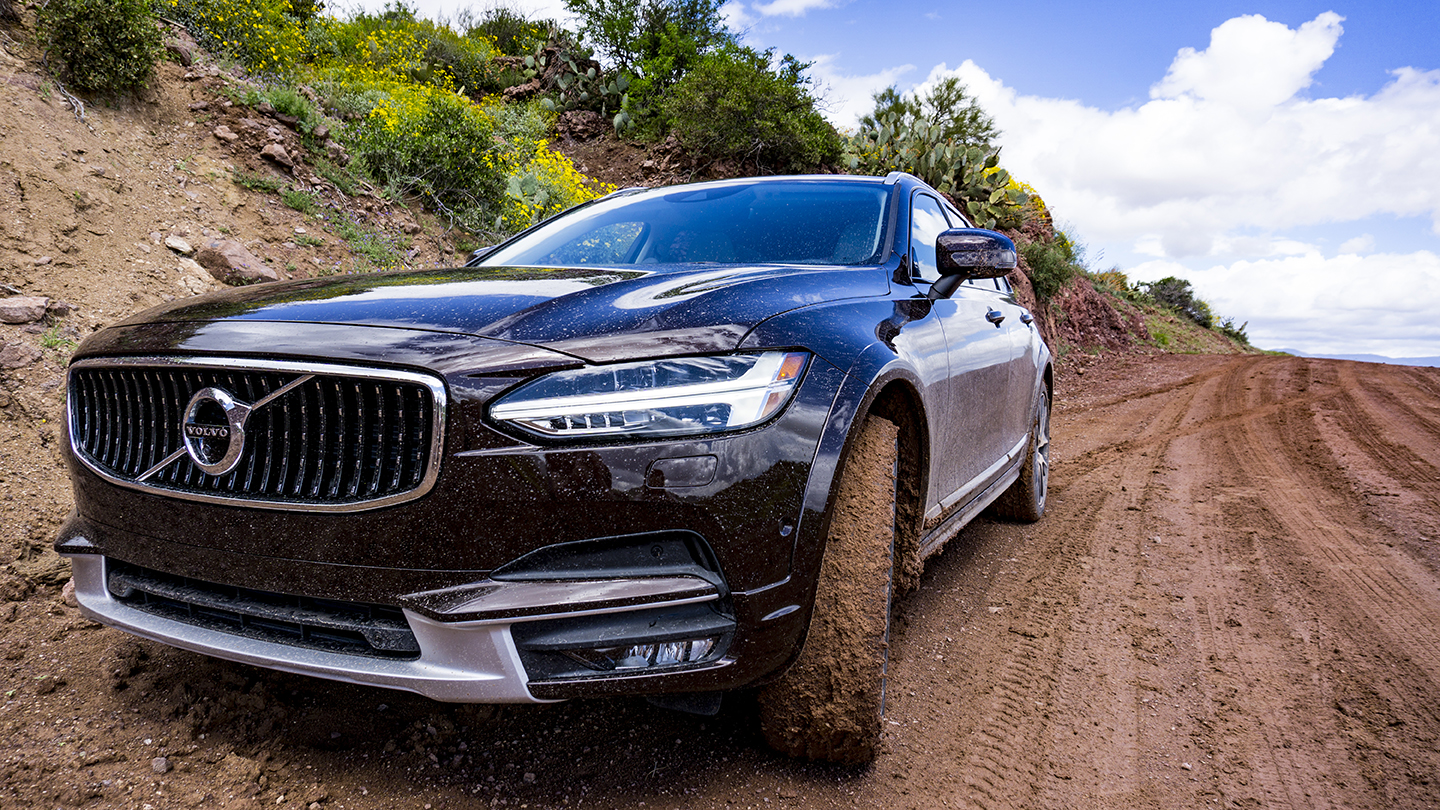 No, it's not a full on truck that can ford deep rivers and crawl up bouldered mountains, but it is a remarkably capable, incredibly comfortable, surprisingly sporty all road vehicle. With 8.3 inches of ground clearance, you wont have to worry about taking it on rutted trails to your favorite kayaking spot or through the winter snow up to a mountain retreat. But unlike SUVs you won't feel like you're sitting in a high chair, perched above traffic when you reenter society on crowded streets and highways.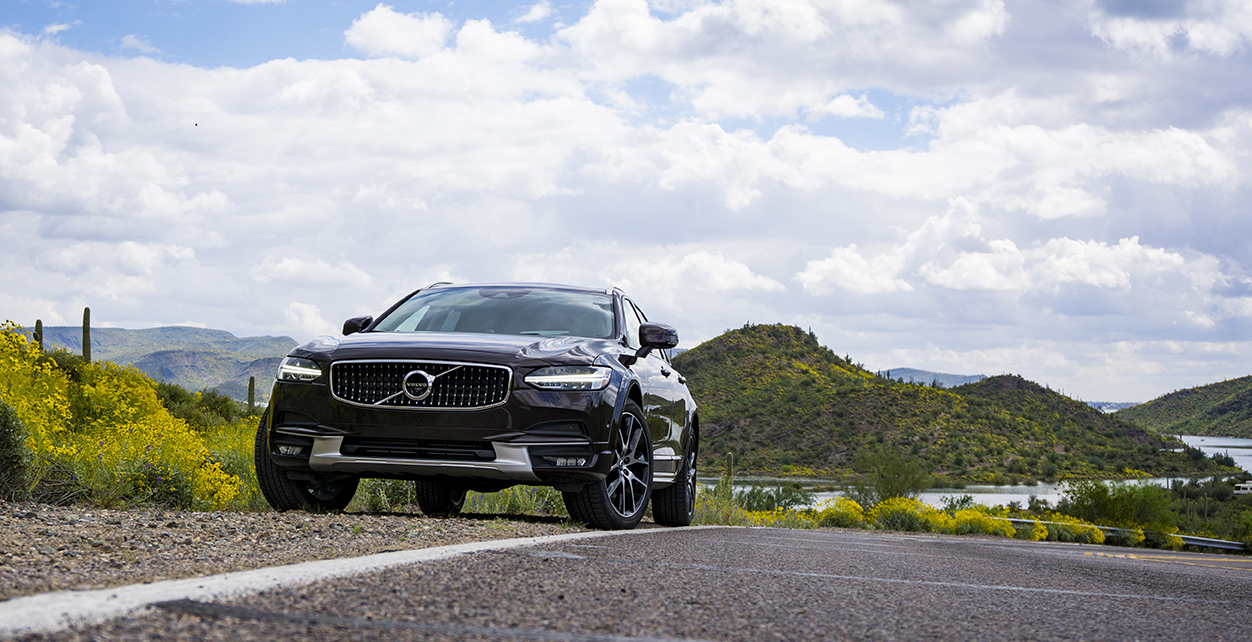 That's one of the things I like best about this V90. It drives like a car. A finely tuned, well-balanced, full-size sedan, that just happens to have a ton of room behind the back seat. With 316 horsepower and 295 lb.-ft. of torque at your right foot's beck and call, you can get from 0-60 in six seconds. The 8-speed transmission is geared so you're always in the power band when you want to be, but it settles down at highway speeds to provide 30 miles per gallon when you want to eat up miles.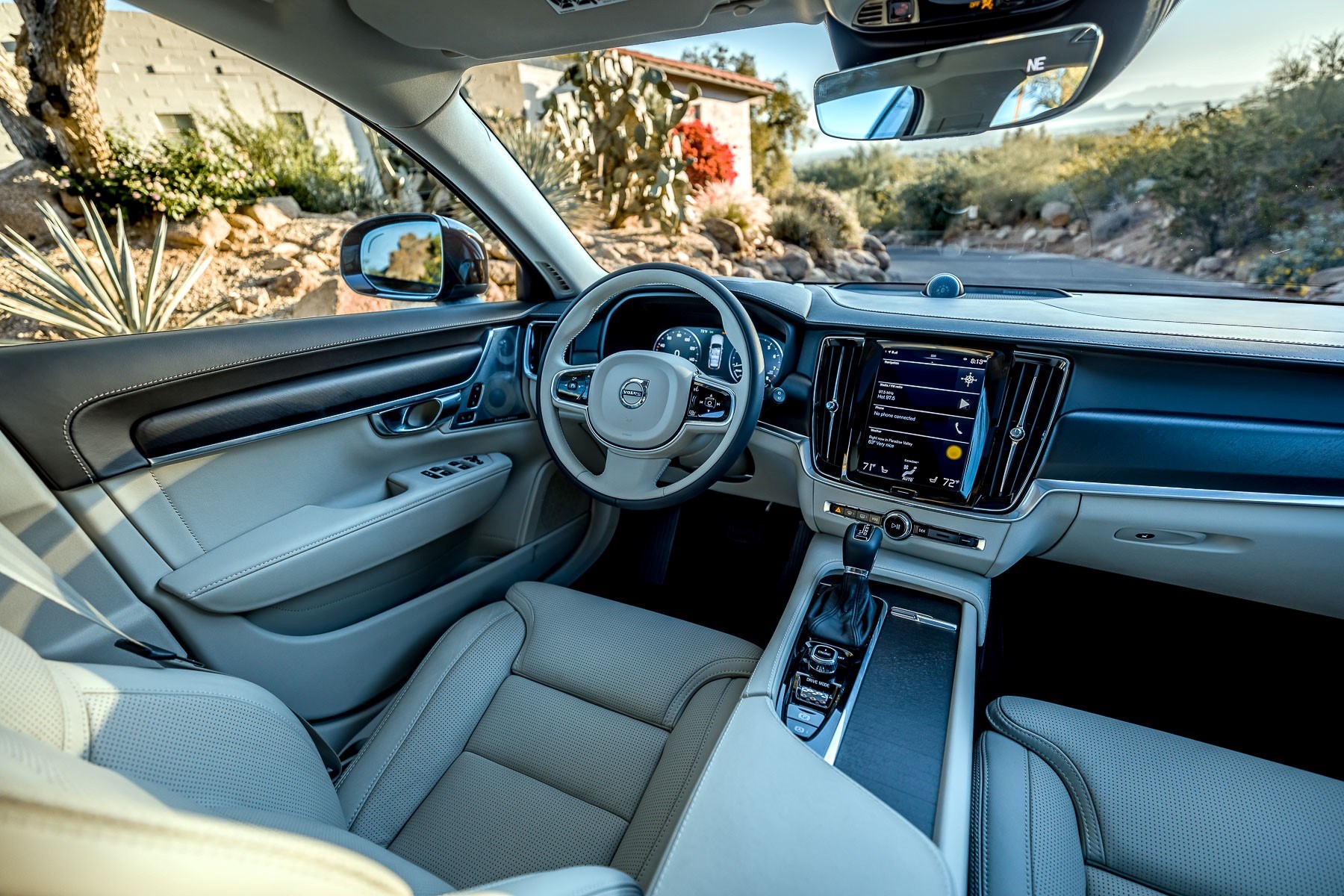 Like all 90 series vehicles the V90 Cross Country is luxurious, especially when you tick all the boxes on the order sheet. Matte walnut inlays, buttery Nappa Leather, brushed aluminum trim, and bright chrome accents highlight an environment that is both comfortable and comforting. There's nothing busy or complex about the cabin and the interfaces. Everything is intuitive and right where it needs to be. Even the touch screen, which is not my favorite way to interact with a car's entertainment and navigation systems works well here. I wouldn't call this cabin understated, but it avoids some of the garish notes of other luxury brands that seem to try too hard to prove their worth.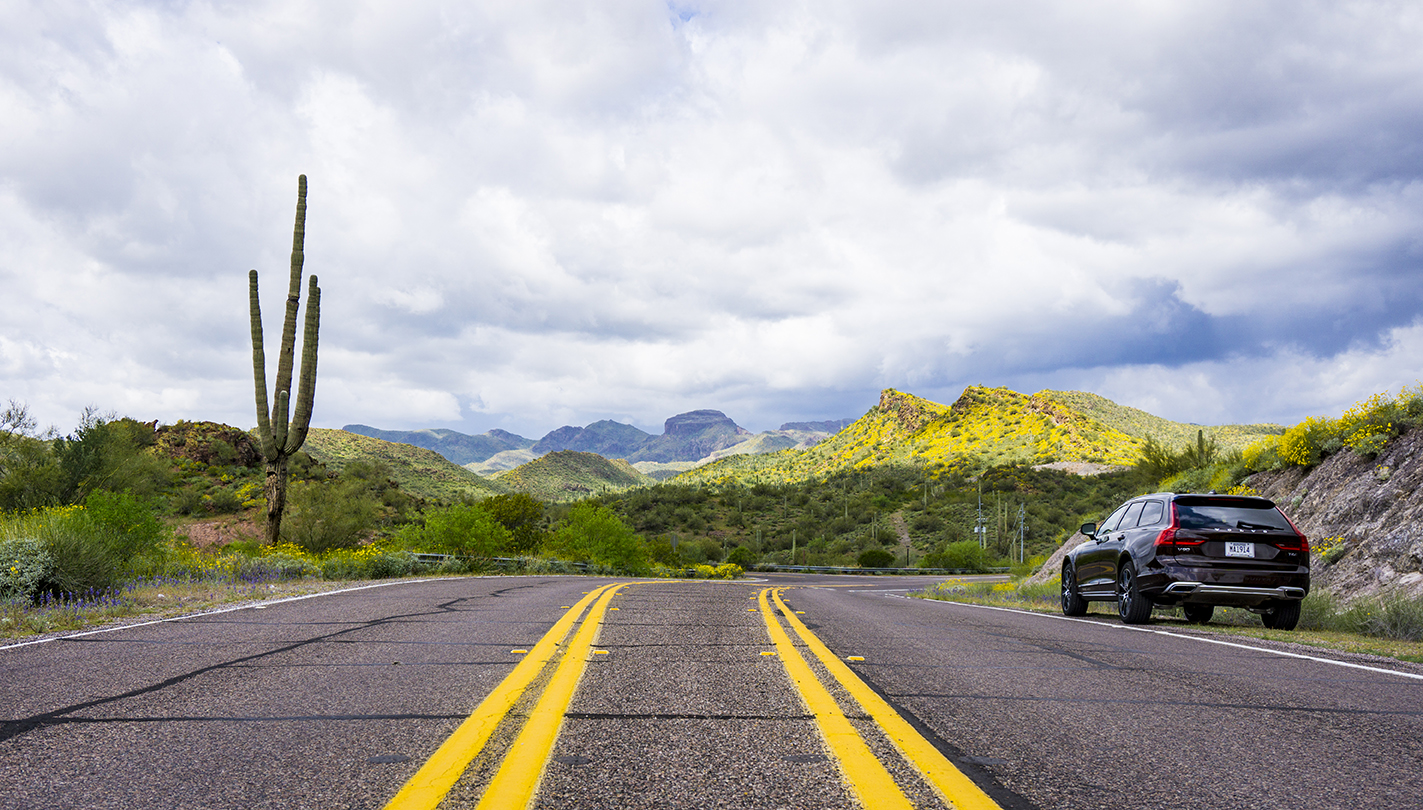 Our tour took us northwest of the city to Lake Pleasant Regional Park and then over a series of unpaved back roads that when the trip was being planned, everyone assumed would be dry and dusty. Lake Pleasant Park is a 23,000 acre preserve with the aptly named Lake Pleasant at its center. The lake varies in size depending on the amount of water in the area and on our visit it was closer to its maximum 10,000 acres than its low water mark of 3,000 acres. Open for camping, hiking, and fishing the park is just a short drive from downtown Phoenix and a great place to escape the city's heat.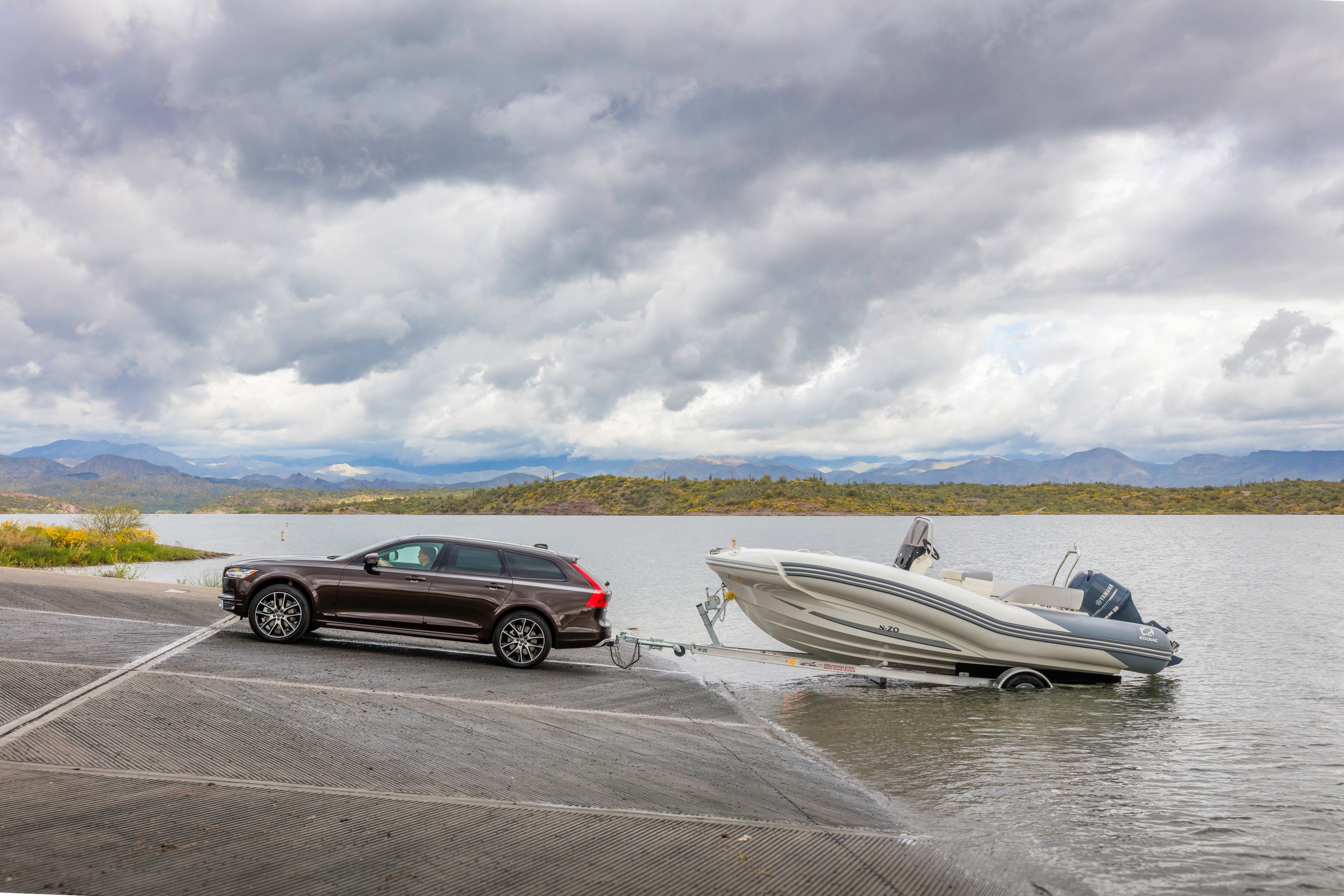 We made a quick stop at the park's launch, where Volvo had a boat and trailer hooked up to a V90 wagon so we could test its towing capabilities. Equipped with a clever hidden hitch and a back up camera that helps you coordinate your movements to keep the trailer in line, the V90 is capable of towing up to 3,500 pounds which is plenty for a boat large enough for the five passengers you can bring along with you in the car. After towing the boat for a bit, it was back in our V90 Cross Country and off for a trip through the hills to the historic town of Wickenburg.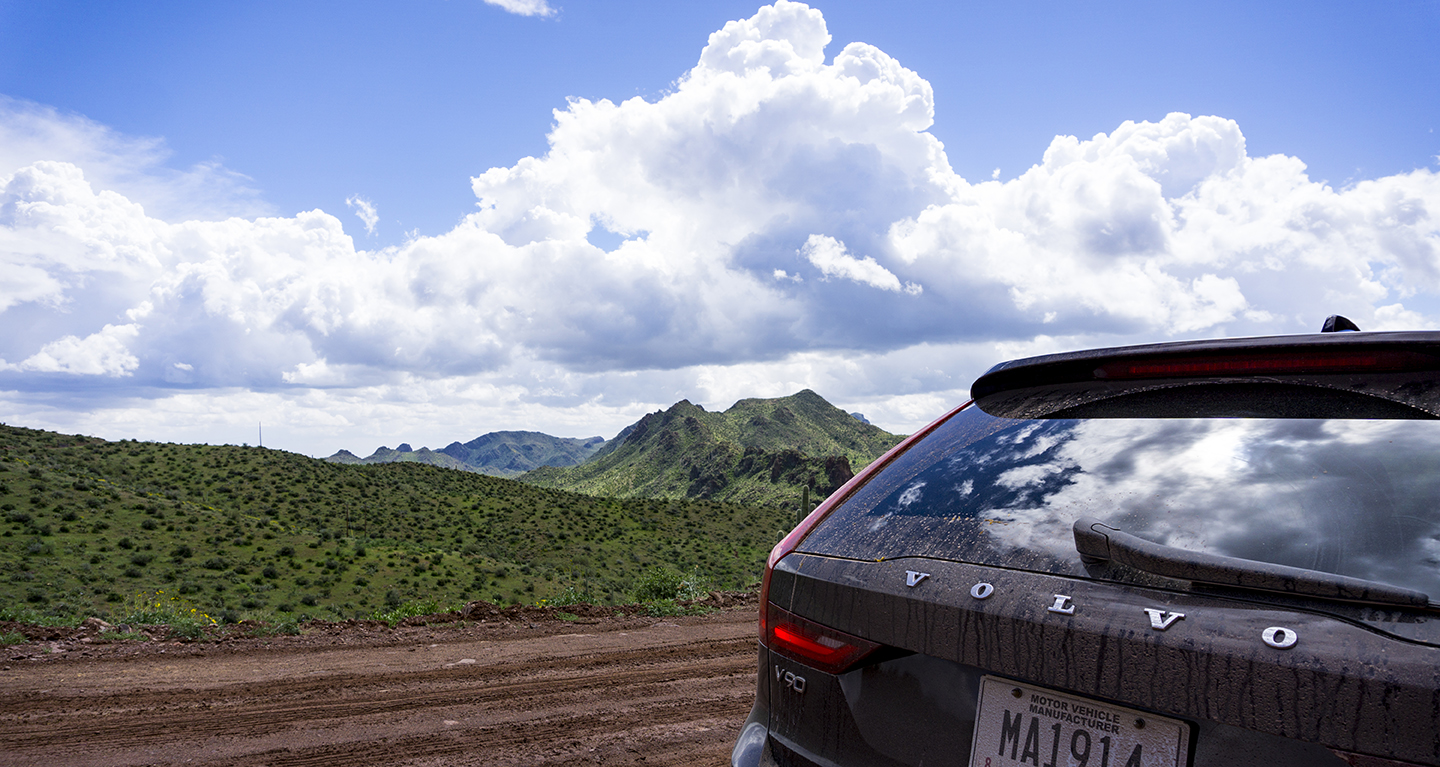 The roads were mostly dry when we left, but a sudden downpour softened the surface especially as we climbed to the higher elevations where there were fewer rocks in the road. In these compromised surfaces, we had a blast tossing the wagon around corners using the throttle and steering to keep the well balanced Volvo moving in the right direction. Here the different drive modes came in handy and we switched to the Dynamic setting which allowed us to enjoy hanging the tail out without completely turning off the traction control. Off-road and normal mode would have kept things a little more subdued, but what fun would that have been?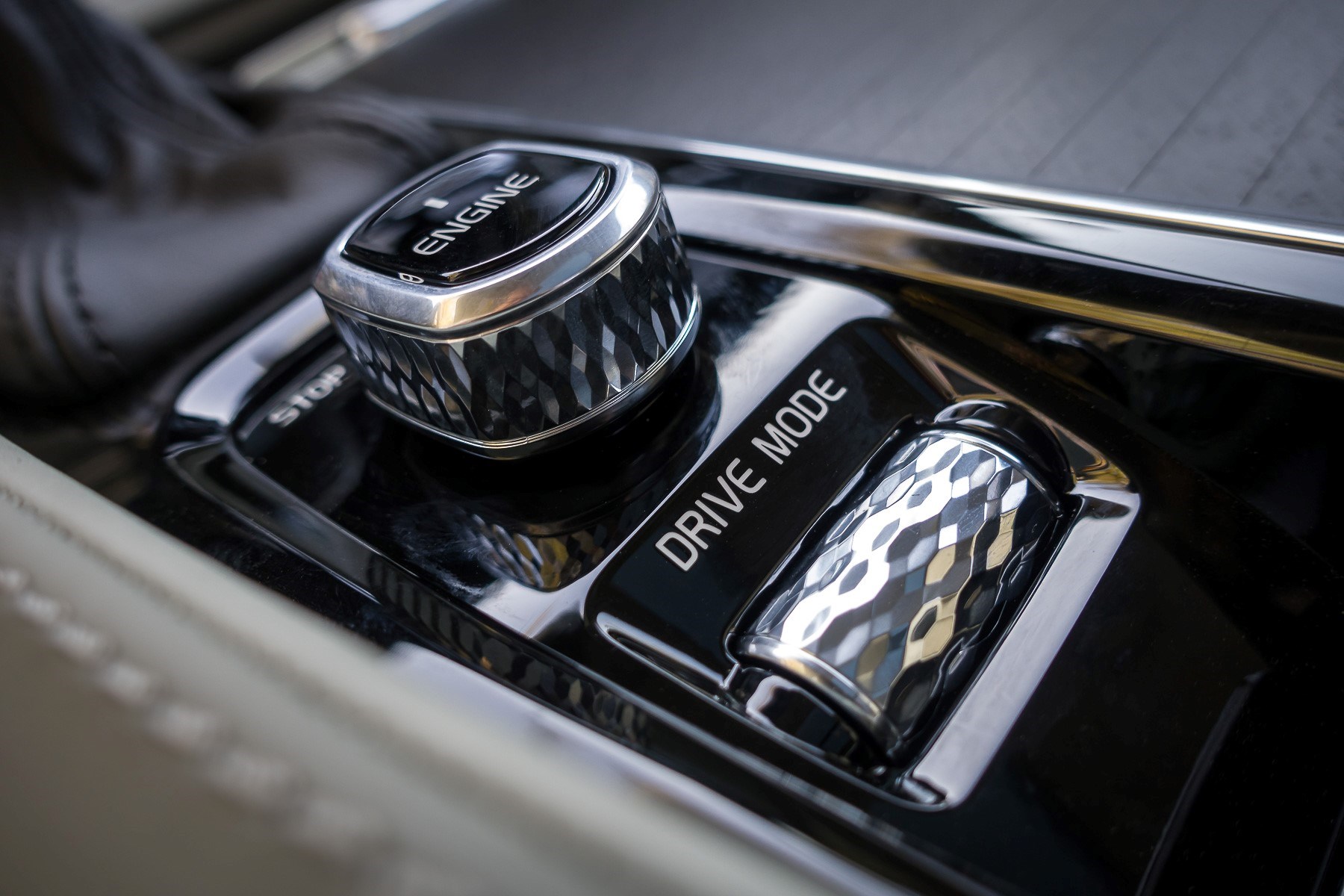 After sliding around muddy corners and blasting over dry roads leaving a trail of dust in our wake, we pulled into Wickenburg for a quick sandwich at The Local Press, a gourmet deli that serves excellent panini using fresh, natural ingredients.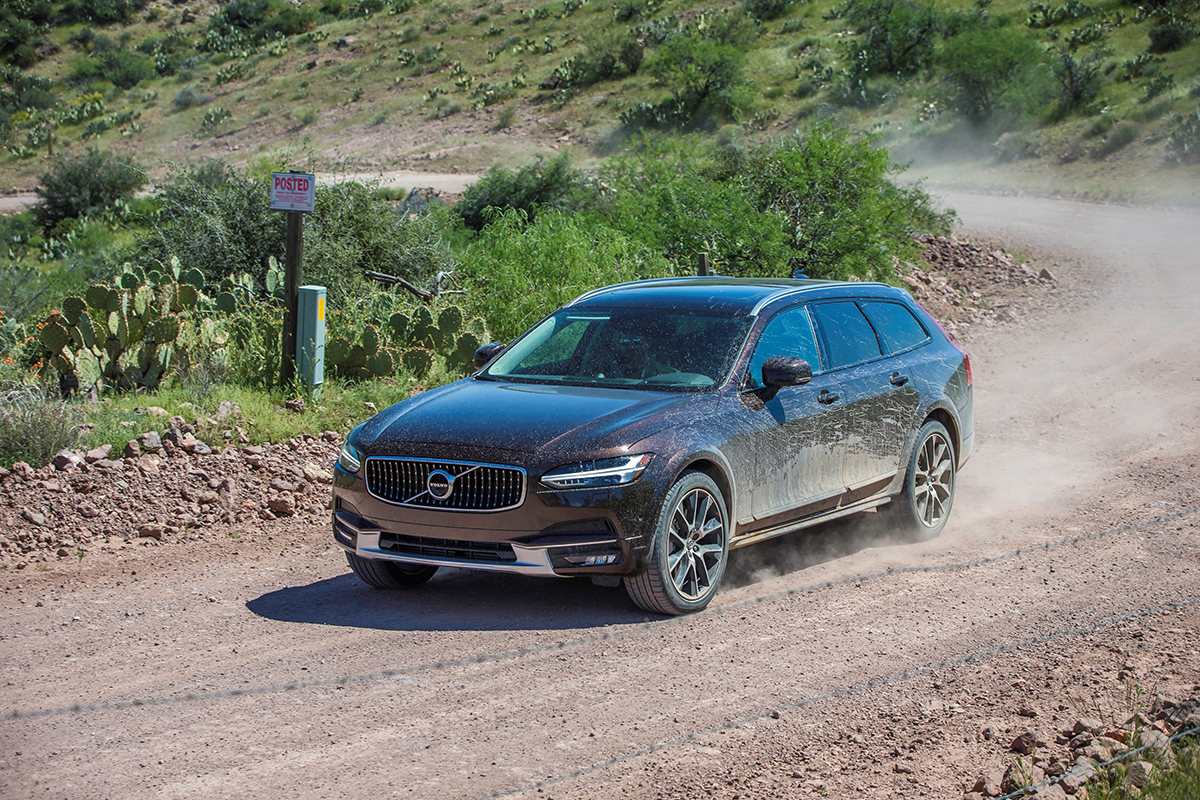 The last part of the drive was less dramatic than our trip out, opting for a four-lane to get a sense of the Volvo's highway manners. The result is exactly as you would expect – smooth, quiet, and composed. Even with the optional 21-inch wheels and tires there wasn't a lot of road noise and what little there was quickly became obscured by the excellent Bowers & Wilkins premium sound system.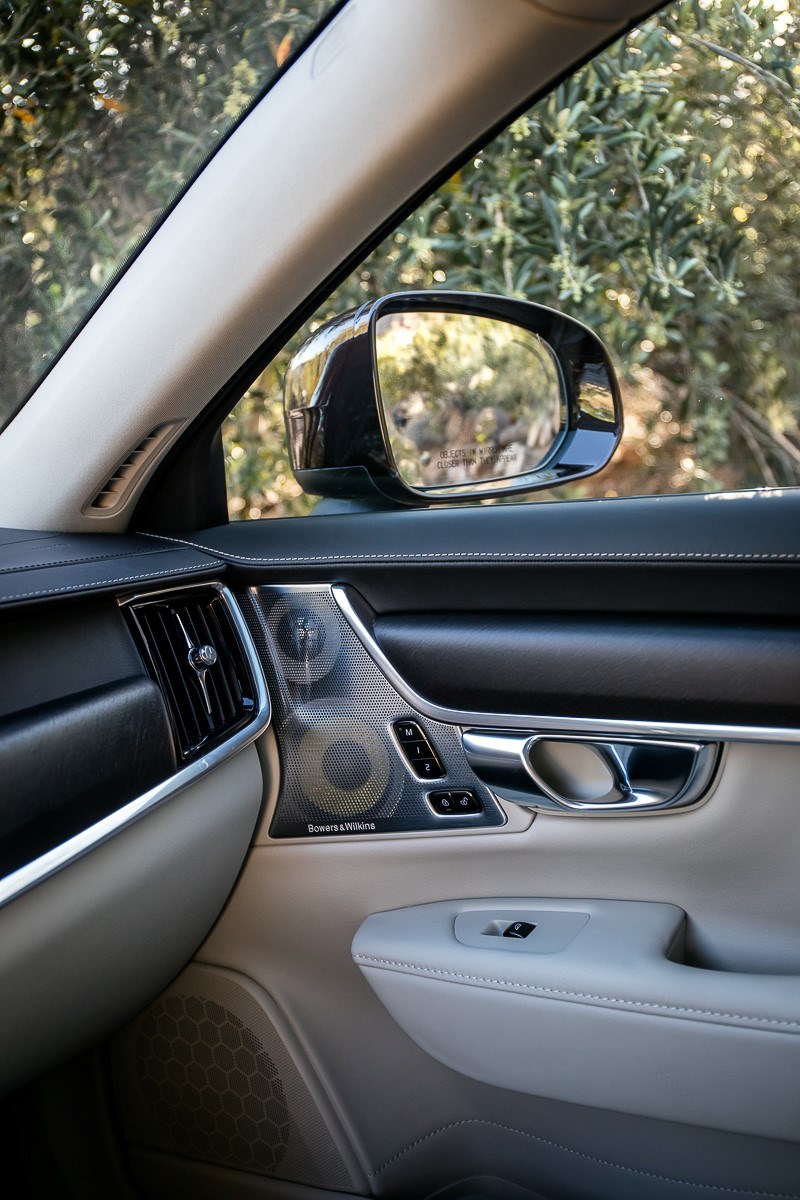 One of the other benefits of the V90 Cross Country for those who enjoy outdoor adventures is the low roof height. In addition to making the car look sporty, it has the benefit of putting your bikes, kayaks, skis, and other gear within easy reach. All in all it's a compelling package and one I prefer over a traditional SUV or high-waisted crossover. While the XC90 may have won a boatload of awards last year, for my money the V90 Cross Country is Volvo at its very best.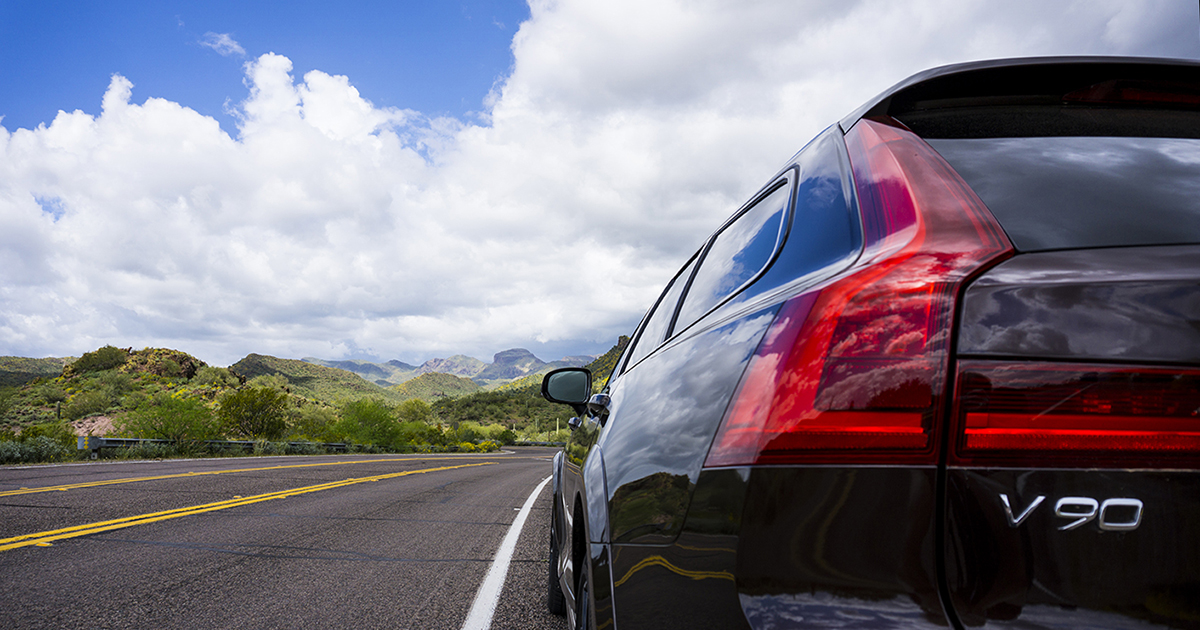 2017 Volvo V90 Cross Country T6 AWD
Four-door, five passenger, all-wheel drive sports wagon.
Base Price: $55,300
Price as tested: $72,425
Major Options: 21-inch, 7-spoke diamond cut wheels $3,715, Bowers & Wilkins sound system $3,200, Premium Air Suspension $1,200, Luxury Package includes front seats with power adjustable side support, cushion extension, and backrest massaging; power operated load cover, 4-zone climate control with glovebox cooling, leather on dash and both front and rear door panels, heated rear seats, rear sun curtains $4,500
Engine: 2.0 L inline four cylinder with turbocharging and supercharging
Transmission: 8-speed automatic with manual mode
Horsepower: 316 @ 5,700 RPM
Torque: 295 ft-lbs @ 2200-5400 rpm
0-60: 6.0 seconds
EPA MPG: 22 City, 30 Hwy, 25 Combined
While Genesis provided the vehicle and paid expenses on this trip, the opinions expressed in this article are ours alone.