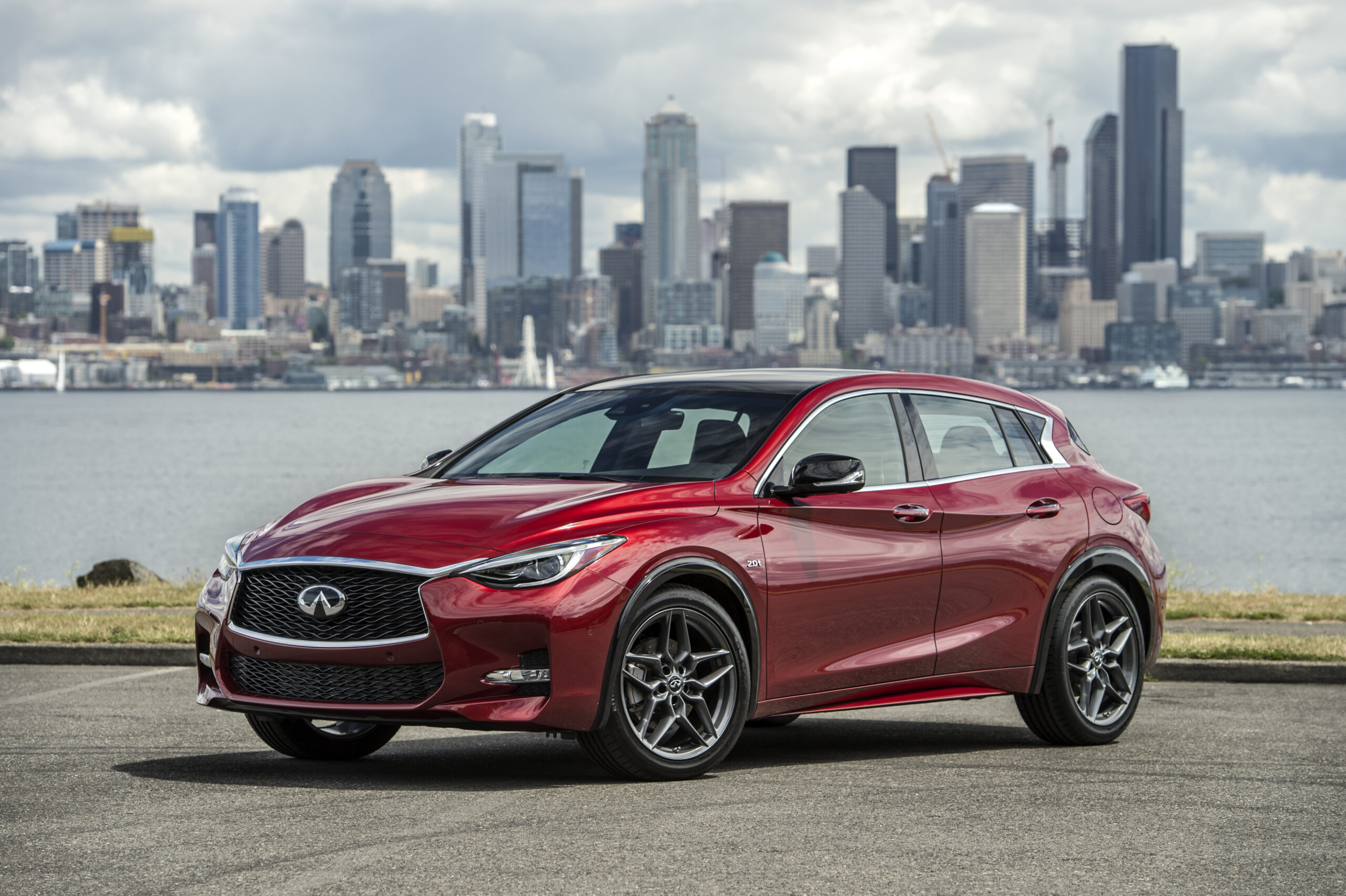 Saying the premium compact SUV category is crowded is like saying it rains a bit in Seattle where I was invited to spend the day driving the Infiniti QX30 compact crossover.
With the Acura RDX, Audi Q3, BMW X1, Buick Encore, Cadillac XT5, Lexus NX, Lincoln MKC and Mercedes-Benz GLA and Porsche Macan penciled into a lineup that's as formidable as the '27 Yankees' Murderer's Row, it's hard to see where Infiniti expects to find the volume for its newest model. This is not to say the Infiniti's QX30 isn't a very fine car. It's just going to be tough to find a Wally Pipp in this lineup for it to replace.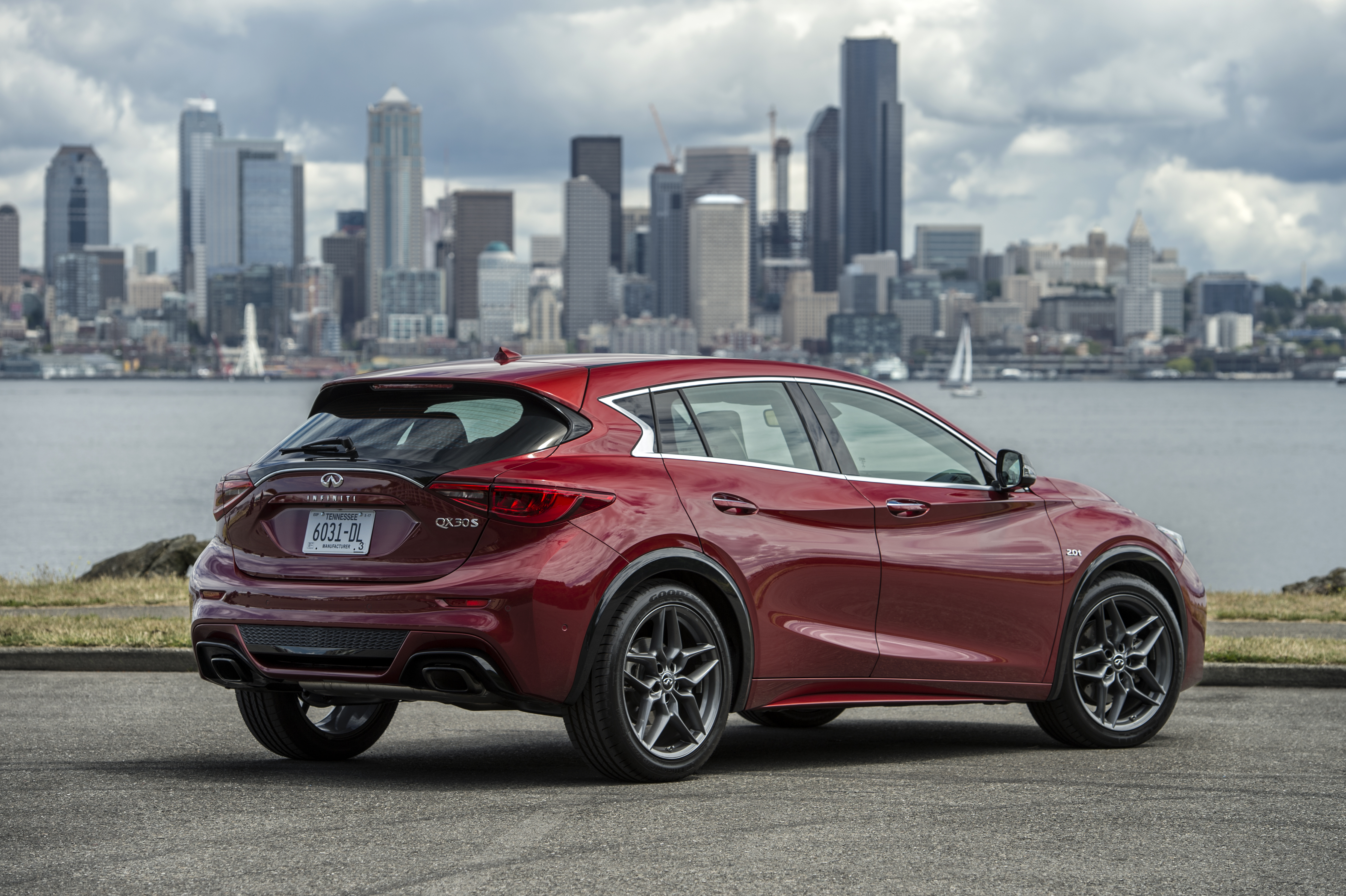 The Infiniti QX30 is the product of a unique partnership between Mercedes-Benz and Infiniti. They came together to co-design and engineer the GLA and QX30. The chassis, suspension, engine and transmission are shared, but tuned differently for each brand. Unlike most shared platform projects, however, these two cars are built in different factories with very different bodies and interiors.
Where the GLA leans toward luxury, the QX30 veers toward sport. Where the Mercedes feels more formal, the Infiniti is casual. Where the Mercedes is more classically styled, the Infiniti is avant-garde. My first exposure to the QX30 was at the Pebble Beach Concours d'Elegance a few years ago when Infiniti design director, Alfonso Albaisa, explained the design philosophy behind the concept and drew this sketch for me. "It's all about simplicity layered with romance and seduction. When I saw one of my designers draw these lines with their unusual tangents, I knew we had something special."

The result of this is a design that stands out in a category where everyone, even Lexus, is going to extremes to get noticed. The difference here is that 'different' actually looks good. Infiniti's double arch grille scales well on this vehicle. The top arch and sides of the grille resolve nicely into the headlight eyebrows which create a line on each side that flows to the rear quarter panel before tapering off into the taillamp. Add to that the raked windscreen and the athletic sculpting on the body panels and doors and you have a very handsome small crossover. I think it looks best in the S trim with its 19-inch wheels and 0.6 inch lower ride height. But, it doesn't look bad in the QX30 AWD model which rides a little more than an inch higher on its 18-inch wheels than the standard model.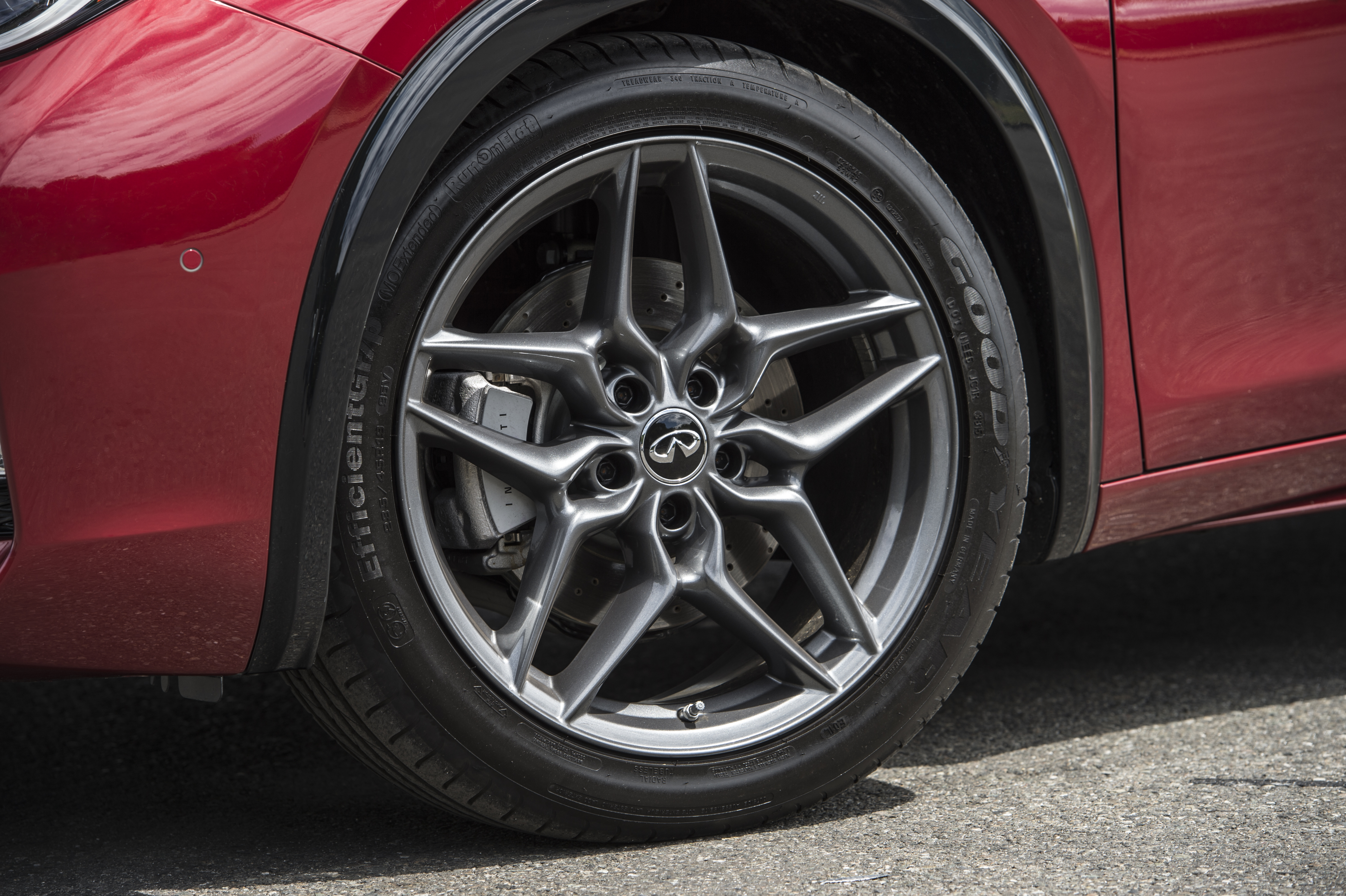 No matter which model you choose, you'll get the Mercedes-Benz designed 2.0 Liter, turbocharged four-cylinder engine which makes 208 horsepower and produces 258 lb.-ft. of torque. It's mated to a dual-clutch 7-speed transmission with paddle shifters and while this isn't Bentayga power, it will get you up to speed on any freeway entrance ramp with plenty of room to spare. It cruises comfortably at highway speeds and though the shifts are a little sluggish, it did acquit itself quite well on the hilly and twisty sections of the 101 that run along the western shore of Puget Sound.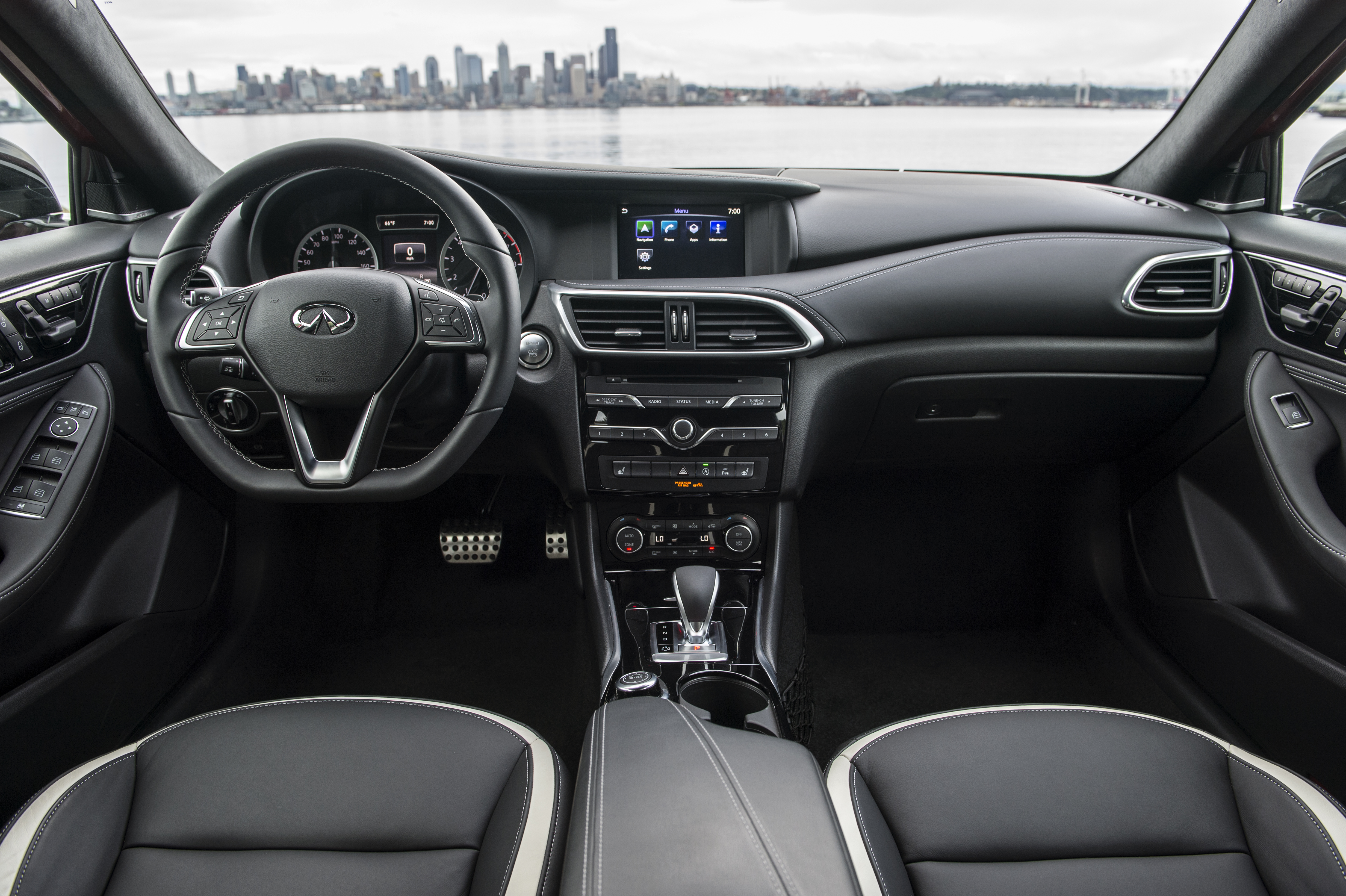 Inside the QX30 feels like the child of a blended family. The seat and window switches, shift lever and control stalks are pure Mercedes. But the seats, surfaces, and infotainment system are infused with Infiniti DNA. What you find is a comfortable, cozy and sporting interior that really feels like it was designed around the driver. The Nappa leather in my test car was soft and supple with nicely executed contrast stitching. Even the base QX30 seats and fabric are comfortable. These seats are new and Infiniti says they're designed to evenly distribute body pressure reducing fatigue by 30% compared to a typical seat. After eight hours in the car, I wouldn't call them the most comfortable seats I've ever enjoyed, but I was able to get out to the car and head right to our cocktail hour without needing a full-body massage. Overall the quality of fit and finish is quite good, with appropriate materials like wood and aluminum. This is Infiniti's entry-level vehicle however so any comparisons to the sumptuous QX80 Limited would only disappoint.
The QX30 is available with a full suite of technology options including forward collision warning and emergency braking, blind spot warning, lane departure warning, adaptive cruise control, active park assist, 360-degree camera and pedestrian warning. The biggest disappointment in the interior is the 7-inch touch screen for the InTouch entertainment system. It works well, but feels small, compromising the ability to read the map and other screens.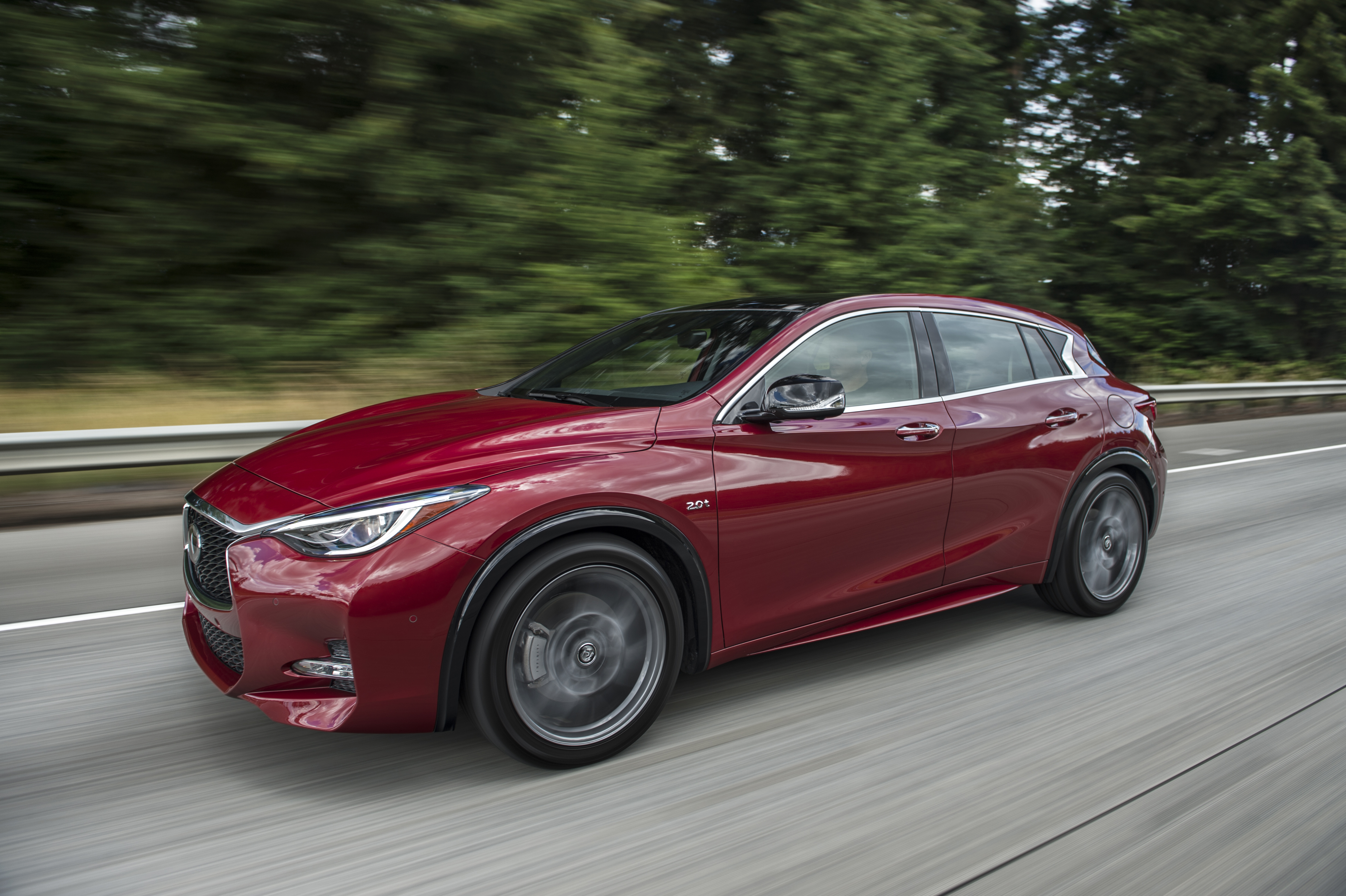 The base and sport version of the QX30 are are both front wheel drive vehicles and as such they're prone to a little understeer, but the McPherson front struts and multi-link rear suspension do a good job of keeping things balanced even when you're hustling along. The AWD QX30 is biased to front-wheel drive in normal conditions with the power vectoring more to 50/50 when the road surface is snowy, wet or otherwise compromised.
The QX30 isn't really an SUV even in All Wheel Drive trim. It's a crossover that's designed to take the place of a compact sedan, a mission it achieves quite well. The real question is does it fill that role better than any of the 9 other CUVs listed above. In my mind the QX30 is better than the Lexus, BMW, Mercedes-Benz and Buick. When you look at the price, the Porsche which I love, is in another stratosphere. The standard front wheel drive QX30 has a starting price of $29,950. A well-equipped QX30 Sport with a moonroof and navigation lists for $38,500, and a fully loaded QX30 AWD with leather, moonroof, LED lighting and a full technology suite is $42,750. Those prices are at the low to mid-range of its comparably equipped competitors which makes it an pretty good value.
So back to baseball, I'd call the QX30 a solid double. Great style, capable performance, plenty of comfort, and excellent utility. I'd definitely find a place for it in my starting lineup.
2017 Infiniti QX30 S
5-door, 5-passenger compact utility vehicle
Base Price: $29,950
Price as tested: $38,500
Engine: 2.0L four-cylinder, 16 valve, turbocharged engine
Transmission: 7-Speed dual clutch transmission with Paddle Shifters
Front Wheel Drive (all wheel drive available)
Horsepower: 208 @ 5500 rpm
Torque: 258 lb-ft. @ 1200 – 4000 rpm
Length: 174.2 inches
Weight: 4277 pounds
0-60 MPH: 6.5 seconds (est.)
Top Speed: 130 MPH (est.)
EPA MPG: TBA
While the manufacturer paid for travel expenses and provided the vehicles for this story, the opinions and recommendations in this post are 100% ours.