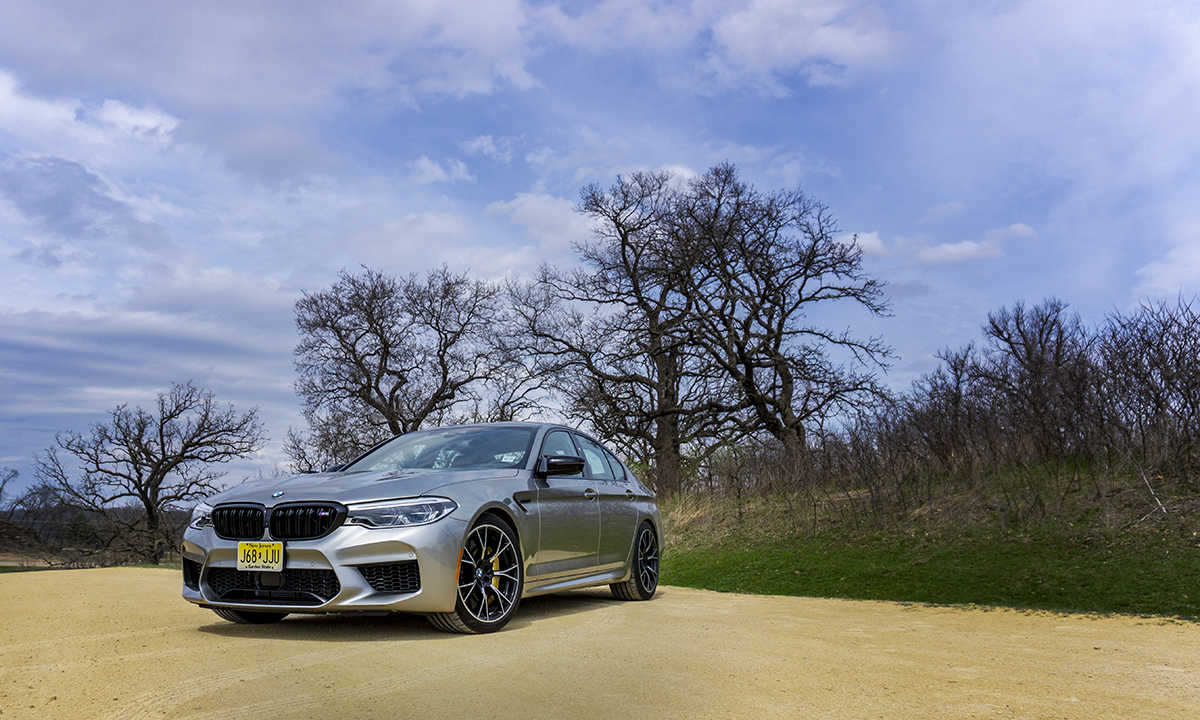 I've been having dreams – or maybe nightmares – about the BMW M5 ever since I drove it last spring at the BMW Performance Center West. Seeing tight corners coming at me faster and faster as I tried to stay within shouting distance of Bill Auberlen. To call the M5 a high performance sedan is like saying a Dita Von Teese is a burlesque dancer. Both statements are true, but they fail to capture how each have elevated their art.
So when the M5 Competition showed up on my schedule of weekly test cars, I had questions. How much more could the masters from Munich squeeze out of an already insane car? And more importantly for my week-long loan that wouldn't take me within a hundred miles of a racetrack, would it make the super sedan unlivable as a daily driver?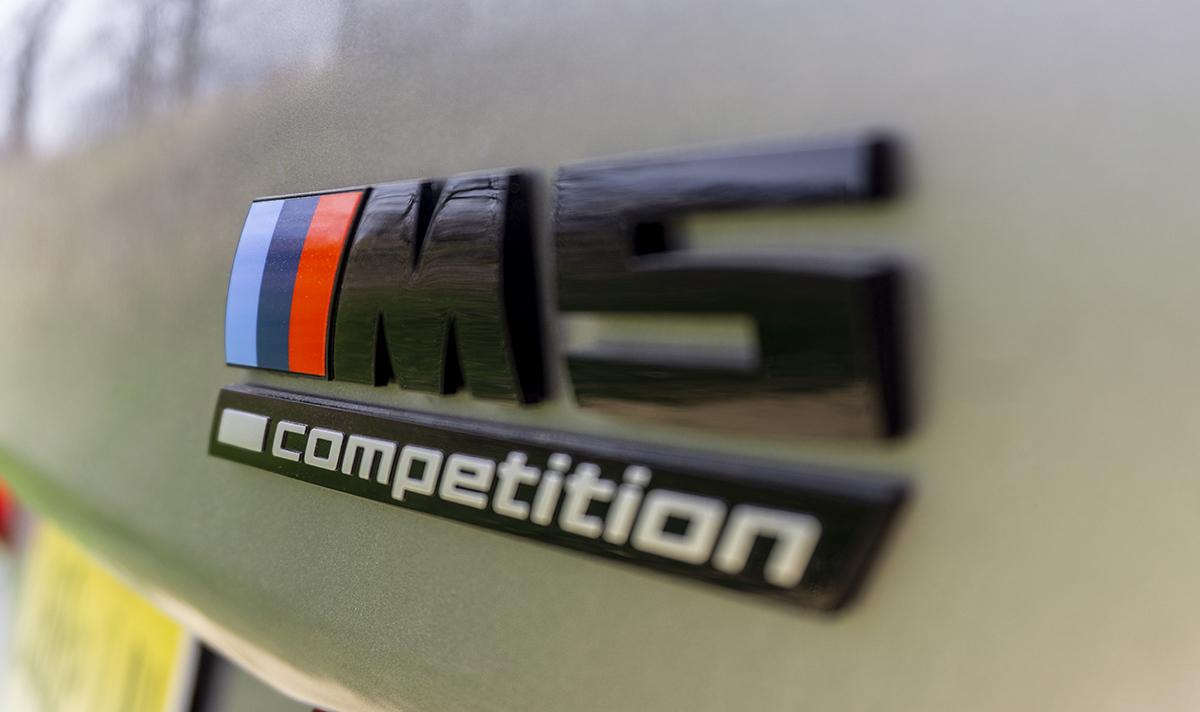 The M5 Competition differs from the garden variety M5 in many ways, some subtle, others not so. The exterior has additional badging, blacked out, glossy window trim, door handles, grill surrounds, and mirror caps. At the rear, black tailpipes, rear splitter, and lip spoiler hint at this M5's extra capabilities, but the added badging makes it perfectly clear.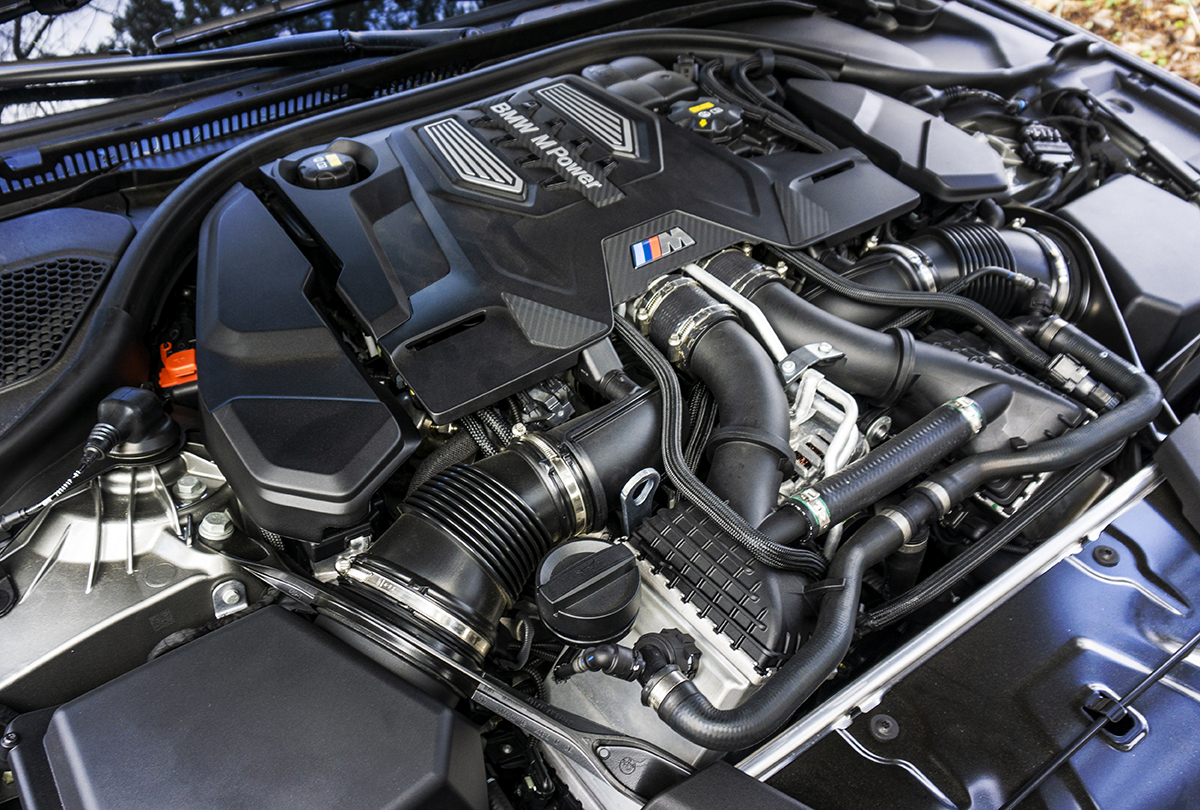 The 4.4-liter, twin-turbo V8 has been massaged to produce an additional 17 horsepower and deliver more torque at higher revs. The 8-speed automatic transmission and xDrive system were left pretty much unchanged. No matter which drive mode you're in, the M5 is in all-wheel drive unless you go deep into the iDrive. There you'll find a magic screen where you can put the M5 in rear wheel drive, but only after you disable all the electronic nannies. That means you're on your own, kids. No traction control and torque vectoring to step in and help you when you get out over your skis. Those talented and brave enough to enable this mode will enjoy it because even with meaty 285/35 ZR20 Pirelli P Zero PZ4 rear tires (it wears 275s up front), the M5 Competition is one mean drift machine. Don't ask me how I know.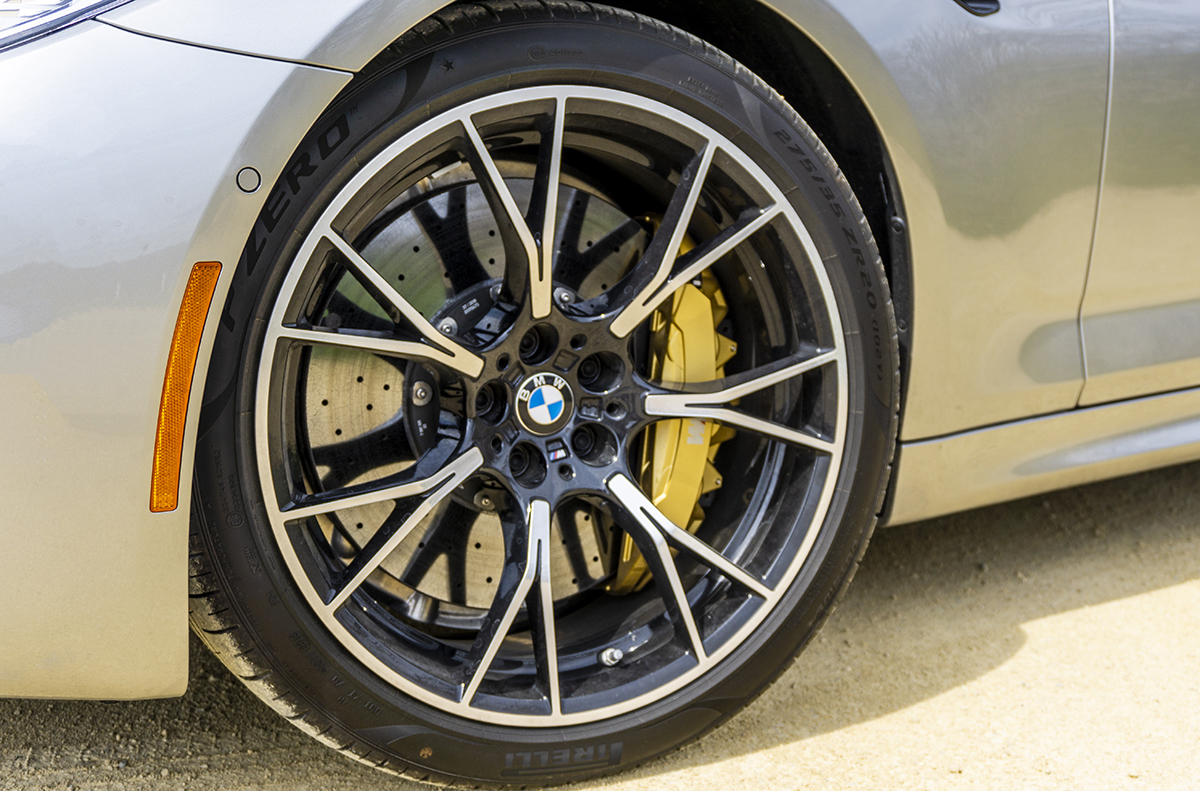 You can adjust throttle mapping and shift logic independently allowing you to fine tune the performance to your environment. Around town efficient throttle and shift are the way to go, allowing for smooth take offs from a stop. Sport mode ramps things up a bit and is fine for spirited driving on your favorite back road. Put it in Sport Plus, however, and the M5 Competition is more sensitive than a prom queen with a pimple. The Competition is quicker, but not appreciably so. 0-60 times according to our friends at Car and Driver are identical, and BMW claims it picks up three-tenths of a second in the quarter mile, covering the distance in just 10.8 seconds with a trap speed of 124 miles per hour. Top speed with the M Drivers Package is still 189 miles per hour. But when you're using the M5 Competition on public roads in Wisconsin, those numbers really aren't the important part of the story. It's the overall experience of the car that counts.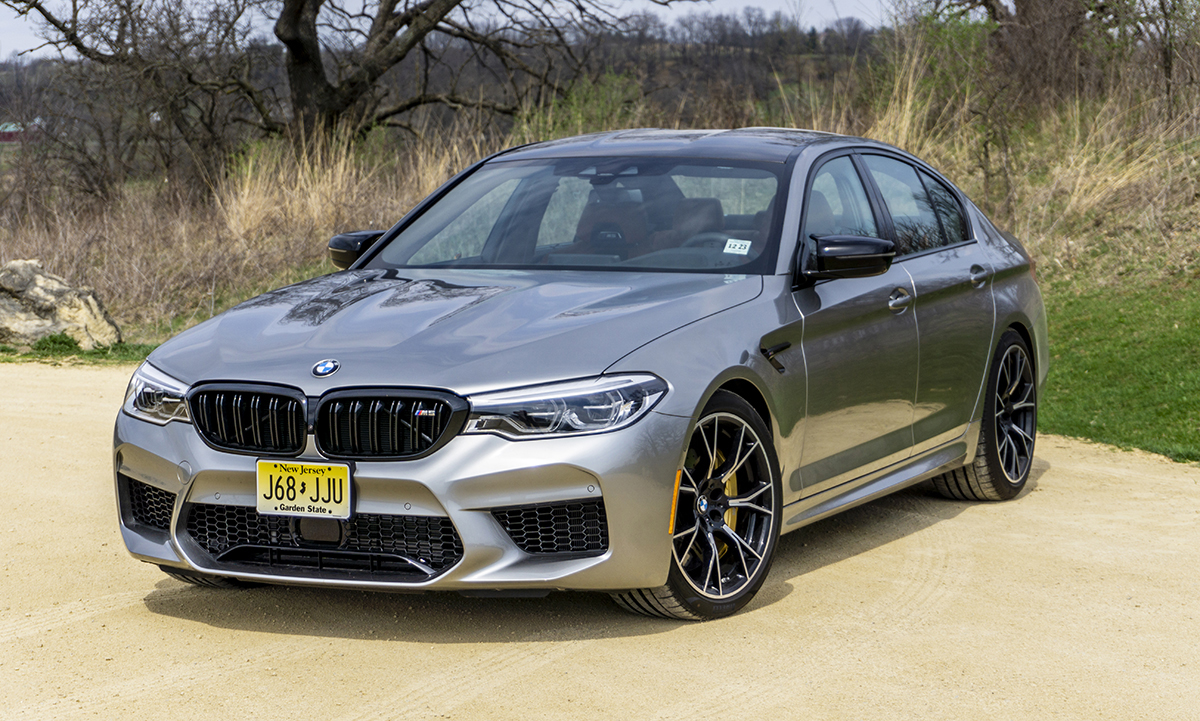 BMW has significantly reworked the M5's suspension in the Competition and every decision was made to improve handling regardless of its impact on ride. Springs are ten percent stiffer, the anti-roll bars have been beefed up, rubber rear toe link mounts have been swapped out with ball joints, and the ride has been lowered a seven millimeters (about three-tenths of an inch) meaning if you have a steep driveway, you have to approach it at an angle to keep from scraping the front lip. Of course the suspension is adjustable as well with three modes, Comfort, Sport, and Sport Plus, but "comfort" is a relative term here. The Marquis de Sade might find it soothing, for the rest of us it's tolerable.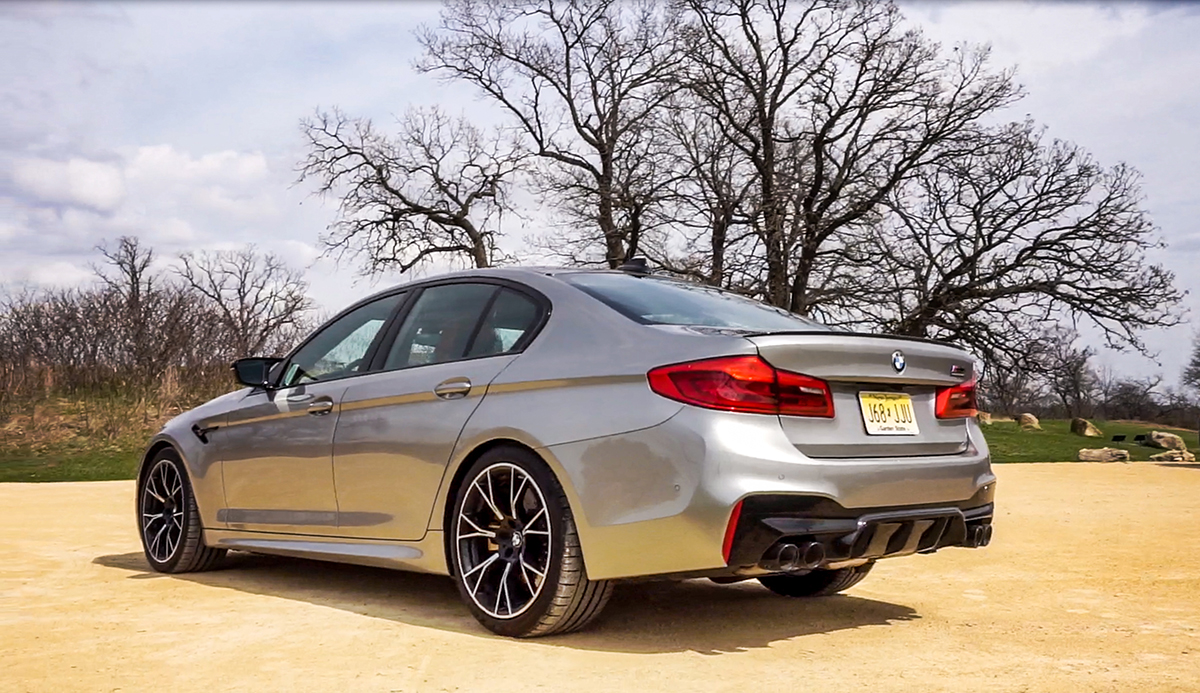 Drive it on your typical city or suburban streets and every the impact of crack and pothole you run over is seemingly transferred directly to your seat. It's not as stiff as an Alfa 4c, but unless you plan on taking the M5 Competition to the track on a regular basis, you'll be happier with a standard M5. For most of my driving I found myself in comfort mode for the suspension, sport plus mode for the steering (that's adjustable, too), and sport mode for the throttle and shift. The M5 always defaults to comfort mode across the board when you start it, but the red M1 and M2 paddles on the steering wheel can be preset so you can quickly set the car up to your preferences with just one click. I had one in my favorite around town mode, the other in full track position, including manual shift mode.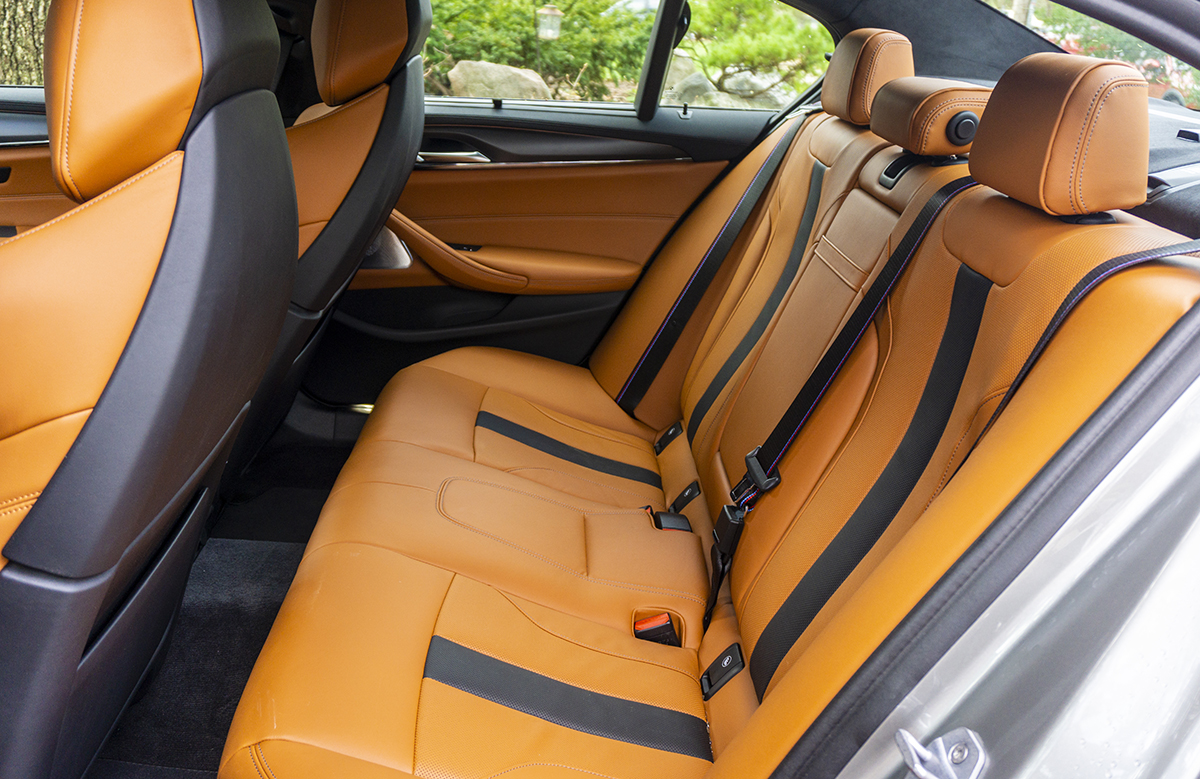 Out on the open road, the M5 Competition is a joy. Power is both effortless and endless. You'll end up using the adaptive cruise control just to keep yourself from driving at triple digit speeds, it gets there so quickly and confidently. Saturday morning a friend of mine and I loaded our golf clubs into the trunk of the M5 (because that's what middle-aged guys with a BMW do on a Saturday). Two fit just fine, but four would be tight. That's probably just as well, because even though the M5 is a midsize sedan, rear seat legroom is a also little tight for adults when the front seats are occupied by six-footers.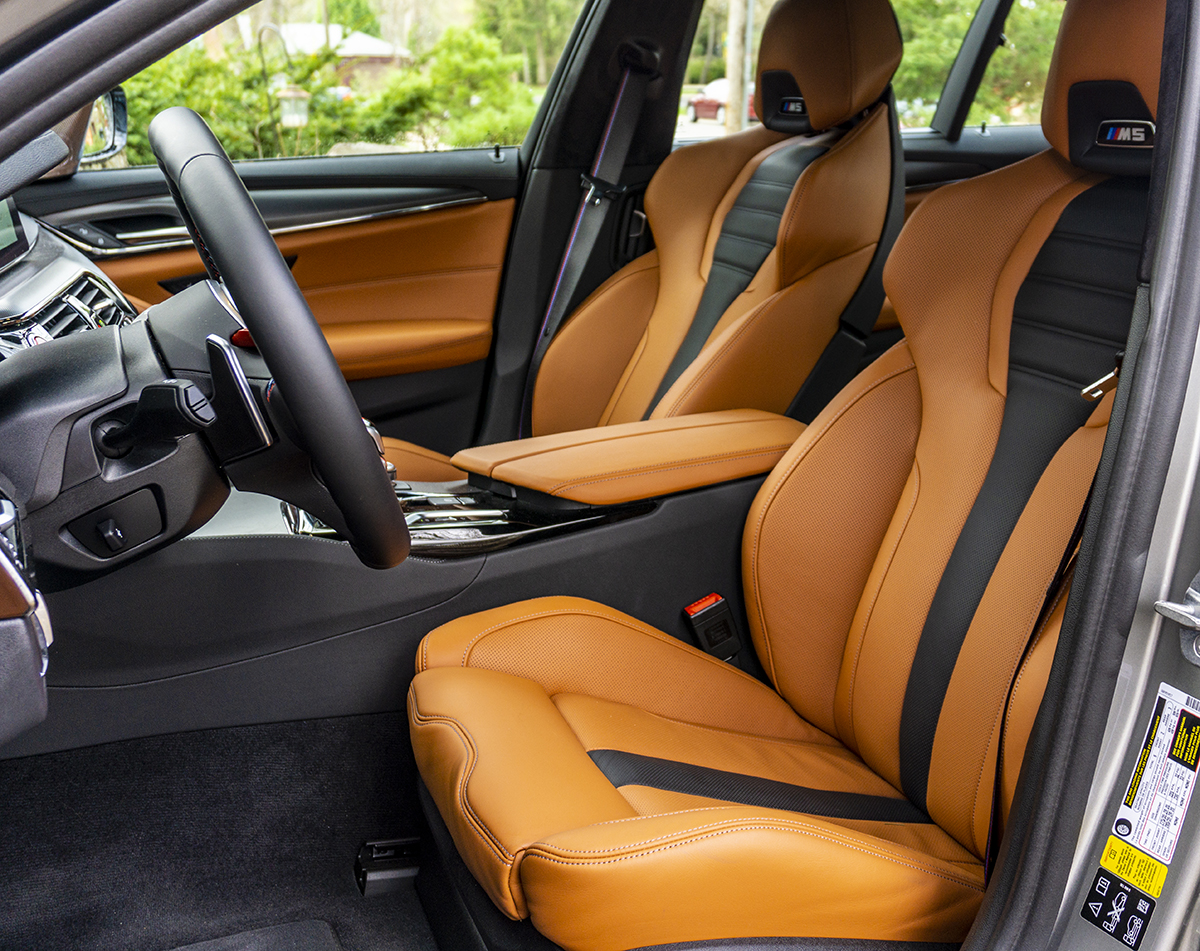 The sun was shining brightly when we hit the road for the 45-minute drive from Madison to Wisconsin Dells. The route is mostly divided four lane that winds through the hilly farmland of south central Wisconsin, traffic was light so we were able to stretch the M5's legs a bit when I could see far enough down the road to know I could slow to a reasonable speed if I spotted any, um, issues. That wouldn't take too long thanks to the carbon ceramic performance brake package. As when the throttle in Sport Plus mode, the M Performance brakes are extremely touchy at slow speeds making smooth stops something you do after some practice. On the track (or your favorite backroad), thanks to their prodigious stopping power you'll find yourself driving deeper into corners than you ever thought possible.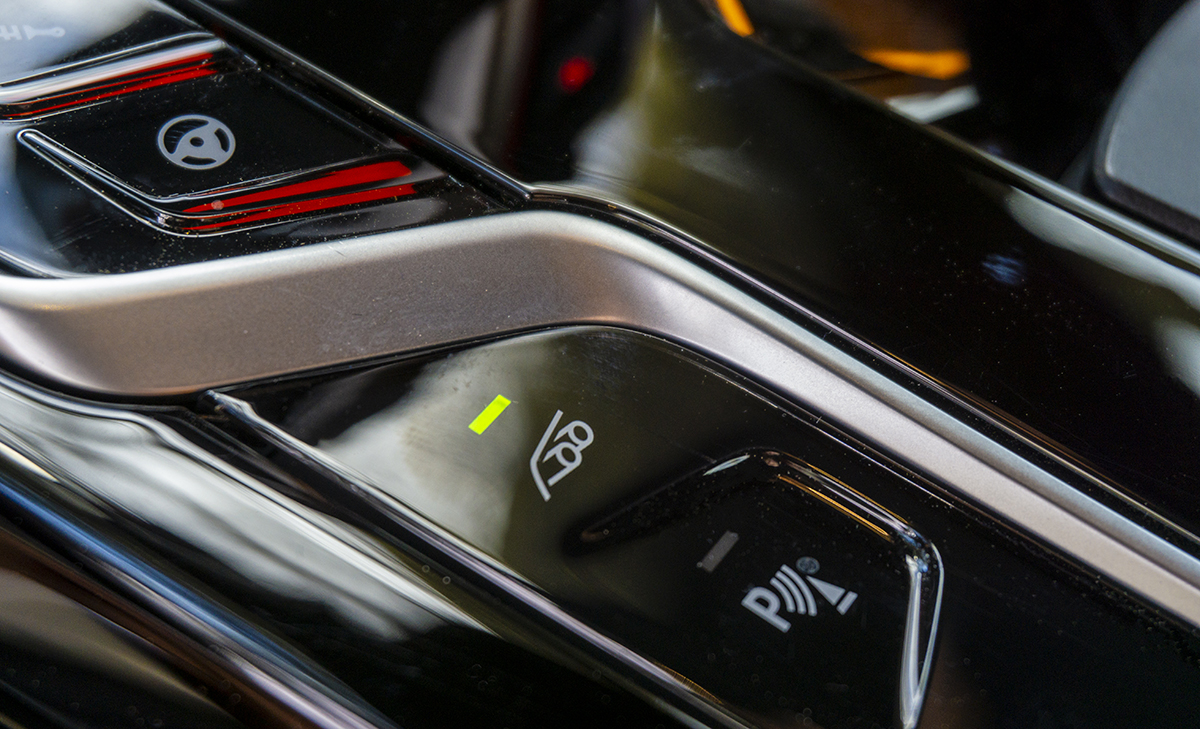 Switching the exhaust into performance mode opens things up to a satisfying growl. Unfortunately, like all BMWs these days, the M5 is so well insulated, natural exhaust tones have a hard time making it into the cabin. Thus it has been enhanced by piping recorded sound that's synced to the engine RPMs through the speakers. It's fine at first, but the more you're exposed to it, the less natural it sounds. Frankly, I could live without it. Driving around town with the windows open later on that beautiful spring day I was treated to a satisfying symphony by the mighty V8. I much prefer the real thing.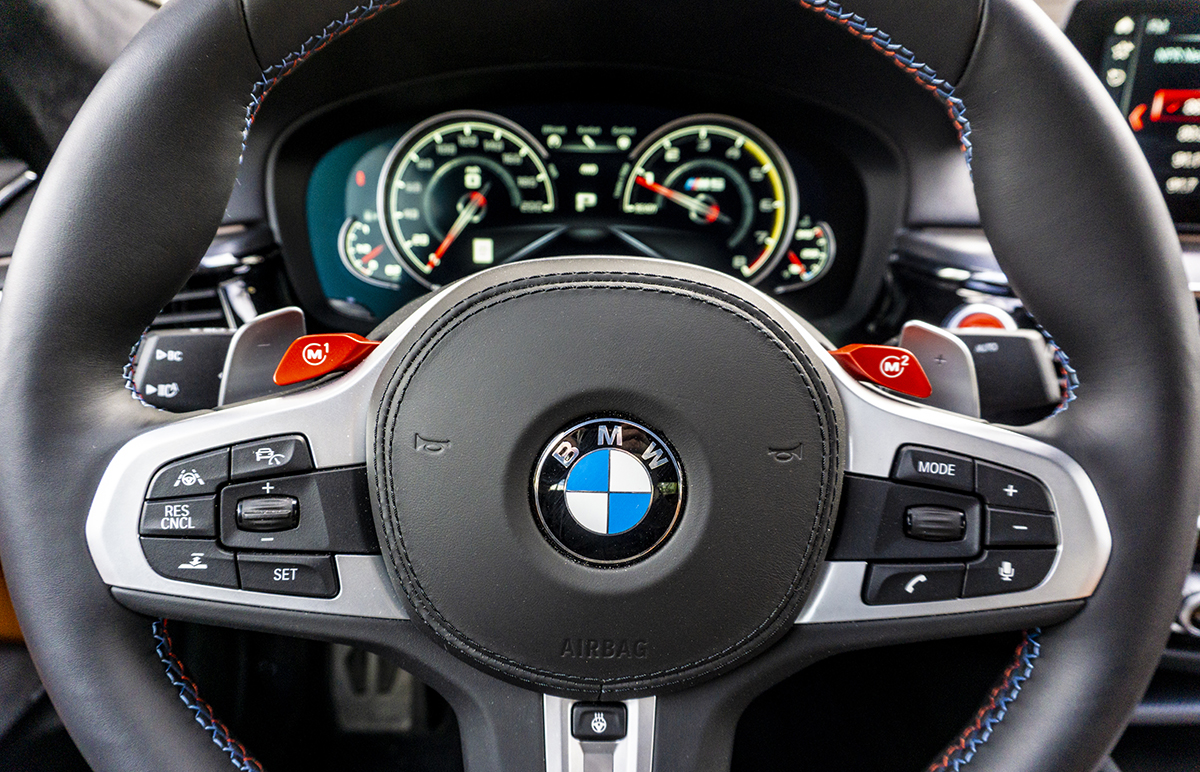 Inside there are a few subtle touches to let you know this is the Competition model of the M5. The startup screen displays a special graphic, while the seatbelts and floor mats sport piping in the BMW M colors. Otherwise you get the same interior I loved in the standard M5. My test car was loaded with both the tech and executive packages so every option you can imagine was included. The heated and ventilated leather performance seats were perfectly comfortable and the massage function greatly appreciated on the drive home after walking 18-holes. BMW's iDrive interface gets better with each generation. I've driven enough of them over the past few years that I'm very comfortable finding and using all its functions. Newcomers to the brand may need a while. Once you've got it, however, the richness of the information available is remarkable.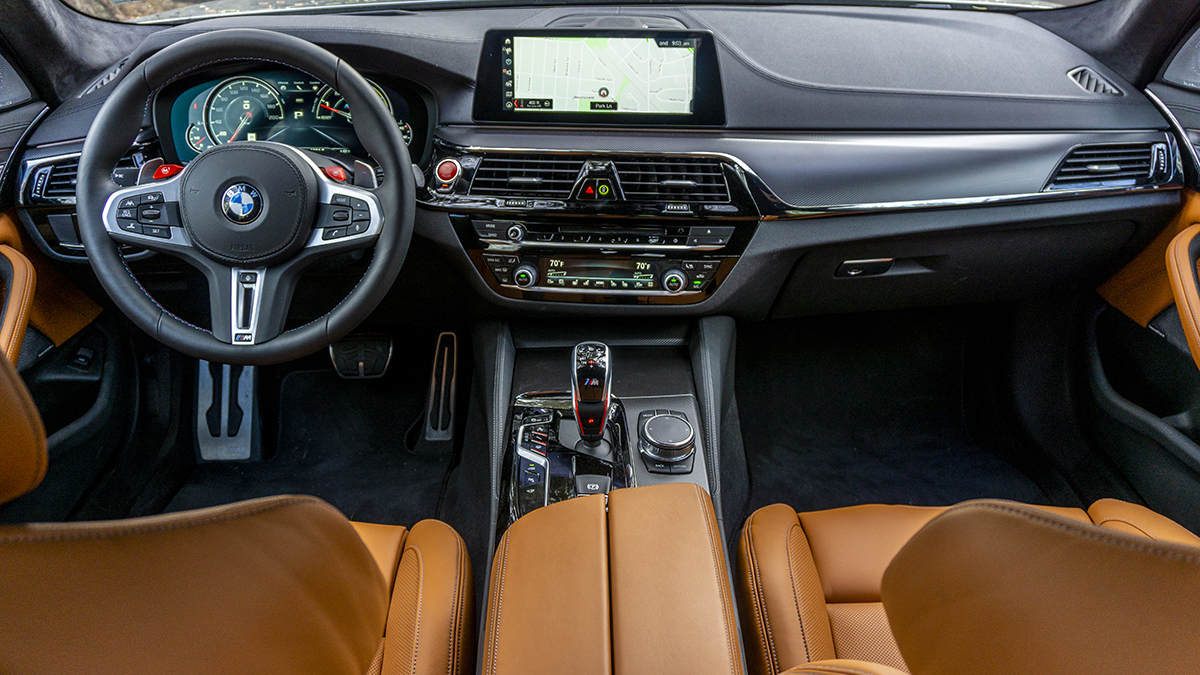 The M5 Competition is a rare car in that it can hold four people comfortably, get you to work in plenty of time for your partners meeting, carry your clubs to the club, and with the touch of a button be ready to rumble on any track in the country. If you're not planning on the latter, then stick to the standard M5, it'll do everything the Competition will on a daily basis, without having to have your chiropractor on speed dial.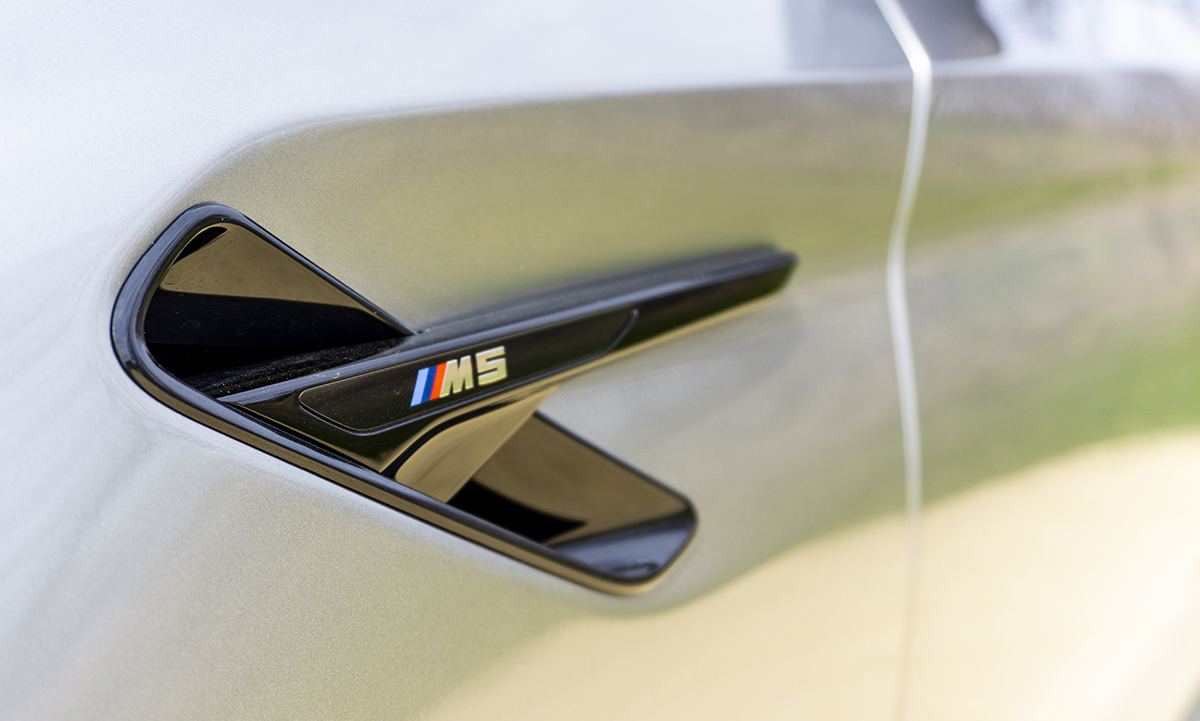 2019 BMW M5 Competition
Four-door, five-passenger ultra high-performance sedan
Base price: $110,000
Price as tested: $132,095
Major options: M carbon ceramic brakes ($8,500), Executive Package; wireless charging, active park assist, 4-zone climate control, heated front and rear seats, ventilated and massaging front seats, surround camera with 3D view ($4,000) Bowers & Wilkins Diamond audio ($3,400), M Driver's Package; top speed increase plus one day instruction at a BMW performance driving school ($2,500), Driver Assistance Plus; adaptive cruise control, late keep assist, lane centering, front and rear cross traffic alert ($1,700), Gas guzzler tax ($1,000), Destination and handling ($995)
Engine: 4.4-liter, twin-turbocharged V8
Transmission: 8-speed automatic with selectable drive modes and manual operation, xDrive all-wheel drive
Power: 617 HP @ 6,000 RPM
Torque: 553 lb.-ft. @ 1,800 – 5,860 RPM
Curb weight: 4,370 pounds
0-60 MPH: 2.8 seconds
Top speed: 189 MPH with M Drivers Package
EPA MPG: 14 city/21 highway
Fuel type: 93 octane recommended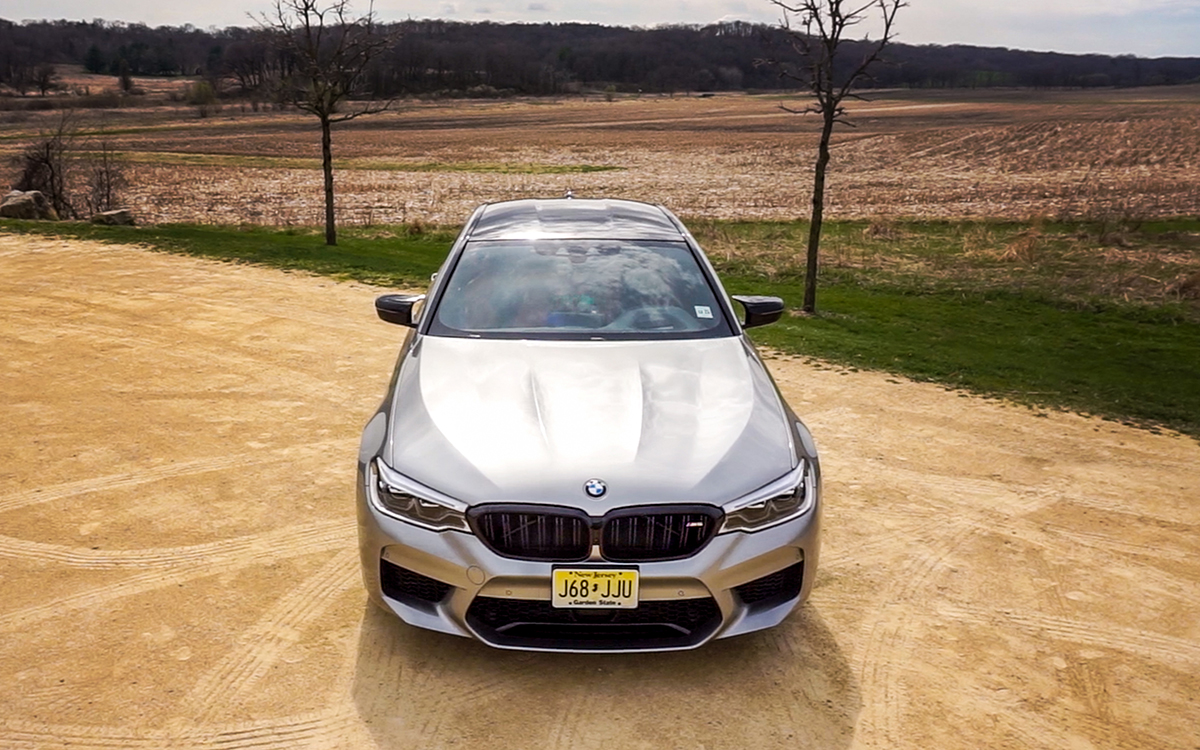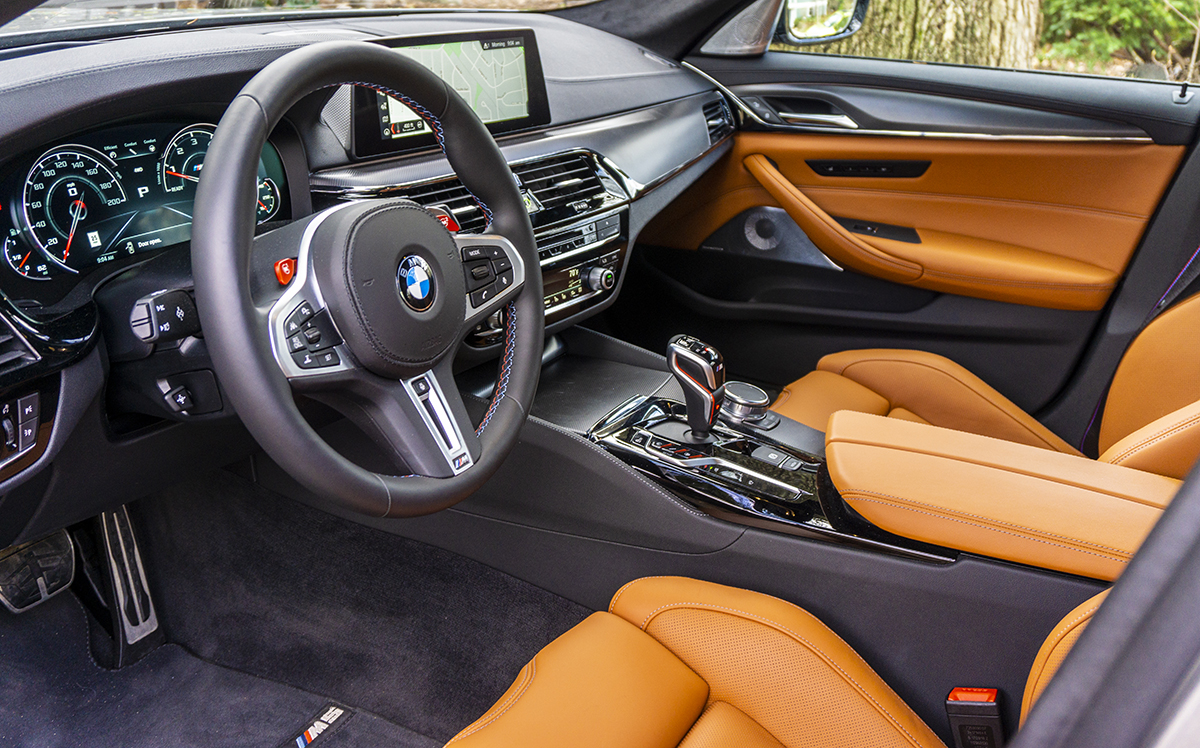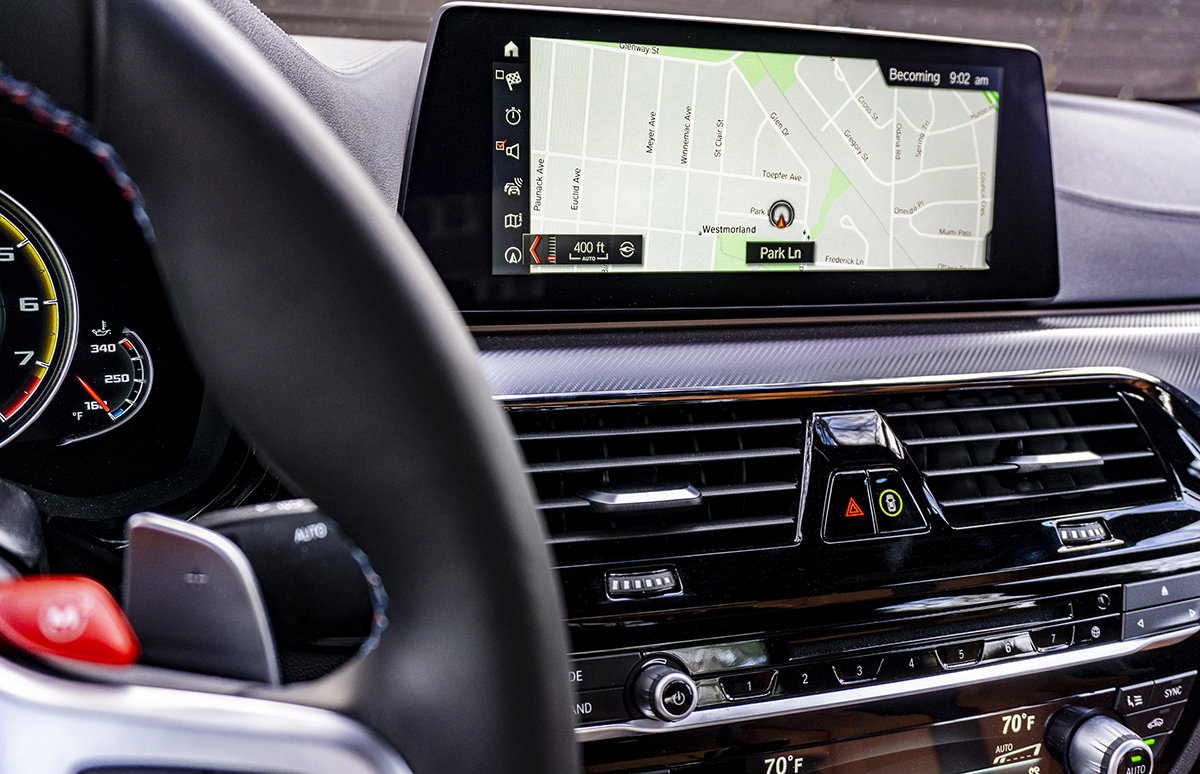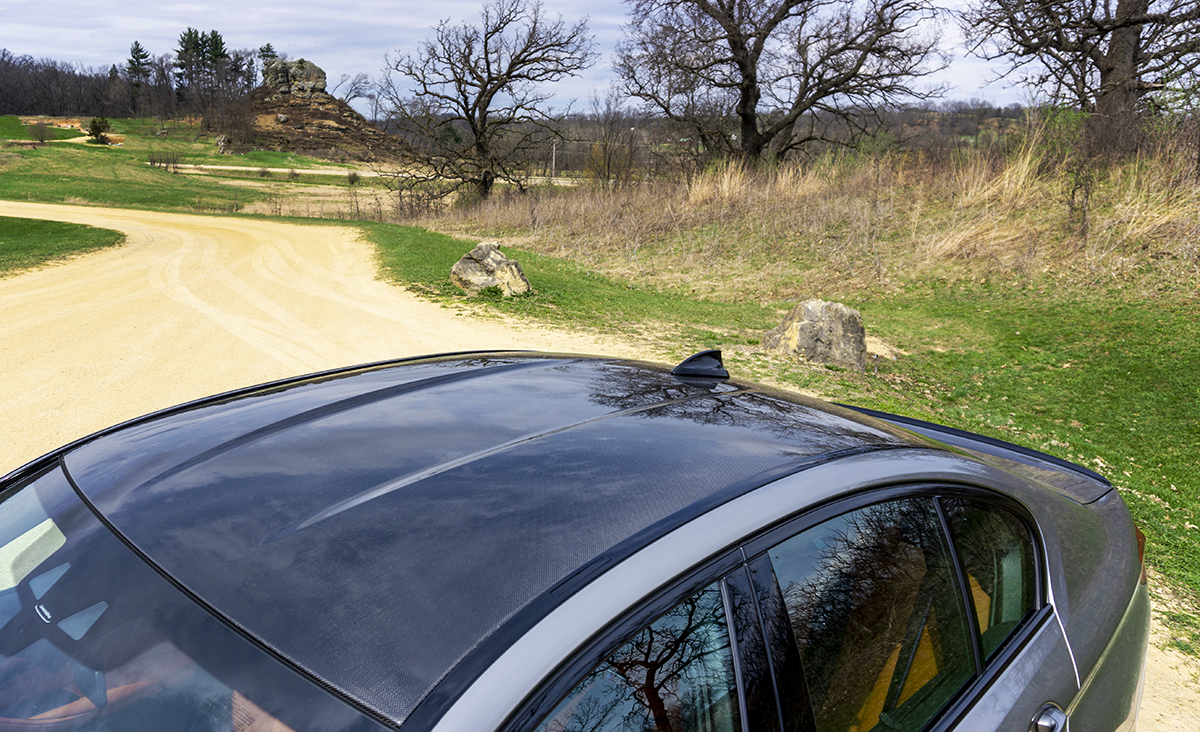 While BMW provided the vehicle and a full tank of gas for this review, the opinions in this post are unbiased and our own.