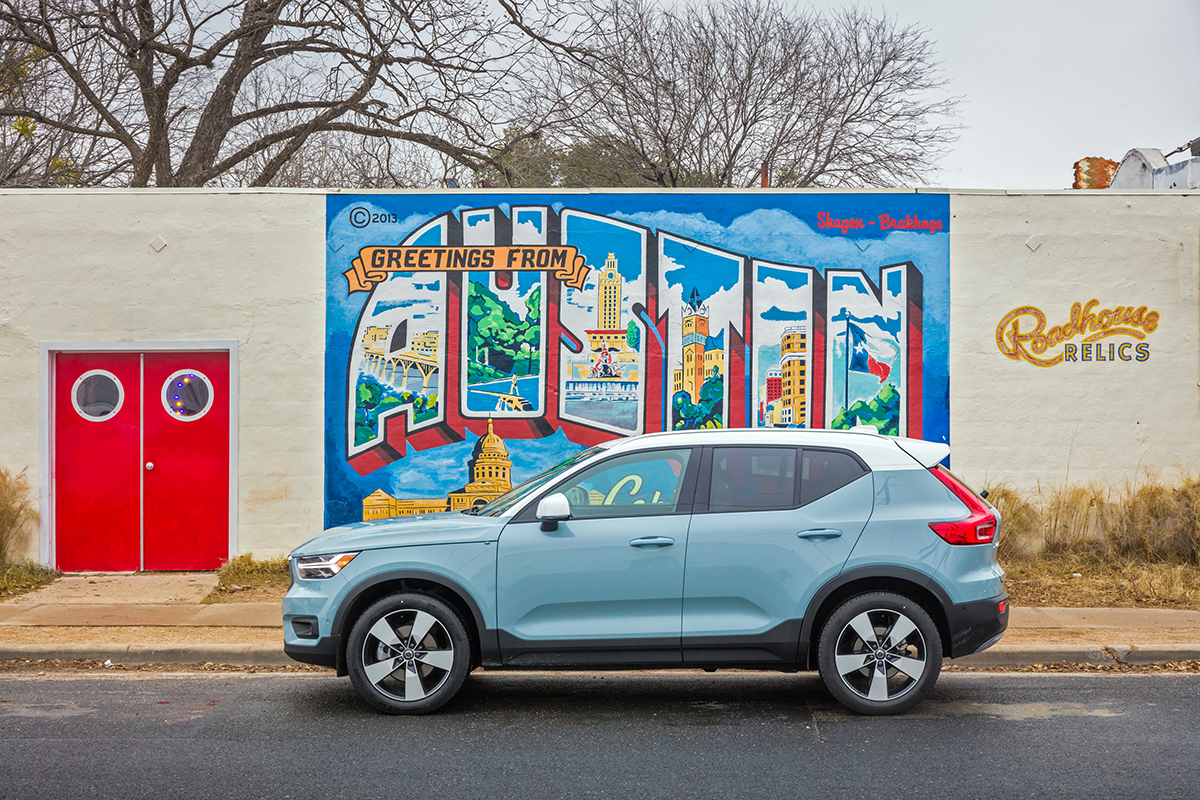 When I close my eyes and visualize the prototypical Volvo owner an image of a suburban New England mother always comes to mind. A woman who's looking or a car that's safe, practical, and relatively comfortable. Yeah, maybe I'm describing my mom and the 240 sedan she drove when we lived in New Canaan, Connecticut, but I'm pretty sure, I'm not too far off for most people.
So when I was invited to a press drive of the new Volvo XC40, I was surprised the destination was Austin, Texas, a town where keeping things weird is a cottage industry. I mean Volvo is the very epitome of conservative, safe, understated design. Austin, on the other hand, is the home of ironic tattoos, alt-country music, and designer facial hair. The two couldn't be more different than Swedes from Texans, oh wait.
It all came into focus, however, when my shuttle from the airport pulled into the Archer hotel in a brand new residential, restaurant, and retail community called Domain Northside. You know the kind of place I'm talking about, upscale condominiums ringing trendy shops and high concept restaurants, with a few open spaces for outdoor entertainment. They're popping up all over the country on the outskirts of major cities as young urban professionals (and Austin has a passel of them thanks to a booming tech industry) who aren't interested in owning a traditional home, start to settle down.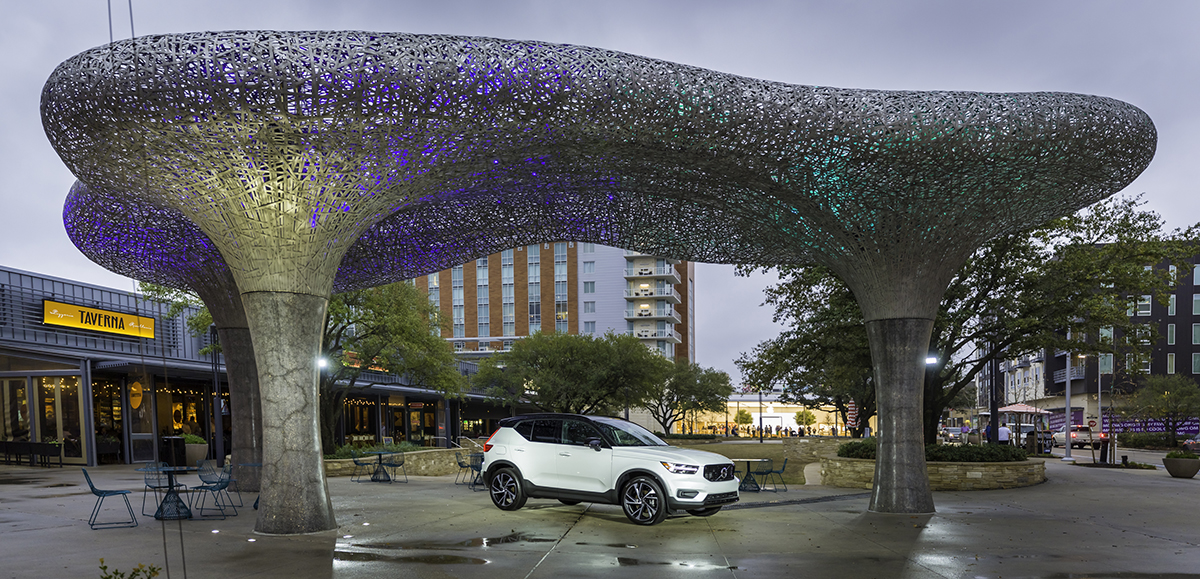 Domain Northside is clean, new, shiny, safe and gives off the impression of being unique. And that does a pretty good job of describing the Volvo XC40, the newest entrant into the burgeoning premium compact crossover segment. The smallest Volvo stands out not just from other vehicles in the category, but its larger cousins the XC90 and XC60, with an exterior design that is more playful and unique. The more boxy and upright shape, and available contrast roof color – white in Momentum trim, black in R-Design spec – create a less formal effect and should appeal to a crowd that's more interested in exploration and adventure.
What's under the skin, while clever, follows the luxe CUV playbook to a T. Leather seats with room for four people and a weekend's worth of gear? Check. Comprehensive integrated technology including the availability of all the requisite safety and driver assist functions? You got it. A couple of willing and relatively economical power plants? But of course. A great sounding, premium audio system? Yes, sir. And there's so much more, just as you'd find in a GLA, X1, and Q3. So what separates the XC40 from the crowd other than the way it looks? It boils down to one thing, the way Volvo has thought about the cabin. Specifically cabin storage.
There are purpose designed bins, pockets, and trays strategically placed throughout the front and rear seats. Volvo spent time with owners in this segment and one challenge they found was finding a place for everything in a small vehicle like this. People need room for their devices, coffee, food, backpacks, shopping bags, and all the other stuff we travel with. Everyone has center console storage, and door pockets in as a matter of course. Volvo took a step back and thought, beyond that, and figured out ways to make spending time in this car easier. The door pockets are tall enough to hold a full-size tablet or laptop. In back, the load floor folds up to create a divider that prevents grocery bags from tipping over. There's even a clever little hook that folds out from the glove box where you can hang a purse or take out bag, keeping them out from underfoot.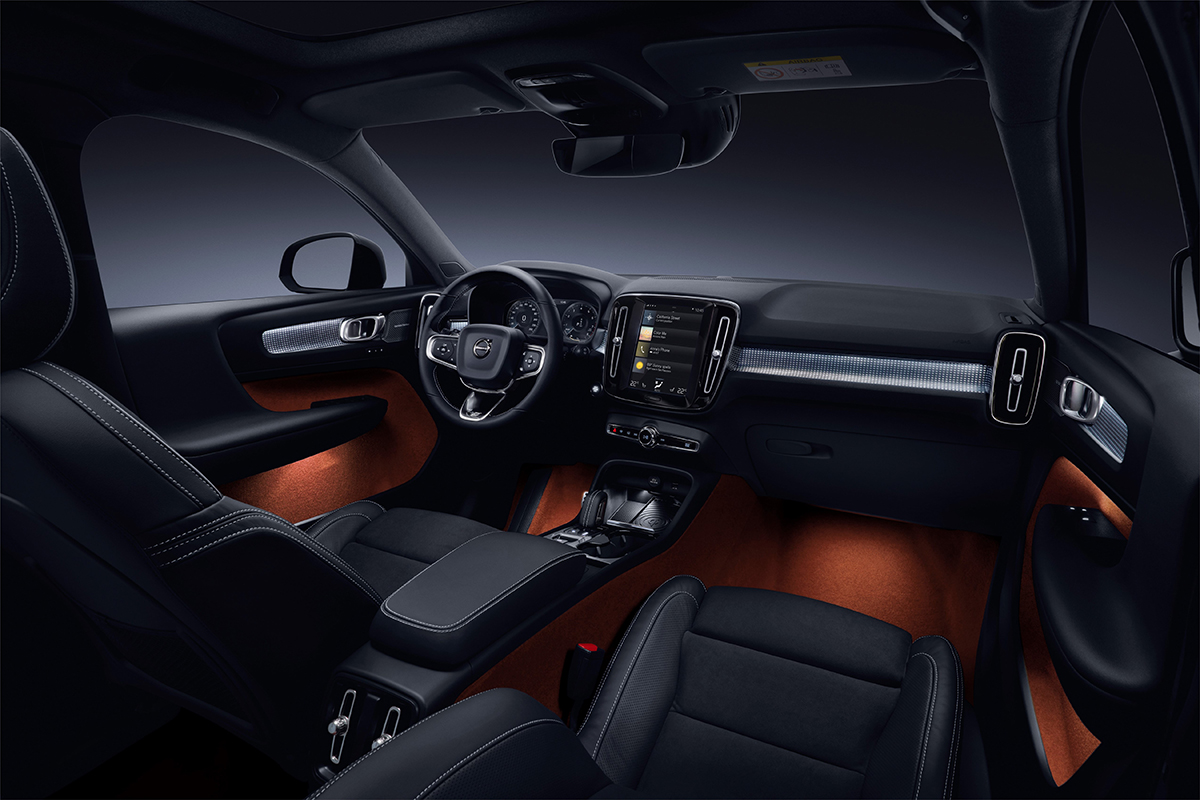 The driving experience is very much what you'd expect from a compact crossover with the Volvo badge on it. Handling is very confident and capable. The independent MacPherson strut front and multi-link rear suspension systems are tuned to be taut, but not uncomfortably so. Even on some rough patches of Texas country pavement, they did a nice job of isolating the cabin from the imperfections. In the corners, body roll was quite minimal for a high bodied vehicle. Steering is direct, though like most electric power assist units not particularly communicative. But then again, you don't buy a compact crossover to drive like the Stig. (Not the one you're thinking of, this one.)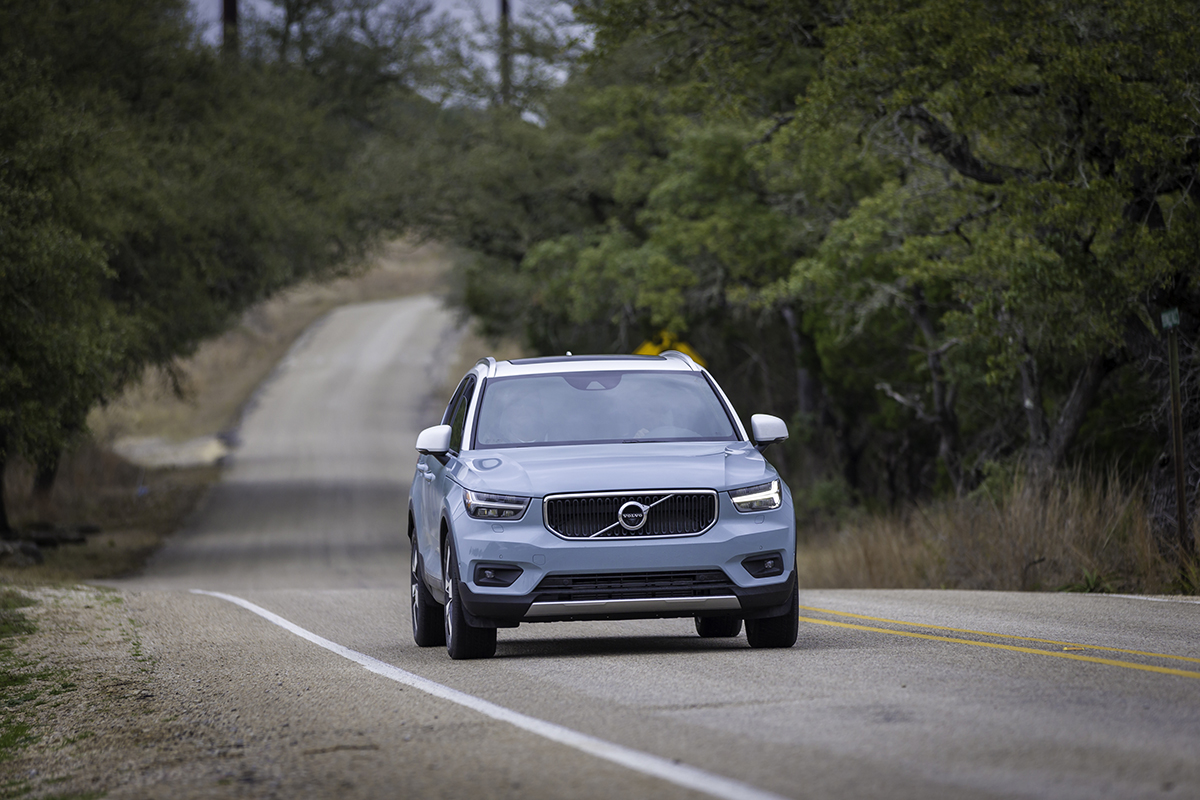 The XC40's T5 engine makes a best-in-class 248 horsepower and 258 pound-feet of torque, but it doesn't feel particularly quick, scooting to 60 in just over 6 seconds. That's enough to get you up to speed on any interstate entrance ramp, but it is only mid-pack for the segment. At highway speeds, the turbocharged 2.0-liter inline four-cylinder engine hums along providing what drivers in the segment want, power that's smooth and quiet. Put it in dynamic mode and things get a little more interesting, but you'll never confuse the XC40 for something with an AMG or M logo on it.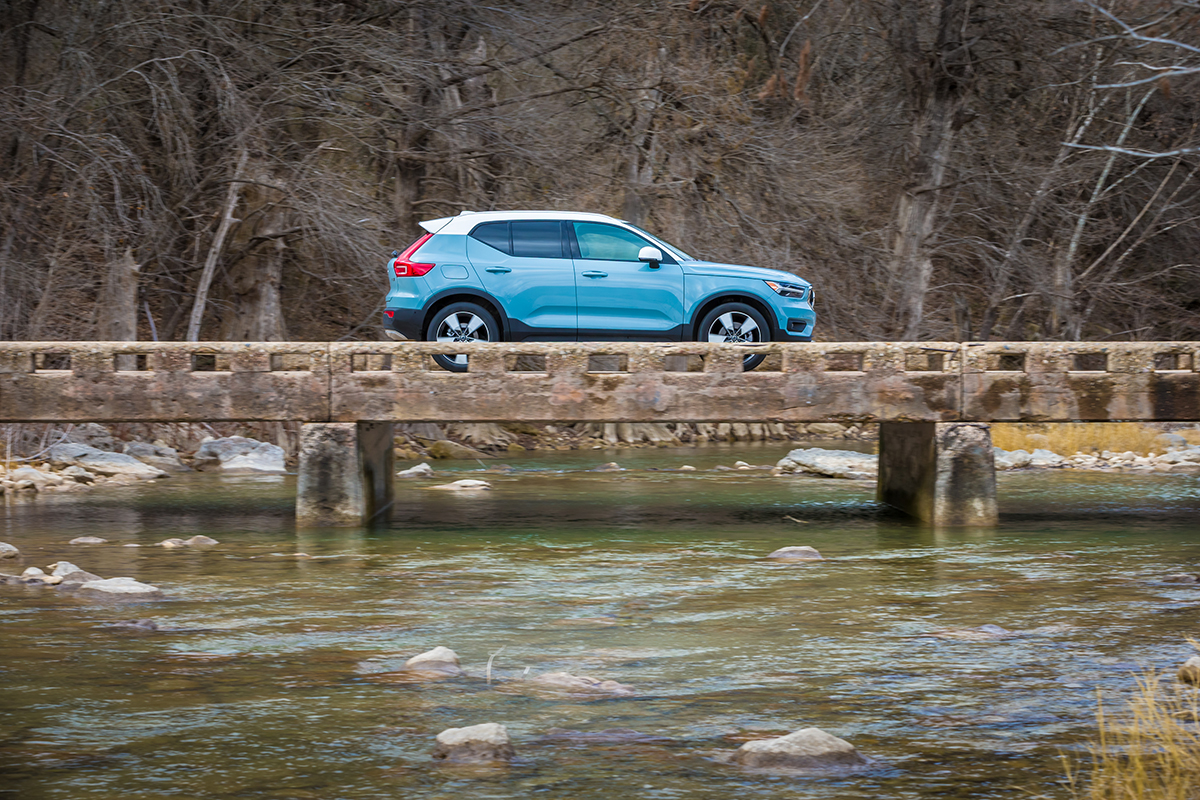 Pricing for the XC40 is right in line with other Euro CUVs. It starts at $34,195 (including destination) for a front-wheel-drive T4 Momentum model. Check all the boxes on the T5 R-Design and you'll eclipse $45,000. Volvo has promised a top-of-the-line Inscription model later this year, and if pricing holds true to form with their other models you can expect a $500 to $1,000 premium for the extra luxury. Volvo offers an alternative ownership option beyond buying or leasing, a two-year subscription plan called "Care By Volvo." This differs from a traditional lease in that your monthly payment includes everything except fuel. Insurance, maintenance, and exclusive concierge services are rolled into one monthly payment – $600 for a well-equipped T5 AWD Momentum and $700 for a fully-loaded T5 AWD R -Design. You're limited to 15,000 miles per year, and you can upgrade your car after 12 months if you want. It's an interesting option, similar today's mobile phone plans, and one that we're starting to see other manufacturers exploring.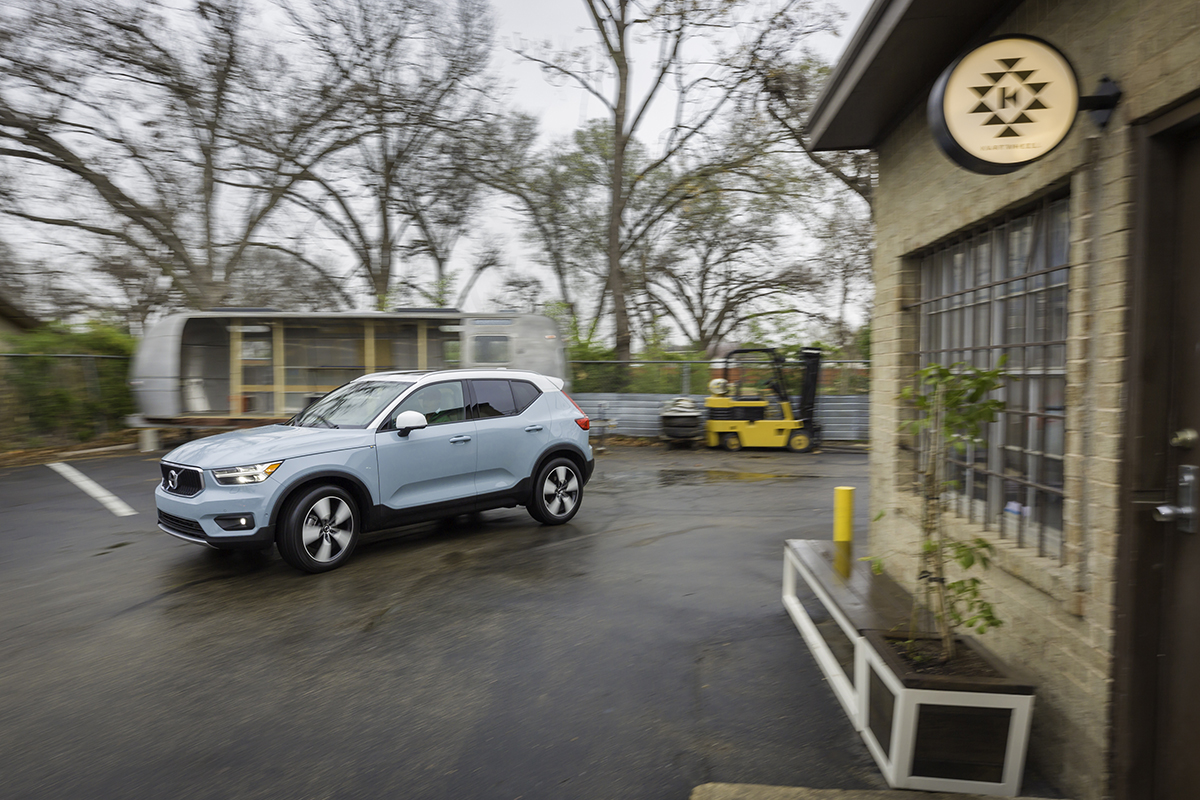 So as different as the 2019 Volvo XC40 appears from its competition, there's not a lot of separation when it comes to comfort, performance, or price. That means your decision to buy one hinges on whether you prefer your luxury CUV with a German or Swedish accent. And that's as good a reason as any.
2019 Volvo XC40 T5 R-Design
Five-passenger, four-door, compact utility vehicle
Base price: $37,700
Price as tested: $47,815
Major Options: 21" 5-Triple Open Spoke Black Diamond Cut Alloy Wheels w/Summer Performance Tires ($2,680); Premium Package: Pilot Assist – Semi-Autonomous Drive System w/Adaptive Cruise Control, Storage Box With Lid Under Driver Seat Cushion
Power Child Locks (Rear Doors), Heated Washer Nozzles, Foldable Cargo Floor, Storage/Grocery Bags, Inductive Charging For Smart Phone, Power Folding Rear Backrest From Tailgate Opening + Power Headrests ($900); Advanced Package: Visual Park Assist + 360° Camera, Active Bending Lights, Headlight High Pressure Cleaning ($995); Vision Package: Park Assist Pilot + Front and Rear Park Assist, Power Retractable Rear View Mirrors, Blind Spot Information System and Cross Traffic Alert, Auto Dimming Exterior & Interior Mirrors ($1,100); Heated Front Seats/Heated Steering Wheel Package ($750); Harman Kardon Premium Sound ($800); Laminated Panoramic Moonroof ($1,200)
Engine: 2.0 Liter, all-aluminum, turbocharged inline 4-cylinder engine
Transmission: 8-speed automatic transmission with paddle shifters
Power: 248 HP
Torque: 258 lb.-ft.
Curb weight: 3,629 lbs.
0-60 MPH: 6.2 seconds
EPA MPG: 23 City, 31 Highway
While the manufacturer paid for travel expenses and provided the vehicles for this story, the opinions and recommendations in this story are 100% ours.