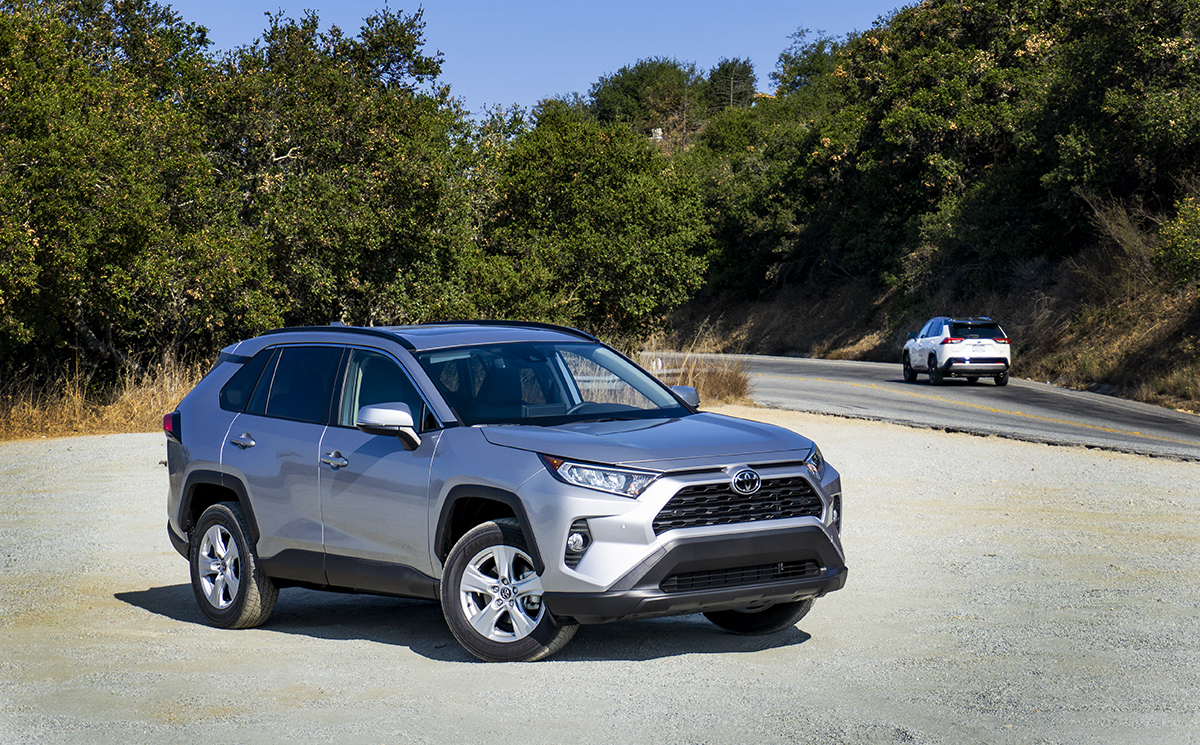 Back in 1996 when the Toyota RAV4 first hit the streets in the United States, there was some confusion. Was it a car or a truck? When my friend, Phil Berg, at Car and Driver posed that question to Toyota executives at the time, their answer was, "If you can sell fruit out of the back, then it's a truck." The original RAV4 was definitely more truck than car. It rode high, with larger wheels, a springy (though sophisticated) independent suspension, and the relative simplicity one expects to find in a truck. But that's not exactly how buyers saw it.
As the charms of RAV4 – lots of cargo space, all-weather confidence, room for four adults, the ability to take a shortcut through your neighbor's back yard – became more evident, it began to steal drivers away from the ubiquitous small and midsize sedans filling suburban parking lots across the country. In fact, if you're looking for someone to blame for the infestation of compact SUVs on America's roads, RAV4 is patient zero.
As its popularity grew, the RAV4 took on more car-like characteristics. Ride height crept lower over its previous four generations, more emphasis was put on interior comfort and its manners over pavement rather than its capabilities off road to the point where the RAV4 is really the new family car, becoming the best-selling non-pickup truck in America for the past two years. With this success, Toyota sold over 407,000 RAV4s in 2017 and is on pace to beat that number in 2018, you'd think they'd follow the formula for the fifth generation RAV4.
You'd be wrong.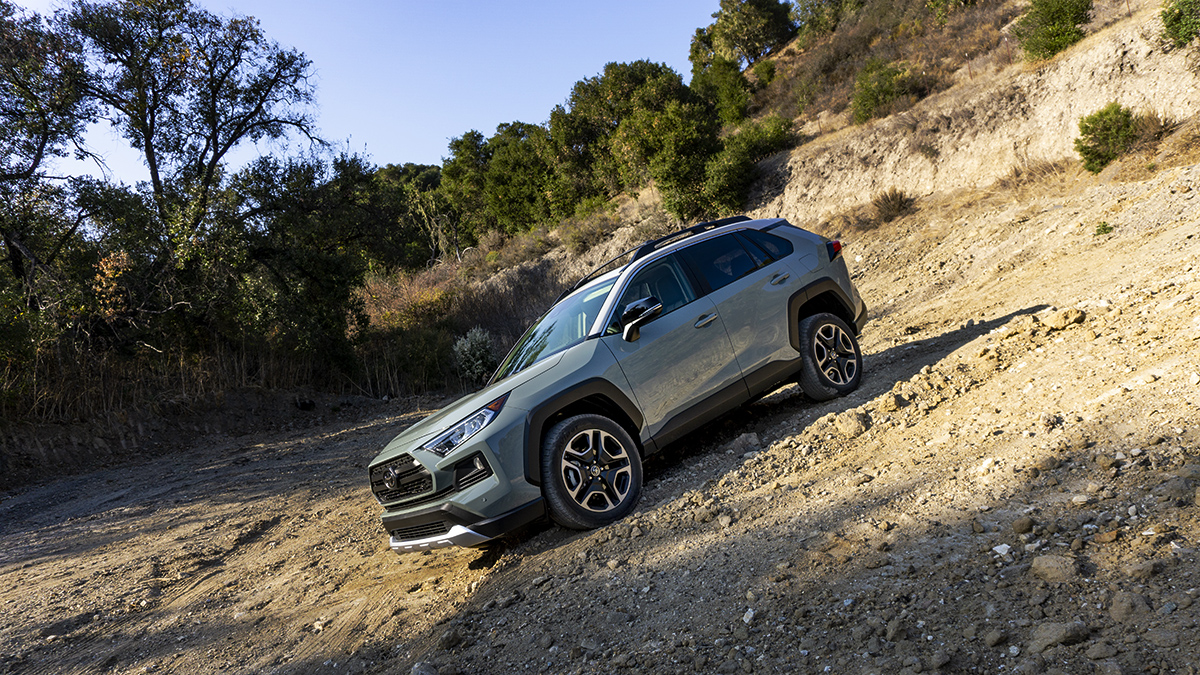 Toyota has decided to bake more truck back into the RAV4 for 2019 with more power, a more sophisticated all-wheel drive system, and a revised suspension set up that provides more than two inches of additional ground clearance over the 2018 model. The RAV4 has gone from feeling like a lifted Corolla to becoming a baby 4Runner. And I, for one, couldn't be happier.
The first cue you have to the new mission for the RAV4 is its exterior styling. Whether you choose the base LE, sporty XSE, swanky Limited, or trail-ready Adventure model, the RAV4 rides higher with a wider stance, has shorter front and rear overhangs, and is styled to bring it more in line with the Toyota family of trucks than cars. You can see the Tacoma clearly reflected in the trapezoidal shape of the new grill, the chiseled, muscular, flared fenders, and the squared off wheel arches.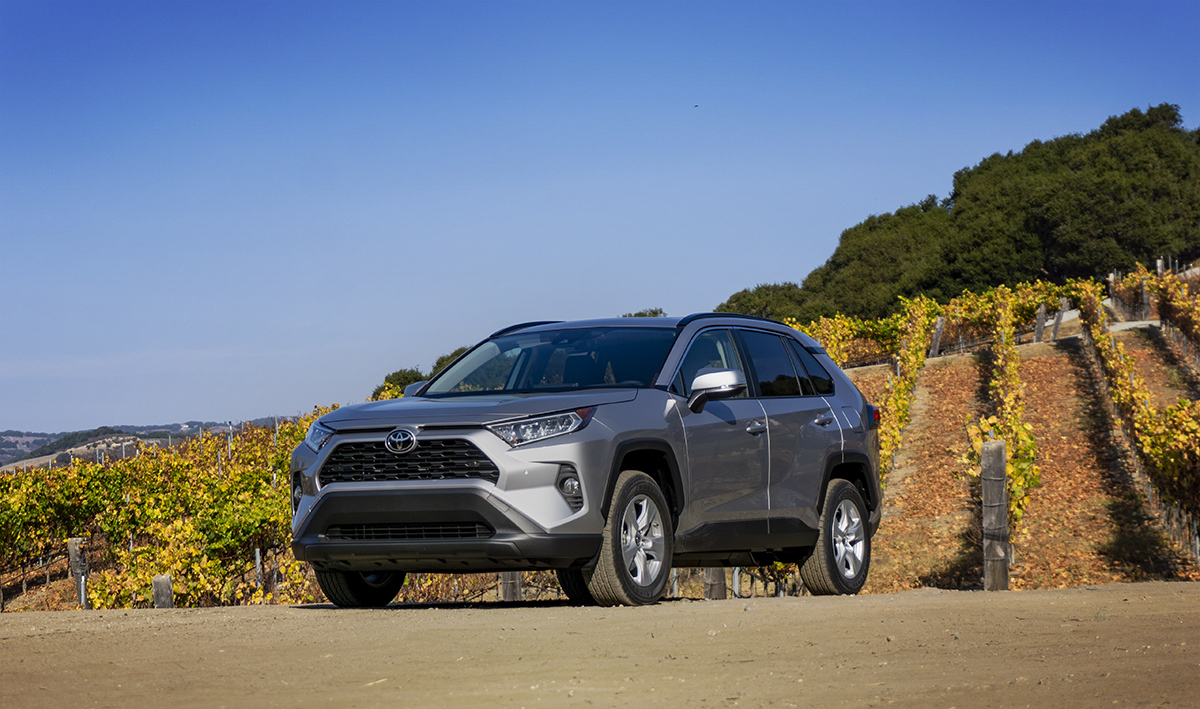 Underneath the RAV4 is built on Toyota's TNGA-K platform which serves as the base for the Camry and Avalon. Modified specifically for more rugged action, it is 57% more rigid than the previous RAV4 and you can feel it both on road and off. Under the hood are two new engine options, a 203 horsepower, gasoline 2.5-liter, inline four, or a hybrid set up that uses the same gas engine slightly retuned and paired with two electric motors. Gas models are available in front and all-wheel drive with an 8-speed automatic transmission. Hybrid RAV4s have electronic, on-demand, all-wheel drive and a CVT transmission. In testing, the hybrid with its higher horsepower and torque ratings is quicker. The CVT puts the power to the front axles confidently with very little slip usually associate with these units. The 8-speed has a more positive feel and gives you more control, thus it's the only transmission available in the more off-road focused Adventure model.
Efficiency has also been improved for 2019, with gas models delivering up to 29 MPG combined. The hybrid versions are even less thirsty, delivering 40 MPG combined. While towing has never been the RAV4's primary mission, you can pull a trailer with a couple of jet skis, snowmobiles or lightweight camper with any version. The LE, gas model, front-wheel drive RAV4 can tow 1,500 pounds, but opt for the all-wheel drive Adventure set up and the additional cooling and suspension enhancements and max towing is 3,500 pounds.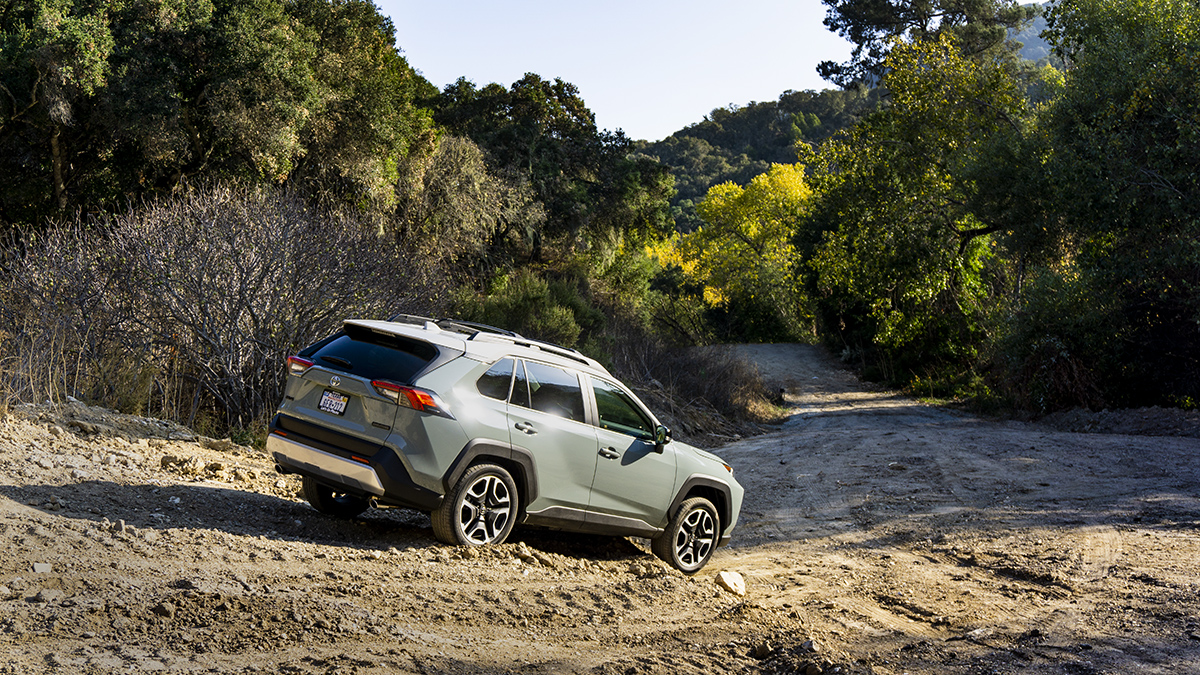 Inside the RAV4 is wider and more comfortable with additional available features. At the higher trim levels RAV4 has a much more premium feel. Visibility is improved thanks to repositioned side mirrors and larger glass quarter panels in the rear. The extra half inch of width, along with a revised shift mechanism allowed Toyota designers to reconfigure the center console to improve overall usability with side by side cup holders toward the rear where they're easier to reach. The shift lever and drive controls are placed closer to the dash, and all the useful buttons and switches are within easy reach of both the driver and passenger.
I'm happy that Toyota hasn't gone to a pure touch screen interface as a few other manufacturers that shall remain nameless (Volvo). The RAV4 uses a logical combination of hard buttons, knobs, and either a 7- or 8-inch touch screen to control the audio system, HVAC, navigation, and other functions. There are controls on the steering wheel for the radio, phone, and the instrument panel information display. If you're feeling particularly daring, you can use voice commands which depending on the quality of your diction can result in some truly interesting and random results. Some of the more interesting standard technologies include Toyota's Entune 3.0 app suite with Amazon Alexa and Google Assistant integration, WiFi connectivity, Apple CarPlay with Google maps and Waze, though Android Auto is not yet available.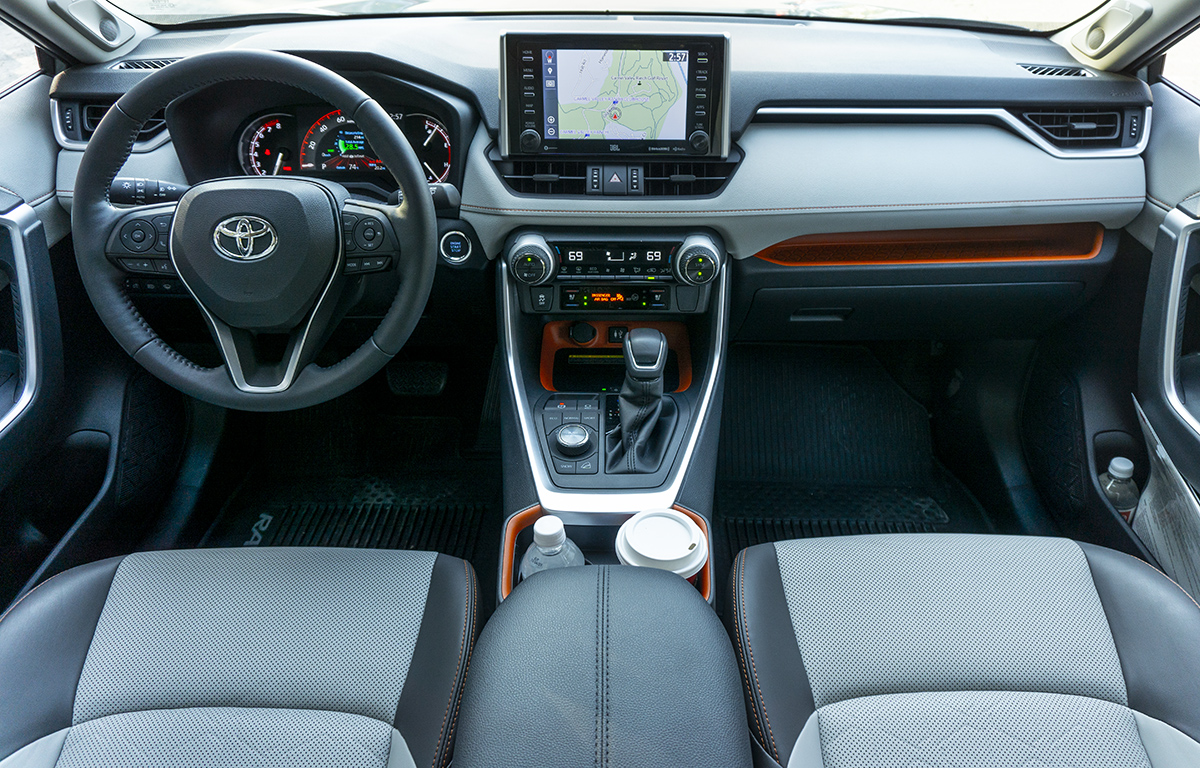 The newest tech feature which is standard on both the Limited and XSE grades is a dual mode, digital rear view mirror. In standard mode it operates like a traditional rear view mirror. But flip the switch on the back and it activates a camera mounted just inside the rear window, giving you a wide angle view of the road behind you. This is particularly handy if you have the rear compartment loaded with gear, blocking your view. The camera is very high resolution and after just a few miles of driving I was able to get used to the different perspective. It's not a must have feature, but a handy one.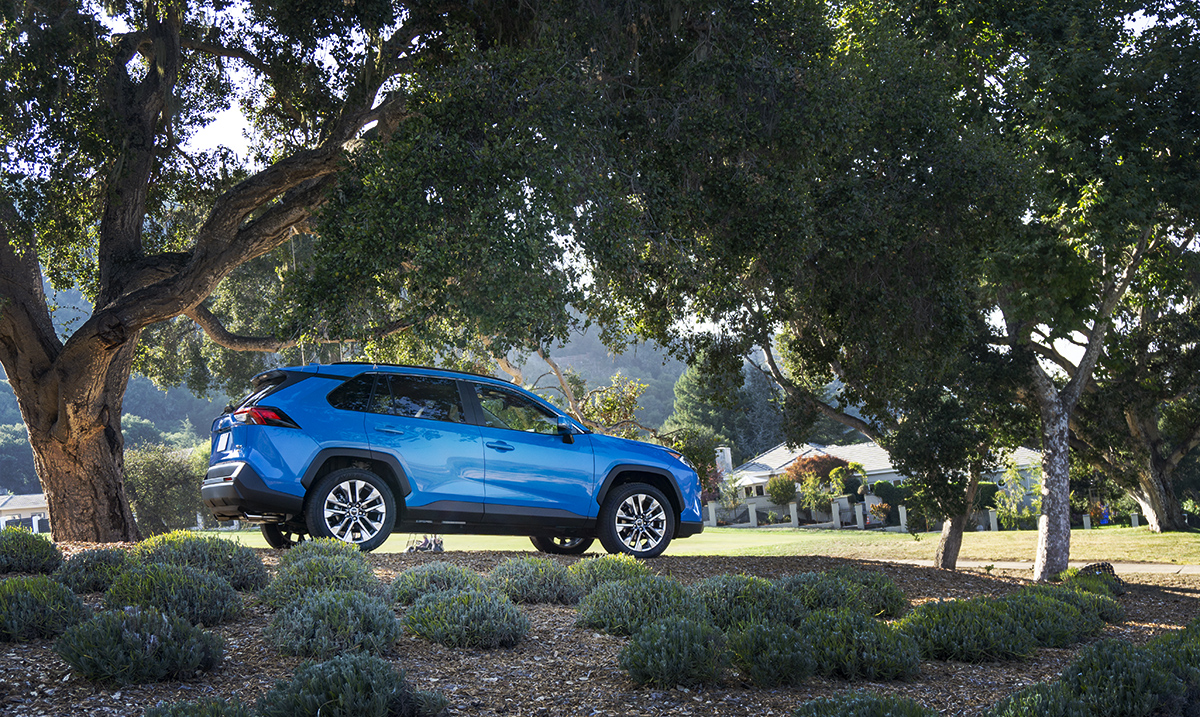 RAV4 is the second vehicle in the Toyota's range – Avalon was first – to get Toyota Safety Sense 2.0 as standard in all trim levels. This means whether you're in a base FWD LE or a fully-optioned Limited Hybrid AWD, you get full-speed dynamic cruise control, lane departure warning with steering assist, lane trace assist, pre-collision with low-light pedestrian detection, automatic high beams, and road sign assist. Toyota uses the vehicle's ability to read the road signs to fine tune the start/stop function. When you come to a stop at an intersection and the car "sees" a stop sign, it will keep the engine running, knowing you'll only be stopped briefly.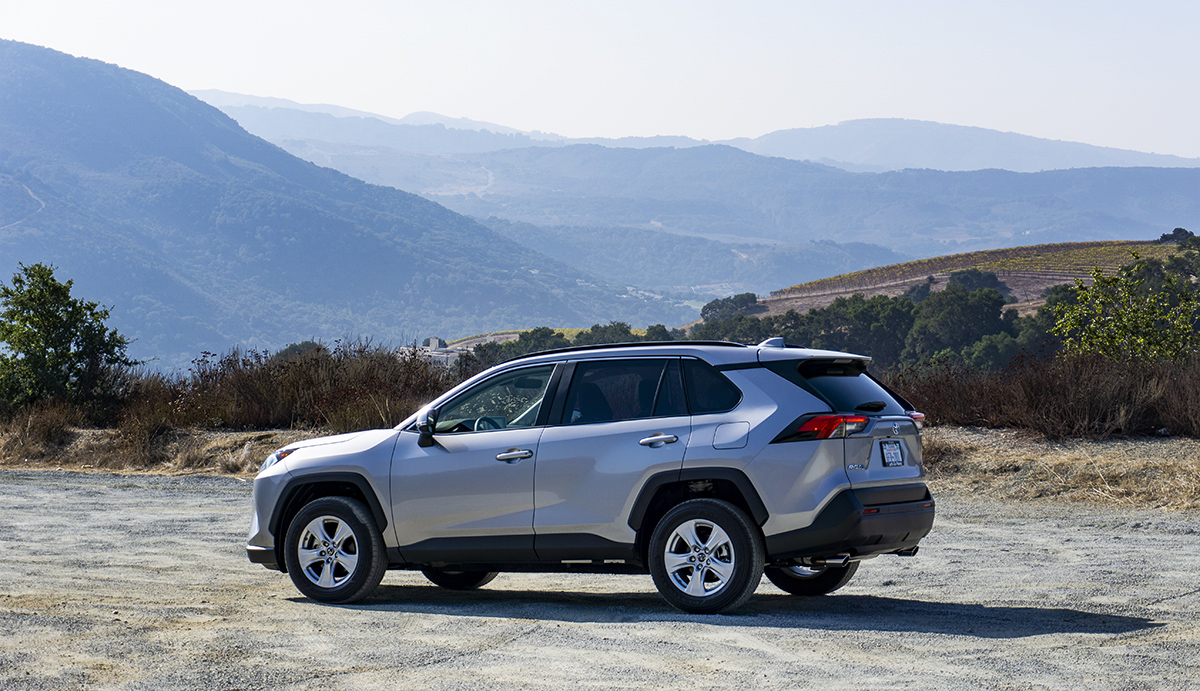 With all the available grades, RAV4 now has a version for just about every type of driver and budget. The entry-level LE model starts at $25,500 for a front-wheel drive gas engined RAV4. That gets you LED head and tail lights, nicely designed cloth seats, soft touch surfaces on the dash and arm rests, power windows with auto up and down, and all the Safety Sense features. XLE adds more premium features to the mix like 17-inch alloy wheels, auto on/off headlights, fog lamps, a power moonroof, dual zone climate controls, smart key with push button start and a total of 5 USB charging ports. XLE Premium gets you even bigger wheels, 19-inches, a power driver's seat, and leather wrapped steering wheel and shift knob. For the full luxury treatment, the RAV4 Limited offers upgraded wheels and tires, a digital instrument cluster, available heated and cooled seats, and the Entune Premium Audio with Dynamic Navigation system is standard, which includes an 8-inch touchscreen and six speakers.
The XSE Hybrid is the sport model in the line up. With its performance all-season tires mounted on 18-inch black painted sport alloy wheels, tighter suspension and shock tuning, and two-tone paint scheme, the XSE looks and feels sportier than any of the other models. It is not, however, a sports SUV like the Alfa Romeo Stelvio or even the Mazda CX-5. It drives just fine with enough power to be interesting, but if you're looking for a compact crossover/SUV you can toss into corners, you'll want to look elsewhere.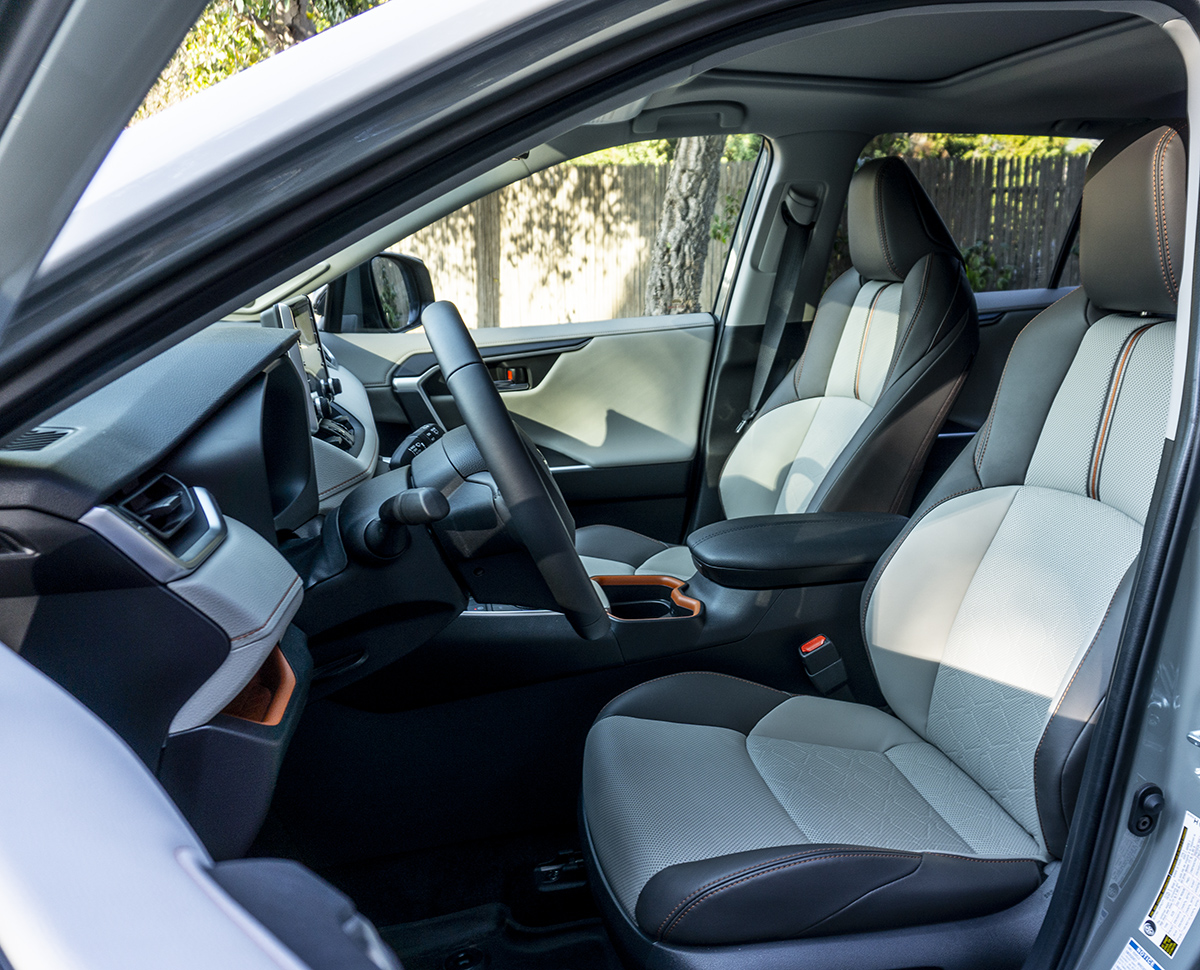 My favorite version of the all-new RAV4 is the Adventure model. Maybe it's because I own and love my 4Runner, but this baby ute, with its mechanical all-wheel drive system, aggressive off-road rubber on 19-inch 5-spoke wheels, high-rise roof rack, and matte black accents, looks and plays the part of a tough little truck. I took took it through a fairly aggressive off-road course and put its multi terrain drive mode system to the test on rocky trails, rutted sandy hills, and wet grass. Thanks to dynamic torque vectoring, the all-wheel drive system can be fine tuned for mud, sand, snow, rock, and dirt. It also includes hill-descent control which uses a combination of automatic brake application and torque vectoring to help you maintain a comfortable speed while you're trying to get down from the top of a mountain.
The 2019 RAV4 goes on sale in December with the gas engine models. If you want a Hybrid, you'll have to wait until March. Pricing will range from $25,500 for a front-wheel drive LE all the way up to $41,000 for a fully loaded Limited Hybrid AWD. With all the upgrades and improvements across the entire range, this minimal price increase is offset by a significantly longer list of standard features. Given that, I expect this more truck-like sport ute will continue to lead passenger vehicles sales for the foreseeable future. I'm just not sure you see anyone selling fruit out of the back anytime soon.