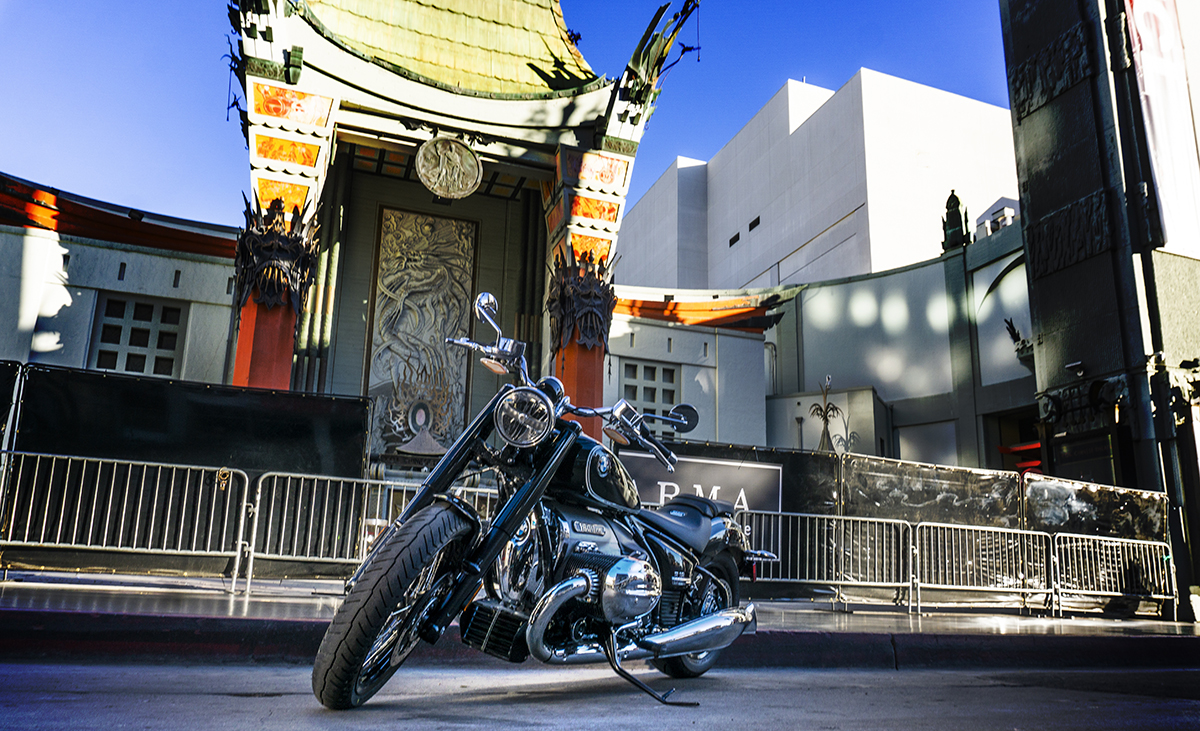 I've always felt that Los Angeles would be one of the best place in the world to ride a motorcycle were it not for the traffic. There are hundreds of days of sunshine and warmth every year. You have the incomparable scenery of the Pacific Coast. Thrilling canyon roads that include Angeles Crest, Mulholland Highway, and a new-found favorite, Little Tujunga have been carved out of the nearby mountains. Freeways with more lanes than Bowlerama were designed to make getting from one side of town to the other quick and painless. And, there are so many iconic opportunities to take photos. LA has everything riders love except the one thing that ruins it all in normal times, traffic.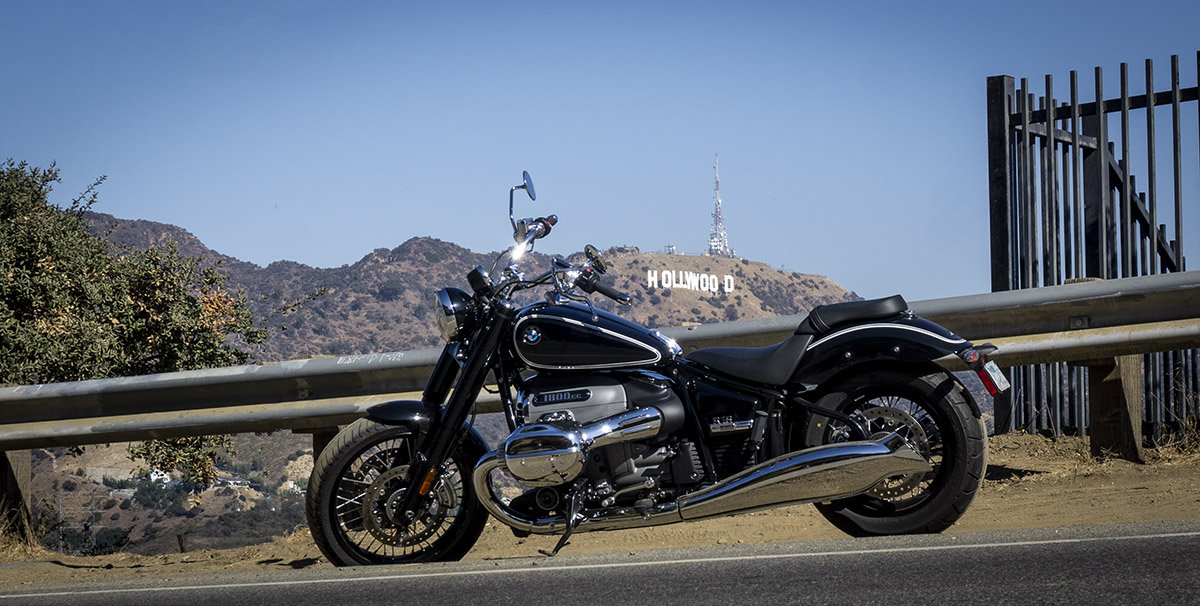 But these weren't normal times. I had come to Los Angeles for ten days in early November while there was a lull in Covid cases to drive a number of vehicles I don't have access to in the midwest. I took several tests and quarantined for two weeks prior to boarding the plane with bagful of N95 masks. I was looking forward to spending four of those days astride the 2021 BMW R18 First Edition. Especially since most people were still working from home which freed the streets from the usual herds of traffic-choking Priuses.
Introduced in late summer, the R18 is designed specifically for the American market – which is dominated by big cruisers. A full 65% of the motorcycles sold in this country are custom cruisers with names like Fat Boy and Super Chief.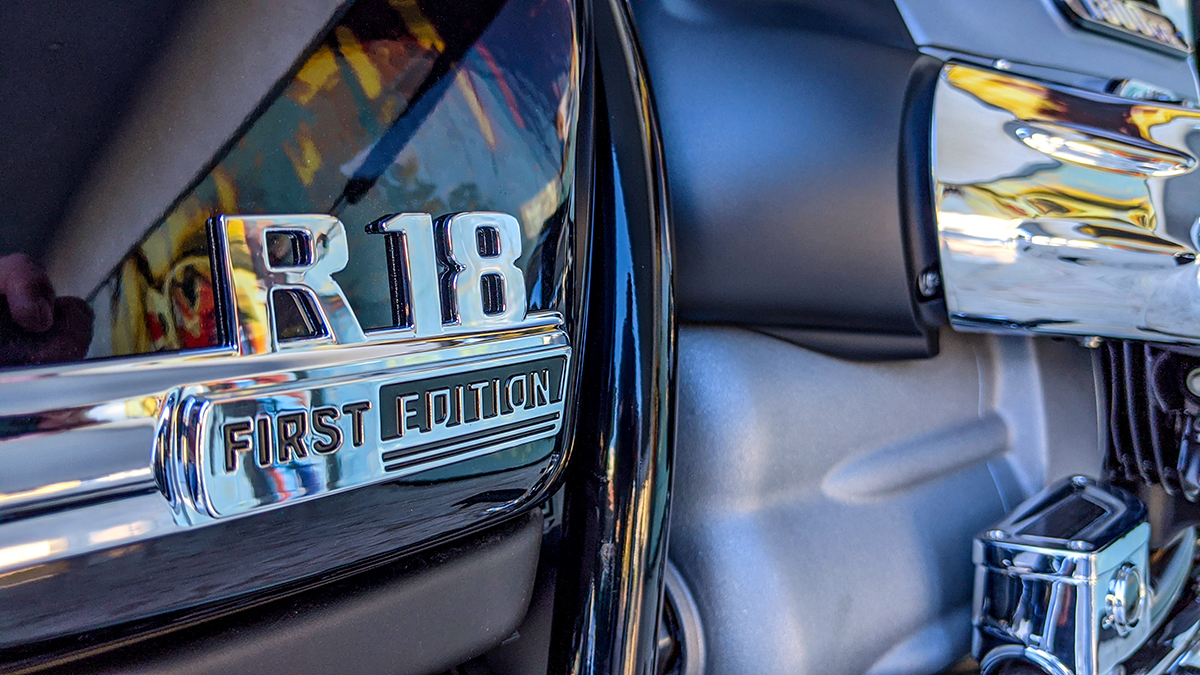 Big doesn't begin to describe the R18. Even among the leviathans produced by Harley and Indian, it is massive. Let's start with its wheelbase. It's 68 inches between the axles. It weighs 761 pounds. Each horizontally opposed cylinder displaces 901 CCs. The front fork tubes look like tree trunks. And the handlebars feel as wide as a condor's wingspan. Everything about this bike is designed to emphasize its heft.
People buy cruisers primarily for style, and the R18 has bucketloads of it. Taking inspiration from the iconic 1936 R5, this newest Beemer has a hardtail look, teardrop tank, the classic boxer engine with visible pushrod housings, and of course, acres of chrome.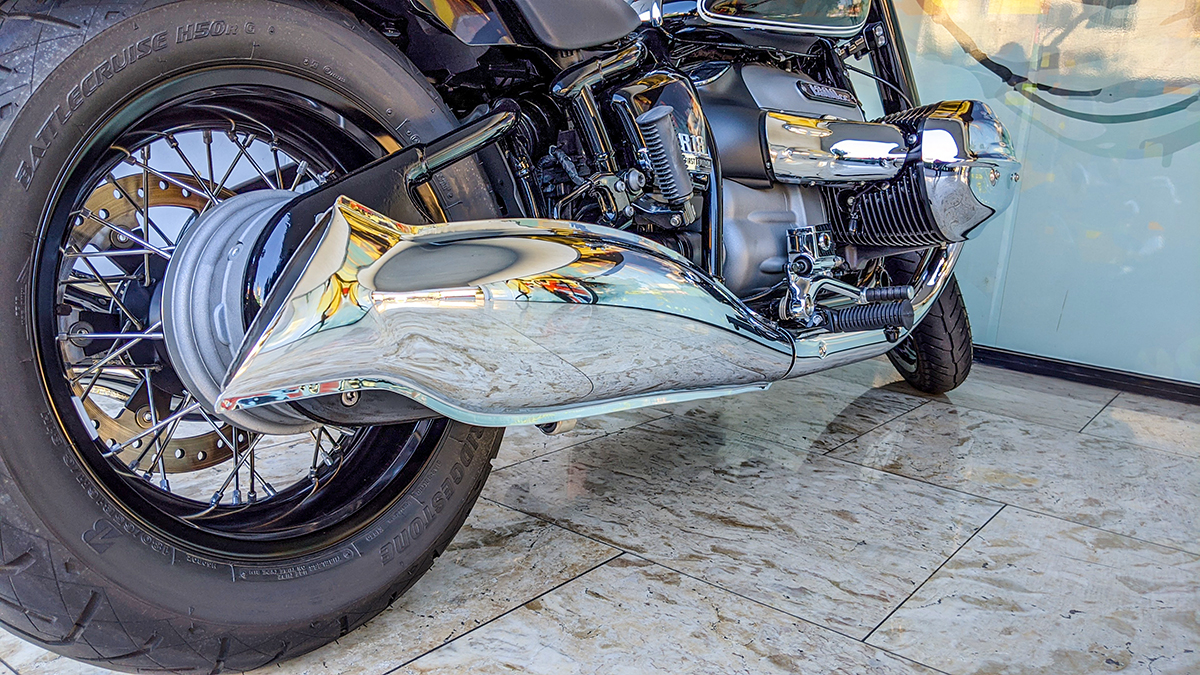 One of the more controversial design elements is the standard fishtail exhaust pipe. It's a love it or hate it proposition. I personally think the swoopy pipes work well with the low-slung cruiser. If it's not your thing, you can opt for the more traditional Vance & Hines tapered pipes in either black or chrome. This is just one of the many customizations available for this custom cruiser.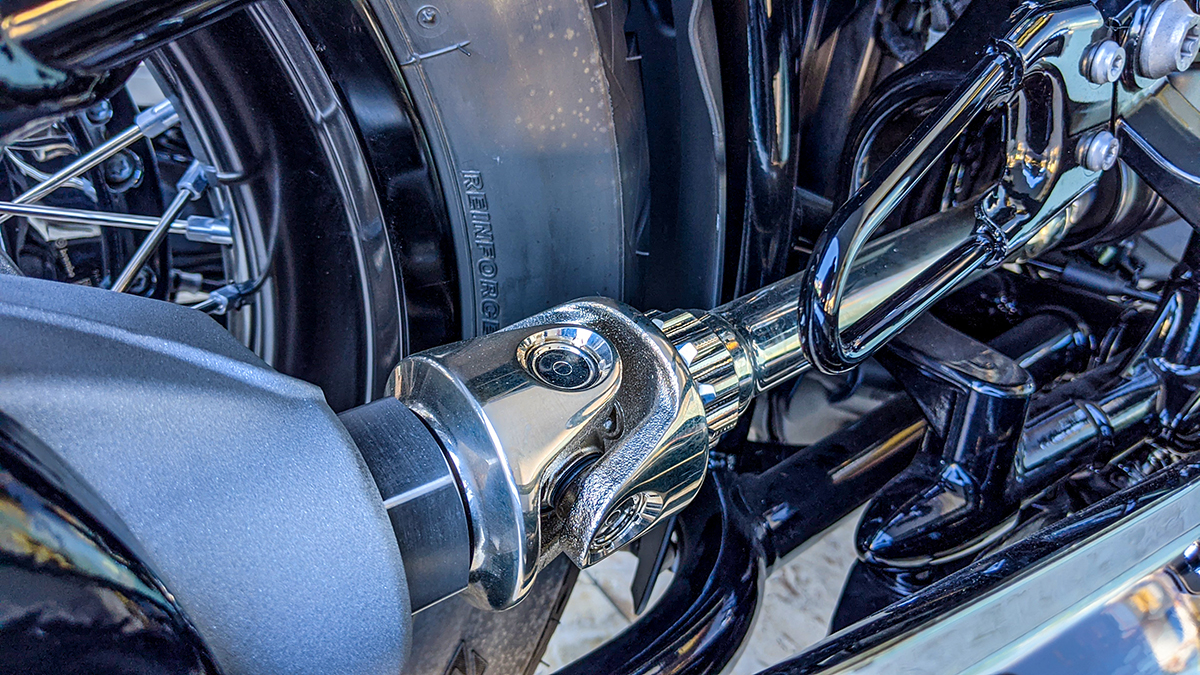 BMW is of the mind that no two of these bikes should look alike. To that end, they've created a full range of optional equipment available at launch. This includes a Mustang Saddle, Roland Sands Designs engine covers, and ape-hanger handlebars among other elements. My tester was a stock "First Edition" model which included a double pinstriped tank and rear fender, and chrome covering just about every other surface including the valve covers, front engine plate, mirrors, brake calipers, master cylinder, and all the control levers.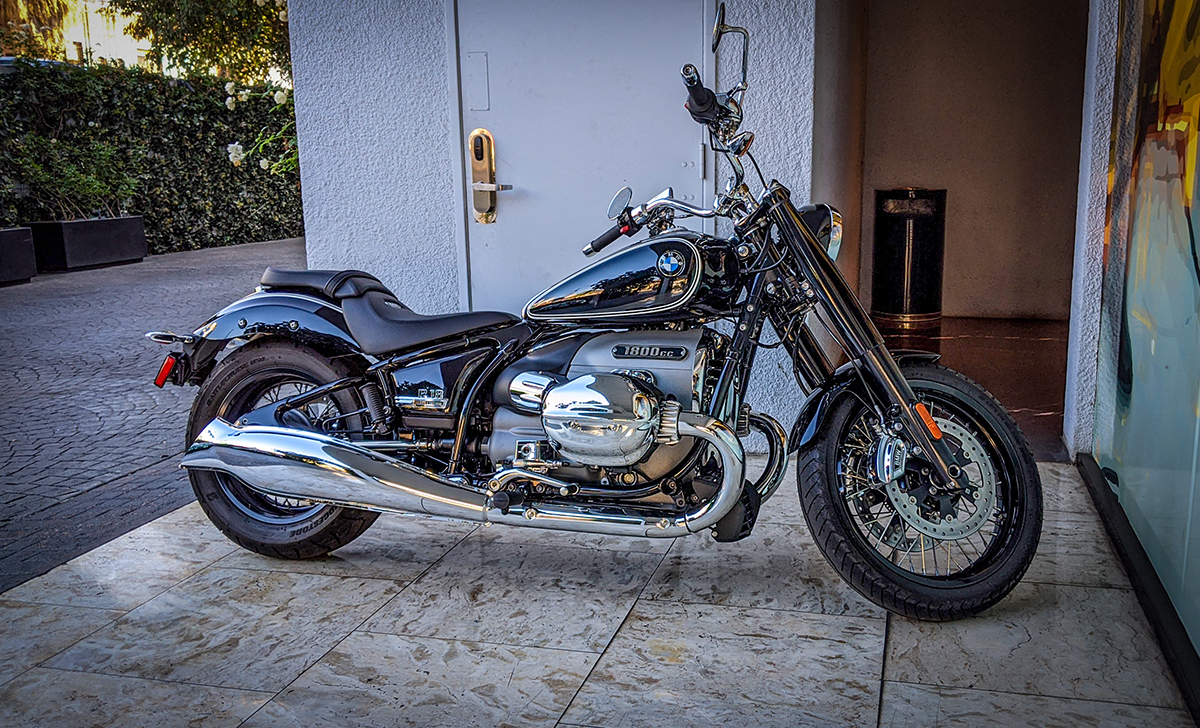 As I walked up to the bike, at the valet stand in front of the London Hotel in West Hollywood, my concern about the R18's substantial mass was only surpassed by fears of finding a comfortable seating position. The 27.2-inch seat height and mid-mounted pegs were sure to challenge my 36-inch inseam. Those fears were not unfounded. You can add seven-tenths of an inch to the height by ordering the optional high seat which would have been nice. But since this bike came out of BMW's test fleet, I had to ride it as delivered. So, after familiarizing myself with the controls and adjusting the mirrors, I flipped the power switch to on, triggered the ignition, burped the throttle, dropped the bike into first, tucked my knees alongside the tank and rode up the hill to Sunset Boulevard for my first stint on the bike.
I was heading to Little Tujunga Canyon to meet photographer/videographer, Jon Beck who BMW had lined up to help me document my trip. To get there, I first had to ride 25 miles on surface streets through Hollywood, Studio City, Sun Valley, and Pacoima which gave me plenty of time to get comfortable with the R18. I began with the bike in "Roll" mode – one of three drive modes: Rock for performance, Roll for cruising, and Rain for something they say rarely happens in southern California.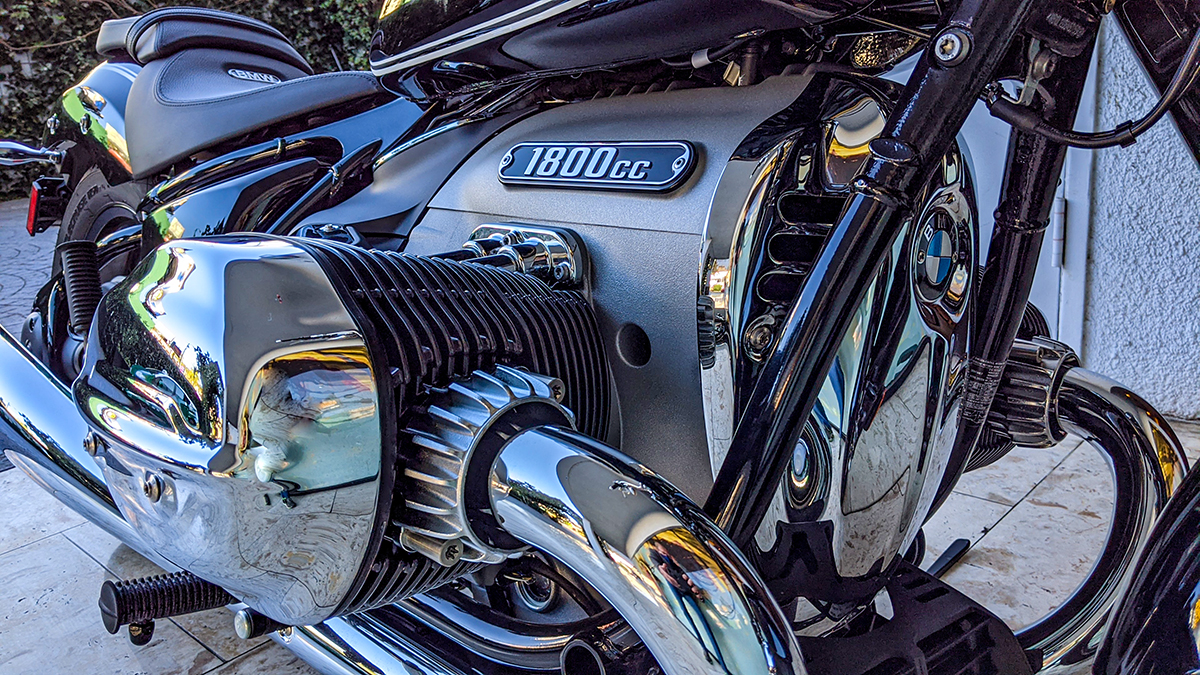 Roll mode delivers moderate throttle response and full traction control. The power comes on smoothly, and even though the bike is heavy, the low center of gravity provides excellent balance. It also has hill-start assist, which makes pulling away from an uphill stoplight no drama even if the car behind you is close enough to kiss your rear wheel.
My first surprise came when I turned left onto Laurel Canyon Boulevard. Approaching a green light and seeing no oncoming traffic (a common theme on this trip), I leaned into the corner only to hear a loud scrape and feel the peg vibrate under my left foot. It was a less than subtle reminder that this bike is a cruiser, not a carver and I would need to exercise restraint on the roads ahead.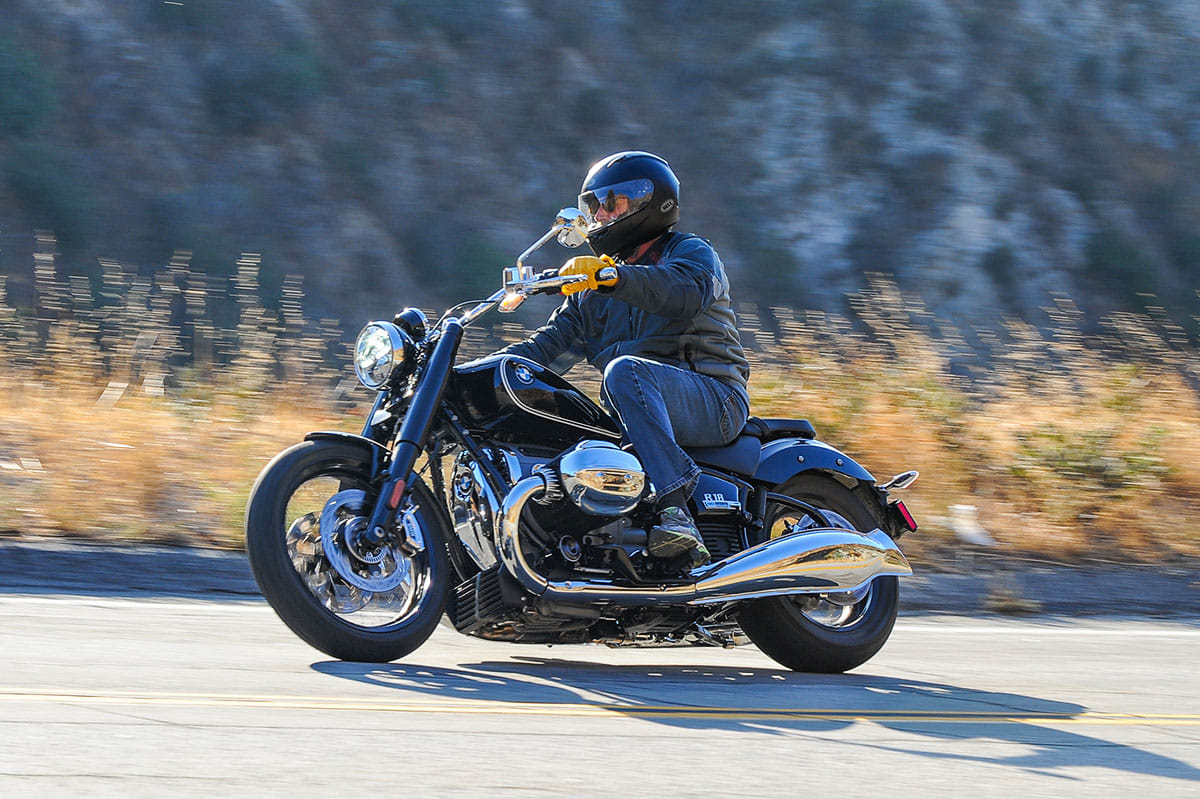 What the R18 lacks in lean angle it makes up for in torque. Toggle the drive mode from Roll to Rock and the big twin comes to life. When the tach needle climbs to 3,000 RPM and you have 116 pound-feet of torque thrusting you forward. At idle with the massive pistons pounding in opposite directions at 950 RPM, the bike vibrates like a cheap motel mattress which is surprising given the silky smoothness of previous BMW twins. I'm guessing this is intentional to create some familiarity among those who ride Harley's and are used to a little shake, rattle, and roll. Either that or it may be that this all-new big twin just has too much mass to throw around and can't be completely tamed.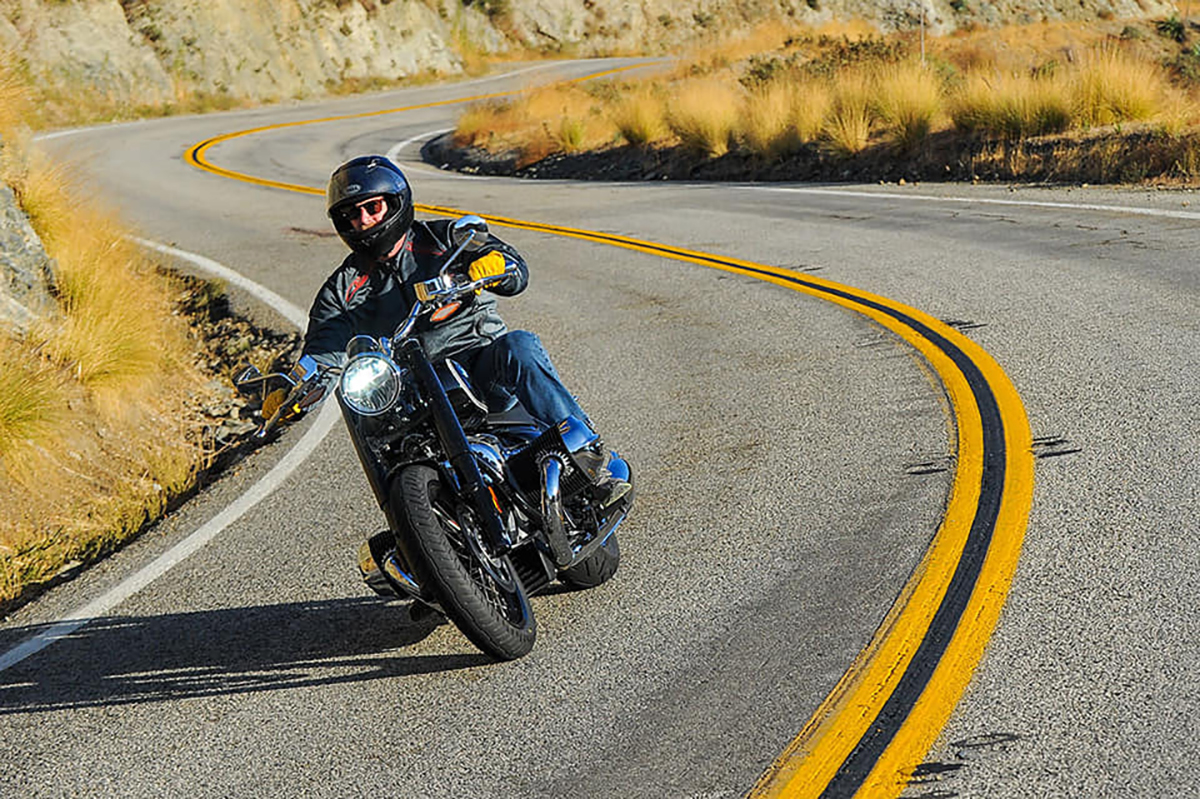 Little Tujunga Canyon Road climbs into the mountains from the San Fernando Valley with a few mild sweeping curves for its first five which gave me the opportunity to open up the R18 and feel the engine's dynamics at multiple speeds and gears. What you'll find is that though the redline is 5,750 RPM and power tops out at 91 horses at 4,750 RPM, it operates best between 2,000 and 4,000 RPM where the torque maxes out. At speed the engine is as smooth as one can expect for the massive horizontally opposed twin cylinder unit thanks to its large flywheel and additional crankshaft bearings. The dual camshaft design triggers each cylinder's four valves and was inspired by the engines from the R5 and R51 produced from 1936 to 1951. The benefit here is a stiffer drive valve with increased control and precision.
Once the corners tightened up, I dialed back a bit, trying to keep the pegs off the pavement – mostly successfully – and found the bike to handle just fine for a custom cruiser. If you want to carve up a canyon, the R1250 RS or even the K1600 GT will better serve your needs, but that wasn't what I was heading up to the Bear Divide Vista to do. I was going to get some shots of the R18 and record some video.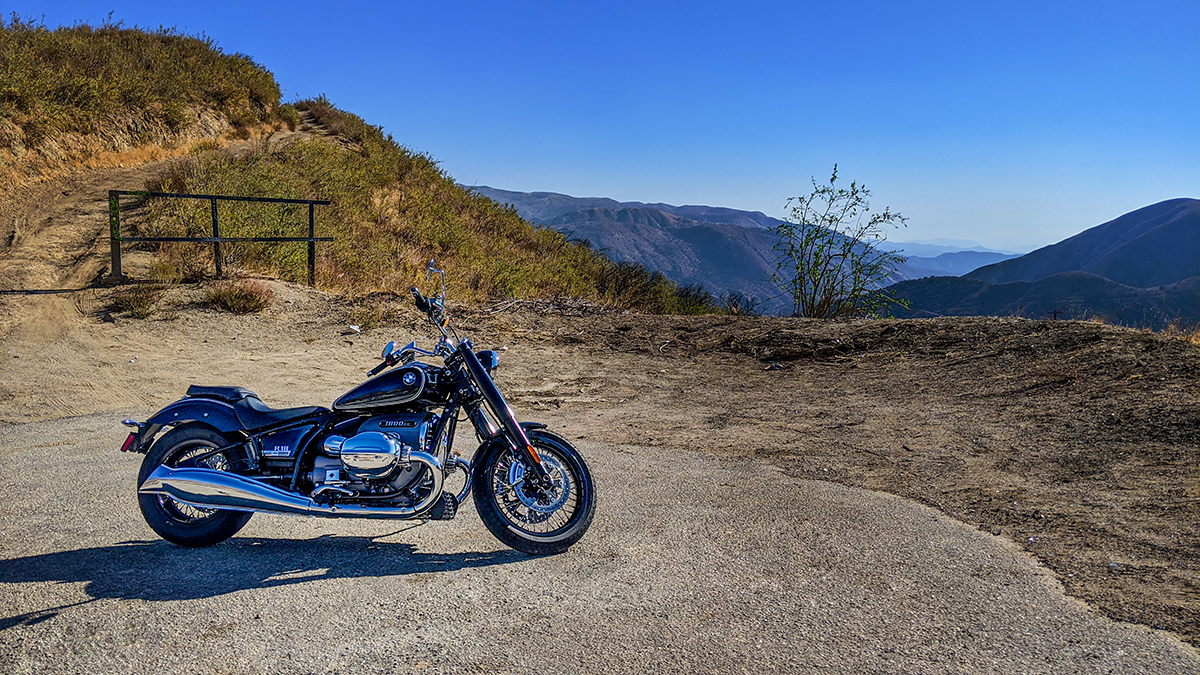 Staying off more popular roads like Angeles Crest and the PCH meant I didn't have to deal with traffic or onlookers as I tried to say something insightful about the bike while the cameras rolled. All in all it was a pleasant ride and the location provided a spectacular view of the valley below for our video.
Once the work was done, I rode down the back side of the mountain to Santa Clarita where I picked up the Interstate to cruise back to Pasadena. On a normal afternoon at rush hour, this would be a bumper to bumper, stop and go drive for the full 32 miles. On that day, I had to quickly get up to speed to join the few cars that were traveling well north of the posted limit.
On the freeway, the ergonomic compromises presented by the big twin become more apparent. If you're riding a V-twin Indian or a Harley on the freeway, you can move your feet to the front pegs and relax a bit. On the R18, that's not an option thanks to the massive cylinder housings. The riding position isn't uncomfortable, but it's always nice to be able to change things up to take a little pressure off your backside, especially when riding longer distances. The Bagger and Transcontinental versions of the R18 offer a bit more comfort for touring.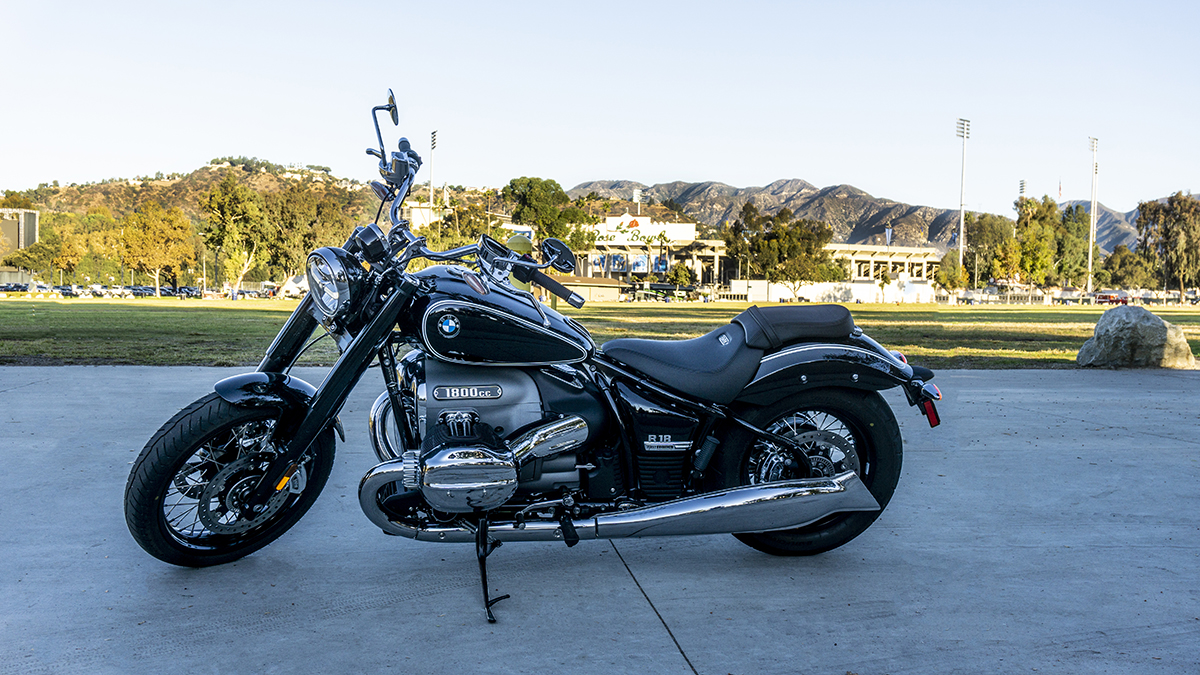 As it was the trip to Pasadena took less than 30-minutes and the R18 was a confident freeway cruiser, with its hefty mass, low center of gravity, supple suspension, and plenty of power for passing. The rest of the week only confirmed my original supposition as I toured on the R18 from Pasadena to Santa Monica and Hollywood to Malibu. Los Angeles is an amazing place to ride a motorcycle and if you're looking for a bike that has style and power and you're not going to be riding more than an hour or so at a time, the BMW R18 offers a compelling alternative to the American cruisers from Milwaukee and Minneapolis.