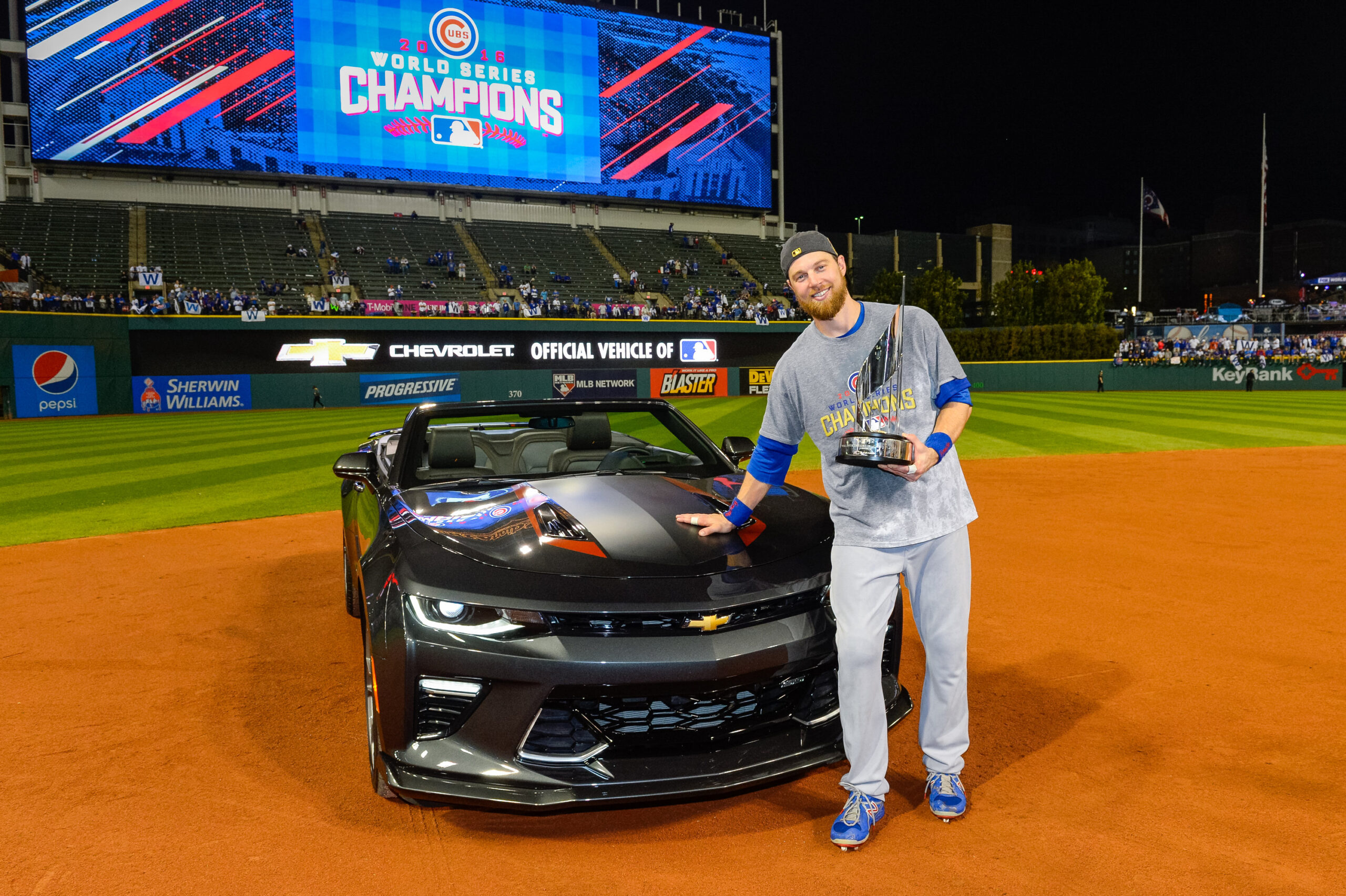 Hell has truly frozen over. The Cubs are World Series Champions. And I was lucky enough to be in attendance of game four in Wrigley Field thanks to Chevrolet. I got the invitation two days before the game and quickly accepted. Who's going to pass up a chance to witness history? Not I.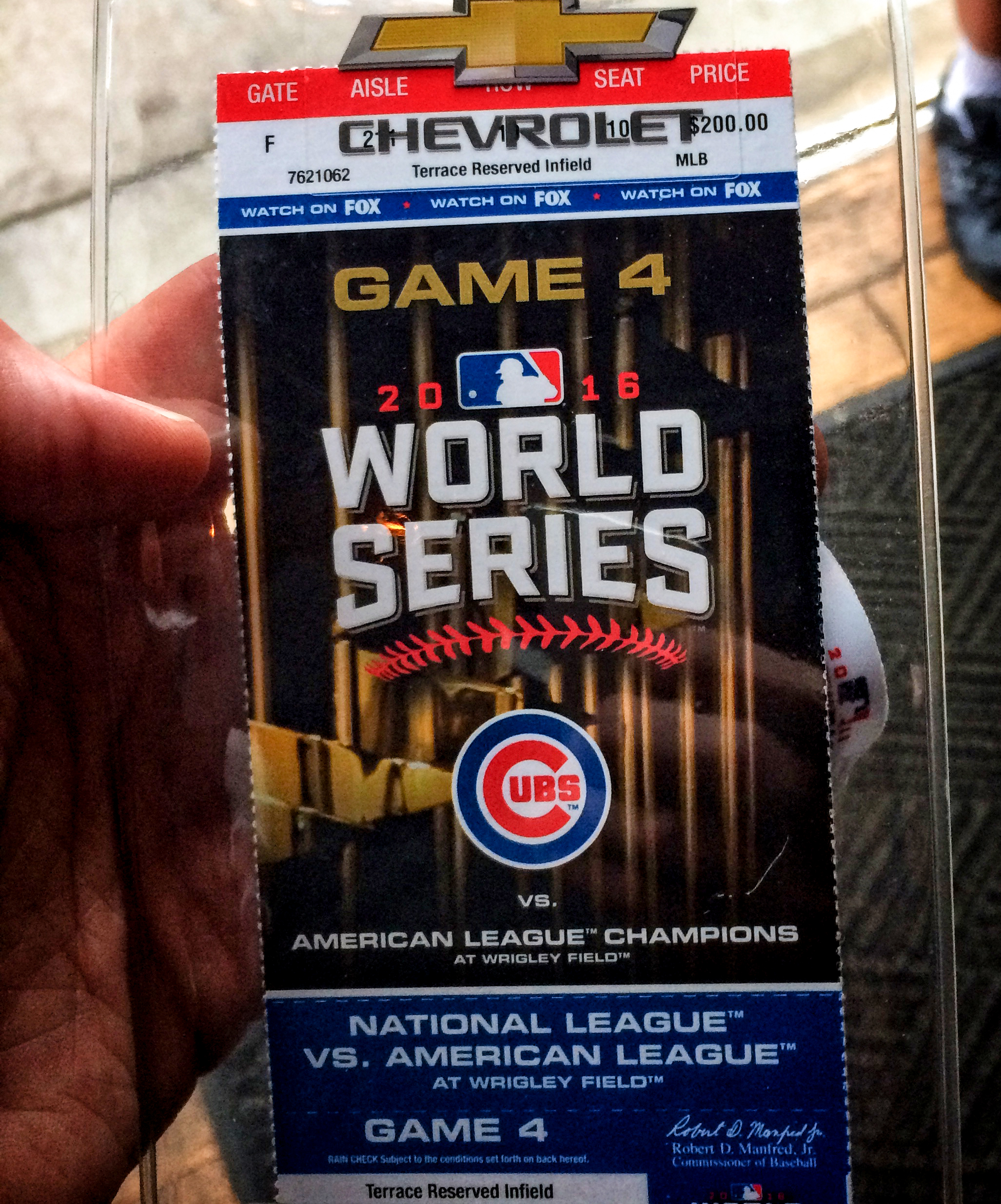 We met our small group at Bulerias Tapas Bar nine blocks west of the stadium just hours before game time and prepared ourselves for the miracle that was a Cubs home World Series game by stuffing ourselves with tasty Spanish cuisine. Calamares a la Plancha, Mejillones a la Marinera, Carne Casera, Empanadas con Chorizo, Pincho de Pollo and so much more covered the table which I washed down with a very tasty pint of Goose Island IPA. While the meal was spectacular, over-generous, and affordable, we couldn't eat fast enough and were on our way to the stadium in short order.
Tucked away in a northern Chicago neighborhood, Wrigley Field is of course a sporting treasure. A relic of another time. A shrine to the sport of baseball. It is both wonderful and horrible at the same time. It has all the character and charm one would expect from a structure built in 1914. Sitelines, however, can be challenging. Our seats were on the first level, but well back under the upper deck, so any ball hit higher than a line drive disappeared from view as it rose into the dark night sky. It reminded me of my beloved and dearly departed Tiger (nee Briggs) Stadium.

From a Cubs and non-aligned fan perspective, the game was not a great one. After the Cubs scored one in the bottom of the first, Cleveland responded with two runs in the second and never looked back. The combination Corey Kluber, Andrew Miller and Dan Otero kept the Cubs bats at bay and after a 3 run explosion in the 7th for the Tribe, the fat lady was singing. We hung in until the bitter end (one member of our group was a well disguised Indians fan) and left the stadium satisfied that we'd seen a slice of history, hopeful that the Cubs, down three games to one, would make a fight out of it which the newly crowned world champions obviously did.
Thankfully, Chevrolet's commitment to baseball goes well beyond inviting lucky writers like me to the game. In addition to the iconic ad campaign from the '70s, Chevrolet spends hundreds of thousands of dollars a year to promote the game – and their brand. Chevrolet made their love of the game official back in 2005 when they signed on as the vehicle sponsor of MLB, a commitment they've renewed every year since. They're the presenting sponsor of the Most Valuable Player award at both the All-Star Game and World Series, giving a trophy and a new car or truck to the winner.
Since 2006, Chevrolet has been supporting Baseball at the youth level in communities across the country through a grassroots, community outreach program called Chevy Youth Baseball. Participating leagues receive equipment, sponsorship checks, and fundraising opportunities from Chevrolet, as well as unique Major and Minor League Baseball experiences like exclusive instructional clinics. In the last 10 years through their youth baseball program Chevy has donated more than 90,000 equipment kits and renovated 9,400 parks impacting more than 5.2 million kids across the U.S.
Why is baseball so important to Chevy? I'll leave the final word to Paul Edwards, U.S. vice president of Chevrolet Marketing "Chevrolet's partnership with Major League Baseball is a natural fit and allows the brand and our dealers to connect with generations of Americans on a personal level through the support of hometown teams at both the professional and youth levels."