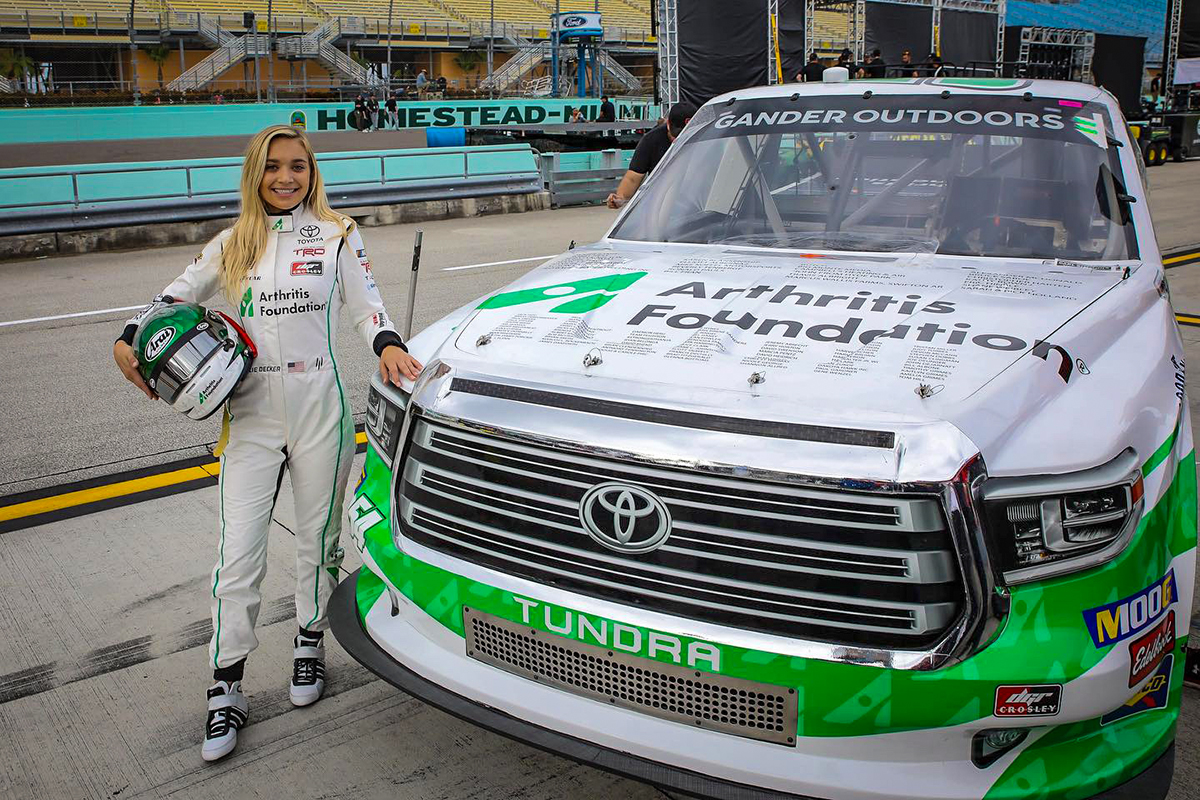 Like so many other young drivers, Natalie Decker started from a very young age with snowmobiles and go karts. From there, she moved on to modified stock cars and on to the ARCA series where she became the first female ever to secure a podium in the Midwest Tour, and eventually into the Xfinity Series. The desire to race and compete was passed down from her parents, uncles and brothers. While one doesn't immediately think of the state of Wisconsin as a hotbed for NASCAR driver development, Natalie honed her skills on tracks around the state before uprooting and moving to Charlotte, NC. We were lucky enough to grab a few minutes of Natalie's time to get an update on what's she's been up to lately, and to gain more information on how she got to where she is.
Have you always been fascinated by racing? When were you first aware that racing was something you were interested in?
I grew up in a racing family, not the traditional racing most people first think of, it was snowmobile racing. Decker Racing began in 1967 with my dad and his three brothers. They raced professionally all the way up through the 1990's and my dad is a 1987 World Champion (Chuck Decker)! He also owned the World Championship Snowmobile Derby Racetrack in my hometown of Eagle River, Wisconsin. I grew up helping during the race weekend and was amazed by the speed of the ice oval sleds, they were crazy fast!
I knew I wanted to race NASCAR because my dad and I watched it every Sunday and I was glued to the tv. Then after my dad took me on a business trip when I was seven years old, we stopped by a go-kart race track on our drive home to watch the kids race. Right then and there I found out I was able to race something other than a snowmobile that could prepare me for NASCAR. So for two years every day I begged my dad to buy me a go-kart. Finally, for my ninth birthday he surprised me with a purple oval, asphalt go-kart! The rest is history!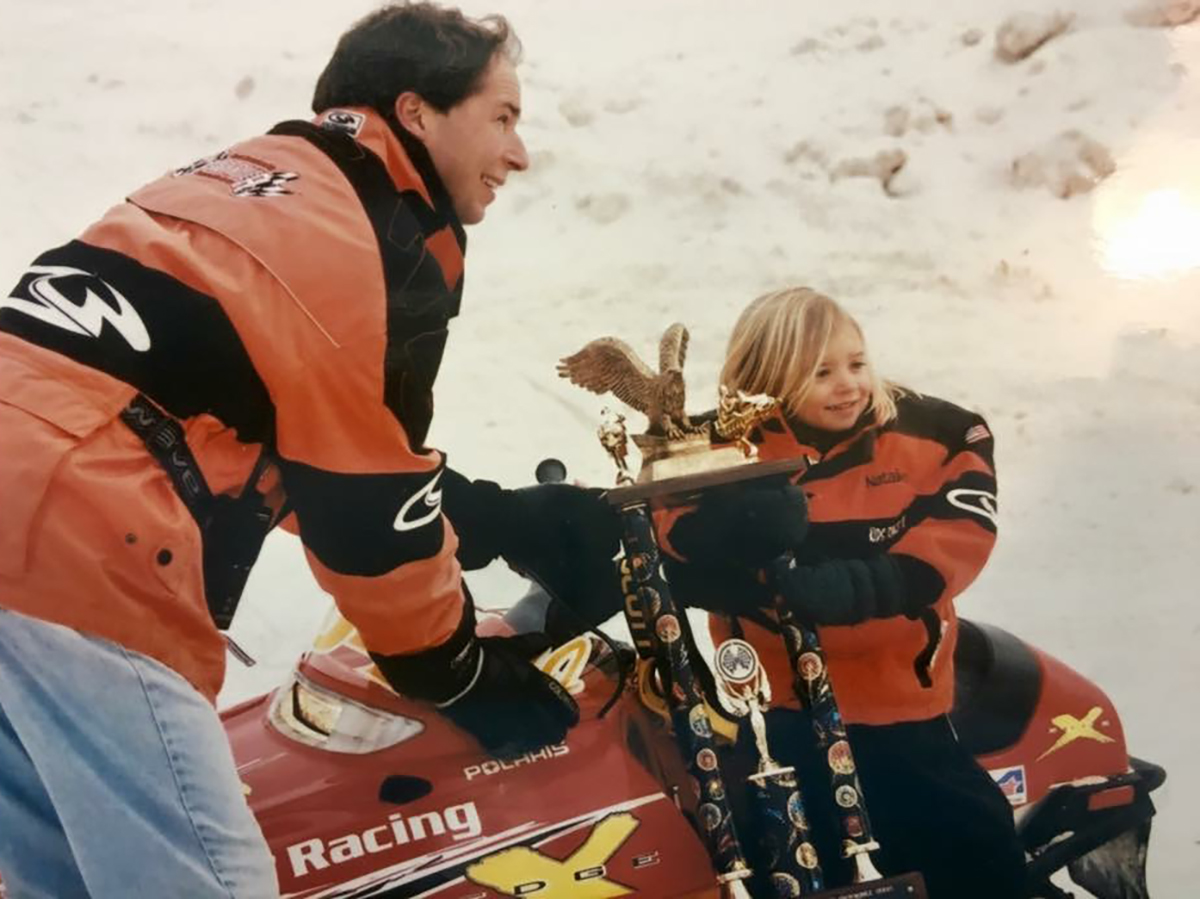 Speaking of racing, where was your very first race?
My first ever race was on a snowmobile, at the track my parents owned in Eagle River, WI. The world Championship Snowmobile Derby hosts the biggest race that has been running longer than the Super Bowl. I was five years old, and I would practice on the snow-cross track every day after school. When it came to race day, there were about 10,000 people in the crowd and there was me with about 15 other kids on snowmobiles waiting to take the green flag. Once the green flag flew, I went about 100 yards and stopped and took my helmet off. My dad, owner of the track and the 1987 World Champion, ran up to me and asked me what was wrong. I told him, I was done racing snowmobiles. Little did my dad know, he was going to have to switch to go-karts and then stock cars in my future!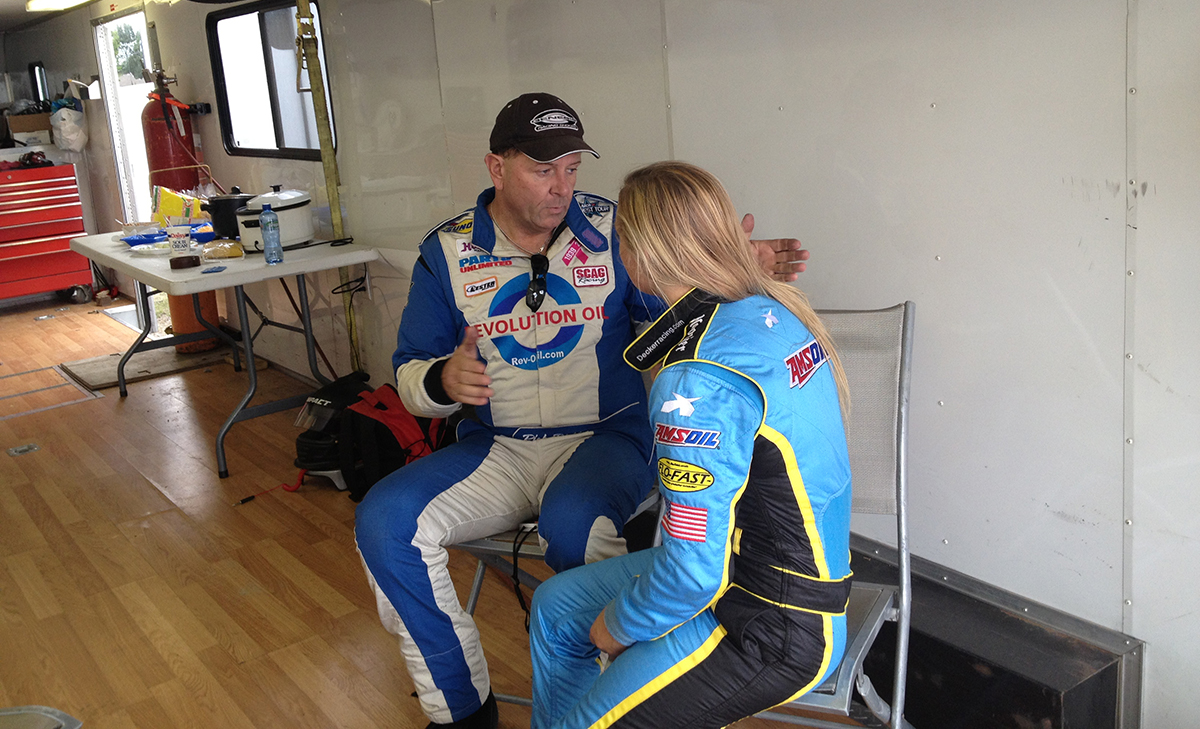 Coming from Wisconsin, do you feel that there were more obstacles to success than if you grew up elsewhere?
Coming from Wisconsin and being involved in stock car racing was a match made in heaven. If you go back in history there are so many great race car drivers from Wisconsin. I was fortunate to have the opportunity to work with some of the best crew chiefs and racers in the industry. When Dick Trickle was at a new track I was racing at in Wisconsin, he would take me around the racetrack and coach me. Almost every weekend I would have the opportunity to get coaching from Rich Bickle at Madison international Speedway. Chris Wimmer and Tom Ress were a big part of my career, as they gave me the best performance on the track at State Park Speedway in Wisconsin where I have track championships.
Do you remember the car you learned to drive in?
My Uncle Alan Decker lived next door with my two cousins Paige and Claire. Well, Uncle Allen bought an old Ford Focus for us kids to drive around the trails and that was the first car I learned to drive.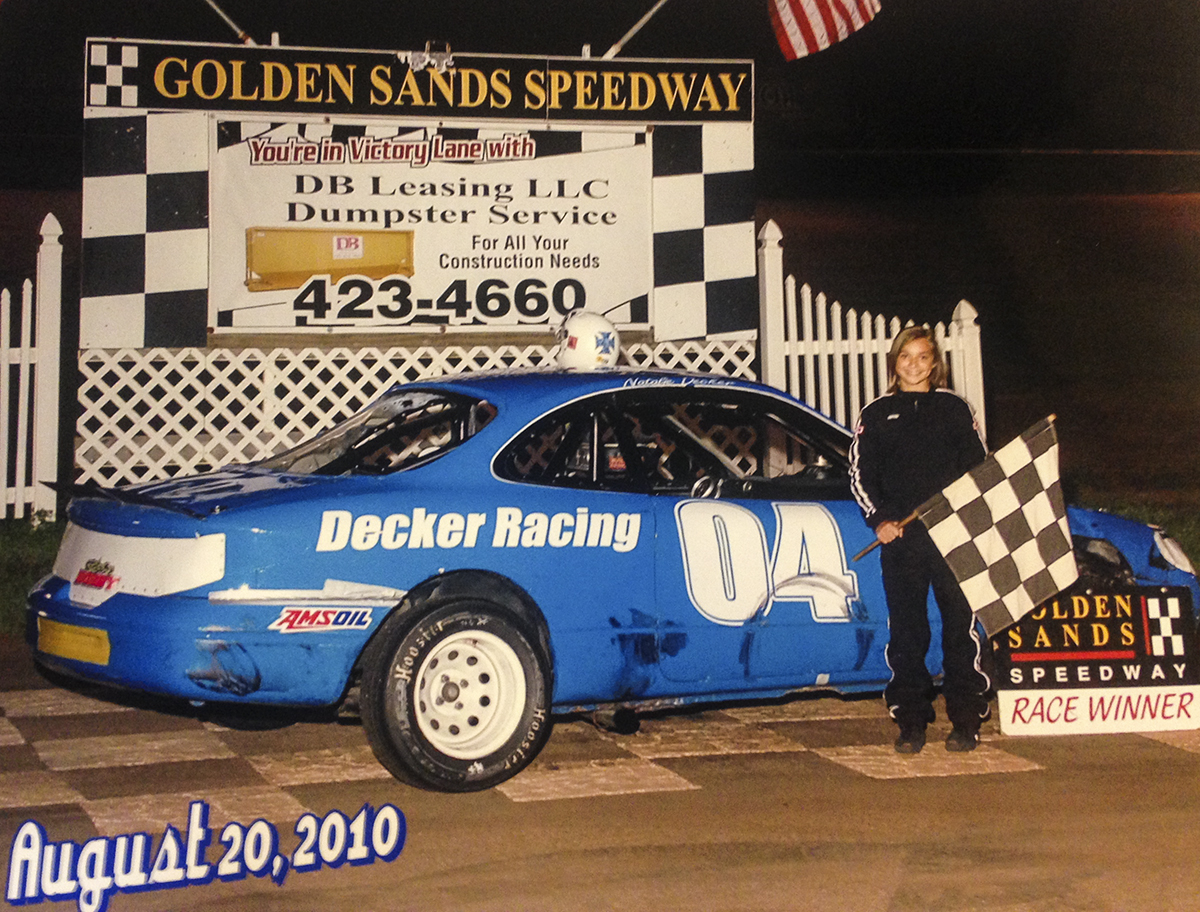 What was the very first car you owned?
The first car I owned was a mod-four race car at the age of twelve. It was a stick shift and the first time I drove it was in a race at Golden Sands Speedway in Plover, Wisconsin. I went to the drivers meeting with my helmet on so the guys I was racing against (as old as my dad) didn't know I was only a twelve-year-old girl. I think they could figure it out by my long blonde hair sticking out and I wasn't even five feet tall with a size three shoe.
Did you know you always wanted to get into racing, or did you have other career aspirations?
I knew I wanted to race NASCAR since I was seven years old, and I would tell my dad that every time we would watch NASCAR together on Sunday's. My dad would tell me stories of him buying Mark Martin's stock car back when my dad raced cars and that made me a big Mark Martin fan when I was younger.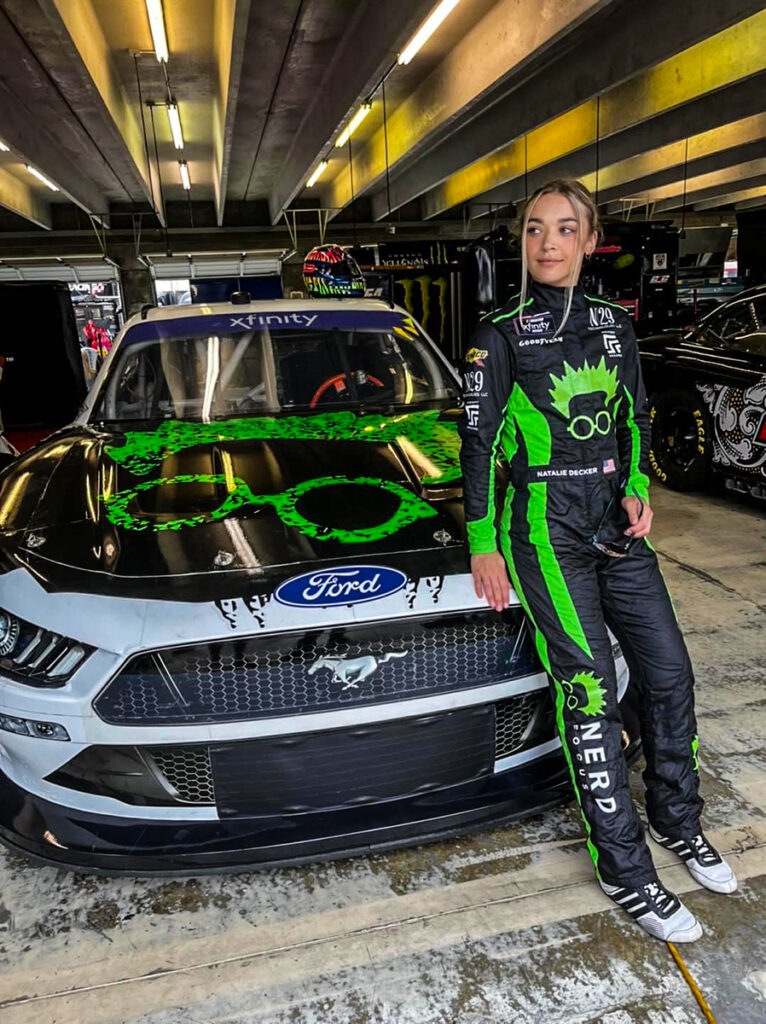 Is the NASCAR Cup Series the ultimate goal?
NASCAR Cup Series is the ultimate goal, along with other accomplishments- winning and making a difference.
Tell me a little bit about the toughest challenges you face getting to the NASCAR Cup Series
Probably the toughest challenge getting to the NASCAR Cup Series is funding and experience.
Do you follow any other motorsports racing; F1, IMSA, Motorcycles?
I follow a lot of forms of racing. My boyfriend, Derek and I, never miss a Motocross Race and my favorite racer is Aaron Plessinger. I've had teammates in NASCAR from F1 (Jacques Villeneuve), motocross/rally racing (Travis Pastrana) and Indy Car (Conor Daly) and that makes it even more fun to watch them compete after I've been their teammate.
If I were to open your garage door at home, what would I find in there?
In my garage you would find a dually pick-up, race trailer, late model race car, NASCAR Show Car, pit box, large toolbox, dirt bikes, four-wheeler, golf cart, side-by-side, golf clubs, riding lawn mower, power washer, chain saw, weed whip, pond rake, shovel, and red ant poison. Since we recently moved onto farm property with a pond, we've added inventory to our garage.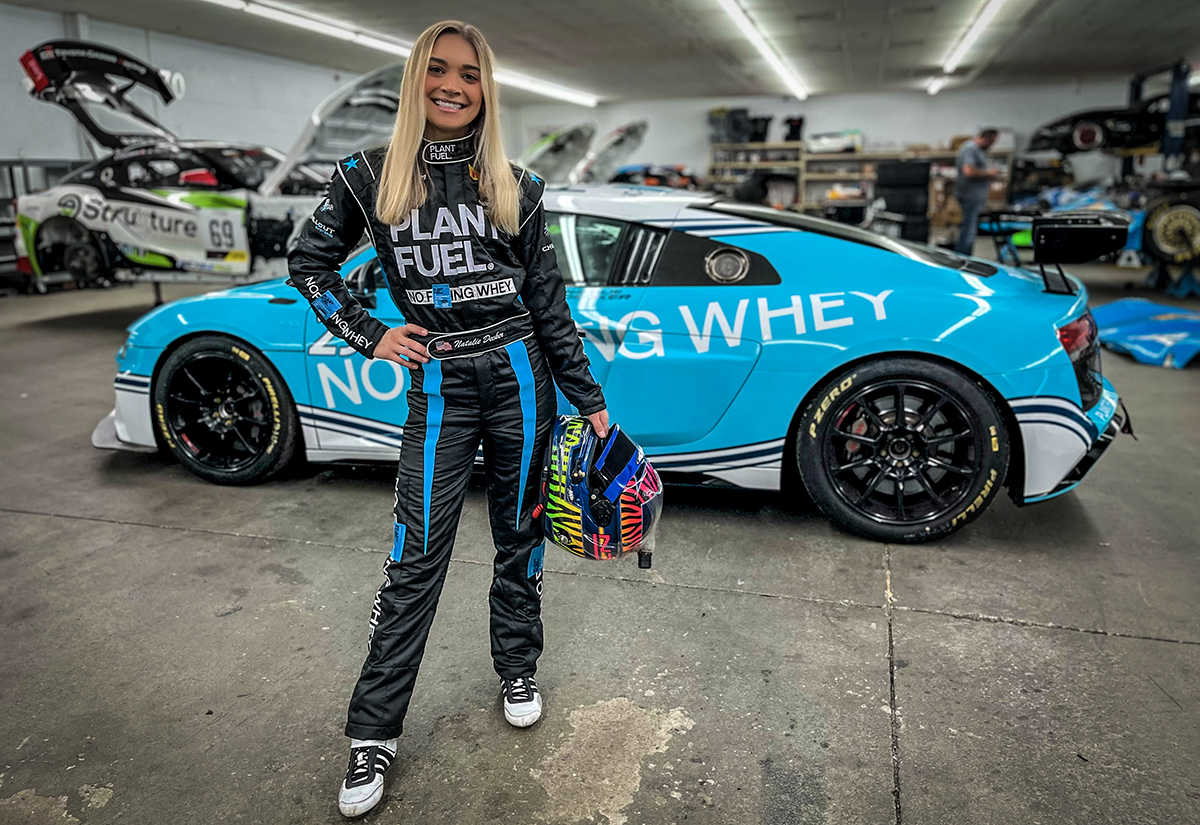 What's your dream car? Why?
My dream car is an Audi R8 even though I race one with Tony Ave Motorsports in the Trans Am Series. This year at my home track, Charlotte Roval located within the famous Charlotte Motorspeedway, we took home a win! It is such a fun car to race and definitely on the top of my dream list to be parked in my garage as a streetcar someday.
Any particular destinations you love driving to, or roads you like to drive on?
I have been living in the Charlotte North Carolina area for the past six years, as it is the home of NASCAR teams. So, when I do get the chance to travel to getaway I love going home where I grew up to visit Eagle River, Wisconsin. It is so beautiful there with the largest chain of inland lakes in the world and it's also known as the snowmobile capital of the world. You can four-wheel on trails in the summer and fall and snowmobile in the winter. There are 28 lakes connected you can boat to restaurants, fish, and water ski. It's truly God's country!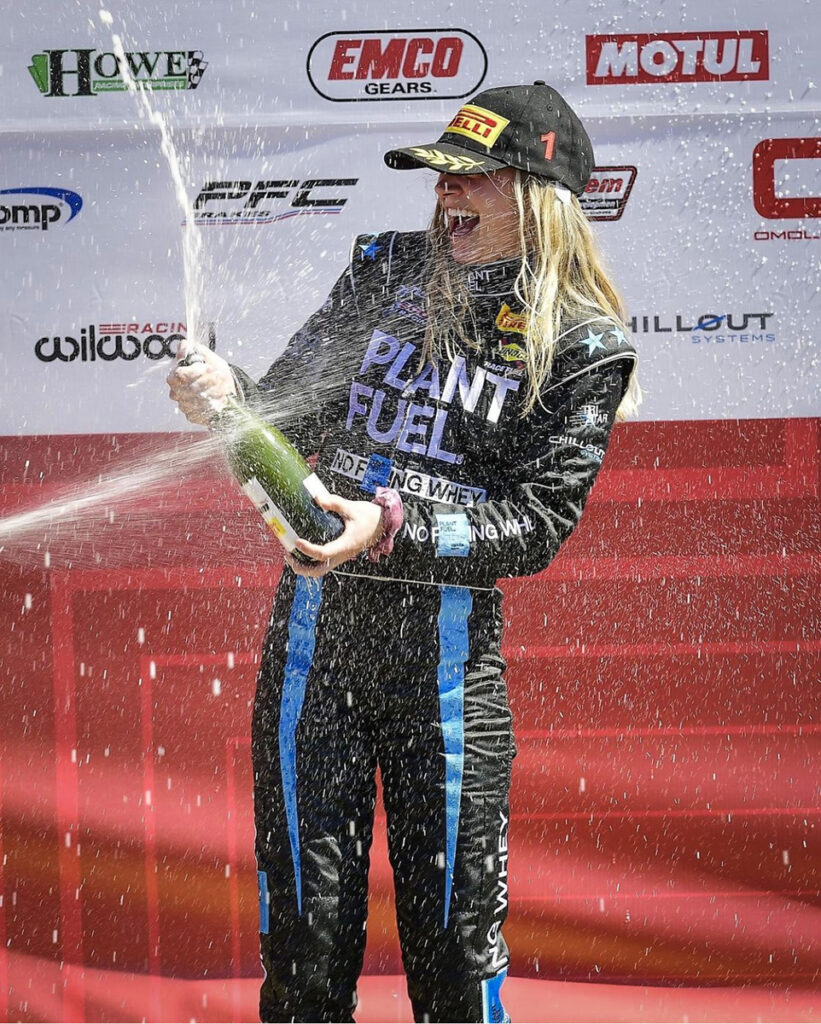 Any race tracks you haven't been to yet that are on your "need to attend" list?
My goal is to race the NASCAR series FULL TIME so that I can hit all the tracks during the season. It is so important to continue mastering your craft week in and week out with your team along with gathering all the car set up information at each racetrack. Seat time during a race is so important in NASCAR because we aren't allowed to just go practice at the tracks. Our practice is our race – our race is our time to compete, gather information, learn, be at the top of our game!
What do you like to do when you want to get away from racing? Any hobbies or "secret" get away spots?
Yoga is my daily routine, but I believe self-care is so important so on special occasions I treat myself to a spa day with a massage, pedicure and manicure.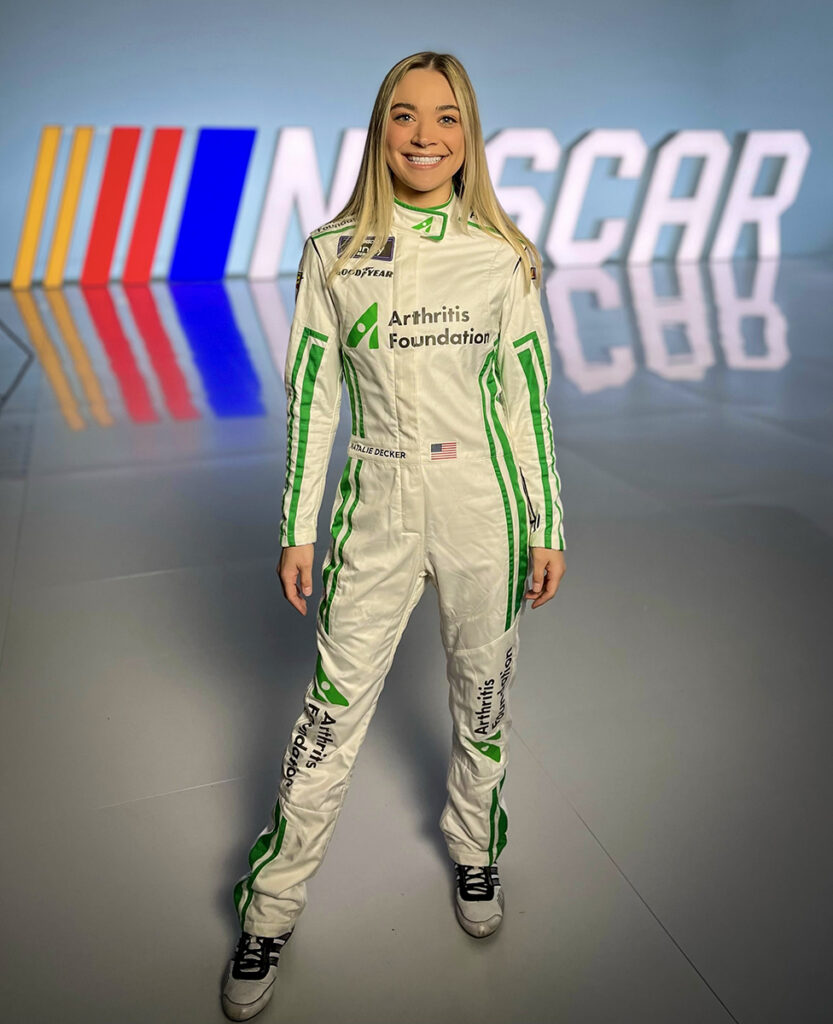 Any final thoughts?
I was born with Juvenile Rheumatoid Arthritis and was diagnosed at the age of two. With an autoimmune disease, it is something the human eye cannot always see and for this reason I want to express how important it is to always be kind because you never know what someone may be going through. What appears okay on the outside doesn't always reflect what a person has going on in their life.
I have been a Champion Ambassador for the Arthritis Foundation for the past two years and their organization of volunteers and advocates have added so much support to my life in return! Whatever road you choose to take, go on the one that makes you happy and fulfills your dreams and never give up!
Thank you Natalie for slowing down just enough to get Behind the Wheel with Rides & Drives. We look forward to watching your career and excited to see what the new racing season brings in 2023. Oh, and we'll be cheering you on from America's Dairyland!