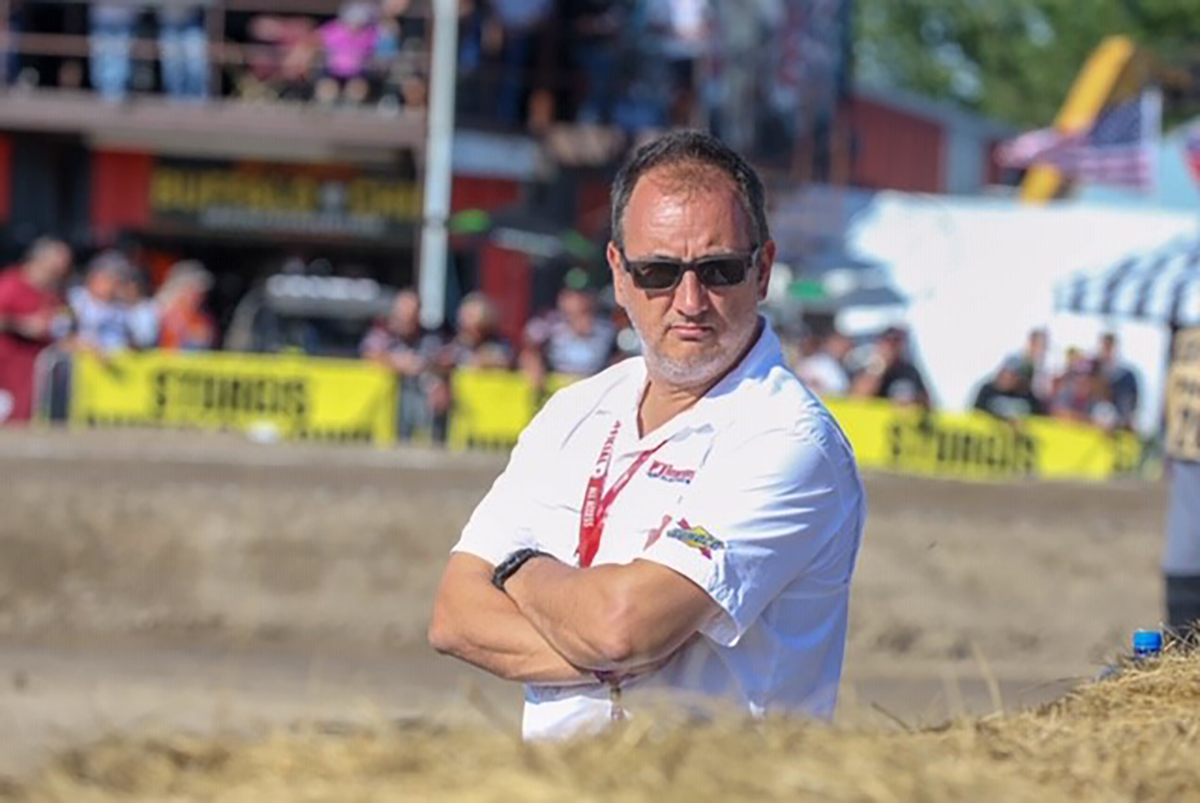 To say Michael Lock has motorcycles coursing through his veins would be a massive understatement. From a very young age he was hooked on the speed and power only motorcycles can bring. He was fortunate to make his passion for motorcycles into a career in the sport. From Honda to Triumph to Ducati, Michael has been there and done that. Now he is charged with bringing American Flat Track (AFT) racing out of the shadows and into the American consciousness. We had a chance to spend some time talking about his career, his personal collection of bikes and his life at AFT.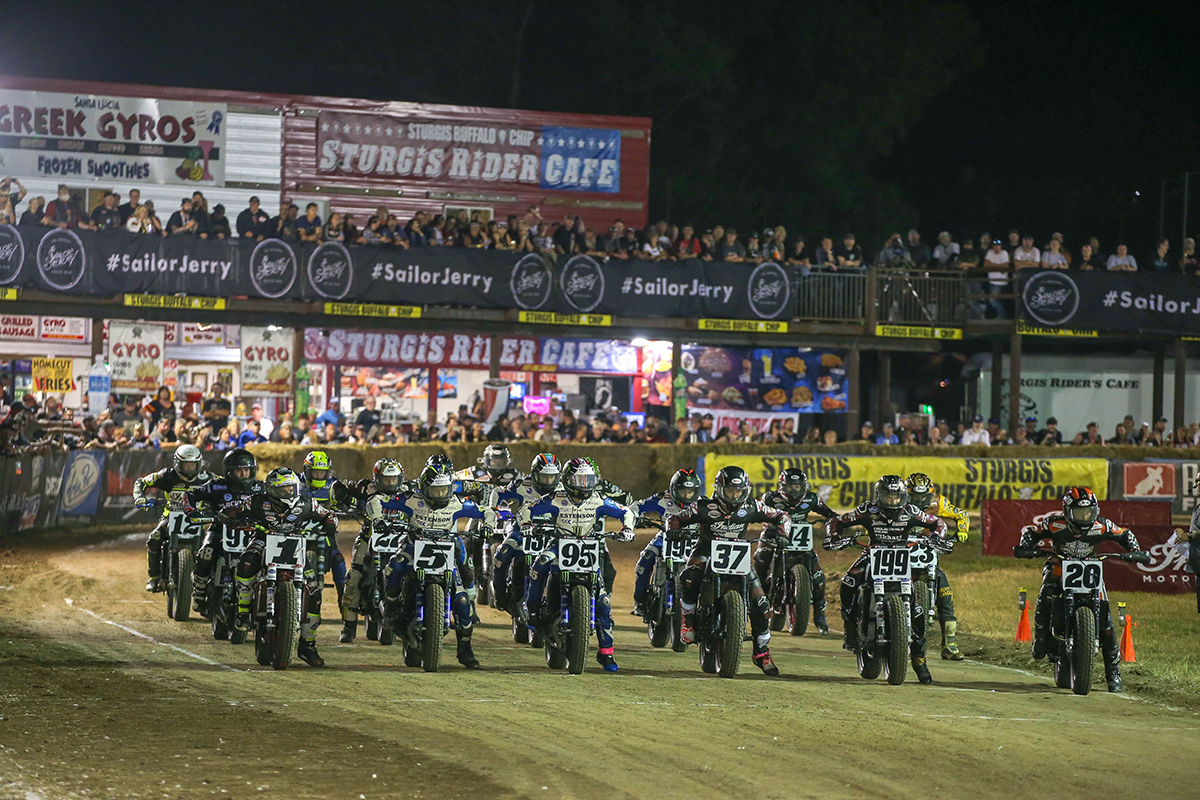 Growing up in Britain, do you remember your first experience or exposure to motorcycles?
Oh yeah, I remember it very clearly. A cousin of mine who was older than me, I must have been like 12 or 13, and she must have been 18. She started dating this guy who was the head of a local motorcycle club where they lived. They rode amazing motorcycles these guys. I started hanging out with them and got taken on the back of a bike, it was a Moto Guzzi LeMans Mk1. He asked if I had ever been on a big bike and I said no, I never have. He said oh, you're going to enjoy this. Well, at the time, I didn't know that he was the club lunatic. He was a great rider and he rode that bike, which he had modded and turned into a café racer, on a loop around the town at speeds up to 125 mph on a public road. We even got a police tail that he lost it in about 30 seconds. And of course, in the UK every town is peppered with roundabouts which is a very good way of learning how to lean a motorcycle and get your knee down. He gave me a real show and when we got back to the pub where everybody was meeting, I couldn't get off the bike. I was frozen. Every single muscle was so tense and frozen because I thought I was going to die a hundred times. But the exhilaration was like nothing I had experienced in my life. That was my first hands-on experience with bikes, and I've been intrinsically linked to them the whole rest of my life.
Do you remember the first bike you owned?
I started saving money, I took an evening and summer job where we lived in Cambridge waiting tables at Cambridge University and I saved all my money so I could get my first bike when I was 16. My parents had forbidden me from getting a motorcycle so that made it a bit difficult. I decided to buy one anyway and leave it at my friend's house. I told my parents that I had a motorcycle and that they would never see me riding it and never know where I was unless I was allowed to have it at home. We had a bit of a family chat about that and, in the end, I got the bike. It was a Yamaha FS1-E, which was known as a Fizzy. It was basically a 50cc, two-stroke, single cylinder kind of scooter but built into a motorcycle chassis with clip-ons and rear sets. It was awesome. There was legislation in the UK at the time that you could ride at 16 but only up to 50cc. So, all the manufacturers made these cool looking 50cc bikes so 16-year-olds would buy them.
You have spent time at Ducati and Triumph in the past, what was it about those brands that attracted you?
When I left college, I went to work for Honda UK. I got in on their student program and worked in a bunch of different areas. By the time I had been there for 4 years they had opened Honda Motor Europe, which was a new company to coordinate the whole of Europe for them. I was asked to go to work there and it made me visible because I was one of the few Brits. I worked there for a year and got approached by a head-hunter working on behalf of Triumph, which at the time no one knew Triumph was coming back. They approached me and said "look, we're relaunching the brand and have all this technology, we're ambitious, we'd like you to come run the whole export division." I was only 25. But at 25 you think you can do anything, so I got this chance join Triumph on the ground floor of making this new motorcycle company but using a storied old name. It was really an interesting challenge so that's what attracted me to go to Triumph. I worked there 6 years and ended up bringing Triumph back to the US and setting up Triumph America. But I was working 7 days a week, it was like an obsession, and I just got exhausted and burned out. I decided I needed a change of direction, so I went back to college. I left Triumph America and went back to the UK and did a master's at University for a change of atmosphere. At the end of that, I somehow found my way back into the motorcycle business because Ducati UK were looking for a new CEO, as the current one was going back to Italy. They asked me because they knew I knew the bike business inside and out. Within 3 months of taking over Ducati UK, Ducati USA imploded. They had all kinds of troubles and the folks in Bologna knew that I had worked in the US for 3 years and asked me to help them figure out what had gone wrong, and then asked me to take over the company. So, I moved backed to the US to run Ducati North America which was an incredibly exciting experience. It was a real challenge. I spent 8 or 9 years working for Ducati in California, a beautiful part of the country. Both my children were born there. I loved it. It only came to an end because of the financial crash at the end of 2008 which completed decimated the bike business in the US. Our sales completely imploded, and the company went into real lock-down mode. It was all about cost-saving, preserving the company and they needed somebody to do that and it wasn't me, I'm not that guy. So, I left and ended up joining Lamborghini which, ironically, became the same company, both owned by Volkswagen.
Was it tough to move to Lamborghini and work in the automobile industry as a motorcycle guy?
At the time, I was really looking forward to it. I felt like it was a logical steppingstone in my career. Even though Lamborghini is a small car company, its business is still big compared to most motorcycle companies. I felt like it was a new challenge, a new scale and new level of professionalism. I kind of had this idea in the back of my head that if I didn't work in motorcycles I might enjoy owning and riding them more, which is true. I liked the idea of just being a motorcycle customer and not having to make decisions all the time based on the business. That was the thinking. The reality was that while the cars are cool and the brand is cool, frankly I hated it. It was all business. Much more than I thought it would be. It was less about engaging the passion of the people. I did a couple of years at Lamborghini and we blew it away on the business side. We grew Lamborghini astonishingly in the US, but it wasn't really a happy time for me. It was a learning time, but less than a happy time. I was more than happy to come back to AMA Pro racing.
What was it about flat track racing that attracted you?
It was a number of things. Firstly, it was my friendship and long-standing contact with Jim France, who is the primary shareholder in AMA Pro racing. Obviously, a lot of people know he is a scion of the France family from NASCAR. I've known Jim from the first moment I came to the US because he's a Triumph fan and we connected through Triumph USA. He asked me if it was possible to turn around flat track racing which was a tremendously popular sport 30, 40 or 50 years ago. He asked me if it's possible to do it in the 21st century? What would the model be that would restore this beautiful, American invention back to prominence? He asked me to look at that. And, as I looked at it, immersing myself I discovered the people and the culture who were completely unknown to me. There is this amazing sport with these family dynasties, these great stories and the closeness of the community. There is this sort of blue-collar garage culture of it which I loved, I absolutely loved. When I figured out it would be possible to re-engineer it to succeed now, but still bring that same entertainment and fascination, when I saw there was a combination of those 2 things, Jim asked me to come in from being a consultant to running the company and reshape the future. It was a great opportunity.
You've come a long way in the 4 plus years you've been on board with AFT. Where do you go next?
Well, 2 or 3 things are really important. We have grown the sport exponentially in the last 4 years. But I'm no too cocky about that because we're coming from a really low base. If I go back to 2015, we had 11 races across the country, and we had an average crowd of four or five thousand people come see them. We had about a thousand people or so tuning in to our live stream. So, you could say safely that the total active audience for flat track was 100,000 people max, across the whole country. That's not a pro sport, that's a cult. Fast forward to 2019 and we were getting total audiences, across all channels, between 300,000 and 400,000 people per race! So, the growth is seemingly amazing. But I can tell you, if we look down the road 5 years, we can't stay at that size and at the same time fulfill ambitions. We have a number of ambitions.
Number one, we bring all possible technology and resources to make the sport as safe as possible. And there's headroom there, lots of headroom. We have to keep refining what we do in the area of safety for our competitors and some of that is money. I need bigger and bigger audiences that drive bigger and bigger revenues to be able to do the things we dream of doing to make the events safe.
Number two, we need bigger audiences because I need partnerships with the kind of brands that are enthusiastic to sponsor sport. You see them all the way from the NFL to equestrian, and everything in-between. Those sports are in part financed by the corporate partnerships they have. Well, five years ago we had two; Harley Davidson and Dunlop Tires which were official partners of AFT. Now we have many commercial partners of the sport, maybe 40. And, while many of them are in the motorcycle industry, a growing number of them are not. You can look at brands like Red Bull and Caterpillar as two very good examples of brands that are not motorcycle industry brands but have found AFT attractive enough to get involved.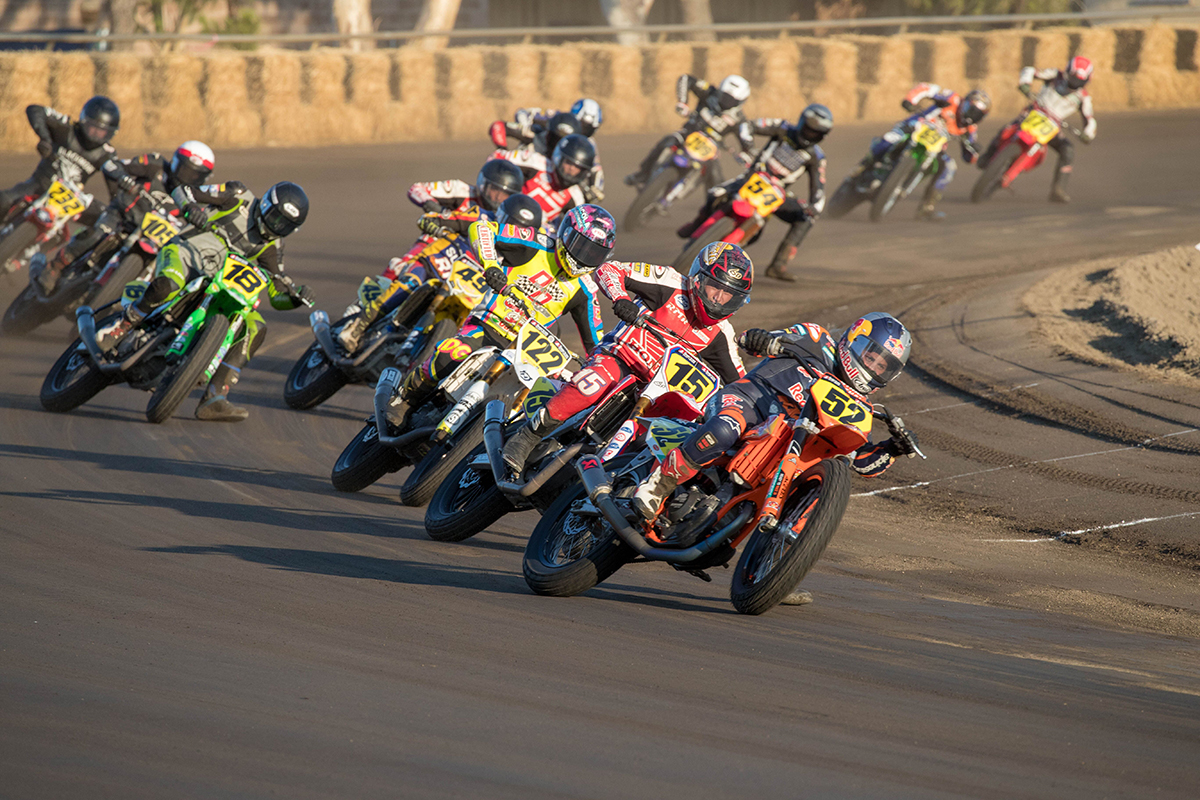 Number three is the area of broadcast. 3 years ago, the only broadcast for AFT was fanschoice.tv, which was our in-house streaming service that was pretty rustic and focused pretty much only on the racing action. Since then, we entered into a long-term partnership with NBC and we now put out 18, hour-long shows a year that are a mixture of racing and under the helmet, and lifestyle. It's a magazine style program. That is what is taking the sport to 300,000 new people every race. But the TV landscape is changing. The cable TV industry is in recession and consumers having more choice how they purchase and consume content is going to be the driving force for the next 10 years. We just launched TrackPass on NBC which is a replacement for Fans Choice, but the production quality will be better and there will be more content. If we had 100,000 people in the US subscribe to TrackPass next year it would transform our sport in a wholly positive way. Only 100,000 people. The last big change we need to make, is we need to be able to channel some of that rising revenue stream into the hands of the competitors. You know how much they put into it, how good they are, how dedicated they are. I need them to be compensated like stars, not like workmen. Those are the things front of mind for me over the next 3-5 years that we need to deliver.
Will you be taking the sport global at some point?
Oh yes! I'm definitely an internationalist. In 2018 we were invited by Lord March, who runs the Goodwood Festival of Speed in England which is the biggest motorsports festival in the world and very high-end, to bring over 8 of our top riders and their bikes to do demonstrations and to show off the sport to the Europeans to see if there would be any interest over there. So, we did. They didn't build a dirt oval or anything, but we did participate in their time trials up the hills. They put us in the same group as the F1 cars. So, everybody that goes there to see the F1 cars would see a Ferrari go up the hill and then 3 Indians [laughing]. We created a real stir over there and I came away firmly with the impression that Europe would love American Flat Track. Absolutely love it. We've been building relationships in Europe. We have a very nice relationship now with DORNA. Definitely, plans to take it global in the future. I can't tell you where or when because we're not quite certain at this point.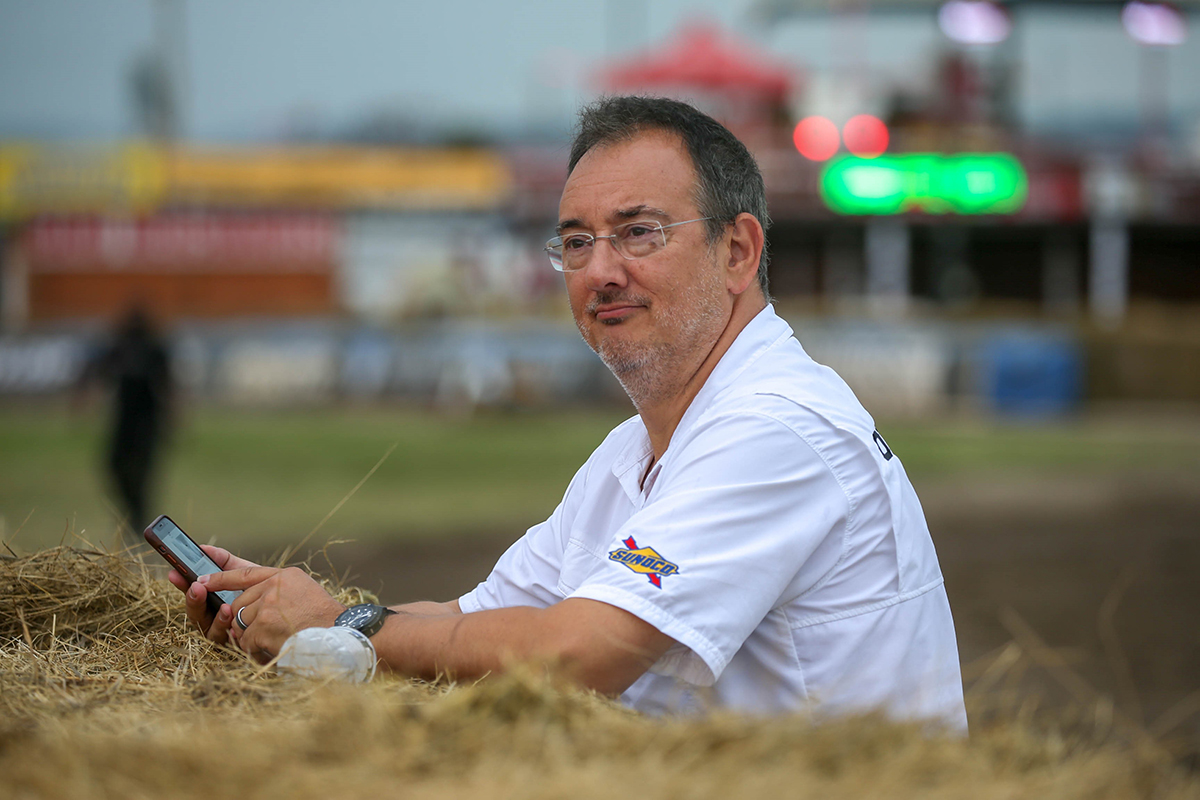 If I were to open your personal garage door at home, what would I find in there?
Oh, you shouldn't have asked that question [laughing]. It is a long answer. I have a collection of bikes that I own, all of which have been important to me. Three of them are Ducati's; I have an 888 SP superbike, which was the first Ducati I fell in love with. I have a 1098 S superbike which was the bike when I was running Ducati North America, we introduced in 2007. It was the first breakout Ducati in the US, the first Ducati superbike ever that America thought they could buy. It was the bike that changed Ducati forever in the US. My third Ducati is a Monster 1100 S, which is the last of the air-cooled Monsters, an iconic bike. That is my everyday ride. I have a Honda RC30 which I still think is the greatest bike Honda ever made. A bike that dominated World Superbike and the Isle of Man. I have Laverda Jota, which is a 3-cylinder, 1000cc Italian superbike from the 1970s. Almost no one in the US will know what that is because I don't think they were ever officially sold here. And I have a Honda VF1000R, which is an intergalactic express bike. It looks like a sport bike, rides like a touring bike. That's the collection.
Do you have any favorite roads or routes you like to drive or ride?
No, not in Florida I'm afraid. Florida is not your dream state for a motorcyclist. Particularly if, in the past, you've lived in the Bay area or Virginia (and I have lived in both) which have glorious roads. Florida is kind of flat and freeway oriented with lots of people on the road that don't have the safety of motorcyclists as their top priority. I would say my favorite road in the US to ride is Highway 9 near Santa Cruz, California which goes up to Skyline Boulevard.
What do you do away from motorcycles and the sport?
I cook. That is my stress relief that takes me to a different place. I like to cook, put some music on in the background, and it gets rid of all worries.
Any final thoughts?
During this current crisis, everybody is looking after health and safety. Soon after, we need reasons to exist. And although motorcycles and motorcycle racing are not tremendously important in some respects, they are very important in feeding the soul and making us feel alive. We are fully dedicated to bringing this racing back as soon as we can, to compete a full or partial season, to crown champions, and keep this heritage going.
Thank you, Michael, for allowing us a chance to get to know you and get a brief glimpse into your career and the sport of American Flat Track. We thoroughly enjoyed learning more and can't wait to watch the races again when you resume. Oh, and we'll make sure to subscribe to Track Pass so now you will only need 99,999 more subscribers.