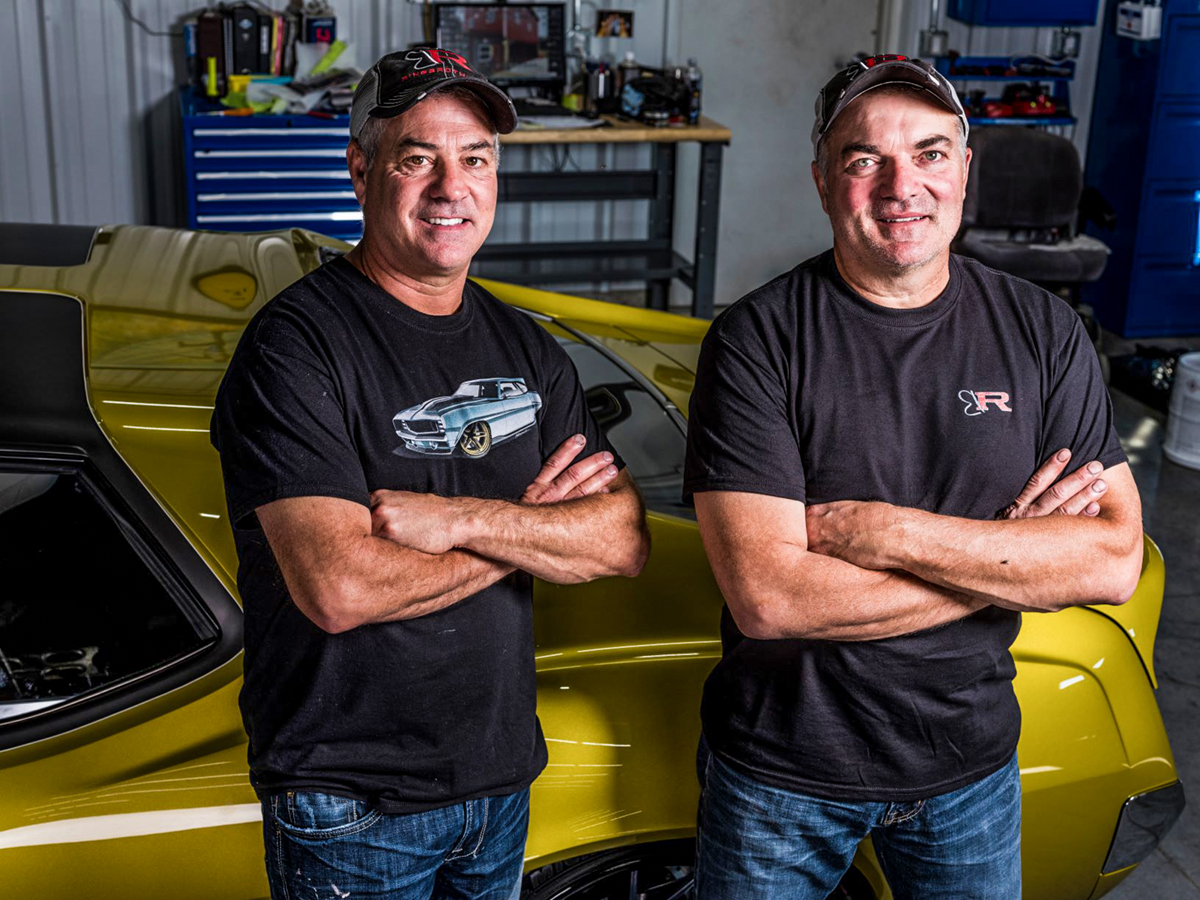 With small town roots firmly planted in Spring Green, Wisconsin, Mike and Jim Ring spent their formative years tinkering with cars, doing collision repair, and painting in their local shop. Their passion for cars turned into a full-blown, award-winning custom build shop alongside their collision repairs and they have been recognized around the world for some of the most beautiful and innovative custom cars, many of which have been showcased at the Specialty Equipment Market Association (SEMA) show held every November in Las Vegas. We got the opportunity to talk with Mike Ring to learn more about the history of Ringbrothers and get his perspective on the industry and the future.
What is your first recollection of being around cars and auto shops?
That's such a good question. I think I always had an infatuation with cars because there weren't that many cars back then. I come from a town of about 600 and families only had one car at that time. It wasn't like today where cars are abundant and everyone has one. I just started out wanting transportation because we lived so far from everything, not having to ride your bike was cool. Really when I first started loving cars was probably when I was about 12. My dad owned a gas station, my brother Steve had purchased it. I used to wash cars on Saturdays for him. That's where I fell in love with the AMC Javelin. There were guys there that had Gremlins, some guys had Chargers, and I just really fell in love with cars around that age.
You started building custom cars at a young age, how did that get started, what was it that got you into building?
It was always loving cars but then our neighbor had this little wooden shed and a buddy of mine rented it and we started tinkering. It was a way to make money because it was pretty easy to fix things back then because it was all lacquer paint. You could just do a little blend and make a little money. It got to where people would bring cars over and we'd just do the body work on them. This was long before we even had our licenses. From there it turned into us finally having a car. Our first car was a Torino. Jim and I had to share it. I think there was one month where we painted it a different color every weekend.
What was the first car you restored or built?
Really it was probably Jim that did that. I had a GTO when I was in the Navy that I was starting on but I never got to finish it. I came home on leave and it was gone. I asked Jim, "where's my car?" "I sold it," Jim said. "Where's the money?" and Jim was like "I spent it." That was the first car I really tried to restore.
Really it was probably in the late '80s. Jim dragged home a 1969 Camaro Indy 500 Pace Car. It was a convertible, white with the orange. At the time I owned a convenience store and gas station that I converted. Jim tore it apart on my hoist one Saturday afternoon, down to nothing. He restored and painted it outside at mom's house. He actually sold that car and that's when he went into business before I got involved. That was probably the first Ringbrothers car.
How many custom cars per year does Ringbrothers produce?
It's usually somewhere between two and four. Four would be a pretty big number. You know, in the middle of all that we're doing regular collision work, regular paint jobs. But as far as car builds, two to four for sure.
How do you balance the work of running a small-town body and repair shop with building these amazing custom cars?
Well, I actually work 7 days a week. My wife says I need to get a hobby. Jim, he does have other hobbies and doesn't put in quite as many hours as I do but he works a lot too. The collision is still a good way for us to look at how the new cars are made. So, by being able to do collision it gives us the opportunity to see how the manufacturers are doing it, gives us ideas and gives us parts we use off the new cars.
You've built some cars for some rich and famous people. How do those opportunities come about?
I think it's a little of everything. You get a few that talk to you at various shows, some are local that have found out what you do. Probably most of our work came from SEMA. We've always looked at SEMA as the Super Bowl. It's always a place that we got press that was from all over the world. I think that was a big part. I think Kahn (Kahn Media) has done a good job setting us up with journalists who help us get the word out. Who knows where this leads conversation leads to, right? It's something we've never taken for granted and have always embraced because we don't know what could come from this.
Tell me a little bit about the Prestone Javelin and how that project came to you.
The Prestone Javelin was a pretty cool project. On Saturdays I used to wash cars at my brother's garage and that exact car was a car I used to wash then. It was funny when we ended up purchasing it because it still had the oil change cards in the door and I was the one who actually changed the oil the last time. It had been sitting all this time. It was just one I always thought was super cool.
We had the chance to purchase that car. Jim was doing a fish fry at our church and the guy who owned it only had one daughter and asked if we were interested in his Javelin. Jim said yes. We knew we wouldn't ever do it on our own because who would do an AMC to that level? But we always thought maybe we could find somebody to do it. It just so happened that Prestone came to us and wanted to do a build, they wanted a Mustang or Camaro for SEMA. We asked them, "What about a Javelin?" And they were like, "Javelin? Why would you do a Javelin?" and we were like that's why you do a Javelin. It would be iconic. Kahn actually did something that was pretty cool. They did an overhead shot at SEMA and it was like Camaro, Camaro, Camaro, Mustang, Mustang, Camaro, Mustang you know. Like all the Camaros and Mustangs were at Hot Rod Alley that year. We assured them that they would never be able to use that as a true marketing piece. It would be like, oh look, someone did a Camaro for them. When you say Javelin, instantly they'll think of Prestone because no one has really done one. It will be remembered because we plan on throwing the kitchen sink at it. I think it did exactly what we said it would do. It stood out and we were right.
What is your favorite vehicle you've built? Why?
You know, I have favorite parts of a lot of different cars. But, no I don't really have a favorite. The Recoil was special at the time with the way we did the interior. The Javelin obviously because of the history with me. The Producer because we widened a Mustang and made it look like it was stock. Just pieces and parts of all of them. But I think the next one is probably the best answer.
Do you have anything big planned for SEMA next year?
Big is based on the amount of money and the owner you get. I don't think that we'll have the splash that we did last year with the Camaro because of the budget. We do have a '69 Charger that was started in New Zealand for a V-8 Supercar driver over there that we're going to finish up. That'll be a nice car.
You've been doing this for the better part of 25 years, has it been everything you hoped it would be?
Honestly, we never imagined that we would be known for what we do. We've always just liked cars, and started doing a few. But to think we would be recognized like this and guys that do what you do would be calling, it never entered our mind. We never thought that would be possible. We just did what we liked to do and it's just lucky, you know what I mean? I think we're lucky with the Internet, with SEMA, with people liking us and writing about us. A lot of it is luck. I feel we were lucky. A lot of people work hard. They work as hard or harder than we do. To separate yourself, I don't know how we did that. Tomorrow, maybe it's somebody else's turn. We're going to make it hard for them, we're not going to give up.
If I opened your personal garage door today, what would I find in there, anything odd?
It would be odd because nothing in there is old. I have a Ram Pickup, and I hate Dodge. The only reason I have that is that I had a BMW X5 twin turbo that I bought used and it was a POS, oil burner. Our Ram dealer was the only place that would give me any money for it on a trade. That's why I'm driving a Ram pickup. My wife drives a VW Touareg. I mean, I did have a '13 Golf R that my son has right now. My daughter and I are building a 1972 BMW 2002 Tii together. I'm hoping that will be in my garage for a little while.
What do you like to do away from work/cars?
When I have time off, I love to play golf. So, I try to play as nice of courses as I can. As far as driving, I don't do much since I don't have anything cool yet. I plan on it; I plan on building something for myself. I got my kids through college and now it's my turn. I'm excited.
What does the future look like for Ring Brothers?
We always did something we cared about and still do. We always wanted something that was our brand. People these days can steal a lot of things but they can't steal your name. We take a lot of pride in our name and our work. The future, I hope, is continuing to push the threshold on innovation as far as the types of equipment we use for our builds, the materials, I just want to push the technology. Even though I'm still a flip phone guy, I think technology in our business is going to lead the industry and I want to be part of that, empowering younger people.
Any final thoughts?
I think about the small town and what's that done for us. When you're from a small town you can do anything you want. I think today everybody lives in a small town in a way, with the Internet and all. It used to be word-of-mouth but now it's the Internet that makes us small. We try to take care of the customer you know; the customer is still always right. We try to do that in our business; do what you say you're going to do and we try to do that.
Thank you, Mike, for taking time to speak with us. We can't wait to see what Ring Brothers does next and the innovation you bring to the industry. We'll be sure to catch you next time we're headed west on Highway 14.