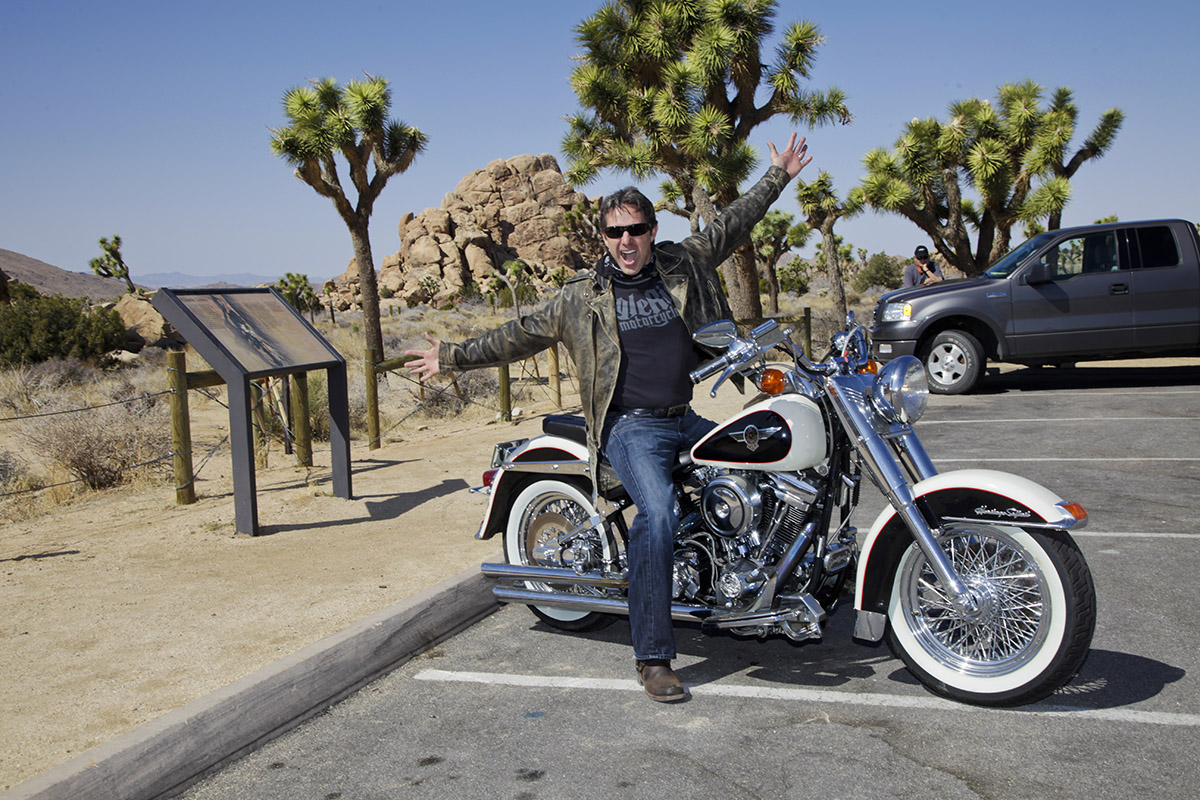 While we normally hop behind the wheel with our guests, this month we're doing something a little different because Chris McIntyre is a motorcyclist and entrepreneur with a serious penchant for wanderlust. That combination led him and his business partner, Jeff Brown, create EagleRider, a motorcycle rental and touring company in 1994 with a fleet of four Harley-Davidsons that were rented out of the garage in San Pedro, California. Now with 75 locations around the country, EagleRider serves over 100,000 customers a year, fulfilling their dreams of riding their favorite motorcycle on an epic adventure.
Born in Madison, Wisconsin, Chris started riding mini bikes at the age of 8 and was quickly hooked on two-wheeled transportation. After graduating from the University of Wisconsin with a degree in economics, Chris worked at NCR where he met fellow bike enthusiast, Jeff. That's where EagleRider's story begins, and I'll let Chris take it from here.
I read that you came up with the idea for EagleRider when you were trying to rent some bikes for a trip during a sabbatical. Did you end up taking that trip or did it just serve as an inspiration for the business?
It definitely served as the inspiration for Jeff and me. Our plan was to travel to Europe to ride the Alps on the motorcycles that we planned to rent when we got there. We were saving up for this trip and we thought it would be really easy for us to find someone who offered motorcycle rentals. It ended up being really difficult to get the bikes to rent but that served as our inspiration for EagleRider. We spent the first five years getting the business running and stabilized, and ultimately did take the trip, it was just a little different than what we had originally planned.
How long have you been riding?

I've been riding for around 44 years, since I was around 8 years old (on a mini bike). Those 15 seconds on that mini bike is what got me hooked on riding. I usually rode all of my neighbors' mini bikes because just about everyone had one. From there, I pretty much went all in and bought my first my first motorcycle when I was about 17 years old before my first year at the University of Wisconsin.
What was your first bike and do you have an interesting "learning to ride" story?
The Suzuki PE 185 – It's an on-road and off-road bike that looks like a dirt bike. I worked at a golf club and I loved riding to and from work on my bike. Now I really shouldn't say this, but my great "learning how to ride" story is essentially testing my limits at the golf course that I worked at. A couple of buddies from work and I would show up really early to test the limits of our bikes on sand bunkers, hills, water and everything! It was like our own personal playground before all of the golfers showed up. This really helped me to learn how to ride my Suzuki well, especially when you have obstacles to drive through. It was super cool!
What's in your garage now?
I currently have two bikes. A 2018 Road Glide, which is a touring machine. I also have a KTM 450 SX-F. It's a high performance dirt bike. It really connects me to my roots when I used to ride on the golf course.
Obviously, you're a road trip guy, what are a few of your favorite destinations and why?
I love riding along the Highway 1 on the west coast. It's beautiful, it's diverse, you can escape up into the mountains – there are a ton of cool areas you can go to from the coast, hotels, restaurants, the beautiful views of the ocean, San Francisco, you name it. The route is just magical.
The Southwest area is another one of my favorite destinations. Yosemite, Death Valley, Grand Canyon, Bryce Canyon, Lake Tahoe, Highway 22, Arches National Park, are all areas that are truly breathtaking. I wish I could ride in the southwest daily. It makes you feel like you're the only person in the world that is traveling. I truly believe that riding a motorcycle is a rite of passage, and riding in the southwest is a great way to go through it.
Another favorite ride destination would be the Baja Peninsula, which is actually the first guided tour EagleRider ever offered. The ride from Los Angeles to Cabo San Lucas and the people, the food the whale watching along the way is all just an incredible experience. It's a perfect ride for the winter season.
You just announced EagleRider's 100th rental location with Harley-Davidson. Being a native Wisconsinite how important is that relationship to you both personally and professionally?
Personally and professionally, it was a 25 year journey, which made it even more rewarding to see the deal come to fruition. When I was a student at the University of Wisconsin, our mailman sometimes delivered the mail on a Harley-Davidson and that was definitely the start of my aspiration to one day own a Harley. The synergy between EagleRider and Harley-Davidson and what our companies will continue to bring to motorcycle travel in the tourism industry is very exciting but it is just the beginning of our journey professionally.
You don't just rent Harleys though. You rent everything from sport bikes to scooters to Slingshots and Can-Am Spyders, and have a whole bunch of guided and self-guided tour options. What's next for EagleRider? Are there areas you're not into yet that you are looking at?
We are relaunching the Club EagleRider program this month and will be significantly enhancing the membership benefits. Our strategic alliance with Harley-Davidson enables us to provide members with more access to bike rentals by nearly tripling the Club EagleRider rental locations across the US to 75. We might look at an unlimited rental program at some point in the future. But for now, we are focused on maximizing the potential of Club EagleRider in the current experience and sharing economies.
Do you have your next adventure planned? If so where is it?
I am riding with a several of our global business partners to a trade show in Denver next month. We will start in Las Vegas and do Bryce Canyon, head through the Colorado Rockies and end up in Denver. The beauty of our business is being able to mix business with pleasure. I love meeting with business partners that I work with on the road and introducing them to the hotels we stay at that aren't like your everyday "vacation" hotels.
Thanks for sharing your stories and insights. And thanks for starting a business that makes motorcycle touring easier! Enjoy your ride to Denver.