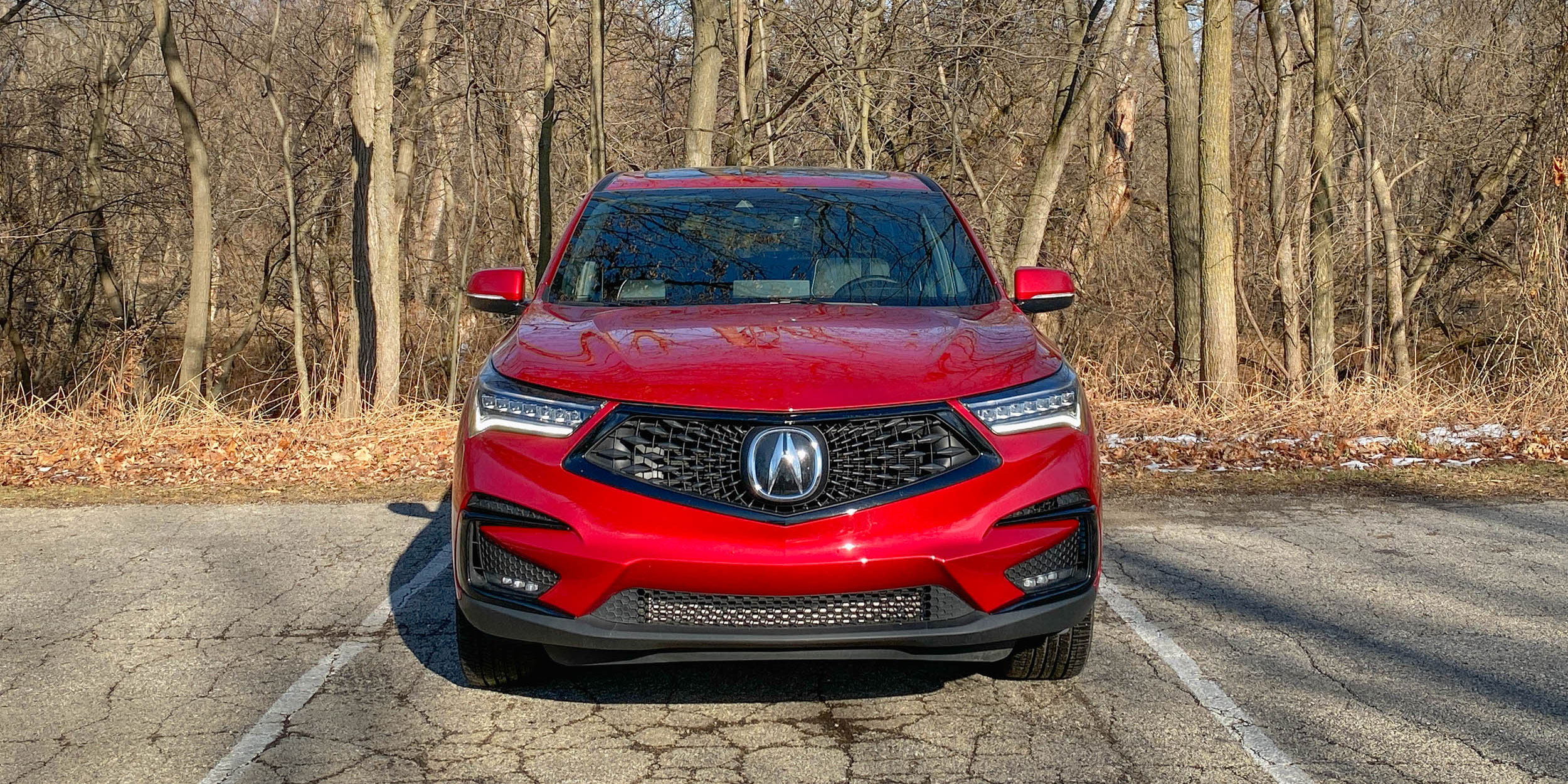 Words and photos by Jill Ciminillo
I have always liked the idea of Acura. But several of its recent vehicles have fallen flat for me because they seem like nothing more than re-badged Hondas with an elevated price tag.
But the 2020 Acura RDX changes that.
Redesigned for 2019, the RDX doesn't get too many updates for 2020, but it doesn't need them.
Acura did a great job of nailing down the details and differentiating the RDX from the similarly sized (but built on a different platform) Honda CR-V.
Thank goodness.
DESIGN
The exterior design of the Acura RDX is sharp, with the focal point being the grille. I love the large Acura emblem with the black flecks exploding from the center. Plus, it's right-sized for the vehicle —unlike grilles we've seen on, say, BMW— and it along with the Jewel-Eye headlights present a very attractive face for the vehicle.
I like the hard angles and lines surrounding the vehicle, but it's the grille I keep coming back to. It's mesmerizing.
The interior, modeled after the Acura Precision Cockpit, is a visual delight with soft-touch dash materials, a large horizontal infotainment screen and well-placed buttons and dials that my short arms could reach without difficulty.
I'm slowly warming up to the idea of push-button gearing for its space-saving abilities — the Acura RDX has a nice pass-through below the center stack, which will fit a small purse or bag. Driver beware, however, if you have a far-forward driving position like I do, this cool cubbie will be a bit difficult to access because your knee blocks it.
This carved-out area also houses power outlets and a USB port – also awkward to reach depending on your driving position.
I did occasionally miss having someplace to rest my hand while driving, but I got used to not having a gear stick — mostly because I drive with my hands at 9 and 3.
I did discover one drawback to push-button gearing, which pertains to anyone who keeps longer fingernails: Pushing the gear buttons hits your fingernails awkwardly.
As an A-Spec model, the Acura RDX test vehicle made good use of ultra suede on the seats and dash panel. And while red leather is available on A-Spec, the test vehicle featured a handsome ebony with white reverse stitching.
The red interior illumination, perforated leather steering wheel, metal foot pedals, 20-inch wheels, gloss black trim and large exhaust finishers add visual interest and an air of sportiness.
TRUE TOUCHPAD INTERFACE
The one new feature I'm still debating is the unique True Touchpad Interface. As automakers move away from touch screens due to distraction, they are looking for an intuitive solution that involves trackpads or dials.
The Acura system employs the use of "absolute positioning," which means you touch the pad on the center stack in the same location as the item on the infotainment screen to make a selection. So, it's like using a touchscreen but completely different at the same time.
For example, if the menu item you want to access is in the top right corner, then you touch the pad in the top right corner to select it. The corners are easy, but when you need to hit an item in the middle, it gets messy.
There were several times I meant to select a center item only to miss my mark and hit a corner instead.
Needless to say, in my week-long test, I found this disorienting and often had to look down at the pad (and away from the road) to see where I was touching to make sure it lined up with what I was seeing on the screen.
I got used to it (ish) after a 200-mile road trip, but it never quite became intuitive for me — especially while I was using Apple CarPlay.
However, as a counterpoint, I should point out a follower on Instagram stated his "extremely non tech-savvy parents have adapted to theirs quite well."
IN THE DRIVER'S SEAT
As a driver on the petite side of the spectrum, I was able to get a very good driving position with a far-forward, height-adjusted seat. I had excellent visibility out of all the windows, and all the buttons and dials were within easy reach – including the touchpad interface.
A lot of the touch-screen alternatives place their pads or dials closer to the armrest, which can be tough to reach. But the Acura touchpad interface was just below the push-button gear selector and ahead of the cup holders, which ended up being a natural place for your hand to fall when reaching out.
The way the interior of the Acura RDX is setup, the driving position has a cockpit-like feel, without feeling claustrophobic – at least for someone who's 5-feet-tall and weighs 95 pounds.
Whether you opt for the A-Spec or any other trim, a 2.0-liter turbocharged 4-cylinder delivering 272 horsepower remains the same.
This is a right-sized engine for a smaller SUV, giving the Acura RDX enough oomph to accelerate into traffic as well as be quick off the line from a standing start.
On the highway, the RDX was solid, never putting up a struggle when passing slower traffic. Plus, even though this is a turbocharged engine, there wasn't any turbo lag of note. So, I didn't feel hesitation or anxiety when turning off my side street into traffic on a congested thoroughfare.
I had fun playing around with the Dynamic Mode system to add a little more sport to the drive. While there aren't any suspension changes associated with Sport+ Mode (unless you go for the Advanced Package), throttle response is quicker, and the exhaust note sounds a little grumblier.
COMPETITIVE SET
One thing I do find interesting is that Acura considers the RDX's primary competitive set to be the BMW X3, Audi Q5, Mercedes-Benz GLC and Volvo XC60. While I wouldn't necessarily quibble with Volvo, I think BMW, Audi and Mercedes are more aspirational targets.
I've always considered Acura to be more "near" luxury — along the lines of Infiniti, Lexus and Buick.
But even cars can dream, right?
Personally, I think the Acura RDX A-Spec most closely competes with the Lexus NX F-Sport, and RDX wins this round.
THE BOTTOM LINE
Though the test vehicle was an up-level A-Spec, it's worth noting the base RDX is really well equipped with standard safety tech, Apple CarPlay/Android Auto, dual-zone automatic climate controls, heated front seats, power lift gate, passive entry and push-button start.
All for just more than $38K.
The best part: You can go all-in with the Advanced package for under $49K.
The 2020 Acura RDX is a huge win for the brand because it drives well, looks attractive and feels comfortable. Plus, Acura finally manages to distinguish itself from Honda with some upscale refinements.
I can't wait to see what they do next.