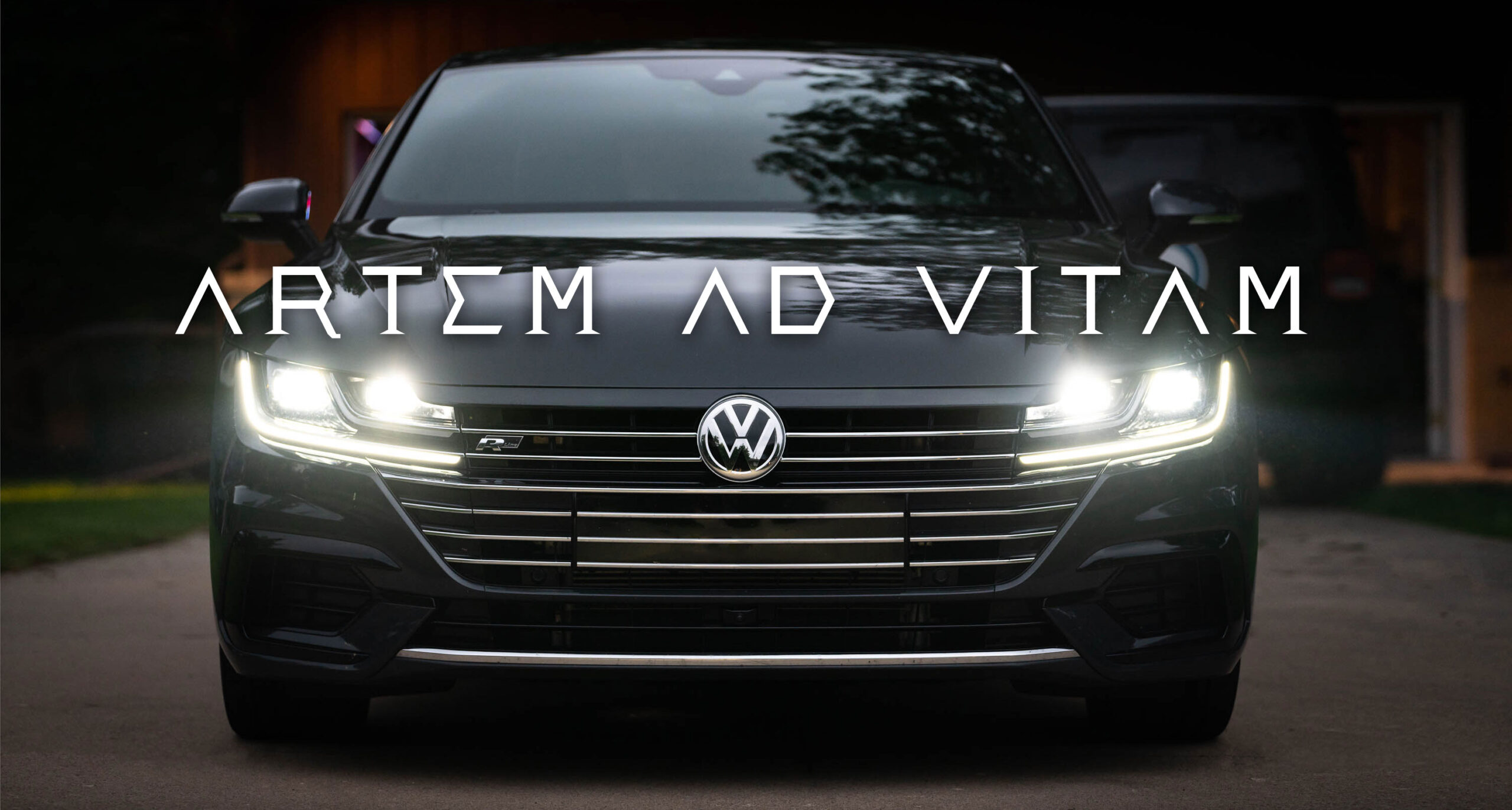 Words by Jennifer Jensen
Photos by Jessica Voruda
The color of our 2019 Volkswagen Arteon test car was drab and dull. Don't get me wrong, Urano Grey is a nice color for an executive sedan, but it absolutely fails at showing the gorgeous lines of this four-door "coupe".
The Arteon is VW's flagship model and the company's latest soirée in the four-door-sedan styled to resemble a coupe genre. Volkswagen says that the Arteon is not a replacement for the Passat-based CC, but rather the spiritual successor of that model. I would say they added a dash of Phaeton for good measure. Whether the Arteon is a replacement for the CC or not, it is a vast improvement over what had become a rather dour model.
The CC debuted in 2008 and was based on the Passat platform, but restyled to be a far more elegant and attractive sedan. A sweeping and lowered roofline with unique front and rear fascia, along with top end trim on the interior, the CC was an enticing proposition for buyers wanting something a little different than the typical sedan fare from companies like Honda and Toyota.
The CC had modest sales but was not what you would call a runaway success. VW gave the CC a facelift for 2012 but this was more akin to a botched plastic surgery than successful Botox in all the right areas.
Longtime readers of Auto Exotica will know that I am a Volkswagen fan and we just might have multiple VW's in our garage. However, our entire staff agreed that the Arteon would be a welcome addition to our VW fleet. Why? Read on.
Let me be clear, the VW Arteon is a premium car that shames other premium cars that are almost double its price. At least in full on trim like our SEL Premium R-Line test model. Lesser trims are available but you lose features like 4Motion all-wheel-drive, real leather, digital cockpit, panoramic roof, heated and vented front seats, heated rear seats and more. However, standard features are bountiful on the Arteon and include such niceties as a smooth-shifting 8-speed automatic, adjustable suspension, an 8-inch infotainment display, app connect, 3-zone climate control, and keyless access with push-button start. Choose your spec wisely and you can keep the purchase price down, but no matter how you design your Arteon it comes heavily equipped.
The digital cockpit is similar in capability to VW's corporate cousin, Audi. The layout is changeable and navigation maps can be displayed in large format. It is a great counterpart to the large screen in the center dash.
A great feature that appears on every version of the Arteon is its 2-liter turbocharged 4-cylinder engine. This VW stalwart produces a healthy 268 hp and 258 lb-ft of torque in the Arteon and goes a long way into helping the car get out of its own way. The previously mentioned 8-speed automatic is not necessarily telepathic, but it does its job very well with shifts being smooth and, at times, almost undetectable.
Don't get me wrong; this is not a sports car or really even a sports sedan. The Arteon is too big to toss into corners while doing your best Lewis Hamilton impersonation. However, its long wheelbase and wide track provide a stable platform in which to play while the 4Motion all-wheel-drive provides a sure-footed feel both going into and out of corners. The chassis is well balanced, the grip is there, the throttle is talented enough to play with, and the brakes are solid in their performance. The steering is okay, not anything you would say provides incredible road feel, but turn the wheel and there is an immediacy of reaction that is pleasing. All said, drive the Arteon at eighty percent and everything falls into place.
The standard Dynamic Chassic Control (DCC) provides drivers the option for comfort, normal, or sport in the car's suspension. "Comfort" does a good job of absorbing road impurities without dumbing down the steering so far that there is no longer any response. "Normal" firms the suspension a bit and "Sport" takes things a bit further. In a car like the Arteon I don't know when I would turn the dial to sport. Normal is just fine for the daily grind and Comfort makes the highway haul that much more, well, comfortable.
Speaking of comfortable, the 12-way power seats are great. In the SEL Premium version that we experienced, the front seats also heat and cool which is one of my favorite options on a car…especially when the interior is all black leather. On a hot sunny day with a panoramic roof those seats do tend to get a bit toasty, so the ventilation feature is a wonderful one to have. If only other manufacturers would follow suit. Another fun feature is that the dead pedal is big enough to rest both of your feet on while making use of the adaptive cruise control. The Lane Keeping System (standard on the SEL trim level) doesn't ping pong the car back and forth in its lane and when used in conjunction with the adaptive cruise makes the Arteon almost self-driving. It's not, so remember to keep your eyes on the road.
With the rakish roof we were concerned that the back of the Arteon would provide a less luxurious experience for passengers but are very pleased to report that this is simply not the case. If you have read other reviews of the Arteon, some editors may have complained of inadequate rear headroom due to this rapidly sloping rear roofline. However, after our time in the Arteon we spent a week in the 2019 Lexus LS 500 F-Sport…a full size luxury sedan. For my six-foot two-inch frame there was actually LESS headroom in the back of the LS than the Arteon!
The hatchback is absolutely massive and when combined with the spacious interior makes the Arteon a fantastic alternative to an SUV for a family of four. Owners will get better gas mileage (less weight to haul around), more sporting performance (lower center of gravity), and those very good looks. Which brings us back around to the Urano Grey of our test car. It's just a dull and drab color.
So give me an Arteon in Kurkuma Yellow, Chili Red, Atlantic Blue, or even Pure White so those people who are driving more plebeian cars around me can see the gorgeous bodywork on this accomplished and capable car. They will all think it has to be an $80,000 executive sedan and I will smile to myself knowing the Arteon is a great value…and a great car…at just under $50,000 fully loaded.