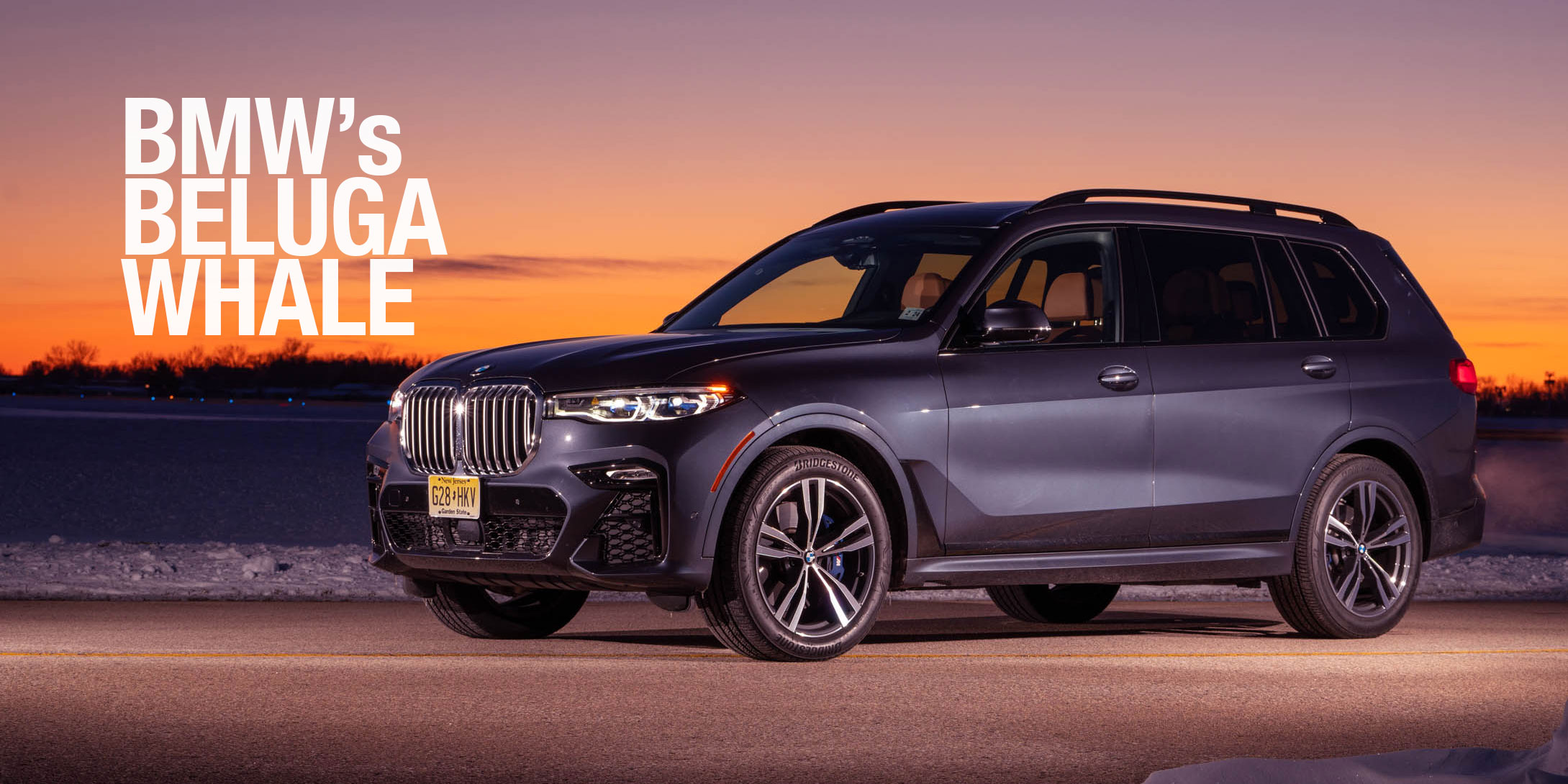 Words by Jennifer Jensen
Photos by Jessica Voruda
BMW used to advertise themselves as "The Ultimate Driving Machine". I always interpreted the tagline to mean that BMW delivered more thrills behind the wheel than anyone else. Road feel, adrenaline rushes, smile-inducing experiences that other manufacturers couldn't match. There was a time when that statement was true. But can a full sized SUV that weighs more than 5,500 pounds really be the Ultimate Driving Machine?
The BMW X7 is not the most attractive SUV out there. The lines are purposeful but not what I would call pretty. The traditional BMW kidneys on the grille are more like heavily infected kidneys that have ballooned into caricatures of BMW's classic look. The entire front end looks like a massive brick wall rather than that of an SUV. The slab side has only one character line to break it up and the mountainous back end looms so large it will cause daily eclipses. What those lines do, however, is create a vast interior space that actually has room for six full-seized adults. I'm talking six-footers here, and that's in all…three…rows.
INSIDE
The interior is far more attractive than the exterior. From the crystal shift knob, to the varied leathers and soft touch surfaces, there is nothing that calls out as cheap. There are also some pretty unique features on this X7 that were pleasant to discover. For example, the front seats are adjustable in every way possible. From thigh extenders to a split back rest that moves the upper half and lower half independent of each other, I would challenge anyone to not get comfortable behind the wheel. Once you are ensconced in the drivers seat (or front passenger seat), why not have them massage you as well? This function, something I would normally coin as useless or frivolous, absolutely makes sense in this car, um, SUV. In fact, that is a continuing theme with the X7…jacked up limo.
Other niceties in the front third are cup holders that heat or cool your beverage of choice, ambient lighting with your choice of colors, heated seats, heated steering wheel, heated armrests, an excellent audio system and control over the second row of seats and windows.
Let's talk about that second row. In keeping with the limo theme the second row features auto climate control, heated seats, several vents, multiple charging stations, lighting in the back of the front seats, a center console with big cup holders, pillows on the headrests, powered window shades, a panoramic roof, and pop up armrests that slide fore and aft.
Then there is the third row. Normally this space is reserved for small children or family member that you don't like. But in the X7 real people can sit back there…in comfort! Yes, it is a bit challenging to get into or out of the third row once you are back there it is a nice place to be. There are options aplenty as well. Third row passengers have their own automatic HVAC, a set of speakers to enjoy whatever is playing on the audio system, USB ports and their own sunroof with controls. Oh, and the third row seats also have a heating element.
Are there any issues with the interior? Of course there are. That crystal shift knob and starter button are highly reflective, so if the sun hits just right you should be prepared to be blinded. Some of the other surfaces on the instrument panel are reflective as well. The second row seats take fifteen seconds to move forward so passengers can get in the third row. FIFTEEN SECONDS. Try doing that in a rainstorm. Those seats also take fifteen seconds to get back into place. I would rather have a manual slide feature to make this action much swifter. But that would take away one of the "luxury" aspects of the X7. Those second row seats can be controlled not only from the front, but also from within the read end.
That back end has a split tailgate that comes in handy. The problem with the useable three rows is the little amount of storage space left to spare behind the third row. BMW was smart enough to make it a deeper space, but there is hardly room for a suitcase in the back.
ELECTRONICS
My biggest issue with the X7 is the same issue I have with most of BMW's lineup…the electronics. There are so many electronic interfaces that it becomes redundancy on top of redundancy. On the top of the center dash there is a massive touchscreen. That touchscreen can control everything, and I mean everything, in the car. Underneath that touch screen is a row of controls for the HVAC. You know, the HVAC you can control on the touchscreen. Then there is a row of buttons for the radio and audio. Again, things you can control in the big touchscreen. Then, on the center console is the MMI knob, which can, once again, control everything. The steering wheel also houses interactive buttons for audio and many other functions. I would suggest that BMW eliminate the MMI and keep everything else. I have yet to meet a driver that wants to take their eyes off the road to play around with moving a mouse on a screen to change the temperature or the radio station. BMW isn't the only manufacturer guilty of this eyes-off-the-road trend, but they were one of the first with the insidious MMI knob.
THE DRIVE
As for the driving experience it is quite nice. The 4.4-liter Twin Power Turbo V8 in our xDrive50i puts out a not inconsequential 456 horsepower. In typical BMW fashion, the engine is balanced, unobtrusive, smooth and full of power when you need it. The cabin is so well insulated that engine noise is negligible but so is road noise. So that's a good thing.
The eight-speed auto is almost seamless and I have no qualms with it. It is a very nice transmission. There are paddle shifters on hand…another annoying trend in the auto industry. You don't need paddle shifters in a vehicle like this. I would bet if ten thousand X7's were sold this year that maybe five people actually used the paddle shifters…once. Then the novelty wore off and they never used them again. Why do auto manufacturers feel it is necessary to take away actual manual transmissions, replace them with standard automatic transmission…not double clutch gearboxes…then offer you the opportunity to shift it yourself? Stupid. Especially in a full-sized SUV.
BMW's instrument panel is nothing to write home about. There is no longer a distinct differentiation between tachometer and speedometer; it is one continual digital blob of information. It is much harder to discern the information that you actually want as a driver and I was grateful for the heads up display.
The steering wheel is comfortable in my hands and the rack provides some feedback, but again, muted responses. The air suspension is a magic carpet ride and I could spend hours behind the wheel without getting tired.
The lane keep assist system is a little aggressive. There was a moment during our time with the X7 that a car was pulling out from a side road so I moved towards the centerline to give them space as I passed. The lane keep assist system pushed me so hard back into my lane that I almost hit the car as his front end poked out into the lane.
LET'S RIDE
There really isn't a whole lot to say about the driving experience. It is nice. Quite nice for a vehicle this size. But my favorite part of the X7 was the second row because while the X7 is nice to drive, it is far better to be driven in.
I wish the second row offered massaging seats like in the front row. In fact, I would like to make a recommendation to BMW: Offer another level of executive package that eliminates the third row, moves the second row back a few more inches (for additional legroom), put all of the features of the front row seats in the second row and make the X7 a limousine for real. Oh and please get rid of the MMI controller. That would be a new generation of BMW…the Ultimate Riding Machine.
Find out more at www.bmwusa.com