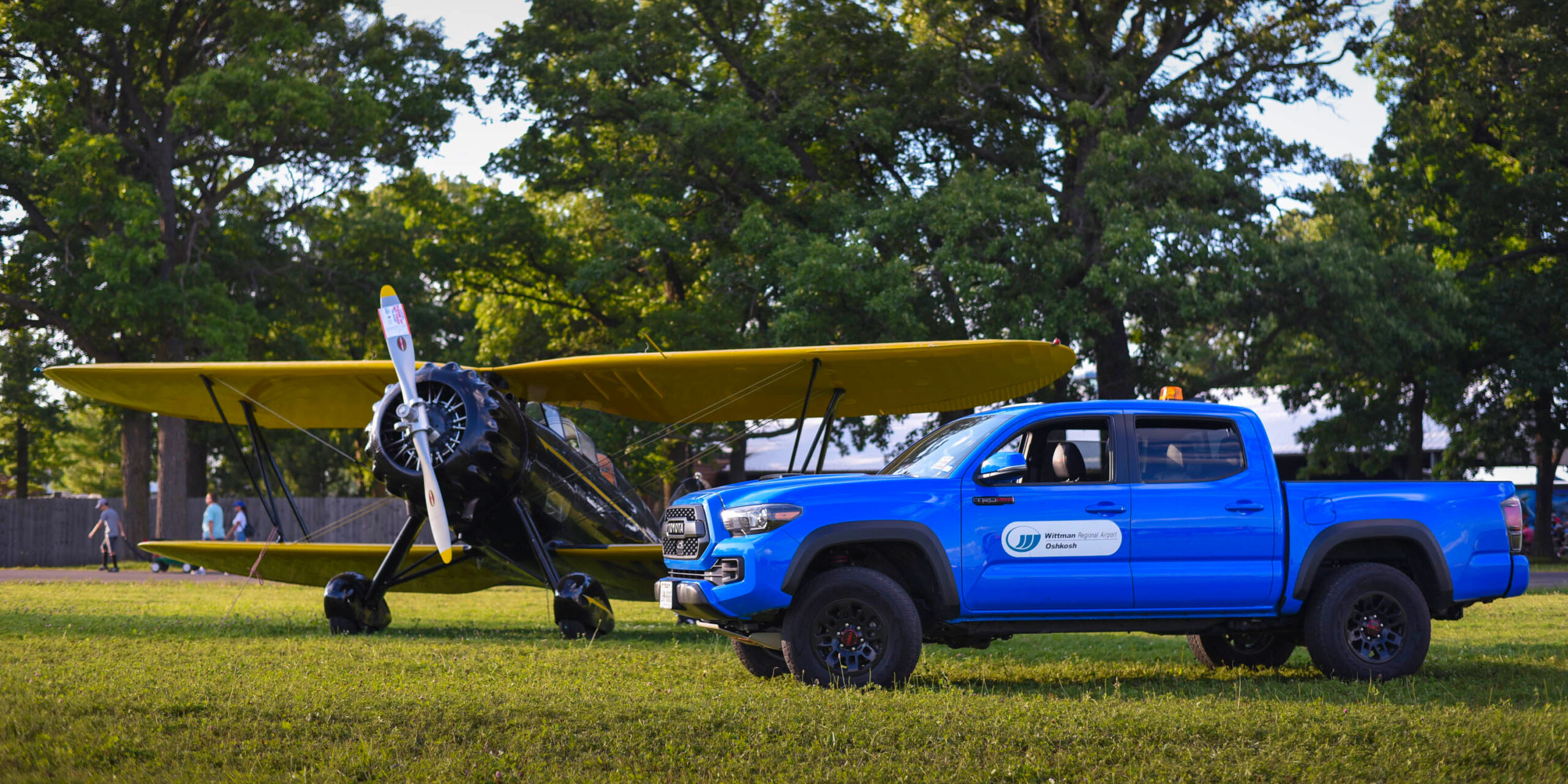 TACKLING TARMAC AND TOUGH TERRAIN IN TOYOTA'S TACOMA TRD PRO
Words and Photos by Jennifer Jensen
Every year at the end of July, our hometown of Oshkosh grows from a city of just over sixty thousand people to more than six hundred thousand people. This massive influx of new residents is thanks to the Experimental Aircraft Association and their annual AirVenture. Dubbed as, "the World's Greatest Aviation Celebration", AirVenture is a massive fly in with more than ten thousand airplanes setting up camp at Wittman Regional Airport, Oshkosh's home airport, with literally hundreds of thousands of people visiting the event from around the world.
Covering this massive event is a huge job for the airport's small staff so we decided to put Toyota's latest Tacoma to the test by helping the airport crew. We slapped on a pair of Wittman Regional Airport magnetic signs, plugged in a super bright flashy yellow light and topped off the package with an official vehicle maintenance pass and went to work.
The VooDoo Blue paint on the Tacoma is a hallmark of the TRD lineup for 2019 and is certainly noticeable. You may have seen this particular blue on something a little more "sporty" in nature as it has been a staple in Porsche's color palette for quite some time. On the inside, this TRD is a bit bleak as it is an all-too-common solid black. There is red stitching to help liven things up, but it honestly does little to make the cabin anything other than a black hole. But this is a work truck, not a luxury vehicle and the sprayed on protectant in the bed came in handy more than once during our airplane related workweek.
The bed isn't the only tough-guy feature on the Taco TRD Pro. See that hood scoop? That's not on the regular Tacoma. It pushes a little extra air into the 3.5-liter V6. Add in 2.5-inch Fox shocks with rear remote reservoirs, a 1-inch suspension lift, Rigid Industries LED fog lights, a front skid plate and TRD-tuned exhaust and the blue Taco looks like it can do some serious off-roading. On day one of AirVenture we found out that it has the goods to back up the looks.
Wittman Regional Airport covers almost 1,400 acres and we saw almost every single one of them. Paved runways and taxiways, gravel roads, grass, dirt, and rocks all came and went through the windscreen of the Taco. That V6 puts out a healthy 278 hp and 265 lb-ft of torque. It's not an overwhelming amount of power, but it gets the job done. Unfortunately, the engine note is grating. Toyota's engineers should spend some time playing with the tuning to provide something a little more pleasing to the ear.
The six-speed automatic transmission is not the smoothest shifting tranny we've ever experienced. It tends to lurch a bit unless pushed hard. In fact, all of the driver interfaces are lethargic. The steering is slow to change direction, the throttle takes a message and gets back to you, and the brakes slow things down at a leisurely pace. All of these factors are detrimental when on the road, but play in your favor when traversing roads less traveled.
The stark cabin feels quite dated and wouldn't be out of place in a new car from the nineties. The seats are comfortable enough, the gauges are clear and easy to read and the rest of the controls are logical. The front seats do not go up or down so finding the perfect seating position can be challenging, but regardless of where the seat is, outward visibility is just fine. The rear seats don't fold away, but the bottom tilts forward which provided enough room to carry a cooler packed to he brim with water bottles. One annoyance throughout our week with the blue beast was the constant warning chimes echoing throughout the cabin. There are warning alarms for everything…door ajar, moonroof open, lights on, you're in the car! All in all, the Taco TRD has a very utilitarian cabin that borders on militaristic.
As the week of AirVenture carried on, we continued to make runs across the airport to complete various tasks. Making meetings, carrying photo gear and crew, picking up and delivering various items, the Taco just did it all as the dirt piled on. As a work truck, the VooDoo blue truck shined.
The Tacoma TRD Pro does what it is built for rather well. It is a pickup truck that can handle some of the most challenging terrain while carrying a pretty sizable load. On the road it is not a vehicle I would want to drive every day. It is not comfortable, it hops over large bumps and it is loud inside…not in a pleasing way. However, take this blue Taco off road and it really shines. Driving on a paved surface at 45 mph and not slowing down to head off road is incredibly exhilarating. There are not many other vehicles that I would feel comfortable doing something like that in. In fact, the Ford Raptor is the only other current production truck I wouldn't hesitate to make a transition like that in. Those are big shoes to fill, and the Tacoma TRD Pro can handle it and so much more. I would just prefer to keep it off of paved roads.