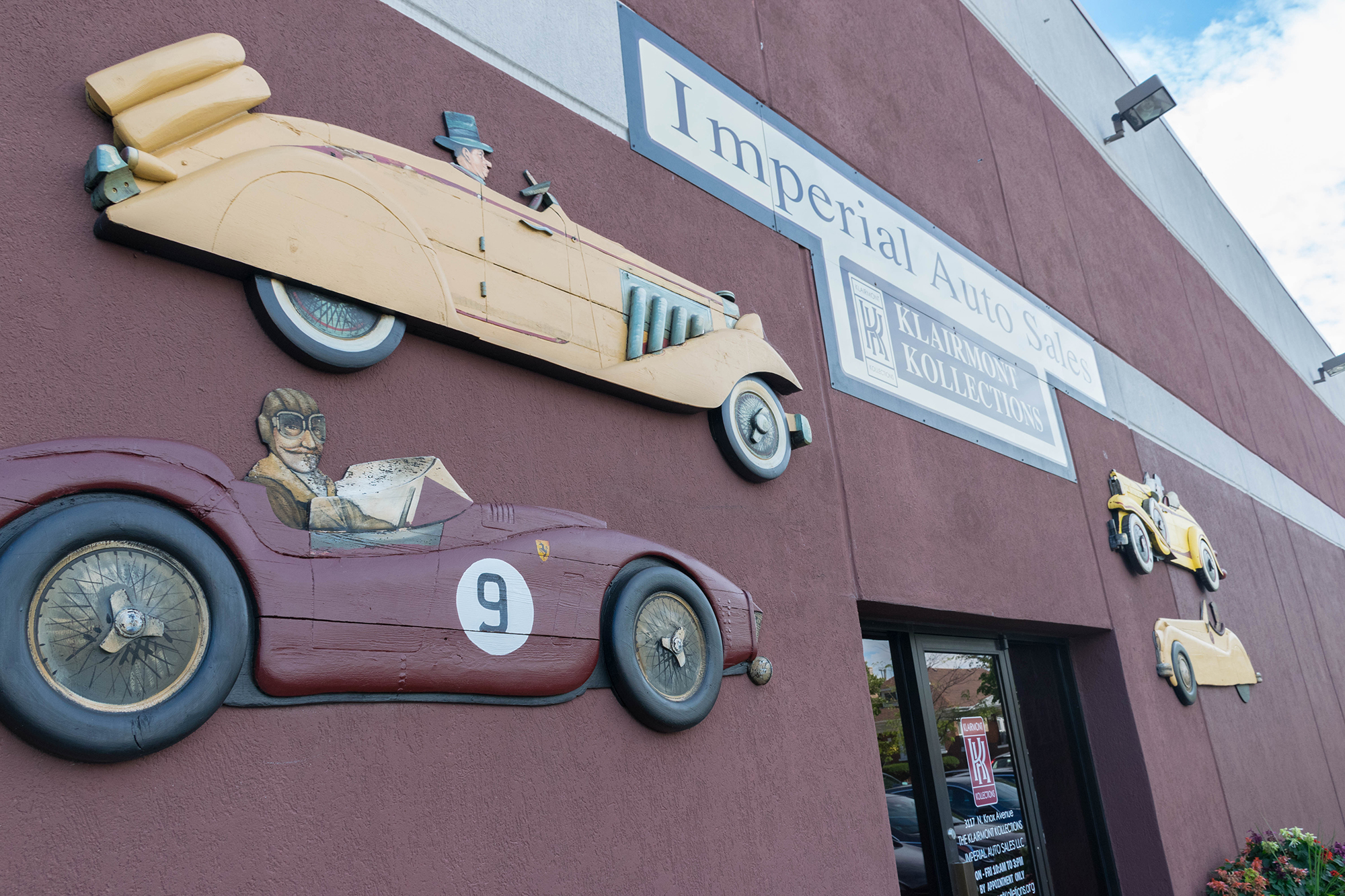 When you think of private car collections, the first name to come to mind is, of course, the former star of the "Tonight Show" and host of his own car show… Mr. Jay Leno. Jay has been collecting cars for years and has built an extremely impressive gathering of all things automotive; but what if I told you that Leno's 130 cars and 93 motorcycles pale in comparison to a collection you've never heard of? And what if I told you that later this week, you could even own a piece of this incredible piece of car heaven.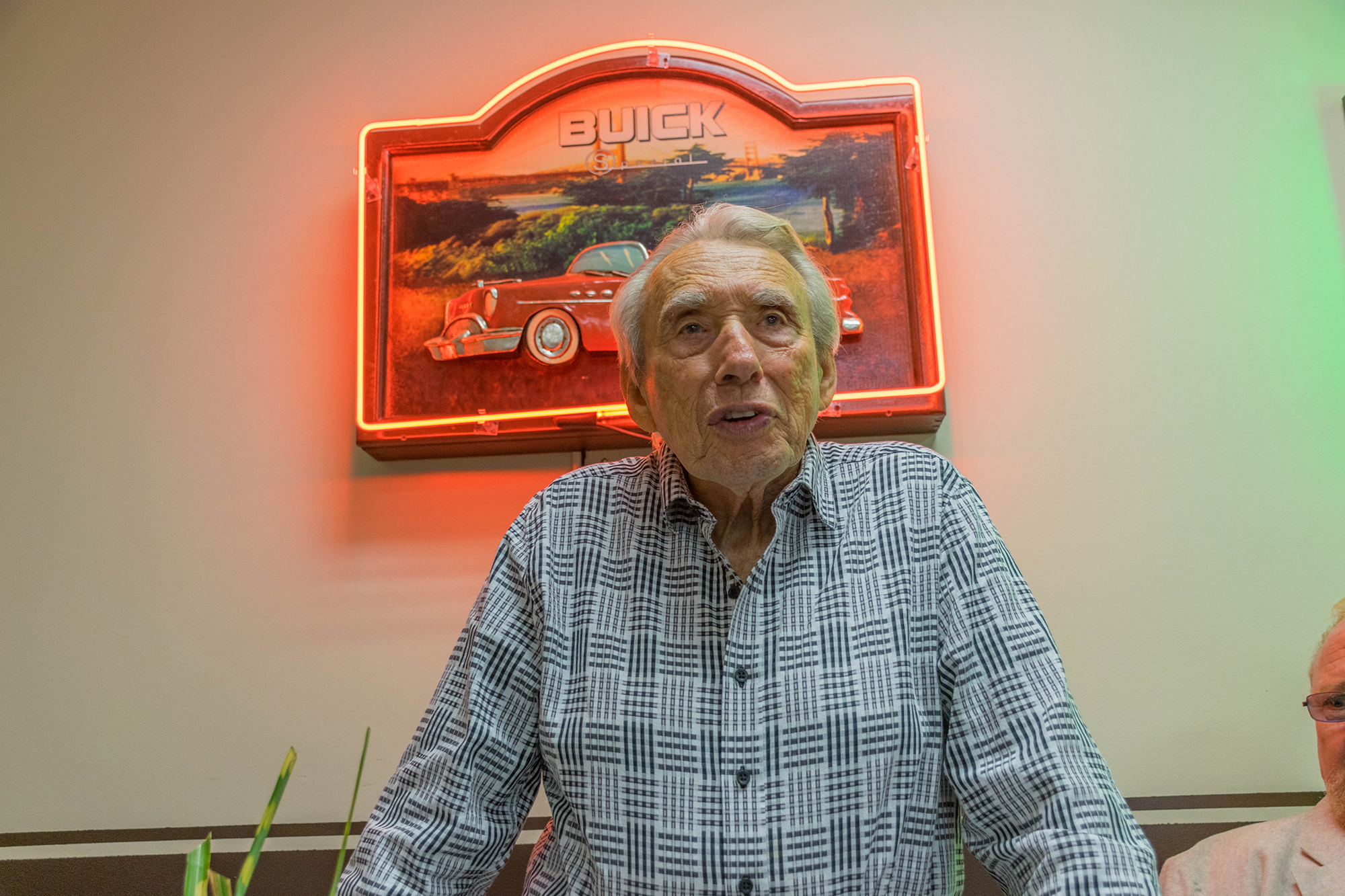 Meet Larry Klairmont, the creator of Klairmont Kollection, a car museum hidden away in a non-descript brick building on Chicago's northwest side. This "Kollection" as I like to call it, is not just about the cars but also about the man that started it. Raised by his grandmother during the great depression, Larry didn't grow up with a silver spoon in his mouth. In fact, there were times that all he had to eat were potatoes, which his grandmother would alternatively bake, mash, boil and fry. Then at the age of 14, while on his way to a Chicago Bears game at Wrigley Field (yes, this was that long ago), he heard a news report on the radio that would change the next several years of his life. The Japanese had just bombed Pearl Harbor, the announcer on the radio had said, and Larry wanted to get even with them. When he reached 16 years old, he enlisted in the Navy, hoping to be a fighter pilot, but the Navy stuck him behind a desk. After complaining to his CO (Commanding Officer) that he wanted to "fight and be a warrior" and not push papers, they transferred him to the Marine Corps and sent him to Iwo Jima. At 17 years old, Larry found himself a platoon leader battling 30,000 entrenched Japanese soldiers. During his service, Larry was awarded two Silver Stars, a Bronze Star and two Purple Hearts.
When he returned after the war, Larry started Imperial Cleaners, quickly grew it to 110 retail stores, sold the enterprise and started investing in real estate. This is where the Klairmont Kollection can truly trace its roots: "I always liked cars, and I would buy them and store them in the various buildings I owned," says Larry. Whenever he visited his properties, he would take the opportunity to drive his cars. A widower already in his 80's, Larry started dating his fiancée Joyce Oberlander (also a widow) about 8 years ago. "When we first met, she didn't know one car from another," recounts Larry. "Today, she knows far more about the cars in the Kollection than even most 'car guys.'"
"He's never met a Cadillac he didn't love," Joyce laughs.
At a recent event to preview a handful of Larry's collection going to the Mecum auction, Larry was recounting how he first explained to Joyce about his car stashes all over Chicago. "Joyce said it was silly –"
"No, I said it was stupid!" Joyce hilariously interrupts. "I told him, 'You better put them all together in a museum or collection and use it for charity,'" she explains. Larry recounts he promised to just that if she promised to help, and boy did she ever. Joyce took on the role of VP of Marketing and helped design the museum – and what a job she did. Every setting staged for a specific era of automotive history has Joyce's influence shining through.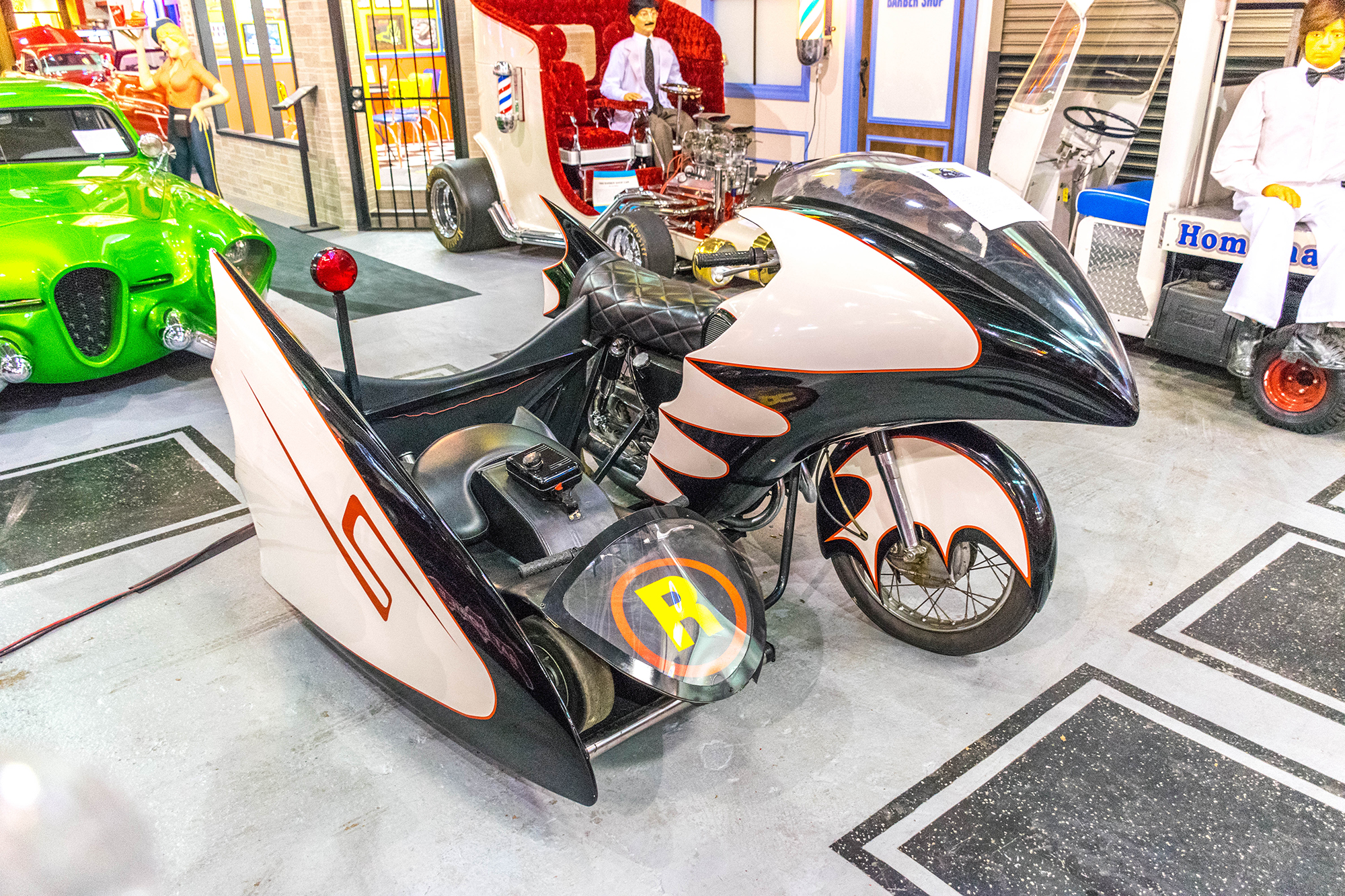 Housed in the former W.F. Hall Printing Co. headquarters in Chicago's Kelvyn Park neighborhood, the museum covers 100,000 square feet over two floors and features 340 of some of the most unique cars in any collection. While Larry's first car was a 1935 Plymouth that "wouldn't go over 35 mph and used a quart of oil for every gallon of gas," his current collection's newest car uses neither oil nor gas – a 2008 Tesla roadster. The oldest car in the collection dates back to 1909, and in between includes some of the craziest, coolest and most memorable cars ever assembled under one roof. Highlights include a Rolls Royce with 1,000,000 hand-placed Swarovski Crystals, a replica drive-in theater complete with the 1960's best big convertibles, a screen-used Bat-Scooter next to a replica 1960's Batmobile, two "bubble cars" and so many others it must be seen to be believed. If you're like me, your mouth won't close during your entire visit – you'll feel like a kid in the world's greatest toy store.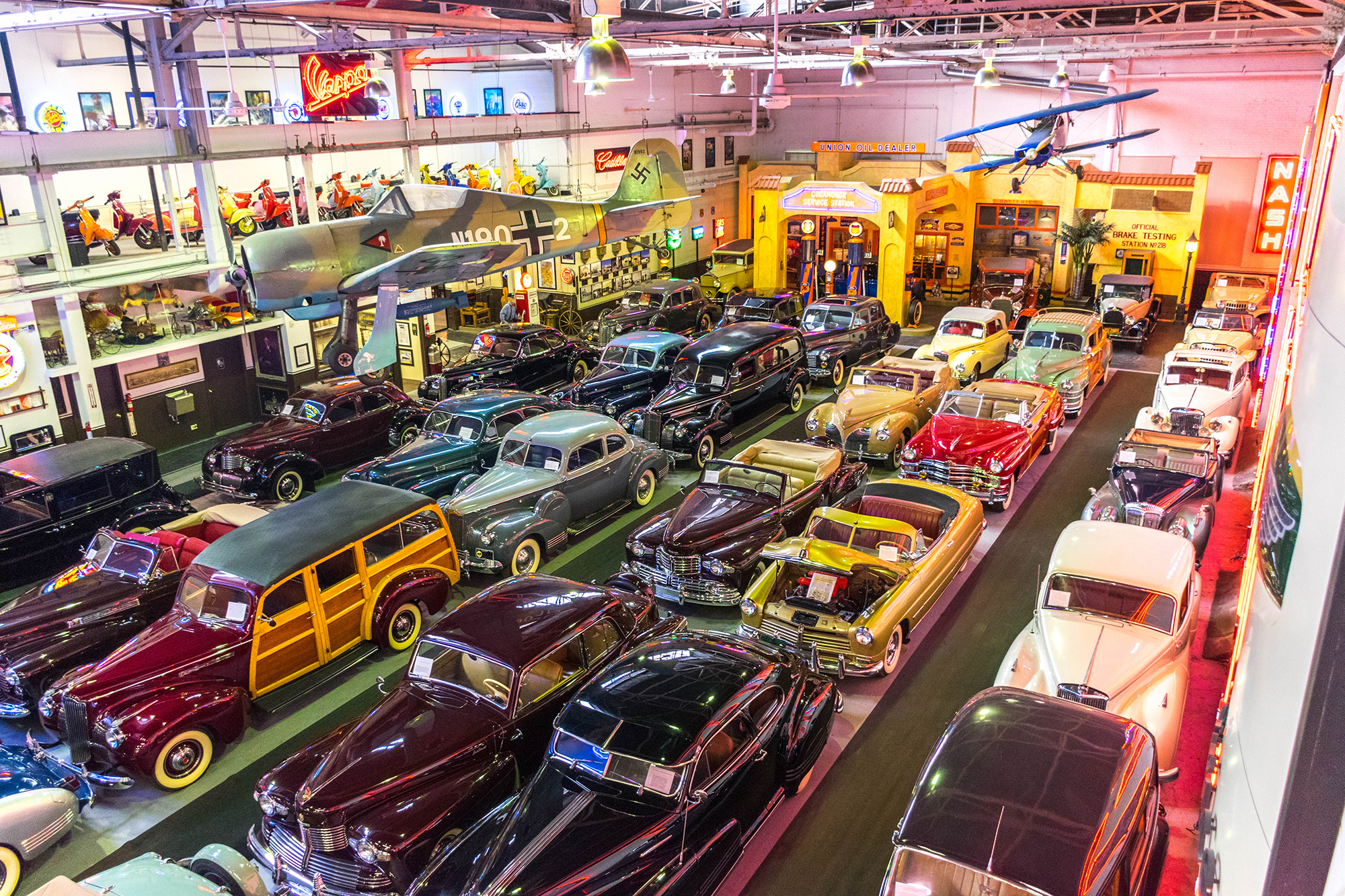 But getting to take that visit isn't as easy as just opening the door. Klairmont Kolleciton is, at least for now, closed to the public. Larry made good on his promise to Joyce though – he opens the museum for charity events, car clubs and other special occasions. In fact, the Kollection is getting set to unveil its newest feature – a banquet area specially designed to host events and even weddings! Ladies, if you agree to get married here, your man will love you forever – guaranteed. In a way, this new hall provides the general public with a very unique opportunity, for if you can't visit the Klairmont Kollection, why not buy a piece of it?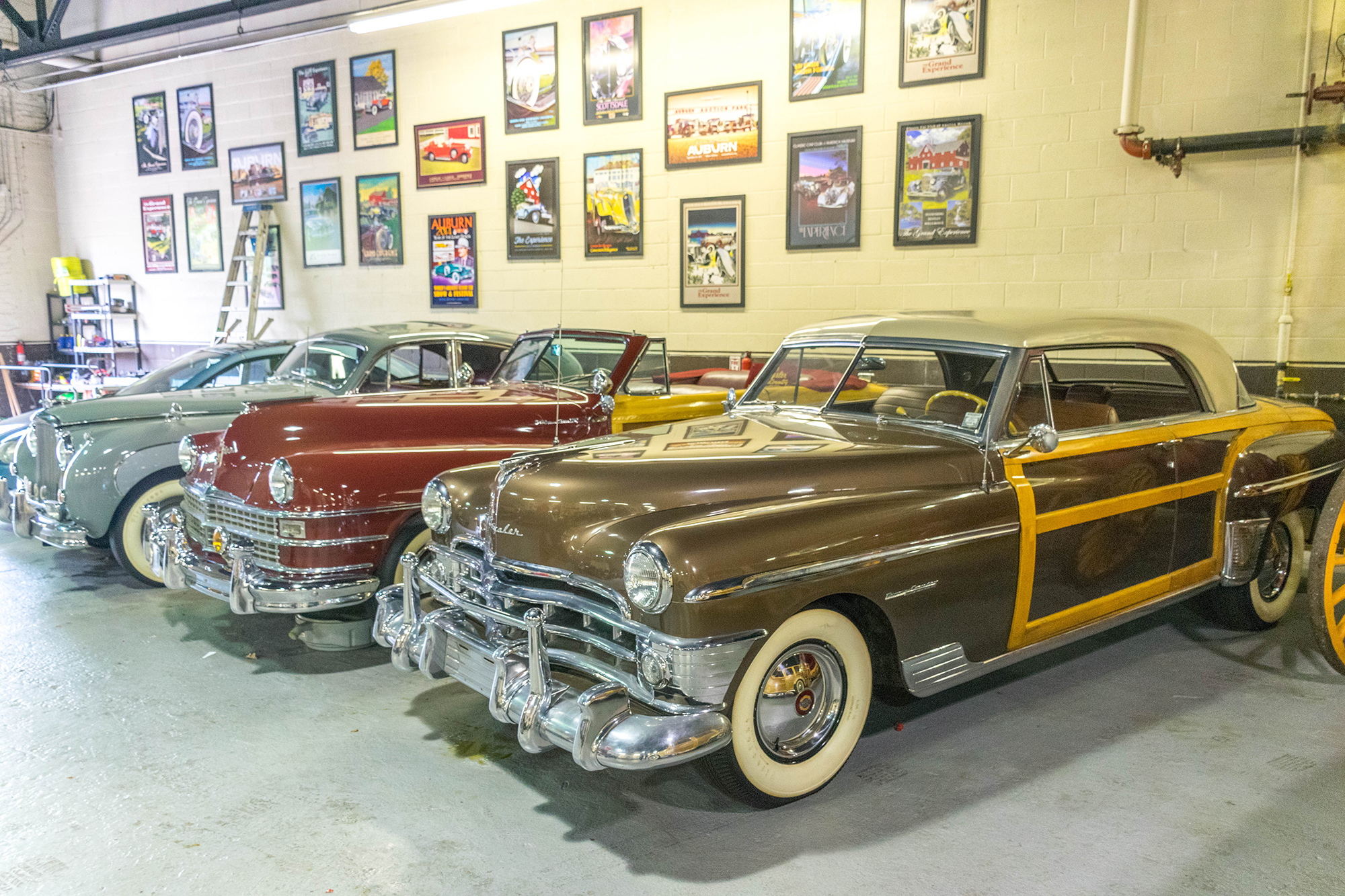 In order to make room for the banquet area, Larry had to part with 39 pieces from the Kollection, which are being sold at the Mecum Auction in Schaumburg, Illinois (near Chicago) later this week (Oct. 5-7). Sons of Speed was recently invited to view some of these rare pieces at the museum's annex, which widely vary from a super-rare 1948 Packard Eight Station Sedan complete with wood-side panels and matching teardrop trailer to a 1971 454 Corvette Coupe to a canary yellow 2000 Plymouth Prowler. You can even go home with a Chicago favorite – a replica Blues-Mobile. You can view the entire Klairmont Kollection Mecum lot by clicking here.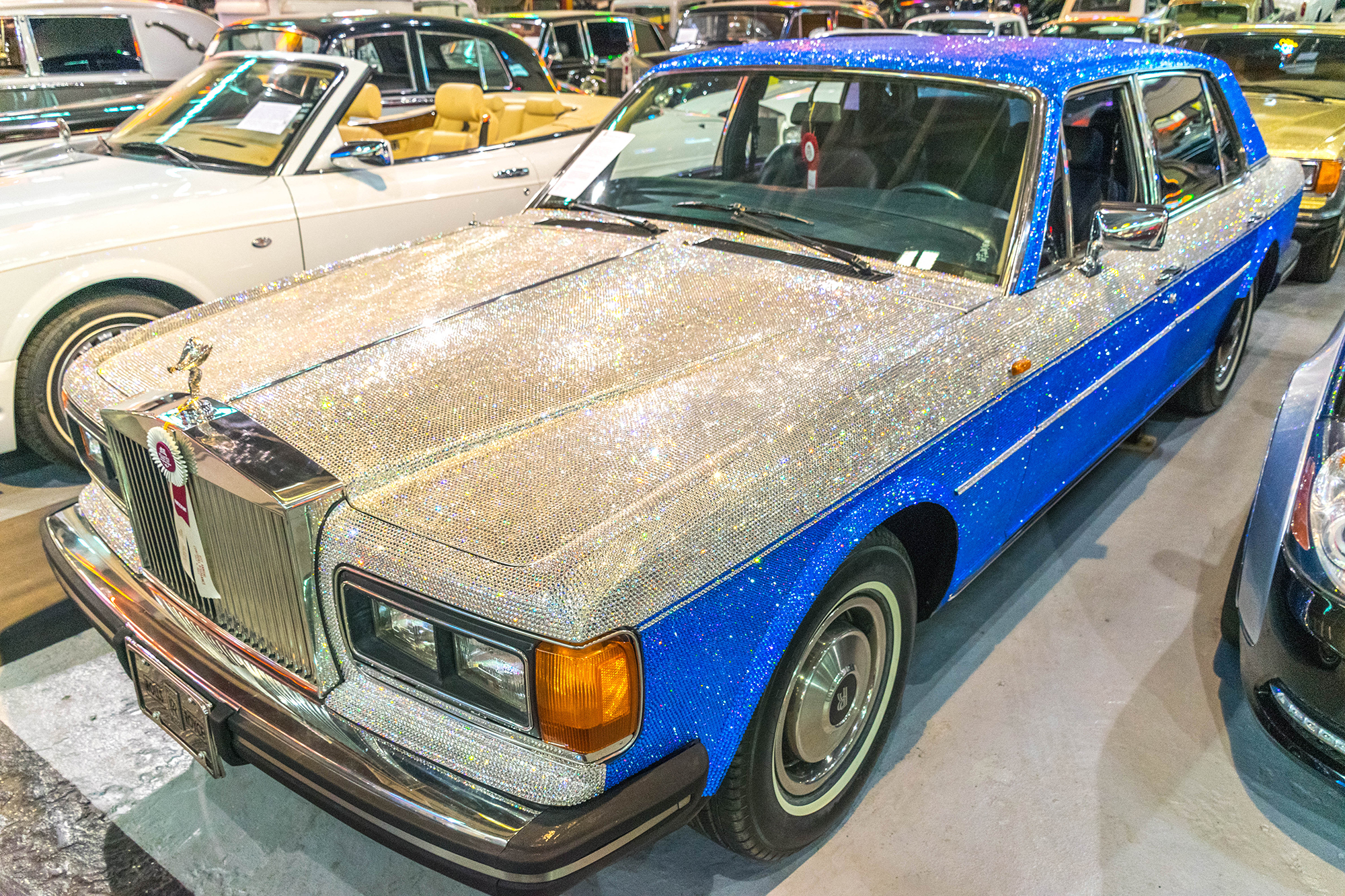 What does the future hold for Larry, Joyce and their wonderful Kollection? It would only seem fitting that they finally tie the knot in their new banquet hall, but in addition to continuing to host charity and other events, they are currently looking to add educational tours (one can imagine the world's greatest field trip) as well as select open-to-the-public dates. So if you find yourself in Chicago and someone invites you to see a very cool car collection in an old print factory, don't miss the opportunity. You just might stumble across one of Chicago's, and the automotive world's, truly hidden gems.