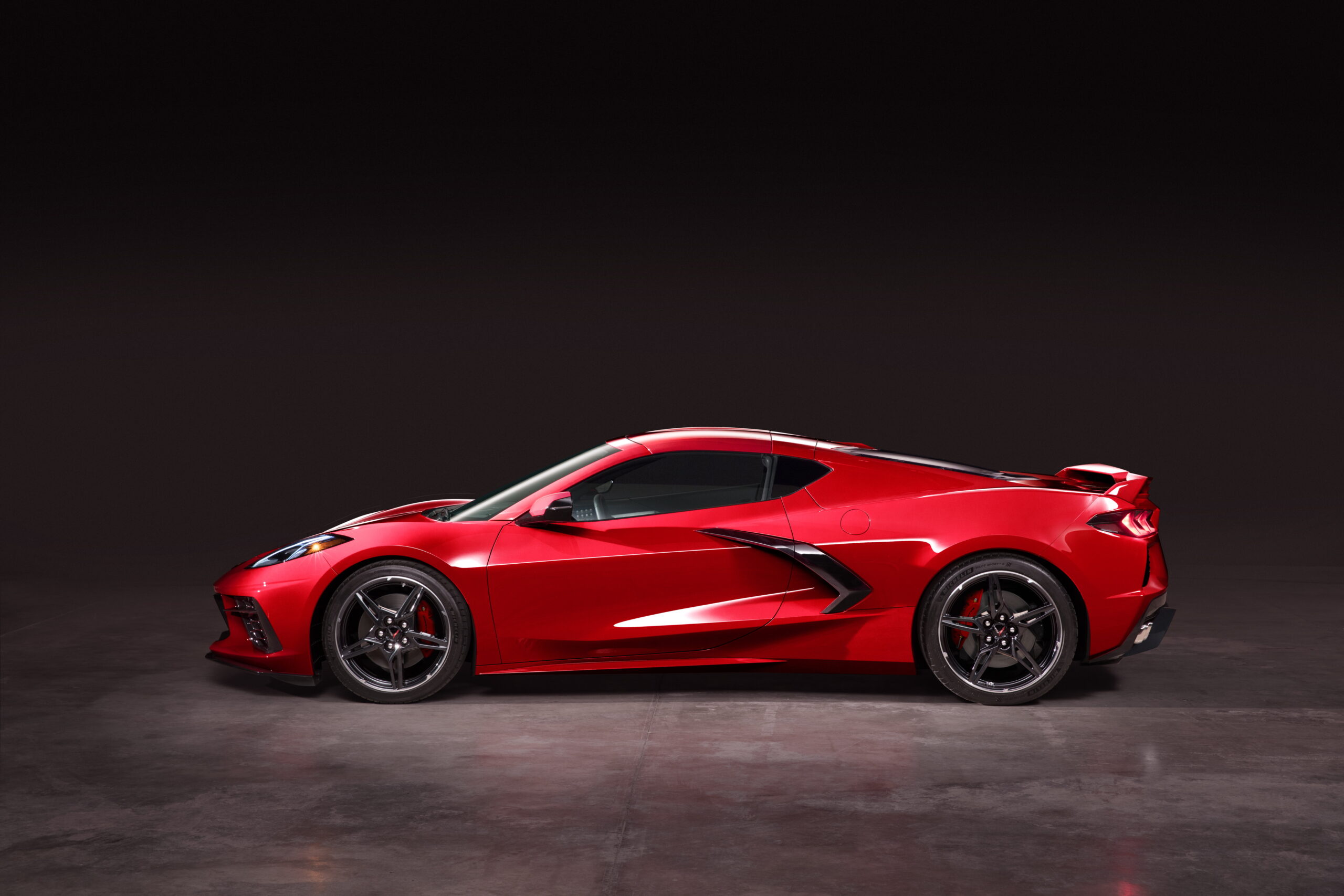 This mid-engine supercar screams for a manual transmission
You could say the mid-engine Corvette has been in "development" since the 1950's when chief engineer and "father of the Corvette" Zora Arkus-Duntov began development of the mid-engine concept CERV-1 (Chevrolet Experimental Research Vehicle). Despite Zora's pleadings, the higher-ups at GM refused to green-light a move of the engine from the front to behind the passengers. Imagine what could have been with 60+ years of mid-engine Corvette development by now. But hindsight is 20/20, which is fitting given that the C8 Corvette Stingray will debut as a 2020 model late this year.
The big launch happened just a few days ago, and by now most people are familiar with the important features. If not, here's a quick rundown:
495hp/470tq with the performance exhaust
0-60 in less than 3 seconds, equaling the 2019 ZR1 (with 755 hp)
8-speed Tremec DCT transmission (no manual option)
Two trunks, one front, one rear, which can still fit a golf bag or two and the removable top
My Mode and Z Mode full customization of the various vehicle settings
Over-the-air software updates
Enhanced PDR with dashcam mode and preloaded race tracks
Front-end lift system that can record 1,000 places to auto-lift by GPS
No more leaf-springs – coil-over springs at all four corners
50% stiffer than the C7 (an already very stiff car)
Base price under $60,000.00
Watching through some of Chevy's promo videos also revealed the C8 will feature power-folding mirrors as well, and we have seen a pre-launch video showing the car with blind-spot monitors (neither feature was mentioned at the launch).
Hearing about all these features was especially gratifying to us as we checked off several lines from our pre-launch wishlist (see 10 Things to Fix on the C8) including the front end lift, personalized driving modes, blind-spot monitoring, and an enhanced Performance Data Recorder (we're still hoping for a parked "sentry" mode). What remains to be seen is whether they fixed the cup holder design.
While beauty is truly in the eye of the beholder, the C8 is a visual stunner that manages to look both euro-exotic and American muscle. Given that the C7 already had a Ferrari-esq front-end, the C8 melds the mid-engine supercar look with its predecessor's design most naturally. The fact that the car looks exactly as many expected simply means the design team is right where most Corvette fans are as well. While the back end has a little more Camaro DNA than we'd like, the view from above at three-quarters is simply stunning, with the glass hatch showing off a beautiful motor and engine cover. The convertible C8, however, will hide this view under a solid tonneau cover – certainly something to consider when deciding between coupe or convertible. With the coupe continuing to be a targa top (a constant Corvette feature since 1984) and thousands cheaper, the engine bay view may turn some erstwhile convertible buyers over to the coupe.
With a base price starting under $60,000, the C8 is about to turn the sports car world upside down. We know the Corvette team improves performance from generation to generation (except that dark period in the late 70's-early 80's), and the C7 was already the planet's performance bargain machine, so we expect the C8 to hold its own against cars costing, in some cases, almost 10 times the price. The new Stingray will, for the first time, put a well-made, high-performance, mid-engine supercar in the driveways of middle-class households. Sales ought to be brisk.
As mentioned above, acceleration is apparently astonishing with the mid-engine Stingray: 0-60 in less than 3 seconds. Given that this figure equals the C7 ZR1, with 260 fewer horses no less, shows just how much more traction can be gained by putting the engine over the drive wheels. DCT, launch control and close-ratio gearing of the 8-speed certainly contribute to the blistering acceleration as well. And remember – this is just the base car. We expect Grand Sport, Z06 and ZR1/Zora variants down the road as well.
Mentioning the only transmission currently available will set off a firestorm of controversy as this is the only Corvette in a very, very long time not to offer that option. For the "Save the Manuals" crowd, this omission feels like a stab in the back to purists who don't mind giving up a few tenths of a second here or there for the irreplaceable fun, connectivity and control a manual offers. The C7 has enjoyed an approximate 30% manual take rate, and turning your back on nearly 1/3 of your customers does not seem to be a smart business model. Nor is pissing off a hardcore community that has sung the praises of the C7's glorious 7-speed manual.
But there is some hope – back on March 6, 2017 GM filed a patent application for an "Electric Slave Cylinder for Manually Shifted Vehicles." During the C8 launch presentation, chief engineer Tadge Jeuchter talked about how the drive-by-wire system allowed a narrowing of the center tunnel back to the engine.  A clutch-by-wire system, like the one filed for, would accomplish this goal and allow a manual with no direct hydraulics to connect back to the transmission. It's possible the system isn't ready for prime-time yet, and that's why the launch C8 is DCT only, or it may be that GM is saving the manual C8 for one of the future variants.  We could easily see a Grand Sport C8 being offered with a manual for "true driving purists" within a year or two.  And Tadge reminded us at the reveal that they do listen to their fans.
Now we come to the part where Chevy can turn its home run into a grand slam, and remember, you heard this from Sons of Speed first. When the C8 makes a manual transmission available, it should go with a – wait for it – gated shifter a'la the first-gen Audi R8. We predict a gated-shifting, mid-engine C8 Corvette will become the hottest car on the planet IF Chevy decides to actually make it. If it sees daylight, such a manual C8 will mate form and function on a scale Corvette has not yet seen. If that is something you'd like to see, let Chevy know @chevrolet or sign our Change.org petition. All we know is, despite it currently missing a pedal, we still can't wait to drive one.