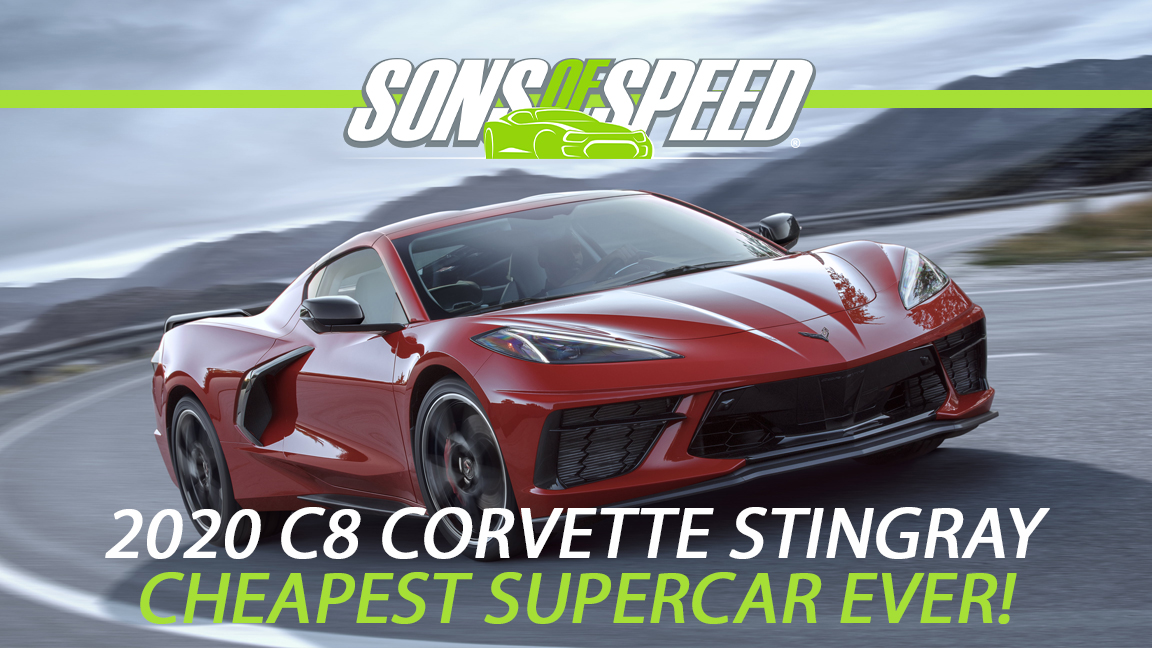 Why the C8 Corvette is an Incredible Value and What You Should Order
Yesterday, Chevy finally released the official pricing on the C8 2020 Corvette Stingray coupe, delivering on its launch-date promise of starting under $60,000. Thus, the 1LT trim base Stingray starting at $59,995 was no surprise but was did stun us was that this price includes the $1,095 destination fee. Many times you'll see new car prices quote without "delivery" to get that eye-catching low number, but Chevy really sharpened its pencils to get this mid-engined supercar to start at under $60,000 delivered to your dealer. That sound you hear is everyone canceling Toyota Supra orders right now.
What's even more amazing is that the $59,995 base price is a mere $1,005 more than a 2019 Stingray with the 8-speed automatic. Thus, car-to-car and automatic-to-DCT, the C8's price increase is something you might expect to see in mid-cyle of the same generation. This is the insane value that is the 2020 Corvette Stingray. Now to throw a little shade on that number: when the C7 debuted, it was much the same story – an incredible value. The introductory prices did not, however, last long as price increases (especially on the Z51 package) starting coming fast and furious. Therefore, if you plan to buy a new C8 right now and pay MSRP (and we don't recommend going higher than that), at least you'll do so knowing that there's very likely a price increase coming before any discounting starts.
There are some options limitations if you stick with the bargain 1LT trim. Namely, you cannot get GT2 seats, the trick front-end lift system, a HUD, heated and vented seats, heated steering wheel, wireless phone charging, universal garage door opener, the amazing 14-speaker sound system, power lumbar and wing seat adjustments, power-folding mirrors, rear camera mirror, memory seats, front curb view camera (to save your splitter), advanced theft-deterrent system including motion detectors and inclination alarm (think wheel thieves), blind-spot monitors or rear cross-traffic alerts. You can step up to competition seats for $1,995 and it is possible to add the navigation and PDR, but Chevy seems to have left off the cost of that package from the release yesterday. On the C7 it ran $1,795, so expect it to be in that neighborhood.
If you want all the above items that the 1LT can't get, then you need to step up to at least the 2LT trim package, which runs $7,300. That sounds like a lot of money until you consider what is included. Unlike last year, the 2LT includes the improved Performance Data Recorder and Navigation, so taking this into account, the C8's 2LT package is really only $1,050 more than it was on C7. What do you get for your $1,050 (that wasn't even available on the C7)? How about wireless phone charging, a heated steering wheel, the 14-speaker sound system, power-folding mirrors, a rear camera mirror, blind-spot monitors and rear cross-traffic alerts. Several of these features would cost $1,050 by themselves on most any other cars. Here, you're getting all of them for a steal.
The 3LT adds almost $12,000 to the base price of the car, or $4,650 over the cost of the 2LT. There are only 4 additional features over the 2LT: GT2 seats with carbon-fiber trim (a $1,495 option on 2LT), custom leather-wrapped interior, suede-wrapped upper interior trim, and leather-wrapped door panels. If you must have the most luxurious Corvette available, this is the package you want, but most people will find the 2LT to be in their sweet-spot.
The Z51 adds $5,000, just as it does on the C7, but magnetic ride control has increased a whopping $100 (/sarcasm) over the C7's price, coming in at $1,895. Thus, to get a 0-60 time under 3.0 seconds and the best C8 on the racetrack, you need to add another $6,895 to the price of your C8.
Check out the video above for an even more in-depth look at pricing, options, whether the ground effects packages are worth the price, whether you might want the Z51 and/or magnetic ride packages, and much more.