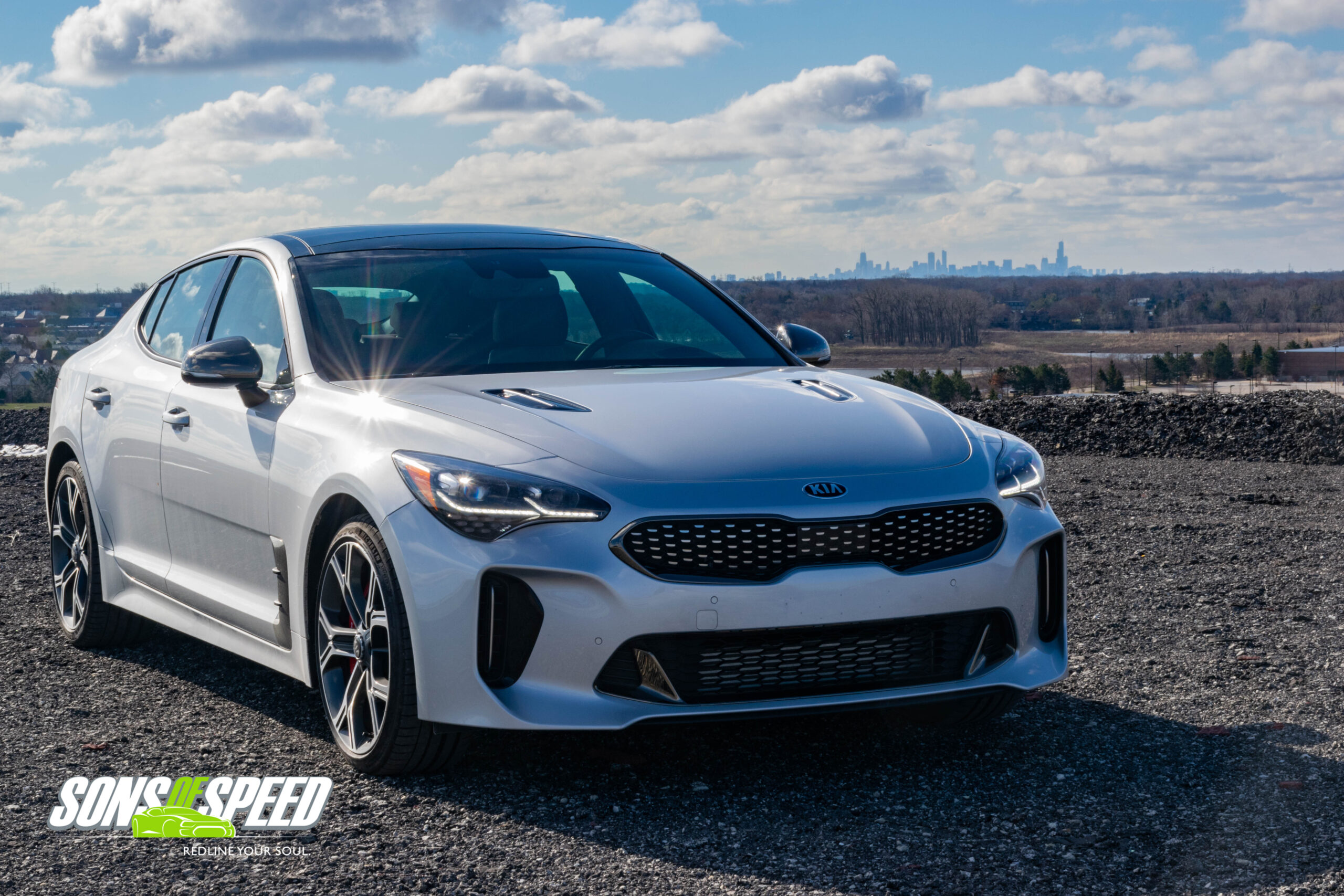 A Great Car From the Wrong Side of the Tracks
It's a classic storyline: boy meets the perfect "girl next door" character and is instantly smitten. There's only one problem: she's not from "next door" – she's actually from the wrong side of the tracks. You know… that bad part of town – the trailer park; and his friends are quick to remind him of these things. But she's so perfect, so beautiful, so wonderful. And, she's down to earth and normal, unlike the high-maintenance girls on this side of the tracks who need to be showered with attention and, of course, money. If this girl's address wasn't over there, you'd never know she wasn't from the right side of the tracks. So, what is the boy supposed to do? Maybe he just passes on her beauty and perfection, spending every day thinking about his lost love. Or maybe he just sneaks her into his life, pretending she comes from somewhere else.
And so it is with the 2018 Kia Stinger GT2 AWD. It has great looks, surprising performance, and road manners straight out of Kate Middleton's rules of etiquette, but are these qualities enough to overlook its lack of a luxury pedigree? It took us about a day to answer that question, and the rest of the week scheming to find a way to keep the car longer.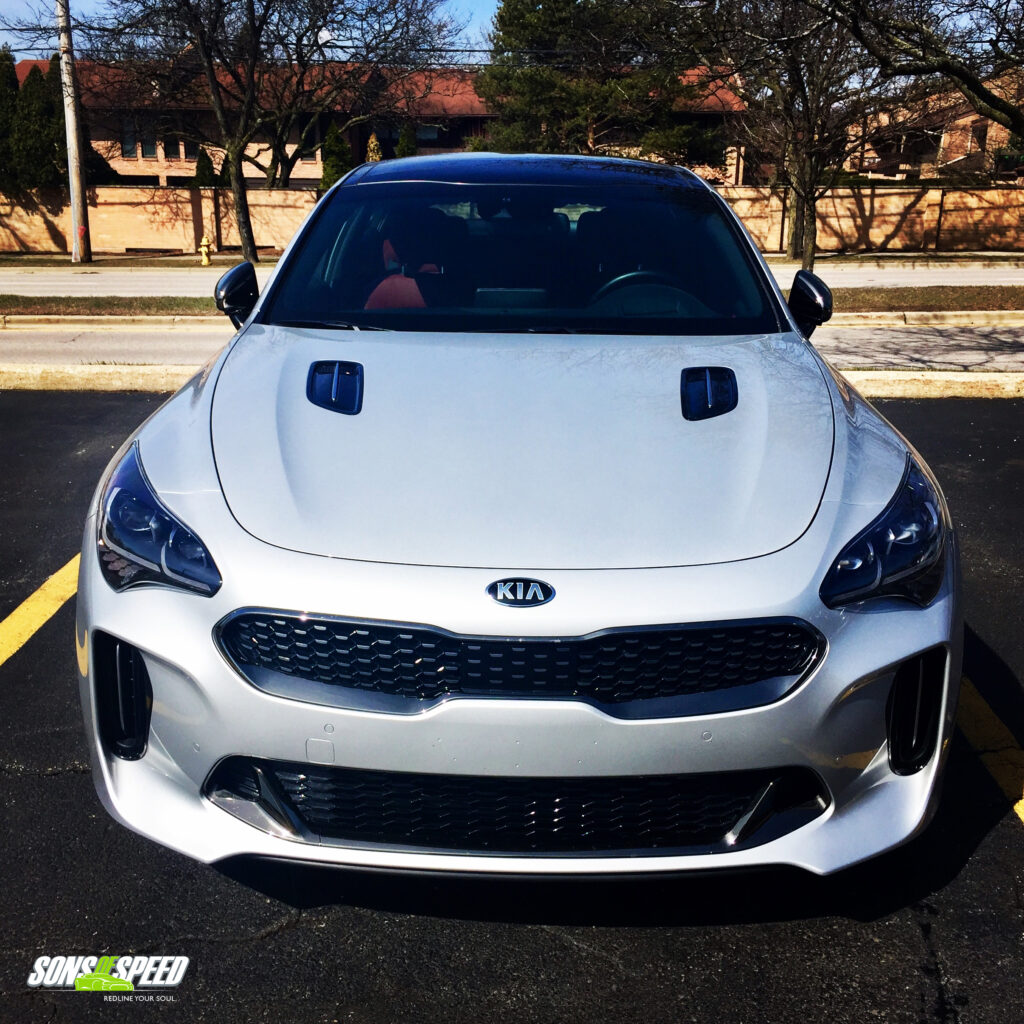 Before Kia dropped this gorgeous silver GT2 AWD model at our office, we had previously had only a taste of the Stinger with a very short preview of the Federation version at the Chicago Auto Show (see review here). While this GT2 is missing the Federation's awesome sounding Borla exhaust and carbon fiber bits, this model does sport all the goodies Kia offers (minus the optional remote start) in a non-specialty Stinger. Given the accolades showered upon the Stinger since its launch, we were anxious to get some quality seat time in the GT, and that starts – quite literally – with its sport bucket seats.
Wrapped in a deep – think Merlot wine – red leather (the only interior color available on a GT2 Silver Stinger), the heated and cooled seats are extremely comfortable and still supportive when the road starts to twist. Kia even wraps its keys with stitched (but surely faux) leather, and while you don't need to operate the key to open or start the car, or to even open the trunk (more on that later), its unique design allows you to easily find the lock button to secure the Stinger from a distance. Ironically, the keyless system is where we find the first blemish on our girl-next-door's otherwise perfect complexion. To open and close the doors in keyless fashion, you must depress a button on the door handle that is – no matter the exterior color – black. Even a new $21,245 Jetta SE integrates a hidden touch panel in the door handle to lock it and opens automatically when you grasp it. Not so with the $52,300 Stinger – you must push the little black, pimply-looking button to either open or close the doors; an unfortunate reminder it's still a Kia.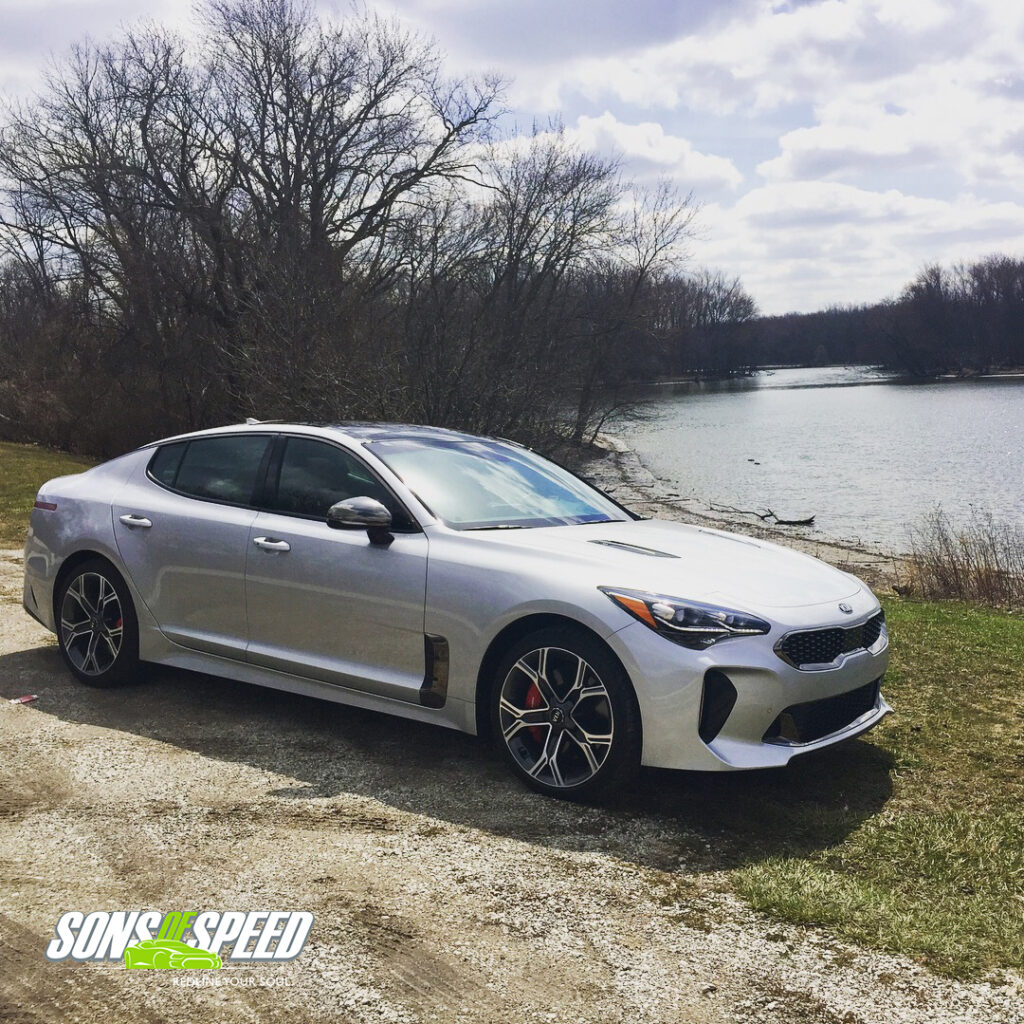 For that large amount of bread though, you do get pretty much everything you'd expect these days on a $50,000+ car, such as adaptive cruise control, collision avoidance braking, auto-hi-beam, adaptive (turns with the steering-wheel) headlights, blind spot monitors, front/rear radar distance sensors with rear-cross traffic alert, lane departure warning, lane keep assist, driver attention warning, panoramic sunroof, paddle shifting 8-speed automatic, head-up display, power everything with memory seats, auto-dimming mirror, homelink, 15-speaker Harmon-Kardon sound system, Car Play/Android Auto, et cetera. It's a very long and impressive list. One of the Stinger GT2's coolest tech features is its totally hands-free trunk operation. If you (and the key) have been away from the car for at least 60 seconds, you can walk up to the trunk, stand there for 3 seconds (which starts the car beeping and flashing its lights), and the power liftgate will automatically open – no foot swipe necessary. Don't want the trunk to open? Simply move away from the rear within those three seconds. The only option we wished this Stinger had (which is available for $495) was remote start. So yes, the price is high, but compared to its similarly-equipped competition, even this fully-loaded Stinger is a bargain. And did we mention the warranty that bests the euro-luxury brands for bumper to bumper coverage (5yr/60k) and embarrasses them with a 10yr/100k mile powertrain warranty?
Let's dive into why everyone in auto journalism seems to love this car. The Stinger, as a GT cruiser, has what we call the full package. Good looks? Check! From the flowing lines to the purposeful vents and perfect side proportions, the Kia looks good from all angles and comes off as confidently (but not garishly) aggressive. How about power? Check number two! A twin-turbo 3.3L V-6 delivers absolutely ferocious acceleration. The engine is rated at 365hp at 6,000rpm and 376 lb-ft of torque from a super-low (especially for a turbo) 1,300rpm all the way to 4,500rpm, although we're pretty sure Kia is understating those figures (our butt-dyno says 400hp is probably more like it). Combined with the rear-until-needed AWD system, the engine makes you want to launch the Stinger at every stoplight. How about good brakes? Check three! Four-piston Brembos live up front with two-piston Brembos out back, which is incidentally the same set-up as you get in a Z51 Corvette. When employed to their fullest, they confidently bring the Stinger down to a stop without drama. Would they overheat on a racetrack after repeated high-speed stops? Probably, but this is not a track car, and – by the way – so do the Z51's brakes, so there. Finally, does it have a great ride and chassis control? Check, check, check and check! I've owned two Audi's and a BMW, and if you plopped someone like me into the Stinger and covered the KIA badge on the wheel, they'd swear they were driving one of those two cars. The chassis control is just that good.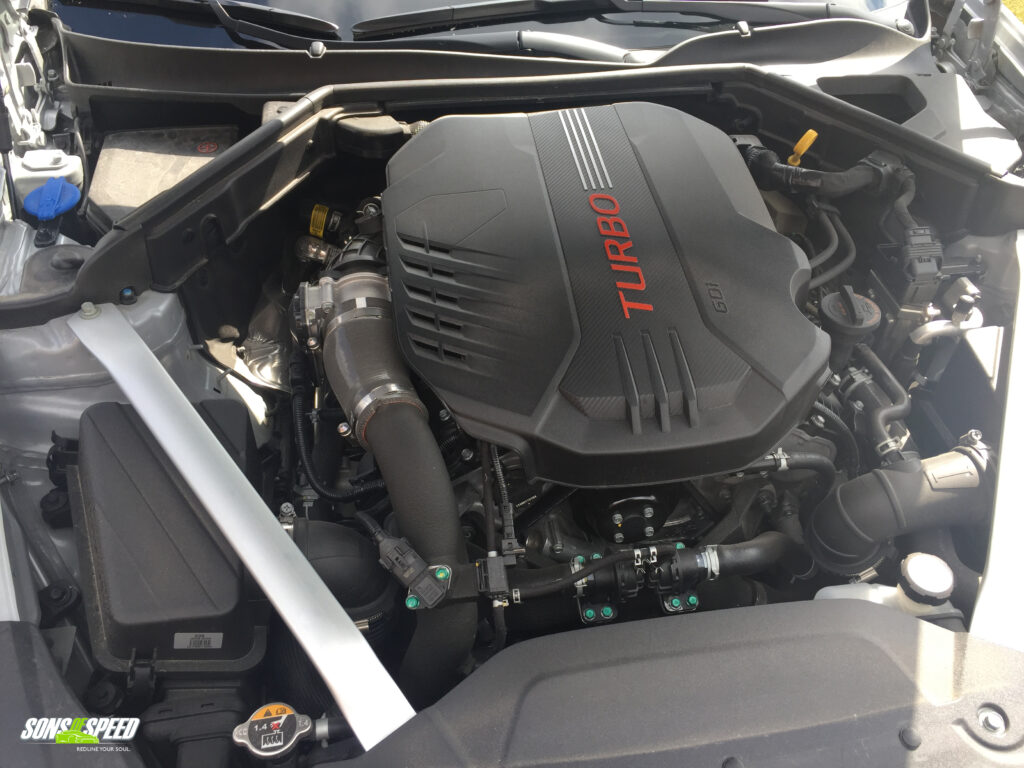 The not good list on the Stinger is surprisingly short. Aside from the aforementioned keyless button, the only other issues we encountered were a HUD that disappears with polarized sunglasses and gas mileage that suffered under our lead feet. One of our testers did complain (loudly) about the almost non-existent rear visibility, but what the rear window lacks in visibility the excellent backup camera more than makes up for with its top-notch clarity and field of view. Plus, with this much usable power on tap, who needs to look behind you anyway? One thing to watch out for, however, are cars optioned with factory all-season tires. Taking that option governs the top-speed to 130mph, and later switching to performance tires will not increase it to its otherwise lofty 167mph. Best to take the car with summer tires and spring for a set of winter tires if you live in the snow belt. This also means investigating the car's original option list will be even more important if you buy a Stinger second-hand.
The Stinger GT2 features different driving modes, which noticeably affects throttle response, shift points (and gear holding in sport mode), and overall available boost more than it affects steering feel or shock-absorption, which draws exactly zero complaints from us. Let me put it this way: in my garage sits a 2017 Corvette Grand Sport that I just took to Nashville and back to Chicago. Given the choice to take that or this Stinger on a long journey, it would be the Stinger every time. There wasn't a Chicago pothole that could upset it, and yet it was fun to drive through twisty roads (the few that we have) at elevated speeds. Not to mention the level of comfort and room inside is just phenomenal. I found myself having to chaperone four very tall teenage girls to a birthday party downtown, and the Stinger came away with high praise for its front and rear seat comfort. The very large sunroof, excellent touch display and beautiful ergonomics, switches and knobs, all work together to provide an environment you almost don't want to leave. And when you feel the boost kick in and hear the roar of the V6, you won't want to.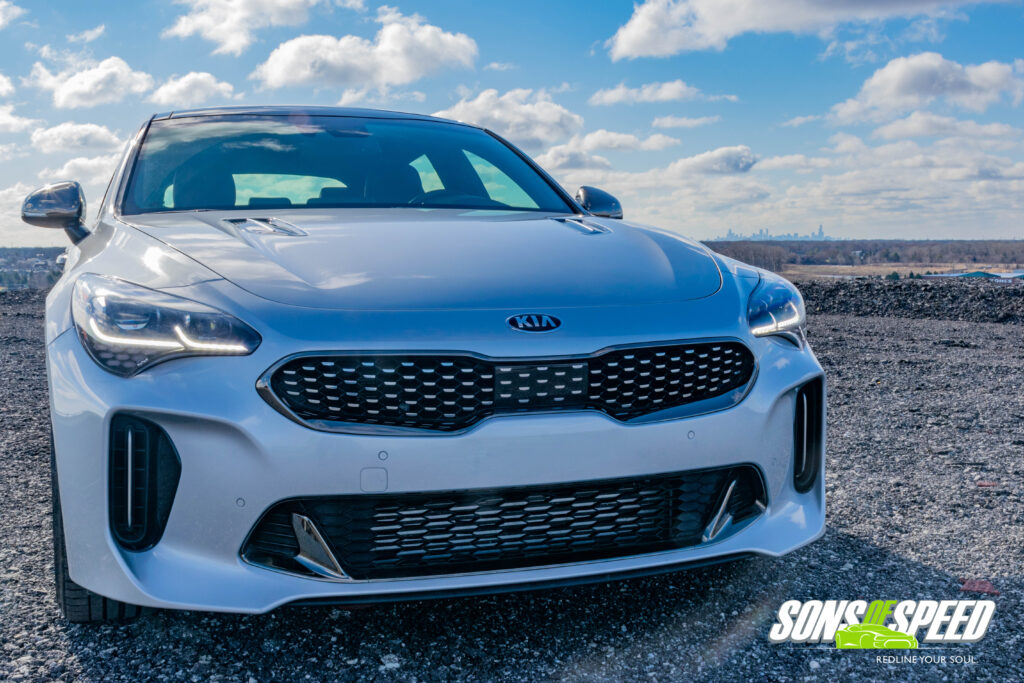 And that's what happened to us. The Stinger is not only comfortable, but you feel comfortable with it. After one day, you'll swear this has been your daily driver and best companion on the road since before you owned it. As our week was winding down, we tried desperately to extend our time with the best Kia ever. Unfortunately, there was a long list of others waiting their turn at the wheel. This was the first test car we've had where we really didn't want to give it back. We didn't care that it was a Kia – hell, we had people coming up to it while parked asking about it and taking cell phone pictures. I'm pretty sure they didn't care it was a Kia either.
That's how we felt with the Stinger being loaned to us, but the real question is would we spend $52,300 of our own money on a Kia? That was a much harder question to answer. The consensus was if we thought the Stinger would hold its value relatively well, then yes, we'd have the girl from the wrong side of the tracks. But none of us thought it would do that. The problem is, the Stinger's future residual value is an unknown quantity, and Kia's in general aren't known for strong resale values (yet, perhaps the Stinger can change that). Therefore, the Stinger will best appeal to two kinds of people: those who lease their cars, and those who never (or belatedly) sell them. If you lease, you don't get the benefit of the long warranty, but depreciation is not your concern, and you could always buy it off your lease. If you hold your cars for a while, the long warranty will give you peace of mind and, by the time that warranty is up, the value will have evened out. Don't worry, you won't want to sell it anyway. And what about those stuck-up friends in their Audi's, Bimmer's and Benz's? You could always change out the KIA badge to an "E" which stands for "Excellence" and is what Kia's wear in Korea. Fortunately, rebadge kits are already available on eBay.