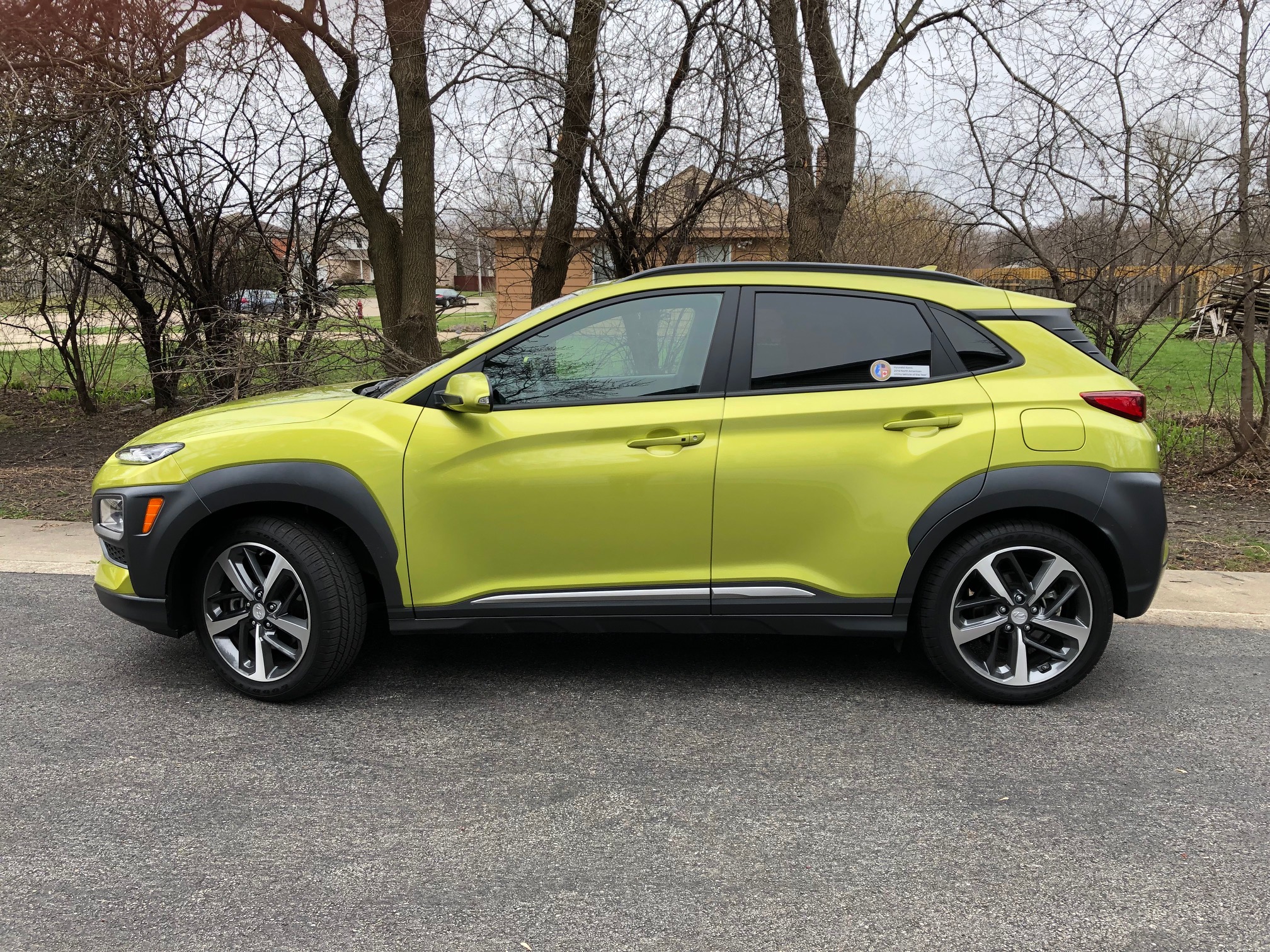 Features Fun, Practicality and Value.
The 2019 Hyundai Kona is one of the best subcompact crossovers that money can buy. That's a bold statement, but the Kona can back it up.
This 5-passenger SUV is available in five trim levels, the SE, SEL, Limited, and Ultimate, with starting front-wheel-drive models coasting $19,240, $21,050, $24,300, and $26,250 respectively. Add $1,400 for All-Wheel-Drive. The Iron Man trim, at $30,550, comes with a matte grey finish with red accents all around the vehicle, red trim inside the cabin, and larger wheels. Not worth the money.
The first 2 trim levels come with a 2.0 liter four cylinder engine putting out 147 horsepower and 132 ft.lbs of torque, paired with a six speed automatic transmission. The upper 3 trim levels get a very peppy turbocharged 1.6 liter four cylinder that makes a healthy 175 hp, and 195 ft. lbs. or torque (which happens at a low 1600 rpm) and is mated to a 7-speed, dual clutch automatic which you can row through the gears yourself, or leave it in full automatic and push a button to switch from Normal to Sport Drive Mode.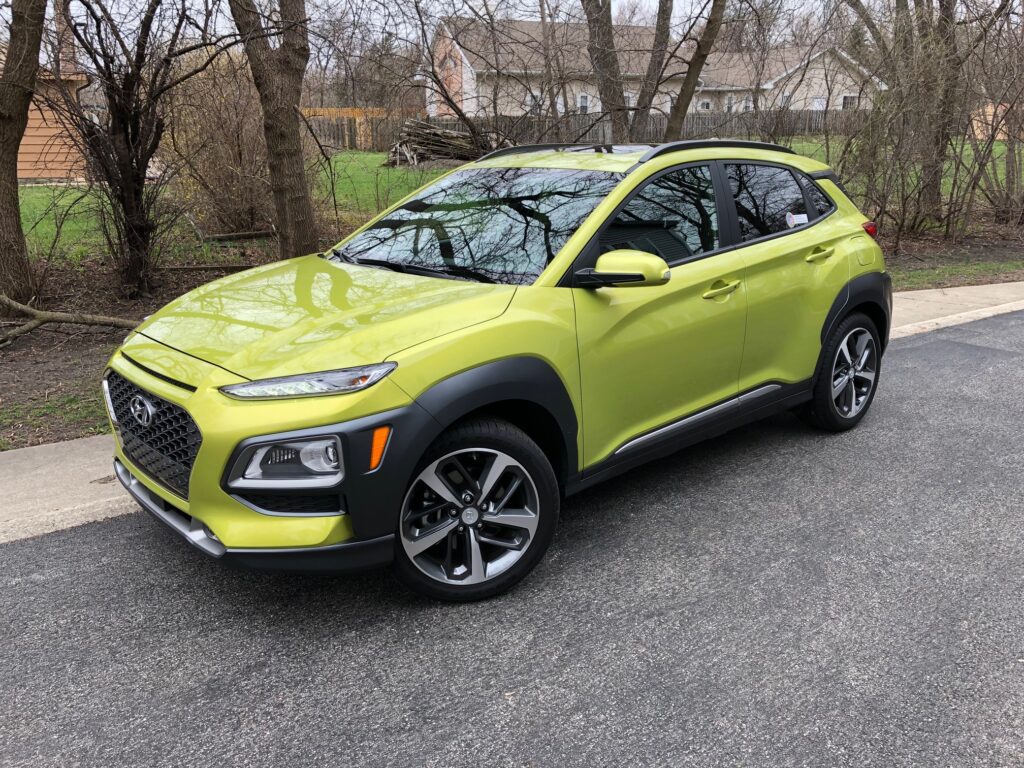 We tested the Ultimate AWD in an eye-popping Lime Twist color, which grew on me, especially since Hyundai put that matching color inside the car with green surrounds gracing the air flow outlets, on the dash and around the gear shift lever. Green piping and stitching on the seats also helped the cabin look a bit more upscale. And that color was easy to spot in any parking lot filled with mostly silver, grey, black and white vehicles.
I believe the Kona is the quickest vehicle in its class, and the performance is quite sprightly. There is a bit of a dead spot in the 1st to 2nd gear change as the car wants to save fuel by getting into a higher gear quickly to improve gas mileage, which is 26 City and 29 Highway. But by pushing the Sport Mode button, that soft spot almost disappears. And if you chose to shift though the gears yourself, the little Kona has the grunt to be quite entertaining, and the shifts are fairly quick.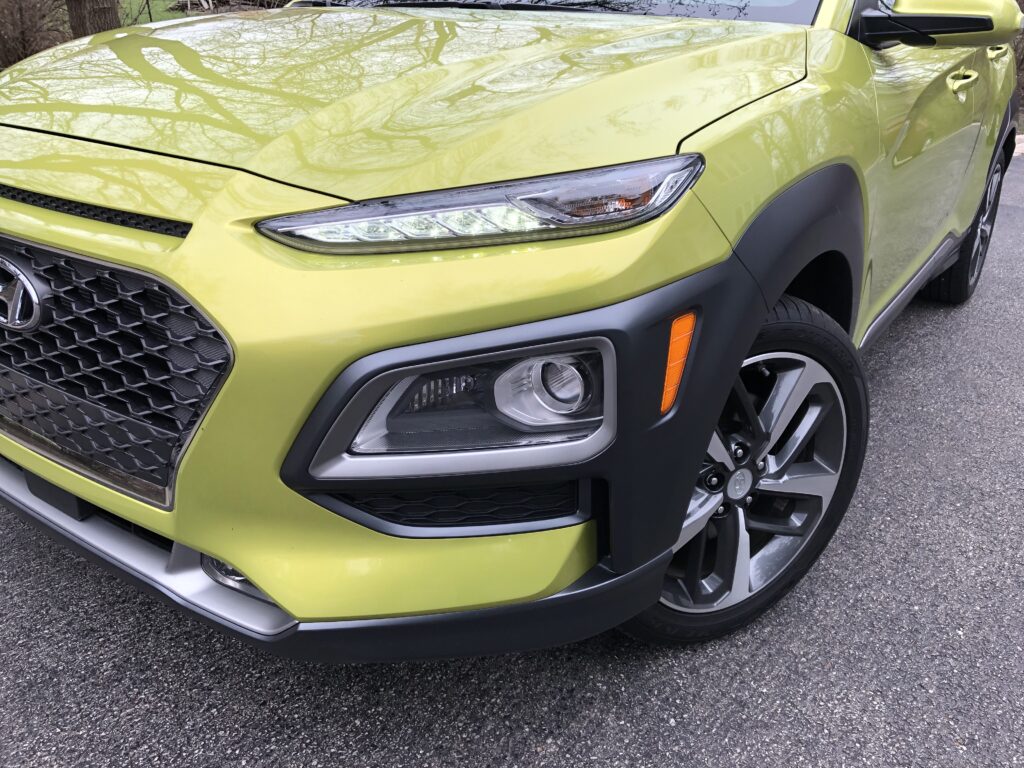 Also, there's a button to lock the center differential, and despite the mid-April calendar date, I had a chance to experience when a 4" snowfall showed up on a Sunday morning. I took the Kona to an empty High School parking lot, and had a good time putting the feature through its paces. I was impressed how well the Kona moved through the slippery slushy lot with excellent control. When turned off, I had a lot of fun with the SUV, and was able to play with it drifting and sliding around the lot with front wheel drive only. The ABS brakes operated well on the slick surface, as well as on dry pavement.
The steering felt light and accurate, and the Kona cornered quite well without much body lean. While no sports car, the Kona was fun to push through tight corners. Side-to-side transitions felt athletic and composed. The crisp handling is helped by a firm suspension and 18" wheels. But that trait, coupled with a short wheelbase can make the ride quality a bit harsh, especially on rough pavement, which seems to be the only kind we have in the Chicago area after a rough winter. But I'd rather have the crisp handling at the expense of a softer ride.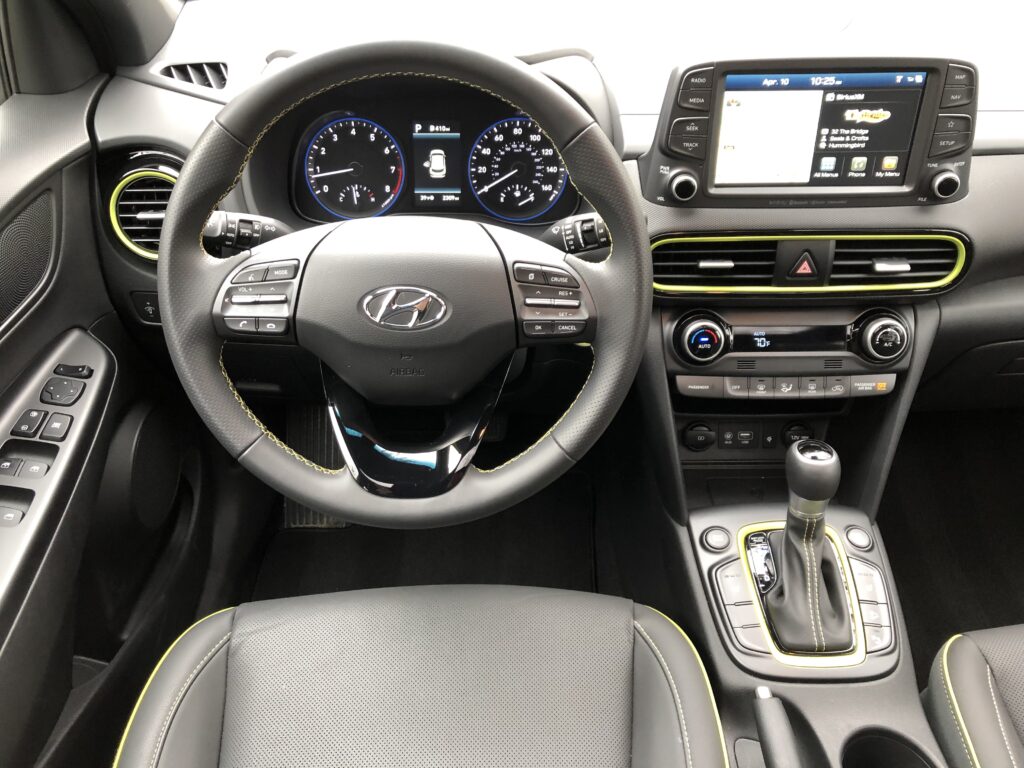 We found the cabin to be a comfortable place to spend time. Although the interior is a bit plasticky with a nod to the pricing, it is nicely styled and laid out. The leather seats are supportive and well bolstered, and Hyundai makes good use of the small interior dimensions. Good head and leg room in front and back for 4 people, with the rear center seat best used as an arm rest. The dash is no nonsense, and all controls are easy to see and use. Two large round dials are placed in front of the driver, and a large LCD screen between for the driving info to toggle through are easy to operate. The center stack is dominated by a large 8" touch screen for Navigation, radio, and other features, and again easy to operate. In fact, the Hyundai infotainment system is one of the best systems in the business. Cars costing thousands more could learn a thing or two from them. Voice commands are accurate, and the sound quality of the hands-free cell phone is outstanding. Also, the steering wheel has redundant controls for most of the often used features. The cargo area is a bit disappointing, especially with the rear seats up – a scant 19.2 cubic feet, which is almost half or the room in a Honda CRV. However, with the seats folded, you get a more commodious, 45.8 feet.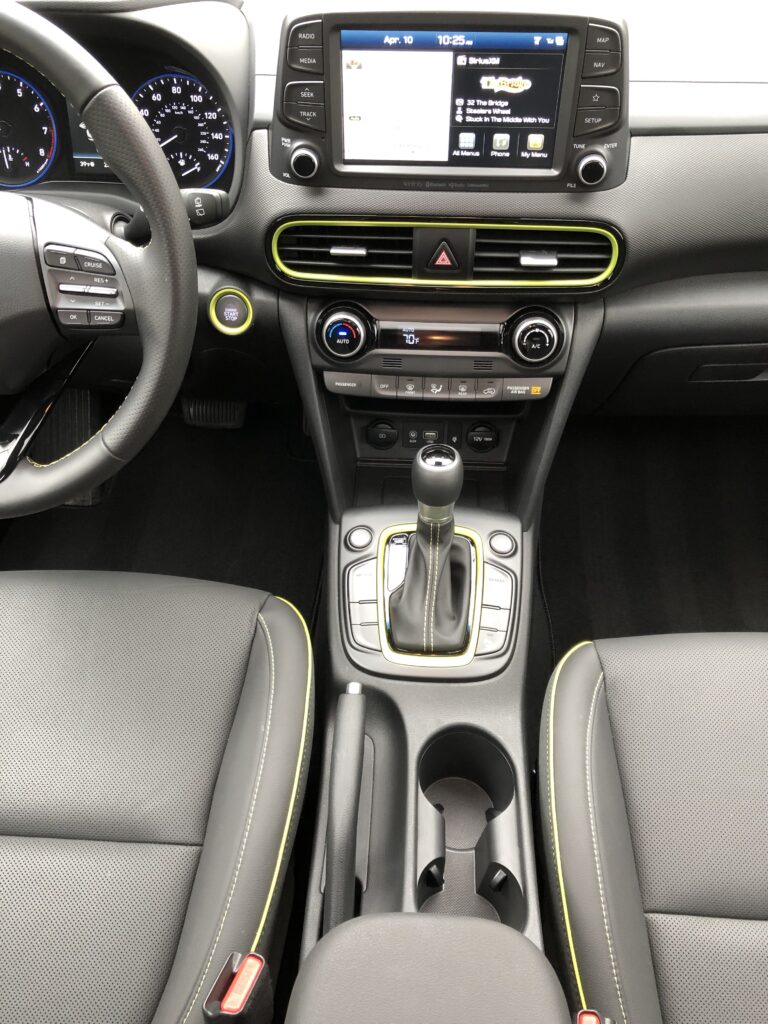 Where the Kona really shines is the long list of technical, safety and comfort amenities. Drive aids include Blind Spot monitor, Cross Traffic Alert, Lane Keep Assist, Forward Collision Avoidance with Pedestrian Detection, Driver Attention Warning, Parking Distance Warning, and Tire Pressure warning with individual tire indicators. There's even a Heads-up Display screen that pups up from the dash to show speed, speed limit on the road you're traveling and other programmable info. I've never seen that on a car in this price range. Fog lights, Automatic-on Headlights, and the outside side mirrors are heated, have built in turn signal indicators.
The headlights are Auto On/Off, and there are Fog lights, Power Moon Roof, Rain Sensing Wipers, and Proximity key with Push Button Start. Heated leather front seats, with 8-way power Drivers seat, have three settings: warm, hot, and sear. Upi also get Auto-Dimming rear view mirror, tilt and telescope wheel, Wireless phone charging device with Apple Car play or Android Auto ready, 12 volt, AUX, and 2 USB ports, Infinity 8-Speaker Premium Sound System are also fitted.
And all Hyundai's come with their 6 year/60,000 mile new car, and 10 year 100,000 powertrain warranty as standard, so you needn't worry about unexpected repair bills.
So anyone looking a small SUV that is loaded with amenities, and features, in a tidy package with good gas mileage and is fun to drive, visit your local Hyundai dealer and take a test ride in the Kona. The bottom line of our test car, including freight, came to $30,005, without a single option necessary.