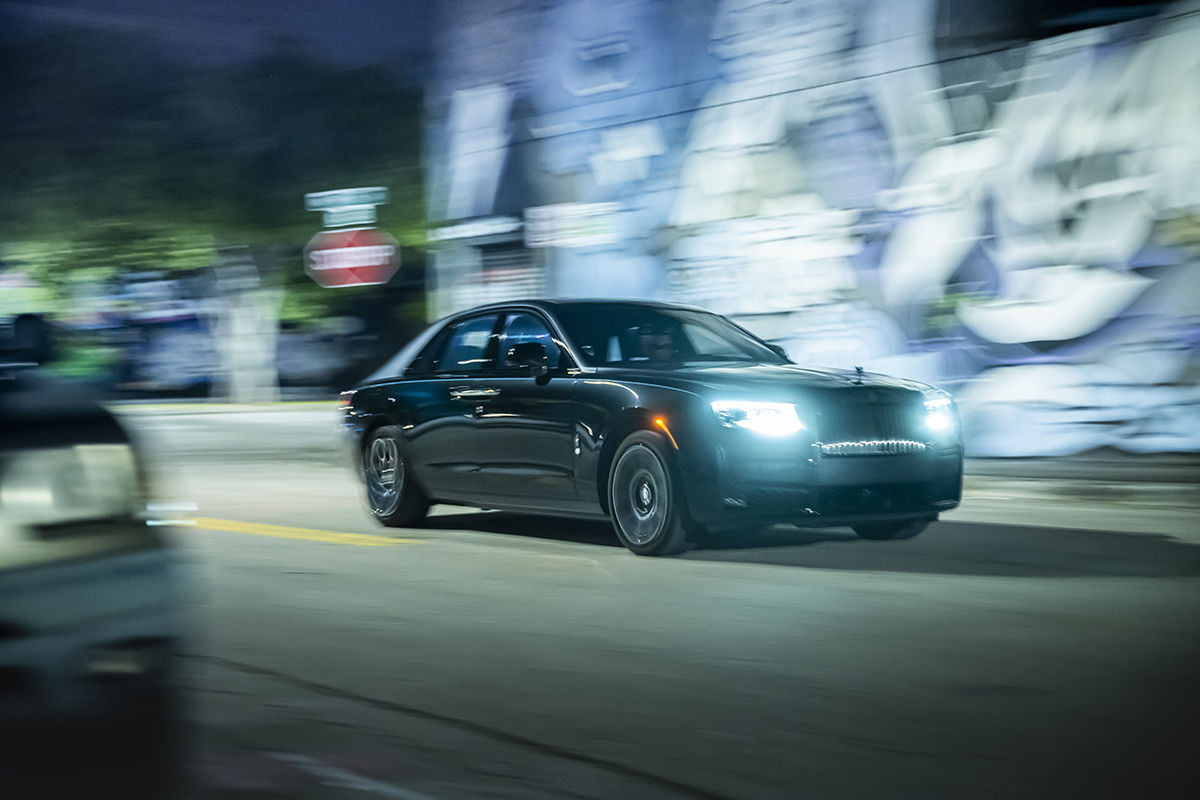 For 36 hours I was a baller. I became a member of an entourage where I was to them as Nick Carraway was to Gatsby, a midwestern interloper who was afforded an all-too-brief glimpse into a life I'd only read about. A life of art deco hotel suites with wrap around balconies and a view of the Atlantic Ocean. A life of Golden Mastodons and million dollar speed boats. A life of police-supervised drag racing in a park by the bay, then Wagyu steak dinners and $500 bottles of champagne shooting fire as they brought them to the table.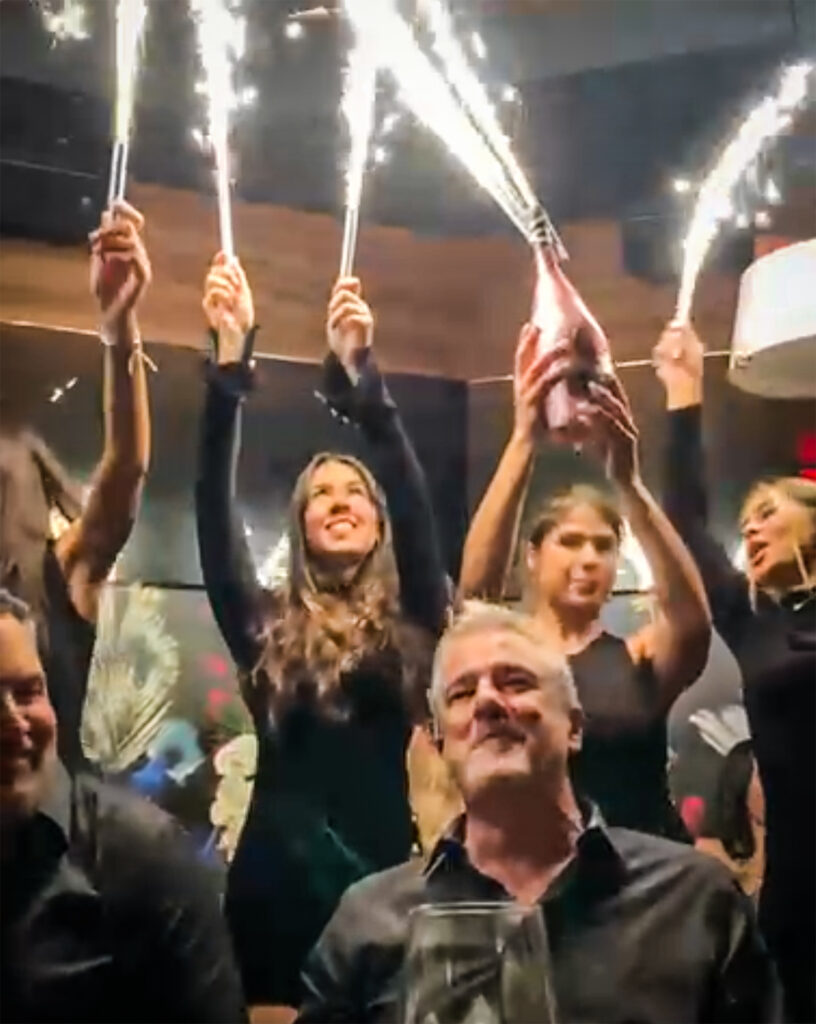 This, my friends, is Miami. South Beach to be precise and just the sort of decadent playground where the young, newly monied come to let their freak flags fly. I was brought here on the pretense of testing the new Rolls-Royce Ghost Black Badge, but it quickly became evident this trip was more about getting into the heads of this new generation of Rolls-Royce owners than it was about understanding the nuances engineering and design that separate the Ghost I drove in Austin last year from this new evil twin.
To understand why I was in Miami acting as if I was a member of Pit Bull's posse, you first have to understand the origin of the Black Badge sub-brand. In 2010, Rolls-Royce executives were in Los Angeles getting ready to head from their hotel to a dinner engagement when they saw a murdered out Phantom pull up to the valet. Not only did the car look different, the owner looked different as well. He was younger and dressed more casually than a typical Phantom owner. That raised a question. Could Rolls-Royce develop cars that appeal to younger buyers and what would they look like?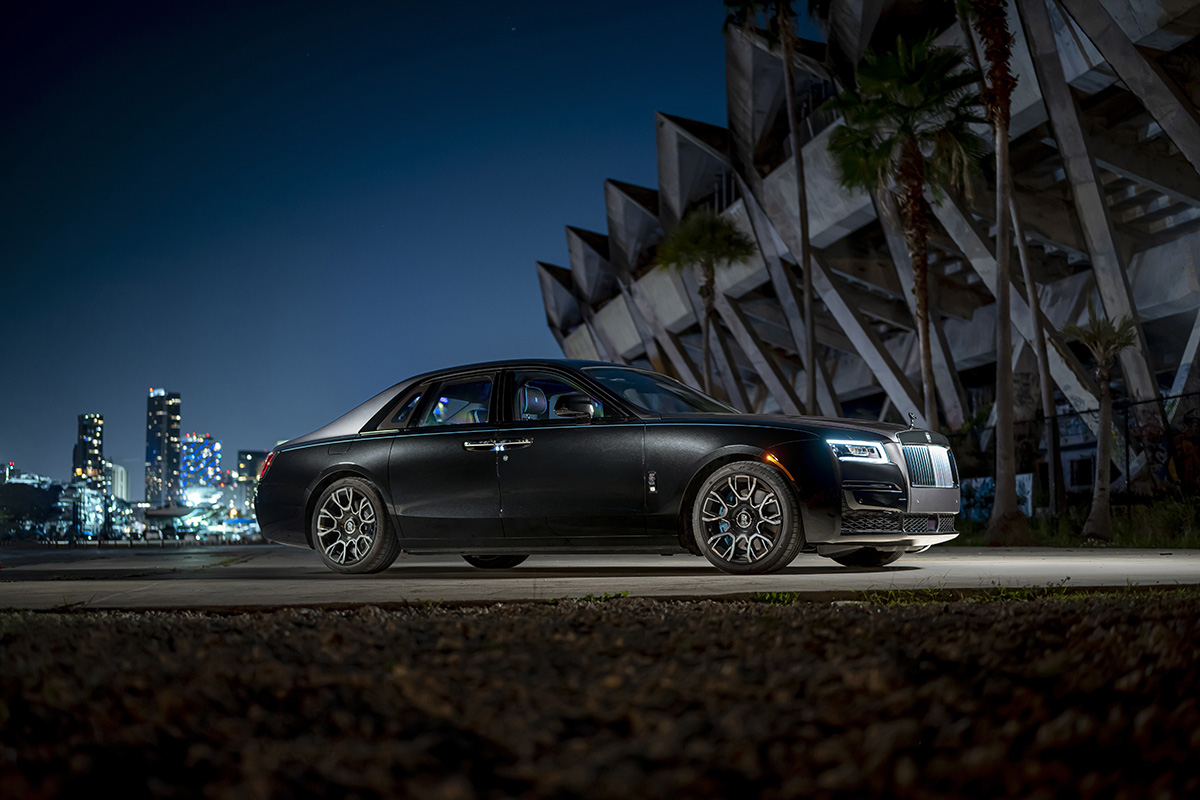 The first Black Badge offering hit the road in 2016 in the form of a Wraith, and I was enthralled. It was the first Rolls-Royce that really spoke to me thanks to its enhanced performance and bad attitude. So I knew Ghost Black Badge would be right up my alley. It offers something that appeals to the less traditional half of the one-percent. It's edgier, more powerful, and dare I say it, a little more understated. Gone are the bright chrome accents. They're replaced by smoked surfaces for the brand's signature pantheon grille and Spirit of Ecstasy hood ornament. The black wheels with their aluminum accents and painted brake calipers hint at power and handling that's a cut above the standard Ghost.
While Rolls-Royce makes what are undoubtedly the finest motor cars in the world for the spiritual descendants of Croesus, those cars a part of a larger lifestyle that requires investing their capital in toys mere mortals such as myself could never possibly afford. Where a high end Hilton or Marriott provides all the luxury I need, there are several levels above that incorporate art, style, service, and exclusivity for people who have the means. Thus after being picked up at the Miami airport around 2:00 AM (thanks American), I was whisked to the Hotel Faena comfortably ensconced in the executive lounge of a new Rolls-Royce Phantom.
There's nothing like taking the edge of a really bad travel day than sinking your toes into lambswool carpet, turning on the heated messaging seats and laying back into the pillow-like headrests of a Phantom while staring up at the starlight headliner up above. I could have spent the night comfortably there, but after a short smooth trip thanks to Phantom's magic carpet ride provided by the air suspension, I walked into the hotel to be greeted by staff that clearly operate on a different schedule than I do. The associate who checked me in was ready to take me on a full tour of the resort and its amenities, while all I wanted to do at this wee hour was take a meeting with Morpheus. Sensing my general state of sleep deprivation, he handed me the keys, a bellman led me to my room and before I had the chance to survey the decor, I was out for the next six hours.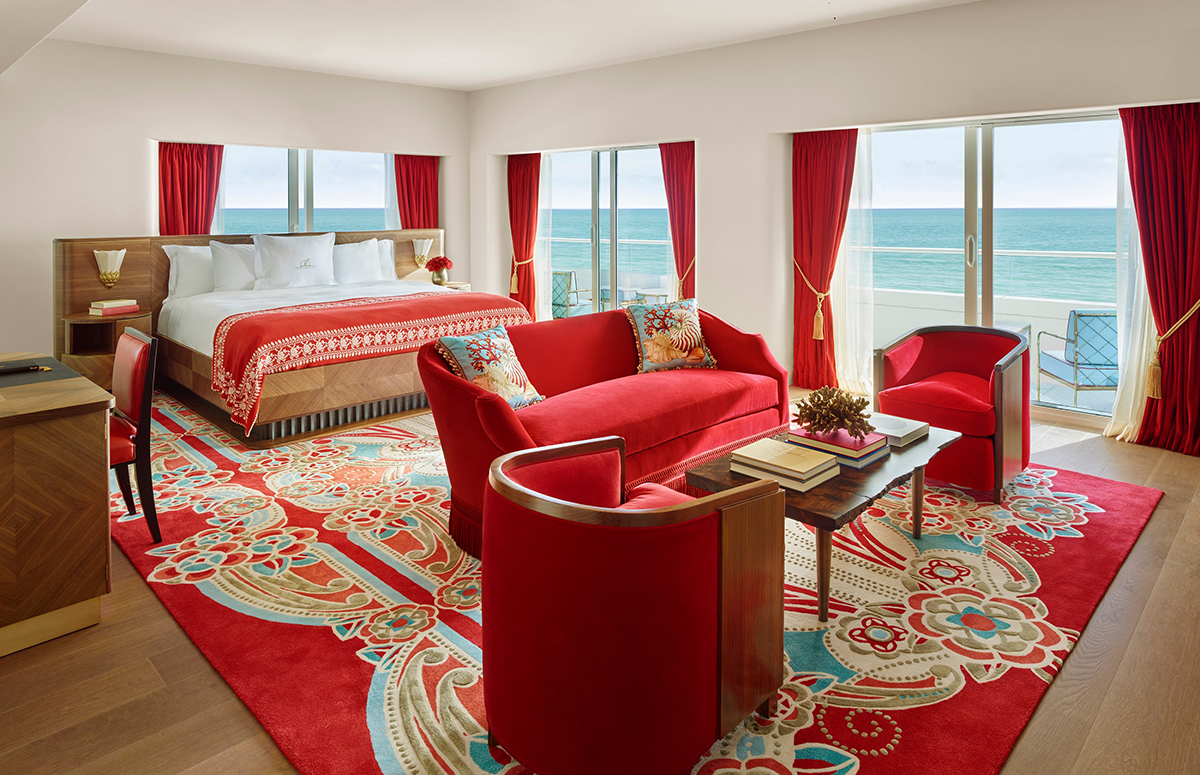 Waking up with the early winter sun streaming through the sliding glass doors that faced the Atlantic ocean, I was treated to a view that can only be described as spectacular both inside and out. The hotel's Art Deco architecture is enhanced by furnishings and accessories adorned in red and gold. Intricate inlaid wood accent the furnishings, showing a level of craftsmanship you just can't find at a Ritz, much less a Fairfield Inn. After making a morning coffee and slipping on the complimentary robe, I headed out to the balcony to check out the view and and my email. This is the kind of luxury I could get used to, except the $3,500/night rack rate meant I had to enjoy it while I could, because Amex would never let me put this charge on my card for a night much less a weekend.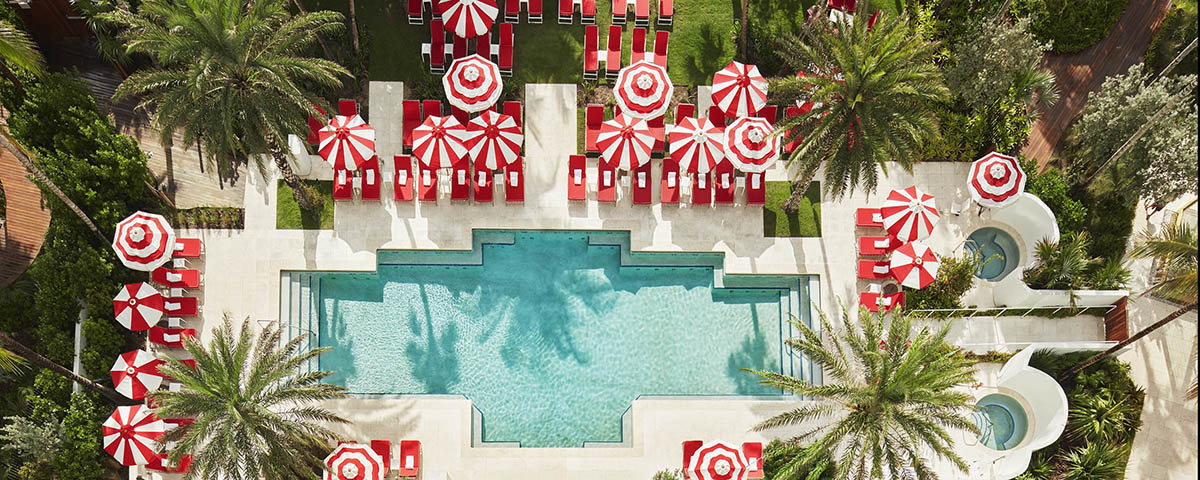 The Faena has everything you'd expect from a Miami Beach ultra luxury hotel. A fantastic dining room, a happening club with a bouncer whose sole purpose is to make sure only the beautiful people and their posse gained entrance, and a pool with candy cane cabanas and swimsuit model level guests that made exposing my pasty and aging midwestern dadbod out of the question. What you don't expect to find is a golden mastodon in the middle of the courtyard. This art installation by Damien Hirst titled Gone But Not Forgotten, was chosen by hotel owner and fashion designer, Alan Faena. His reasoning? "Miami was always about fantasy, we are trying to bring back that glorious moment of fantasy and glamor but to create it in a modern way." Mission accomplished.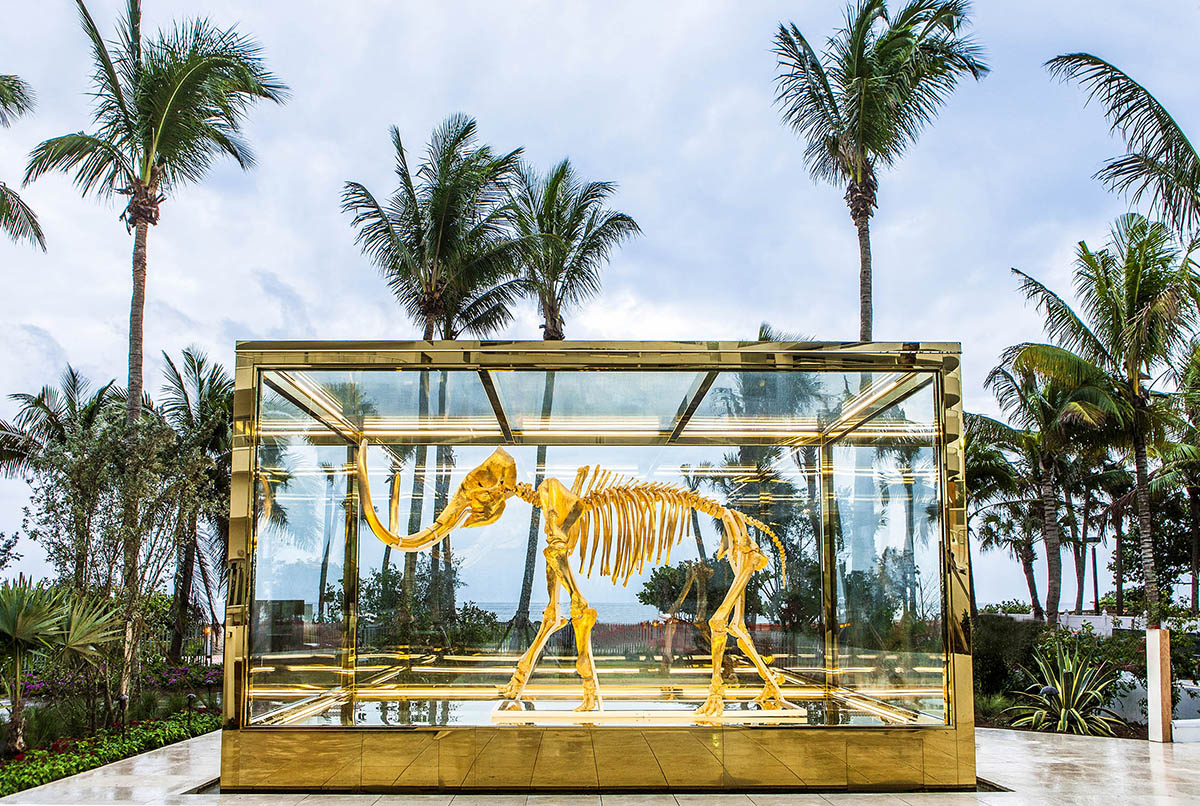 After a leisurely morning and group lunch at the hotel, our merry band of a dozen or so journalists were whisked in a fleet of Ghosts, Phantoms, and Cullinans to a nearby marina for a trip across the bay to our first opportunity to see Black Badge Ghost in person. We split our group and hopped aboard two Midnight Express custom center console high performance boats that were waiting to whisk us to the review site.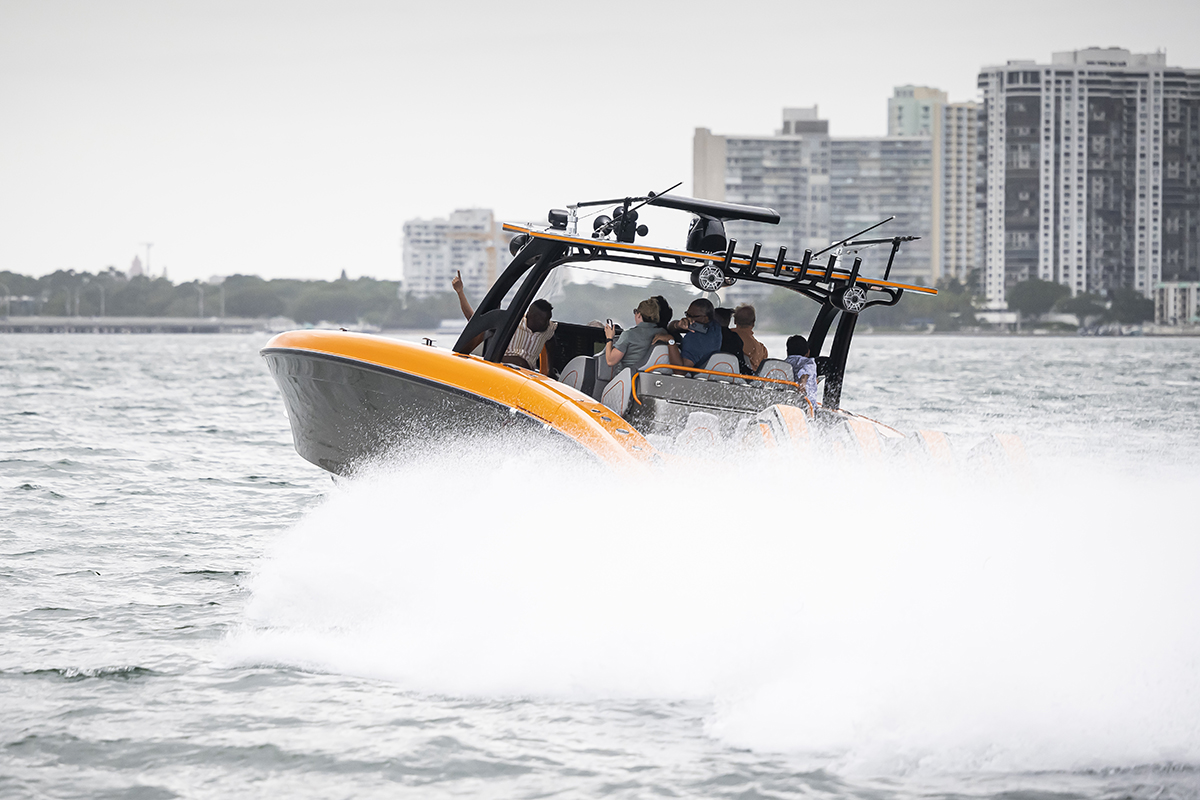 If your frame of reference for outboard boats is Alumacraft, Boston Whaler, or Bayliner, you're in for a shock the first time you get aboard a boat from Midnight Express. This is not your typical outboard. These center console boats start at 34 feet long and go all the way up to 60 feet with a sleeper cabin in front of the console. They are all about luxury and performance, the latter of which was obvious as we approached the boat from the dock. There were four 450 horsepower Mercury outboards hanging off the transom of my boat. Our sister ship had five. That, folks, is a lot of grunt. Enough to push the boat well past 80 miles per hour. And let me tell you, that speed on the water feels a lot faster than it does on dry land, especially when the captain pitched the boat into an arching turn while it was porpoising over some gentle waves. If you've never spent time on the water, before riding one of these make sure you take your dramamine. But the power is just the start.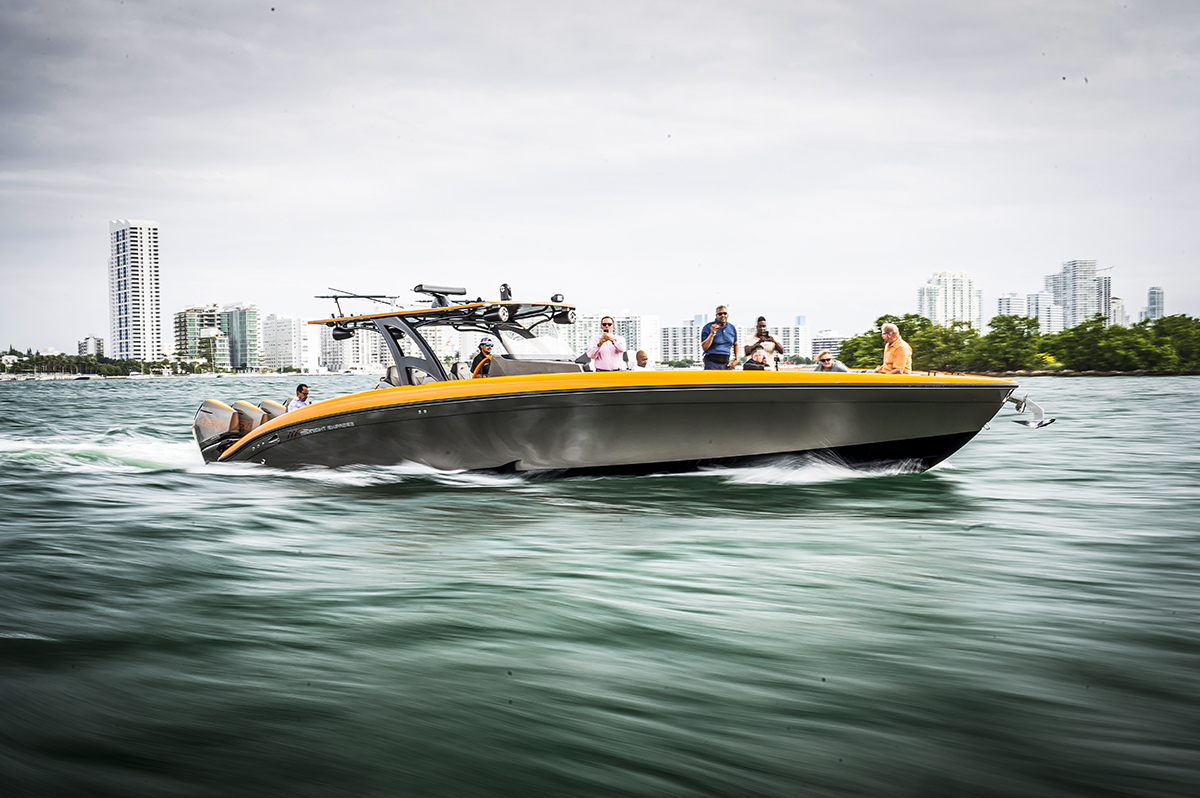 These boats are all custom built and hand-crafted to each owners specification. You can specify seating configuration, colors for the hull, deck, and bridge. Each set of cushions are made to order as well in an amazing array of colors with options for the main panel, side fabric, stitching, and piping. You can get caught in a time warp playing with the configurator on their website adjusting every variable. The end result based on the boats I saw was nothing short of spectacular on the short ride from one side of the bay to the other. For more than $1,000,000 a pop, they should be. Huge screens adorn the cockpit and that's just the most obvious expression of the technology. The company is committed to making these boats easy to handle with the latest control systems, including steer and throttle by wire technology. The end result is a boat that has killer performance, luxurious comfort, and the kind of personalization a Rolls-Royce owner would surely appreciate.
Once delivered to our destination, it was finally time to see the inspiration for this weekend, Black Badge Ghost.
Just to refresh, new Ghost is built on Rolls-Royce "Architecture of Luxury," an all-aluminum scalable platform that also underpins Phantom and Cullinan. While the exterior and interior of Ghost have also been taken to another level by focusing on clean, uncluttered, and modern design, this architecture is really what sets it apart from the previous generation car. It transforms both the ride and handling. It significantly improves noise, vibration, and harshness, which feels like a crazy thing to say since the previous generation car was pretty much best in class in NVH already. In fact, new Ghost was so quiet when they originally tested the car chief engineer Jonathan Simms told me they actually had to add noise back in to the cabin, tuned to a special frequency that contributes to a more relaxing experience.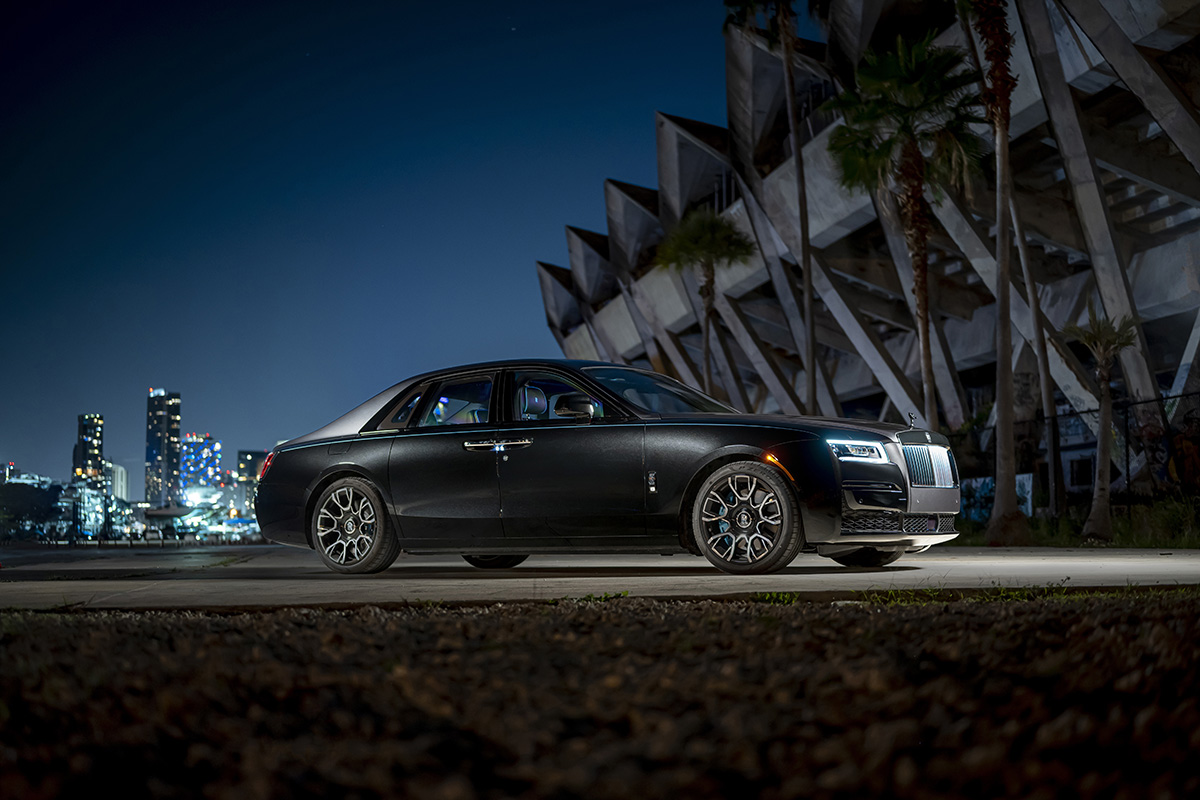 As far as the overall experience is concerned, it's hard to understate the significance of this improvement. It makes everything in Ghost better, and allows for other advanced performance features like all-wheel drive, four-wheel steering, and the planar suspension system. All this is put to great use on Black Badge Ghost.
With more power and torque (591 HP & 662 lb.-ft.), the 6.75-liter V12 engine in Black Badge Ghost is even more urgent than the standard model. It'll rocket the sedan from zero to sixty in just about four and a half seconds, which isn't bad for something that of that size, weight, and elegance. Rolls-Royce have introduced a low mode to the eight-speed automatic transmission which cuts the time for shifts by 50% and opens the all new exhaust to introduce a bit of a growl into the cabin. To deal with the increased power the brakes have been modified slightly, raising the bite point and shortening pedal travel. The only change to the hardware, however, is the availability of a range of colors for the calipers. The original brakes had more than enough stopping power to handle the increased engine output. One other mechanical change that influences driving dynamics is increased capacity of the air suspension which results in less lean in the corners for when you're feeling a little frisky behind the wheel.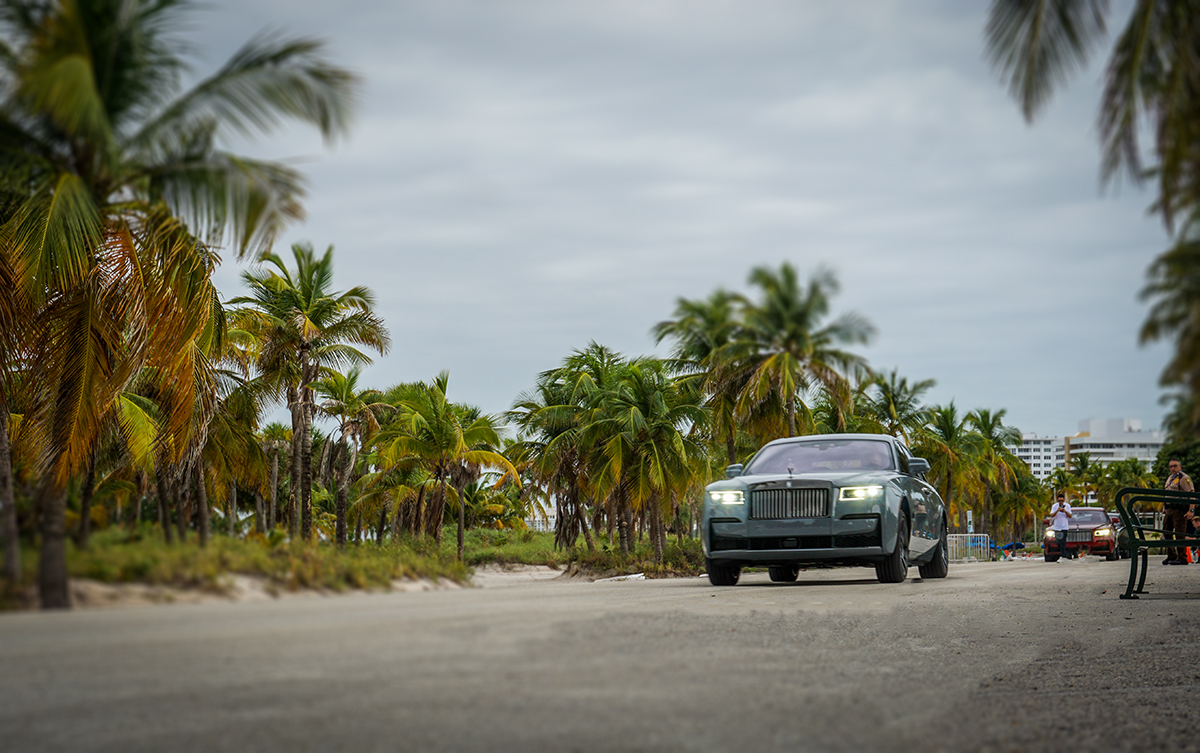 I was able to experience the enhanced performance and handling first hand at a makeshift test track in a park by the bay in the city. Rolls-Royce worked with the city to clear two parking lots and block off a 1/8-mile long road where we tossed the cars around under the watchful eye of local law enforcement. The reaction from the other park visitors was priceless as they wandered over to see the cars and try to figure out who these hooligans were burning rubber in $400,000 machines.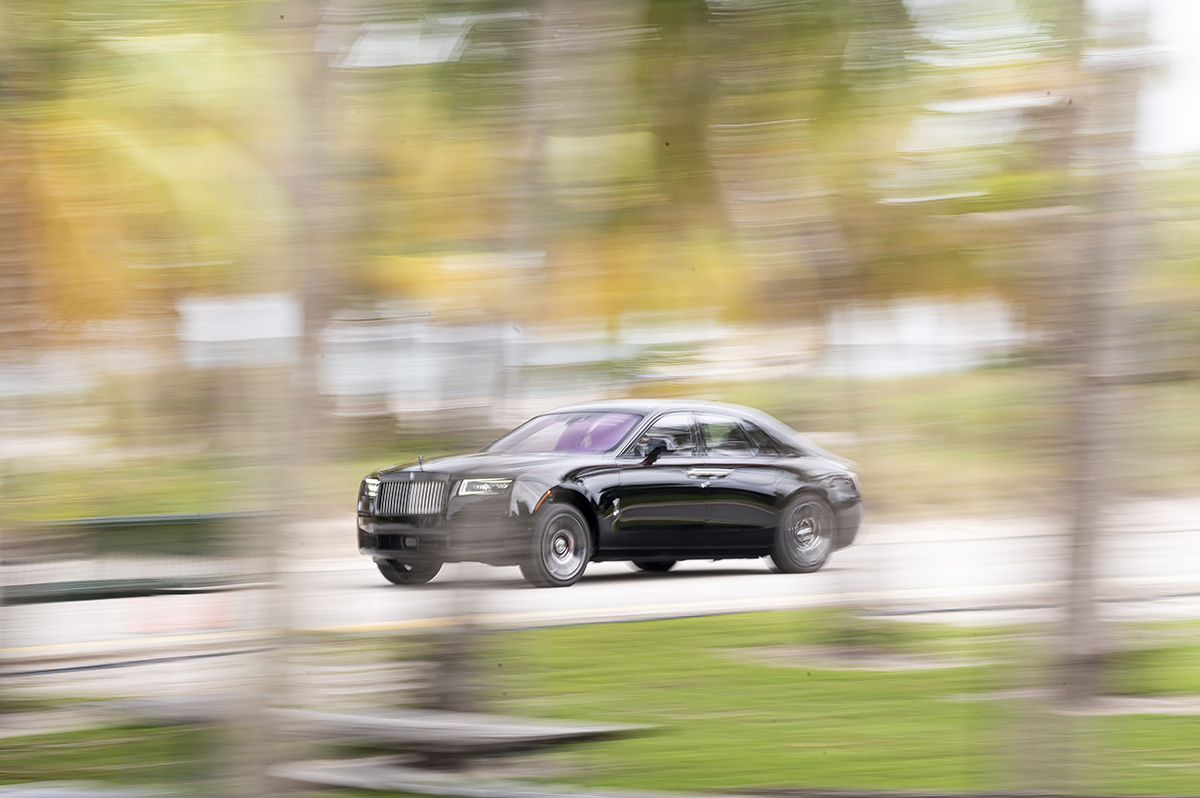 Other obvious visual cues that Black Badge Ghost is no ordinary ultra-luxury sedan include new composite wheels and darkened chrome grille accents. In addition to being the best looking wheels I've ever seen on a Rolls-Royce, these carbon fiber and aluminum 21-inch units are also a feat of engineering. Each wheel is made using 22 layers of carbon fiber laid in three directions, then folded back upon itself. The aluminum hub is attached to the carbon fiber with titanium fasteners, and of course each is finished with the floating RR hubcap that always keeps the logo upright. The result is a wheel that is significantly lighter than a comparably sized alloy wheel, reducing unsprung mass and improving handling.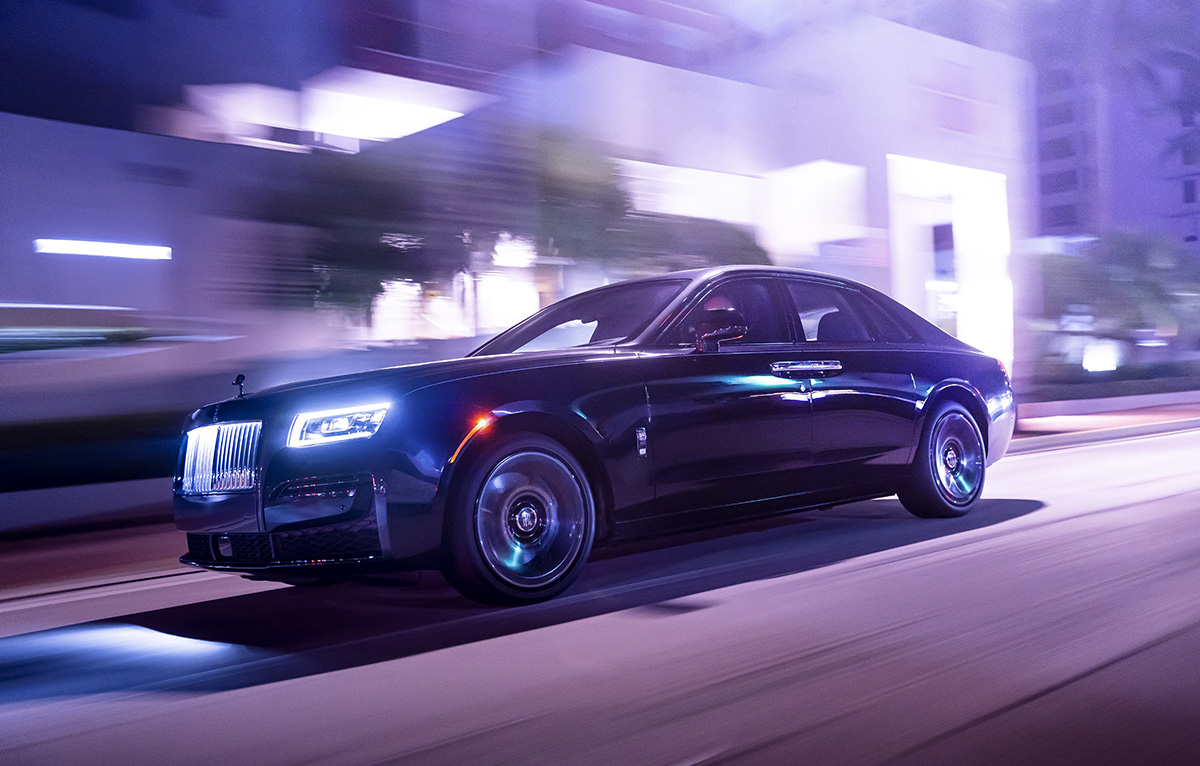 Unlike most black edition cars on the road, Rolls-Royce Black Badge doesn't use powder coating or other surface treatments to darken the chrome. The window trim, pantheon grille, and Spirit of Ecstasy have a dark, mysterious, and smoky appearance thanks to the addition of a specific electrolyte in the chroming process. This darker finish is then hand-polished to give it a depth of color that won't fade or chip away over time.
Inside, Black Badge Ghost follows a similar theme, accenting the immaculate, hand-stitched, leather surfaces, with darkened aluminum and uniquely finished technical fibers. It all works together to give the cabin a less formal and more casual look than one finished with polished woods and chrome. You can still get the brand's remarkable starlight headliner with shooting stars and other indulgences including the luxurious lambswool carpeting. Like all Rolls-Royces, Black Badge Ghost is a spectacular place to spend time. Heated, ventilated messaging seats are supremely comfortable. The bespoke sound system plays your favorite music with clarity and precision regardless of the genre or volume.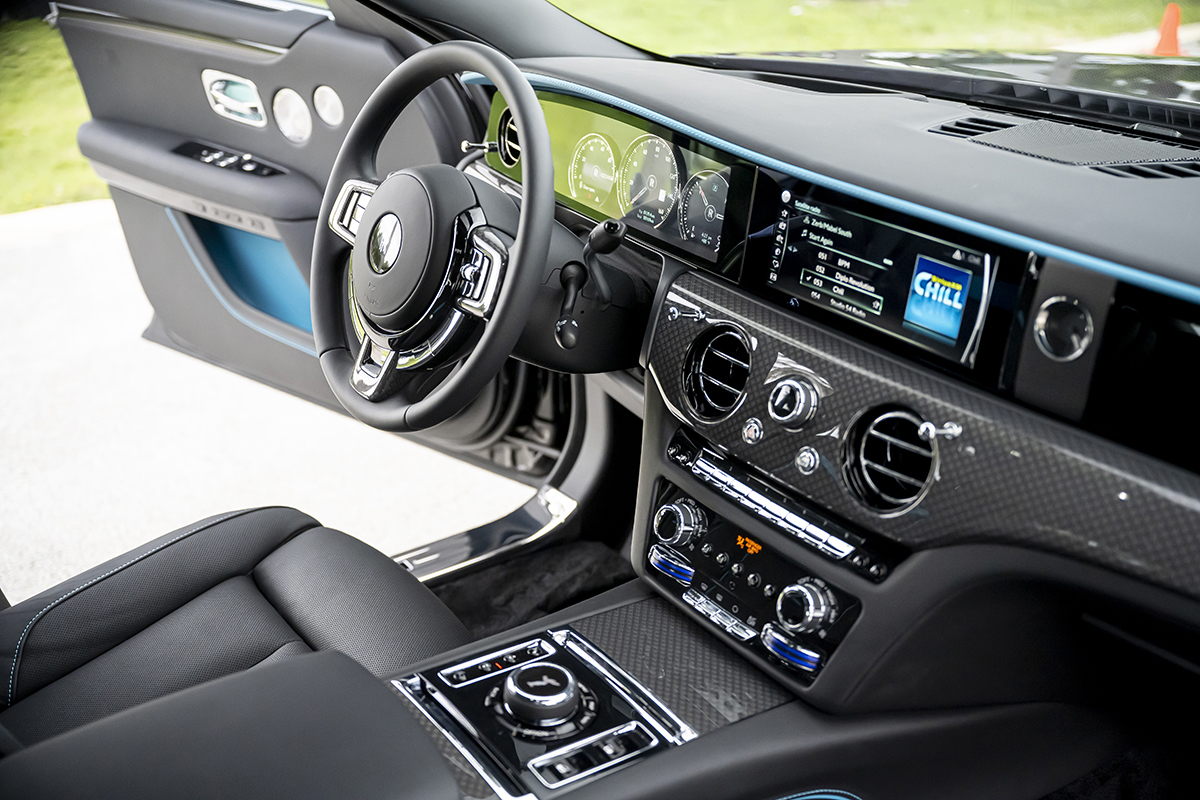 The performance, styling, and comfort all come together to create the perfect conveyance for a night of indulgence and (in my case mild) debauchery, which is just what we did after driving Black Badge back from the park through the streets of Miami to Hotel Faena.
Taking just enough time to change into all the black clothes I had, we were chauffeured to dinner at one of the area's newest hot spots, Papi Steak in Miami Beach.
There's something satisfying about pulling up to an exclusive event, venue, or club in a Rolls. Everyone immediately assumes you belong, even if you don't fit cleanly into their traditional demographic and aren't sporting a watch that costs more than most houses. After pulling to the curb, the valet swept the doors open. We stepped onto the sidewalk and were swiftly ushered into what on the outside is an unassuming windowless building. Once inside, however, everything changed.
House music was pumping from the speakers as I scanned the 93-seat dining room. The eclectic decor features seating swathed in deep red velvet, hardwood tables, and floral prints on the wall inspired by vintage Hollywood. The vibe is definitely more nightclub than steakhouse. The other tables were packed with clientele you would expect at a restaurant where Drake, David Beckham, J.Lo and other celebrities have been spotted. It's a mix of ages who all have one thing in common, they want to be seen in the hippest dining room in the city. Our merry band of writers did just that with a table for 20 center stage in the restaurant.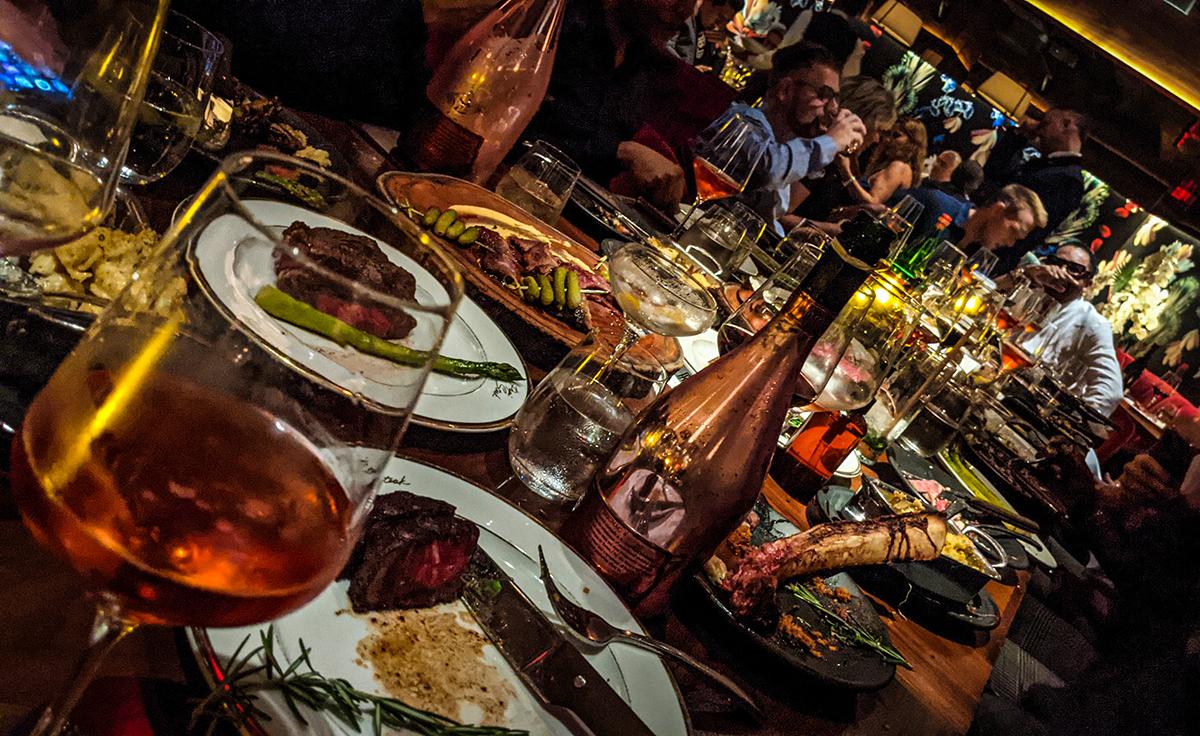 Papi Steak is the brainchild of David "Papi" Einhorn and David Grutman, the owner of Groot Hospitality. Einhorn was the chef at Komodo where he came up with the recipe for Papi Steak. It proved to be so popular it served at the inspiration for the entire restaurant. And while the 40-ounce Glatt kosher Papi Steak which is served with Einhorn's secret sauce is a treat, the real show comes if you order the off-the-menu "Beef Case" steak. It's a 55-ounce Wagyu Tomahawk Chop that's presented to the table in a glowing, gold-lined case inspired by the briefcase Samuel L. Jackson's character carried in Pulp fiction. The steak is then returned to the kitchen, seared on a 1,000 degree grill, and served medium. It's a center of the table dish designed to be enjoyed by the whole table and comes with a price tag befitting the presentation: $1,000.
Our dinner included the Beef Case as well as a number of other appetizers, sides, and other entrees – hamachi crudo, Wagyu carpaccio, Alaskan king crab, Wagyu pastrami, grilled bone marrow, latkes all were spectacular. Two other standouts were the bacon grilled Brussel sprouts and the house-made Mac & Cheese. The show didn't stop with the Beef Case presentation. We also ordered several bottles of Armand De Brignac Brut Rose Champagne which was brought to the table by an entourage of servers, sparklers blazing, and a special theme song blaring on the house sound system. The food, the service, the decor and the theatrics all combined to create a memorable evening and one befitting of the vehicles that brought us there.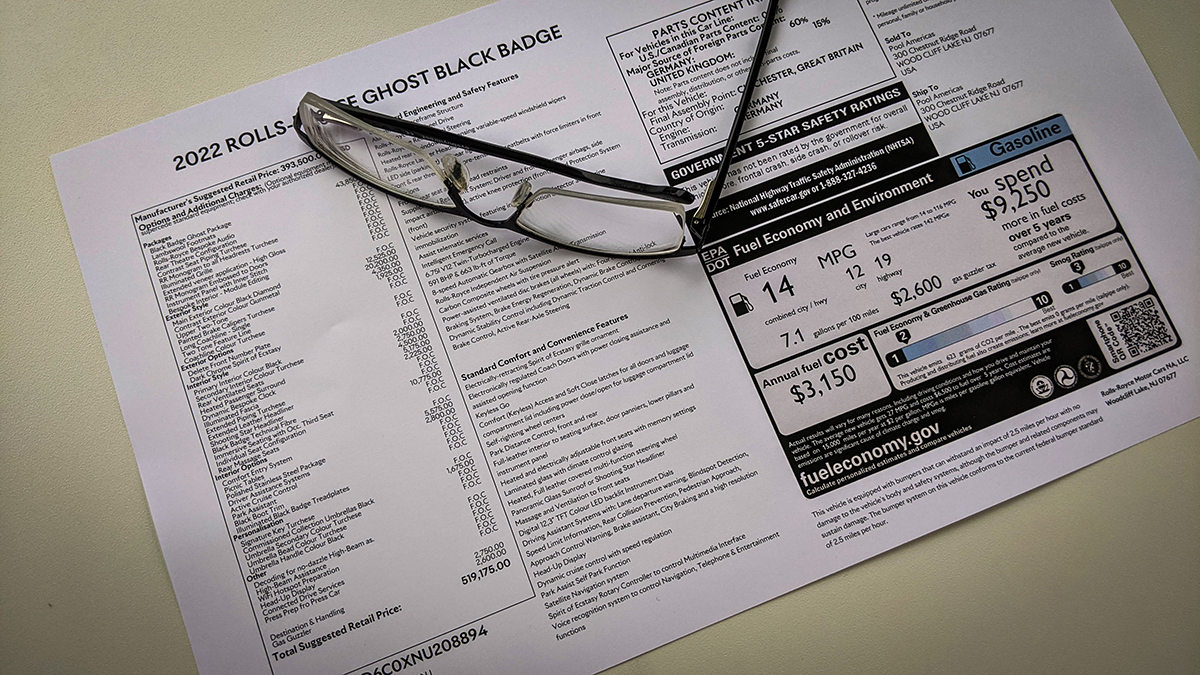 After dinner most of our group went clubbing and I did my best to hang with the kids. After a drink, however, it was time for me to head back to my room and rest for my early morning flight and return to the real world of coach travel, Ubers, and my $500 injection molded kayak. While it was certainly eye-opening to live like a Rolls-Royce Black Badge patron for a weekend, I can see why the average age of the owners is in the mid-forties. This lifestyle is as exhausting as it is expensive. And worth every penny.