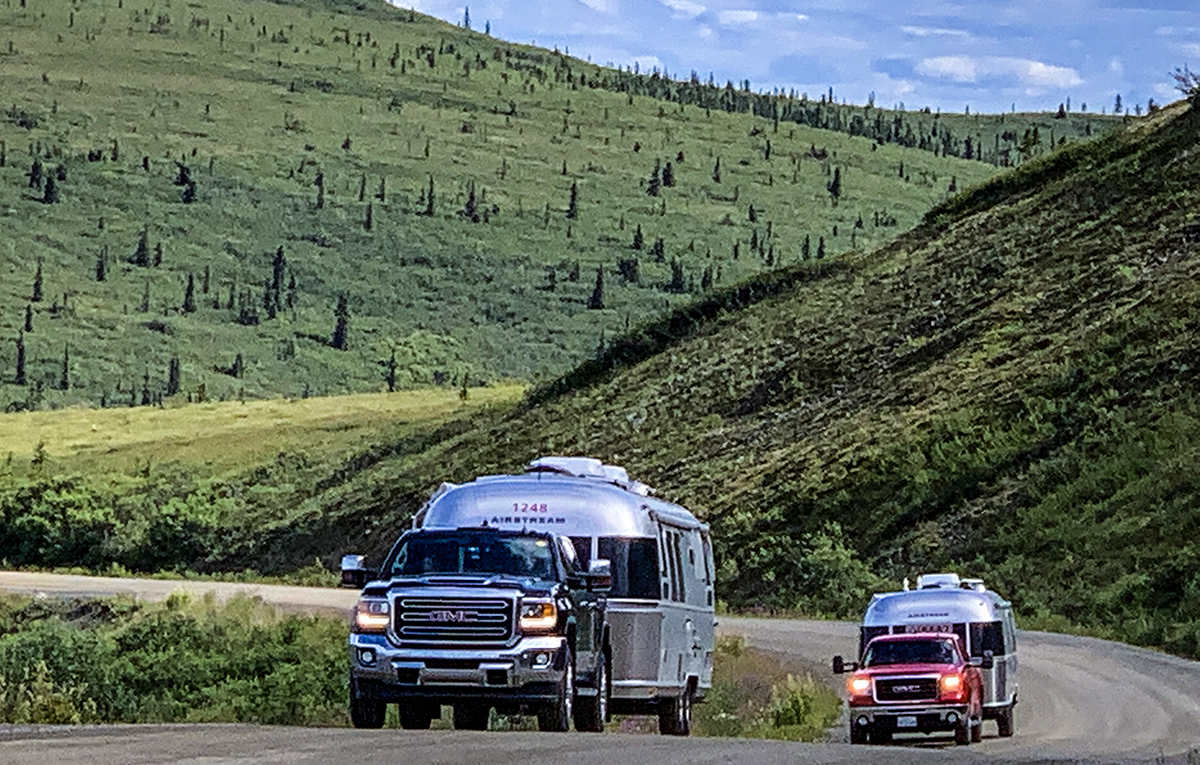 Driving to Alaska is the ultimate North American road trip no matter where you begin or what you choose as your transport. It is high on the list for most Airstream wanderers and joining the Airstream Club's North to Alaska Caravan is a popular way to do it. When we first got our 30-foot Airstream Flying Cloud and GMC Sierra 2500 HD Diesel tow vehicle in November 2018, we put our name on the wait list. We knew the wait would be long.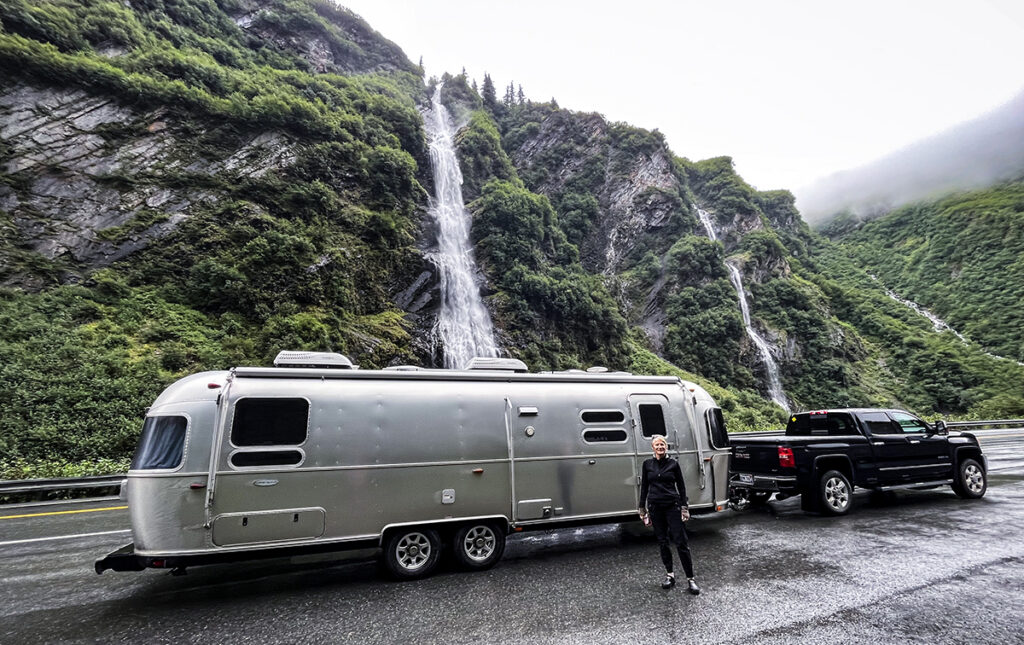 You certainly could just fly to Anchorage or Fairbanks, rent a car or RV or take a cruise up the inner passage from Seattle and experience Alaska in any number of ways. Many people do. But for us, the 13,558-mile journey to and from our home in Southeast Michigan was as enticing as the travel through that last vestige of North American wilderness. Traveling with a group of like-minded folks also held an appeal. Given the size of British Columbia, the Yukon and Alaska, and Airstream owners penchant for DIY repairs, we liked the security of knowing you could rely on your fellow travelers should anything go wrong far from a service station and beyond cellphone coverage. We knew scenery would be stunning. But equally special were the great new Airstream friends we would make.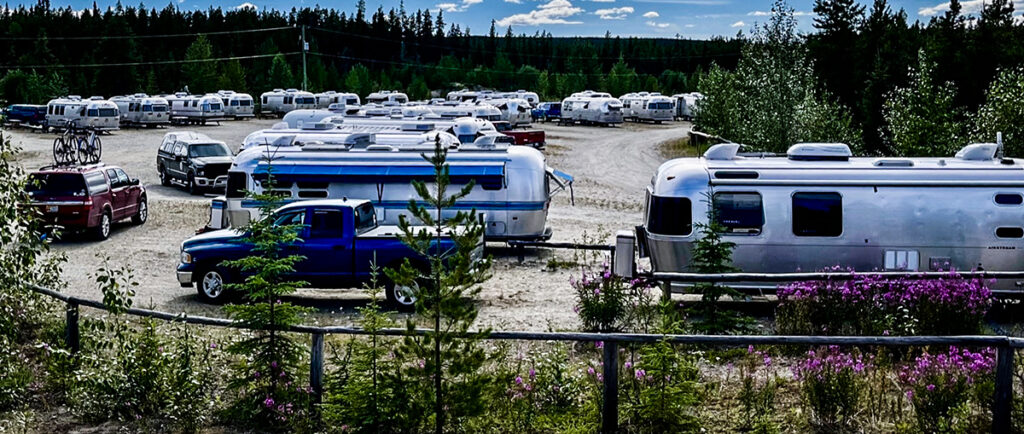 In late May, we got a call that our wait was over. Assuming the Canada-US border would reopen to tourist travel, the 2022 Airstream Caravan was a go. If we could make it to Dawson Creek, British Columbia by July 12, they would hold a spot for us. With just six weeks to plan, it seemed like a stretch. But we decided to give it a go. In all, there would be 29 Airstream rigs, 56 people and 11 dogs. This was going to be an epic adventure.
Of course, you can make the journey on your own. We ran into many travelers who were doing just that, some from as far as Germany, Switzerland and France who had shipped their rigs to Halifax and started from there. There is a certain joy in sharing this kind of travel with others you randomly meet and, sometimes, intersect with again along the way — cross-checking routes and campgrounds — waiving as if you've just seen a long-lost friend. We passed other Caravans, large Class A RVs, car and truck campers, hitchhikers and bicyclists. Terry, being a long-haul motorcyclist, never missed an opportunity to chat up the two-wheeled travelers pursuing a goal he had abandoned for a more comfortable ride.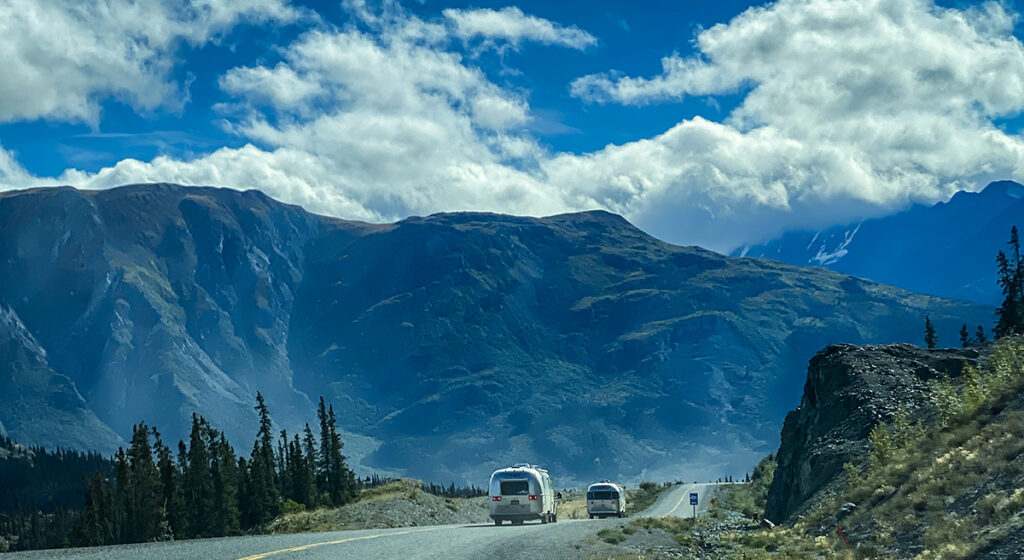 On the advice of others who had gone before, we bought the 74th Edition of The Milepost, the bible for Alaska overland travel and set out planning the trip and preparing our rig. Though we hadn't had many issues since we brought it home in late 2018, we knew it needed to be in tip top shape to tackle the venture.
If you are wondering whether a 30-foot Airstream pulled by a 20-foot truck could handle the Yukon and Alaska and their infamous roads, we can assure you, you will do just fine. Being from Michigan, we found the roads manageable. Going slow, when necessary, is a key to success when driving over frost heaves and gravel, around washouts, through miles of road construction and even snow. Caution and a bit of luck saved our rig and truck from flat tires, broken windows and dented panels.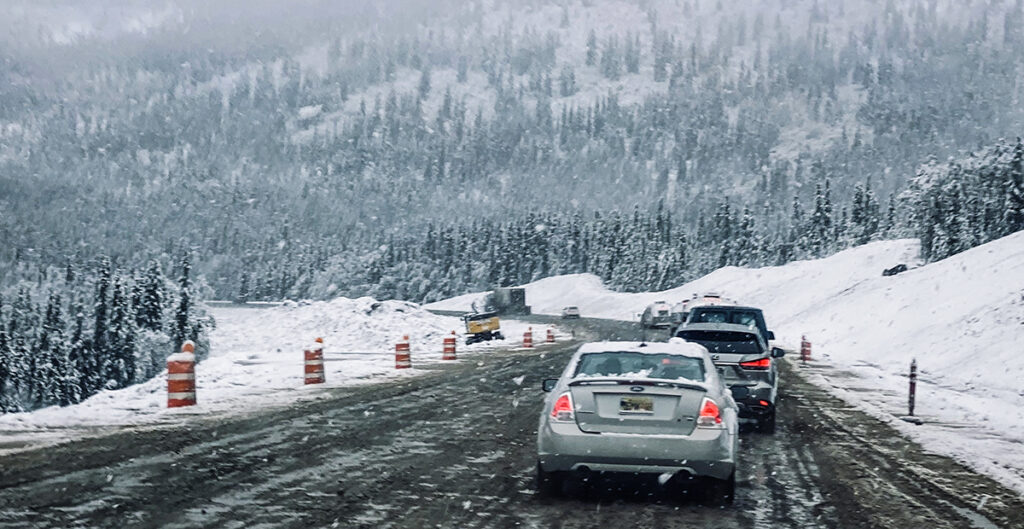 Still, we can recommend some upgrades we are glad we made prior to undertaking the journey: extra solar panels and lithium batteries add peace of mind when off-grid in the cold Alaska nights; reinforcing cabinets ensures nothing falls off the walls as you bounce down the road; and adding supersized rock-guards, prevents dings, cracked windows and worse. Some in our group also taped yoga mats over their aluminum panels and panoramic windows to protect against flying stones from semis speeding past in the other direction.
We learned the hard way that a 3" lift kit would have been worth the roughly $1,800 expense at the factory service center. There were certain pull-offs we could not negotiate due to our low clearance and long overhang. So, we missed a few extraordinary photo opportunities. But the worst was when we turned too tight and dipped into a small drainage ditch denting the cover of our grey tank. Luckily, nothing happened to the tank. But replacing the cover is a costly $800 repair, we would have preferred not to make. It could have been much worse. Roadside service in the Yukon and remote areas of Alaska is non-existent. DIY repairs and temporary jerry-rigging is often necessary. And, you may have to live with your losses until you can schedule service somewhere in the lower 48.
We also planned for supply shortages, stocking up on canned food, parts and equipment. But weight is an issue. So, we kept it to the essential. We carried two sets of spare tires for both the Airstream and truck, a portable generator, a 5-gallon jerry can of diesel fuel, a portable air-compressor and a full set of tools, just in case. We were lucky not to need any of it. But if we hadn't brought all this, as the saying goes, we would have had a blow out on some remote part of the route.
With the Alaska-Yukon leg planned for us by the Caravan leaders, we still had to find our way there and back. We decided to take the less spectacular route to Dawson Creek through Michigan's Upper Peninsula, which we know well, to the Red River Valley, beautifully restored after the devastating 1997 flood. North of Grand Forks, we crossed the border and took the Trans-Canada Highway west stopping outside Regina, Edmonton and Saskatoon, where we, as Red Wing fans, made a point to spend a few nights at the Gordon Howe Campground, a superb city park named for Saskatoon's local hero. On our way back to Michigan, we took the more spectacular route down through the Canadian and Northern Rockies, staying at Banff and Yellowstone National Parks. In Cody, Wyoming, we took a detour south to Meeteetse to visit the Pitchfork Ranch where my great grandmother grew up in the 1880's.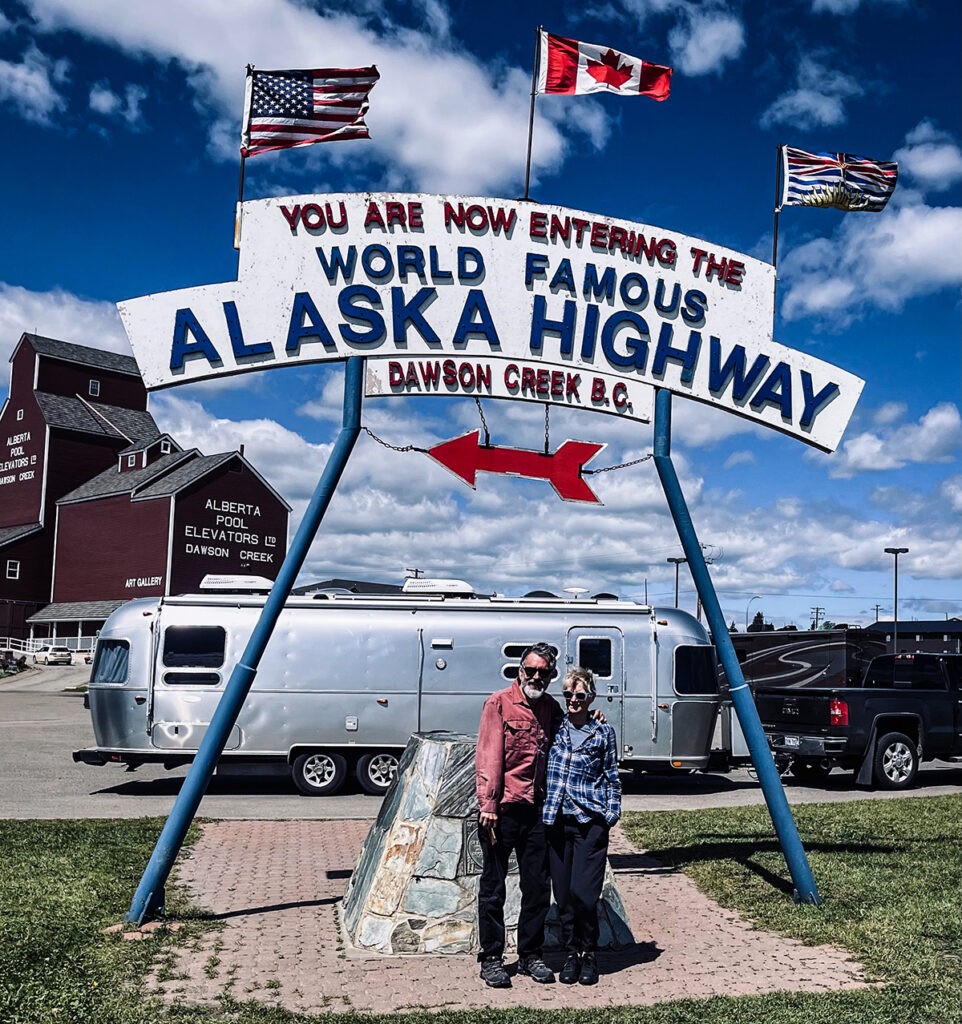 We began the Caravan at mile zero of the Alaska Highway (also known as the ALCAN) in Dawson Creek. From there, we traveled to Watkins Lake where we strolled through the Sign Post Forest, which commemorates the thousands who have taken this journey since the ALCAN opened to the public in 1948. We took a dip in the enchanting Liard Hot Springs surrounded by moss, orchids and other succulents and on the way, had breakfast at grumpy old Jack's Place across from the pale aqua colored waters of Muncho Lake. We wandered the unpaved streets of Dawson, YT, once a city of thousands of men and women. Hopeful gold rush stampeders whose dreams for the most part turned to disaster when — after a trek few could endure — they discovered the mining claims were all taken. Unable to turn back and forced to settle down, they faced typhoid, scurvy, bone-freezing temperatures and the cruelties of men. It is now a small but thriving town that includes artists and is home to a First Nation band, theTr'ondëk Hwëch'in.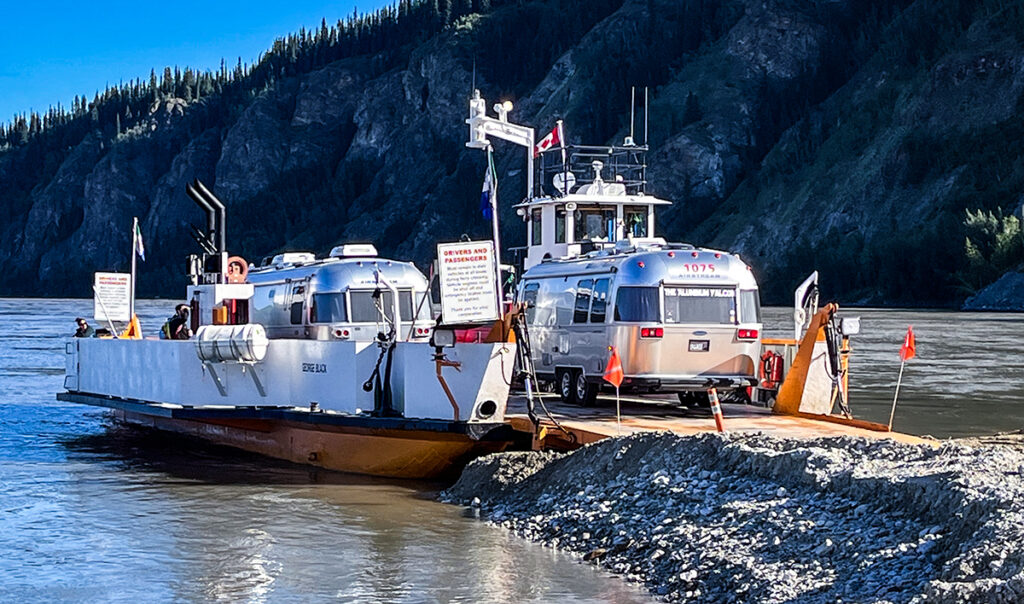 From there, we ferried west across the infamous Yukon River to the Top of the World Highway. High above the tree line, we crossed back into the U.S. where the road turned from well-paved asphalt to dirt. After traveling 108 miles through spectacular scenery, we came to our first stop in Alaska, Chicken. Yes, there is a town called Chicken. Apparently, the settlers couldn't spell ptarmigan, so they called it Chicken. A small town with only 10 year-round residents, Chicken boasts the oldest running U.S. post office in Alaska. The part-time post mistress is also the area medic. Her husband still works the family mining claim. We rated Chicken's Saloon the second best bar of the trip, behind only the Salty Dawg Saloon in Homer, just two of the many bars and breweries we visited.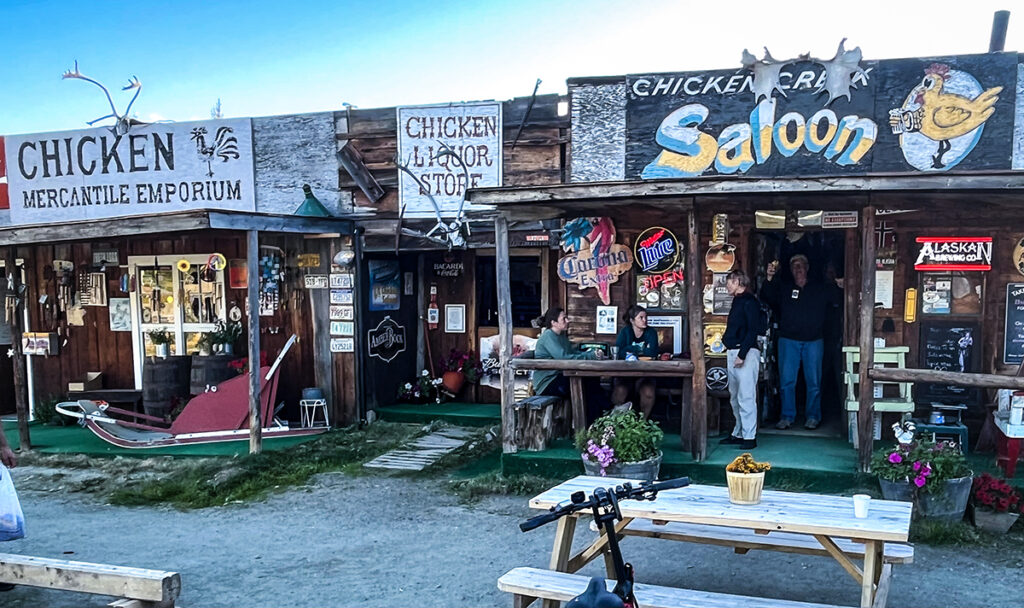 One of our more adventurous cohorts took a side trip to Eagle, returning the next day to report that it was well worth the 182-mile round-trip drive up a windy, narrow, dirt road. Reports of poor conditions were greatly exaggerated. The road crew must have finally gotten there. In Alaska, you never can be sure what you will find.
Out of Chicken, we continued east to the ALCAN's terminus at Delta Junction and then on to Fairbanks. Several in our group flew or traveled by tourist van up to the Arctic Circle and back. Instead, in addition to the planned excursions to a gold mining dredge, native historical site and the Alaska pipeline, we spent our free days visiting a Muskox Farm and two outstanding Museums — one at the University of Alaska and the other the privately-owned Fountainhead Antique Auto Museum.
Then it was on to Denali, where we saw moose, bear and Dall sheep grazing and took hikes in the drizzling rain. The time there was too short. But with a caravan, you are on a set schedule. Every stop is pre-booked. Unfortunately for us, the clouds rarely broke during our stay. It even snowed the day we headed south. A day later in Anchorage, far from the park, we finally saw Mount Denali, North America's highest peak graced in a blanket of snow against a cloudless blue sky.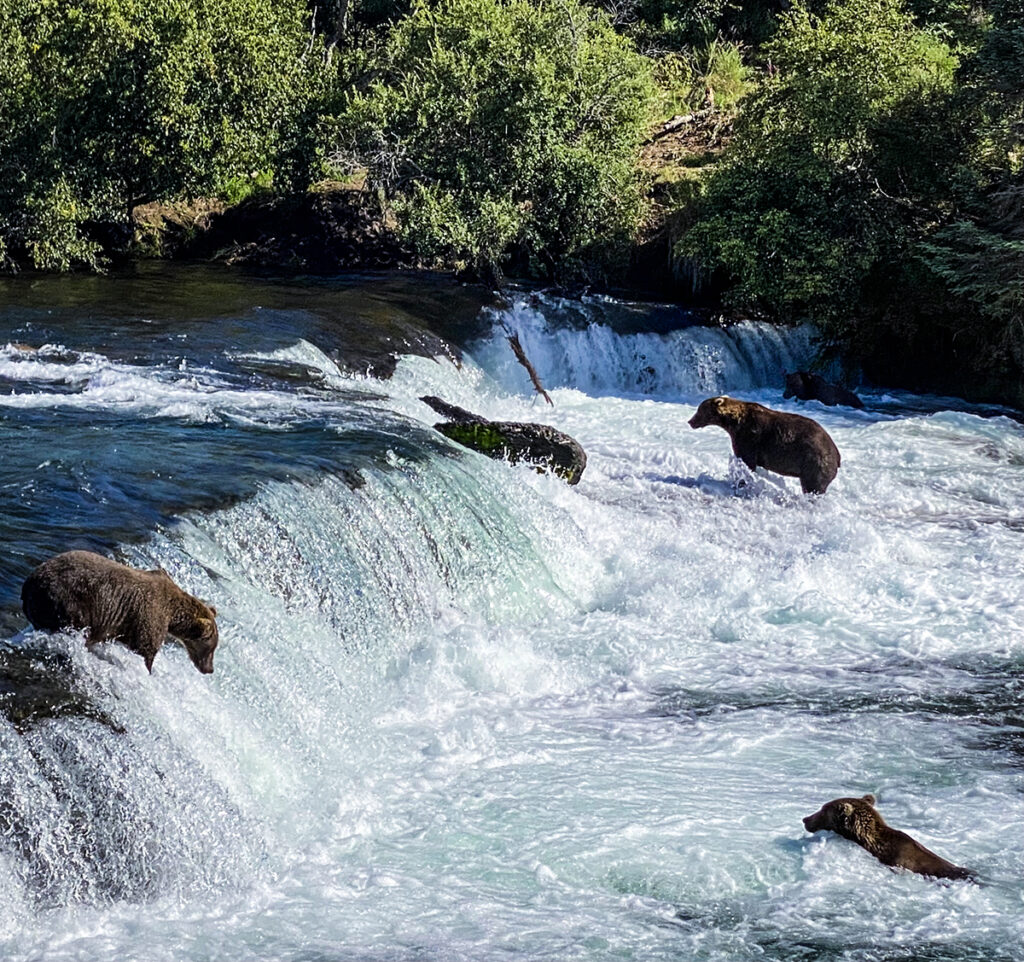 We made the most of the few sunny days left. On one, we flew to Brooks Camp National Park to observe brown bears courtesy of Alaska Bear Adventures. We took off from the Homer Spit across a fog-bound Cook Inlet to Katmai National Park and Preserve in a 1982 six-seater Cessna 206 seaplane. The fog dissipated just as we came over the shore entering Akumwarvik Bay into the expansive Aleutian Range of the Alaska Peninsula. We landed on a glass-smooth Lake Naknek, waited for a few bears to pass and deplaned on the beach. On another day out of Haines, a few of us soared over the magnificent glacier-filled Fairweather Range in a beautifully restored 1956 De Havilland Beaver.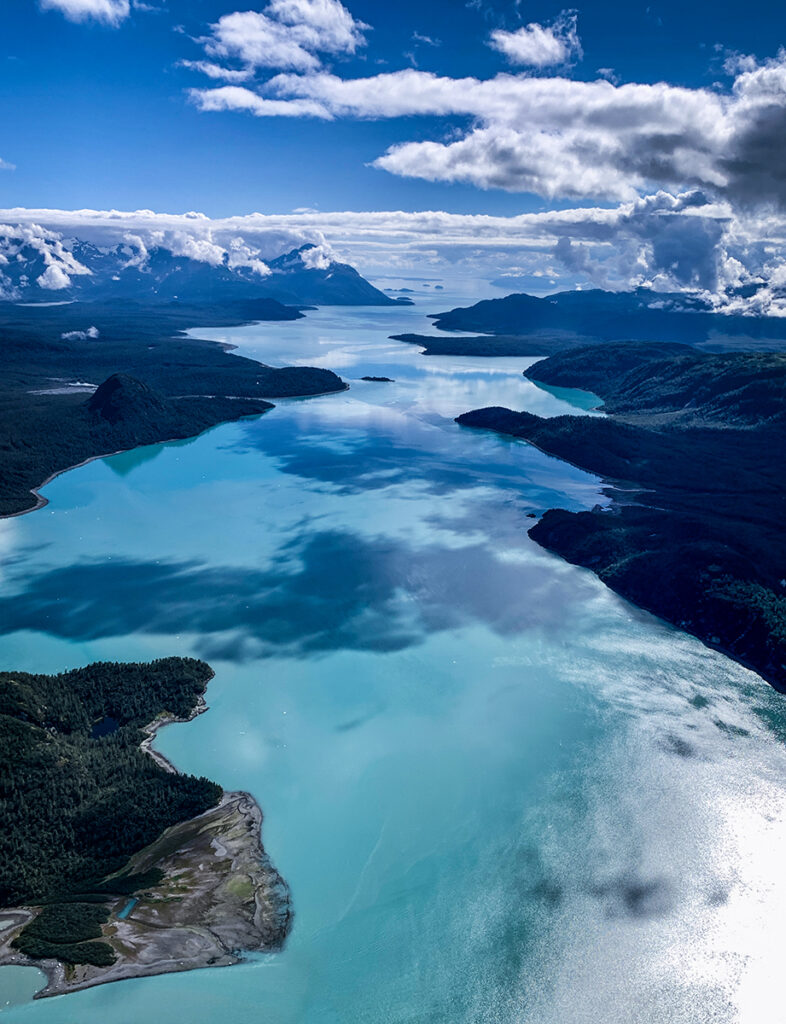 Still, the misty rain provided its own mystical veil as, from the road, we watched fisherman casting in rivers and travelled by boat across Prince William Sound and Resurrection Bay, the blue hues of floating glacial ice-bergs taking on a haunting glow. The whales had gone. But the sea otters, stellar sea lions and orcas were still there to entertain us.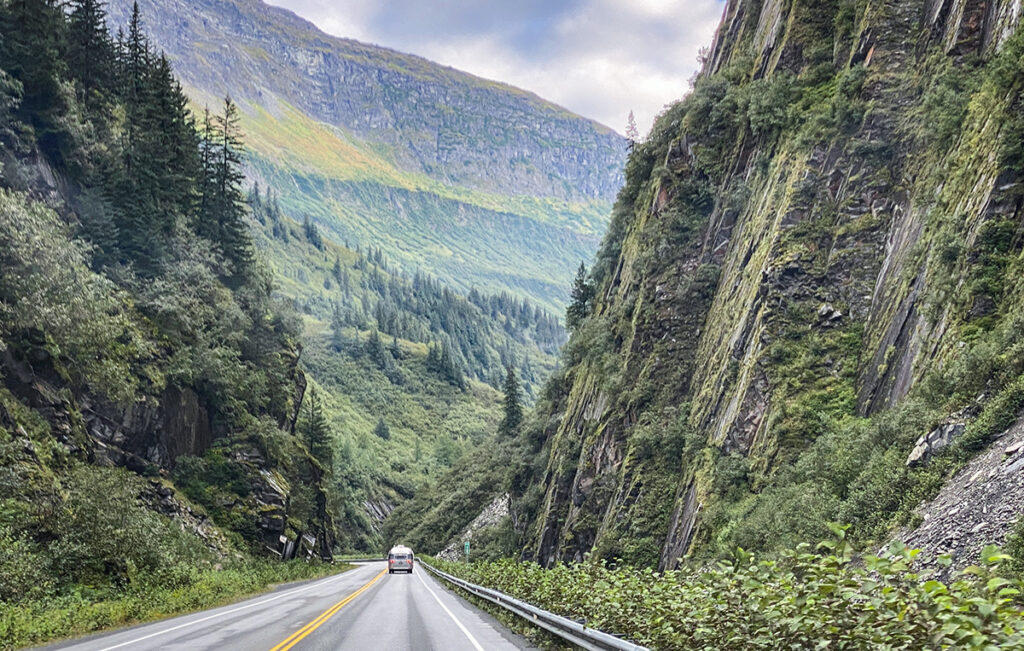 Back up the Haines Highway as August ended, the landscape began to show vibrant fall colors and rainbows bursting out of tree tops as we headed through Wrangell-St Elias National Park back to the Yukon and down the Stewart-Cassiar Highway.
The farther north you go, luxuries dwindle. Once you hit northern British Columbia, the pit toilet is de rigueur for roadside rest stops. Food options become limited and pricey. Nothing much grows there. Establishments are few. A great meal is hard to find. Be prepared to eat a lot of expensive pizza, head lettuce, parker rolls and cured meats. Stock up when you can. This makes the occasional epicurean treat seem surreal and all the more appreciated.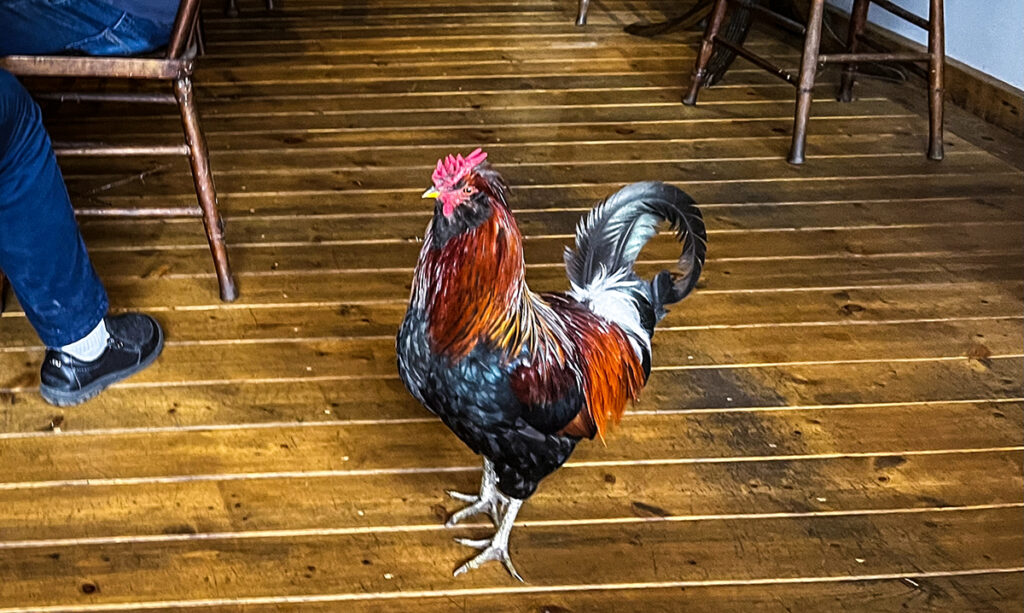 Who could have predicted that towards the Caravan's end, in the remote outpost of Stewart, British Columbia, population 401, we would find a deliciously delightful Mexican-Indian fusion eatery called Toastworks with the best margaritas north of Mexico City. A five-star Trip Advisor restaurant was not what drew us through 390 miles of wilderness. Nor did we go expecting that when we sat down for a late afternoon snack, we would be greeted by a piebald rooster, his onyx-colored feathers aflame with red and orange.
We were drawn by the spectacular 40-mile drive through a tight mountain pass along a rushing river. We went to view verdant forests clinging to striated rock. We went to have our jaws drop when the Bear Glacier appeared suddenly as we turned into town. We went to cross into the once booming, silver mining town of Hyder, Alaska and drive 25 additional miles to view the enormous Salmon Glacier, its icy blue and white crevices stretching out from the road's end for miles. We went to creep along the boardwalk at Fish Creek hoping to glimpse brown bear feeding on the last runs of salmon. Like most of the Yukon, Alaska, and this part of British Columbia, we went for the vistas and the wildlife and were delighted by what else we found.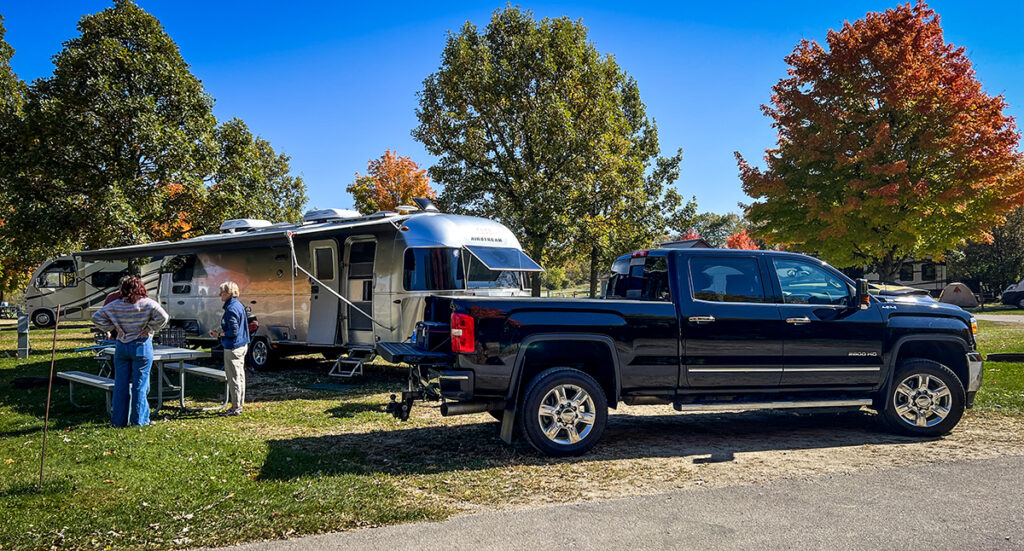 Specifications and equipment:
2018 Airstream 30' Flying Cloud Rear Bedroom Twin
Overall length: 30.9 ft
Curb weight: 6517 lbs
GVWR: 8800 lbs
Tongue weight: 899 lbs
Hitch: Equilizer weight-distribution
Fresh water: 54 gal
Gray water: 38 gal
Black water: 38 gal
Shore power: 50a 120/240v split phase
Solar panels: 270 watts
House batteries: 200 Ah lithium
Reserve generator: Honda EU2200i propane
Onboard propane: 60 lbs
Tires: (4) Goodyear Endurance + (2) spares
Tire pressure monitoring system
Rear view camera system
2018 GMC Sierra 2500HD SLT
Crew cab with 6'6" box and tonneau cover
6.6l V8 Duramax turbo-diesel
Allison six-speed automatic transmission
Horsepower: 445
Torque: 910 ft-lb
GVWR: 10000 lbs
Max trailering: 13000 lbs
Fuel capacity: 36 gal
Uniden CB radio for caravan communication
Factory navigation system
DuraFlap oversize mud flaps
Alaska roundtrip length: 13557.6 miles
Overall trip mpg: 14.8