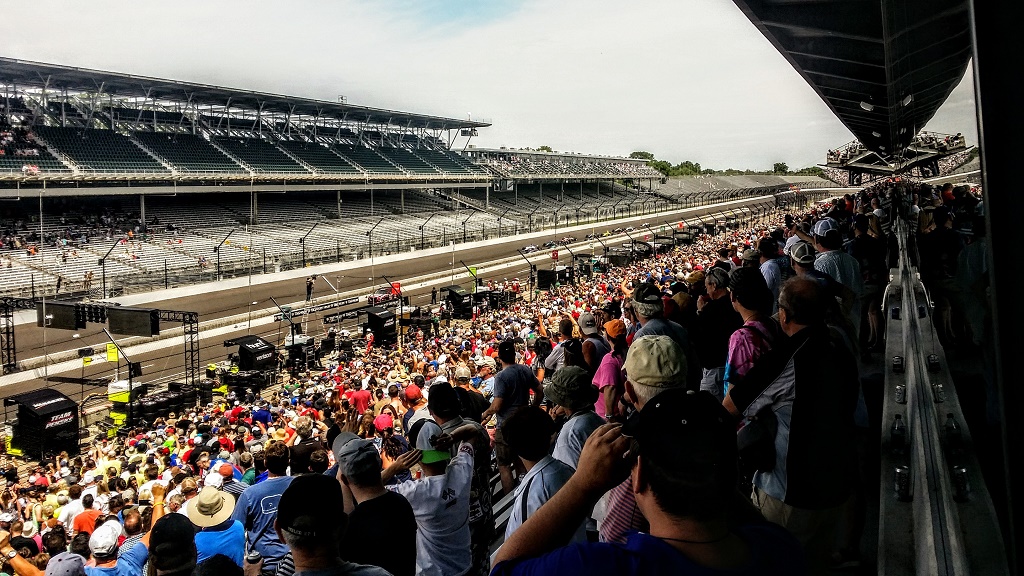 For those of you who are unfamiliar with gonzo journalism and its ludicrously loutish roots, one must recall that reporter Hunter S. Thompson got his first big break in his own backyard. It was the 1970 Kentucky Derby, and despite numerous objections, the young writer had been cajoled into covering the high brow affair in his hometown of Louisville, Kentucky. At the time Thompson had experienced little more than mixed success with his verbose (and often obtuse) writing style, something that was about to change forever.
Compounding the equation was the fact that visual documentation of the race needed to be captured, and since Thompson abhorred photographers for a myriad of reasons, a British illustrator by the name of Ralph Steadman was tasked with tagging along with the writer. Neither man had ever met the other, and upon deplaning the Brit immediately found himself accosted by a barrage of backhanded comments and queries from Thompson, who was curious as to the Englishman's preferred methods of "mental alteration."
But common ground was eventually found, and the two men would go on to form a partnership that would last a lifetime, with Thompson refusing to work with anyone other than Steadman all the way up until his death in 2005. In return, Thompson's drug-fueled antics would encourage Steadman's artistic style to spiral into something that was equal parts terrifying and titanic.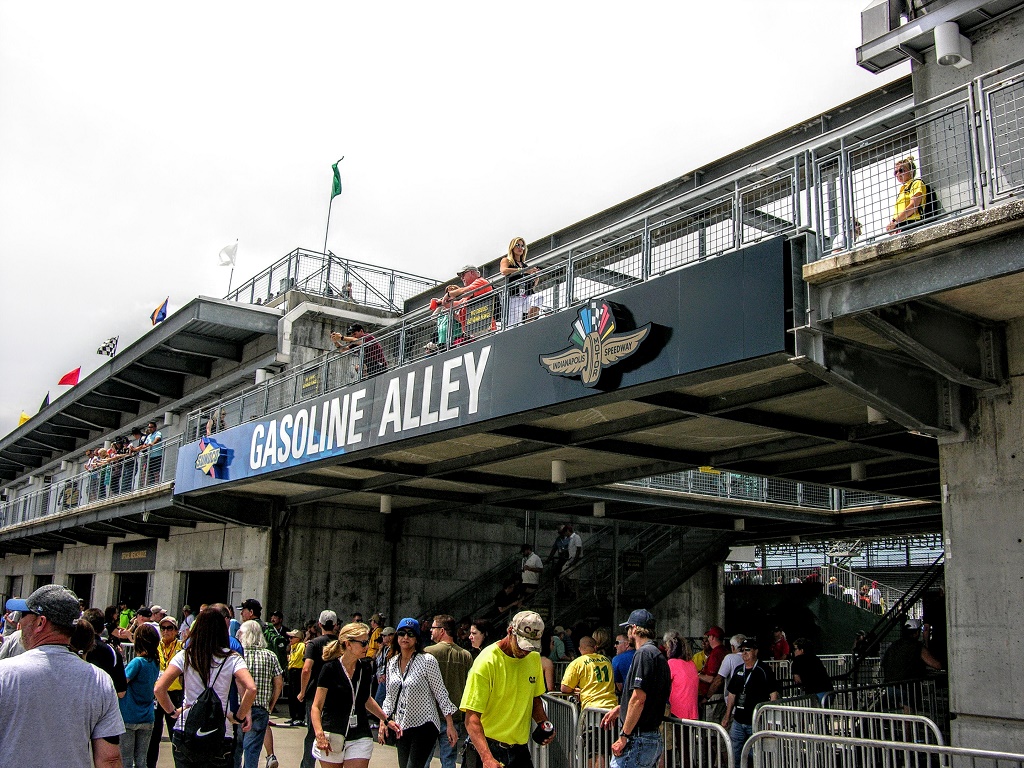 Craft beer and backstory aside, despite having read a copious amount of Thompson's rampageous work, the story I tell today is quite different from the one he wrote all those years back. There is no comrade in arms here, nor are there copious amounts of mind-altering substances. Just an early morning drive from Cincinnati to Indianapolis in order to marvel at the festivities leading up to the 101st running of the Indy 500, with my ever inquisitive camera capturing it all on film.
But in order to make the most of my attendance I had to first get on premise. Getting inside the circuit was proving to be more difficult than previously projected, and sitting in gridlocked traffic outside of the Speedway for the better part of an hour had done little for morale. With my credentials finally in hand I sped over to the mud and cigarette strewn parking lot reserved for members of the media, where I snagged the last spot and proceeded toward the side gate.
My tardiness caused by the shit-show outside meant I had already missed the morning safety meeting for photographers and my chance of securing pit passes were officially going up in flames. But no bother. There was still plenty to be seen, I just didn't know it yet.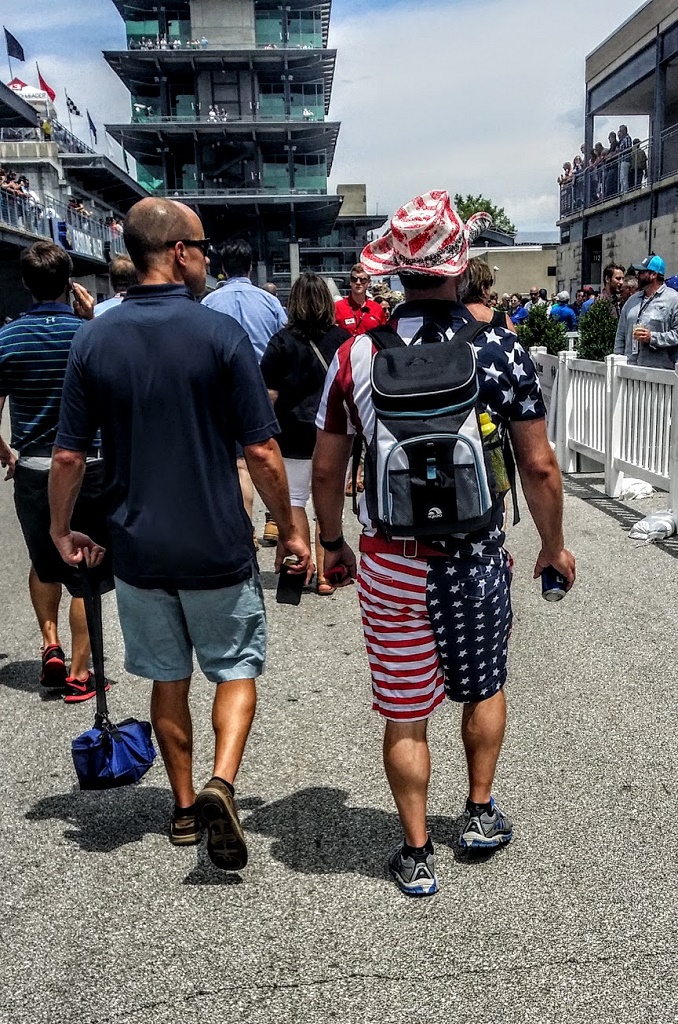 Being that it was the Friday before the Indianapolis 500, I had stumbled into an annual event commonly referred to as "Carb Day." Although that may sound more akin to a foccacia festival than a sanctioned race function to some, Carb Day remains a gathering like no other. Although there was undoubtedly plenty of bread to go around that day, the majority of the carbs consumed at Indy tend to be in liquid form, with automotive incarnations being the core focus.
Originally scheduled to serve as the final practice round for race teams, it was a day for calibrating carburetors and sustaining a certain level of camaraderie with your fellow man. While nowadays you can still watch the final IndyCar Series practice from the grandstands along with an Indy Lights race, there are now pit stop competitions and live concerts from acts like the Steve Miller Band and Barenaked Ladies. This end of the experience is more like one giant "pre-game party," one that has been formulated to get race fans in the swing of things before the big day.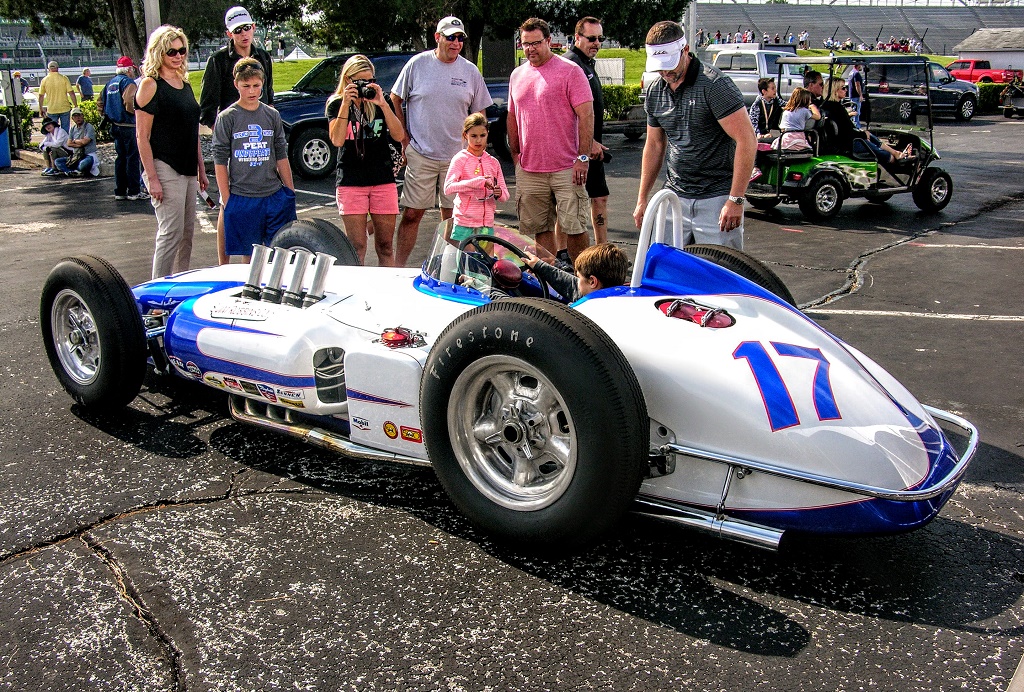 Here spectators playing hooky from work and school alike get to mingle and make merry in the packed party paddocks running along the outskirts of Gasoline Alley, and damn near anywhere else inside the oval for that matter. It's a constantly flowing sea of people, all hauling booze-filled coolers, like a massive tailgate party on the move, forever looking to connect over cars and having a good time. Take classic cruise-in car culture, blend it with a Midwest mentality, toss in a sprinkling of hardcore IndyCar action, and you have only a lug nut's worth of Carb Day's celebratory side explained. Here's why.
There's this sense of excitement in the air that puts your hair on end, and it all starts the moment you step inside the Speedway. After locating my entrance and hopping a shuttle, I found myself barreling my way beneath the front straight, a spirited jaunt that reminded me that even the staff here have a need for speed. Stepping into the melee outside of the media center I quickly spot the entrance and step inside, unsure of what awaited within its refrigerated confines.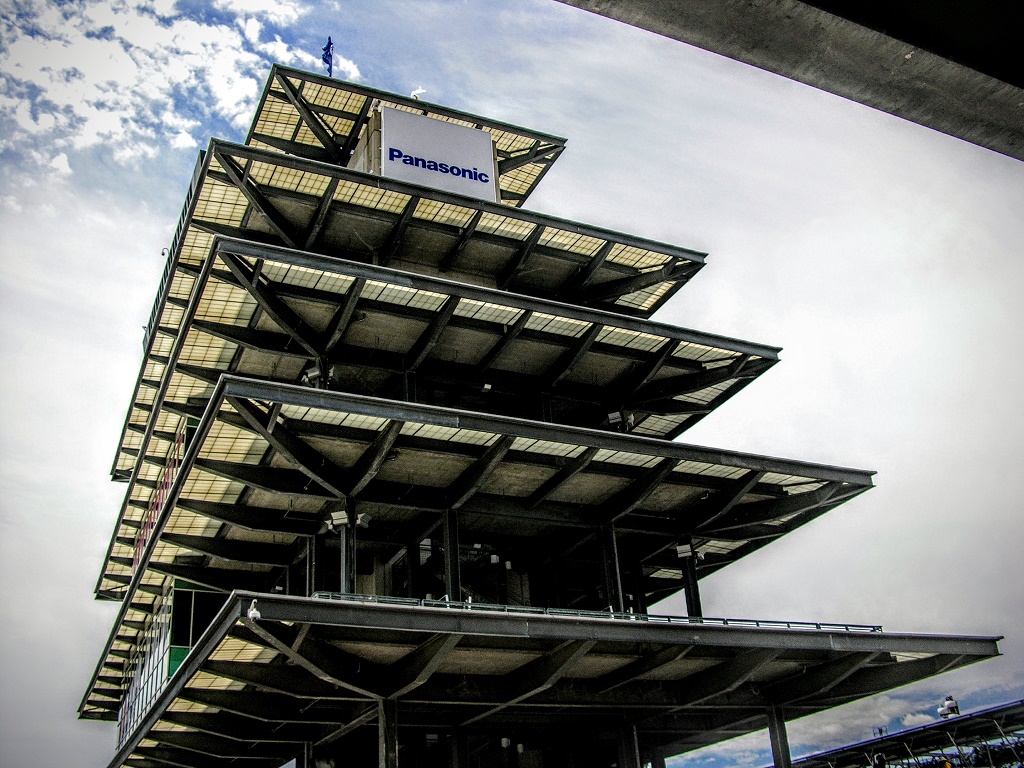 Grid girls – a vision of glitzy makeup, gorgeous hair, and skin tight, torso clinging spandex – are something I have grown accustomed to over the years, and I typically don't pay them much mind. But watching geriatrics crash their electric scooters when they encounter one of these lovely ladies never ceases to entertain, and after sticking around to witness a pileup of perverts it was time to move upstairs. Sadly, I had indeed missed the photographer briefing, trashing my chances of getting a safety vest and pit passes once and for all.
Disappointed but not downtrodden, I snagged a coffee and a donut from an abundantly loaded breakfast cart and headed back downstairs. Hopping on a golf cart, I politely asked the 80 year-old driver to shuttle me over to the track's museum, where supposedly all of the historic race cars were being showcased. As I waited for takeoff I winked cheekily at the more attractive of the two Grid Girls. The stunningly shaped brunette had just begun to wave back when my driver suddenly punched the throttle, rocketing me toward the far end of the grounds, and away from the eye candy.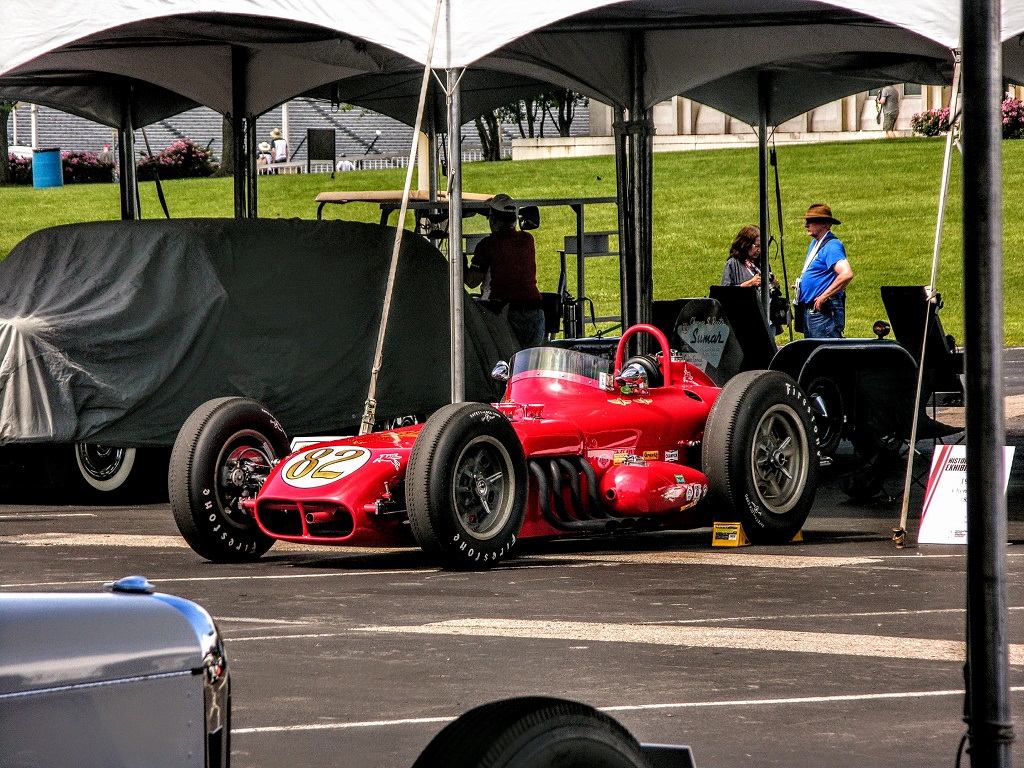 Zipping along in my chauffeured golf cart I soaked in all of the insanity around me. Majestic display booths promoting everything from Corvettes to Meguiar's cleaning products encouraged passersby to come inspect their goods. On the other side of the pedestrian path sat an endless armada of RVs and campers, a sea of American wealth and overindulgence, all humming to the tune of generated power and connected septic systems.
It's an automotive wonderland, teeming with strategically placed sales pitches and high-brow nomadic overindulgences, all encapsulated within the confines of a massive oval. As Mickey and Minnie Mouse flew past me on the back of a golf cart, I was quick to recall that this day is also designed for entertaining children, a thought that was solidified by the sight of a massive "youth zone," which had been filled with all manner of engaging experience.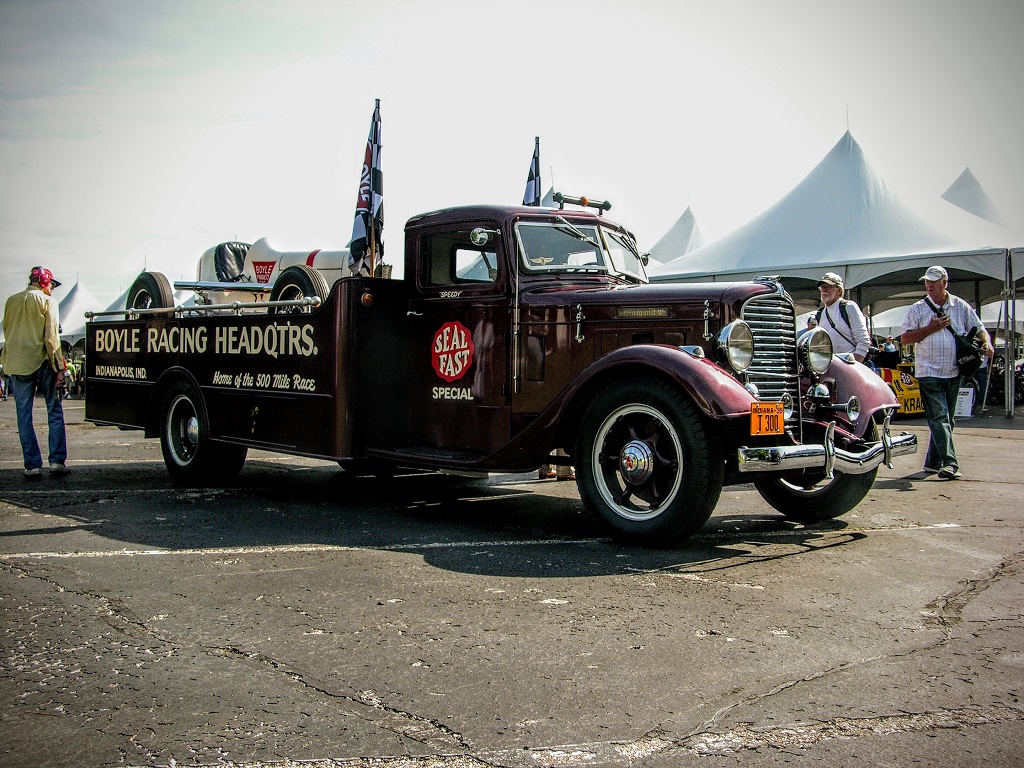 As we threaded our way amongst the throngs of race car revelers I began to size-up the crowd of Carb Day enthusiasts swirling around me a little more aggressively. Unlike Thompson's recollections of the aristocratic equine fanciers at the Kentucky Derby all those decades ago, the crowd at IMS on Carb Day is a mixed bag to say the least. Having been raised in Alabama, where Talladega races and Crimson Tide football bring out people who could be generously described as "characters," I have developed an acute interest in the individuals who attend sporting events.
At Carb Day you will often find plastered men with misspelled tattoos standing shirtless next to senior citizens in grass-brimmed hats, as the elderly silently sip their iced teas through colorful straws, disapprovingly glaring at their uncouth neighbors. Hot on their heels (and looking a little worse for ware after the previous night's festivities) comes a gaggle of race queens, all gussied-up in push-up bras, with skirts short enough to be classified as handkerchiefs. As they stroll past I overhear one of them talking loudly about the depravity from the night prior, and I give the parental units walking beside them a nod of approval since they were smart enough to provide the sleeping babe on the father's back with ear protection.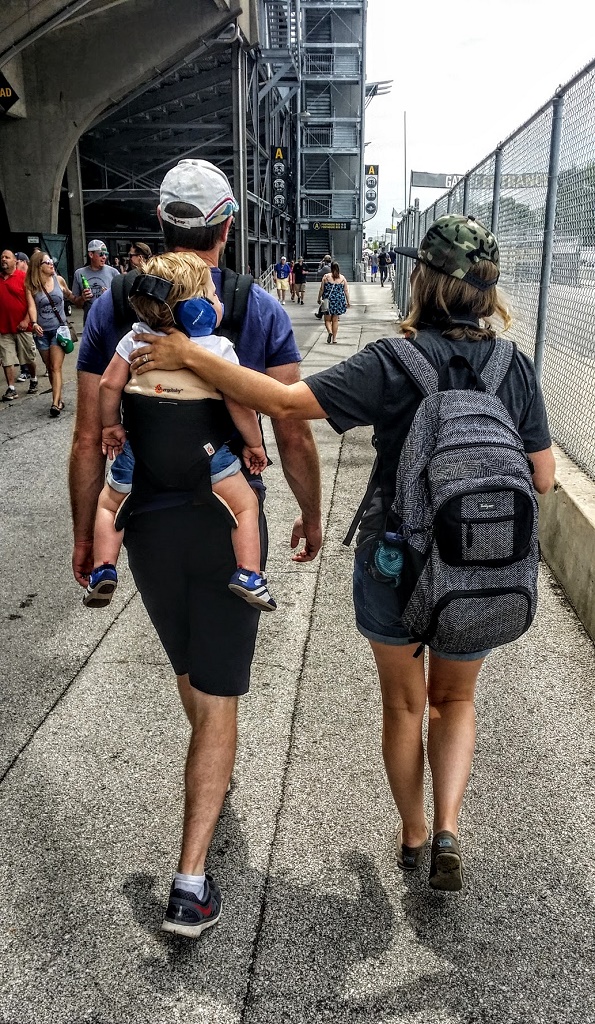 Pulling up to the string of tents where all of the historic Indy Cars were housed, I immediately whip out my camera and feverishly begin snapping shots of the priceless array of automobiles. It's still early, so I am able to capture clear photos of most of the vehicles, uninhibited by gawkers and walkers alike. After twenty minutes of shooting I bump into a friend of mine, who just so happens to own a vintage Indy Car. He cajoles me into strolling over to his end of the tent in order to "see something badass," an invitation that immediately proves fruitful.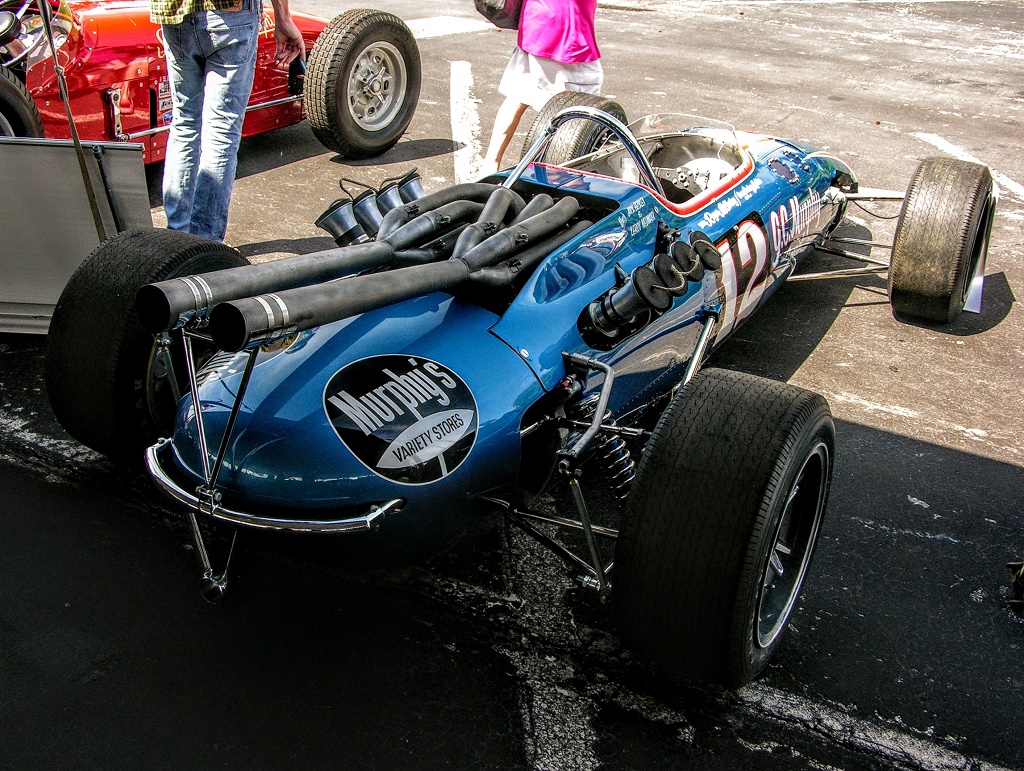 Walking over to his sparkling blue and white car's vintage candy shell, I suddenly recall why I have always liked this guy so damn much. Like me, he's a natural talker and a bonafide auto enthusiast to the core, an overflowing treasure trove of information that allows me to hang back and soak it all in.
He tells me that everything one might expect to see during an event entitled "Carb Day" at the Indianapolis Motor Speedway is there and then some. Mario Andretti's first Indy Car? It's right there for close inspection alongside bizarre reproductions of historic test mules and failed straightline experiments. But being in close proximity to millions of dollars of vintage race cars isn't the only thing that people take full advantage of here, and next time I must be sure to pack accordingly.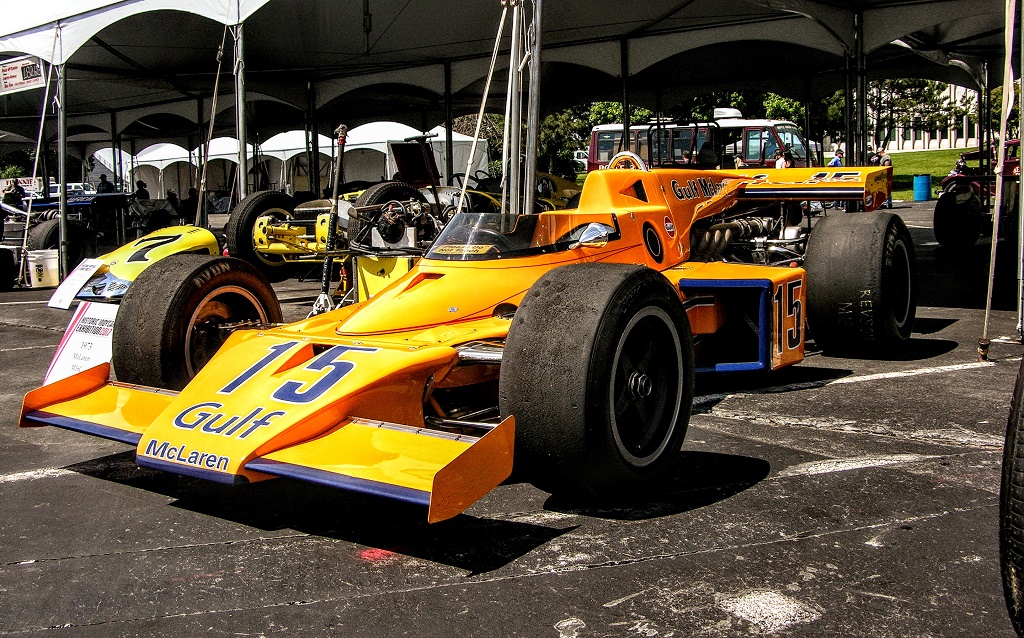 As I noted earlier, it seemed like everyone had a cooler on hand. Despite it being merely a hair past 10 a.m., people were already cracking open beers, a telltale sign that this was indeed a day for celebration. Over ice cold cans of mainstream American suds strangers and friends alike swapped stories and talked cars, all while standing a few feet away from some of the most iconic race cars in IndyCar history. Naturally, there was also an ample amount of tomfoolery, tales of yore, kids sitting in cars, and grandpa's racing one another on scooters, together making a madcap homage to all things Indy.
After shooting the breeze for about an hour, and getting some pictures of various people sitting in vintage cars (some of which had a history of killing their drivers), I strolled back to the media center for a little lunch and some grid time. The final practice laps had just gotten underway and already bedlam had broken out on the front straight thanks to a thundering collision during the first lap between Colton Herta and Ryan Norman.
Staring out over the sea of faces in the grandstands, joviality and hi-jinx suddenly seem to fade as the action on the jumbotron reminded us in super slow-motion that engaging an ignition always puts the Grim Reaper's office on speed dial. The snake pit at Indy may be a party, but the action on the track is deadly serious.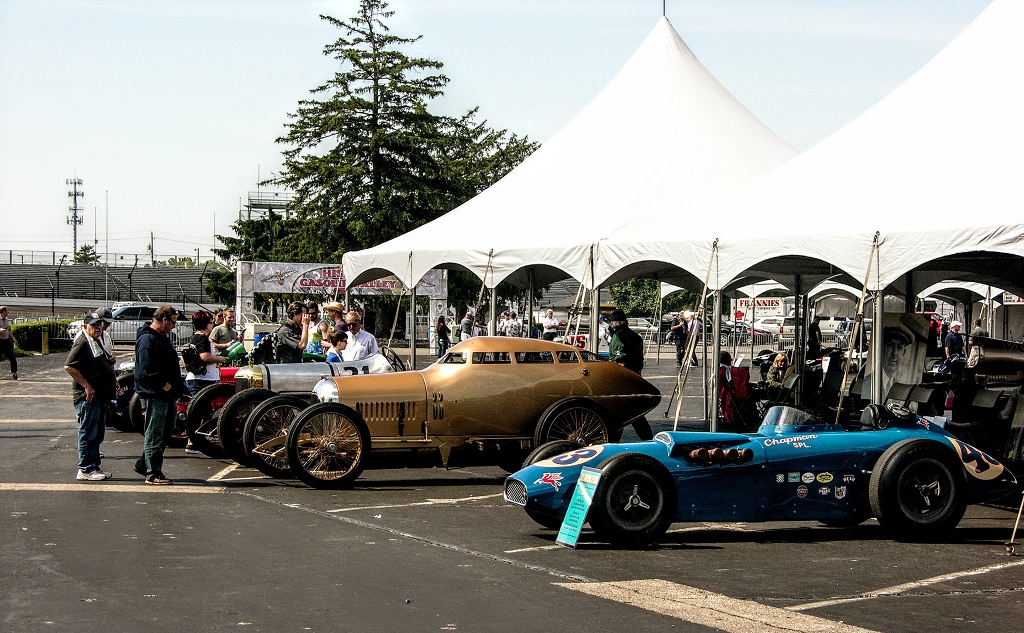 Upon hearing both drivers were rattled but not ruined, the crowd breathed a collective sigh of relief and I started making my way back down to paddock level from the crow's nest of the media center. It had been an exhausting and exhilarating morning, filled with people watching, performance automotive jargon, and photography. I tell myself that next year I will bring my fledgling 4 year-old petrolhead and wife, along with a cooler packed with craft beer and a local Lyft ride for easier pickup and departure.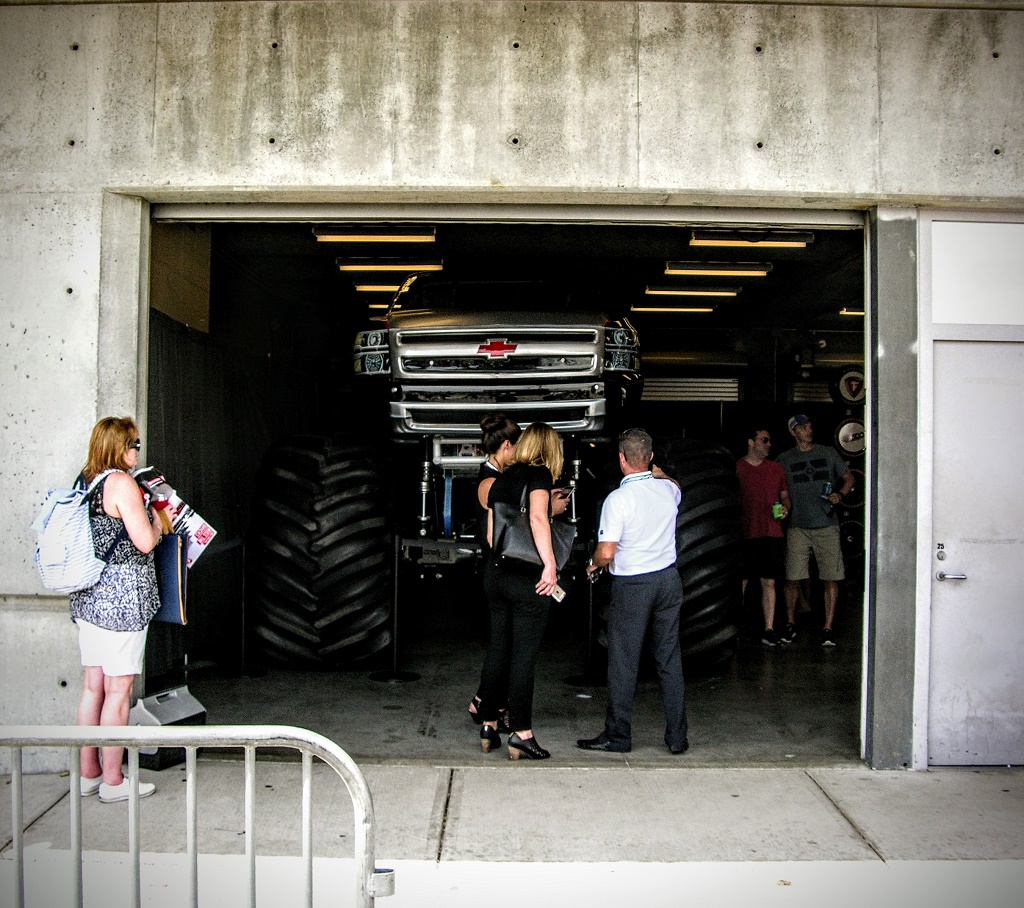 Strolling back into the bowels running beneath the track, the thundering roar of the race cars overhead sends vibrations ricocheting between the walls of Tunnel 6, standing every hair on my body on end. It's a moment that will live with me to my dying day. A fitting farewell from the fine folks at Indianapolis, forever tempting me to return for another fun-filled experience.
Forget Gasoline Alley, carting around in a redneck rickshaw, grilling out, gorgeous grid girls, delirium tremens-inducing levels of alcohol consumption, or the damn weather. This is what coming to Indy is all about. The feeling you get when a team of lightning quick race cars rocket past you in a melee of speed and sound is inexplicably exciting, a feeling that only true automotive enthusiasts will ever fully understand and appreciate.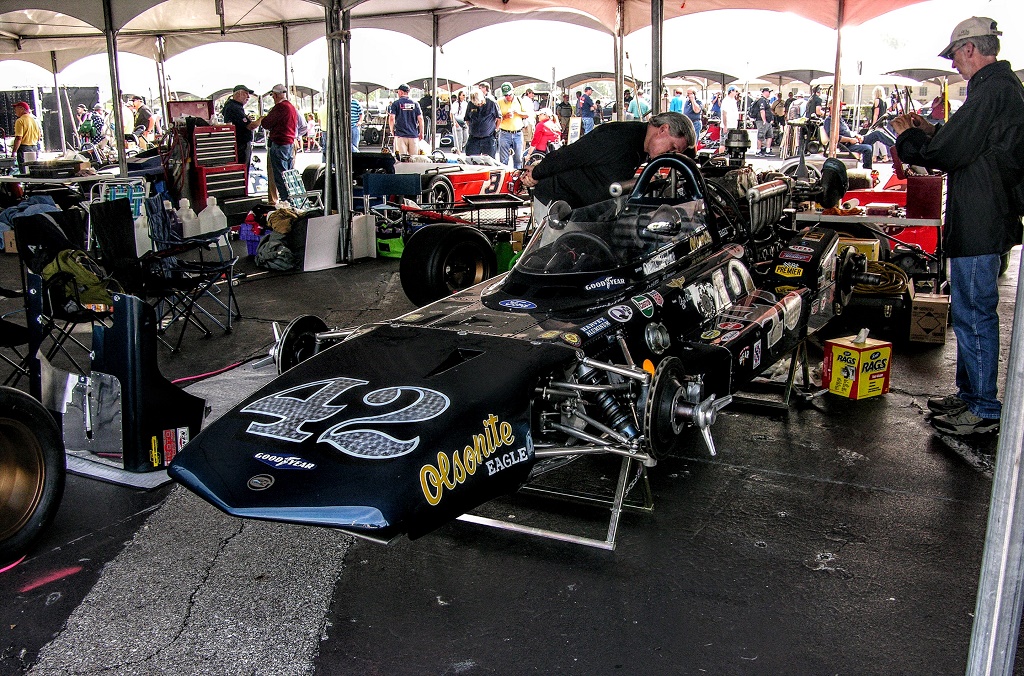 After my wide-eyed meanderings around Indianapolis' most hallowed grounds, I get the feeling that Carb Day has morphed into some sort of strange Disneyland for car buffs, experience-seekers, and kids. It's a day where life-long enthusiasts can talk candidly to youngsters about what makes a vintage Indy Car so kick-ass, and in the process, hopefully foster some interest within the next generation of automotive enthusiast.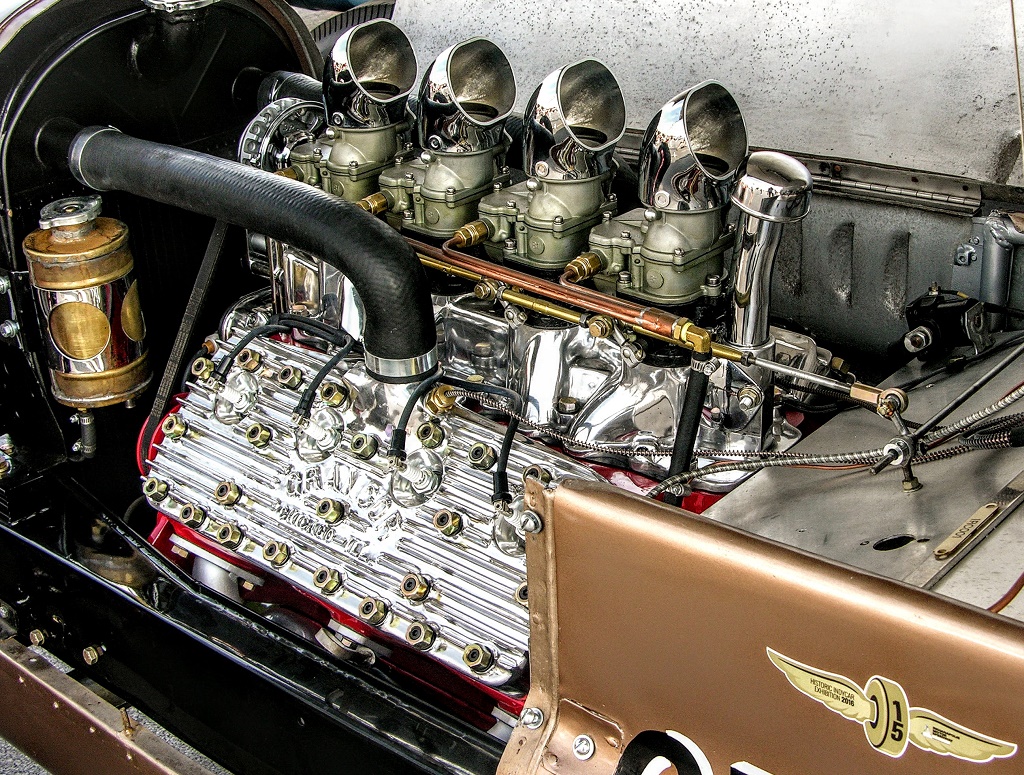 Sloshing back through the mud-encrusted parking lot outside of the media entrance I think back to old Hunter S. Thompson once more. Despite all of his drug and drink-induced antics and unfortunate demise, the guy had a surprising amount of life's mysteries figured out. While retaining some level of self control is always crucial to prolonged success, going all-out remains one of the primary reasons we love racing in the first place, and gives cause for us to end today's observances with a quotation…
"Life should not be a journey to the grave with the intention of arriving safely in a pretty and well preserved body, but rather to skid in broadside in a cloud of smoke, thoroughly used up, totally worn out, and loudly proclaiming "Wow!" – Hunter S. Thompson