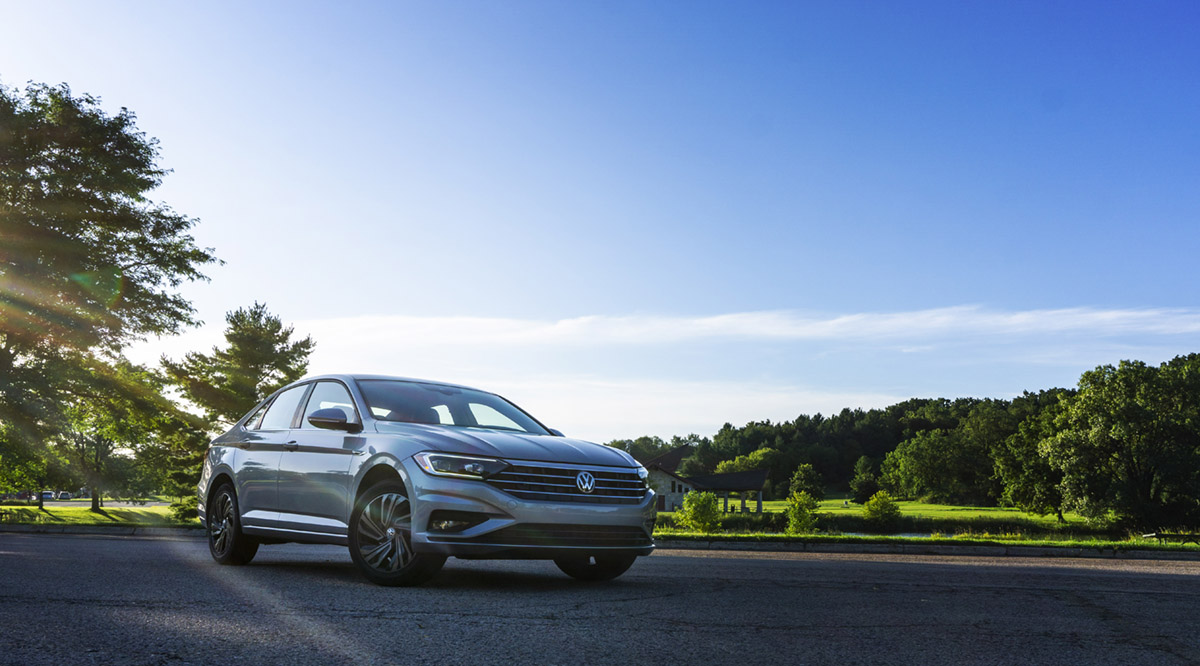 Compact sedans aren't the hottest category in the auto industry right now, but for individual brands, these diminutive four-door sedans play an outsized role. They're generally the first new car and gateway to the brand for customer with significant potential lifetime value. Think about it. When you make the move from a used car to a new car, that first experience can make a huge impression. It's important that impression be a good one because today's Jetta buyer could be an Atlas owner when his or her family expands just a few years into the future.
Jetta offers a number of flavors to attract a wide variety of first (second, third, and fourth) time buyers. I've already had a taste of the sportier Jetta R-Line, but this was my first chance to experience the more luxurious SEL Premium version, which for a few bucks under $30,000, gives you a whole bag of goodies for the money.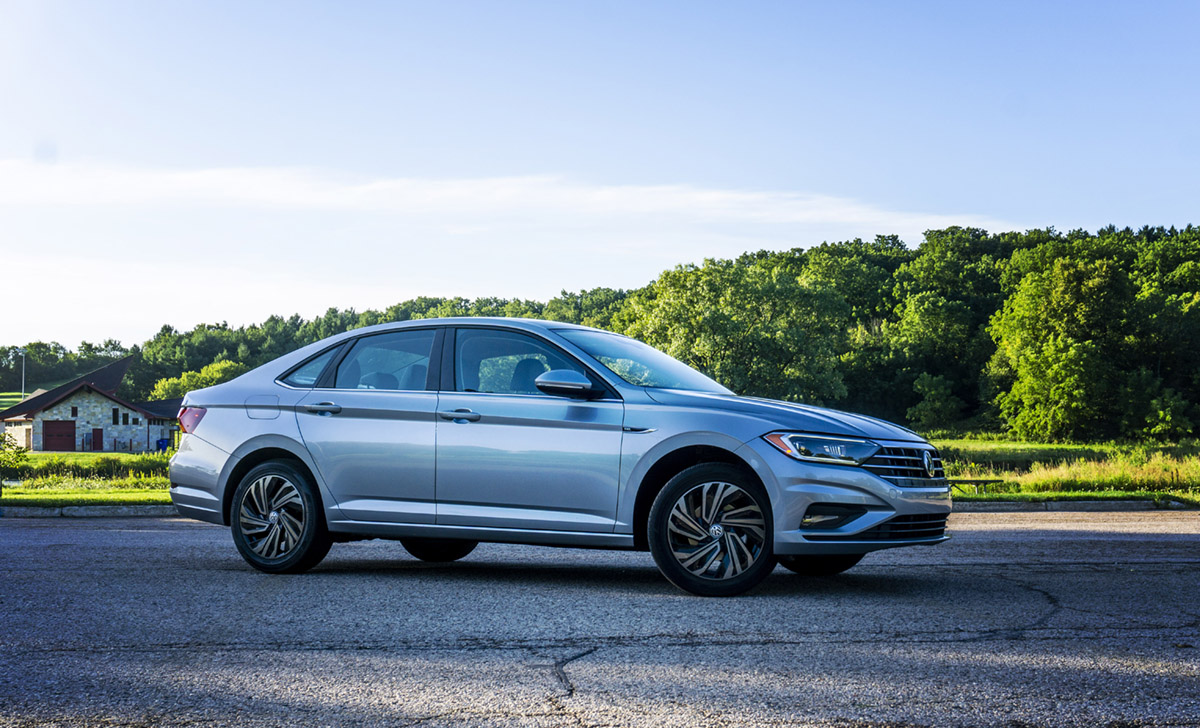 It all starts with a simple yet sophisticated exterior design. VW is happy to leave the boy racer and angry robot styling to Civic and Corolla. Jetta is crisp and clean, almost refreshing in its minimalism, with just enough character to prevent it from becoming generic. The slight forward rake, two strong accent lines at the top and bottom that run from the front fender to the rear quarter, and the long sloping rear roofline, provide a subtle silhouette. The grille is not overlarge and resolves nicely into the all-LED headlamps. The 17-inch alloy wheels accessorize the exterior nicely.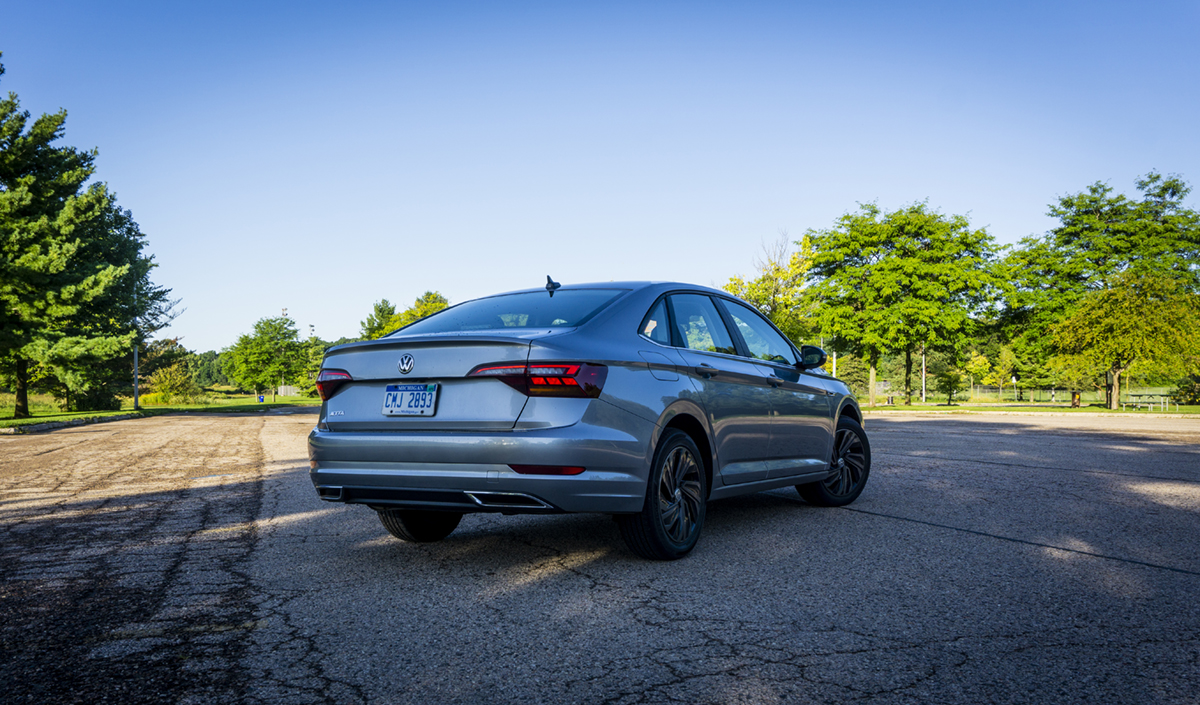 Inside the watchword is tailored. In SEL Premium trim, the Jetta offers heated and ventilated leather seats up front and leather seating surfaces in back. The clean lines of the exterior are echoed on the inside with long horizontal surfaces on the dash making the spacious interior feel even more so.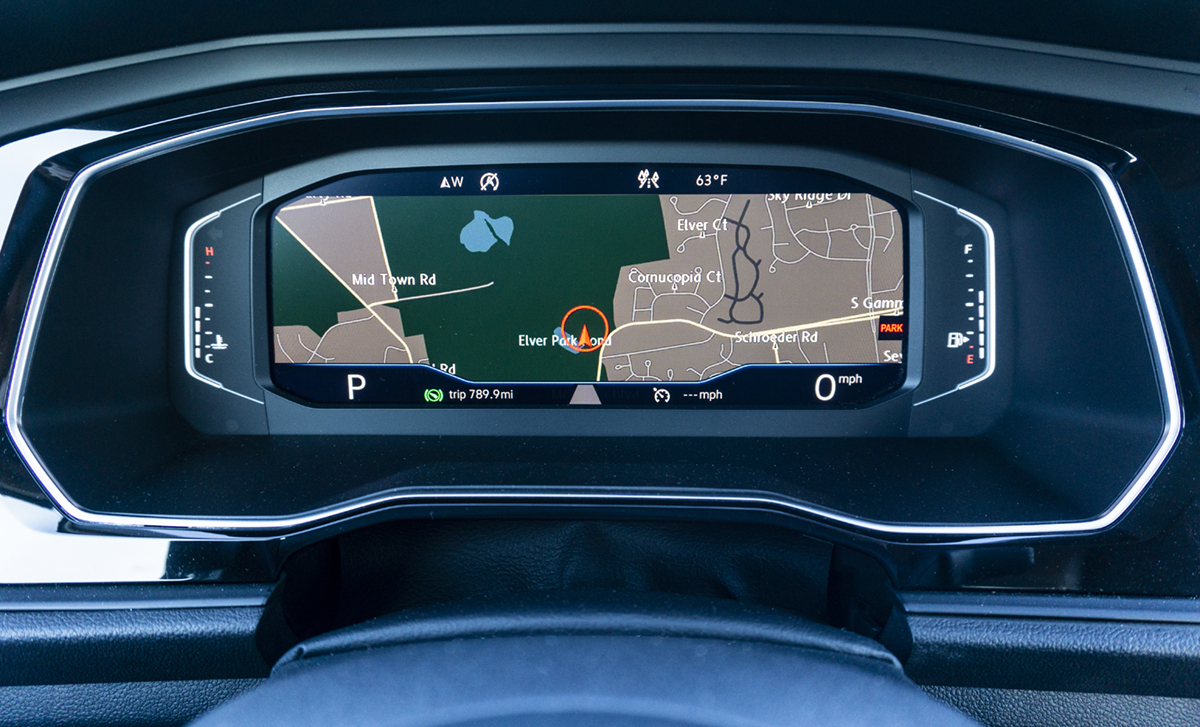 VW's digital cockpit is standard in the Jetta SEL, and brings a lot to the party. It's configurable a number of ways allowing you to do things like feature navigation while minimizing other information. It also changes depending on which drive mode you select. The upgraded 8-inch center screen for audio, navigation and other apps, is well thought out and easy to use thanks to a combination of hard buttons and knobs that allow you to quickly get to the most important screens. Featuring Beats Audio, the sound premium sound system is powerful but not best-in-class. The high-end JBL unit in Corolla and the Bose system in the Mazda3 are both superior.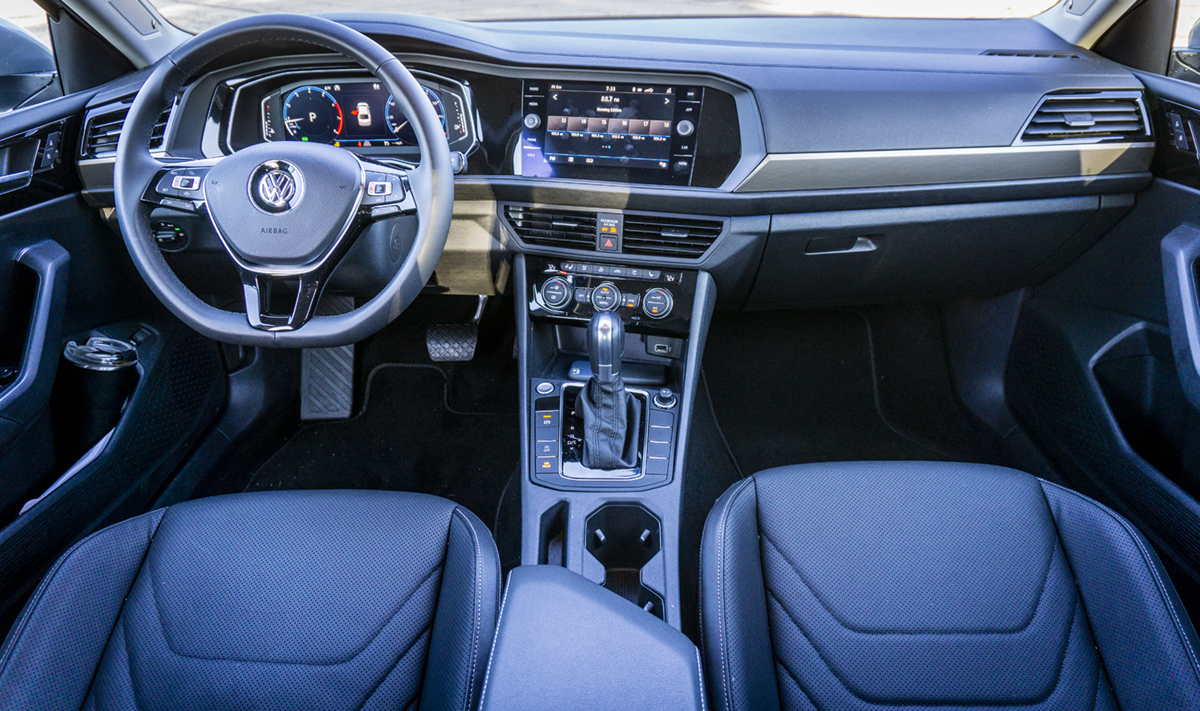 One of the high points of this small sedan is the interior space. By moving to the MQB architecture, VW increased Jetta's wheelbase, shortening the front and rear overhangs and increasing overall interior space. Front seats have leather seating surfaces and are heated and ventilated. The leather wrapped multi-function steering wheel is heated with the addition of a cold-weather package. There's reasonable storage with sizeable door pockets, center console, and plenty of spaces for your phone. There's only one USB port up front, however, and one in the center console. For years, VW resisted putting cup holders in cars. I'm not sure why they're doing the same with USB ports now? How hard and expensive would it be to put one in for each legal seat? I'm guessing both easy and cheap.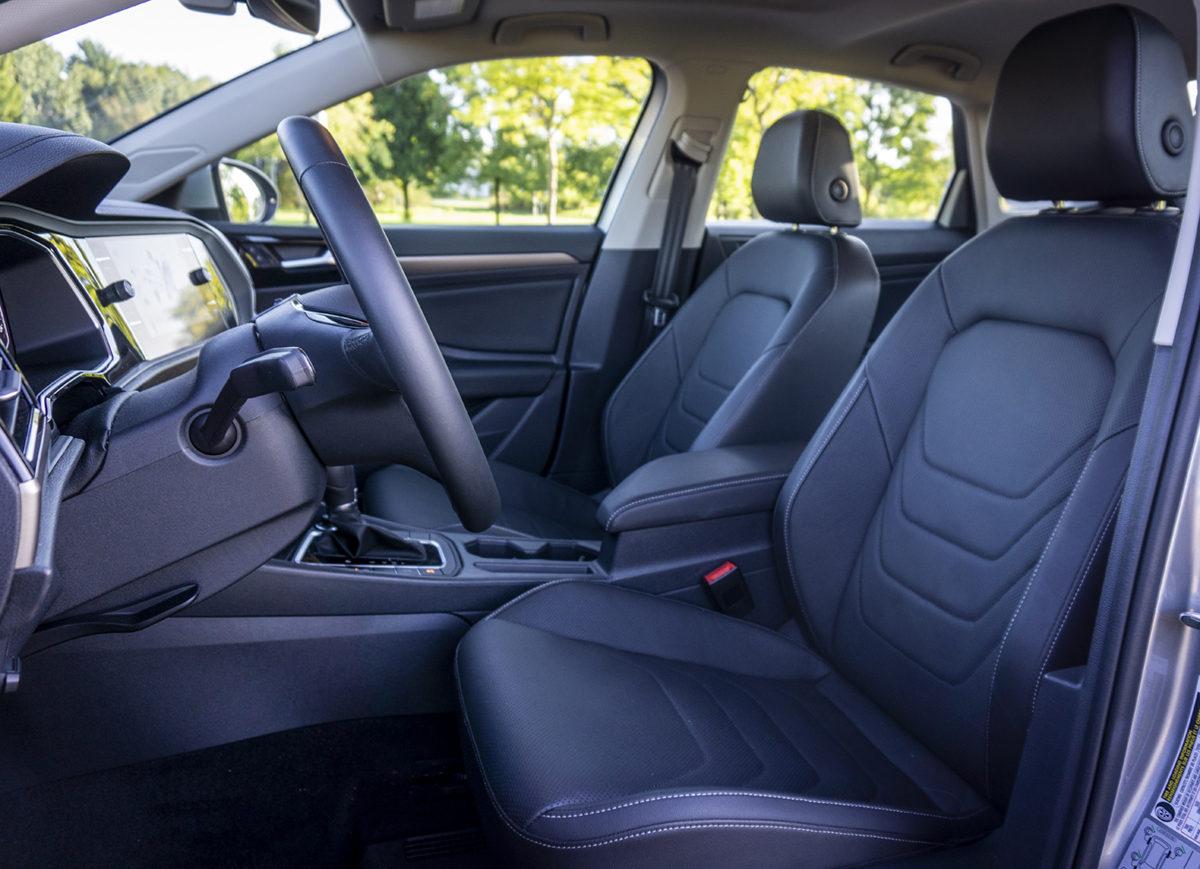 As long as your rear seat passengers bring fully-charged phones, they'll be happy to sit back there. Legroom is more generous than either Corolla and Mazda3 – a consequence of the longer wheelbase – and the seats are firm, yet comfortable.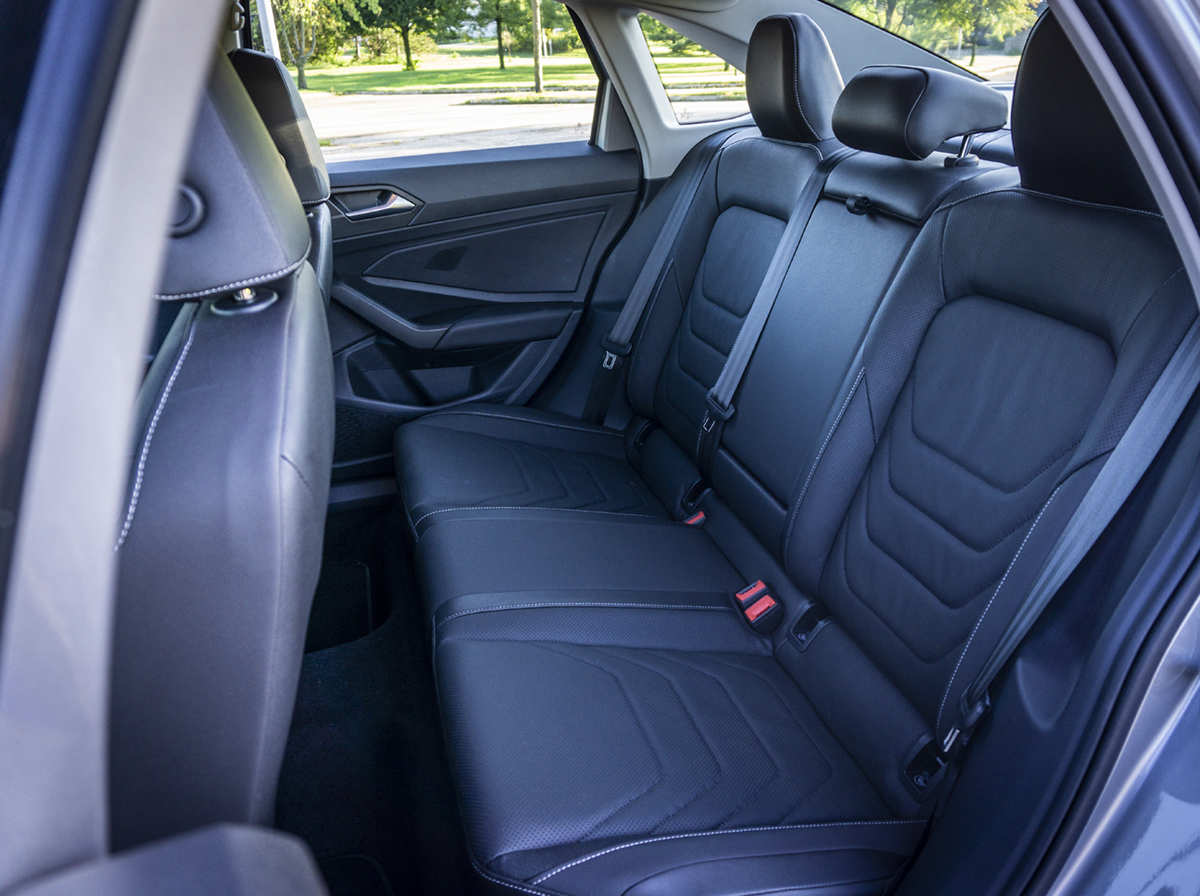 Where the VW Jetta shines is on the road. The 147-horsepower, 1.4-liter turbo is a willing overachiever. While power seems modest compared to Honda and Mazda, it feels quick and nimble. 0-60 miles per hour comes up in just a few ticks under 8 seconds. Part of this is due to the 8-speed automatic transmission, where most of its competitors use a CVT. With peak torque at just 1,400 RPM and a low first gear, Jetta jumps of the line compared to Corolla and Civic.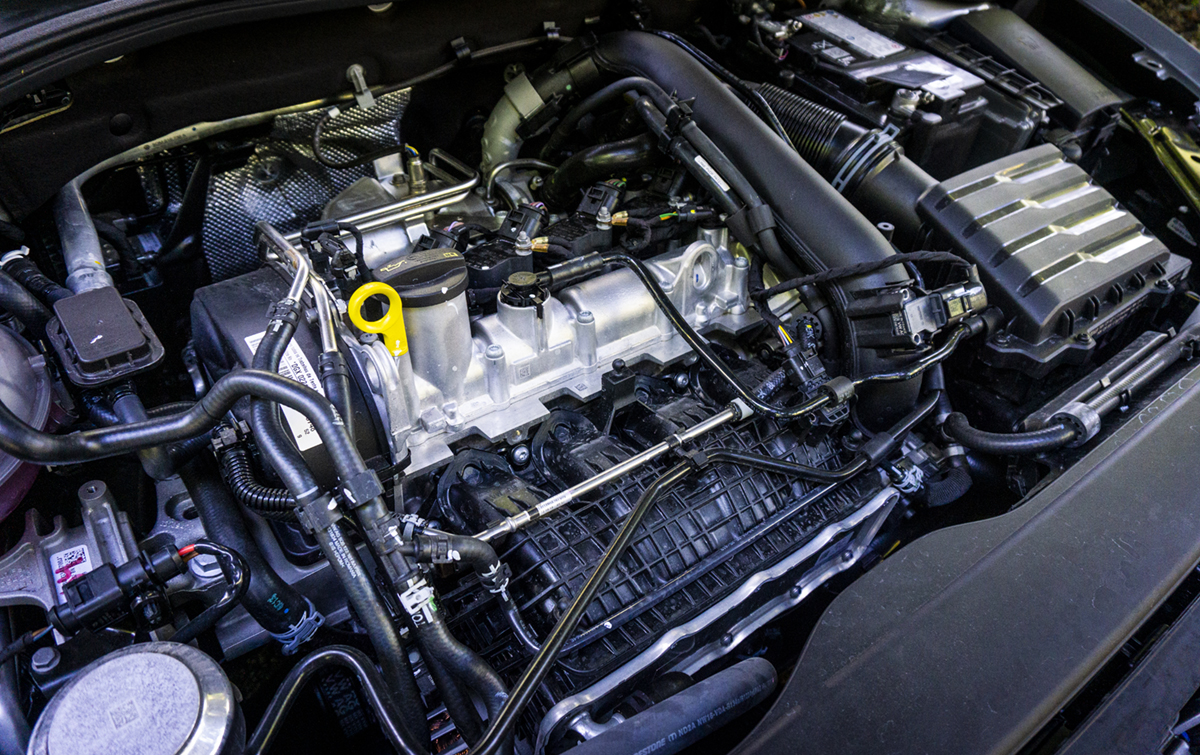 The ride is softer than the previous generation Jetta thanks to retuned front springs and struts and changes to the rear torsion beam suspension. Jetta SEL has three drive modes, normal, eco, and sport, that adjust throttle response, steering feel, and shift points. Use eco mode and you'll find excellent efficiency with the EPA rating Jetta at 30 miles per gallon around town and 40 miles per gallon on the highway.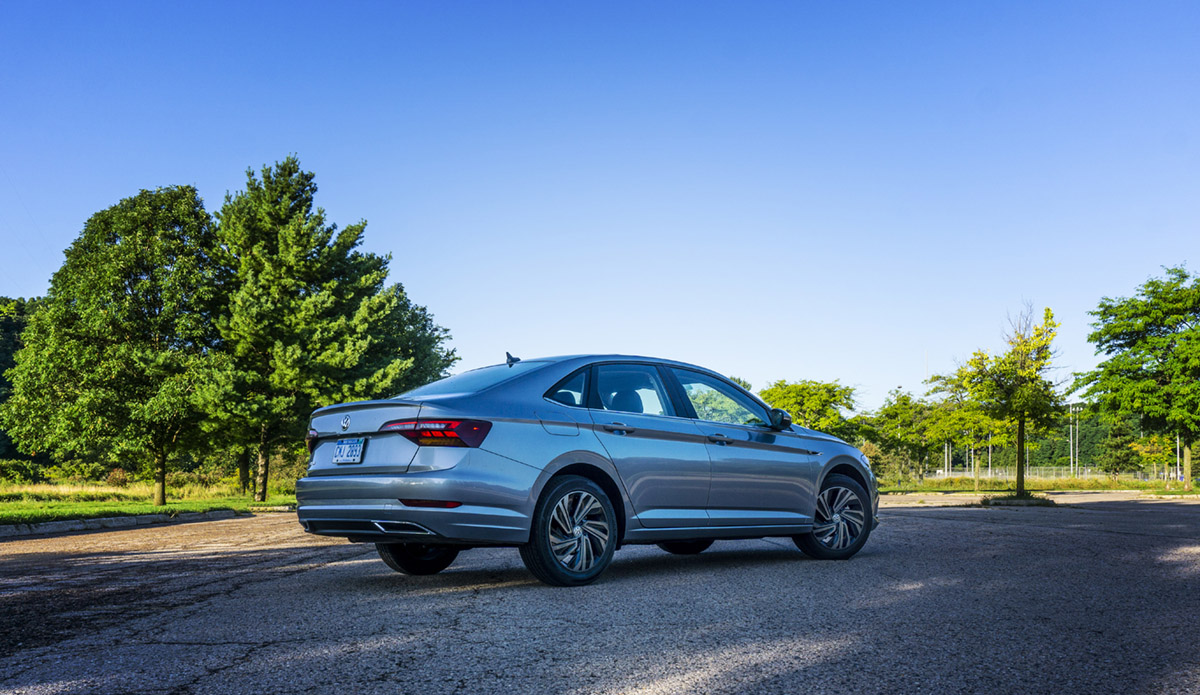 The new Jetta isn't the best performing compact sedan. It's not the most technologically advanced. It doesn't deliver the highest efficiency. And, it's not the cheapest. But for about the same price as a loaded Civic, Corolla, or Model3, Jetta delivers a great all-around experience, plenty of value, and sophisticated styling that won't look dated 10 years down the road.
2019 Volkswagen Jetta SEL Limited
Four-door, five-passenger compact sedan
Base price: $18,745
Price as tested: $28,590
Engine: 1.4-liter, turbocharged four-cylinder DOHC with four valves per cylinder
Power: 147 HP @ 5,000 RPM
Torque: 184 lb.-ft. @ 1,400 RPM
Curb weight: 2,970 pounds
0-60 MPH: 7.8 seconds
EPA MPG: 30 city, 40 highway, 34 combined