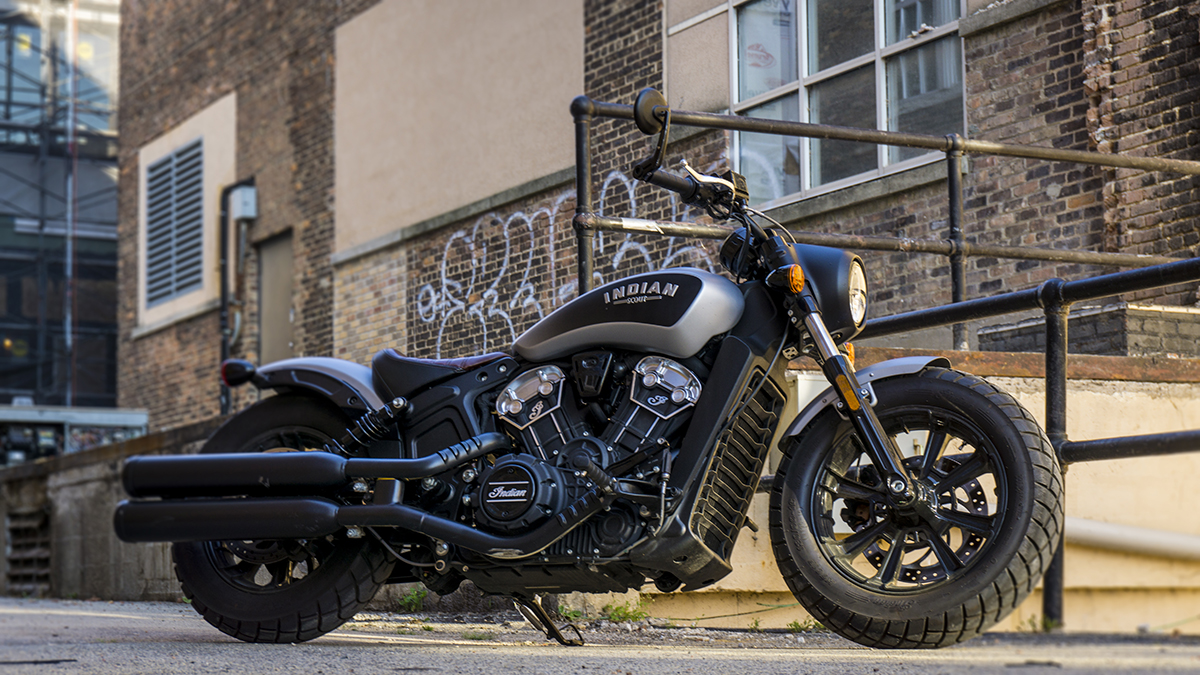 I am not 25 anymore. Not even close. I was reminded of this fact about 100 miles into my 300 mile ride from Polaris Industries World Headquarters in Medina, Minnesota to the Rides & Drives World Headquarters in Madison, Wisconsin.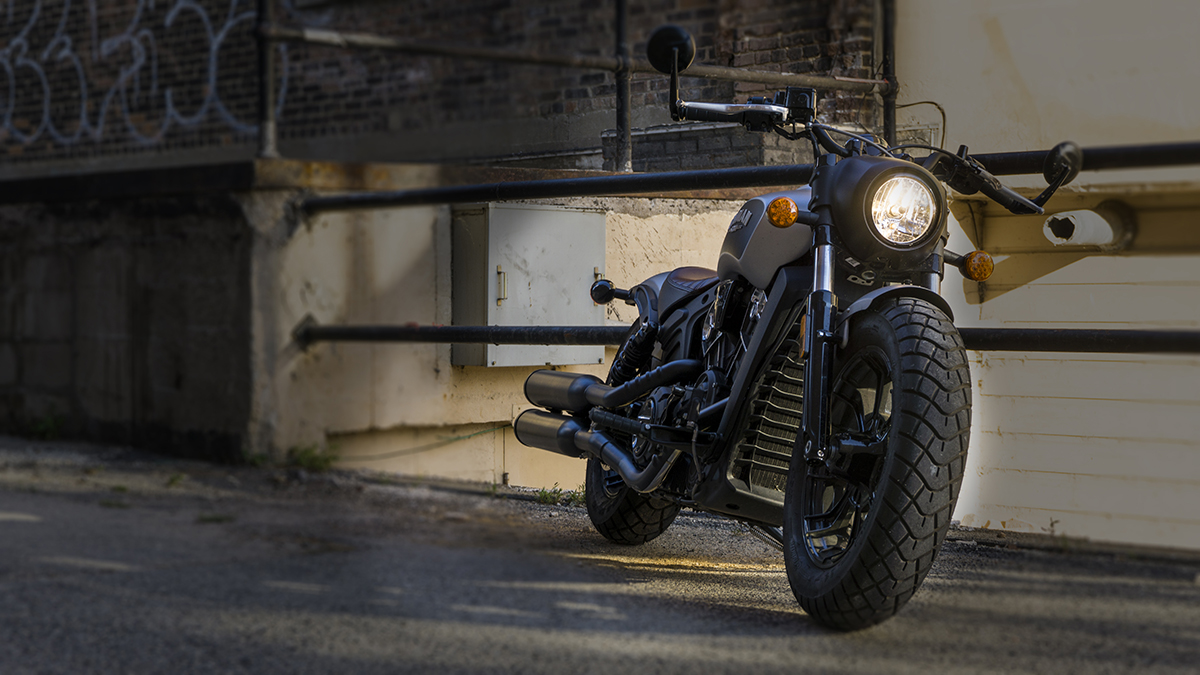 The ride itself was spectacular. The temperatures for mid-September were a above normal, nearing 90 as I got on a new Indian Motorcycle around 2:00 in the afternoon. The idea was to hop on the bike and ride the sixish hours straight home tracing the Mississippi River and enjoying some of the beautiful scenery in hilly western Wisconsin. The only problem? This wasn't one of Indian's touring bikes like the Chieftain Elite I rode earlier this year, Chief, Springfield, or Roadmaster. I was astride the new 2018 Scout Bobber which made things, shall we say, interesting.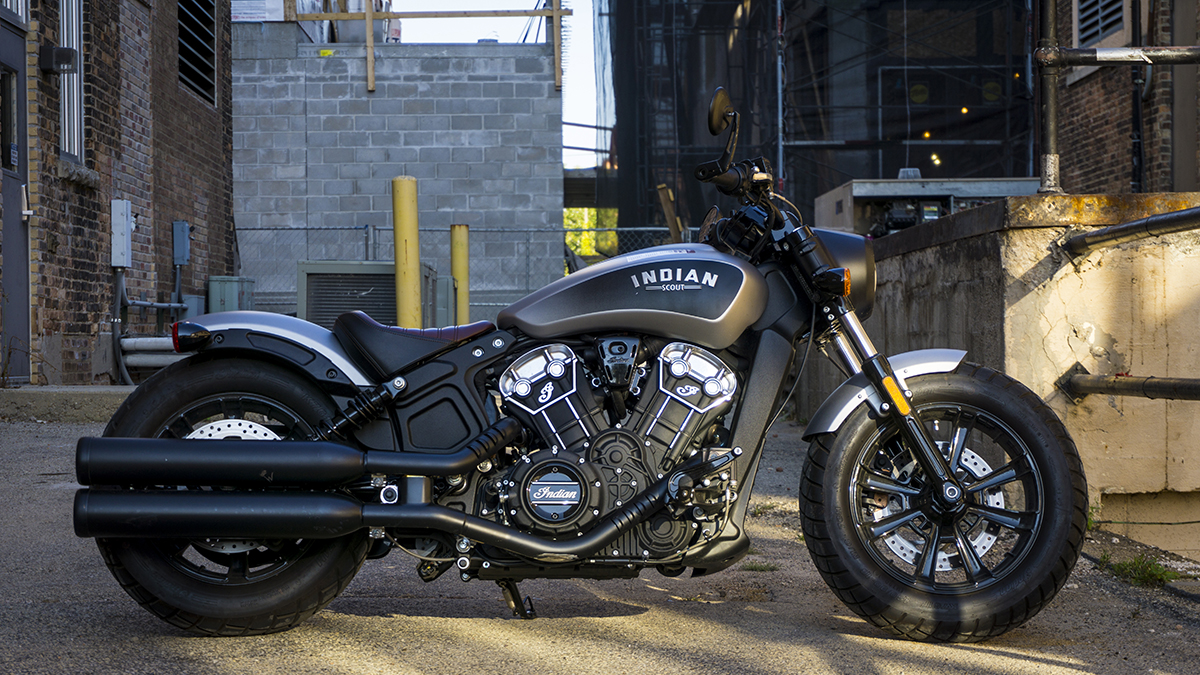 The result was that just 100 miles in the saddle had my bony rear end screaming for a rest stop and what should have been an amazing six-hour ride through some of America's best touring two-lanes became eight excruciating hours that would have made the Marquis de Sade proud.
Let me be clear, this isn't the bike's fault.
Expecting the Indian Scout Bobber to cruise comfortably for hours on end is akin to using a Skilsaw to perform a vasectomy. It's the wrong tool for the job. This is a bike for riding up and down boulevards, blasting through the canyons, or getting a couple of hours of throttle therapy on a Saturday afternoon. It's not a long distance cruiser and I should have known better. So I backed off, riding for 45 minutes, stopping for 10 to 15 to stretch my legs and take the weight off my behind, because that's where 99% of it goes on this bike.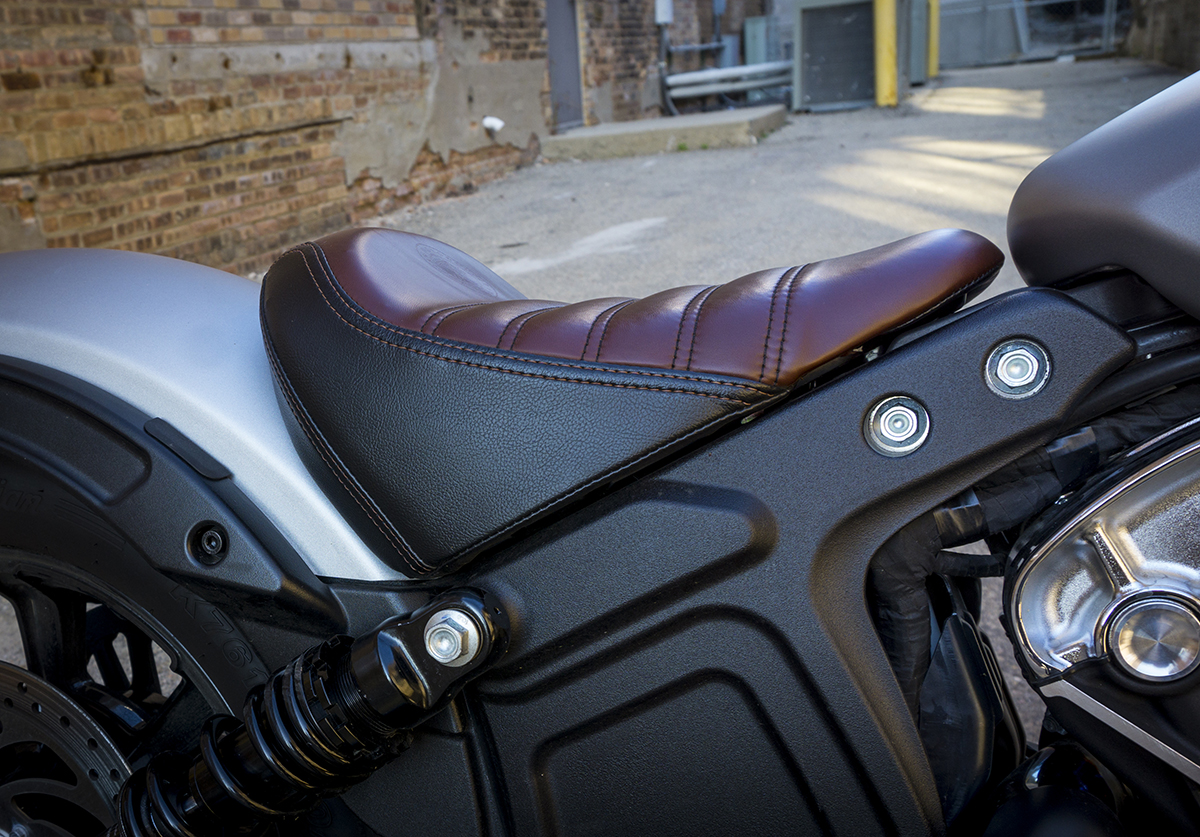 The riding position is feet and hands forward, such that if you're crossing a railroad track or encounter an unavoidable pothole, you have to pull yourself out of the saddle, you can't just stand up. It's very different for me, a guy used to riding a Ducati sport bike where your legs are part of the riding equation, constantly moving to transfer weight in corners.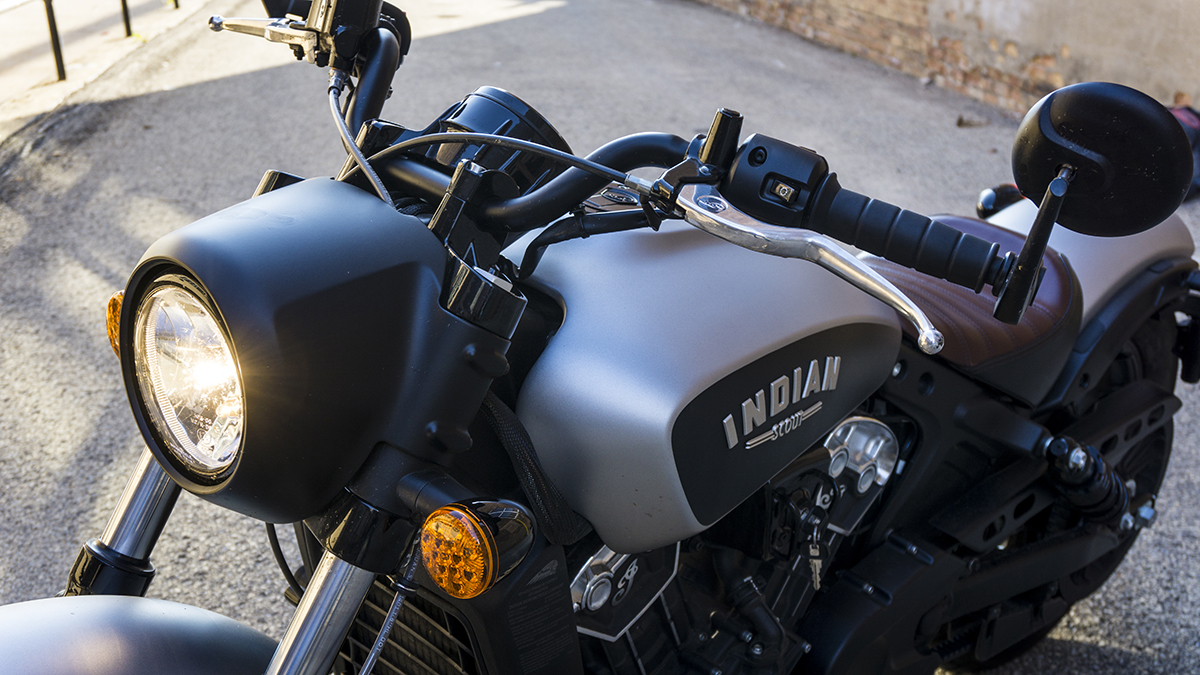 Truth be told, it didn't take me long to get comfortable with the riding position and in a few short miles I was leaning the Scout side to side through some esses scraping the footpegs as I grew bolder. This is a great handling bike. With its low center of gravity, fat tires, and 29º of rake, it rides a lot lighter than its 554 pound wet weight. By the time I'd ridden the 55 miles to Hastings, MN and stopped at a Dunn Brothers Coffee shop for some iced tea, I was feeling really good about the trip. Sure, at 6'3" my knees were above tank height and the low rise bars put a little kink in my lower back as I leaned forward to grab them but none of that really bothered me. Were I to own this bike, there would be some adjustments made to the saddle, bars, and pegs. Even still for this first stint I felt surprisingly comfortable.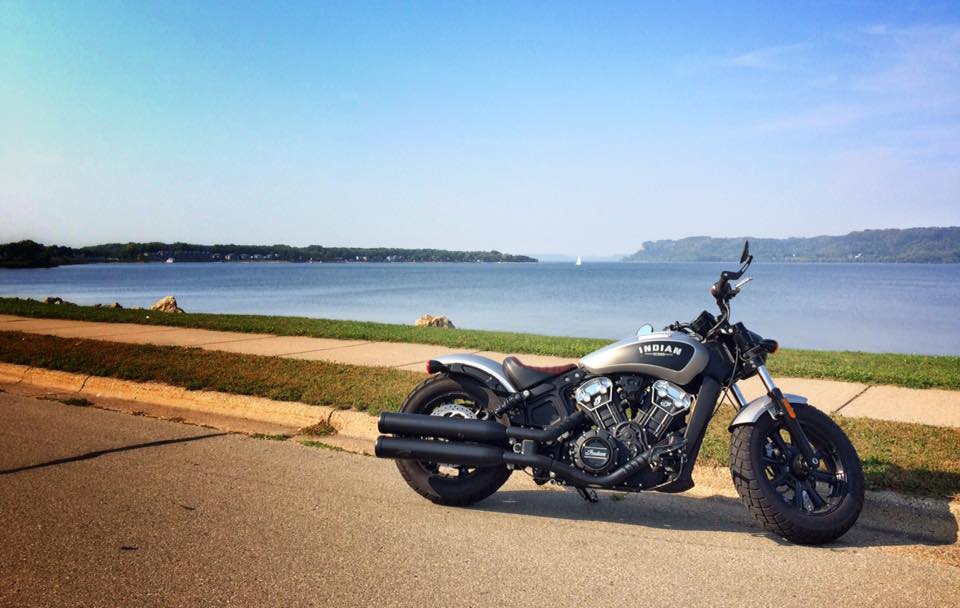 I rode on along the Mississippi River heading southeast toward La Crosse, Wisconsin where I'd cross a bridge into my home state. Along the way I stopped a couple of times to marvel at the scenery and get my first shots of the bike in situ. The Scout Bobber makes a bold visual statement that is hard to ignore. Shortened fenders, block lettering on the tank, and a revised headlight cowling are three obvious changes from the standard Scout, as are the blacked out mufflers, which I would recommend jettisoning for aftermarket pipes as soon as you bring this bike home. Not that the Scout Bobber sounds bad. It has a nice deep rumble at idle and roars politely when you run up to the redline. I'd rather, however, that it were a little less polite. A bike that looks like it would bite your face off should have a bit more of a snarl. While I'm not advocating for straight pipes, a few more dBs coming out of the back end of this thing would be nice.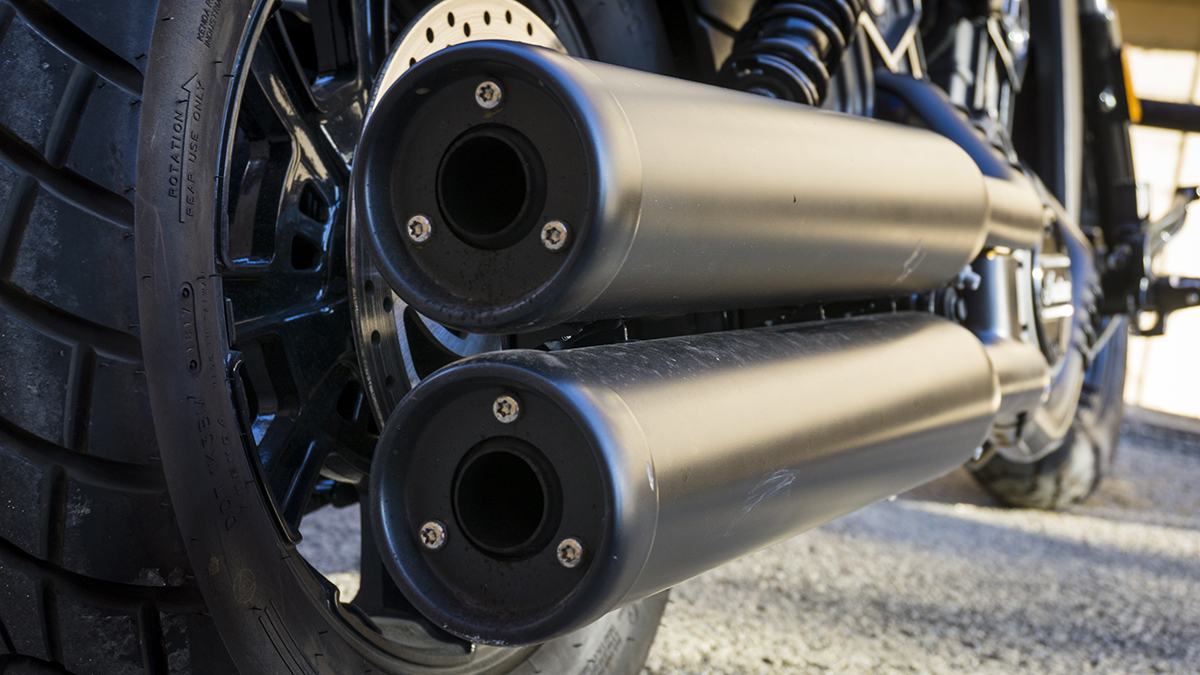 About halfway between Red Wing and La Crosse, I was starting to feel it, a dull ache in my backside that would stay with me for the rest of the ride. I tried shifting my position by hanging my feet overtop of the footpegs, but that didn't relieve the pressure. So in La Crosse I stopped to top off my tank, decided to shorten the miles between rest stops, and called home to let my better half not to hold dinner for me. My next stop was in Readstown just after sunset to top of the tank where I managed to get a shot of the Indian against a spectacular early fall sky.
I grabbed a cup of bad gas station coffee in Richland Center, then took one more break in Spring Green, where a guy in a van turned around as he saw me pull into the PDQ and came over to get a closer look at the bike, the first of many such interactions over the next two weeks. One thing I appreciated about the Scout Bobber was the bright and well defined throw of the LED headlamp. Even still, I was happy to pull into my driveway shortly after 9:30 knowing the comfortable cushioning of my couch awaited to soothe my aching backside.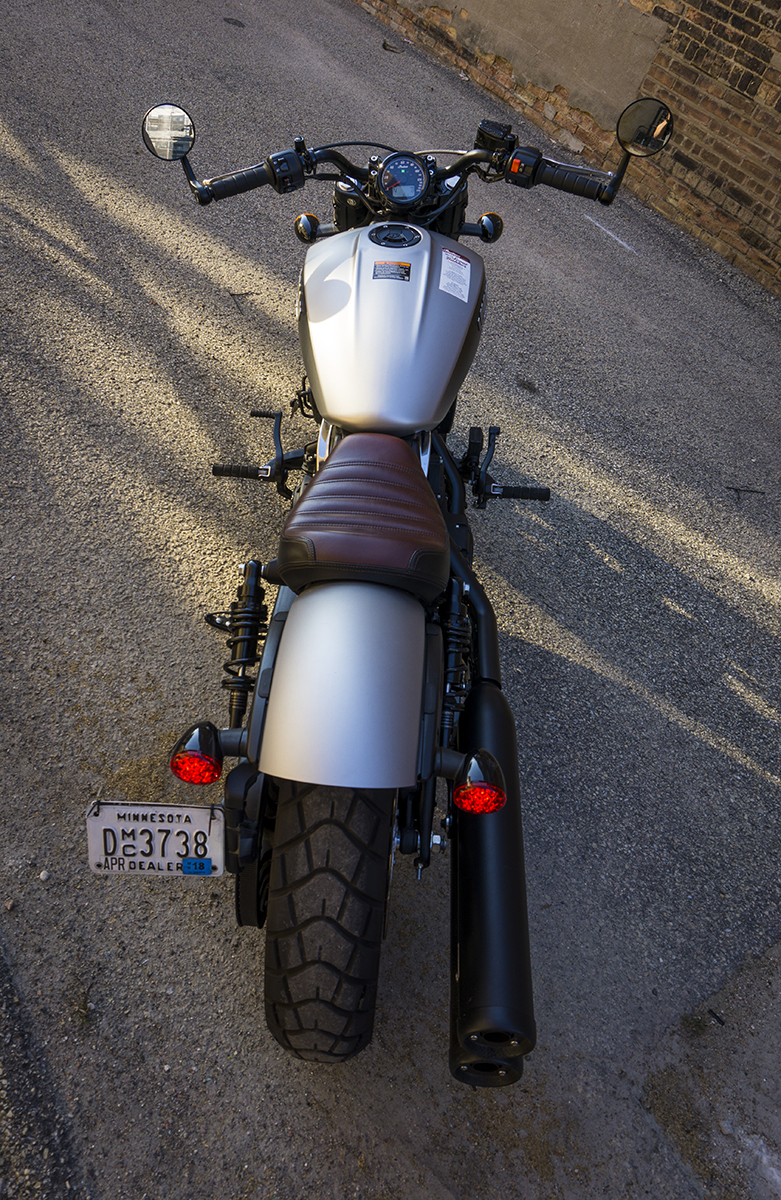 After the long ride, I used the Scout Bobber as intended for the next two weeks. I commuted on some glorious fall mornings along Lake Monona. I rode it to a friend's barbecue one evening. I took it on a head clearing ride following a particularly unpleasant work meeting. This is what the Scout Bobber is best at. It's instant throttle therapy. And I do mean instant.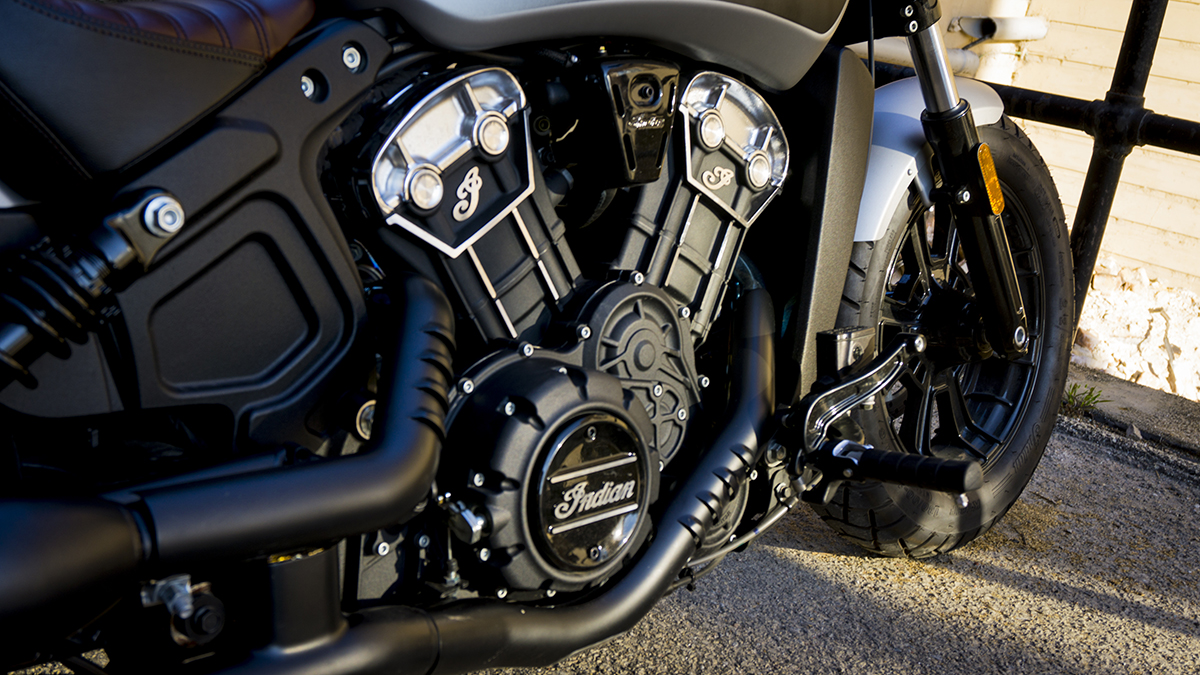 The 69 cubic inch V-Twin pounds out 100 horsepower and so much torque it feels like it'll pull your arms out of their sockets if you're not careful. Crack the throttle hard and the front tire threatens to leave the pavement. 60 miles an hour comes up quicker than you can say Ho Chunk Nation. And though peak torque is at 6,000 RPM, it pulls hard through the gears all the way up to the 8,200 RPM redline. I was surprised to find just one disc up front, but working in conjunction with the single rear unit, the brakes provided plenty of stopping power.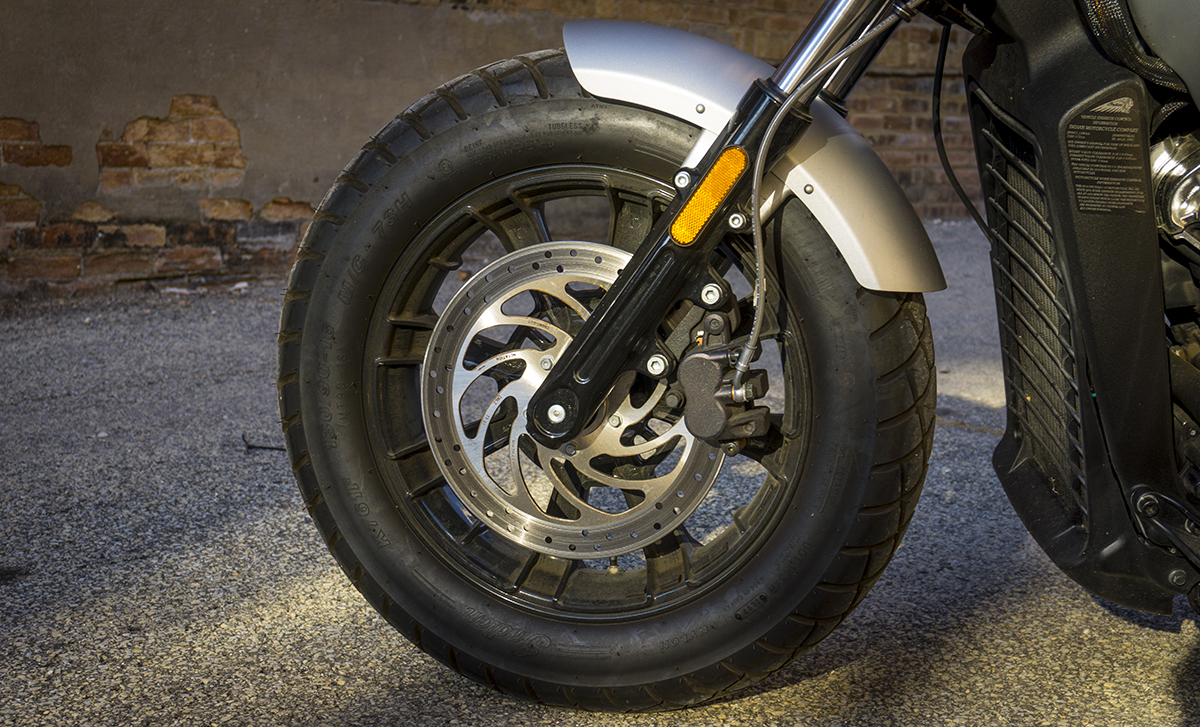 In addition to performance, simplicity is also this bike's strong suit. The minimalist styling even extends to the single gauge at the center of the handlebars. Displaying miles per hour around the perimeter, there's a small black and white LED screen just below the center that displays gear selection and lets you toggle through RPMs, odometer, trip odometer, and engine temp.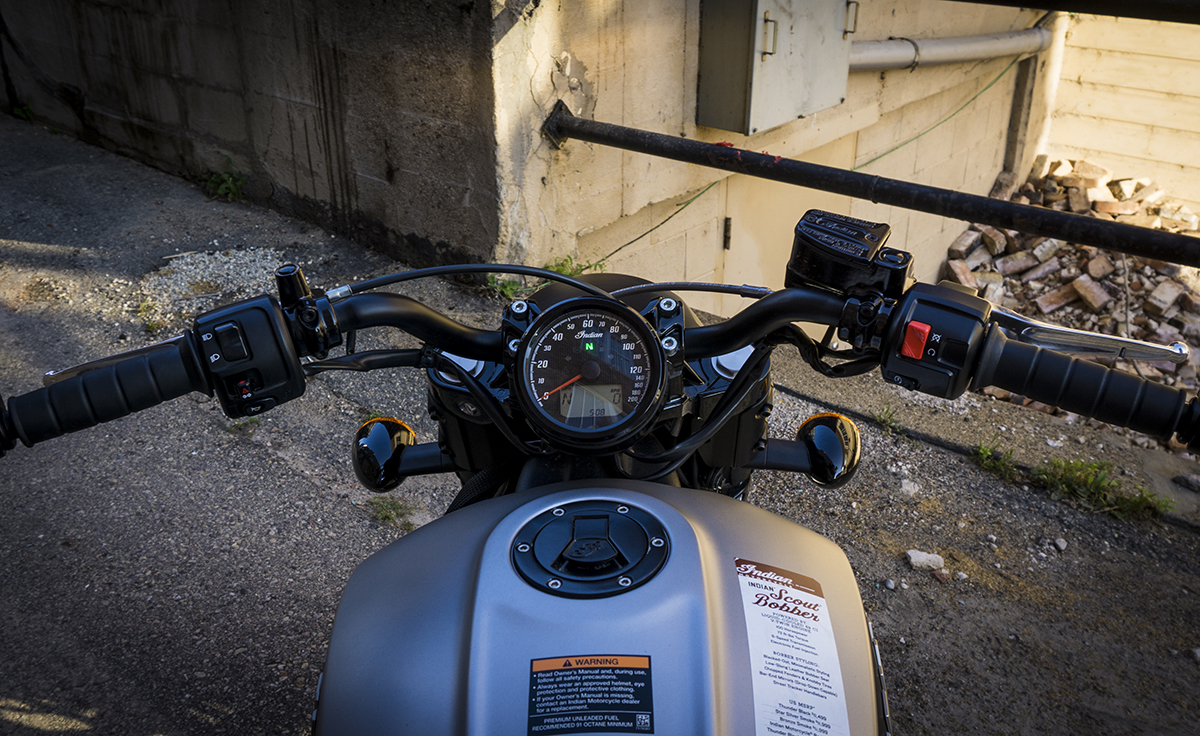 The highlight of my time with the Bobber came on my final weekend with it. As luck would have it, the fall version of the Slimey Crud Cafe Racer Run was taking place that Sunday. Usually drawing between two and three thousand riders, the SCR is an organic event that runs from Pine Bluff to Leland, Wisconsin. You'll see bikes of all styles, displacement, age, and condition so I figured it would be the perfect venue to get a handle on how the Scout Bobber would appeal to a wide range of enthusiasts.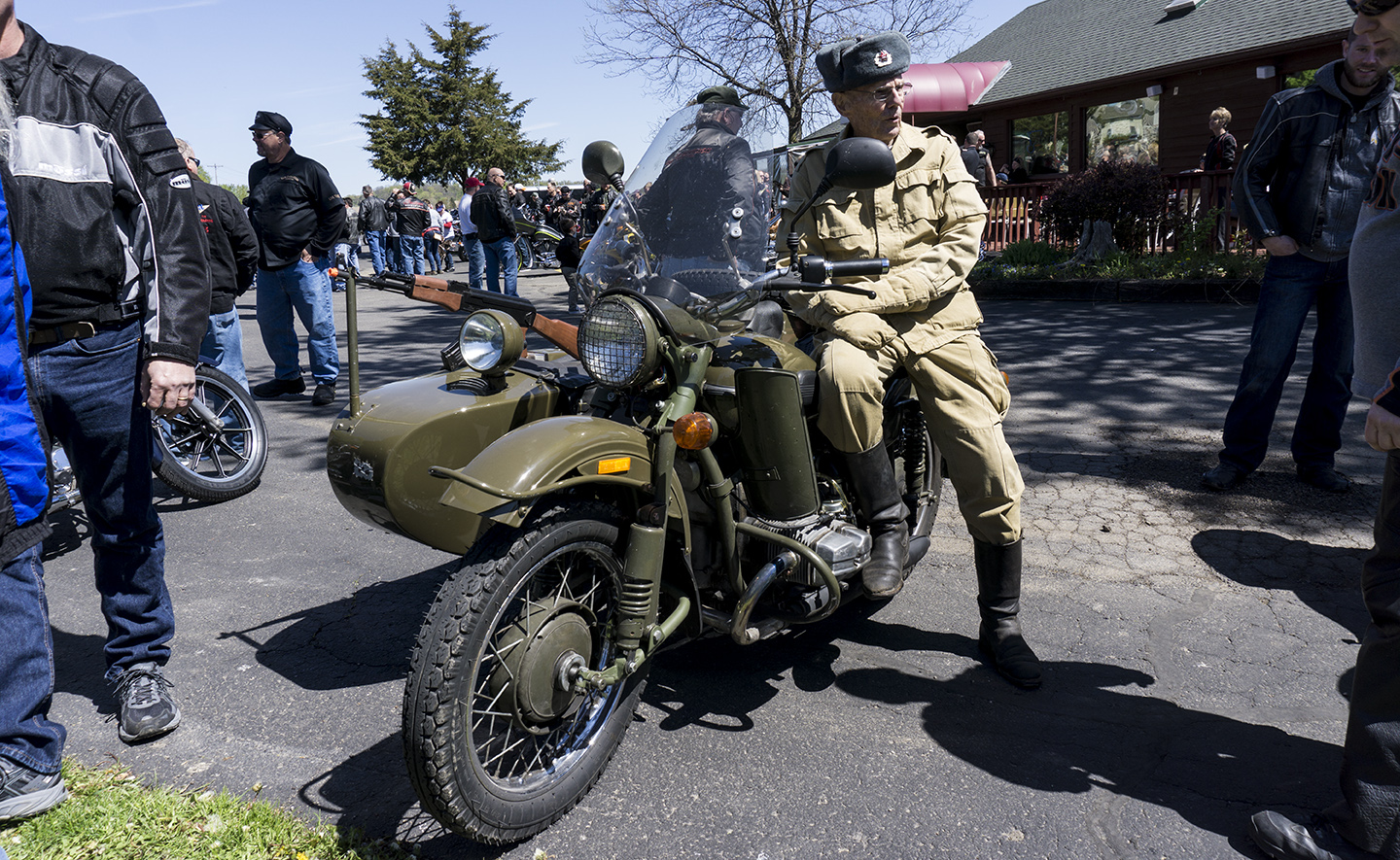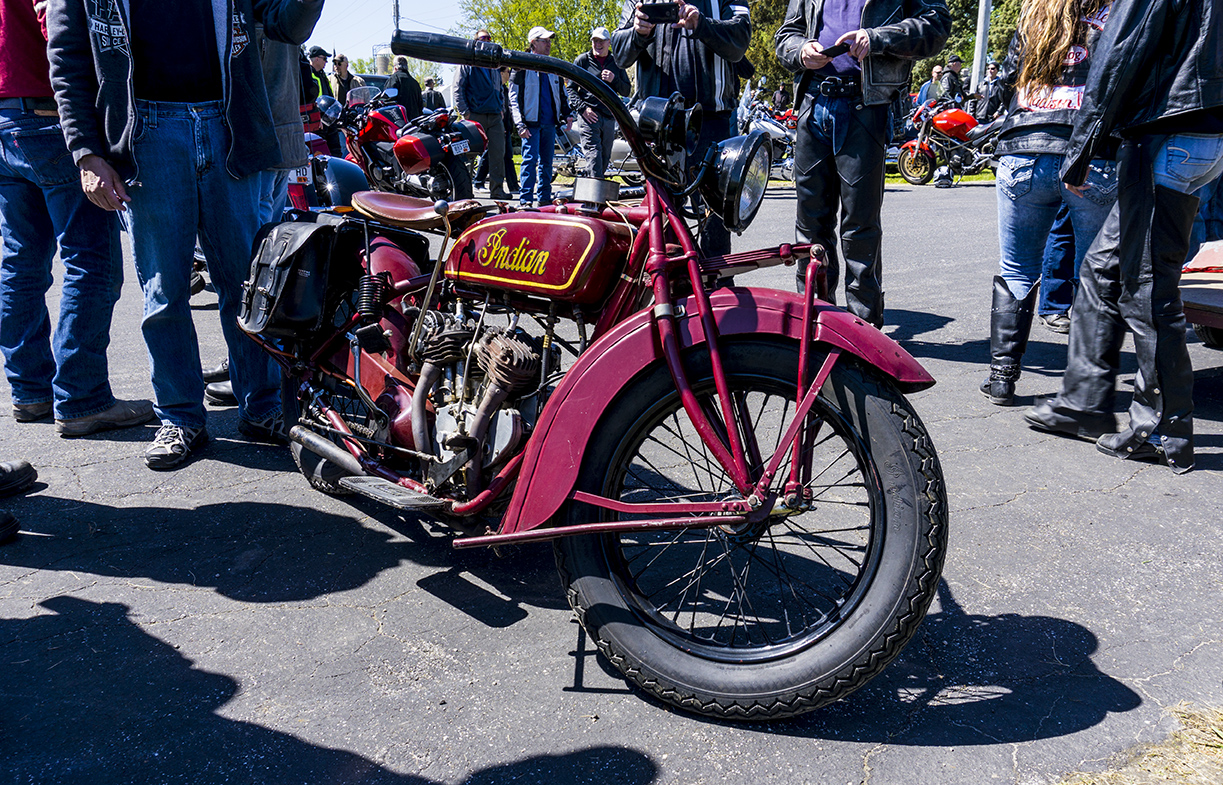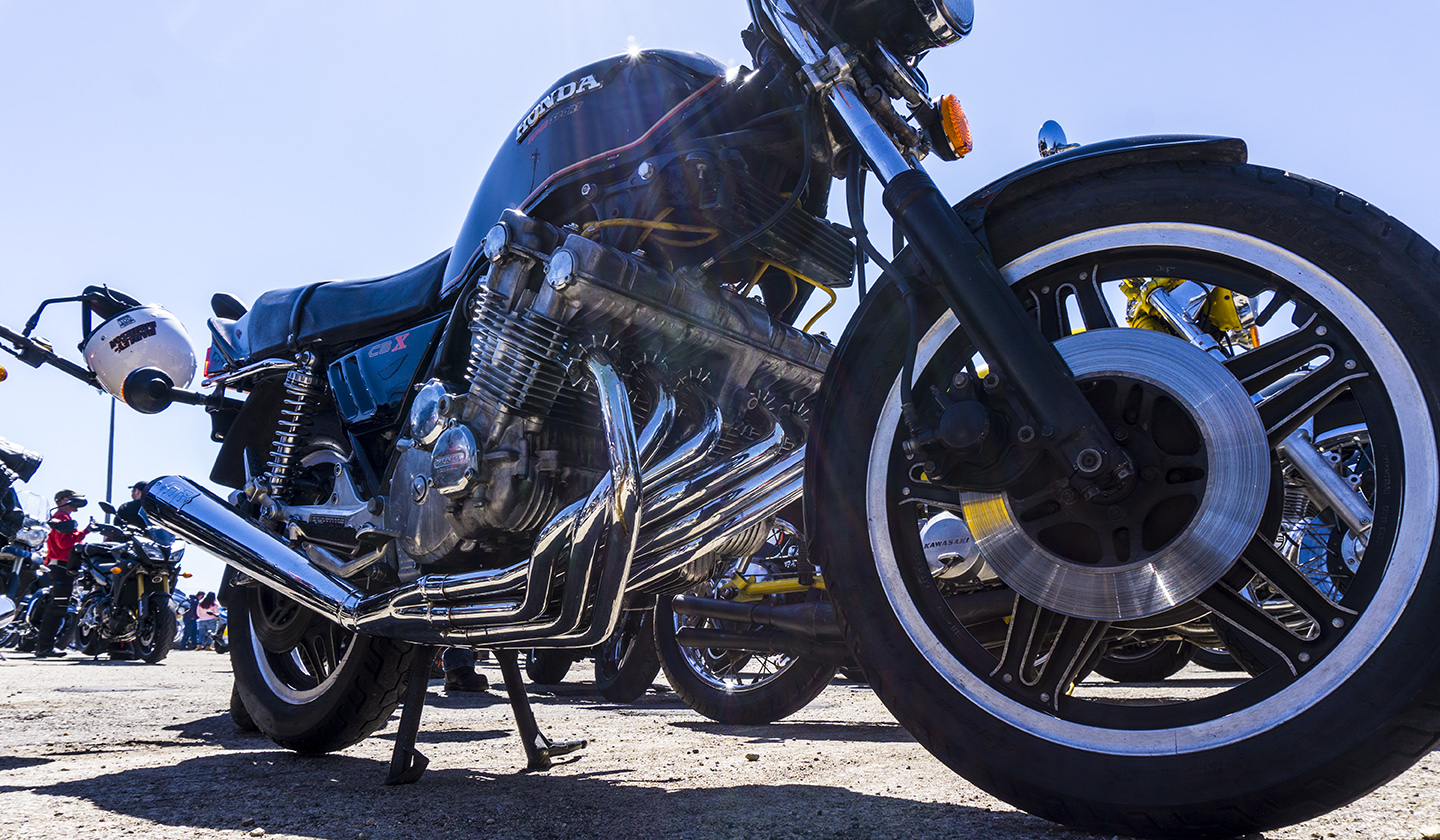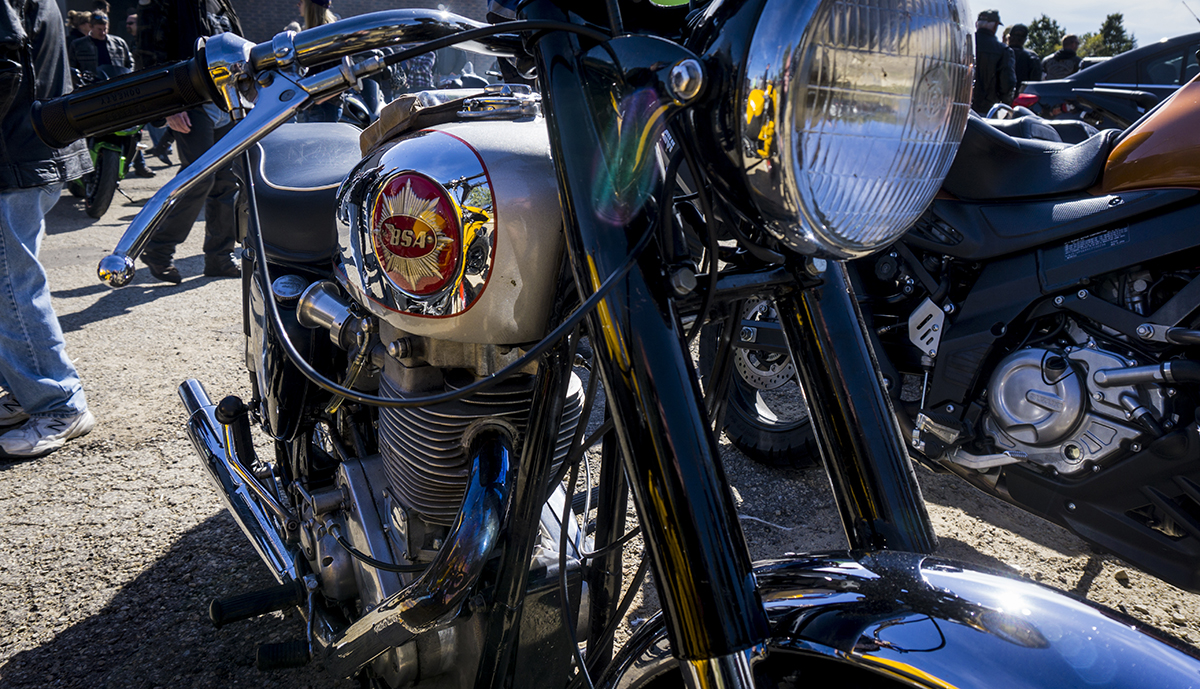 Upon arriving at the event, I parked it, walked away, and stood back to observe. Not surprisingly even among some pretty rare iron – a vintage BSA, Indian, Ural with a side car, Honda CBX, and so many other cool bikes – the Scout Bobber drew more than its share of attention. After a while I stepped back into the crowd and answered questions.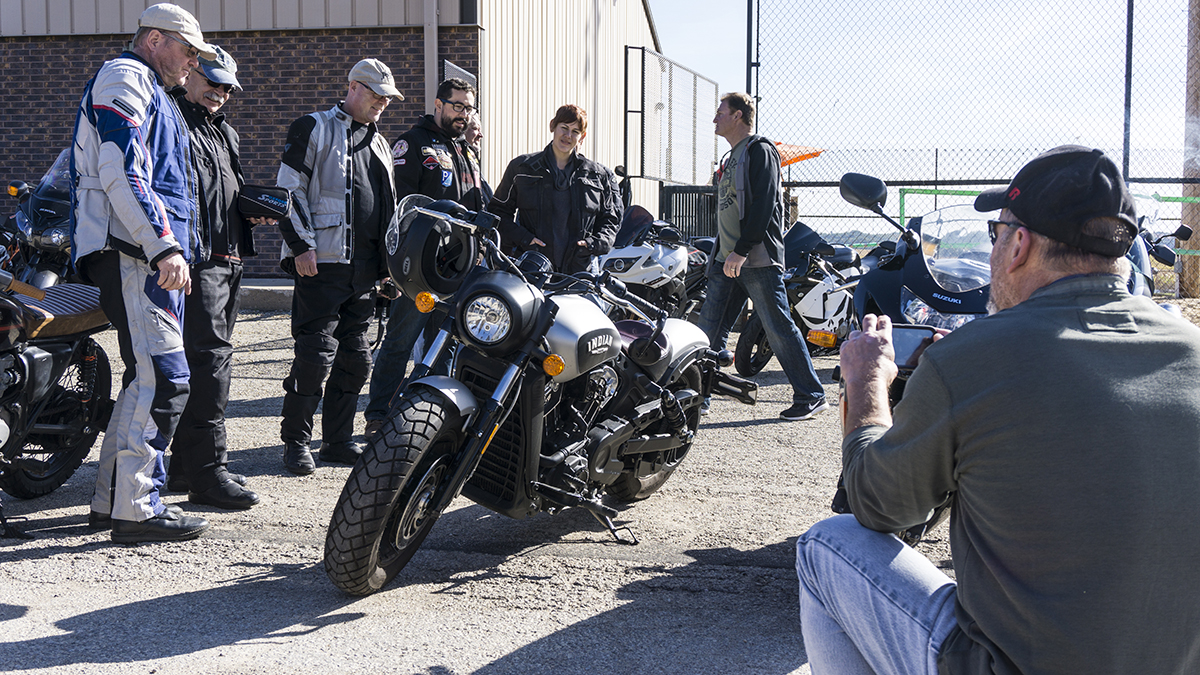 "Aren't you too tall for it?" "A bit."
"You rode this all the way from Minneapolis. Are you nuts?" "Some have made that assertion."
"What do you like best about it?" "The rush."
"Can I ride it?" "Uh, no."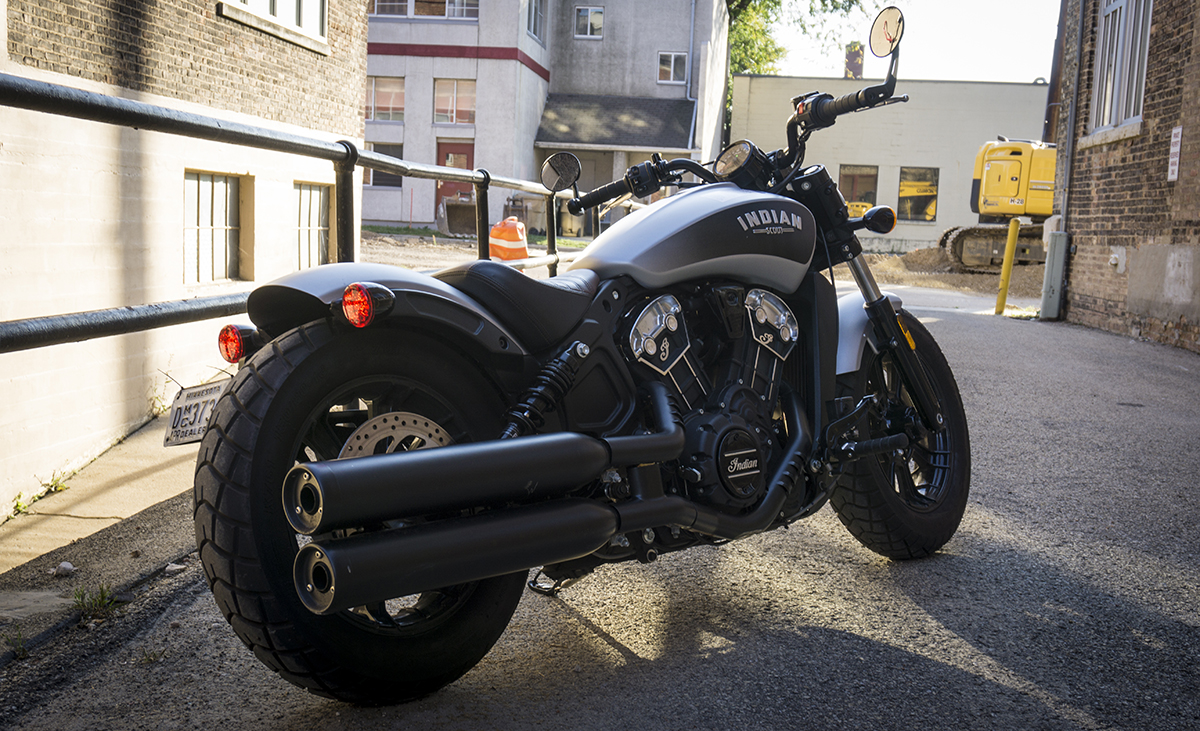 Having spent a little more than two weeks and nearly 1,000 miles with this beast, I can say that if I had a garage big enough – hell if I had a garage – I'd find a way to make the Scout Bobber fit. It is fast, fun, and damn good looking. It's everything an urban assault bike should be with absolutely no extraneous frills. What makes this bike stand out is what it doesn't have. There's no ABS, no traction control, radio, fairing or any other styling add ons. There's not even a fuel gauge. Sure you can put a saddle bag on it and add a pillion pad for a rear passenger, but really, why would you? In a vehicular world where seemingly too much is never enough, it's refreshing to ride a bike where less is damn near perfect. And yes, that applies to the length of the ride, too.
2018 Indian Scout Bobber
Single passenger, urban cruiser motorcycle
Base Price: $11,499
Price as tested: $11,999 (Optional star silver smoke paint)
Engine: 69 cubic inch 60º V-twin with closed loop fuel injection
Transmission: 6 speed manual
Wheelbase: 61.5 in
Seat Height: 25.6 in
Ground Clearance: 4.8 in
Overall Height: 45.4 in
Overall Length: 87.8 in
Overall Width: 36.5 in
Rake: 29°
Lean Angle: 29°
Trail: 4.7 in
Fuel Capacity: 3.3 gal
Weight (Empty Tank/Full of Fuel): 533 lbs / 554 lbs