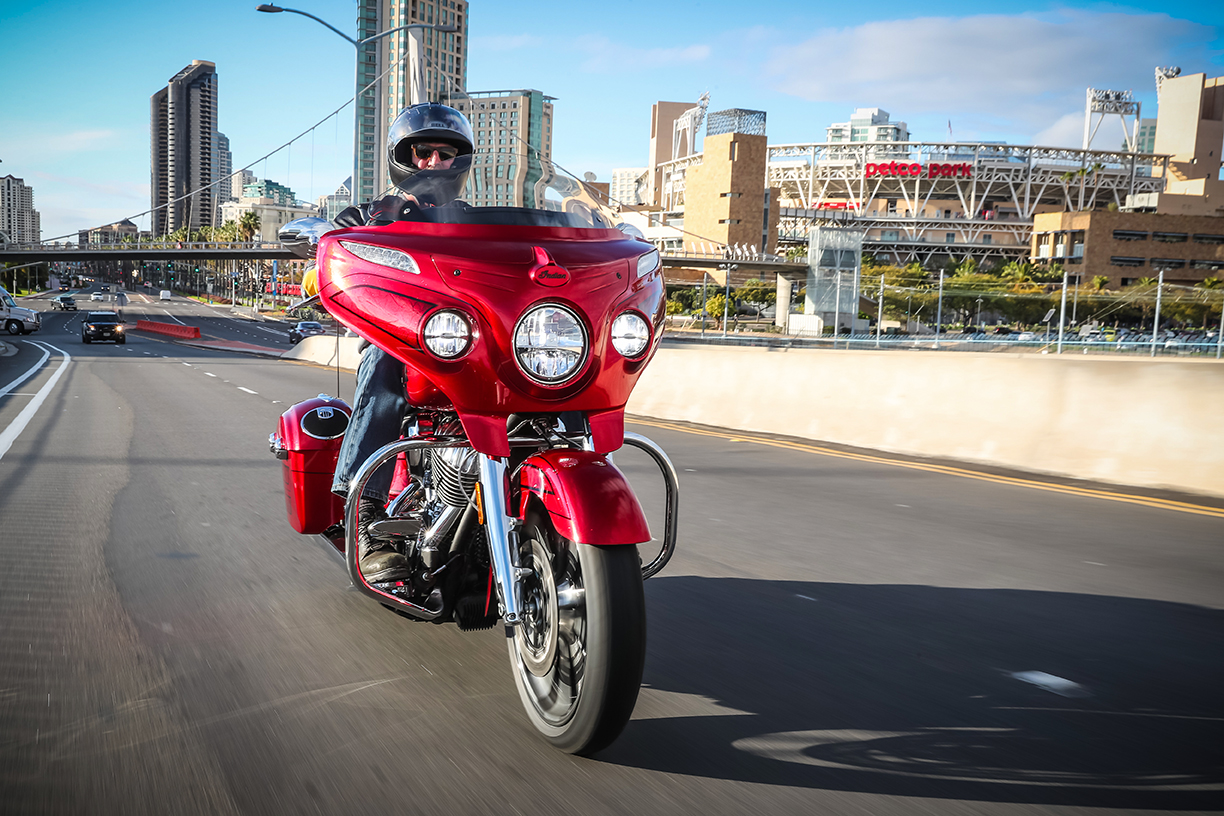 I'm going to start this out with an admission. I'm a sportbike rider. My personal ride is a Ducati SS and the closest I've come to riding a touring bike in the past 30 years is a BMW R1200 RS and that's way more sport than touring. But I'll ride anything anytime, especially when the event is in San Diego in mid-February, while there's snow on the ground and temperatures in the low teens at home in Wisconsin. So I packed my gear, hopped on a plane west and was ready to enjoy a day in the saddle of the biggest, heaviest motorcycle I've probably ever ridden, the 2017 Indian Chieftain Elite.
Indian has been making motorcycles since 1901, but unlike their competitors from Milwaukee, not continuously. Once the leading American motorcycle company and maker of the world's best-selling models, a series of missteps saw the company fall on hard times, closing its doors in 1953. From that point until 2011 a number of people and companies tried to resuscitate the company, but to no avail. That's when Polaris saw an opportunity, stepped in, and have made Indian a formidable player again in the world of motorcycles.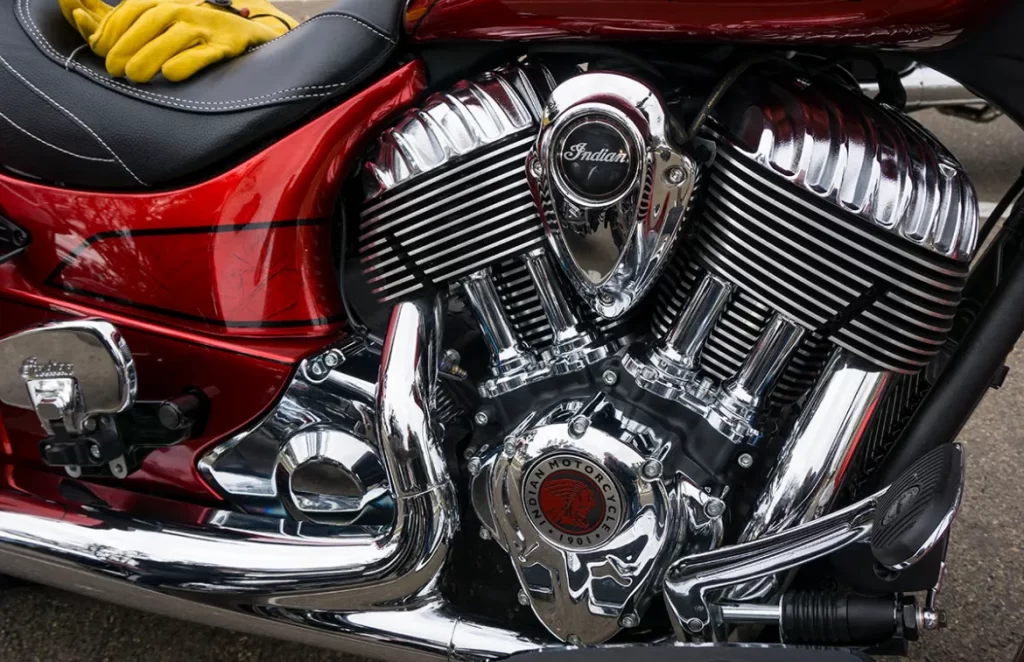 Polaris began by creating a new 111 cubic inch "Thunder Stroke" V-twin engine which is at the heart of all of its cruisers, tourers, and baggers. The Chieftain was launched in 2014 and was met with immediate approval from riders and journalists alike.
For 2017 Indian is taking the Chieftain over the top by introducing two new models, the Chieftain Limited and Elite. The Elite is the top of the line model with all the bells and whistles and a factory custom paint job that's as good or better than any you'll find from a custom paint shop. Taking 25 hours to complete each bike, the paint is put on in layers and the marbling effect is hand done, so each bike is unique. The Fireglow Red Candy paint lives up to its name and just glows in the sunshine, making the bike stand out from others on the road.
As for standard equipment, the Chieftain Elite has it all. The batwing front fairing includes a power windscreen that can be raised and lowered to protect you from wind and (as I found out) rain. Lighting is all LED making night rides just a little brighter. On the instrument panel, you'll find an easy to read analog speedometer and tach, along with a 7-inch touchscreen for the radio, navigation, bike information, and more. It offers split-screen technology so you can have up to 3 apps running at once. It also includes Bluetooth so you can run audio from your phone if you'd like.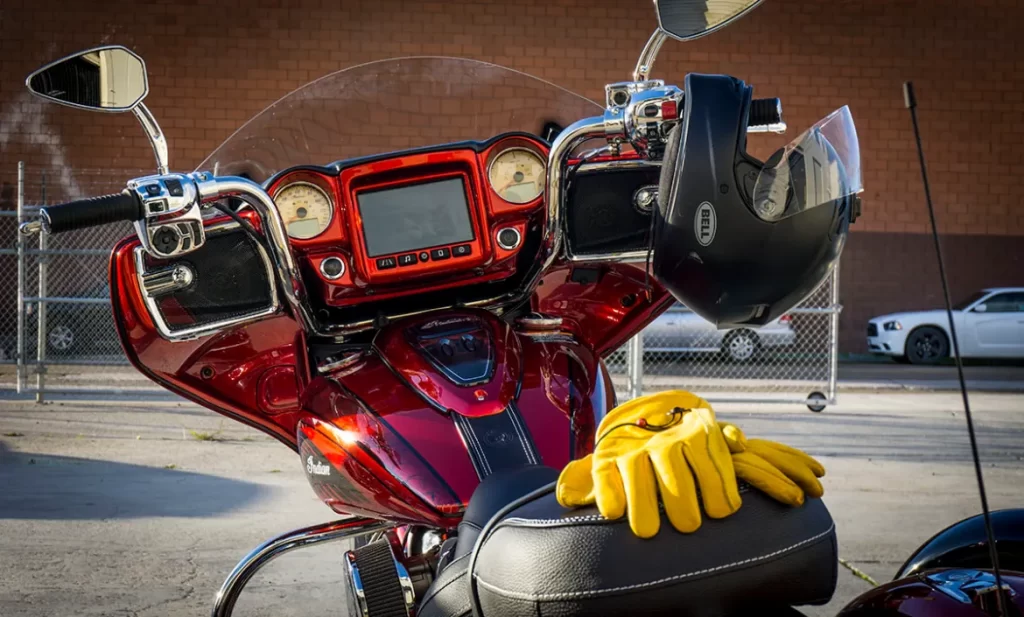 The audio system delivers 200 watts of power and sounds great whether you're just tooling around town or roaring down the freeway. There are two speakers in the fairing and two in the rear bags so effectively you get surround sound, and even with my full face helmet on and closed, I could hear the tunes playing clearly.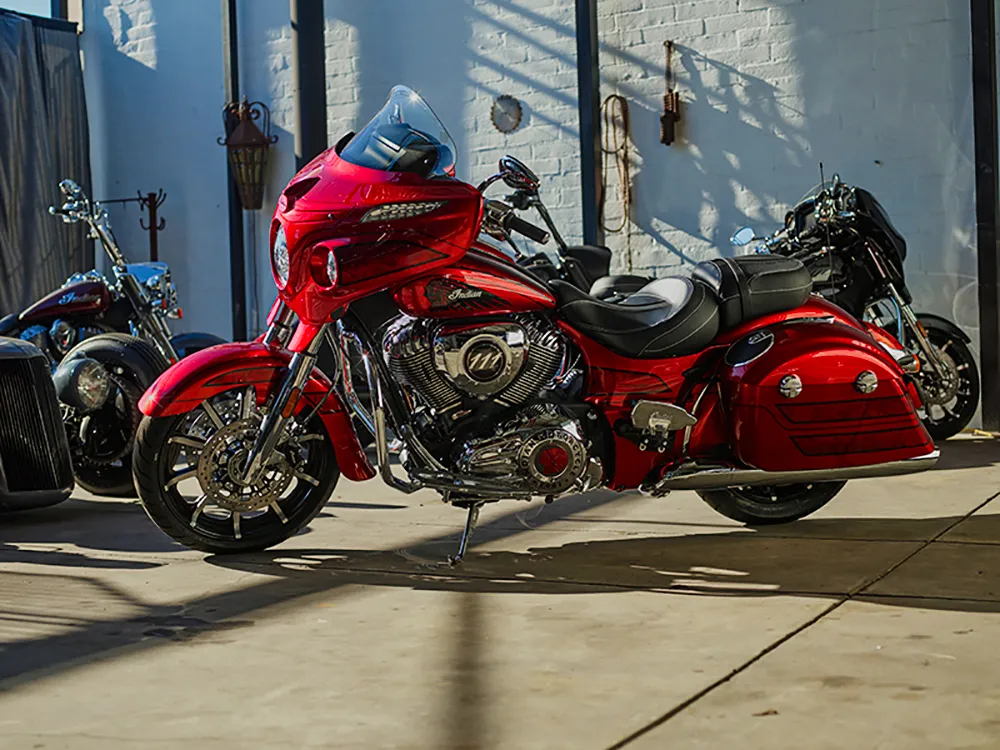 Other nice touches include full floorboards for the rider and passenger, keyless ignition and something I like, but others found out of character with the brand, the open front fender. I like the way it lightens the overall look of the bike and shows off the 19-inch, 10-spoke front wheel. Compared to Harley's the Indian design is much more fluid, with lots of sweeping curves and rounded edges. It has a classic look but doesn't feel trapped in time.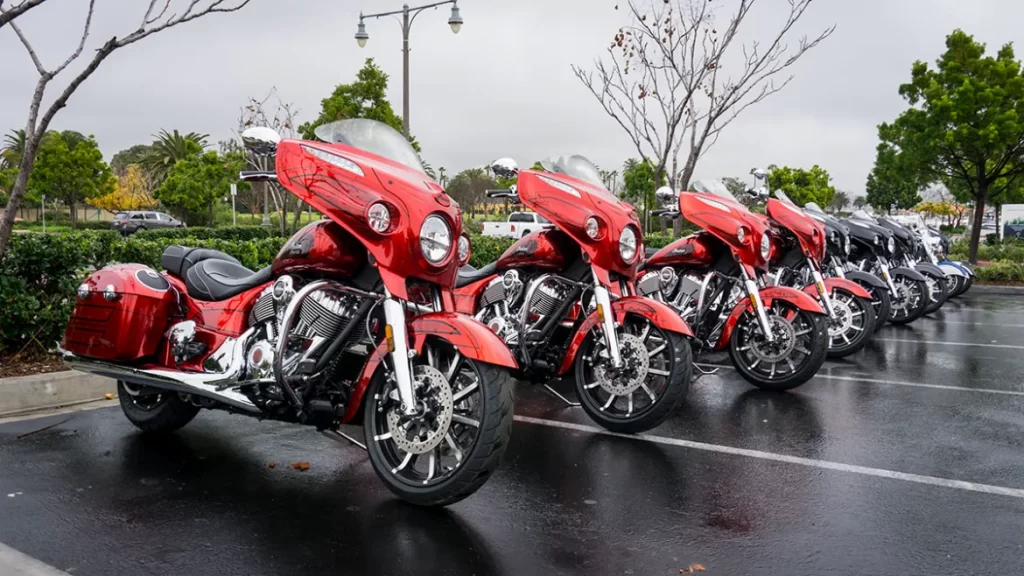 But as beautiful as it is, I didn't come to San Diego just to stare at the bike. And even though I woke the morning of our ride to a driving rainstorm, I was going to spend the day in the saddle.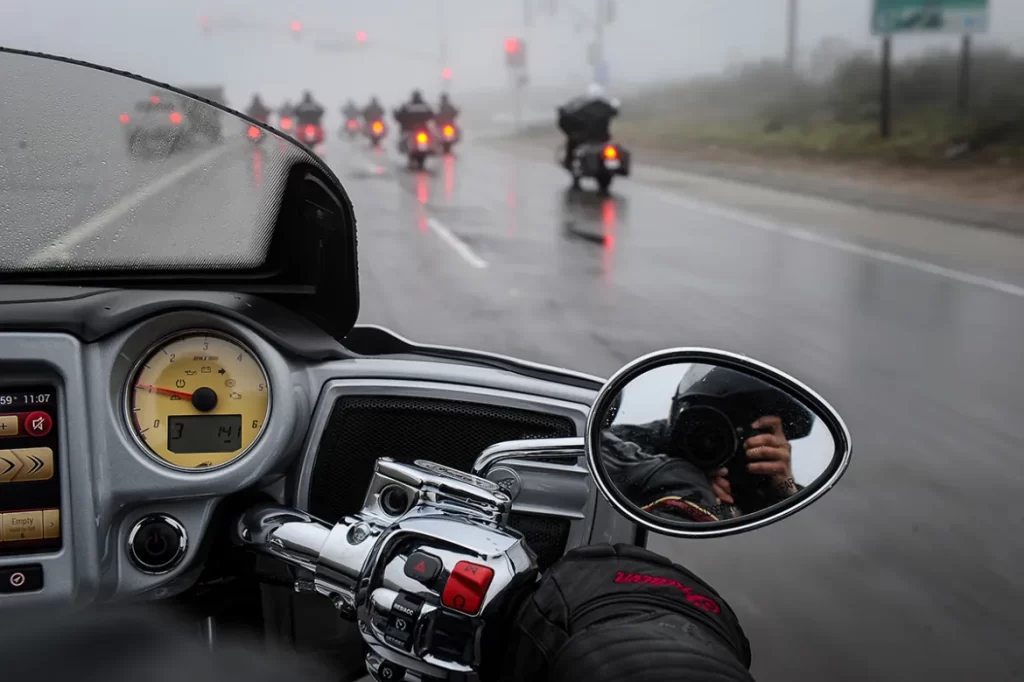 We all came equipped with rain gear, and the aforementioned fairing did a great job of keeping my hands dry. Rolling east into the mountains outside the city it didn't take me long to get a feel for the big bagger. Weighing in at 831 pounds the Chieftain Elite is more than twice as heavy as my Duc. I was worried initially I'd struggle with cornering not being used to such a heavy bike, but with its great balance and low center of gravity, guiding the bike up the slippery mountain roads was no problem. As things dried out later in the day, I became more adventurous really testing the limits of cornering while doing some figure eights and other maneuvers just for fun.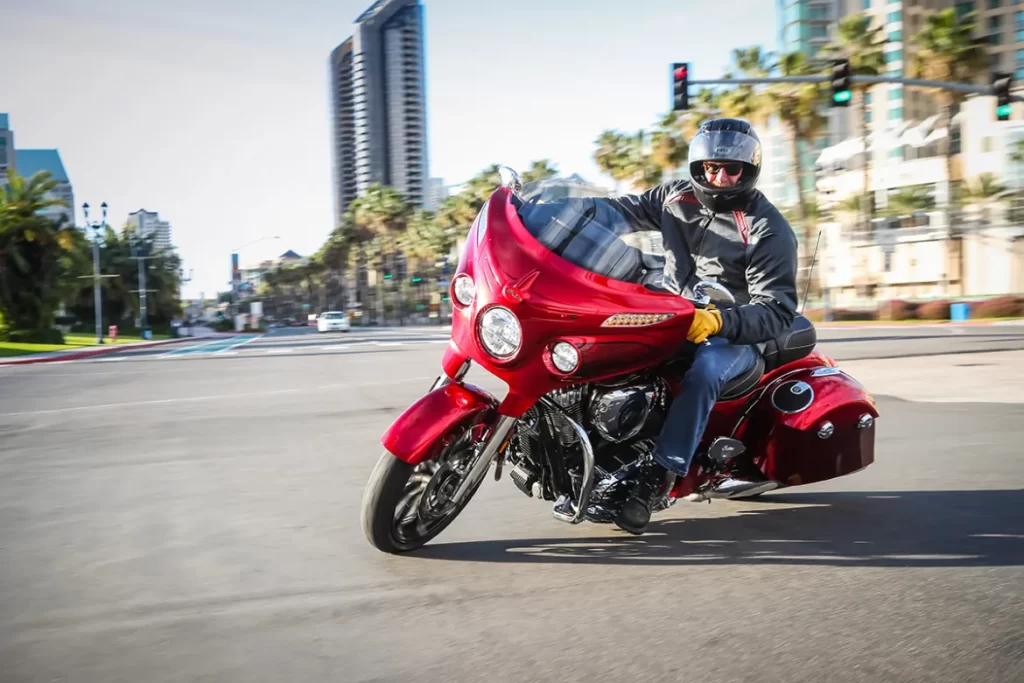 While cornering is confident and easy, that's not what this bike is all about. It's a cruiser, designed to go long distances easily and comfortably. That it does. The V-twin pumps out 119 lb.-ft. of torque at 3,000 RPM so there's plenty of grunt to haul you and a passenger without breaking a sweat. And set the cruise control at 70 miles per hour and that engine is barely breathing hard hovering around the 2,000 RPM mark.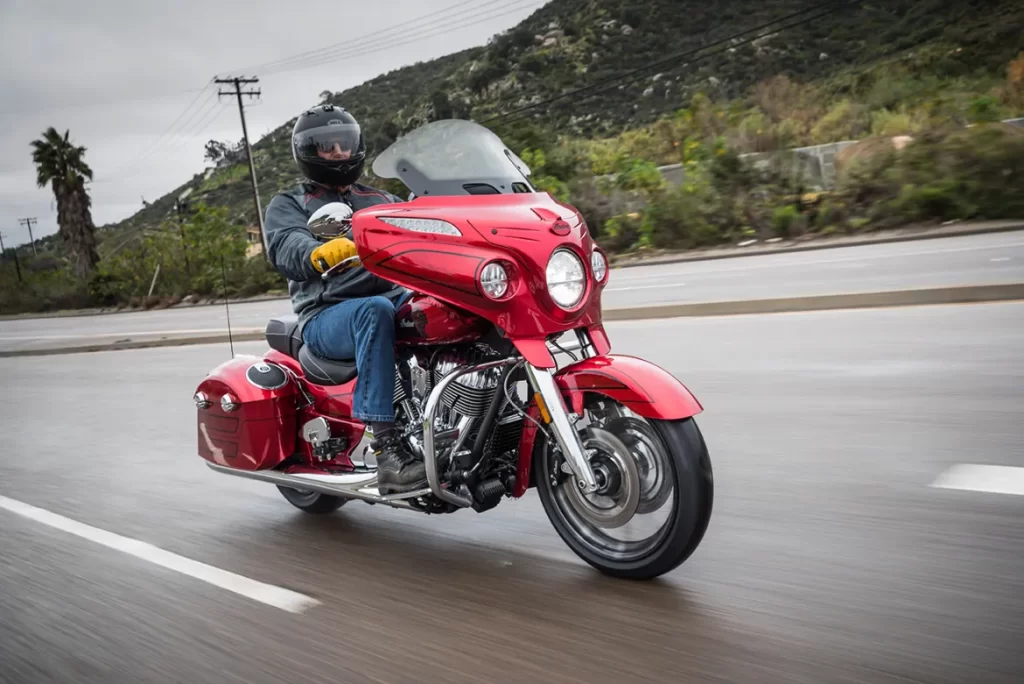 In addition to performing well, the engine also makes a wonderful, glorious noise. With a true dual exhaust, it rumbled aggressively at low speed without being obnoxiously loud. Snap open the throttle and it cracked and roared, bringing a big smile to my helmet covered face. Opt for the performance edition and things get even wilder with a high flow air cleaner, stage one exhaust, and high performance cams. The difference is pretty astounding. To ensure you can manage the weight and power, the Chieftain Elite has dual 300 mm discs up front each with a 6-piston caliper and a single disc in back with a 2-piston pincher. Hauling the bike down from freeway speeds was a breeze, with a smooth, progressive lever feel.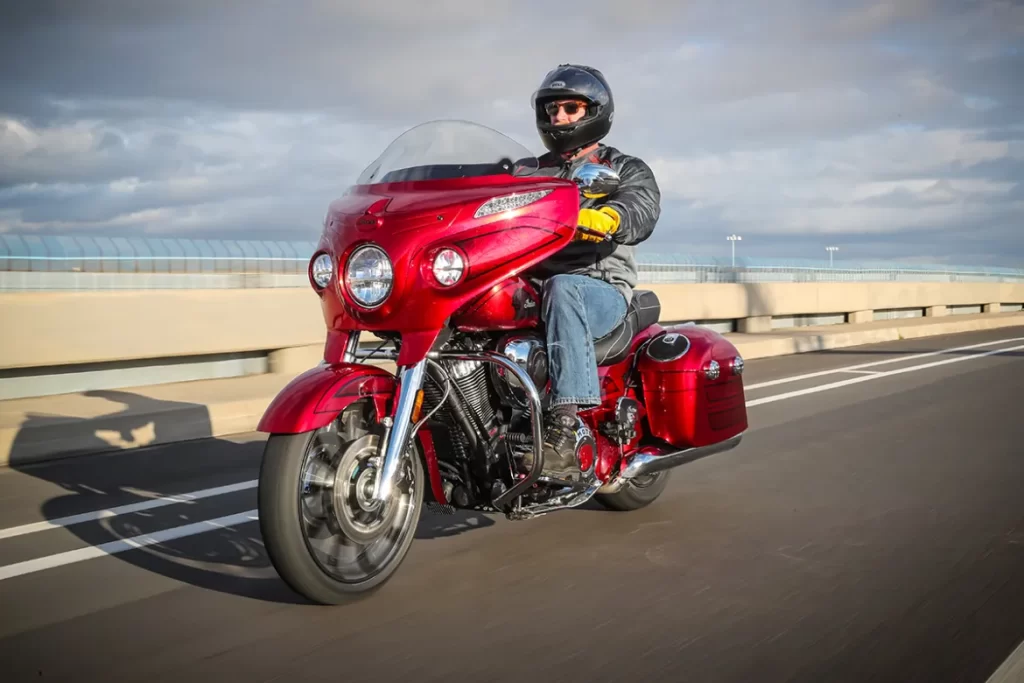 I'm more used to riding bikes leaning forward with my feet beneath me. On the Chieftain Elite, the riding position is classic touring, slightly back with your feet in front. It didn't take me too long to get used to that, but I did feel a little cramped with the low saddle height. Now admittedly, I'm 6'3" with a 36-inch inseam, so I don't fit on many bikes perfectly. On this bike toward the end of the day, I found myself having to sit up on the rear saddle every so often to stretch my legs.
The bottom line is that the engine on the Chieftain Elite is a powerful work of art, the paint is stunning, and it rides great. At $31,100 it's not a cheap toy, but they're only making 350 of them so at least you'll be the only rider in your group with one. And in motorcycling, exclusivity counts.