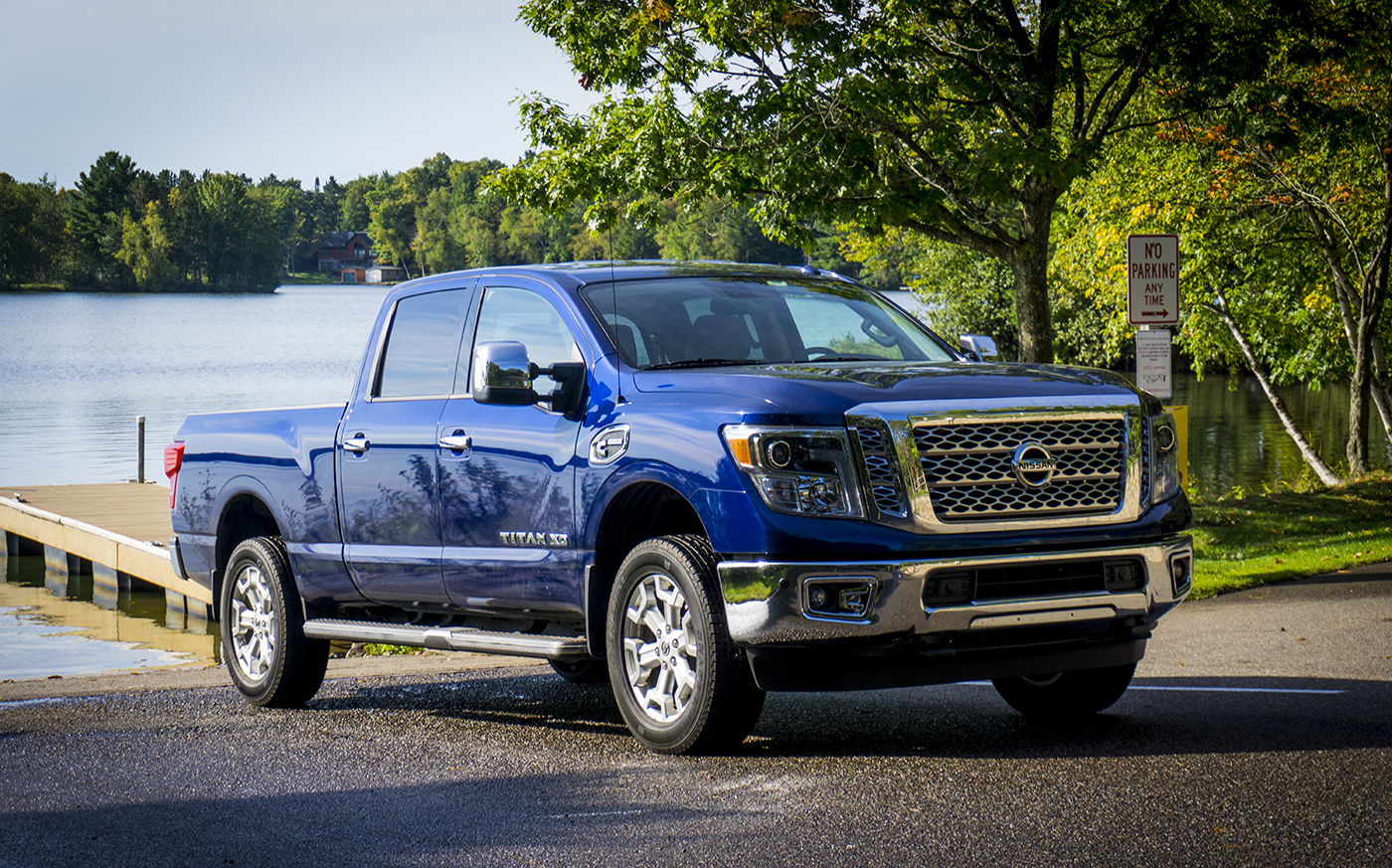 "It's silly not to hope. It's a sin he thought."
― Ernest Hemingway, The Old Man and the Sea
I woke before the sun on a Tuesday morning hearing a loon calling to its mate somewhere out on Squash Lake. It was the only noise in my universe at that moment. The water, just 50 paces from my bedroom window, didn't make a sound. The leaves on the birch trees, starting to turn from green to a pale yellow, were perfectly still. Staring through the open window, I could tell there wasn't a cloud in the sky and the chilly air that entered the room let me know the temperature had fallen significantly from the mid-80s we'd experienced the day before on our drive up north.
This was the kind of weather we hoped for when Mike Massey, Bruce Geiger and I loaded up the Nissan Titan XD 4-wheel drive crew cab pickup truck for our trip to Rhinelander, Wisconsin in search of the elusive Muskellunge. Driving in the rain, we knew a front was moving through. We just didn't know what was on its back side. It turns out, the coming weather was good. No, not good. Perfect.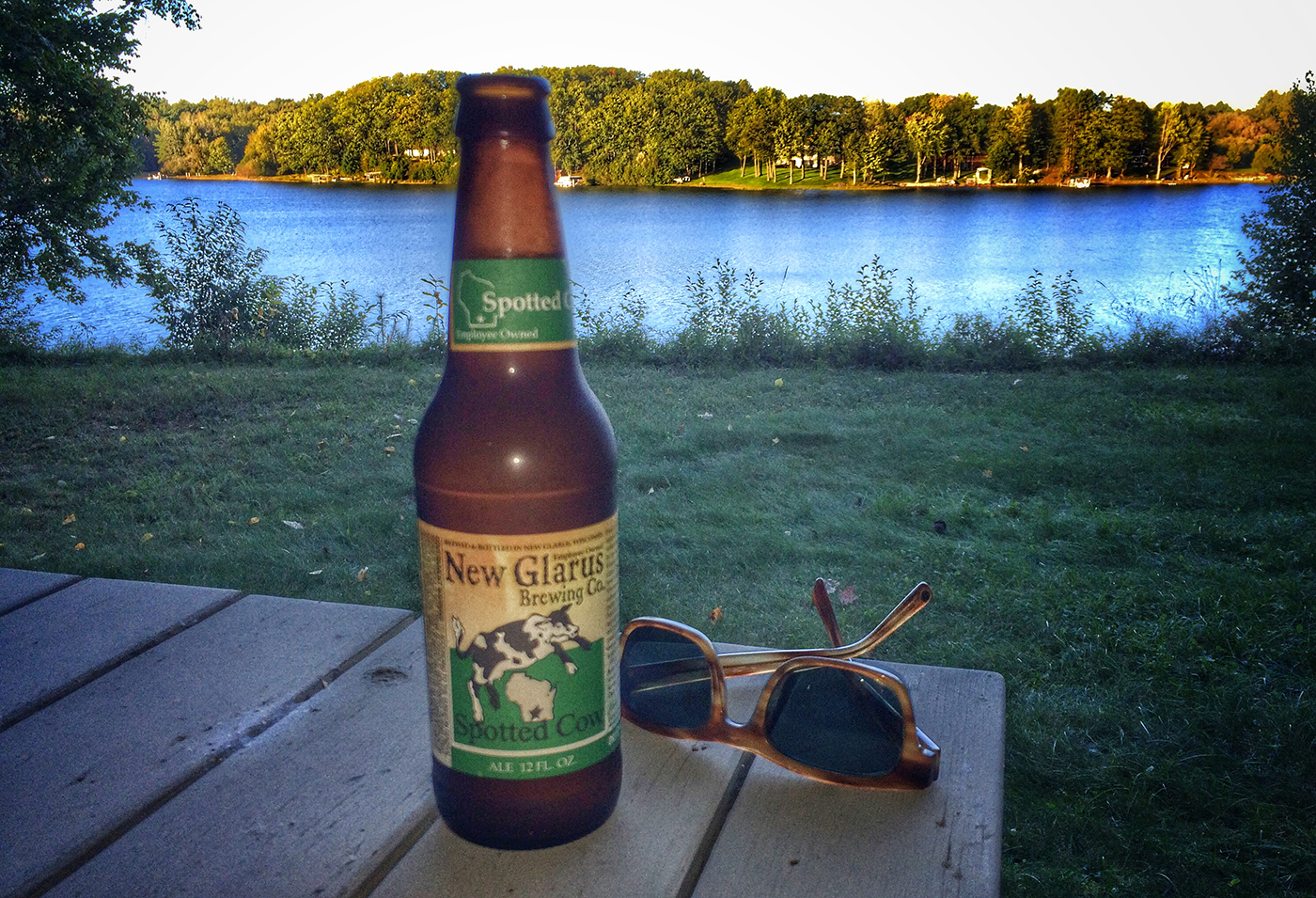 It had started to clear as we pulled up to the cabin the previous afternoon. Mike, ever the impatient fisherman, immediately grabbed his tackle and headed down to the dock on Squash Lake. After taking my bag and the cooler into the house, I joined him as well. I put a small Mepps spinner on the end of my ultra-light tackle, hoping to catch a bass, some panfish or possibly a small pike as a warm up to tomorrow's muskie hunt. After a few casts, my thirst overcame me and I headed up to the house in search of a frosty adult beverage. While Bruce and I were in the house, a shout came from on the dock. We stepped outside to see Mike holding what Bruce said was the biggest bass ever caught from his dock. Not a bad start to our adventure.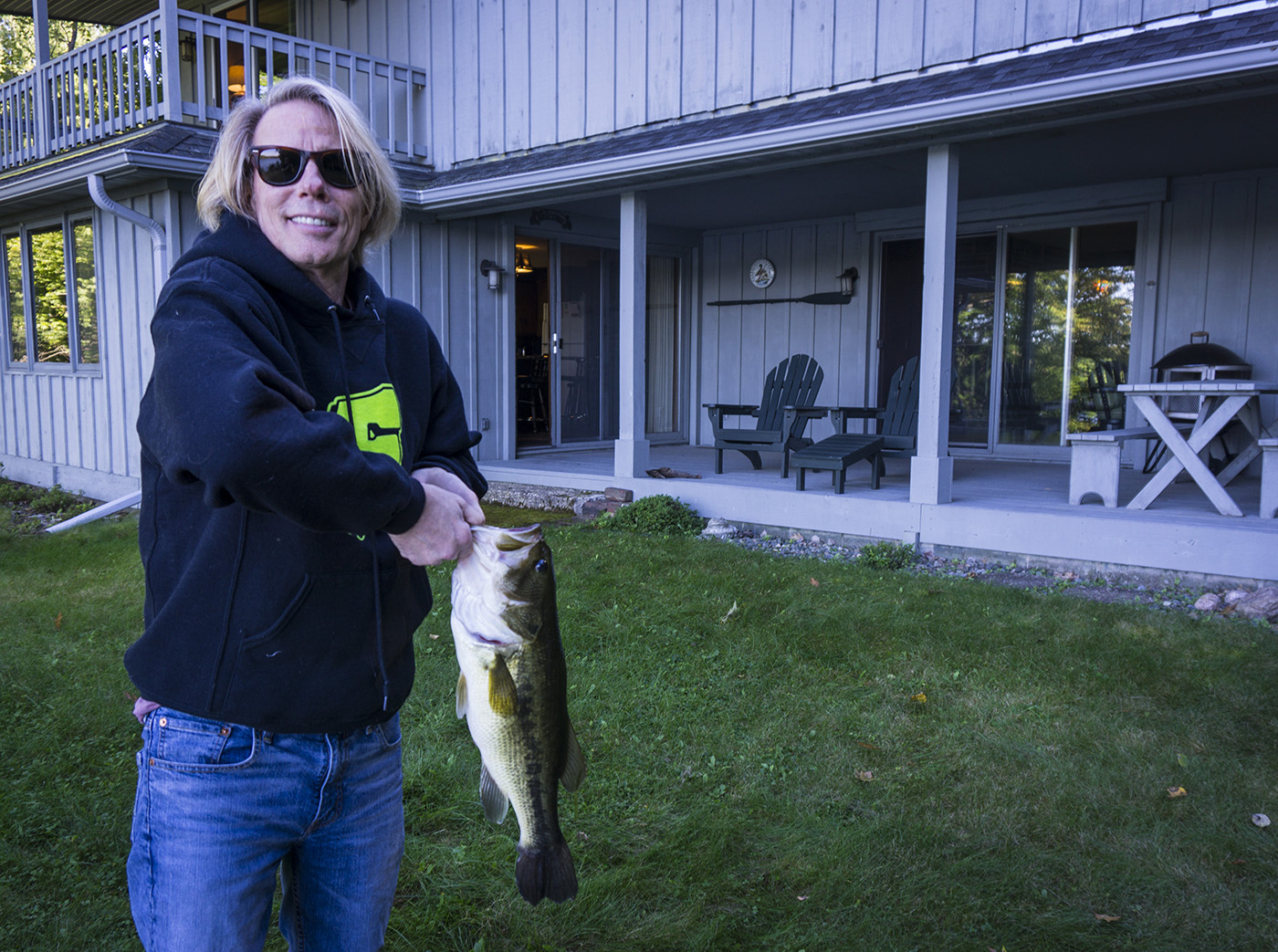 "Anyone can be a fisherman in May."
I wasn't up long before Bruce joined me in the kitchen, putting the water on to boil, grinding the coffee and getting the pot ready for our morning joe. It was his cabin, passed down to him from his in-laws. He is trying to sell it, but while it sits on the market we are lucky enough to be able to enjoy it. It bears all the hallmarks of a Northwoods Wisconsin retreat that was built in the early 1970s. On the floors, shag carpeting covers everything that isn't vinyl. The walls wear dark wood paneling, of course, and are adorned with fish caught by his father-in-law over the years. The house is a magnificent time capsule that will almost certainly, and sadly, be gutted and updated when it eventually sells.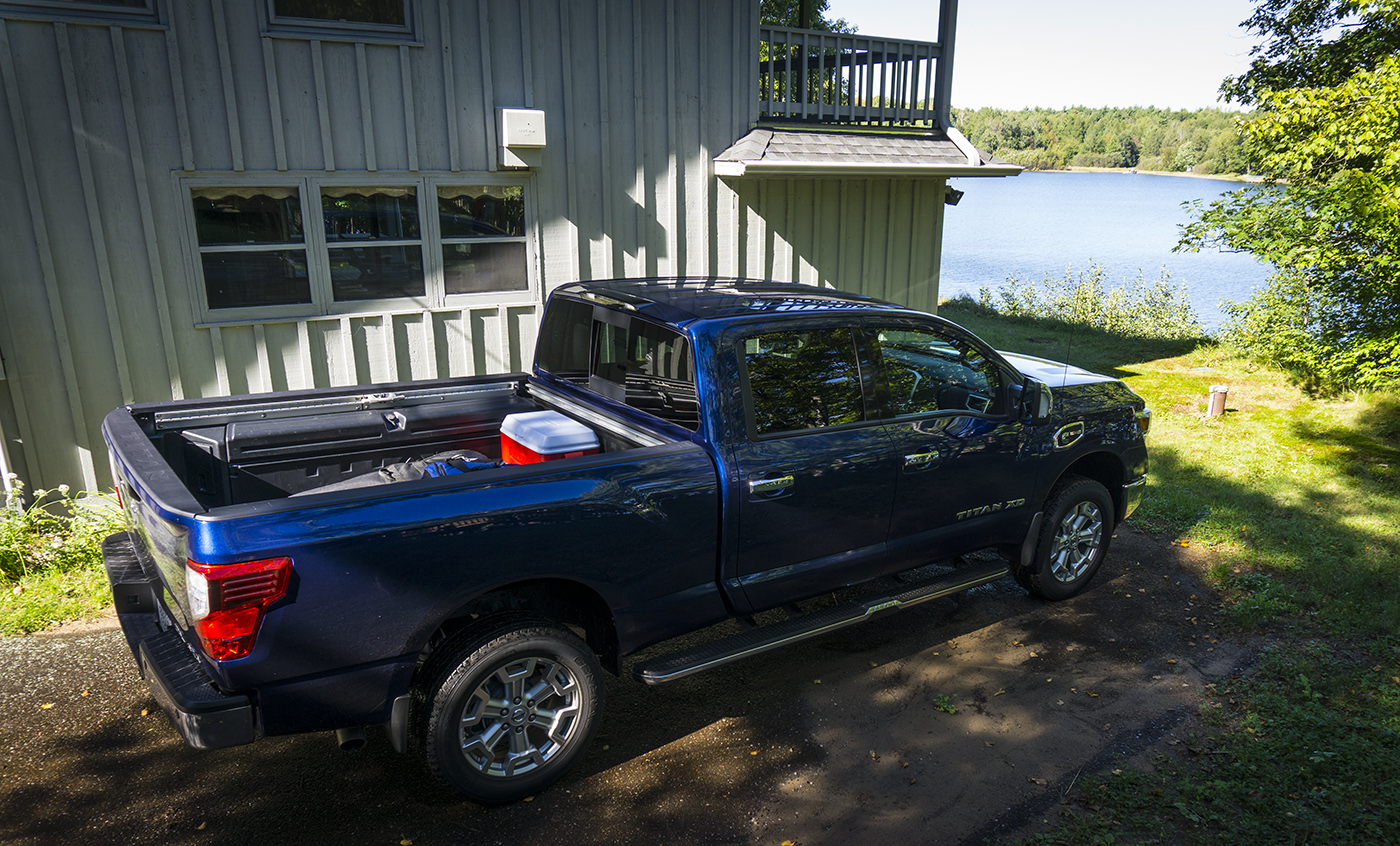 As the aroma of the coffee wafted up the staircase, we heard Mike begin to stir. Seven A.M. was an unusually early call time for him. Mike is a professional musician. A piano player who pays his mortgage by banging on the keys until the wee hours of the morning in bars, lounges, and festivals around the state. He usually sees the sun rise before going to bed, not after waking up. Though well past 50 like me, Mike still has a youthful gleam in his eye and you can see why in the early '80s an A&R guy at Atlantic Records saw worthy of signing him and his rock band, Chaser, to a contract. Unfortunately, fame never found the band. But Mike found a great life in Madison making music and helping young musicians chase their dreams. Bruce and I have been lucky enough to be able to join him on stage on occasion. That's actually how we met.
When I moved to Madison in 1990, Bruce and I lived a few blocks from each other. At a neighborhood cocktail party one evening we discovered we both played guitar in bands when the song "The Weight" by The Band came on the stereo and we each commented how much we liked playing that song. We put together a neighborhood garage band and asked Mike to be our ringer for a 4th of July show. I'm not sure whether it was out of pity or curiosity, but he accepted. Over the years we've played a number of shows together including a memorable week at the Wigwam Resort in Baudette, Minnesota where we spent our nights on stage entertaining tourists and our days on Lake of the Woods catching Northern Pike. It was there we decided we had to take on the challenge of catching the most prized fish in these upper midwest waters.
"My big fish must be somewhere."
Muskellunge, or muskies as they're commonly called are big and angry looking fish. The record for a muskie caught in Wisconsin is 69 pounds 11 ounces and 63.5 inches long. Over 40 inches is considered a big fish. Most people look at fish over 54 inches as trophies. Known as the fish of 10,000 casts, they are hard to catch even in water where they are known to exist, so the fact that we were shut out last year, though a disappointment, did not come as a surprise to any of us.
When you're hunting for a fish like this in an area that you're not completely familiar, your best bet is to hire a guide. Even if you know the area as Bruce does, a guide is probably a good idea. Our guide, Clint Burns, knows the waters and how they change depending on the prevailing conditions. Temperature, barometric pressure, cloud cover, and water clarity can each have an effect on how the fish behave. Only a pro who's done this for years can get to know the patterns increasing your odds of success. The other benefit of hiring a guide is the gear. He brings it all. Equipment required to land one of these beasts does not come cheap. The boat, rods, reels, lures, nets and everything else adds up quickly, so the economics of hiring a guide make a lot of sense if you're just going out one or two weekends a year.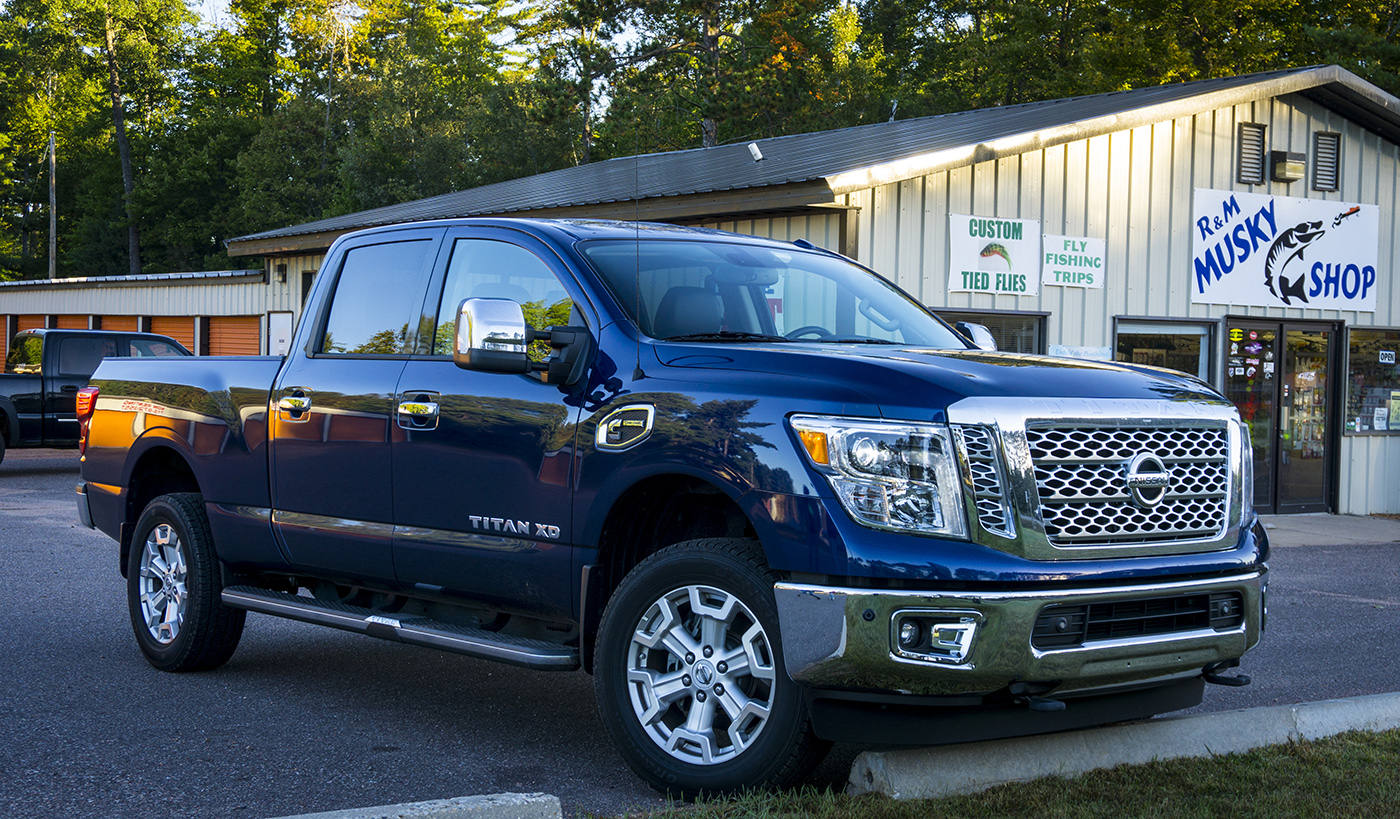 If you have a boat, you'll also need a truck to haul it with. While we didn't have to do any towing, I did secure the use of a 2016 Nissan Titan XD diesel for the trip, because one can't go into the northwoods ill equipped.
In the world of trucks, the Titan is kind of a tweener. It's a full-size crew cab pickup that seats five grown men comfortably. Decked out in its Platinum Reserve trim, ours had all the bells, whistles, and creature comforts one could expect from a truck this size. Looking very regal in Deep Blue Pearl paint, our four-wheel drive Titan was equipped with a Cummins 5.0 liter turbodiesel engine that delivers a modest 310 horsepower and a perfectly adequate 555 lb.-ft. of torque. That's what makes this truck a tweener. In most segments of the automotive world, those numbers are beefy. In the world of full-size diesel pickups, however, they're just "meh."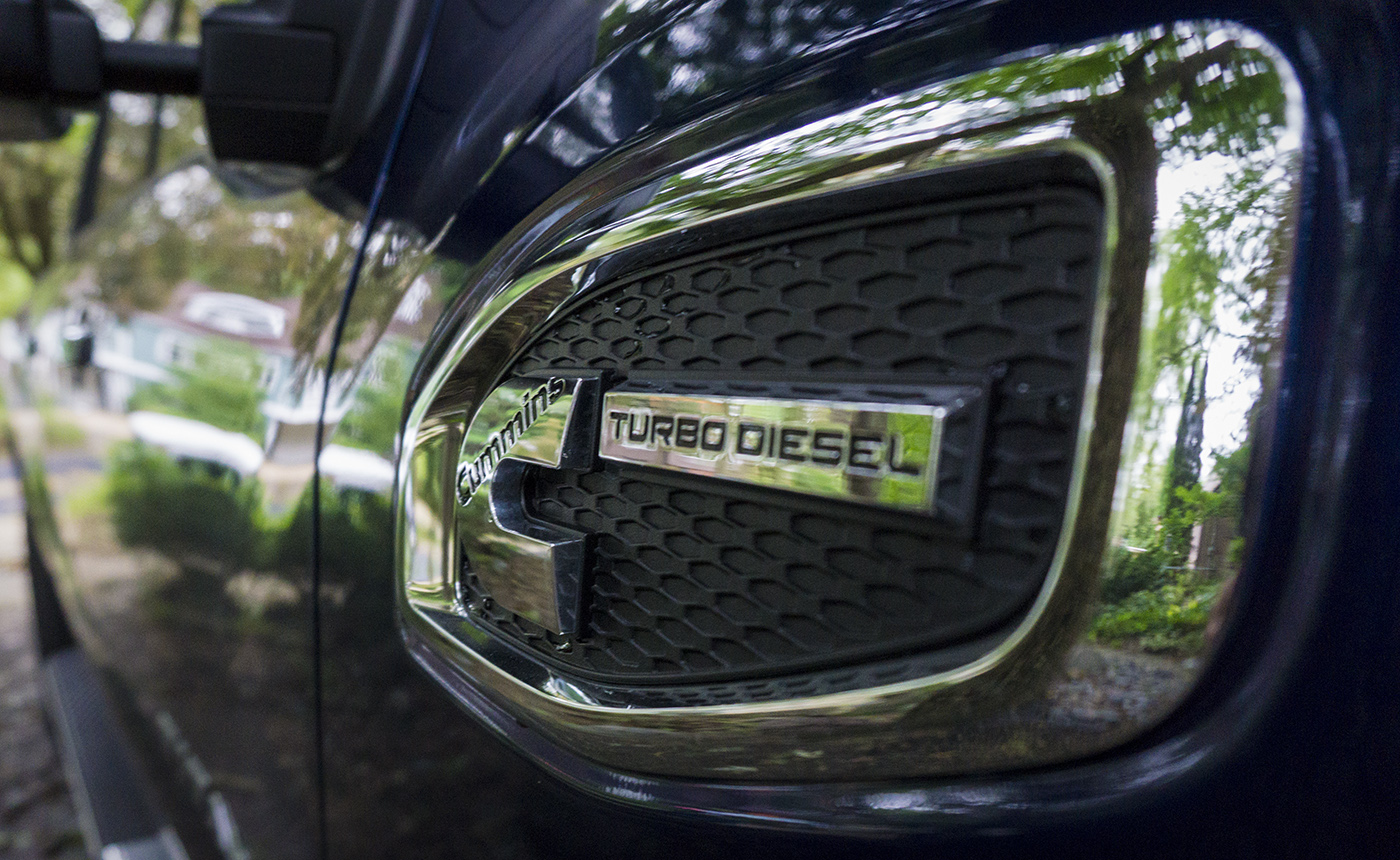 The GMC Sierra Denali 2500HD has a 6.6 liter Duramax diesel that puts out 910 lb.-ft. of torque (the number that really matters to truckers), and the Ford F-250's 6.7L diesel makes 925 lb.-ft. of torque. The Ford can tow up to 16,500 pounds, while the Nissan is limited to just 12,314 pounds. But let's be honest here. All three will tow a fishing boat capable of holding four anglers without breaking a sweat. A boat like the one we fished on including the engine, trailer and all gear you want to toss on board weighs less than 6,000 pounds. So unless you're planning on towing a cabin cruiser, Caterpillar road grader, or the Statue of Liberty, the Titan will work just fine.
"He did not say that because he knew
that if you said a good thing it might not happen."
We drove the Titan, with its heated leather seats taking the edge off the early fall chill, about 30 miles to Eagle River, Wisconsin where we met Clint at the R&M Musky Shop. (Apparently either spelling is acceptable; I prefer muskie.) His boat was a well-used Tracker sporting a Mercury Optimax 115 that would get us anywhere we needed on the chain of lakes in a hurry. In addition to being an expert fisherman, Clint could also handle a trailer like nobody's business. Part of muskie fishing is moving quickly from spot to spot and from lake to lake which requires you to put your boat in and pull it out quickly to cover as much ground as possible each day. It's always fun to watch a master at work no matter what his trade.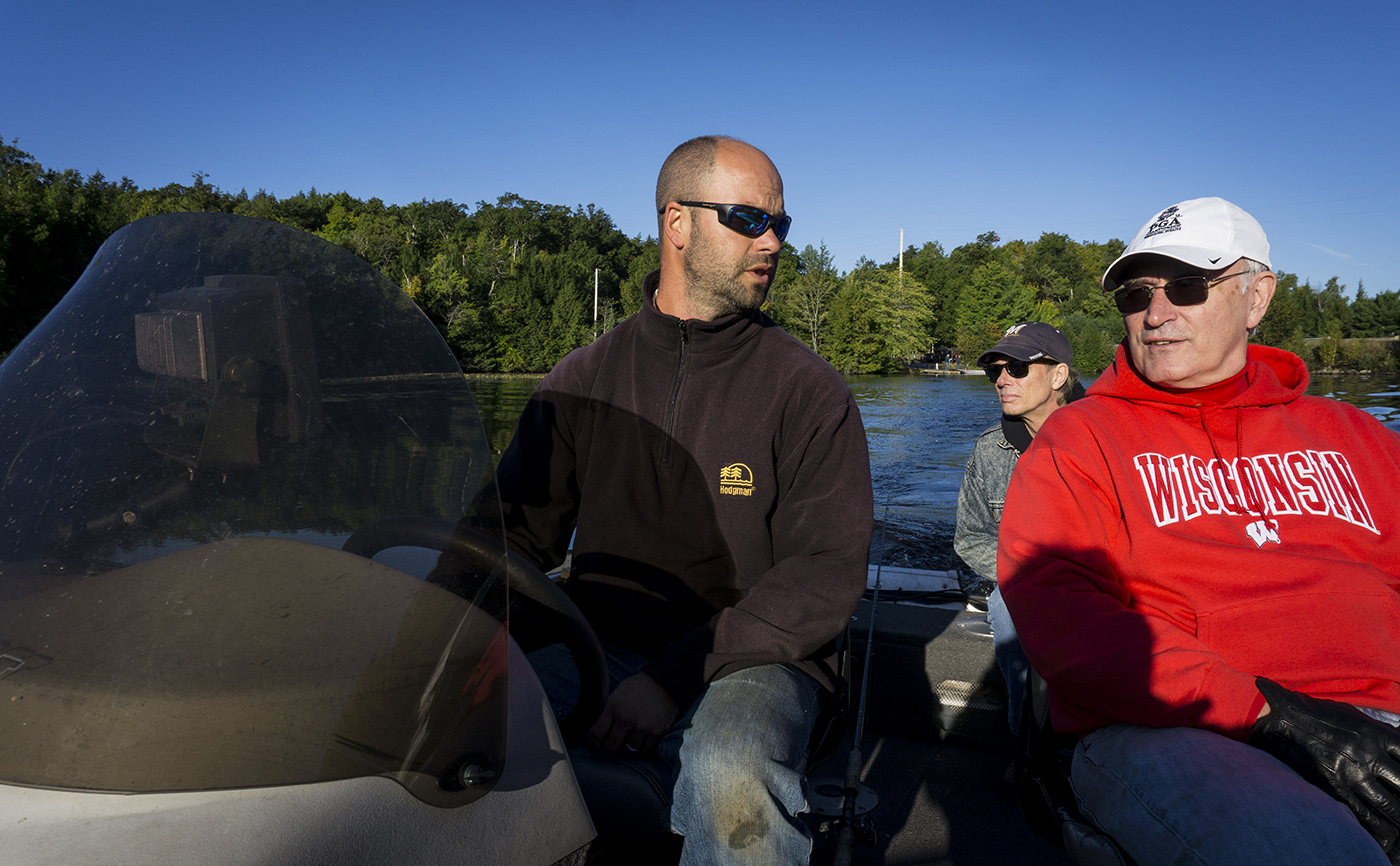 The boat in the water, we headed out on a chain of lakes through a narrow channel with wisps of steam rising from the warm water into the cooler air. Once in the open water, Clint hit the throttle and the two-stroke roared to life carrying us to our first fishing spot. Before handing us each a rod with a baitcasting reel, Clint gave us brief demonstration. With just a flick of his wrist the lure sailed what seemed an impossibly long distance towards the grassy shallows. Then we each took a turn, barely able to exceed half his distance on our first toss. With practice we got better, but still nowhere near the distance and accuracy of his studied hand. If you've never used a baitcaster before, it can be a challenge and more than once each of us missed our release point resulting in the line becoming a bird's nest inside the reel's cage. Fortunately, Clint equipped his gear with braided line that untangles easily.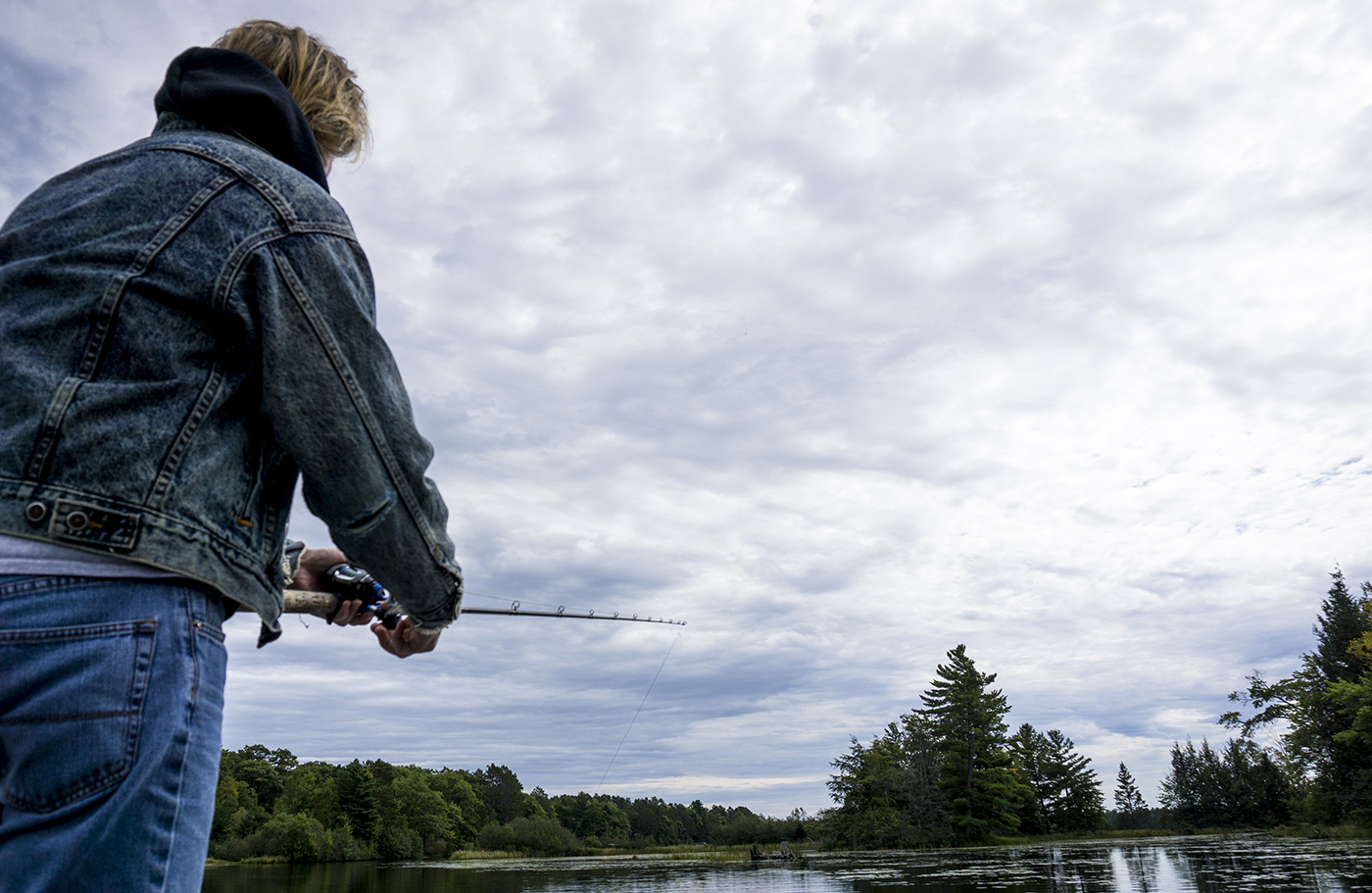 "Pain does not matter to a man."
And thus began a day of casting, reeling, casting, reeling, casting, reeling, casting, reeling for hours on end. Our first lure hit the water at 8:10 A.M. and though we'd had a few follows, one strike, and landed a small Northern Pike, we were muskie-less when we pulled the boat out of the water for lunch at 1:00. Patience is the watchword when it comes to fishing for muskies. But the rewards for a day on the lake go well beyond the potential prize at the end of a line. During our morning we were treated to the sight of a bald eagle swooping majestically in front of our boat and then coming to rest near the top of a northern Pine. We took this as a good omen for our afternoon.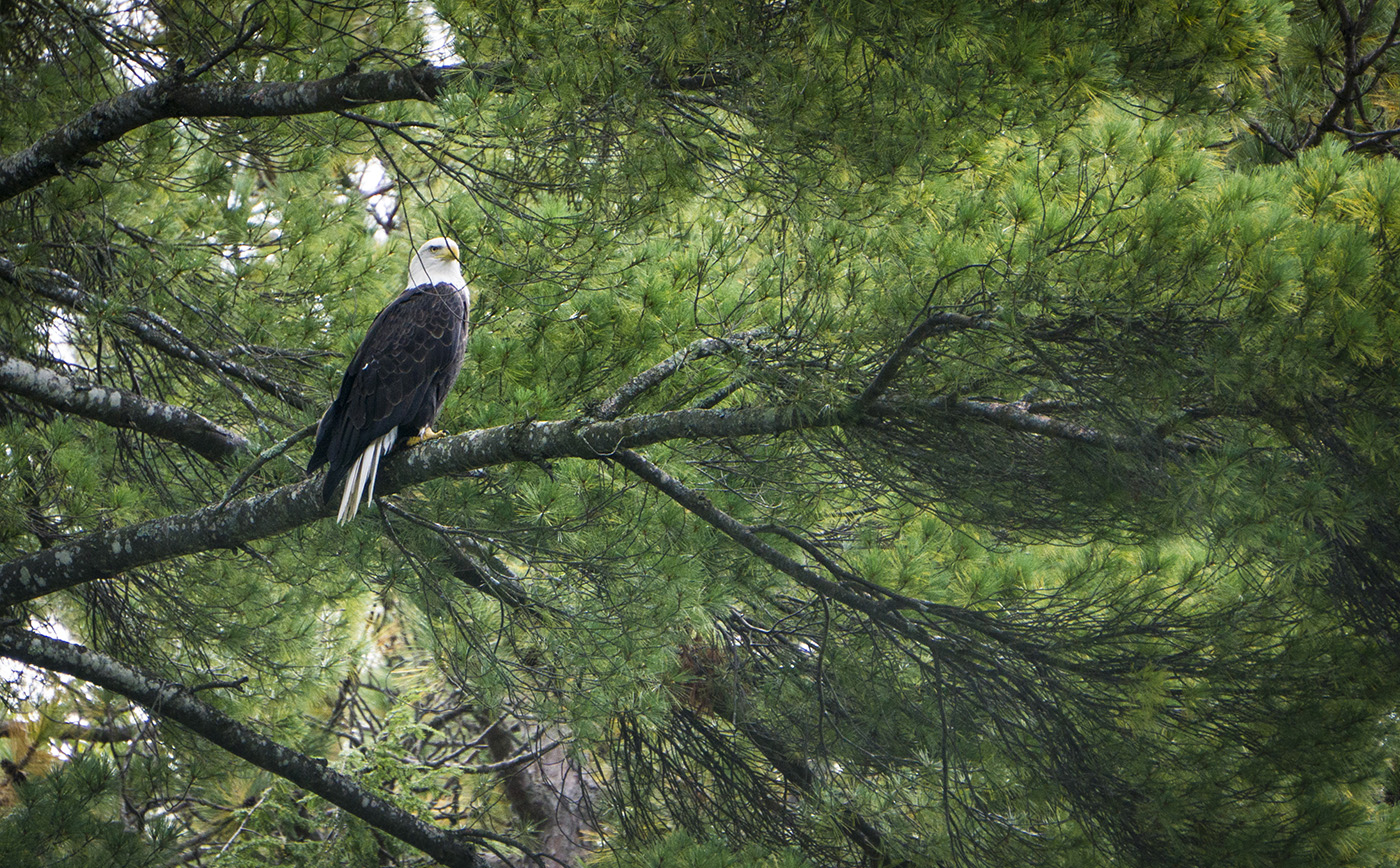 "It was considered a virtue not to talk unnecessarily at sea."
Lunch completed, Clint had a hunch and took us out to a smaller lake where he knew at least a couple of sizable muskies roamed the murky waters. Boot Lake measures just 230 acres and has a maximum depth of 38 feet. Its edges provide the kind of cover Muskies prefer, a mix of tall grasses and lily pads. Clint powered down the Mercury and put the bow-mounted, electric trolling motor into the water. We slowly, methodically began a clockwise circle of the lake from the boat ramp along the southern shore. Few words were exchanged as Mike, Bruce and I cast our lures toward the edge of the weeds and Clint offered advice only when needed. This was a nice change from our previous-year's guide who seemed to be allergic to silence, filling every pause with nervous banter. One of the joys of a day of fishing, especially on a remote northwoods lake, is just being there. Listening to the wind in the trees, the water lap against the side of the boat, and the lures whistling through the air before they break the lake's surface with a loud slap. During the morning I had been casting a bucktail spinner, but for our afternoon Clint suggested a classic muskie lure, the Hawg Wobbler, a split minnow style temptress that wiggled back to the boat in a way that would make Shakira jealous. Bruce replaced his minnow with a brown, frog-like rubber lure Clint designed himself and called "Chocolate Thunder" and Mike stuck to his trusty Spinnerbait.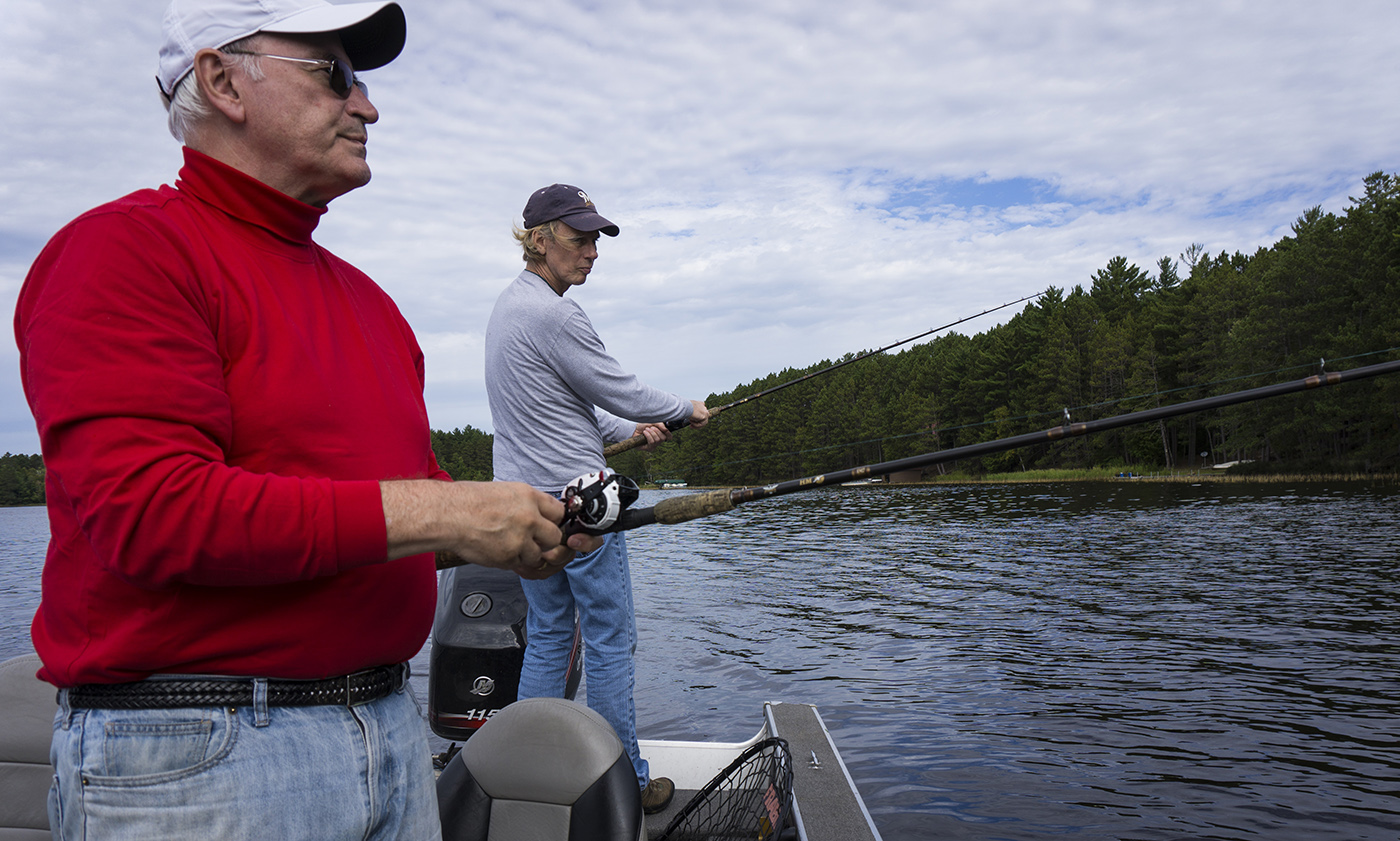 "The setting of the sun is a difficult time for all fish."
We could see rain approaching from the west and the late afternoon sun was shrouded by the fast moving gray clouds. So even though our arms were growing tired after hundreds of casts, we continued on, knowing the only way to catch a fish is to put a lure in the water. At about four o'clock, I spotted a hole between two weed beds and threw my Hawg Wobbler into the opening. I began a slow retrieve when Clint calmly said, "Keep going." Just then I saw the glint of green and gold crest the surface a foot behind my lure. A moment later the water was boiling as the muskie struck the lure hard. Taking a beat after the initial strike, I gave the rod a solid tug to set the hook and began reeling the fish toward the boat. He fought hard, leaping once in an attempt to spit the lure, but he had taken it deep and there was no chance of that happening. Clint grabbed the net and just seconds later the muskie was in the boat. We removed the hook and took our first good look.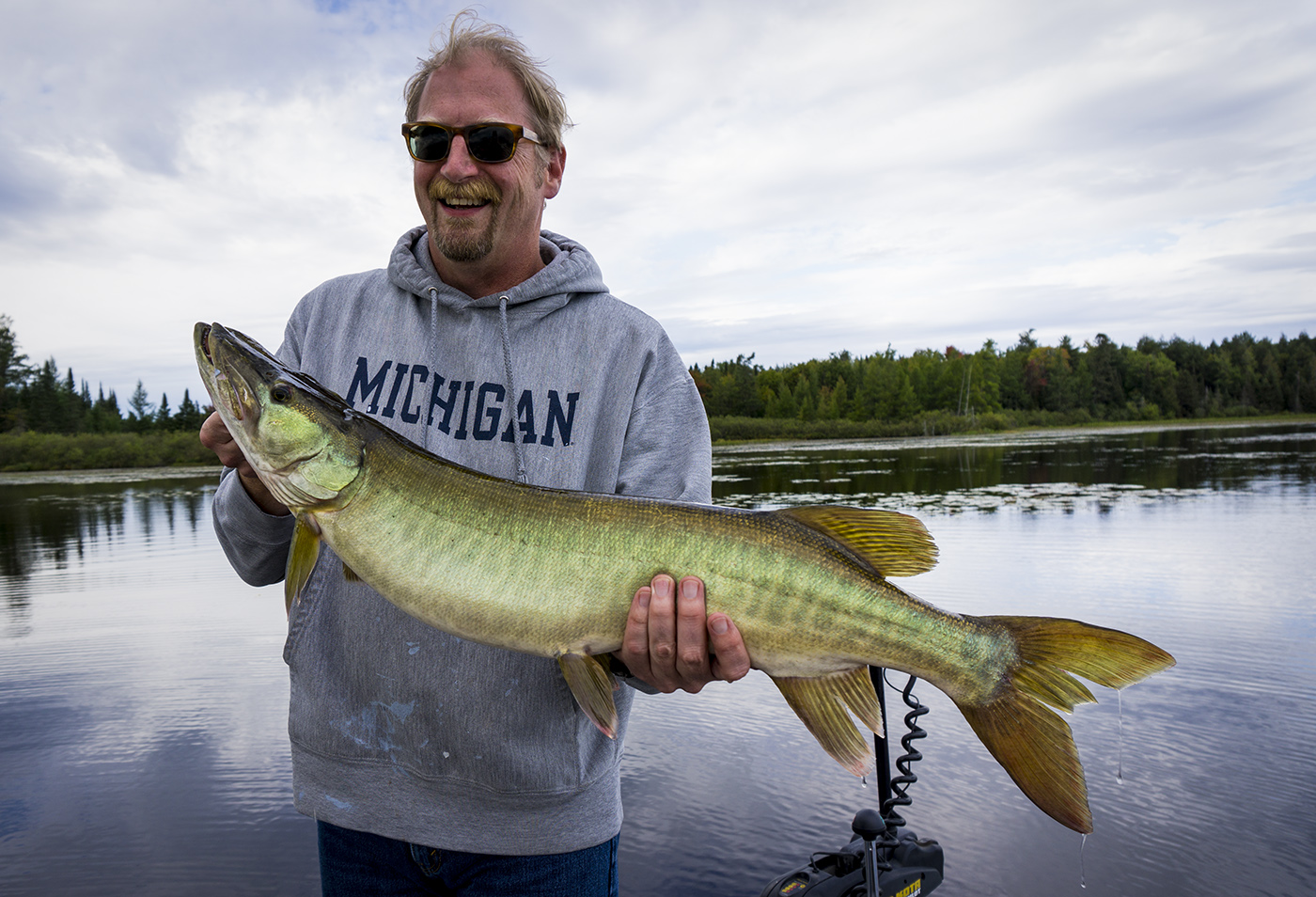 "Then he began to pity the great fish that he had hooked.
He is wonderful and strange and who knows how old he is, he thought."
I lifted our catch for the obligatory photograph, while Mike, Bruce and Clint congratulated me in my efforts. A combination of patience, timing and dumb luck had found me with this menacingly beautiful 40-inch, 20-pound creature in my hands. We'd all been casting in that general vicinity, yet he chose to strike the temptation I laid in front of his nose. Taking a moment to admire him, I relaxed my grip and with a powerful flip, he freed himself from my grasp and fell to the floor of the boat. That seemed like a perfect cue to return him to the lake. Clint slid the muskie back into the water, moving him gently back and forth to force water through his gills. Revived and recovering from the trauma, the muskie then slipped silently away, disappearing into the depths of the water to become a trophy for another angler on another day.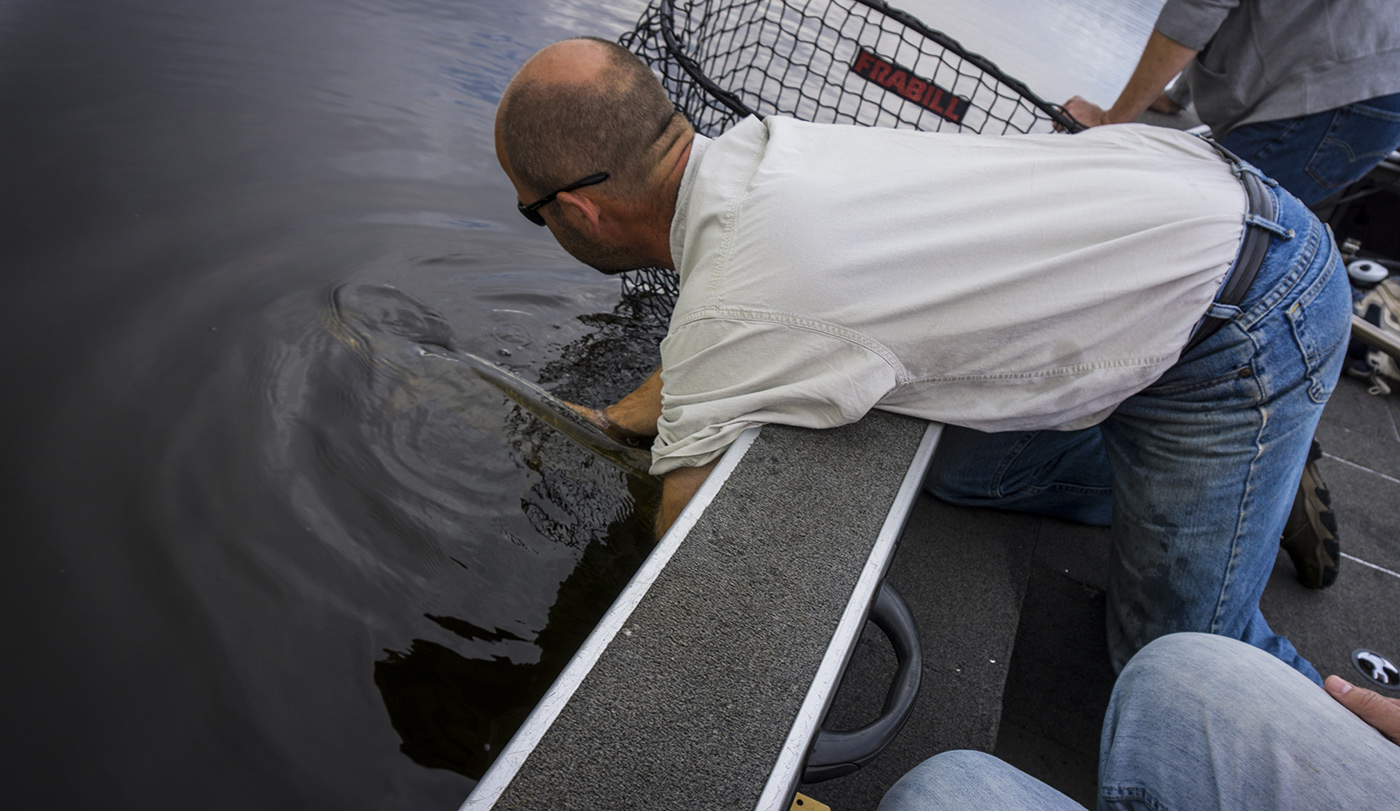 We spent another hour on the lake trying to land a second muskie, but to no avail. Mike had one chase his line, but it veered away just before taking the bait. Shortly after 5:00 we pulled the boat out of the water, said thank you and goodbye to Clint, and hopped in the Titan to head back to civilization. With the heated seats warming my back side and Jimi Hendrix guitar wailing through the speakers, I was feeling satisfied and looking forward to a celebratory dinner when Bruce suggested we head to a local supper club he'd always wanted to try, McGregor's Blink Bonnie.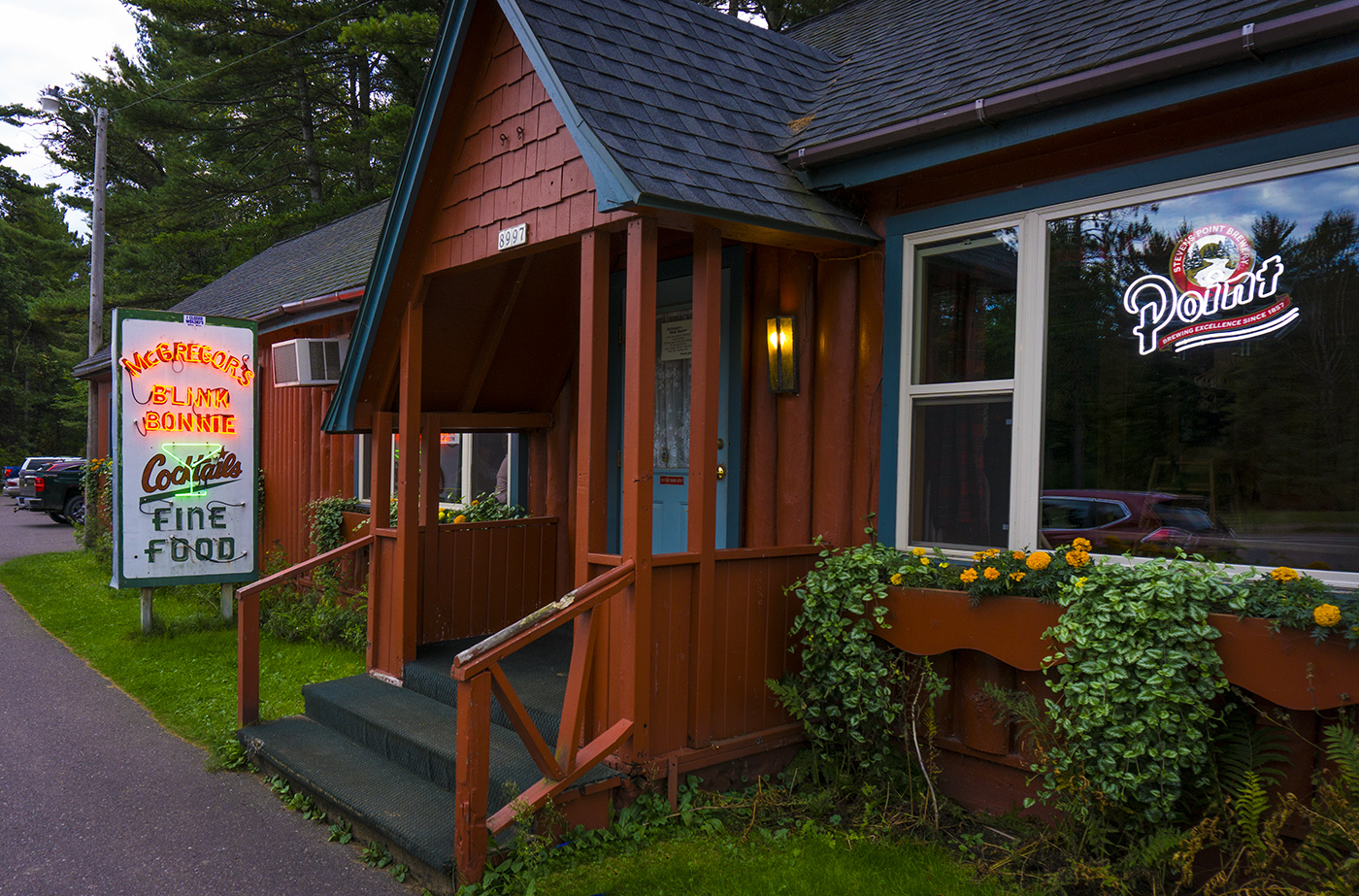 A supper club in the finest Wisconsin tradition, McGregor's Blink Bonnie delivers exactly what one expects from a place like this: a great Old-Fashioned (made with Brandy, of course), perfectly prepared steaks, an unpretentious, woodsy decor, and a waitress with a friendly, yet sassy, attitude. Displaying her piscatorial knowledge, she correctly identified the fish in our photos as a tiger muskie while efficiently serving our grilled prime steaks on sizzling platters. She also made sure we knew exactly how impressed she was with our catch, saying as she turned and walked back to the kitchen, "Well isn't he a cute li'l one."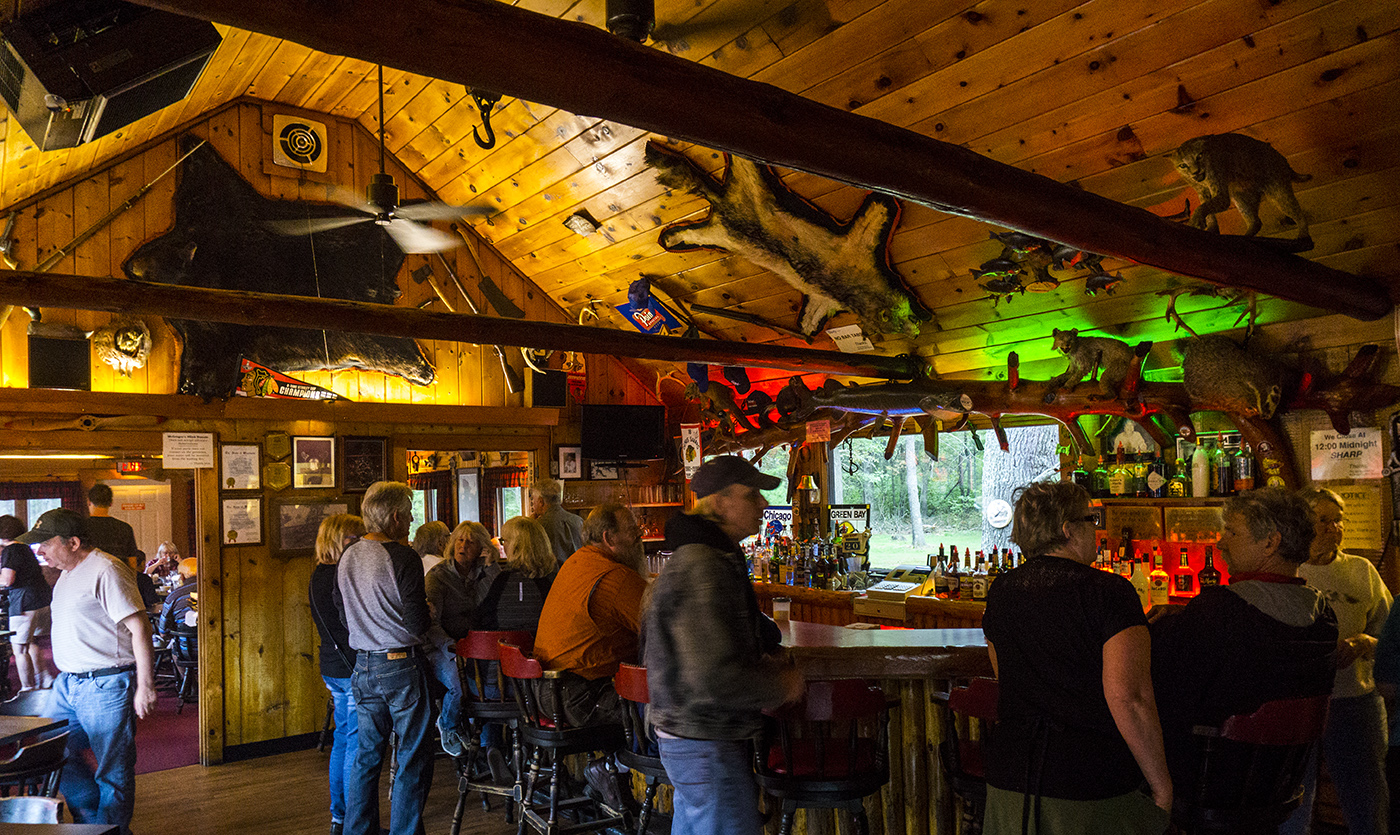 No our muskie wasn't the biggest, but he was a damn fine catch, a wonder of nature and now a memory I'll have forever. The Titan happily, comfortably, and capably carried us through this adventure. True, we never really put it to the test. The closest we came to off-roading was the eighth of a mile long journey down Bruce's well-rutted driveway. Is it as powerful as an F-250 or Sierra Denali? No, but for about the price of a comparably equipped Ford or GMC, you can put a fully-loaded Titan XD and a good, used fishing boat in your driveway, something I'd certainly consider were I planning on making this trip a regular occurrence. Though honestly, I'm not sure it gets any better than this.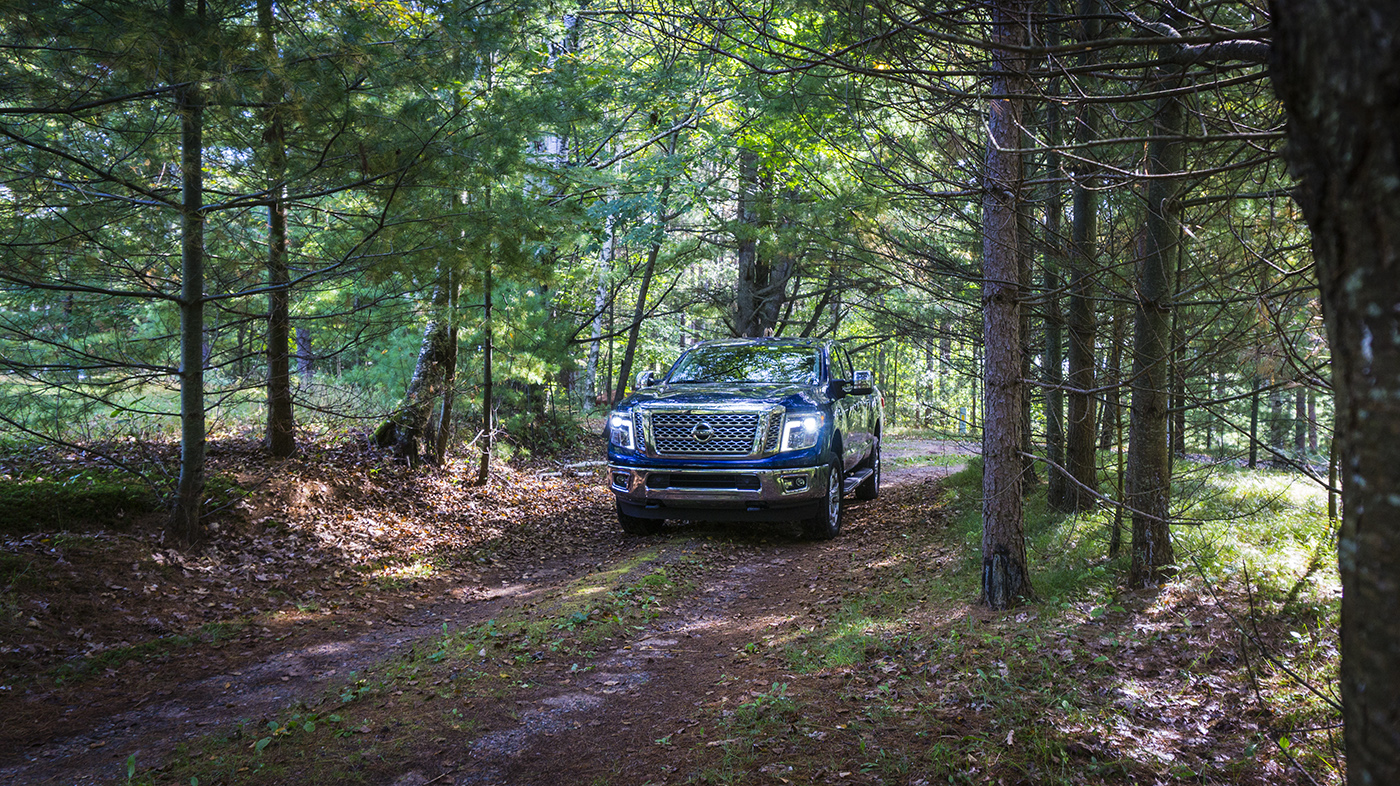 2016 Nissan Titan XD Diesel
4-door, full-size 4-wheel drive pickup truck
Base price: $55,030
Price as tested: $57,255 (including destination charge)
Standard equipment: Leather front captain's chairs with 60/40 leather bench rear seat, Rockford Fosgate Premium audio with AM/FM and SiriusXM satellite radio, NissanConnect Navigation, Voice recognition, front and rear sonar with rear view monitor, power sliding rear window, running boards, class 4 integrated receiver hitch, spray on bed liner, adjustable tie down cleats, LED bed lighting, 110v outlet in bed.
Optional equipment: Floor mats, Titan box in-bed storage system
Engine: Cummins 5.0 Liter V8 TurboDiesel
Transmission: 6-speed automatic
Transfer case: Two-speed with 4-lo and 4-hi, shift on the fly
Horsepower: 310 @ 3,200 rpm
Torque: 550 lb.-ft. @ 1600 rpm
Towing capacity: 12,037 pounds
Observed Fuel Economy: 20.9 miles per gallon over 863 multi purpose miles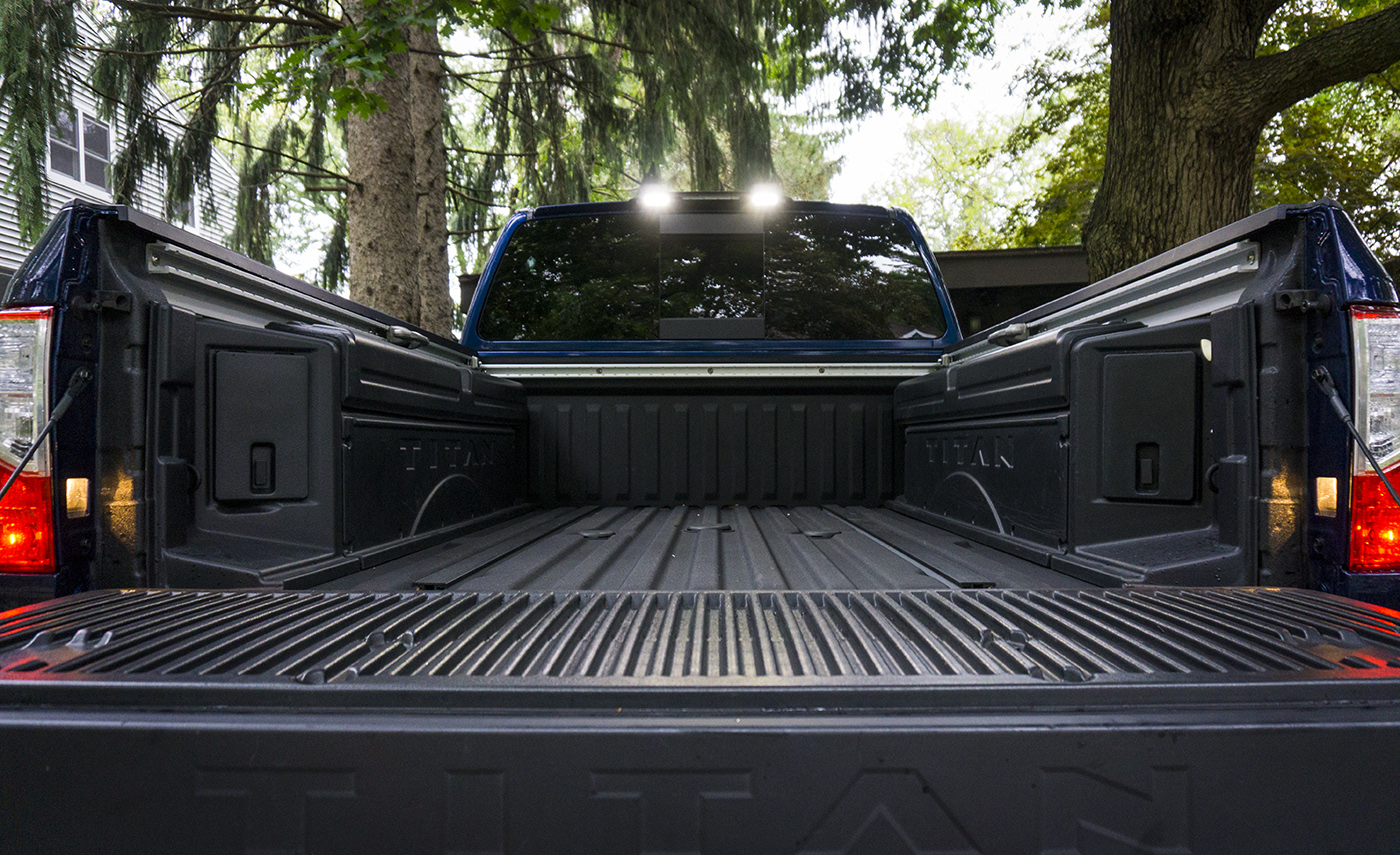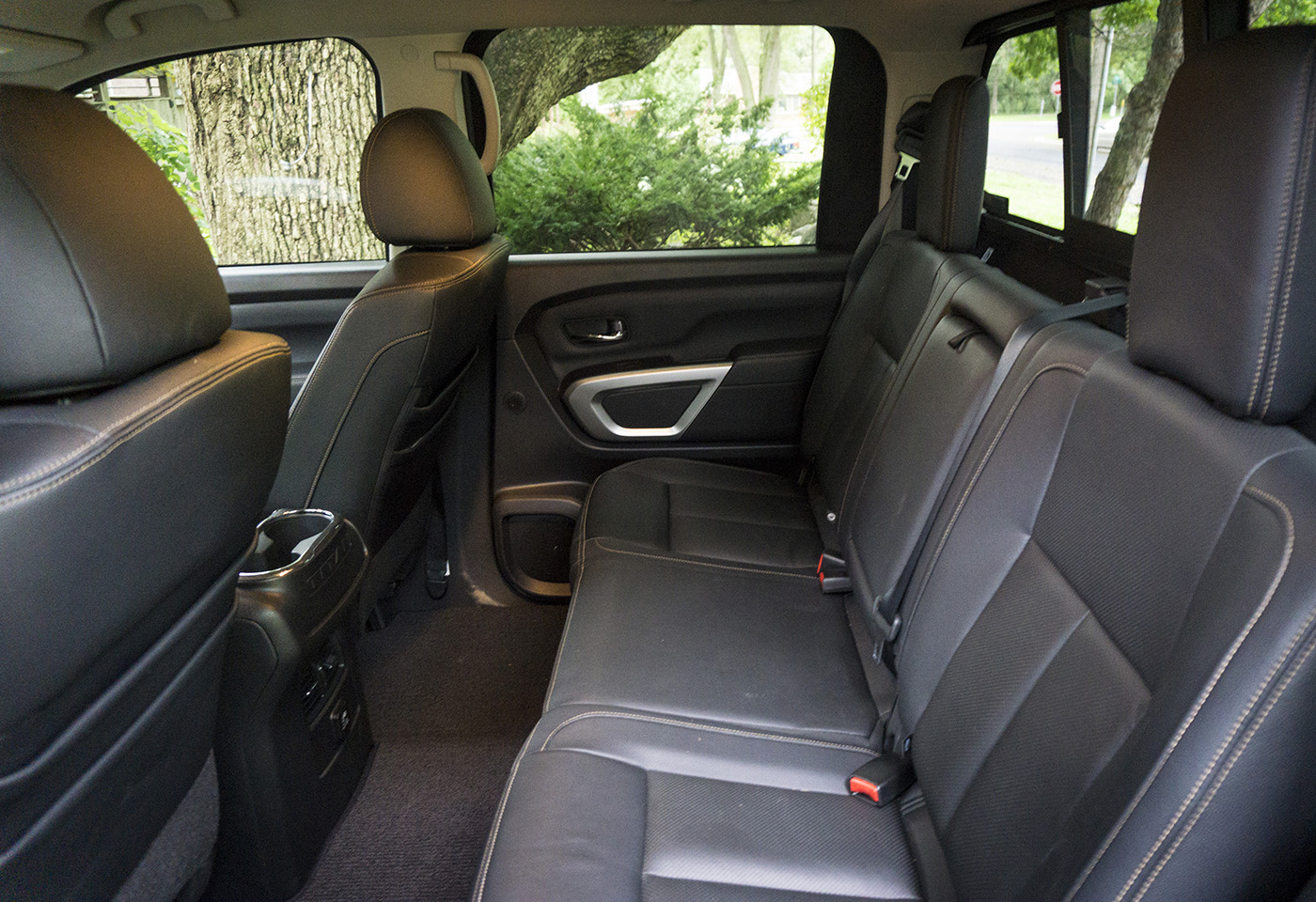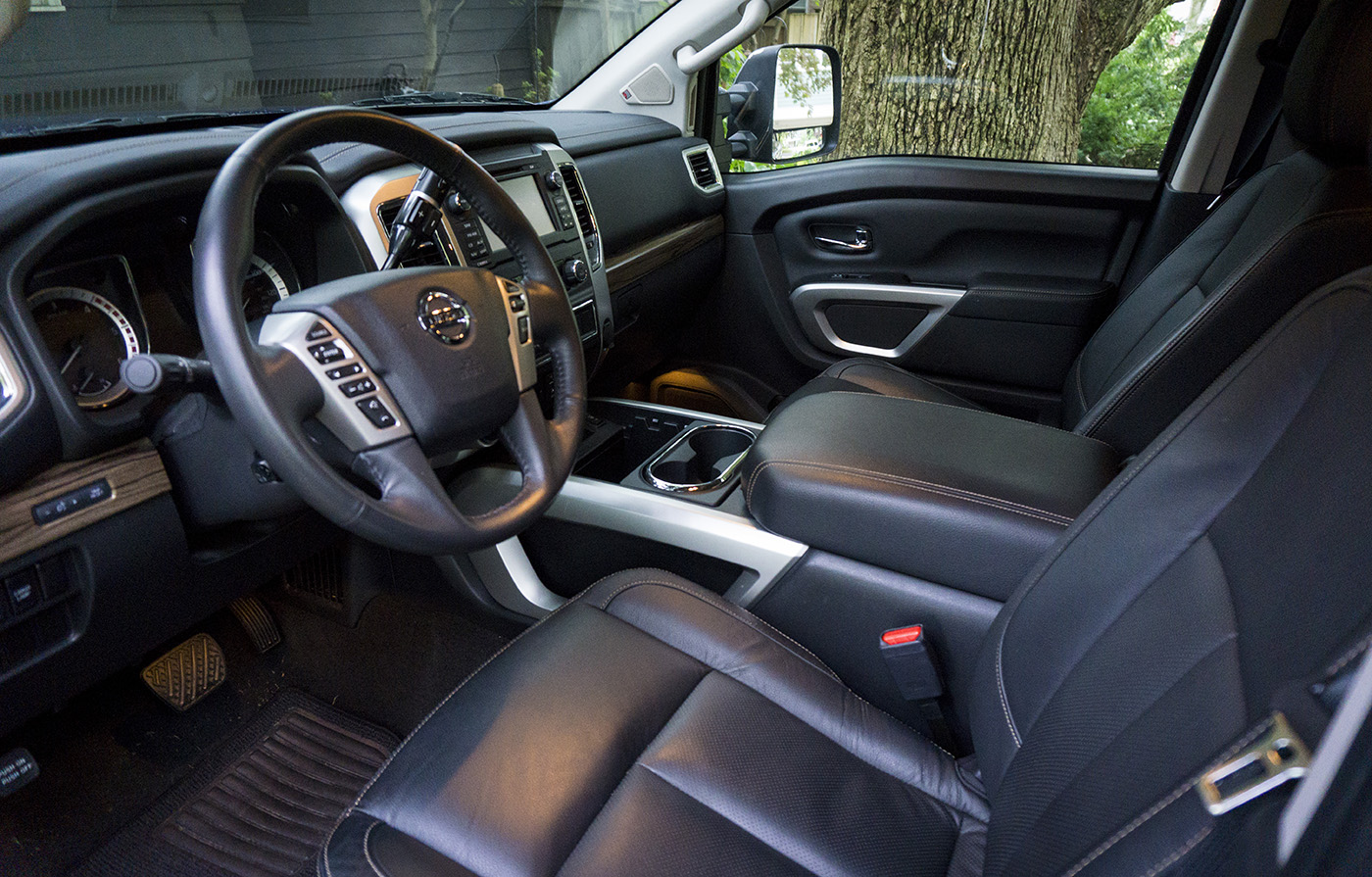 While Nissan provided the vehicle for this story, the opinions and recommendations are 100% ours