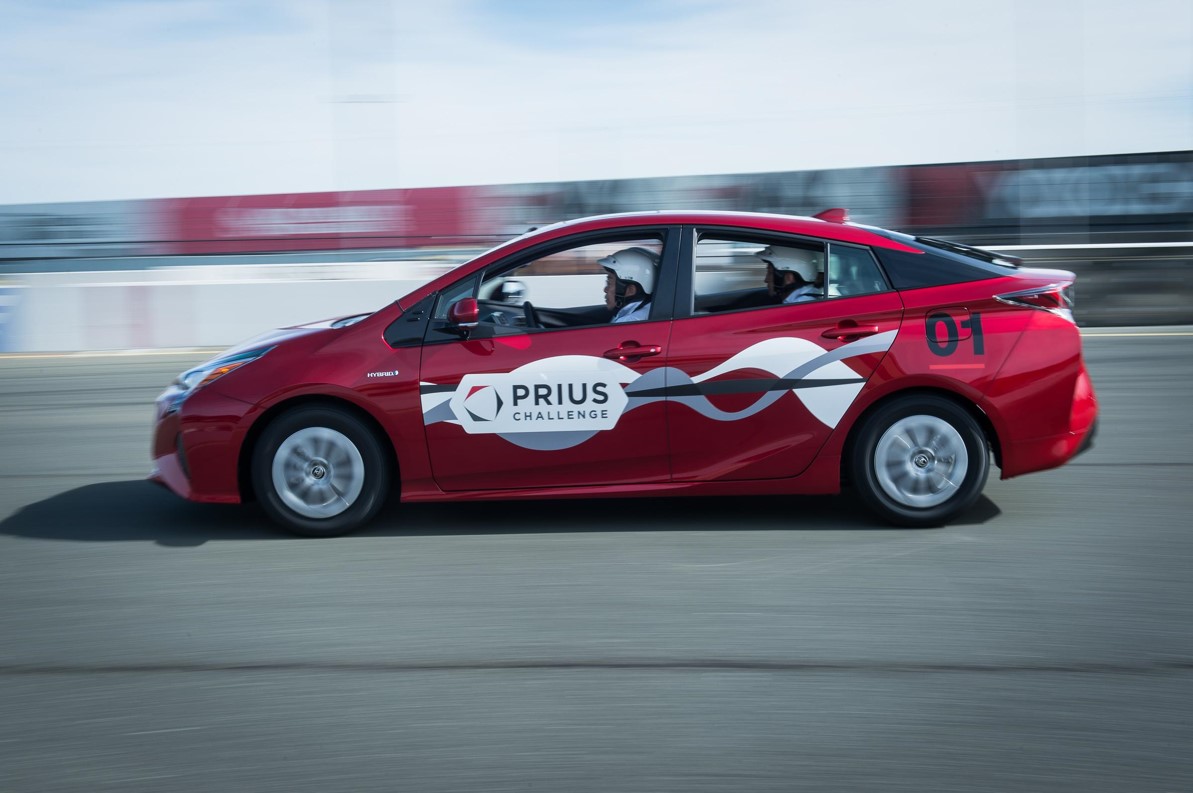 "What is it like to compete in a car race that isn't about speed, but rather fuel efficiency?" Toyota asked in a press release. Their answer? "As more than 100 people found out on March 3 at the Sonoma Raceway: really fun."
I guess if all you're interested in is getting from point A to point B as efficiently as possible, that might be fun. But for us, that sounds, well, clinical. It doesn't appear that the driving experience itself had much to do with the Prius Challenge. And that's a missed opportunity.
The challenge, part of a program Toyota calls Onramp 2017, is an event hosted by Toyota Research Institute. It featured teams from the Silicon Valley research community, competing to see which could achieve the best fuel economy over nine laps on the Sonoma Raceway.
In preparation for the race, the teams were given a driving simulator built by Open Source Robotics Foundation and a strategy editor from hyperdrive. Awards were given based on fuel economy over the whole race, over one lap, best use of machine learning, and best race strategy.
The winning team achieved a pretty amazing 85 miles per gallon average over the nine laps.
And sure, it sounds like a fun way to spend some time – finding out what is scientifically the best way to drive to maximize fuel efficiency. But what did we actually learn about the Prius here? That it's efficient? I think we already knew that. What this event didn't do, at least as communicated by the press materials distributed by Toyota, was talk about the improved handling and performance of the Prius, which actually do make it a more engaging car.
I'm not saying a demonstration of how driving more consciously to increase your fuel economy is a bad thing. But convincing people to buy more efficient, lower emissions vehicles by reminding them how much better they are for the environment hasn't ever been a winning strategy for the majority of car buyers. To achieve this greener world we all dream of, we need to show people driving these cars can be just as fun as traditional gas-powered cars. It feels like Toyota is missing the point about why more people don't flock to their low emissions offerings.
When the Prius first came out it was novel and had the hybrid space to itself. But now the field is crowded with hybrid and all-electric vehicles that are not only efficient, but fun to drive. Toyota has made a lot of improvements to the Prius in the way it looks, performs and handles – and yes, it's even more efficient. If Toyota really wants Prius to appeal to more mainstream drivers however, instead of reminding us how efficient they can be, Toyota needs to communicate that the experience of driving one is about much more that just saving gas.