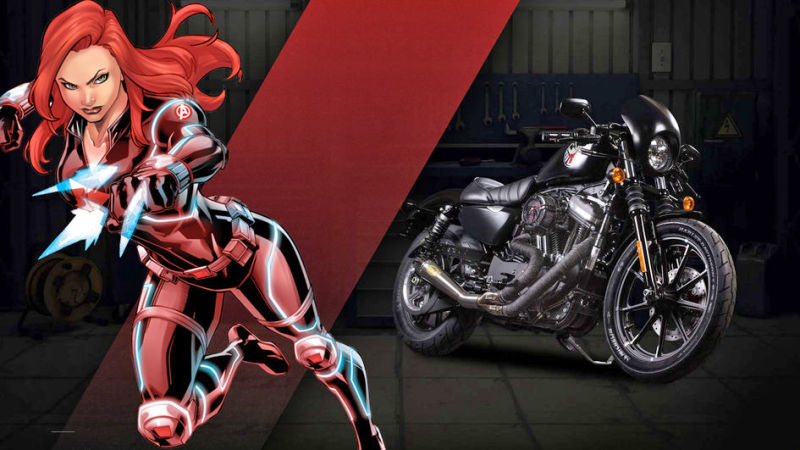 We can all take ourselves a little less seriously, especially at work.
These guys sure did, and they're doing probably some of the coolest work of their lives.
Each of the 25 Harley-Davidson Motorcycle dealers in Australia and New Zealand were commissioned to create series of bikes custom-themed after their favorite Marvel heroes.
The line features bikes built from the full-line of Harley models and each customized based on the character it represents. Customization includes more than paint and actually extends to the bikes' features. For example, Black Widow's character is a loner, so her Iron 883 Sportster has just a single saddle and a custom exhaust that gives the bike a little more sting. The whole custom series is really fun to look at, and brings up a lot of childhood comic book nostalgia.
Harley and Marvel have also set up a contest based on the bikes. All you have to do is vote for your favorite bike and you could win a trip for four to Los Angeles and Las Vegas where you'll visit the studio that creates special effects for all the Marvel movies and hang with Marvel Heroes at Disneyland. Then you'll take off for Sin City where you'll get a VIP tour of the new Marvel Avengers S.T.A.T.I.O.N. at Treasure Island and dinner in the Harley-Davidson café.
Unfortunately for our stateside readers, the contest is only open to residents of Australia and New Zealand. If you are lucky enough to be in either of those countries right now, enter here.
No word on the site on what they're going to do with the winning bike, or any of the others for that matter but we're assuming they'll be for sale at the dealership that created it.
We're crossing our fingers for an American tour where we can see the bikes in person. But for now we can enjoy these beautifully done rides thanks to the images they shared.