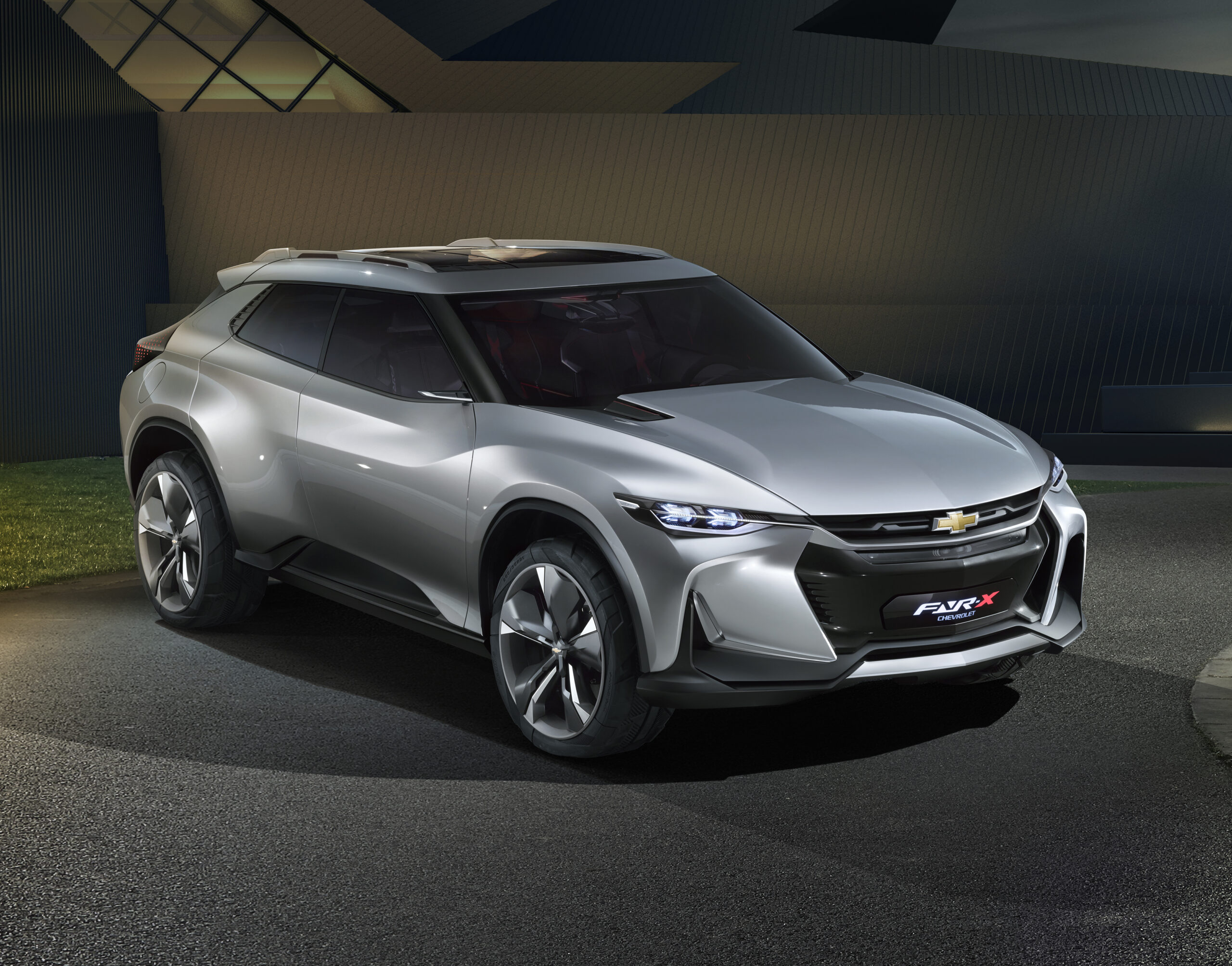 Who would have thought that the most interesting car at the Shanghai Auto Show would be a crossover concept? And a Chevrolet at that. It's a little shocking, but the most talked about vehicle at China's biggest auto show is the Chevrolet FNR-X concept.
To better understand this car, we're going to need a little history refresher.
Two years ago Chevrolet debuted the FRN (Find New Roads) concept. I guess maybe you could call it a crossover, but we'd really prefer not to classify it at all. The futuristic vehicle featured a full glass capsule body, dual-swing dragonfly doors, magnetic hubless electric wheels, and crystal laser headlights and taillights. The original concept was envisioned to be fully autonomous, with all four seats able to swivel around. In short, this car could be parked on the set of The Matrix and people would just assume it's a movie prop.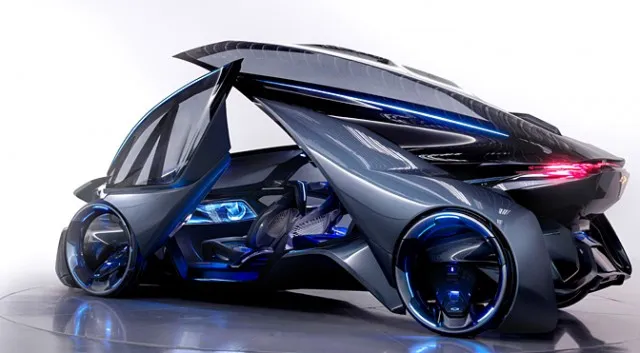 It was easily the most badass car at that show, but even at the time we knew not to get too excited. Some things about the FNR, like the fully autonomous features, weren't technically feasible. Others, like the glass body, are really just for show. If we were going to get a production version of this car, we don't just want something watered down. Yes, we want practicality, but we'd want the follow up to retain that same forward-looking feel as the original.
So finally, we have a more production ready follow up. And you know what? They've accomplished a minor miracle. Somehow they took out everything that would have felt gimmicky on an actual car and left us with the elements we really like. It still feels futuristic, just not in such a garish way.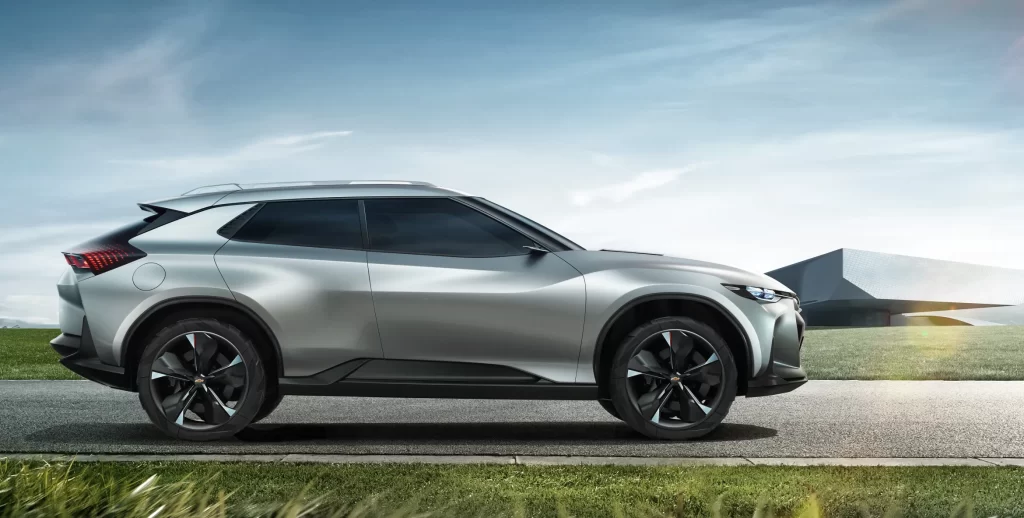 It's easily recognizable as Chevy's design language, but it's definitely a couple of years of into Chevrolet's future. It has a very sporty look from the outside, with steeply slanted A- and C-pillars, and its streamlined roof. Even though it features standard body materials and traditional wheels with hubs and tires, you can clearly see how Chevrolet went from the FNR to the FNR-X. It's definitely one of the most sleek and stylish crossovers we've ever seen.
It's not just streamlined to look cool. The active grille shutters and switchable wheel blades automatically adjust while you're driving at high speeds, reducing wind resistance. The front and side skirts also move helping the car become even more aerodynamic.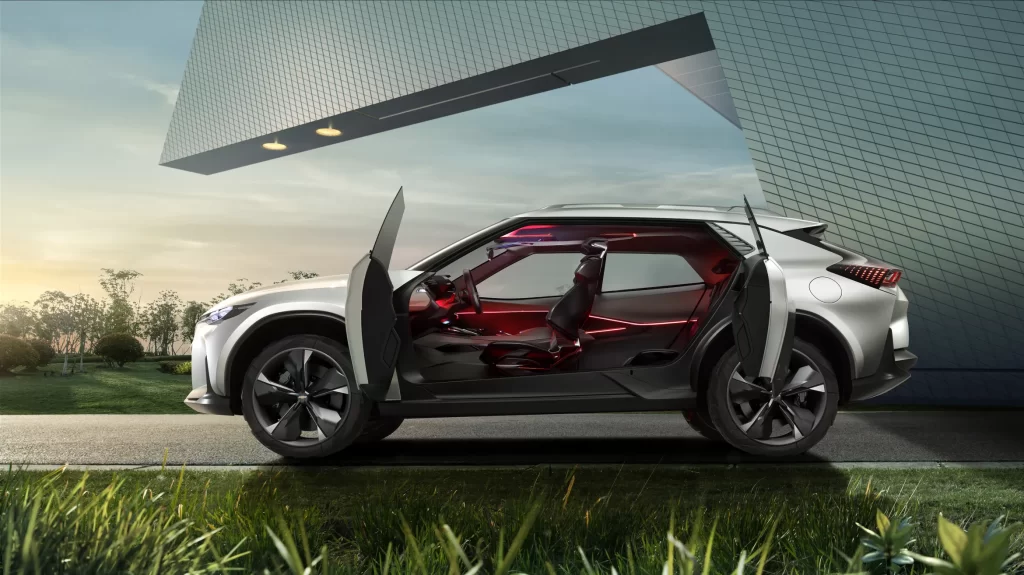 Open up the rear-hinged doors (which in this case do not look like a gimmick, just really cool) and you'll see a hexagonal design theme on the inside in the fabrics and the display screens. Chevrolet says the use of the hexagon was inspired by graphene crystal structures, signifying a new era for energy. The inspiration was well used. They don't just throw hexagons on everything, but rather give us a geometrically interesting interior that looks futuristic even without front seats that swivel.
Ambient lighting changes colors to match your driving mode, though we hope it can just be set to this cool looking red all the time.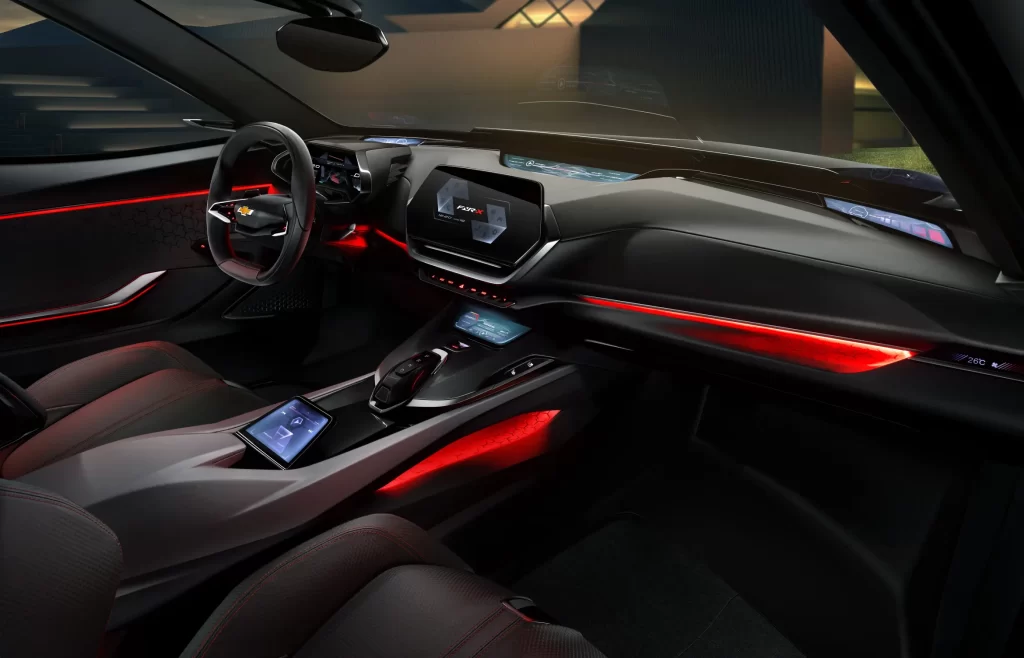 Chevrolet is mum about the car's performance, only saying that it will be a plug-in hybrid with two driving modes, one for everyday driving, one for performance situations.
Though the FNR-X is much more ready for production than the FNR, it is still a concept. There's no information on whether or not Chevy will actually take it into production. One thing is for sure, the FNR-X is one concept we're looking forward to using to find new roads.