While he is still a few weeks away from taking office, President-elect Donald Trump is continuing his campaign to bring manufacturing jobs back to America one tweet at a time. This time his target is America's largest automaker and the Chevy Cruze hatchback which is assembled in Mexico.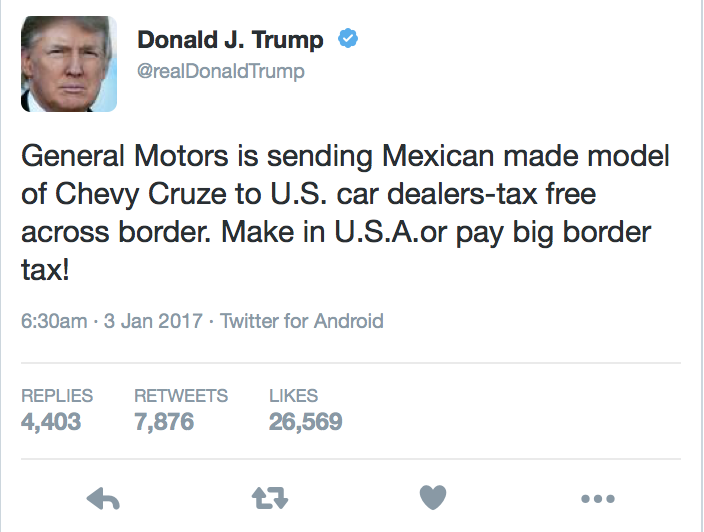 Aside from Mr. Trump's hypocrisy – his clothing line is manufactured in China as is his daughter Ivanka's jewelry – it's pretty clear he doesn't understand how a multinational company that sells cars in markets around the world has to operate these days to profitably deliver to all the countries it serves.
The Chevy Cruze is a global platform. According to Chevrolet, Cruze is sold in 118 countries. Rather than manufacture the Cruze hatch in the U.S. and then shipping it around the world, Chevy builds the Cruze in 11 different countries on five continents. This helps keep the costs in control and makes it more competitive against cars from Toyota, Honda, Ford, BMW and others who also manufacture their worldcars in markets with lower labor costs.
Secondly, we're only talking about the Cruze Hatchback. Much to the chagrin of this journalist, in general hatchbacks do not sell very well in the U.S., accounting for less than 10% total market share. This is SUV country, remember. In other countries, however, they do very well. Head to Central and South America, Europe and Asia and you'll see stylish, economical and utilitarian hatchbacks everywhere.
So what it boils down to is this: GM is being a smart business making its cars in the countries where it makes the most sense – high margin, and high volume cars and SUVs are made in America where the higher labor costs have less of an impact, and low margin, lower volume small cars are made in the markets where they're sold with a few cars being imported to the states to satisfy demand.
In response to the Twitterer-in-Chief, GM issued the following statement: "General Motors manufactures the Chevrolet Cruze sedan in Lordstown, Ohio. All Chevrolet Cruze sedans sold in the U.S. are built in GM's assembly plant in Lordstown, Ohio. GM builds the Chevrolet Cruze hatchback for global markets in Mexico, with a small number sold in the U.S."
By being smarter about how it produces its cars has made a big difference in GM's revenue and profits. The company has gone from a bankruptcy to one that earned a record $2.8 billion dollars in the past three months, with a profit margin of 9.8% through the 3rd quarter of this year.
Interestingly, Mr. Trump tapped GM CEO to join his economic advisory team. If he keeps propagating this kind of ignorant blather on Twitter, Ms. Barra may soon be advising Mr. Trump to shut the @#$% up.