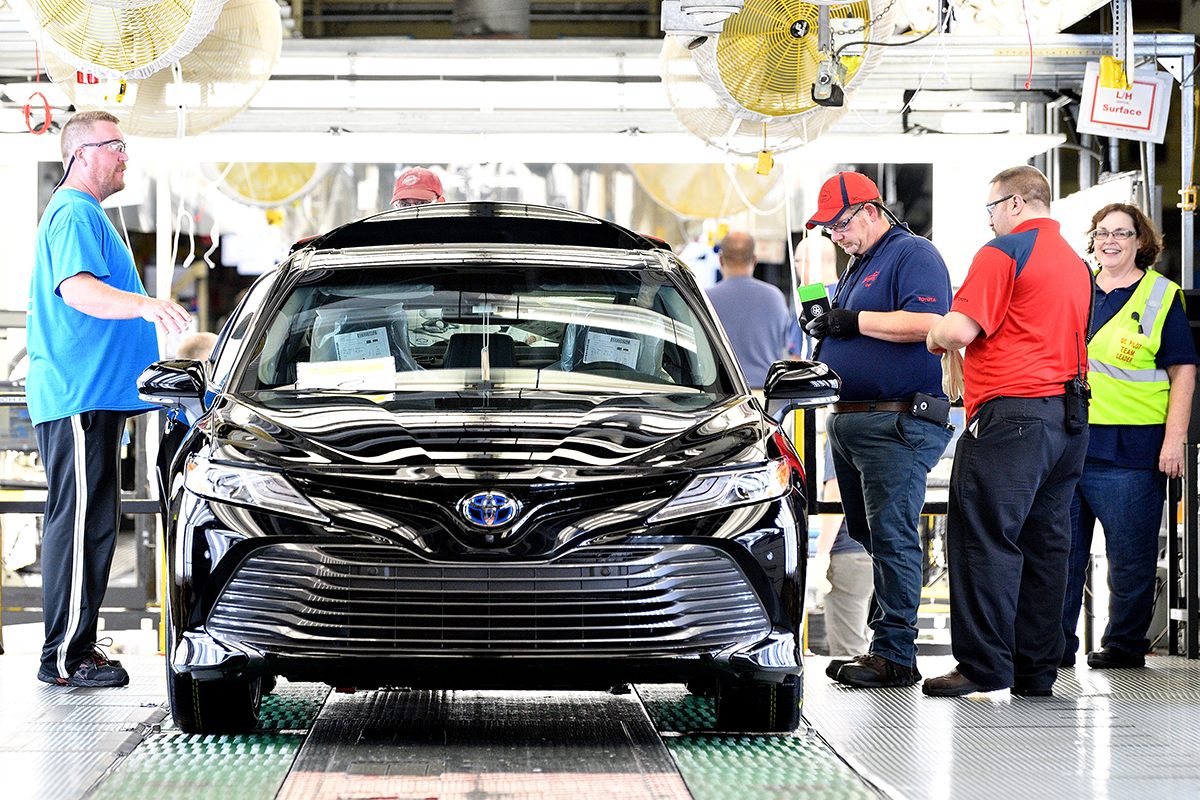 Yesterday during his diplomatic mission to Japan, President Donald Trump delivered a speech that included this message to the country's auto executives who were in attendance.
"When you want to build your auto plants, you will have your approvals almost immediately. When you want to expand your plants, you will have your approvals almost immediately. And in the room, we have a couple of the great folks from two of the biggest auto companies in the world that are building new plants and doing expansions of other plants. And you know who you are, and I want to just thank you very much. I want to thank you.
I also want to recognize the business leaders in the room whose confidence in the United States — they've been creating jobs — you have such confidence in the United States, and you've been creating jobs for our country for a long, long time. Several Japanese automobile industry firms have been really doing a job. And we love it when you build cars — if you're a Japanese firm, we love it — try building your cars in the United States instead of shipping them over. Is that possible to ask? That's not rude. Is that rude? I don't think so. (Laughter.) If you could build them. But I must say, Toyota and Mazda — where are you? Are you here, anybody? Toyota? Mazda? I thought so. Oh, I thought that was you. That's big stuff. Congratulations. Come on, let me shake your hand. (Applause.) They're going to invest $1.6 billion in building a new manufacturing plant, which will create as many as 4,000 new jobs in the United States. Thank you very much. Appreciate it."
Clearly the president acknowledges that Japanese companies have been investing in the United States, but the highlighted part in the middle has raised some eyebrows.
Did he go off script and it just came out wrong? Does he not know the full extent of the investment and percentage of Japanese cars actually built in the United States? Does he know and included this quote anyway to burnish his "tough on trade" image?
It's hard to know what's he was thinking but one thing is clear, Japanese car companies build many more cars in America than they ship here.
The vast majority of Japanese cars sold in the United States are assembled in the United States in towns like Marysville, OH, Blue Springs, MS, Princeton, IN, Georgetown, KY, Smyrna, TN, and many others employing thousands of American workers. In 2016, 75% of the Japanese cars sold in the United States were assembled in the United States. That's a total of 3.9 million vehicles.
According to Cars.com, last year the "most American" car made was the Toyota Camry. That means a higher percentage of its parts and subassemblies, as well as its manufacture were done in the U.S. than any other car.
In an effort to more effectively penetrate the U.S. market, Japanese auto companies have been buying parts from American suppliers and assembling cars here for decades. They even design them here to make sure they're relevant to American consumers. The Toyota/Lexus CALTY design studio in California is the source of the Prius, RAV4, Tundra, Highlander, Venza, Sienna, FJ, Camry, and Avalon. Mazda's California design studio created the Miata among other popular models sold here and around the world.
Our economy is global. Where manufacturers, both domestic and foreign, build their cars is a strategic decision based on many factors including intended markets for sale, treaties, tariffs, labor costs, shipping costs, technical capabilities, and more.
A leader asking a companies to invest in his or her country isn't rude. Being clear about what you're asking for, however, will make it seem less so.