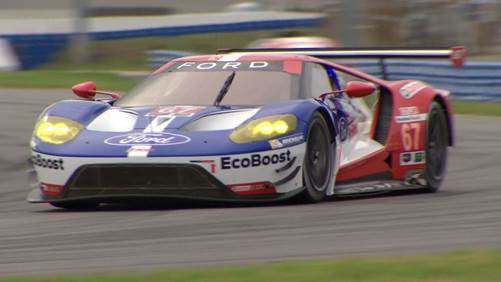 In my eyes, the most exciting, emotional, romantic stories about racing come out of Le Mans. Maybe it's the history behind the race, or the aura of the name. Maybe it's just that the people living the stories have been awake for 24 hours and are exaggerating details out of sleep deprivation. It doesn't matter why though. Pick any elite racing car; they probably have a great story from Le Mans.
And there are new stories being made every year. This time we'll focus on the Ford GT's quest for the top of the podium earlier this year — an underdog story if I've ever heard one.
The story will be told in vivid detail next Tuesday night on 60 Minutes Sports on Showtime at 8 p.m. ET. And this story wasn't all rosy.
Eighteen months before the race, Ford announced the goal to win at Le Mans. Problem was they hadn't raced competitively there since 1969. But to commemorate the 50-year anniversary of their 1-2-3 victory in 1966, they vowed to put their car on top of the podium again.
Sharyn Alfonsi interviews Ford Performance Chief Dave Pericak for this episode, and he sheds deep light on the obviously frustrating process. The interviews take place at different intervals throughout the process, allowing you to really feel both disappointment and excitement along with Pericak.
Camera crews follow design and building teams, capturing every second of their effort to create and put their V6, 600hp engine in a chassis strong enough and body slick enough to keep speeding around the track after running for 24 hours. And we were lucky enough to get an inside peek at this process a week before they packed up and headed to the season opener at Daytona.
But the real problems arise when they begin racing.
After assembling the team at Ford Chip Ganassi Racing, a string of heartbreaking losses at big name venues make the notion of winning at Le Mans seem more and more out of reach.
Both ford GT models broke down during the Rolex 24 at Daytona. 12 Hours of Sebring saw one of these cars crashing after skidding on a rain soaked road.
"You always hear, 'Don't let them see you sweat.' So what's going on inside my head is frustration, disappointment, questioning…did I do all the right things?" asks Pericak.
But the story wouldn't be worth telling if Ford just sat back and cried. And you'll be able to see exactly what happened next Tuesday night.
Check out www.SHO.com for more details, and watch 60 Minutes Sports with us Sept. 6 at 8 p.m. ET. Follow @Harvey_Drives on Twitter for his thoughts.