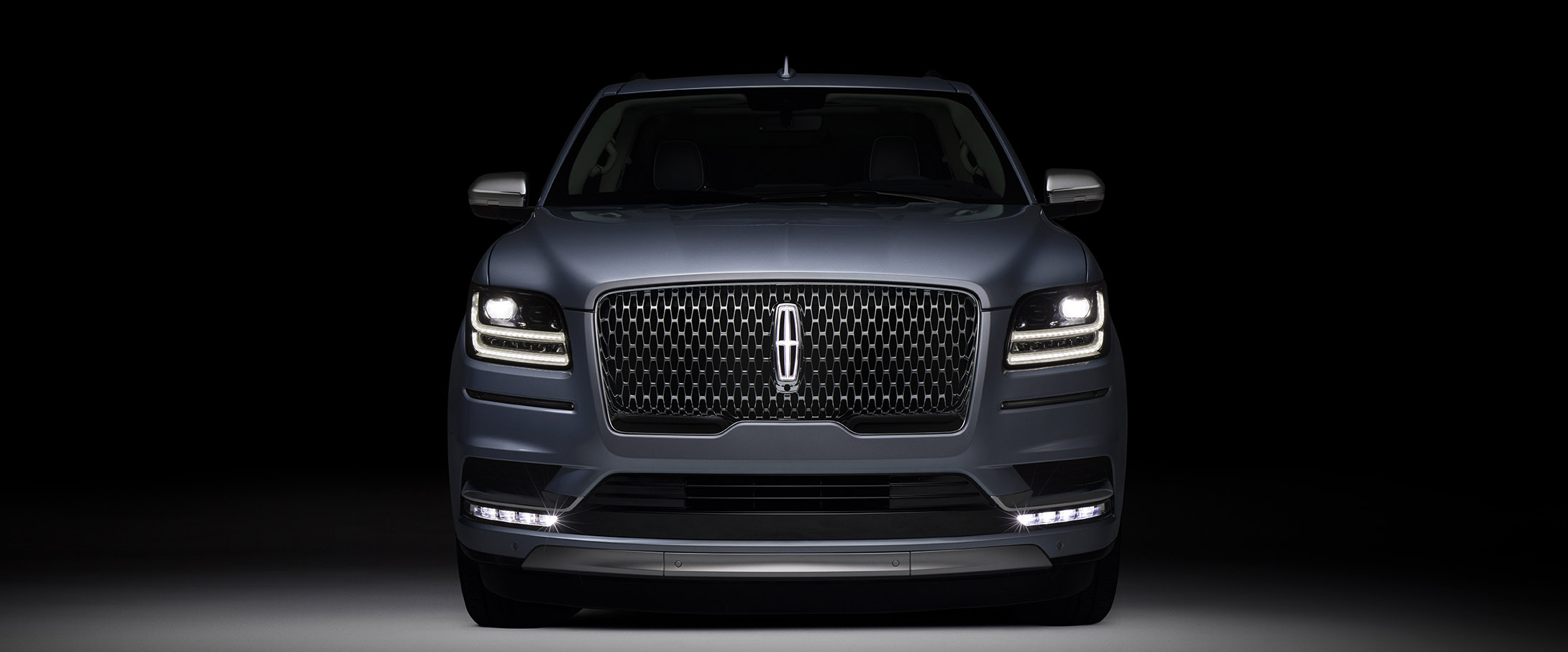 No, it doesn't have the gull-wing doors or cascading steps of last year's concept, but the 2018 Lincoln Navigator that made its debut last night at a private event in New York City delivers on the promise of the concept in just about every other way.
The Navigator was the original large, luxury SUV, making its debut way back in 1989. While initially leading the category in sales, it had slipped in recent years as Cadillac, Lexus, Infiniti and others pushed their leviathans upscale. With this redesign however, the Navigator appears to be able to compete at the highest levels of the category again.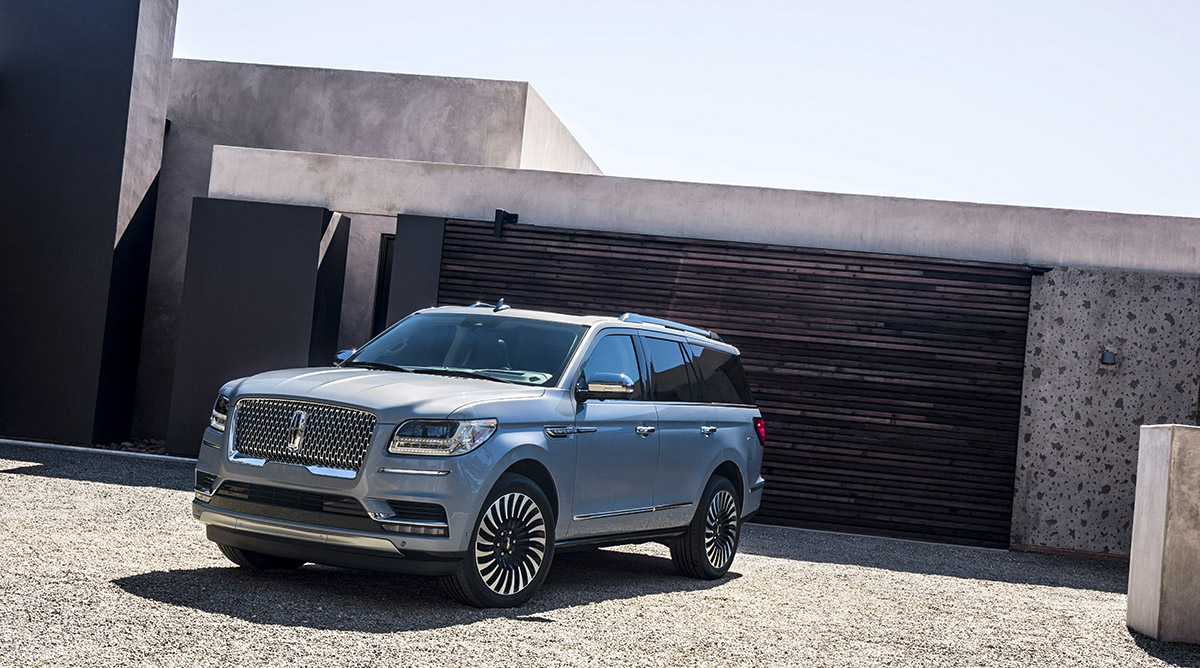 Available in both regular and extended wheelbase configurations (the longer adding 12 inches of extra cargo room behind the third row), the Navigator is a true 7-passenger SUV with best-in-class legroom in both the second and third rows. To put this claim to the test I sat in each row and was shocked when my knees didn't even touch the seat backs after I clambered into the way back. And getting back there wasn't an exercise in contortion as the second row seats easily tilt and slide forward out of the way, creating an opening that easily accommodated my 6′ 3″ frame.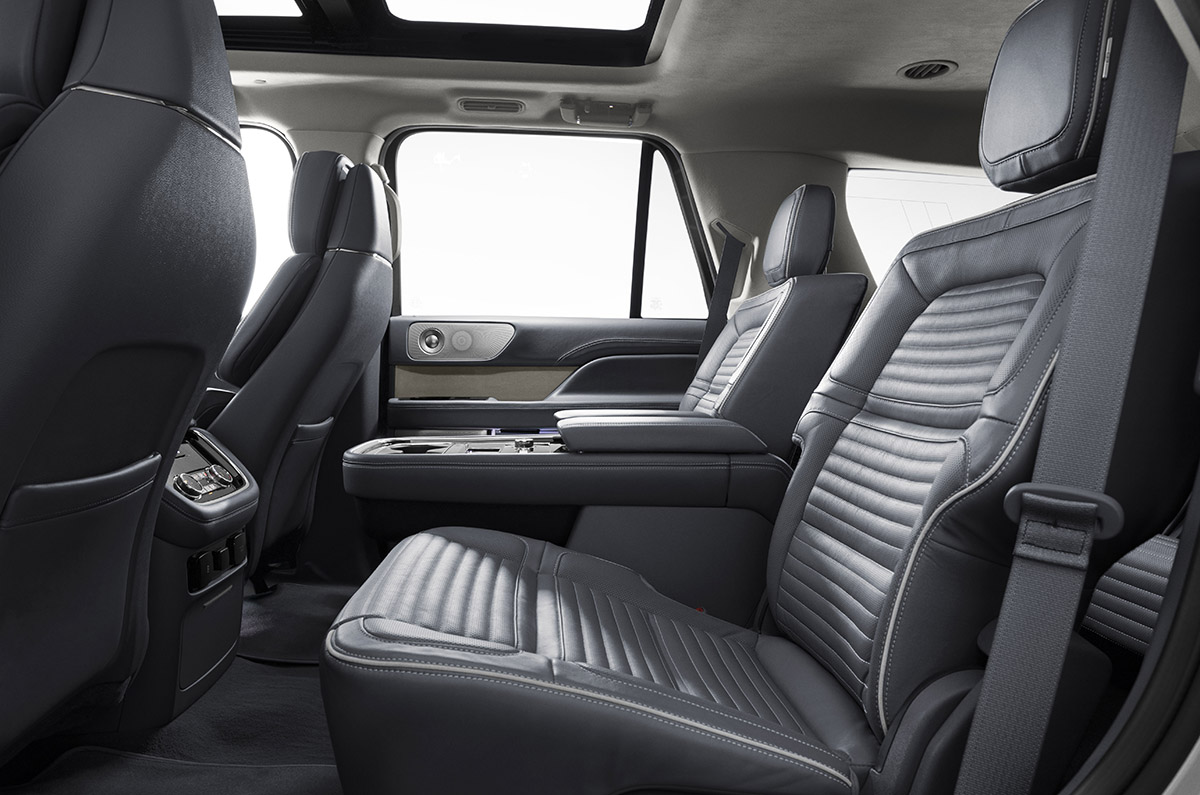 Once inside there's a lot to talk a about beyond space. The new seats are comfortable and look much more upscale than those in the previous generation. In addition to full articulating power seats in the front, the seats in the other two rows recline. Other nice touches abound throughout the cabin including at least two USB ports in each row, a reconfigurable rear storage system, and entertainment technology that allows each passenger to individualize his or her content. Each screen is capable of connecting wirelessly to a passenger's smartphone or tablet to stream content from there in addition to more traditional media, like DVDs. And through Lincoln's agreement with Sling Media, you can even watch live TV in the back seat if you own a Slingbox.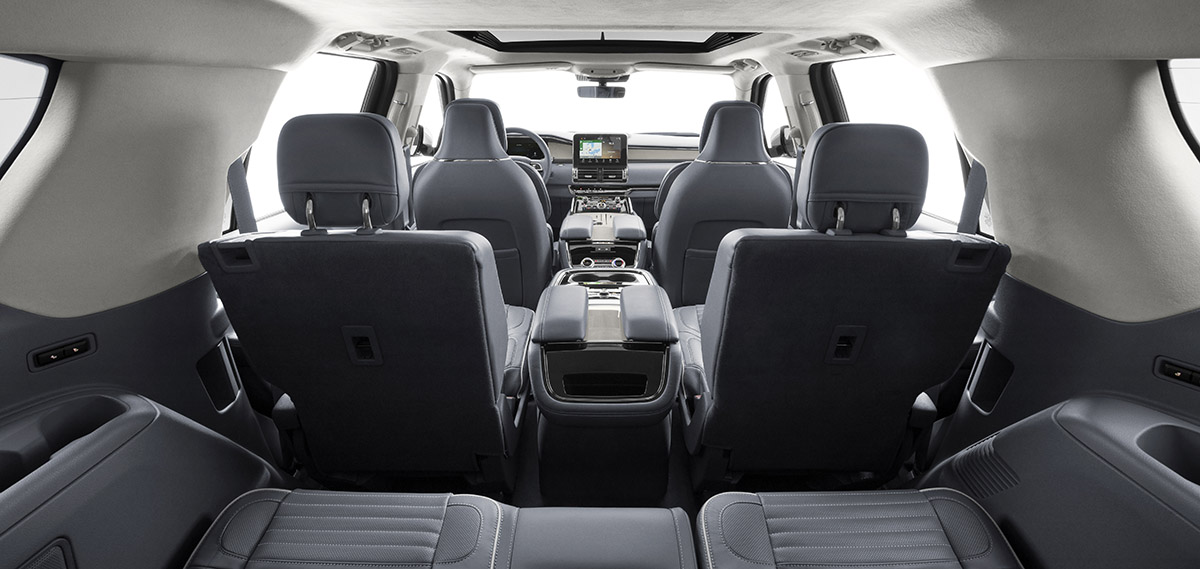 Up front, things get even better. The Navigator is available with the 30-way adjustable Perfect Position seats that debuted in the Continental. In addition all the standard adjustments, these seats feature individually adjustable thigh supports because Lincoln discovered through their research that people hold their legs and different angles. It's one of those things that at first seems gimmicky, but once you use it on an extended drive you wonder why every luxury car doesn't offer this.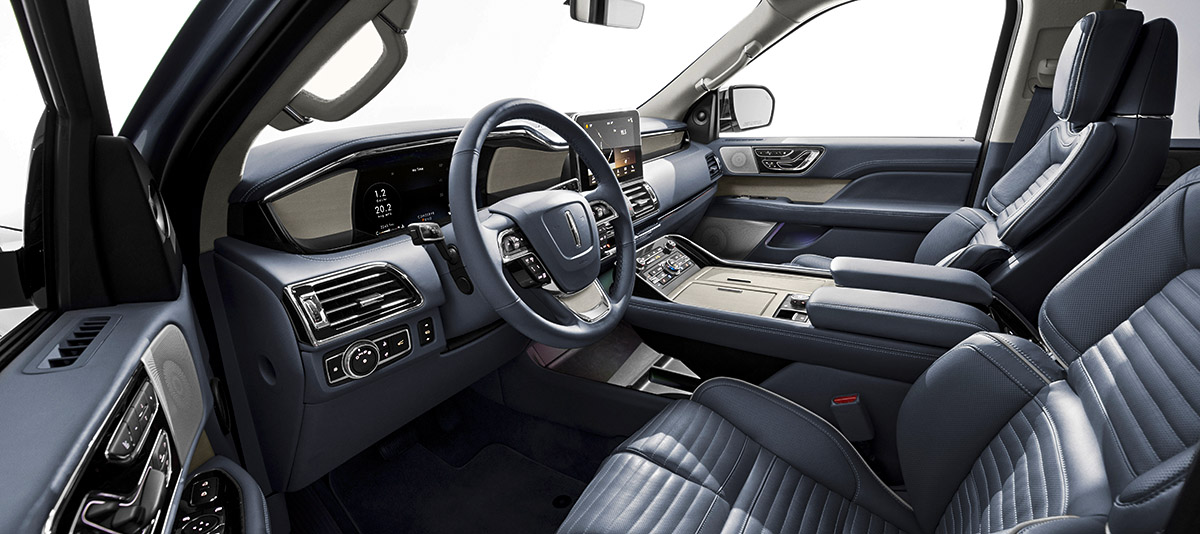 The instrument panel is fully digital presented on a 12-inch LED screen. With clear simple graphics, it's reconfigurable to your tastes presenting the information you want. The Navigator also includes a head-up display that is the largest in the industry again offering just the essentials – speed, temperature, time – while allowing other pertinent information to appear like navigation, telephone calls, radio stations, etc. to appear as those items change.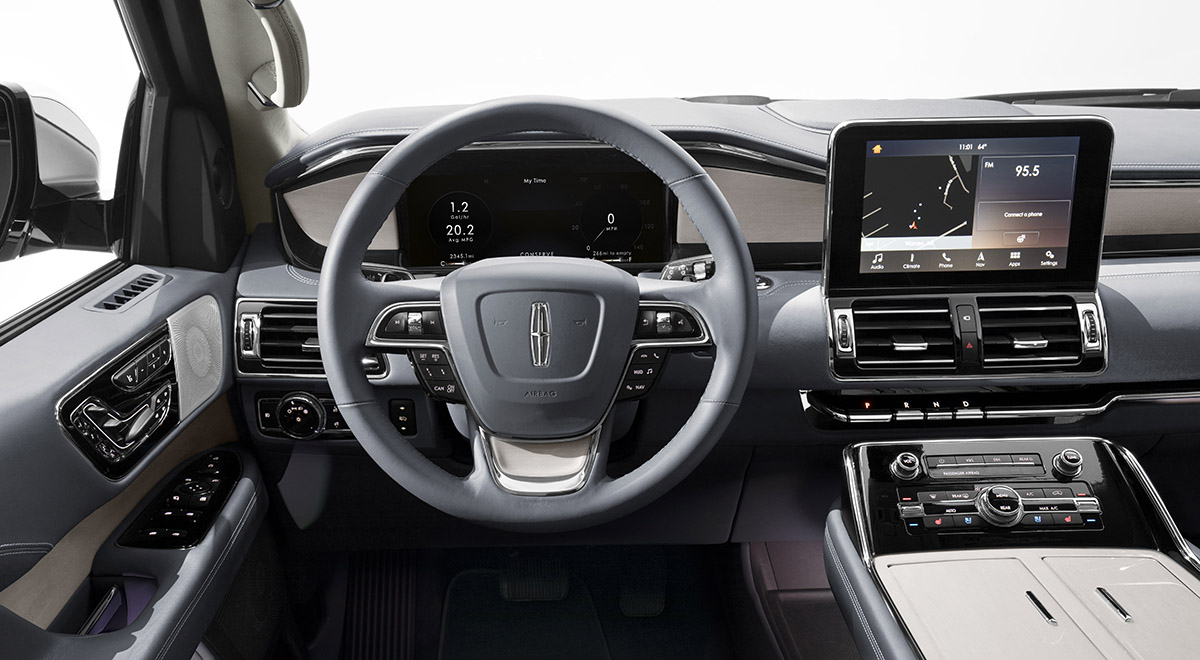 The center stack includes a large LED screen but also physical buttons and dials for often-used functions like HVAC and audio. The push-button transmission now resides just below the infotainment screen and uses more elegant piano keys. A nice upgrade from the interface that's in the MKX, MKC, and MKZ.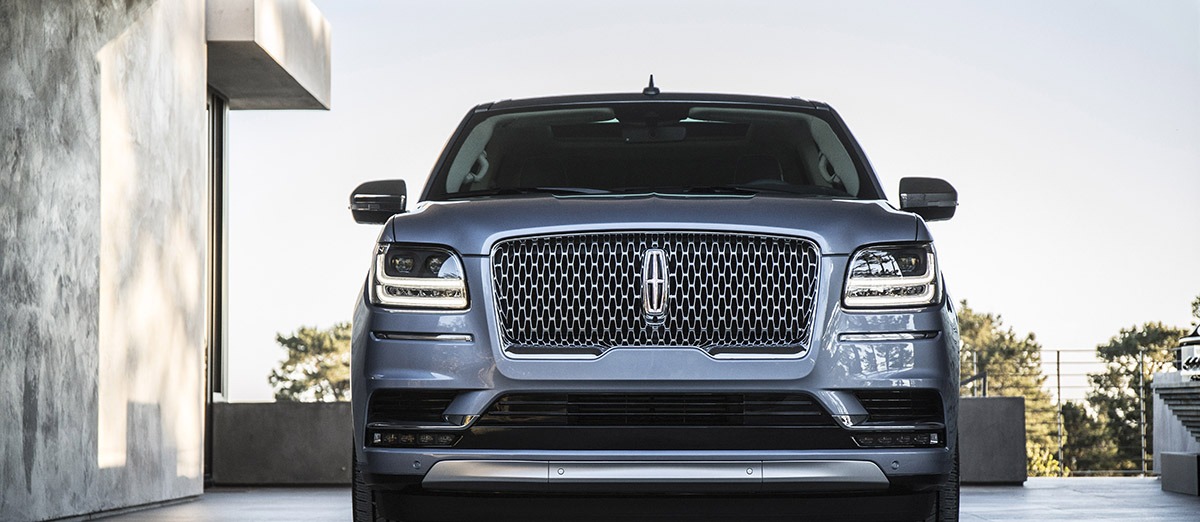 Outside, the Navigator is imposing. The new signature grill presents a distinctive face without being clunky when it's scaled up as with some other brands (I'm looking at you Lexus and Infiniti). Side sculpting is minimal but effective, breaking up the large swaths of sheet metal (now weight-saving aluminum like the F-150 upon which the Navigator is based). All-LED lighting illuminates the way and it's sequenced to come on when you walk up to the car in a warm, welcoming fashion that executives at the event called, "The Lincoln Embrace."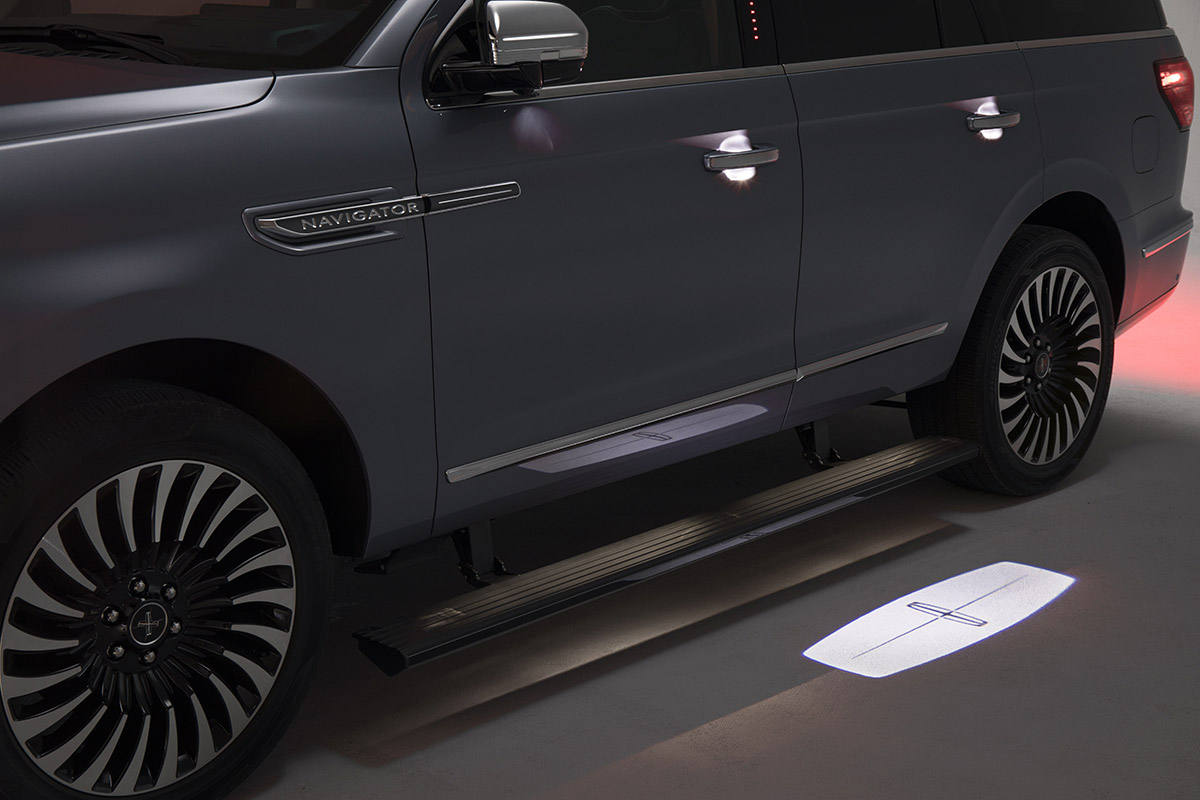 Underneath Navigator gets Ford's latest version of the 3.5L EcoBoost V6, which makes 450 horsepower and 500 lb.-ft. of torque. While numbers haven't been finalized, Navigator is expected to deliver class-leading towing capabilities, which can be managed easily thanks to Ford's innovative Trailer Backup Assist function. Once engaged, you take your hands off the steering wheel and by rotating a dial on the dash can intuitively position the trailer exactly where you want it.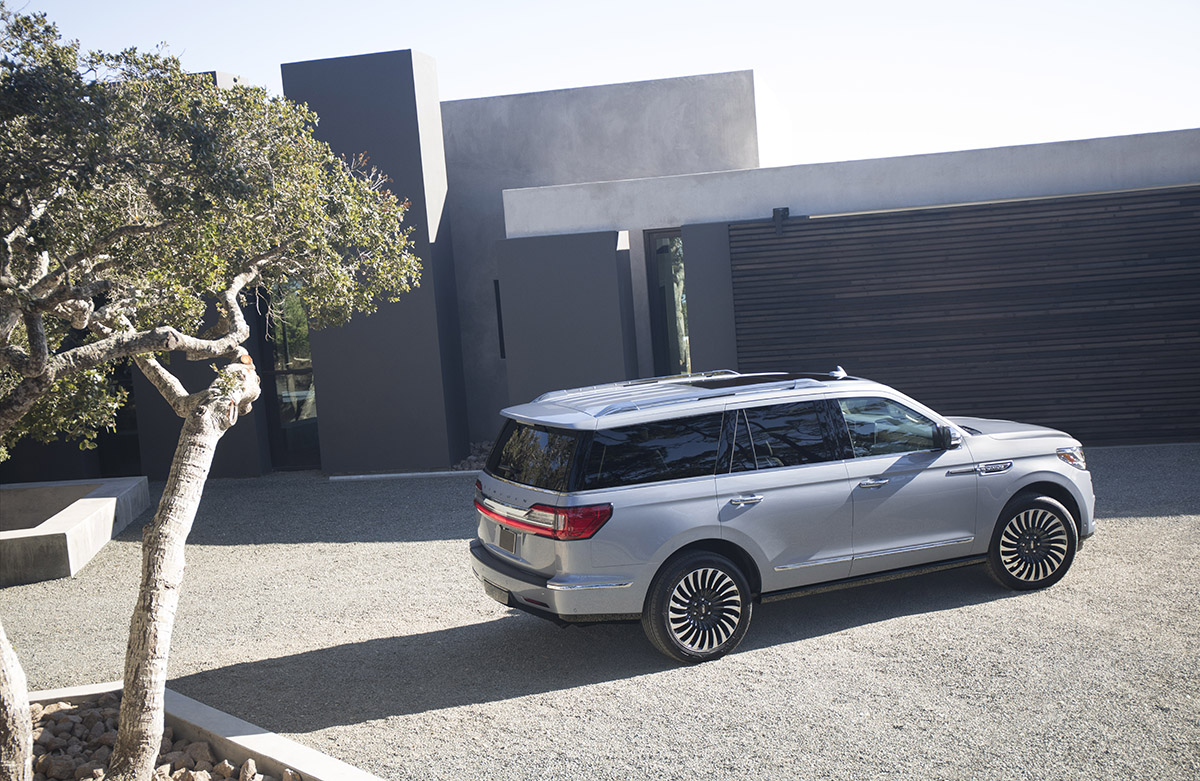 The Navigator was long overdue for a refresh, and slipping sales show that it had fallen seriously behind the other entries in this highly competitive and important (for both families' comfort and the company's profits) category. With the all new Navigator hitting showrooms sometime around September, I expect to see this thing sailing near the front of pack in short order. Pricing has not been announced, but expect a base Navigator to start in the low $70k range with a highly contented Black Label edition creeping near or even eclipsing $100,000. We will have more details and driving impressions as the vehicle is made available for testing.