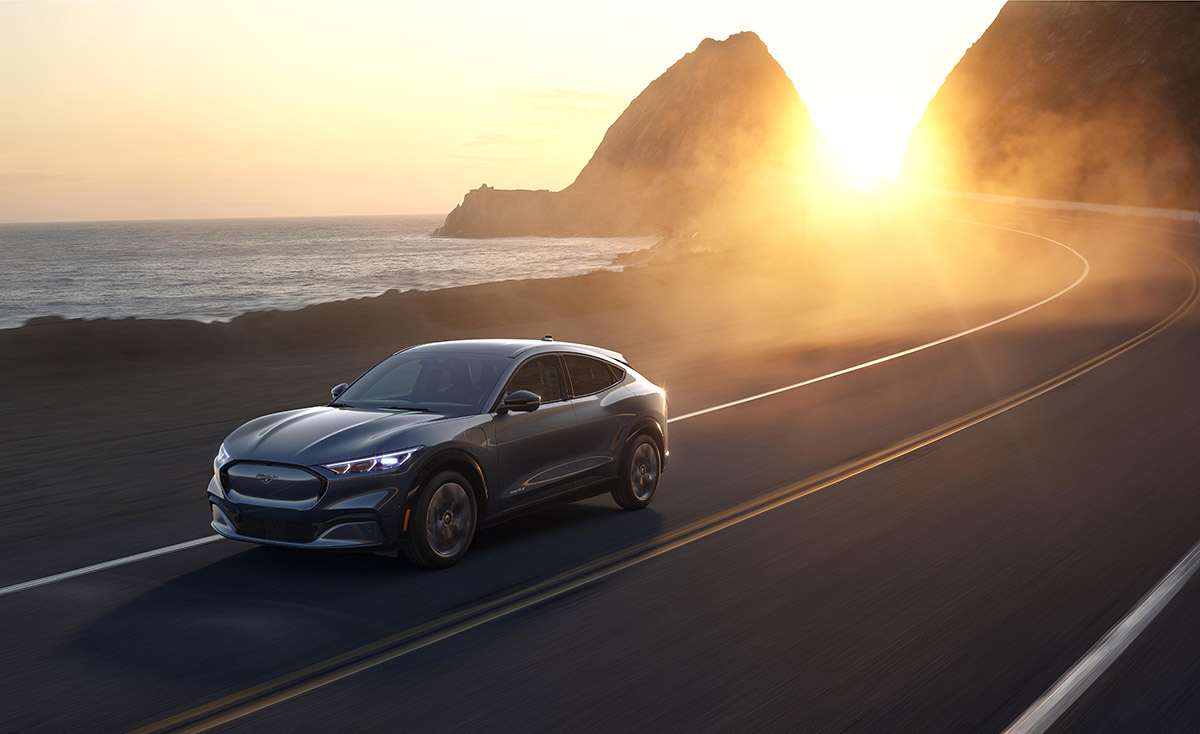 What does it mean to be a Mustang? That's the question Ford's Team Edison had to ask themselves about a year ago when Jim Farley, Jim Hackett, Bill Ford and other leaders at the company decided to put the classic moniker and pony icon on an all-new, all-electric SUV. Originally, the four-door, five-passenger Mustang Mach-E was going to be a new addition to the lineup with a new name, but as they got closer to the finish line, it became clear that to succeed, this EV had to be more than just a "compliance car," something that ticked all the boxes, but didn't incite any passion.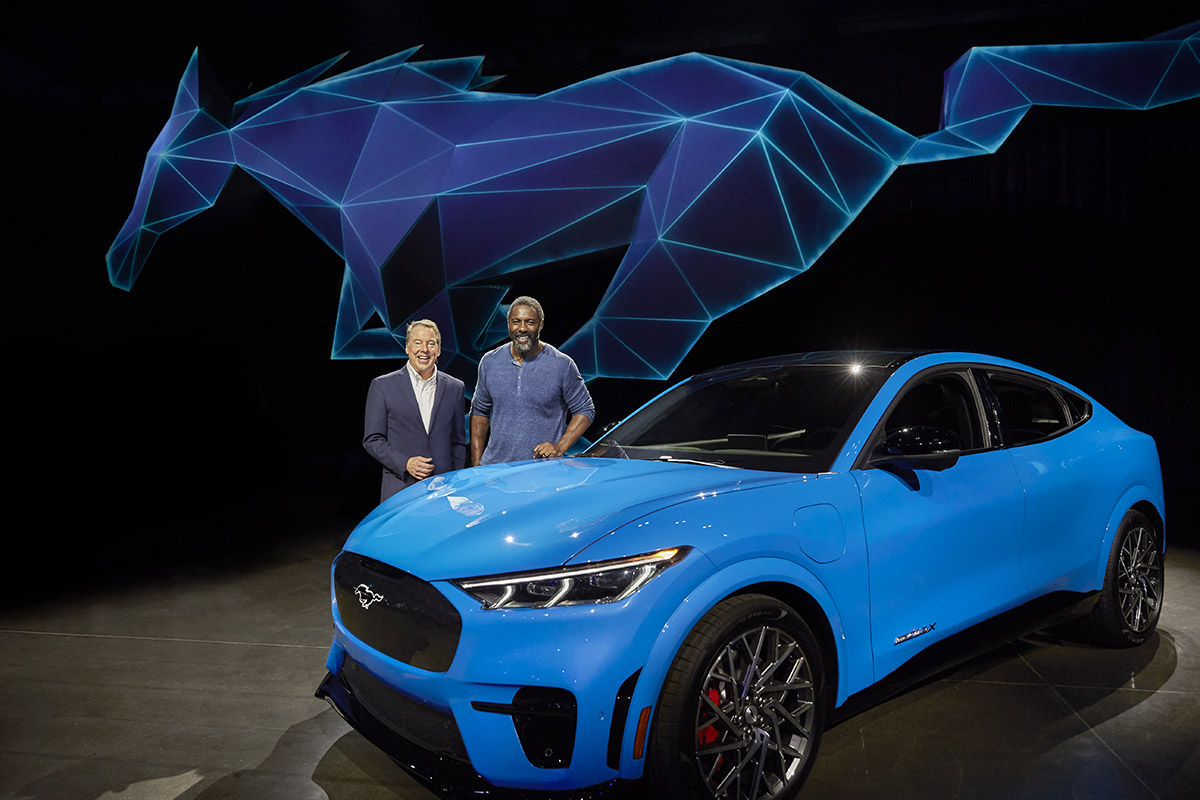 The Mach-E isn't Ford's first foray into all electric vehicles. Most recently the company offered the Focus Electric from 2011 – 2018, replacing the compact car's gas engine with a 33.5 kWh battery and 143 horsepower synchronous electric motor. It never sold more that 2,000 units a year. What they learned from this experiment and watching Tesla continue to dominate the category, was producing another ho-hum vehicle would be doomed to fail. So they looked at their portfolio, asking themselves which nameplate could bring the most excitement and energy to a Ford electric vehicle. Mustang it was.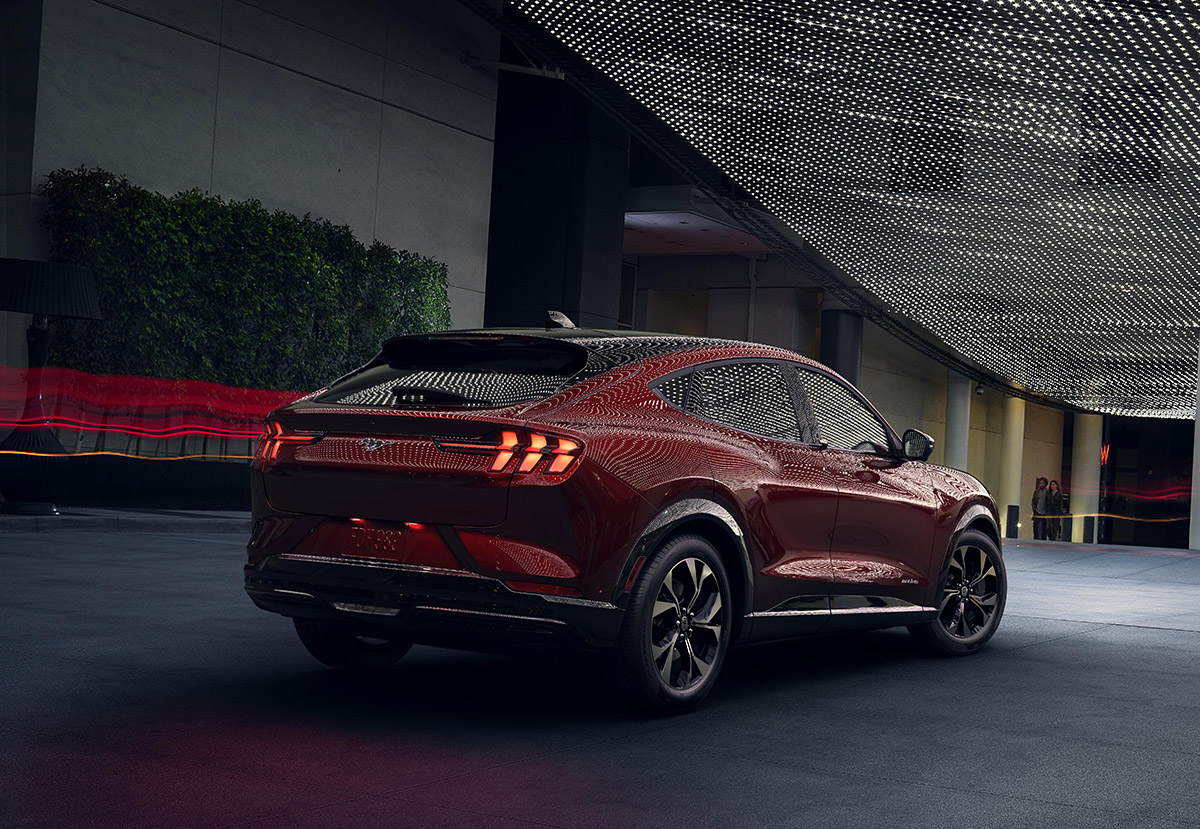 "When we put the Mustang name on it, that changed everything." Jim Farley, President, New Businesses, Technology and Strategy at Ford, told me. We were talking just after the public reveal of the Mach-E launch in a hangar at the Hawthorne airport, not coincidentally just a few hundred feet from Elon Musk's Space-X headquarters. "This went from being a mid-size SUV to a Mustang, so we knew it had to live up to the name. We got Ford Performance involved to make sure we got it right. We increased the size of the motors, stiffened the suspension, upgraded the batteries, and redesigned the exterior. It was a lot of work in a year."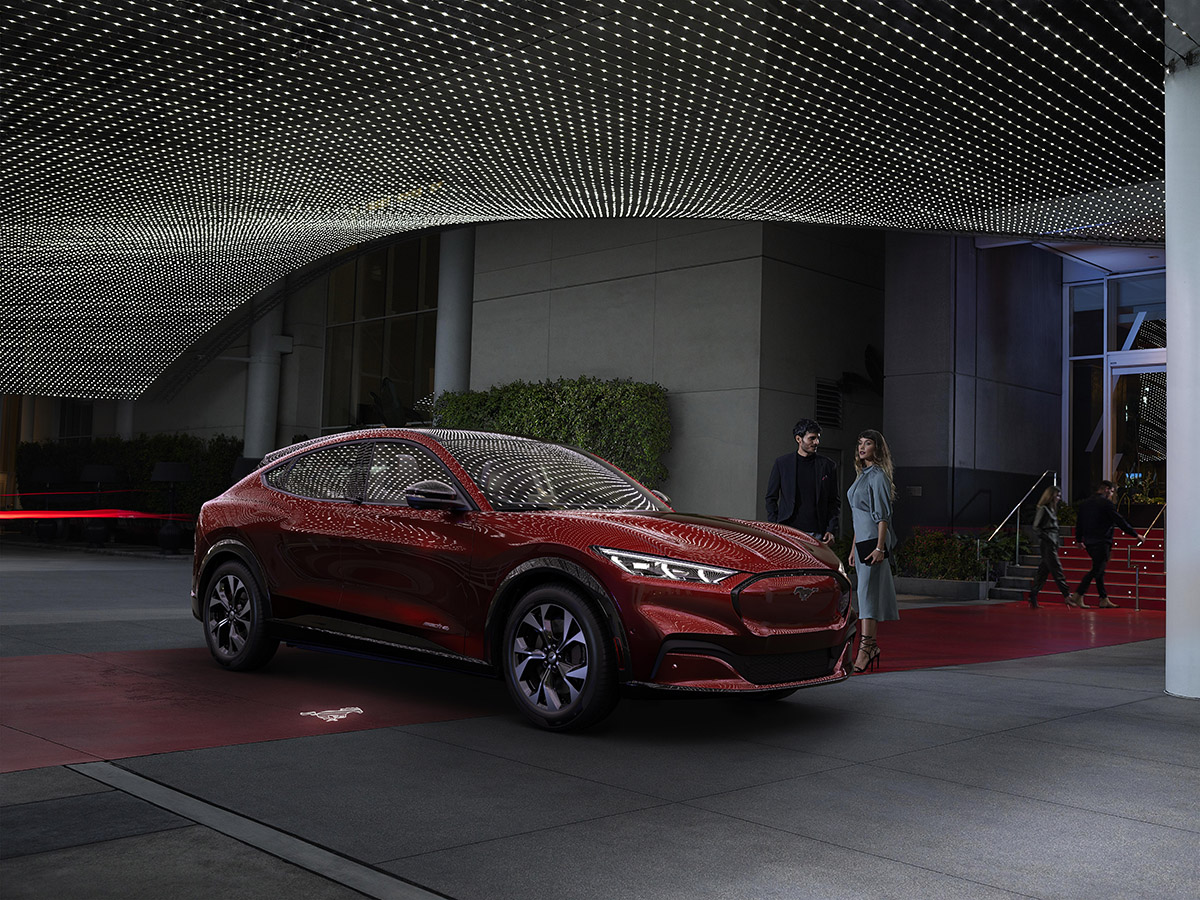 The Mach-E is unlike any other Mustang ever produced by Ford. It has four doors, an all-electrified powertrain, available all-wheel drive, and a silhouette that's more grocery getter than pony car. Actually, the size and shape are very close to a BMW X4. But look closely at the exterior and you'll see Mustang inspiration in the details. The all-LED head and tail lights are a contemporary take on Mustang's classic three-bar design. The front fascia offers hints of the famous shark nose. Designers moved the A-pillar back creating a longer hood, and the rear quarter panels are sculpted with broad, muscular hips hinting at this EV's performance intent.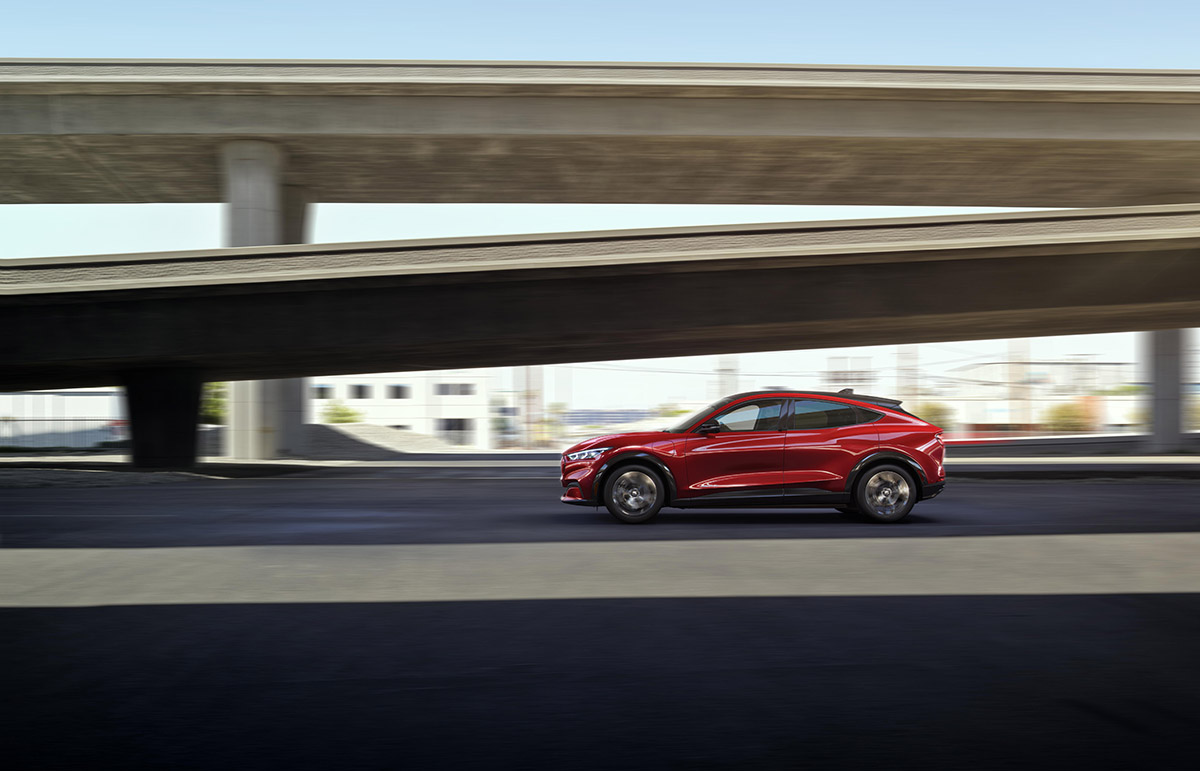 Available in four trim levels – Select, Premium, California Rt. 1, and GT – Mach-E will offer standard and extended range battery packs, three motor configurations, and be available in rear or all-wheel drive. The base, "Select" model is only available with he 75.5 kWh standard battery in either rear or all-wheel drive. Target range for the RWD model is 250 miles, AWD it drops to 230 miles. The Premium model offers the extended range battery option which adds $5000 to the price and 300 miles of range in a rear wheel drive Mach-E. If you opt for AWD add another $2,500 to the price and range drops to 270 miles. The GT is only available with the extended range battery and all-wheel drive and features a larger front motor up front for improved performance. Range drops to 250 miles, but zero to sixty acceleration is predicted to be a blistering 3.5 seconds, equal to a Porsche 911 GT3 in the top-of-the-line 459 horsepower GT Performance trim.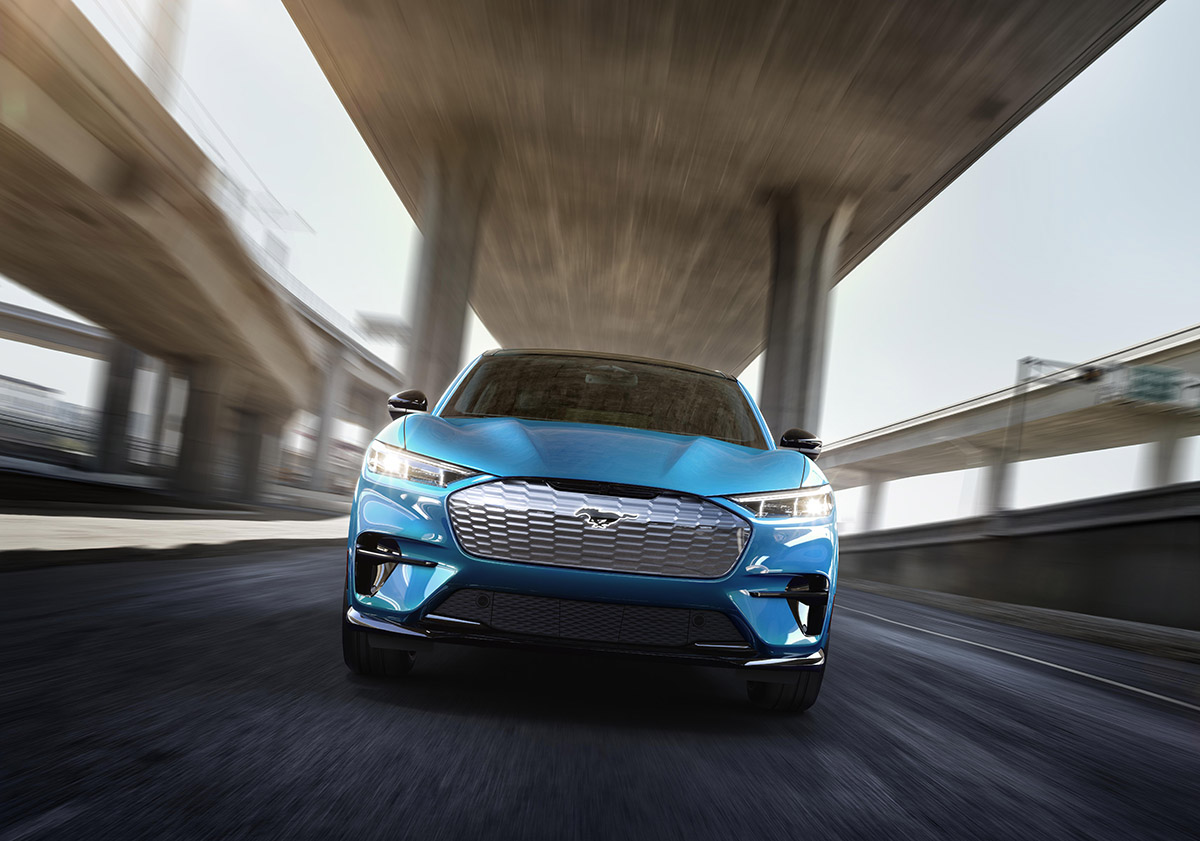 Mach-E handles like a performance car thanks to its low center of gravity and performance suspension set up. I was able to experience both the acceleration and handling on a short sprint and slalom run in the Premium AWD model with the extended range battery. Acceleration in this model is instantaneous and impressive, with 60 coming up in just over 5 seconds. Through the cones, the Mach-E was level and predictable in its movements. It offers three distinct drive modes – Whisper, Engage, and Unbridled – that can change the character of the car from smooth and silky to raucous and fun adjusting throttle response, torque vectoring, and steering feel. Engineers have even programmed different sound profiles into the car. As you can imagine, in Whisper mode, silence is the goal, allowing the B&O Play audio system to shine. In Unbridled mode, there's a low rumble that's very Mustang-like.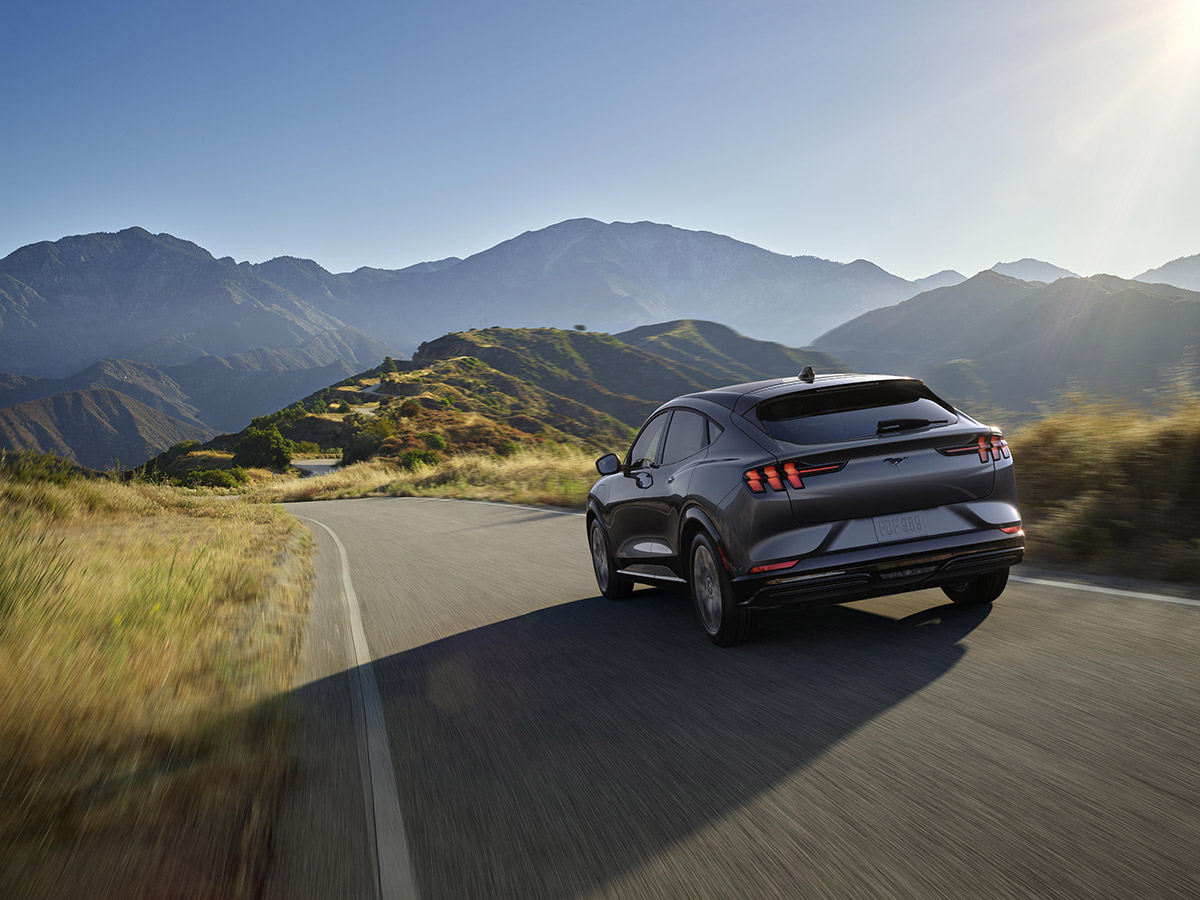 The interior of Mach-E is dominated by a 15.5″ inch touchscreen tablet that's mounted at the center of the dash. Unlike Tesla's Model 3, there's also a smaller screen behind the steering wheel for key driving information like speed, range, and drive mode. In testing the system with consumers Ford engineers discovered drivers wanted a physical volume knob so the included a large round wheel at the bottom center. Interior designers were looking to create an open and comfortable space and they've achieved that. There's plenty of legroom front and rear, seats are supportive and comfortable, and materials have a simple, but high quality look and feel. Speakers are covered with a heather gray fabric and the seats use a synthetic material called ActiveX, so in keeping with the trend in EVs, the interior is "vegan." There's plenty of luggage space behind the rear seats thanks to the hatchback body style and the "frunk" under the hood is big enough for a roller bag or small cooler.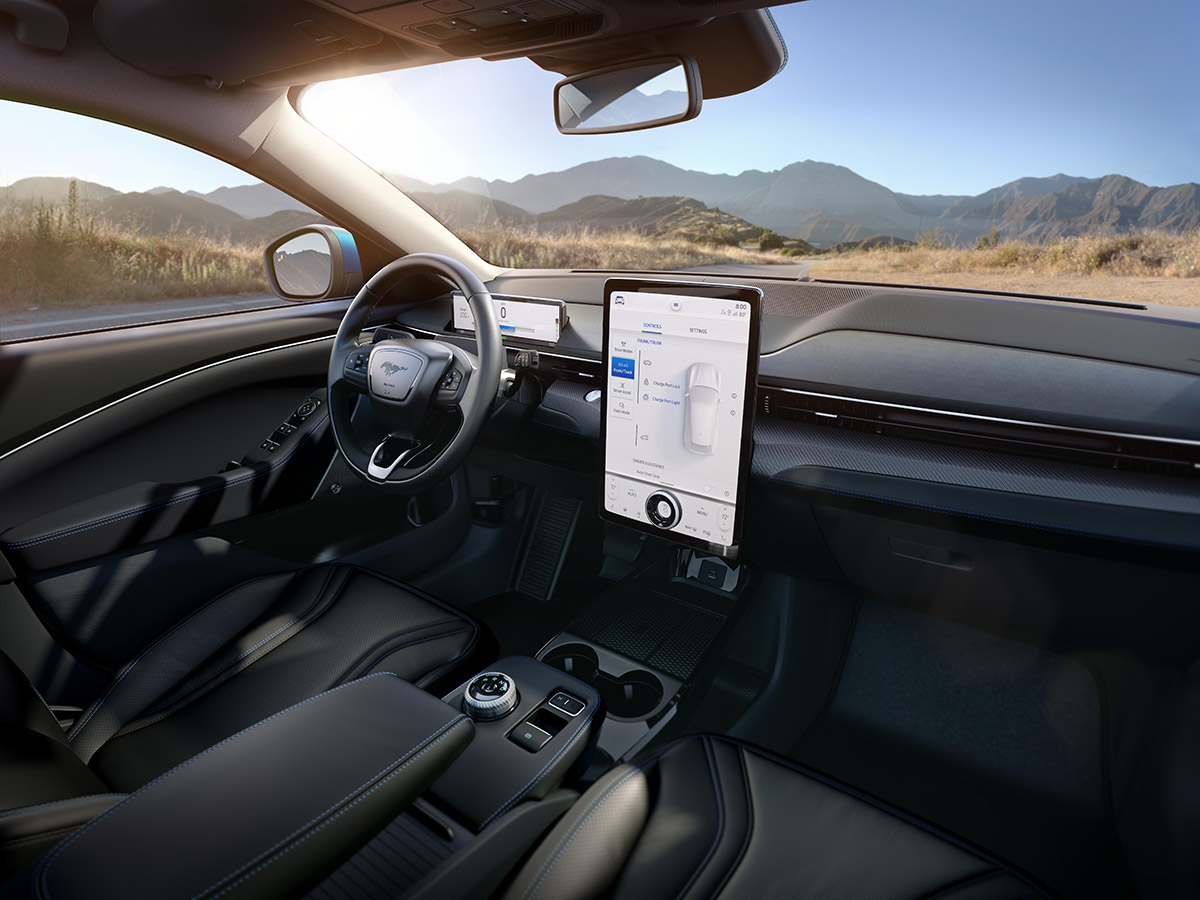 Ford is launching its next generation of Sync with this vehicle and thanks to the large screen size, there are a lot of innovations in the way the system works. Engineers describe the architecture of the system as "flat" meaning you're never more than one touch away from any functional category and there's no need for either a home or a back button. The system is also connected via 4G LTE so it offers continuous updates to apps and information. Real time traffic and up to the minute charging station information are just two of the features Mach-E owners will find handy in managing their trips and range anxiety.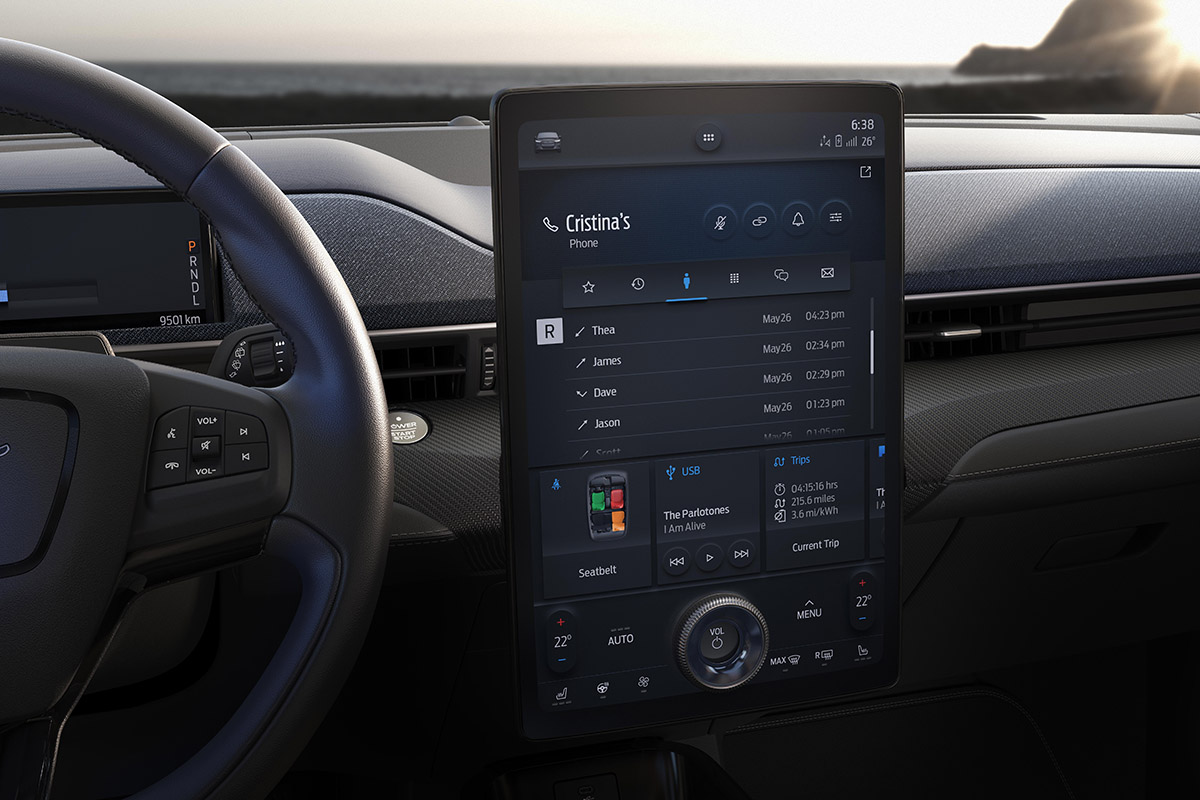 As far as charging goes, Ford has partnered with a number of networks and offers access to over 12,500 public charging stations and payment is managed through the FordPass app on your phone. At 150 kW fast chargers you can add 47 miles of range in 10 minutes. Ford also includes an AC plug with each Mach-E so you can charge at home on either a 110 or 240 outlet. You can also install a Ford branded level 2 home charger that will help you manage your electricity usage and allow you to precondition your car while it's still plugged in, reducing battery usage and optimizing range.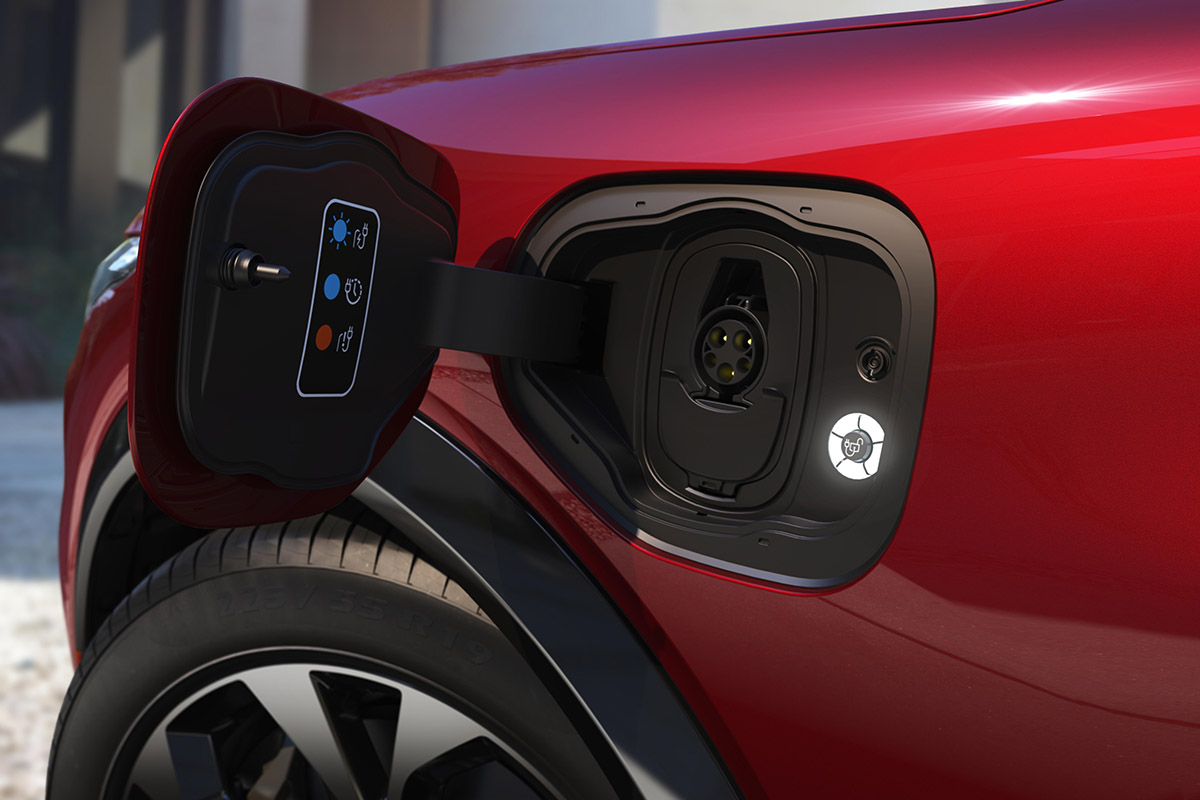 While I only got a taste of how the Mach-E performs, it's clear that dynamically it lives up to the Mustang name. It's quick. It's fast. It handles. Looking at the online forums you can see that a lot of Mustang enthusiasts are upset the name is being applied not just to an EV, but and electric SUV. Ford didn't make this decision lightly and Farley told me the final meeting where the decision was made included over two hours of debate. It doesn't seem to be a problem with many. After launching the Mach-E pre-order the site last night, crashed due to excess traffic. The Mustang Mach-E goes on sale next fall and pricing starts at $43,895 before incentives for a Select rear-wheel drive model with the standard battery and goes to $60,500 for an all-wheel drive GT with the extended range battery.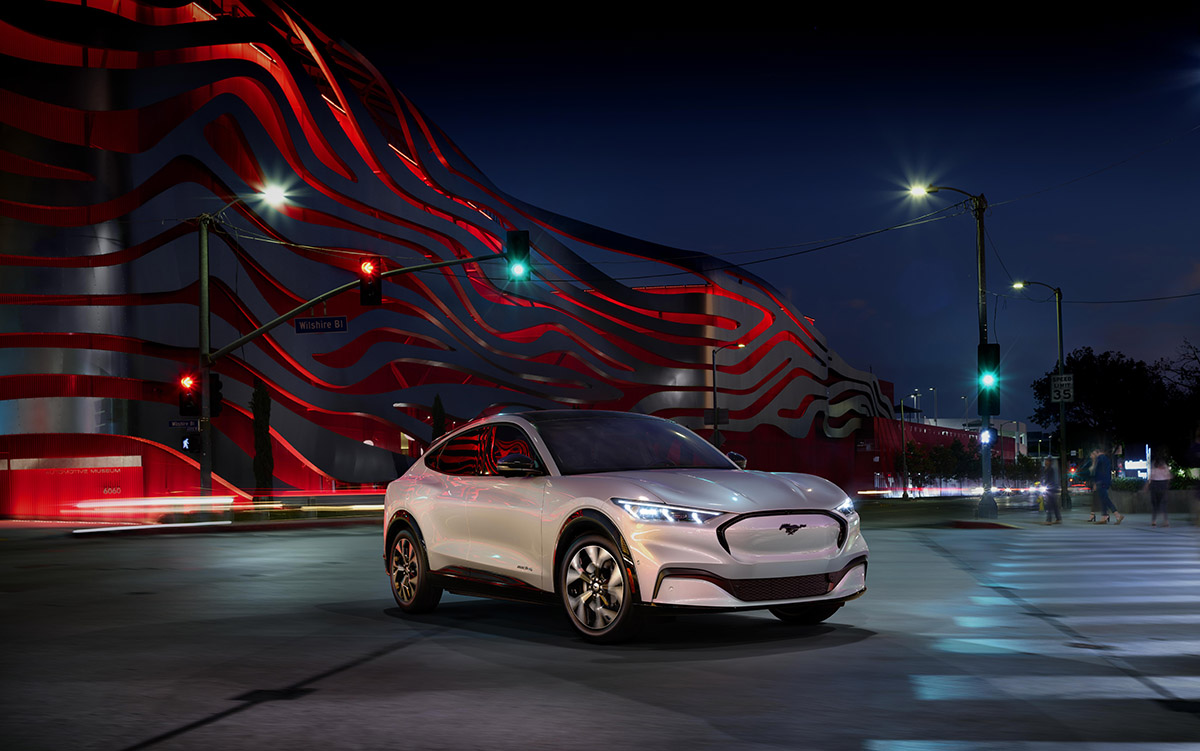 Personally, I'm okay with calling it the Mustang Mach-E. They've put the pony on worse cars (anyone else remember the Mustang II?). I'll need more time to drive it and get the full experience, but on paper, in the flesh and for the brief moment I was in the car, it's far and away the most interesting electric vehicle from any mainstream manufacturer. That in itself is an achievement.