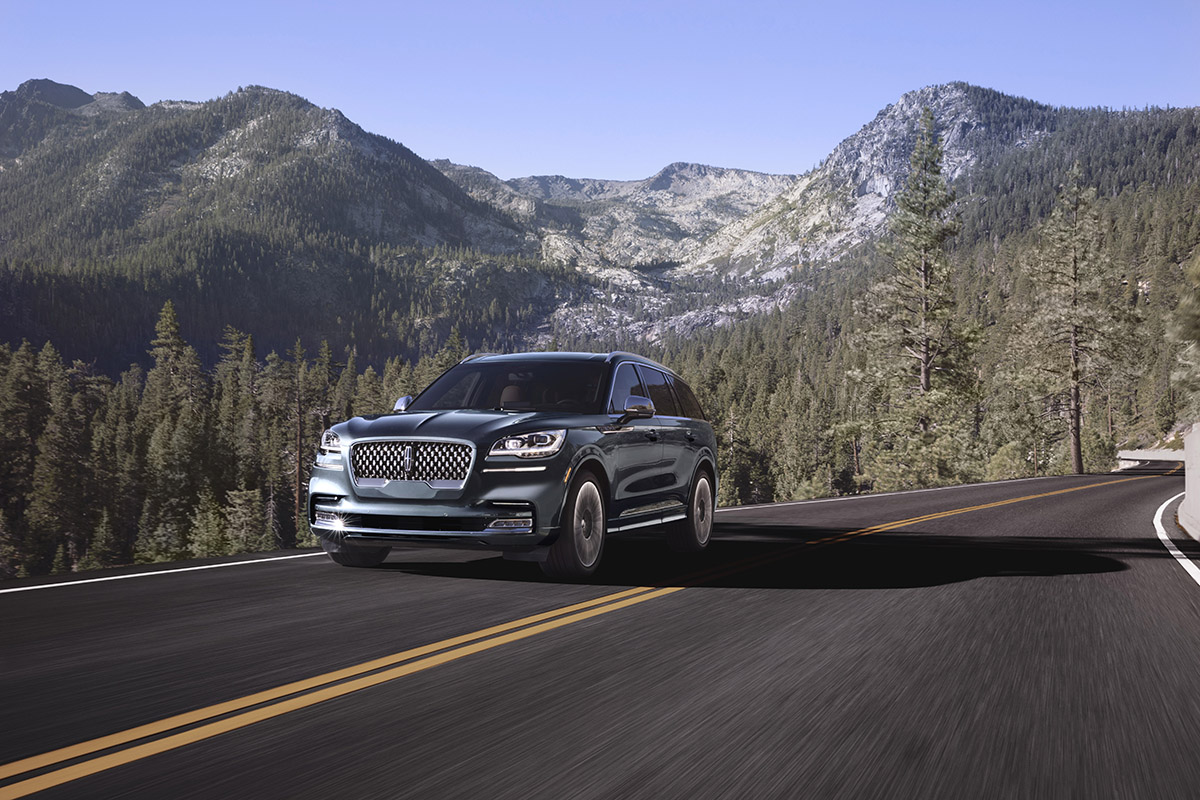 I promise, I'm going to do my damnedest to get through this first look at the new Lincoln Aviator without making puns about flying, flight, taking off or any other trite nonsense. The simple fact is, from what I saw and heard of this new luxury SUV, it's too good for that. Settling for puns only cheapens the success Lincoln appears to have achieved with Aviator. I say "appears," because I haven't driven it yet and won't for a few months. Judging by the looks, specifications, interior design, technology, and the attention to detail that to this point hasn't been the brand's strong point, Aviator should be able to compete with anything in its class from America, the UK, Germany, and Japan without making apologies to anyone.
Aviator is a serious vehicle with its own identity. You can't you look at this Lincoln and say, "it's a fancy Ford." Navigator, Nautilus, Continental, and MKC are all fine vehicles, but they began their respective lives as an Expedition, Edge, Fusion, and Escape. Yes, the new Explorer will be built on a modified version of this platform, but Aviator was created from the ground up to targets set for Lincoln first. For once Ford gets the hand-me-down.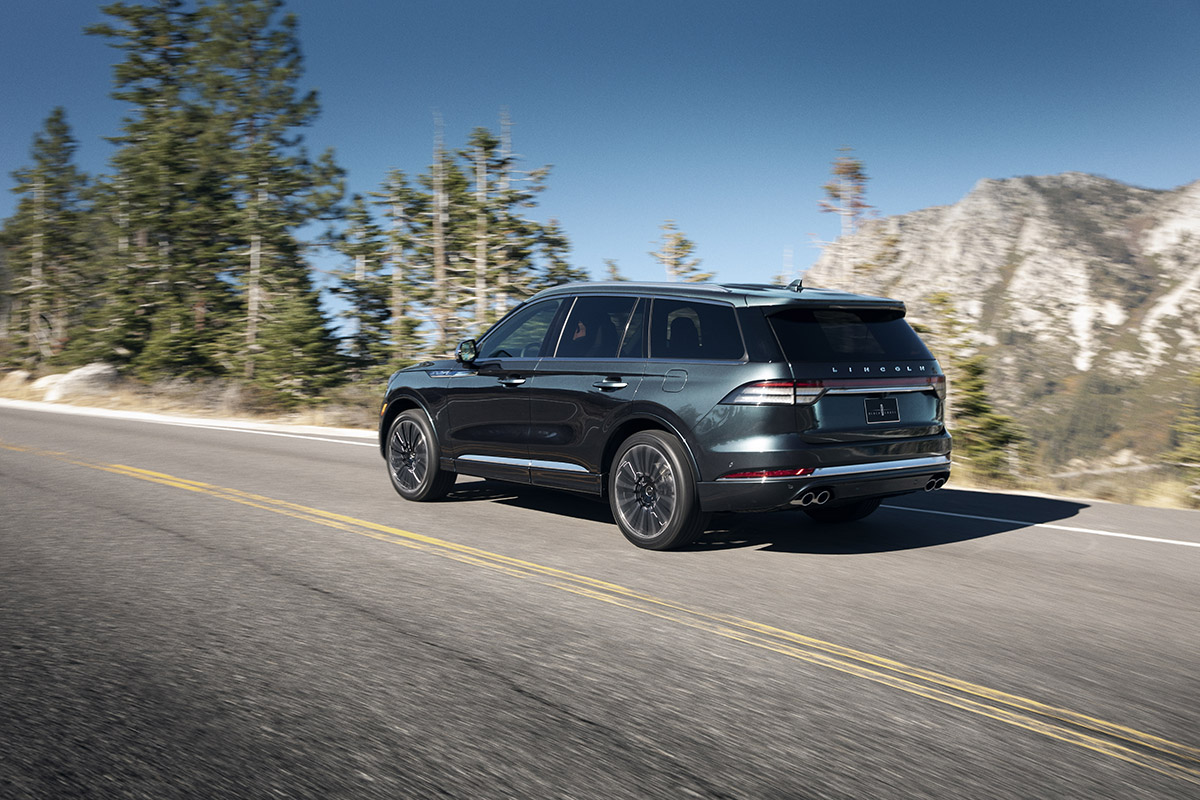 The Aviator is a 3-row, midsize, premium SUV that slots in the Lincoln lineup between Nautilus and Navigator. It has some scale, but it's not imposing. Think Range Rover or Lexus GX in terms of size. In terms of design and elegance, Aviator is in a league of its own. This is a well-drawn SUV that manages to look luxurious and purposeful at the same time. Not an easy task.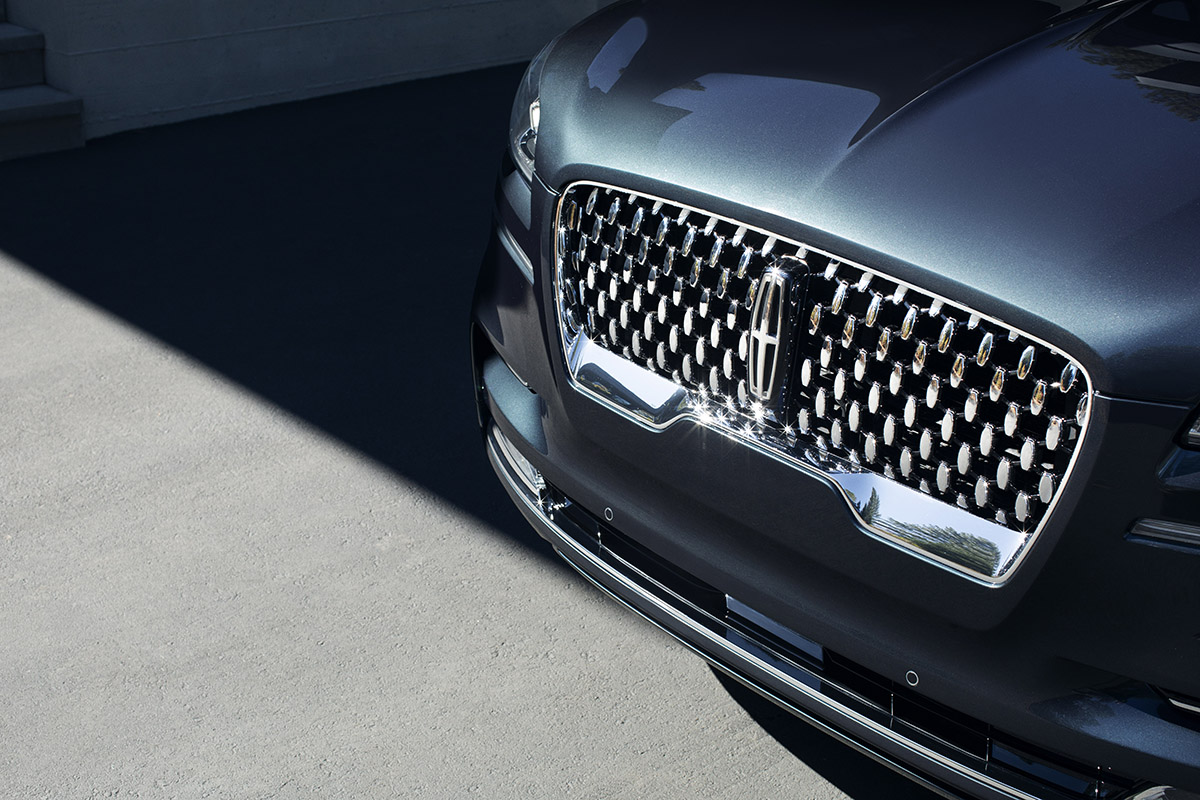 Up front, the signature grille which is growing on me with each iteration, is both easily recognizable and well proportioned. Lincoln Design Director, David Woodhouse, and his team have accomplished a very difficult task. They've created a distinctive look that works across sedans, crossovers, and SUVs of all sizes that doesn't feel forced or gimmicky. The shape flows nicely from the Lincoln logo in the center outward, with the headlamps sweeping back into the side, where a character line originates. It runs the length of the vehicle rising slightly as it disappears into the rear quarter panel. The roofline falls off slightly to the rear, but not so much that it compromises third row headroom. Clever sculpting prevents the substantial side panels from becoming mere slabs, and the 21-inch wheels fill the openings adding a bit of aggressiveness to an otherwise understated appearance.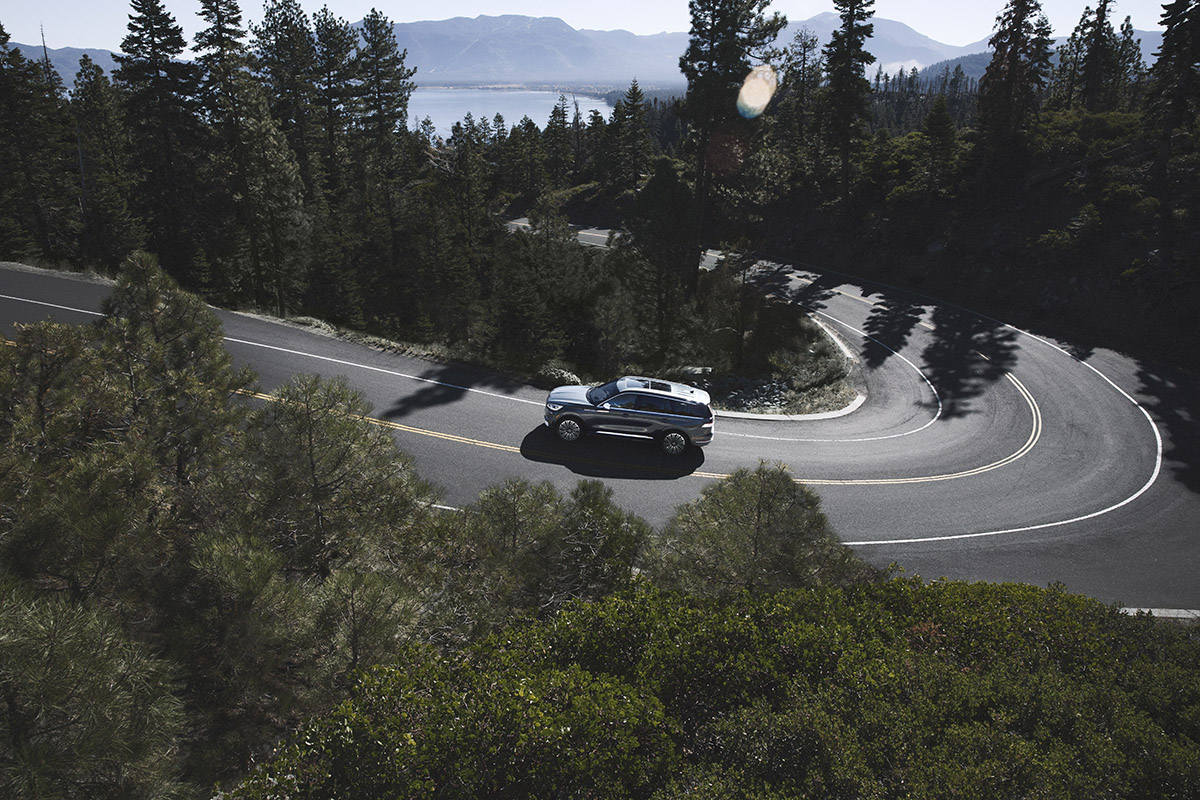 Powering the Aviator are two engine choices. The standard option is the twin-turbo V6 that currently propels the larger Navigator. With 400 horsepower and 400 pound-feet of torque it should have plenty of oomph to make onramps, stoplights, and high speed passes drama free events. But because luxury is really about more than enough, Lincoln didn't stop there. New for the Aviator Grand Touring is the same twin-turbo V6 combined with a plug-in hybrid electric powertrain that not only improves efficiency, but also boost the cars capabilities. A lot. Horsepower increases 12% to 450 and thanks to the electric motor, torque grows to an impressive 600 pound-feet. For context, that's more power than Audi Q7, BMW X5, Range Rover V6 hybrid, and within shouting distance of the output of the 6.6-liter V12 in the Rolls-Royce Cullinan. What that should mean is both surprisingly quick acceleration, either from a standing stop or at passing speeds, and class-leading towing capacity. A lot of other factors go into that including vehicle weight, transmission capability, cooling, brakes, etc, but that kind of torque is a good place to start.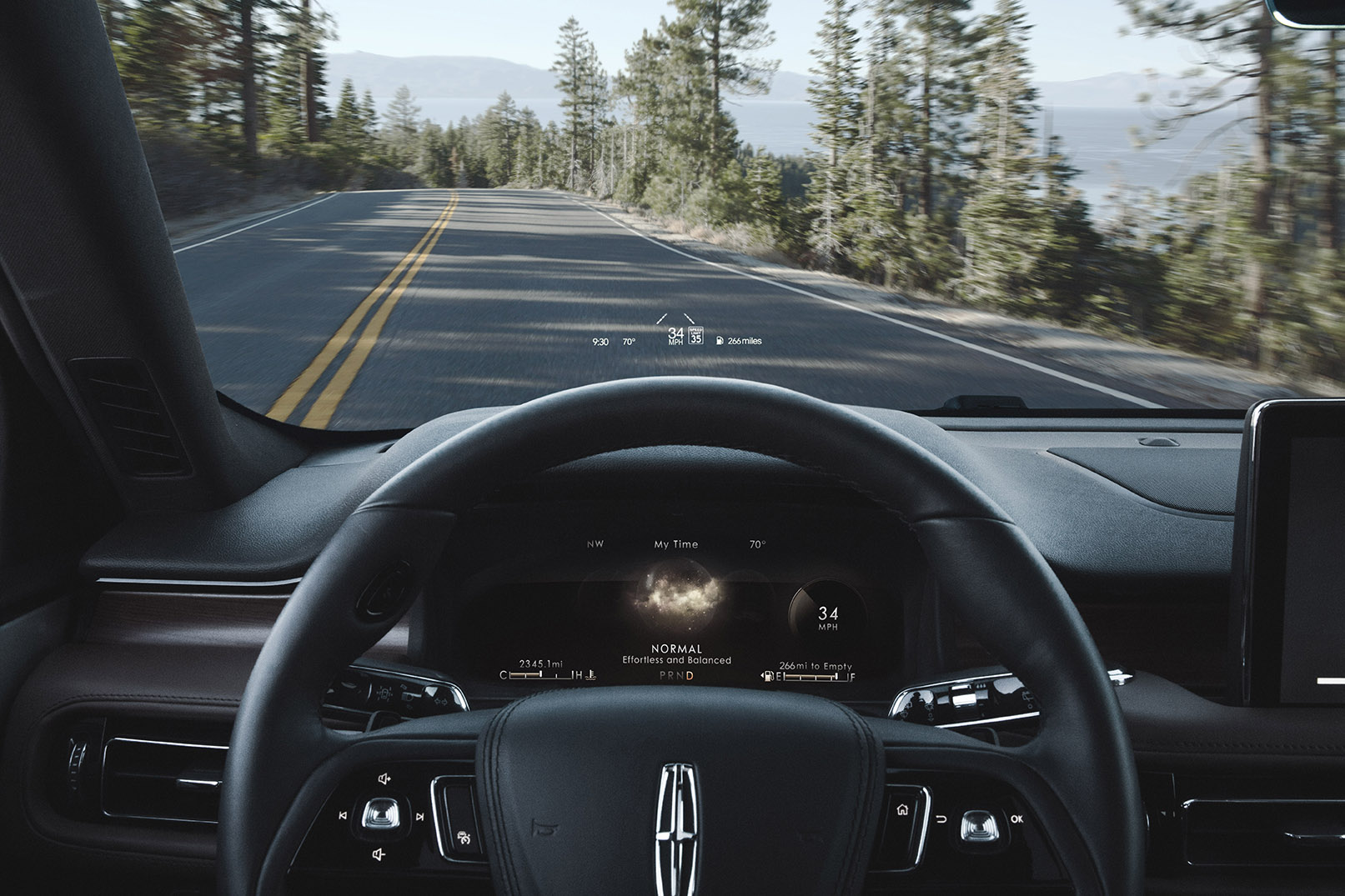 No matter which engine you choose, the power is delivered either to the rear or all four wheels via an 10-speed automatic transmission with multiple drive modes – Normal, Conserve, Excite, Slippery and Deep Conditions – that allow you to adapt the power and ride based on road conditions. If you opt for the hybrid powertrain, you also get Pure EV mode which as the name suggests will allow you to drive on just battery power, and Conserve EV which will save the battery power for when you need it.
Aviator's suspension is fully independent, but instead of traditional coil springs, the wheels are controlled with dual-chamber air bladders. This allows Aviator raise and lower for easier ingress and egress. When you're in Deep Conditions mode, the car rises up to provide more ground clearance, and when you're in Excite mode or driving at highway speeds, the Aviator lowers for greater aerodynamic efficiency. This system also works with sensors that read the road ahead to prepare for and smooth the ride over imperfections like potholes and speed bumps.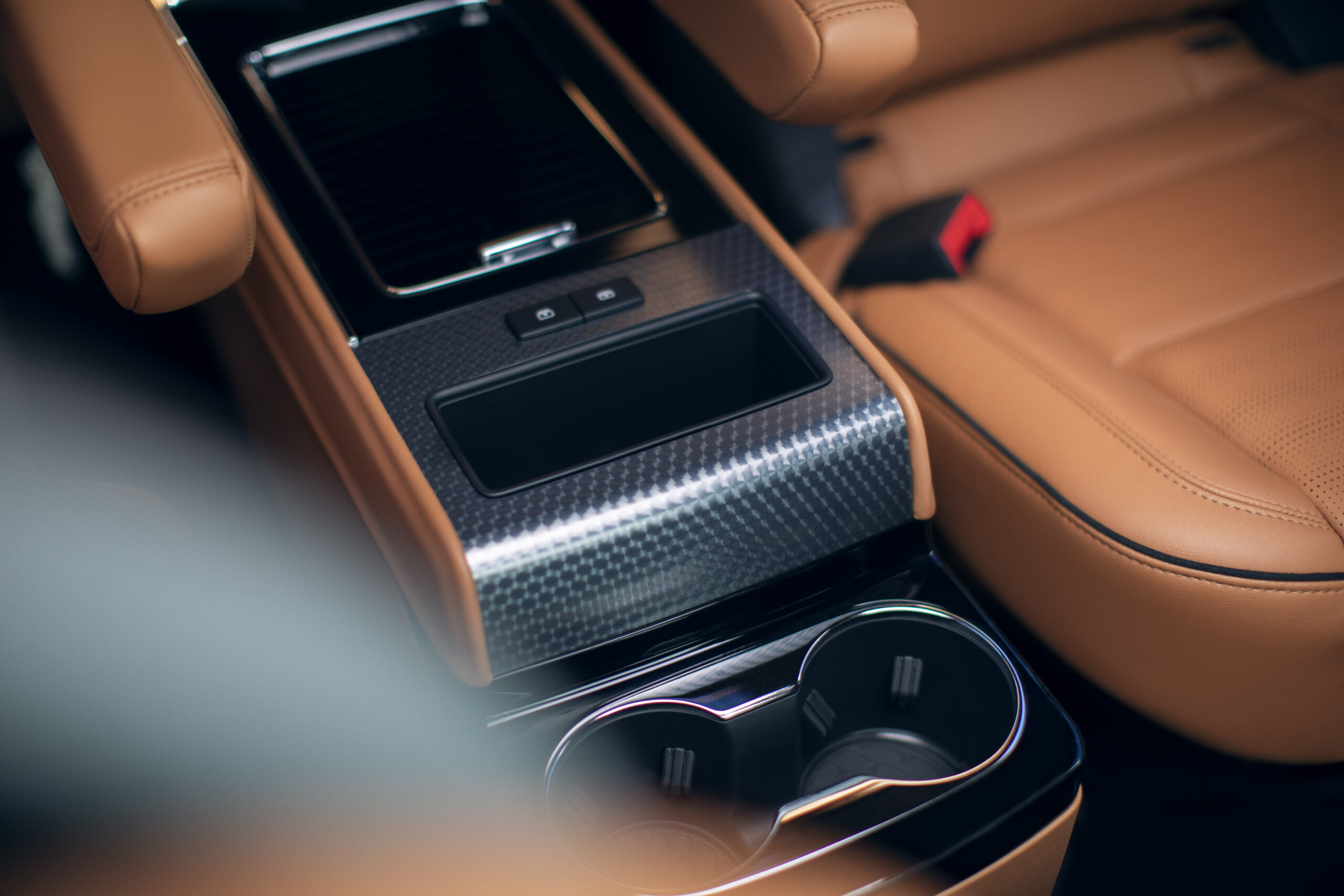 Inside, Aviator delivers completely on their promised rise to luxury status. The new Black Label theme, Flight, introduced in Aviator Grand Touring features deeply tanned, furniture quality leathers, and machined aluminum accent panels inspired by the instrument panels of early aircraft. In addition to the fully digital instrument panel, and infotainment control screen (which unfortunately sits upon the dash instead of being integrated into it – the one minor miss in this interior in my opinion), the Aviator features the largest and brightest head-up display in the industry, and best of all it can even be used with polarized sunglasses.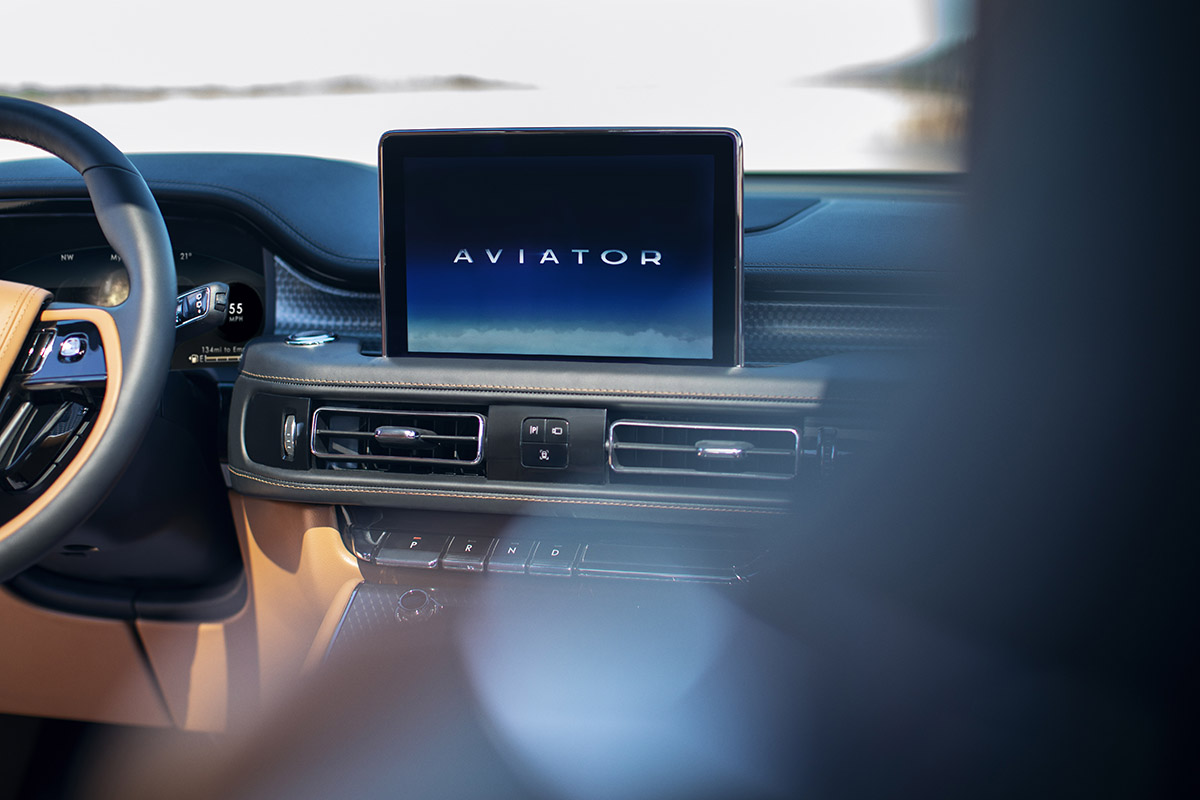 Lincoln's perfect position, 30-way heated, cooled, and massaging seats that one of the highlights of Continental, are available in Aviator. Second row passengers get heated and reclining seats, there's a 5-inch touchscreen to adjust HVAC in the second row, and everyone in the vehicle has a USB port to keep their devices charged on long drives. Aviator also has 4G LTE WiFi connectivity and Revel Ultima 3D sound that places speakers in the ceiling to replicate the full richness of concert hall sound.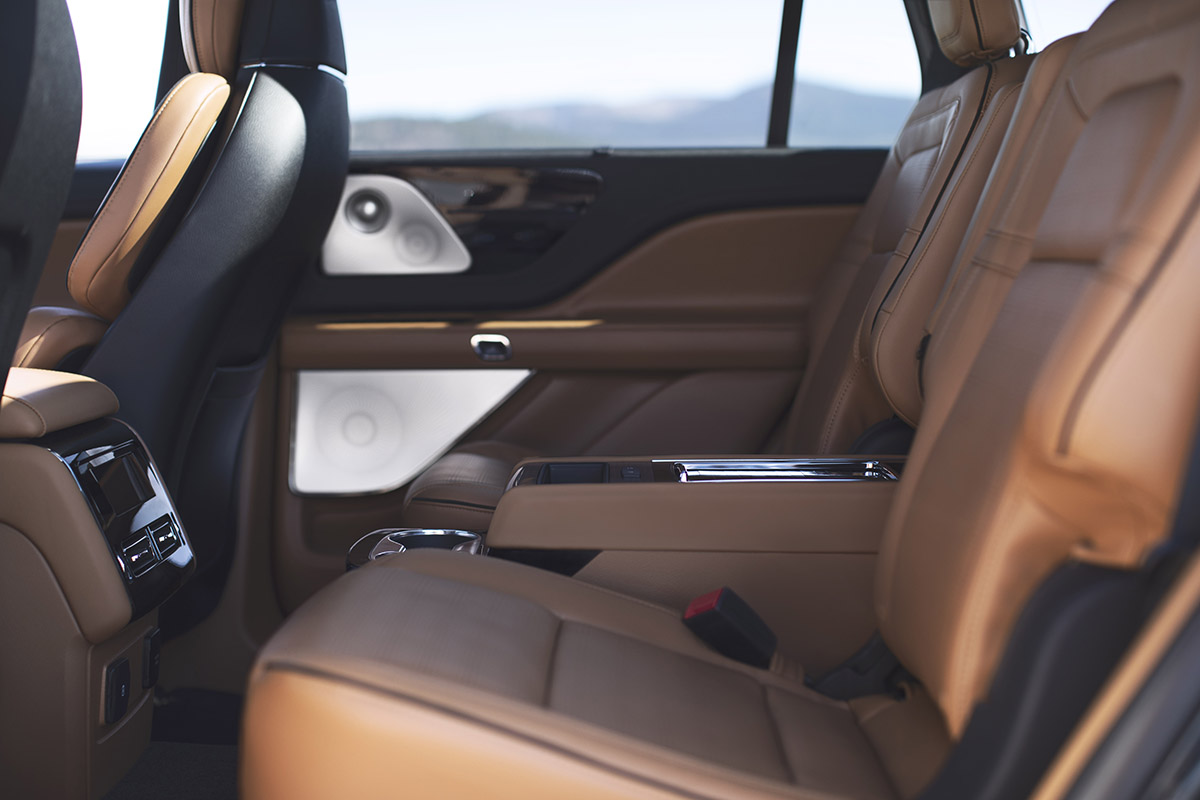 Aviator will also include a full suite of driver assist and convenience technologies via what Lincoln dubs "CoPilot 360 Plus." This adds traffic sign recognition to all the usual features like adaptive cruise control, lane keep assist, automatic emergency braking, rear cross-traffic alert, and more. That means if you put the cruise control in "intelligent" mode, not only will it adapt the speed to traffic, it will also read the speed limit signs and set that as the maximum speed, so you never have to worry about getting a ticket.
Lincoln has also found a way for technology to be more human in the new Aviator. Instead of a series of digital chimes warning you about everything from open doors, unfastened seat belts, missing gas caps, and low pressure in your tires, Lincoln partnered with the Detroit Symphony Orchestra to create, arrange, and record a series of notifications and alerts with real musicians. It's an interesting concept and one that fits well with Lincoln's human approach to luxury.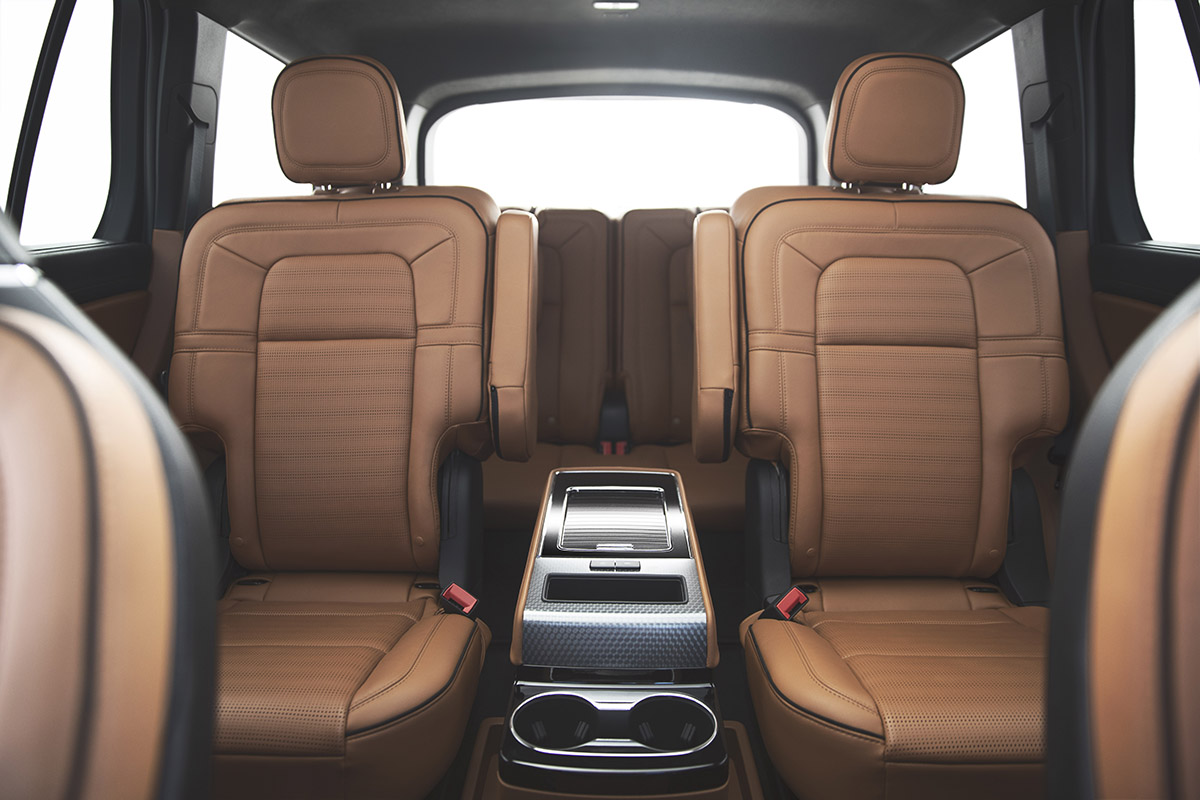 Aviator is much more than just a smaller Navigator. It has its own silhouette, a distinctive personality, and a refined presence that is both more sophisticated and understated than its large-and-in-charge bigger sibling. It's too early to say anything definitively without driving it, but if the Aviator's on-road experience lives up to what I saw, felt, and heard at Milk Studios in Los Angeles last week, Aviator will soar to the head of its class. (Sorry, I just couldn't resist)